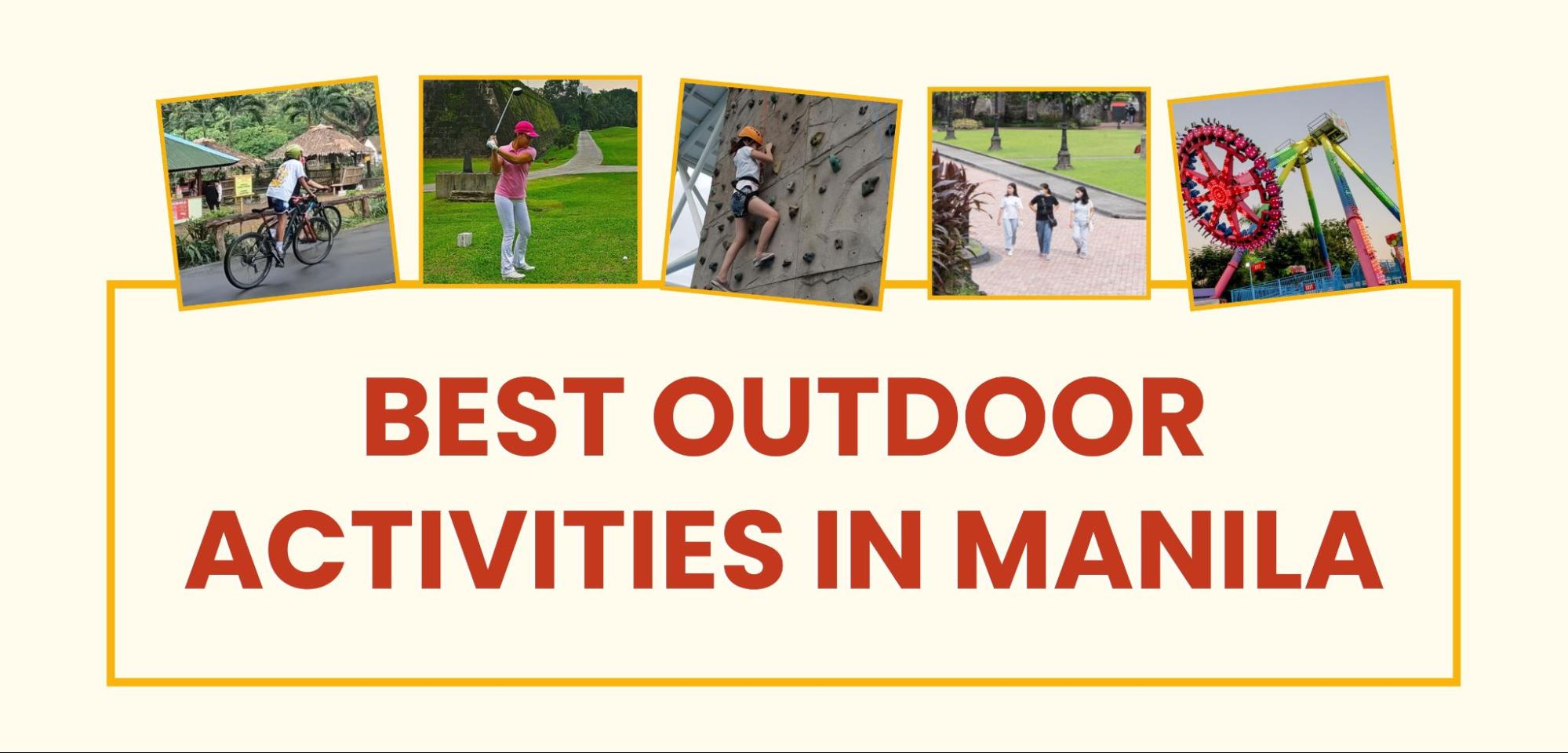 The 10 Best Outdoor Activities in Metro Manila
If you're unsure about what to do in Metro Manila on the weekends, you don't need to go very far.
There is a variety of fun outdoor activities in the metro that families, couples, and even tour groups may all enjoy. From strolling to wall climbing, Metro Manila offers plenty of activities to people of all ages and preferences.
Keep reading as we highlight 10 popular outdoor activities in Metro Manila that you can enjoy when you have free time!
1. Take a stroll around historic Intramuros.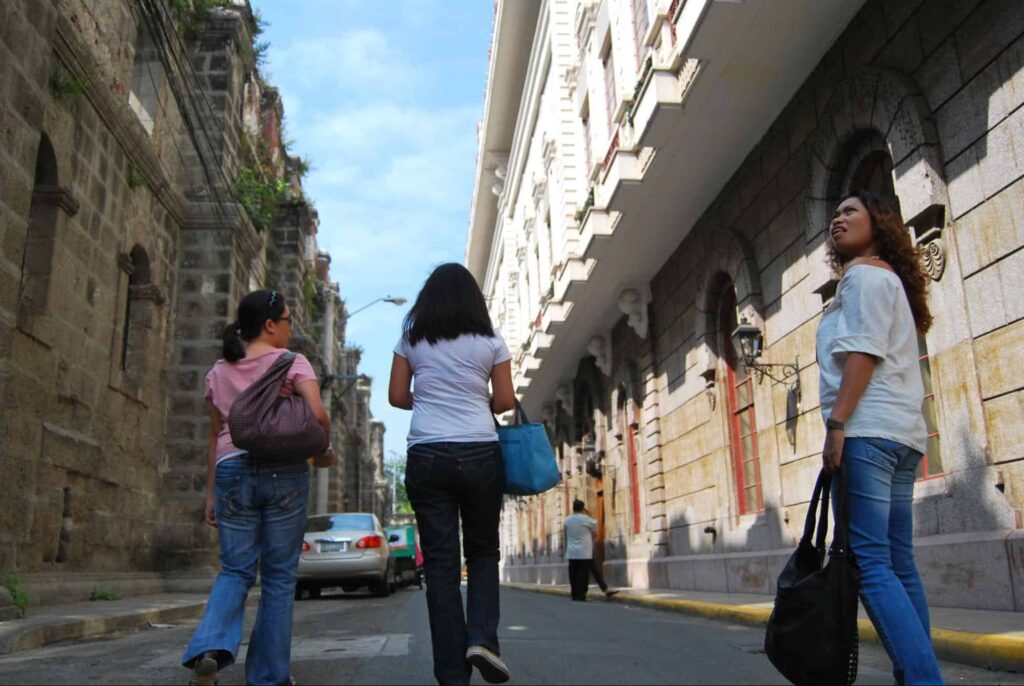 | | |
| --- | --- |
| Location | Intramuros, Manila City, Metro Manila |
| Operating Hours | 5:00 AM - 8:00 PM (paid attractions are closed earlier) |
| Fees | None |
| Website | intramuros.gov.ph |
The Walled City of Intramuros was built by the Spaniards in 1521 as their political and military base in Asia.
It is located south of the Pasig River and east of Manila Bay and was originally designed as a tight grid to keep its streets useful while also keeping them contained.
Defensive fortifications used to encircle the city were moats, cannons, bulwarks, and javelins. Those not only protected Intramuros from man-made calamities but also fended off attacks from invaders during colonial times.
Despite suffering extensive damage, Intramuros is still notable for the history that lies beneath the ruins.
Since some ramparts, walls, and gates are still accessible, it is still considered the cornerstone of today's walking tours and cultural events.
Intramuros is free for its visitors but there are also attractions where you may need to pay to enter. Some of these are Fort Santiago, Casa Manila Museum, Baluarte de Sandiego, and Museo de Intramuros.
Traveling around is also easy because there are 'kalesa' (horse carriage) and bamboo bikes that you can rent per hour or per trip.
If you prefer not having time limitations though, you can just stroll around because there are maps available online. You can also ask around if ever you get lost because there are a lot of guards dressed in rayadillo-inspired uniforms.
It can be quite hot, especially in the summer, so make sure to wear sunscreen before you go. Also, don't forget to bring umbrellas and portable fans with you for extra relief from the unforgiving heat.
2. Go wall-climbing at RAVE Park.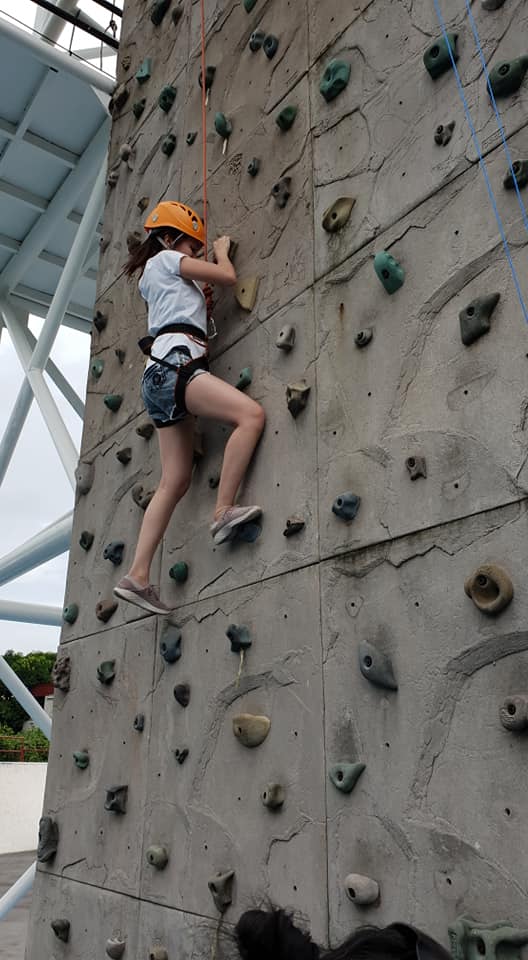 Location
F. Legazpi ave. Maybunga, Pasig City, Metro Manila
Operating Hours
8:00 AM - 5:00 PM
Fees
Pasig residents - Php 100

Non-Pasig residents - Php 150

Website
rave.pasigcity.gov.ph
Previously known as the Pasig Rainforest Park, RAVE Park was built in 1977 during the administration of former Pasig City Mayor Emiliano Caruncho.
It is located in an 8-hectare lot in Barangay Maybunga, which is strategically positioned in the center of Pasig.
With the LGUs efforts, the park was opened to the public and was continuously renovated and improved. Currently, the park offers different amenities which include a variety of outdoor activities.
Wall climbing is among the most popular amenities in RAVE Park, together with ziplining, rappelling, and driving through obstacle courses.
With wall climbing, you work your biceps, shoulders, neck, traps, upper back, lats, lower back, abs, glutes, thighs, and calves. So before you try it, make sure that you're in your best health – or at least get a good warmup.
Before and during climbing, monitor yourself and always take precautions. If you want to try it but are not sure if you can handle this pulse-racing activity, you can always wear your smartwatch to keep an eye on yourself.
The first three hours of wall climbing costs Php 100 for Pasig residents and Php 150 for non-Pasig residents. If you're not yet satisfied with your wall climbing experience, you can extend it by paying Php 50 for the succeeding hours.
3. Try biking at La Mesa Nature Reserve.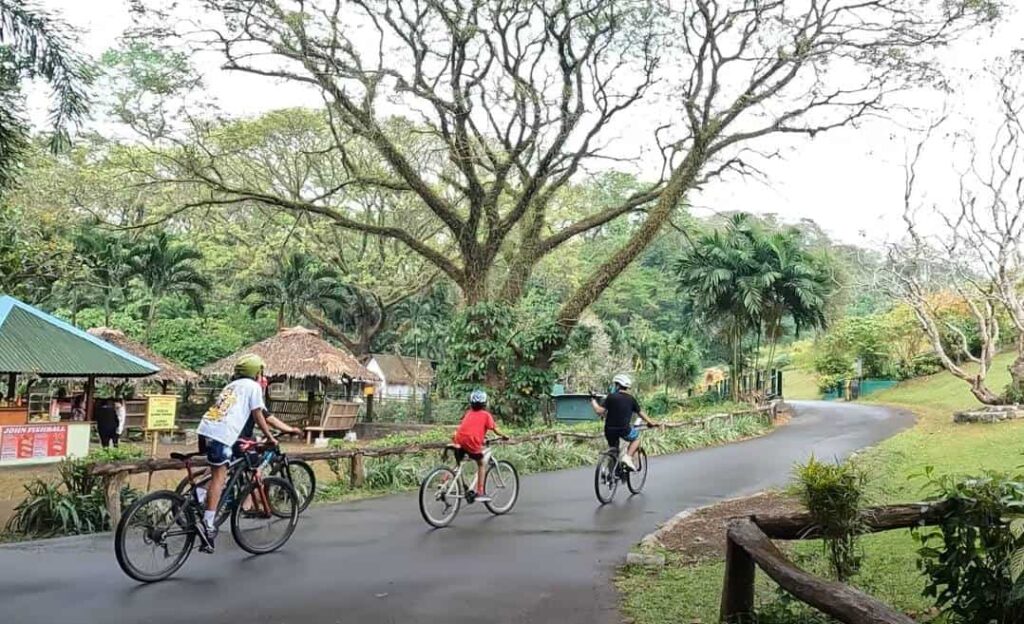 If you wish to experience rigorous trail biking, La Mesa Eco Park's hilly terrains of trees, butterflies, and orchids will provide you the benefits of communing with nature.
You just need to bring your bike, donate at least Php 50 per head, and you can already enjoy the trail. The donation also comes with access to other amenities from the park.
The deep forest, located northeast of Quezon City near SM City Fairview, provides 52 kilometers of cemented tracks, dirt roads, and fire roads. It definitely provides something for everyone, from beginners to expert riders.
Before you go to La Mesa Eco Park, check your bike and make sure that it's conditioned because the trail is quite rough and mostly composed of dirt tracks.
The trail is also long, so it's up to you if you want to follow the bike trail throughout or just bike in the central vicinity of the park.
If you opt to take the longer path, however, just make sure to bring your phone during your ride in case of an emergency.
4. Visit Star City and feel like a child again.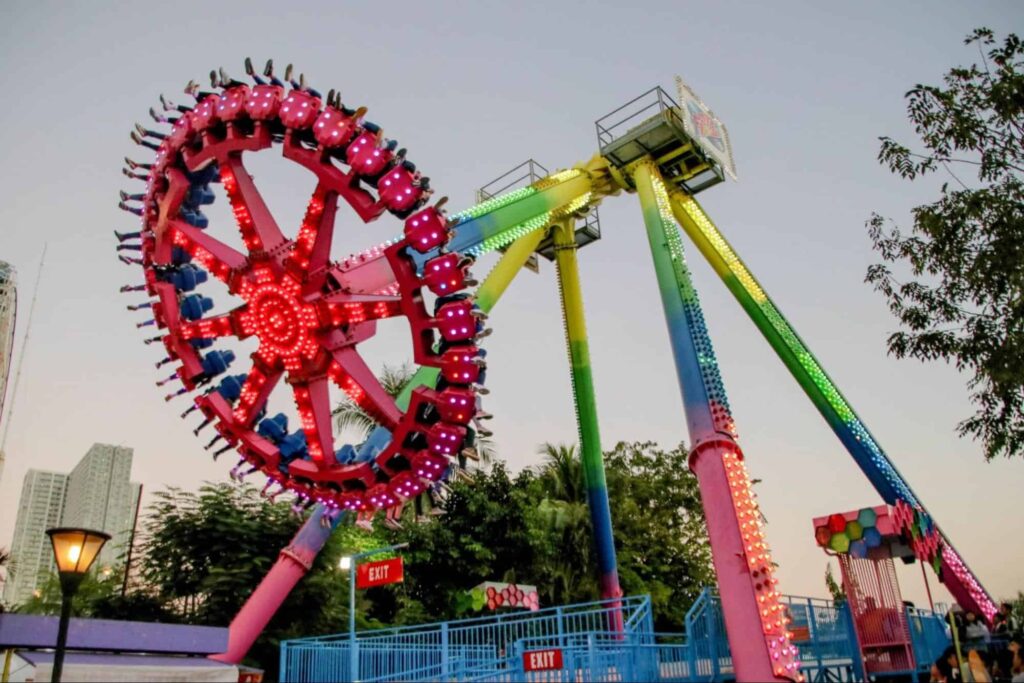 | | |
| --- | --- |
| Location | Roxas Blvd, CCP, Pasay City, Metro Manila |
| Operating Hours | 1:00 PM - 10:00 PM |
| Fees | Ride-all-you-can ticket - Php 400 |
| Website | starcity.com.ph |
Star City is a famous amusement park that offers a lot of amusement rides for its visitors. They have over 30 thrilling rides and amazing attractions available all year.
You can get a ticket for only Php 400 per head, which already gives you access to all the rides.
Birthday celebrants get a free ticket as long as they're with a minimum of 4 and a maximum of 10 companions. Those companions will also receive a 10% discount for celebrating with them in Star City.
If you're visiting with a kid, there are a lot of different rides that you can try together. This includes the Magic Forest, Carousel, Wacky Worm, Pirate Adventure, Bumper Cars, and more.
They also have rides that are only for adults which include the Star Flyer, Jungle Splash, Star Frisbee, Seahorse Viking, and more.
Aside from enjoying amusement rides, you can also take photos while exploring the attractions. So, make sure to get your action cameras and phones ready before going.
5. Go golfing at the Club Intramuros Golf Course.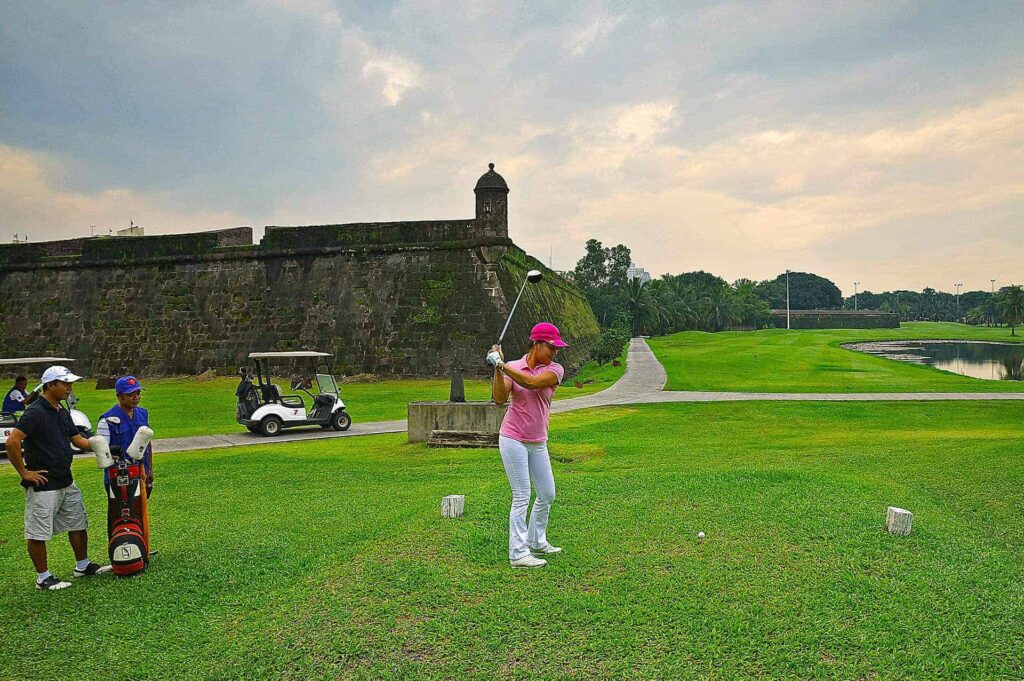 Location
Bonifacio Dr, Intramuros, Manila City, Metro Manila
Operating Hours
5:30 AM - 7:00 PM
Fees
Green Fees - Php 1,000 - Php 1,800 for four hours

Service Fees - Php 100 - Php 500 each service

Website
clubintramurosgolfcourse.com
Club Intramuros was one of the earliest golf courses in the Philippines, being established in 1906. It is one of the open public golf courses in the Philippines.
Because of its compact 18-hole course, Club Intramuros Golf Course is ideal for playing at any time of day. It is also the only course in the city that offers night golf to its players.
As it has a compact course, golfers may mistakenly believe that it is simpler to play. But Club Intramuros Golf Course's short course has various obstacles as well which makes your golfing experience quite memorable.
Golfing may seem like an expensive outdoor activity, but Club Intramuros offers a good rate for 4 hours.
From Tuesday to Friday, the day course (5:30 AM – 2:00 PM) costs Php 1,000 and the night course (3:00 PM – 7 PM) costs Php 1,500.
For weekend rates, you'll just need to add Php 300 to the regular weekday rate. Also, remember that Club Intramuros is closed every Monday, so you can only play from Tuesday to Sunday.
If you want to have the full golfing experience, you may also avail other services like a driving range. They also offer an 80-piece golf ball bucket for Php 100, a caddy for Php 500, and an umbrella girl for Php 500.
In case you don't have your own golf club, you can rent it for Php 700 or Php 1,200. You can even rent golf shoes for only Php 200 in their club.
If you want to play golf, their reservations are available 2-3 days before your chosen play date. You may contact their website or visit Tieza's Central Office to inquire.
6. Play frisbee at the UP Diliman Academic Oval.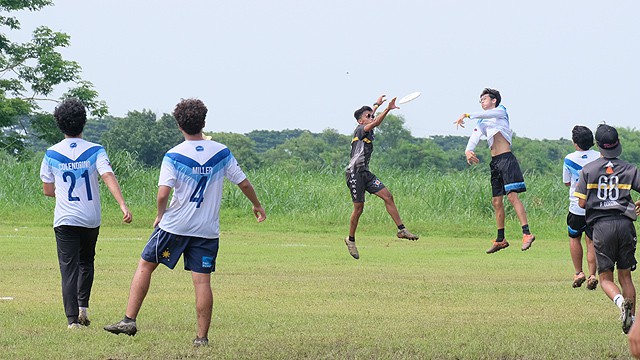 | | |
| --- | --- |
| Location | UP Campus, Diliman, Quezon City, Metro Manila |
| Operating Hours | 4:00 AM - 10:00 PM |
| Fees | None |
The University of the Philippines Diliman is not only one of the top universities in the country, but is also a preferred venue of frisbee players – from casual to professional.
As it is part of a public university, people also like that they don't have to pay anything before they can play. However, since it is not a paid frisbee area, you'll need to bring your own frisbee disc.
The park is also open until the curfew at 10 PM, so you can play at any time of the day. However, if you prefer not to be surrounded by a large crowd, the ideal days to visit are on weekdays when there are fewer people.
7. Go boat riding at SM By The Bay.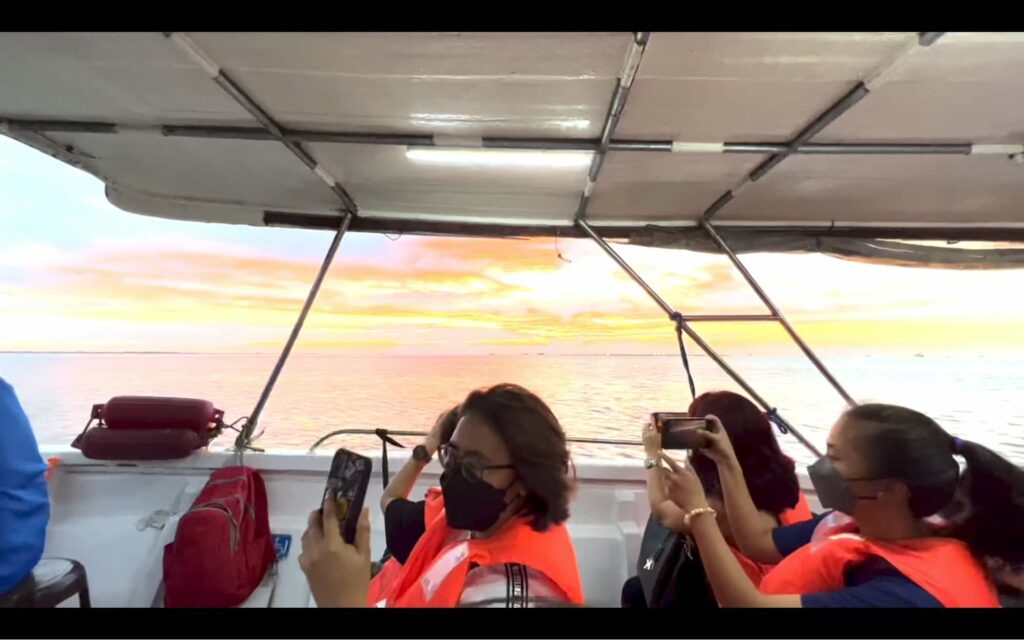 Location
Seaside Boulevard, Mall of Asia Complex, Pasay City, Metro Manila
Operating Hours
Monday to Thursday, 3:00 PM - 12:00 MN

Friday, 2:00 PM - 1:00 AM

Saturday, 10:00 AM - 1:00 AM

Sunday, 10:00 AM - 12:00 MN

Fees
Php 180
Website
www.facebook.com/smbythebay/
If you're more into enjoying a picturesque view, you can try boat riding.
SM By the Bay is located in Pasay and offers a good 25-minute boat ride in Manila Bay. While cruising, you can enjoy watching the seaside and see the city's skyline from a distinctive 360-degree unobstructed view.
The jetty is located in SM Mall of Asia's seaside, just beside the amusement rides that SM By the Bay also offers.
From the dock, the boat travels south to the casinos before turning around and continuing to the MOA's Esplanade side.
The boat ride costs Php 180 and you pay before you board. Once you're inside the small boat, you will be given a life jacket for your safety.
Before riding the boat, make sure to put all your belongings in your bag so you won't have any problems losing them.
Also, make sure to follow safety protocols so you can ensure your safety and enjoy the experience even more.
Lastly, know the schedule of the boat ride as it varies depending on the day.
8. Try skating at Manila Skate Park.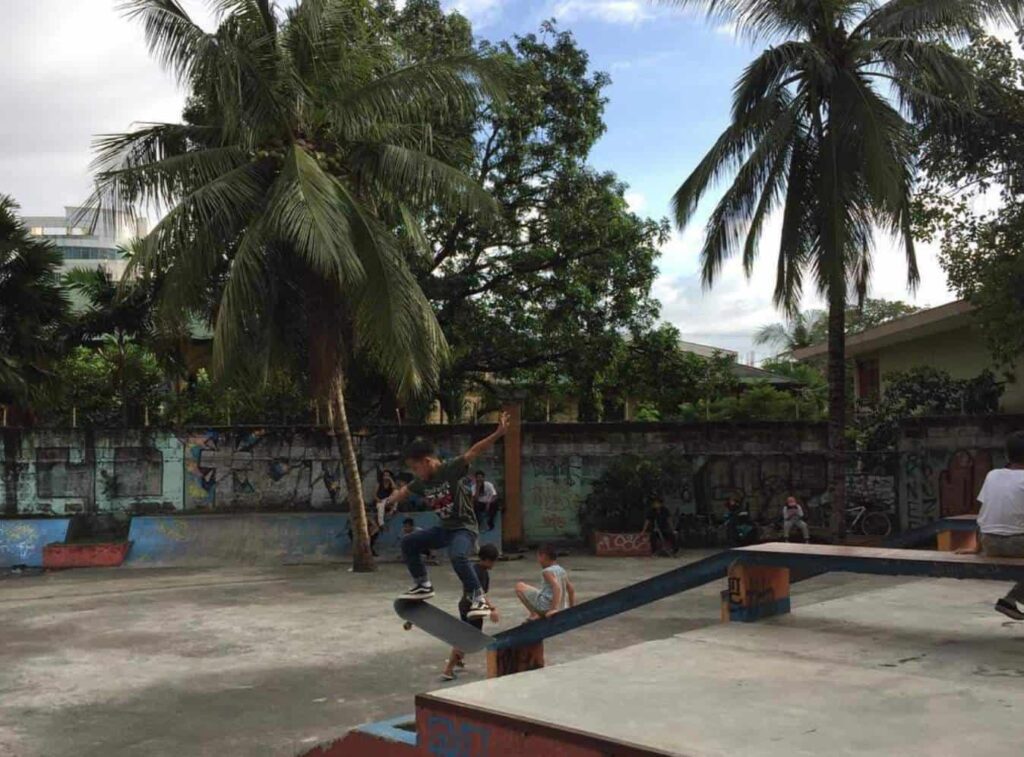 | | |
| --- | --- |
| Location | 497 Zulueta, Paco, Manila City, Metro Manila |
| Operating Hours | 4:00 AM - 10:00 PM (always open, schedule depends on the curfew) |
| Fees | None |
| Website | www.facebook.com/ManilaSkatePark/ |
Skating is another budding sport in Metro Manila, thanks to the popularity of Margielyn Didal during the Tokyo Olympics last 2020.
Because of this, Manila Skate Park became a popular go-to location for skaters in the metro because it is free. It is also always open even at night unless there is a curfew implemented in the vicinity.
Since it is a public park, expect that there will be a lot of people watching you as you skate, but no need to worry because the park is not only for expert skateboarders.
There are a lot of obstacle courses to choose from, from the easy to more complicated ones. The concrete skate park also has a bowl that anyone can use if they want to master their tricks.
Before going, make sure to check your skateboard and bring personal safety gear especially if you are still learning.
Also, if you have extra to spare, you can buy wax so you can share it with others as you skate and practice sliding tricks.
9. Soak in the sun and go swimming at Patio Isabel Resort.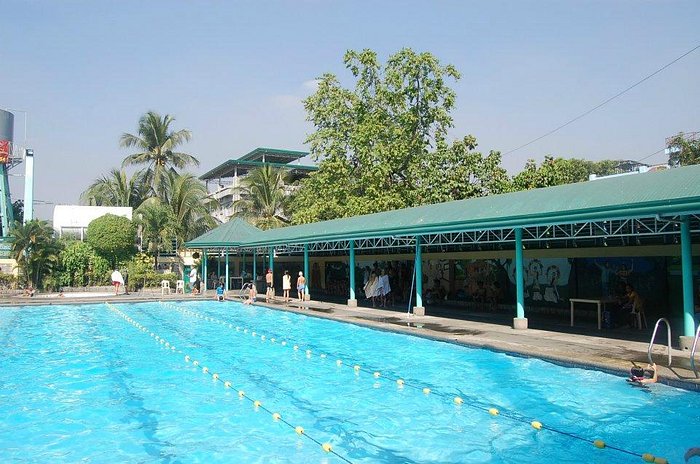 When it's hot in the summer, swimming becomes a popular outdoor activity. One of the good locations to go is Patio Isabel Resort in Quezon City.
The resort features a circular kiddie pool and a 25 x 13 meter, five lane swimming pool with a depth of 4-6-4 feet.
Swimming is fairly easy as the pool is not too deep, so if you're a casual swimmer, you can enjoy the pool. Just make sure to bring your eye drops with you because chlorine can cause dry eyes if you stay in the pool for a long time.
They also offer swimming lessons for those who want to learn the sport.
The entrance fee is minimal at just Php 200 for children and adults, inclusive of the use of tables and chairs. They also don't charge a corkage fee for food and drinks, and there is no additional cottage fee.
That said, if you're visiting, make sure to be early because they only accommodate up to 200 people.
Before entry, guests are asked for their vaccination cards, and senior citizens and PWDs must also present their IDs to avail discount.
The resort also requires you to wear proper swimming attire, and they may refuse service for those that do not follow their rules.
10. Go jogging at Marikina Sports Center.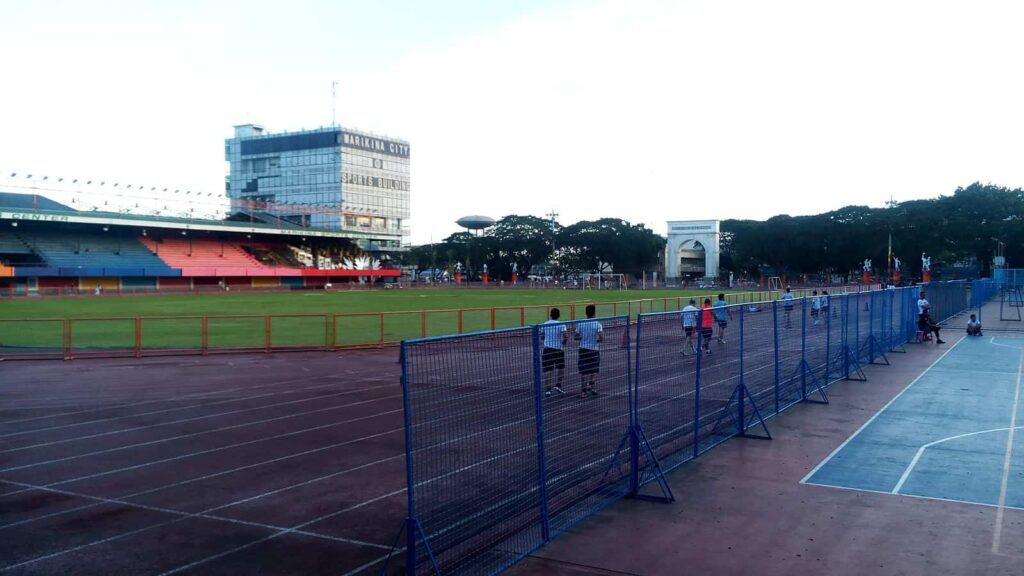 | | |
| --- | --- |
| Location | 24 Sumulong Hwy, Marikina City, Metro Manila |
| Operating Hours | 7:30 AM - 8:00 PM |
| Fees | None |
Jogging is another popular outdoor activity in Manila as it allows you to increase energy and mood better than just using a treadmill at the gym.
A great place to go jogging is the Marikina Sports Center. Since it has a well-maintained running track, you don't have to worry about hindrances like vehicles, uneven pavements, and other challenges jogging besides the road brings.
With this outdoor activity, you also don't need any equipment – plus, there's no entrance fee! So, don your Bluetooth earphones and get lost in the rhythm of your running.
FAQs about Outdoor Activities in Metro Manila