5 Best Free-To-Play Online Games in The Philippines
1. Valorant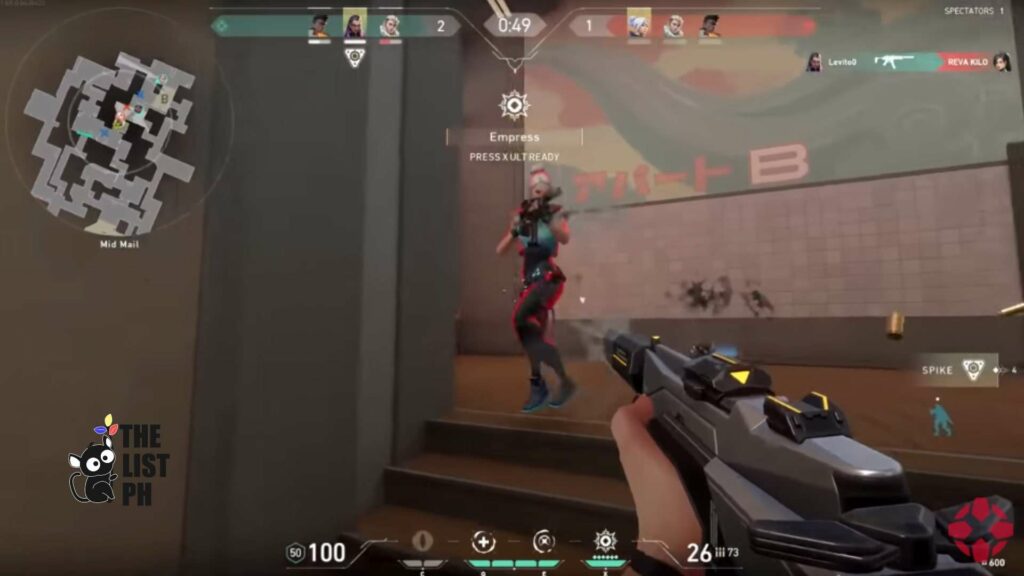 Creator/Game Company: Riot Games
Released: 2020
Game Genre: First person shooting (FPS) game, 5v5 (five players versus five players), Tactical Gunplay
File Size: 265 MB (installer), 23 GB (Game)
Device compatibility: Laptop or personal computer (PC)
Minimum device specifications: Windows 7 (64-bit), Intel Core 2 Duo E8400 (Intel) or Athlon 200GE (AMD), Intel HD 4000 or Radeon R5 200, 4 GB RAM, 1 GB (VRAM)
| | |
| --- | --- |
| PC Gamer | 4/5 |
| PC GamesN | 4/5 |
| IGN | 4/5 |
| Total reviews | 4/5 |
| Score consistency | 4/5 |
| | |
| --- | --- |
| Gameplay | 5/5 |
| Multiplayer Experience | 4/5 |
| Device Compatibility | 5/5 |
| Sound Effects and Music | 3/5 |
No in-game purchases to enjoy full features
Hero characters 
Colorful visual style
Strong anti-cheat system
Detailed map designs
Practice map for beginners
Low recommended specs
Characters unlocked through in-game purchases
No story or adventure
PC only
If you have played Counter Strike, one of the most famous FPS games in the last two decades, Valorant closely resembles its gameplay. We think it may even exceed its potential because of the colorful gameplay, character selection, added interface, and multiplayer experience.
Valorant features a 5v5, 25 round-game played between two teams. The attackers carry "the spike", which they must plant to the defenders' bomb sites.
The defenders must diffuse it once it is planted to prevent the attackers from winning. Of course, earning kills and eliminating the entire opponents' entire roster ensures your victory.
If your gaming life revolves around playing fast-paced, FPS, 5v5 games, we recommend you try Valorant. You will instantly fall in love with its intricate map details, character skills, well-chosen color palettes, and adrenaline rush.
Even if you are a casual gamer or a beginner, the game can still be fun amidst the game's veterans. Incoming Valorant players can explore "The Range" map for moving and shooting practice to get better at the game.
But if you hunger for adventure, stories, and character development, Valorant may struggle with your expectations. We think maybe exploring other characters satiates that yearning, but you may have to pay for them through real money or in-game points.
Despite its low device requirements, Valorant can only be played on PC. If you prefer the tactile sensation of holding controllers, consoles, or smartphones, the alternatives are yet to exist for you.
2. Mobile Legends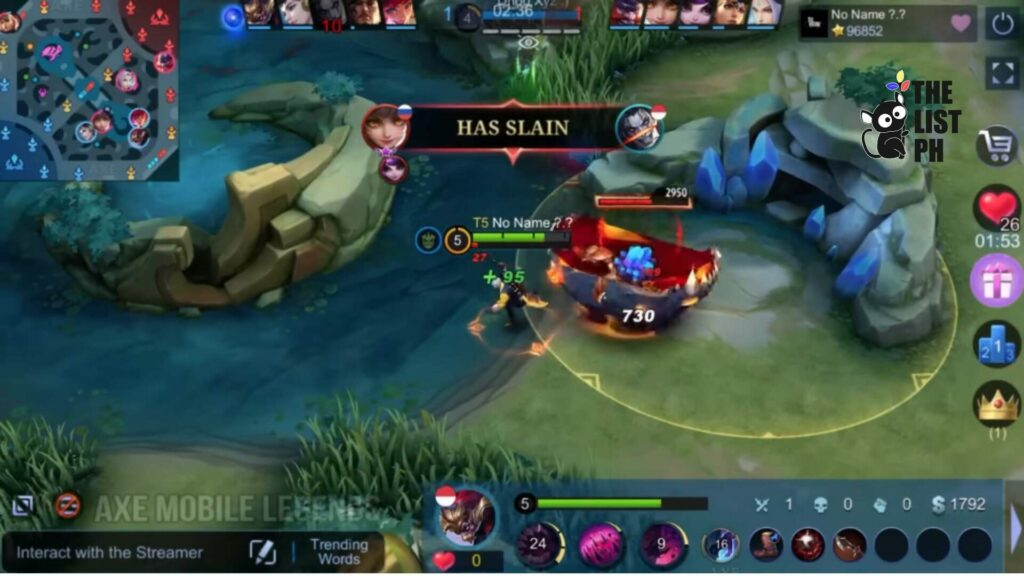 Also downloadable on App Store
Creator/Game Company: Moonton
Released: 2016
Game Genre: Multiplayer Online Battle Arena (MOBA)
File Size: 3 GB
Device compatibility: Mobile (Android, iOS)
Minimum device specifications: Android 4.1 or iOS 9.0, 3 GB RAM, 300 MB storage
| | |
| --- | --- |
| Google Play | 3.7/5 |
| App Store | 4.5/5 |
| Total reviews | 4.1/5 |
| Score consistency | 4.1/5 |
| | |
| --- | --- |
| Gameplay | 3/5 |
| Multiplayer Experience | 4/5 |
| Device Compatibility | 5/5 |
| Sound Effects and Music | 4/5 |
Beautiful character animations
Excellent character voice acting
Simple in-game interface
Generous in-game rewards
Skills over in-game purchases
Best played with a group of friends
10- to 30-minute matches
Monotonous controls
Small maps
Difficult for solo players
Mobile Legends: Bang Bang (MLBB) remains to be one of the most famous MOBA games played, especially in Southeast Asia. In fact, Mobile Legends: Bang Bang Professional League is a well-known professional esports tournament in Asia.
Moonton continuously adds more countries to the list, solidifying its already strong presence worldwide.
Yet even outside the realm of esports, as a casual gamer and a beginner, MLBB hooks you.
We cannot get over its beautiful character animations your eyes can feast on, and the excellent voice acting for each character. These commanding features drive our interest in playing the game.
We think you might appreciate its simple game interface. With only an analog pad to the left and 4 buttons to the right, MLBB makes it easy for any player to focus more on strategy and winning.
Unlike other free-to-play MOBA games, MLBB does not require its players to buy skins or bundles to get better. As long as you have the skill and tactics to eliminate your opponents, you can stay victorious.
We think the game is best played with a group because of how the game values teamwork to win. Even with the strongest of skills, you cannot with a 5v5 game against a well-coordinated team.
Hence, we suggest solo players to join with a group, or they might struggle. Playing with a different set of members each round may frustrate you due to inconsistency in teamwork.
The controls may also turn monotonous for you overtime. We think that while others may find it simple to keep playing, other gamers may prefer to have more skills and weapons available through additional on-screen options.
Lastly, the map may feel monotonous for you due to its simple layout of having the top right and bottom left corners as team sides. The in-game animations can keep you hooked, but the map may bore you over time.
3. League of Legends: Wild Rift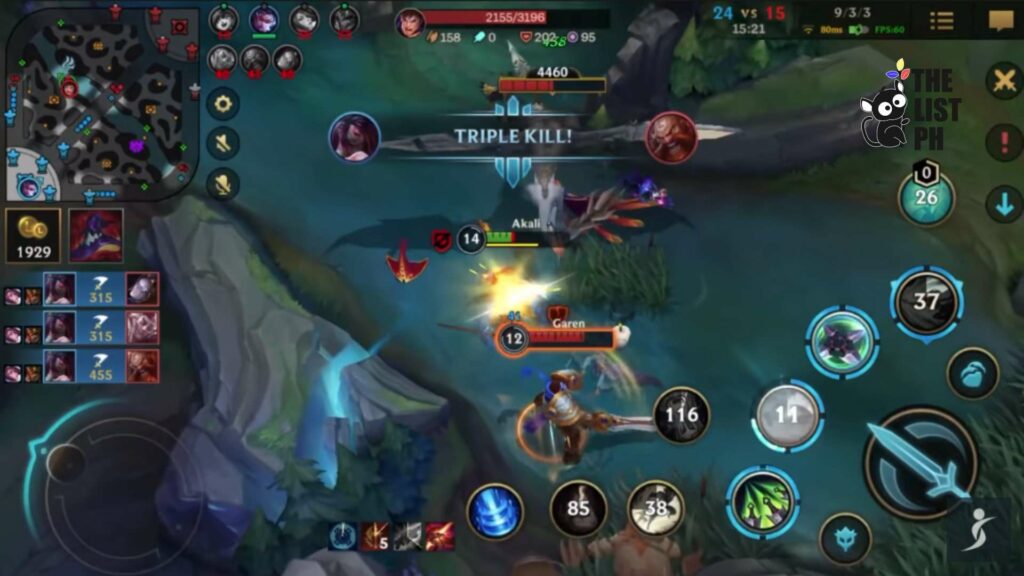 Also downloadable on App Store
Creator/Game Company: Riot Games
Released: 2020
Game Genre: MOBA, 5v5
File Size: 2 GB (plus more GB added per update)
Device compatibility: Mobile
Minimum device specifications: Android 5 or iOS 10, 2 GB RAM, 1.5 GHz quad-core, Qualcomm Snapdragon 410 processor or Apple A9 processor
| | |
| --- | --- |
| Google Play | 3.7/5 |
| App Store | 4/5 |
| Total reviews | 3.85/5 |
| Score consistency | 3.85/5 |
| | |
| --- | --- |
| Gameplay | 5/5 |
| Multiplayer Experience | 4/5 |
| Device Compatibility | 5/5 |
| Sound Effects and Music | 3/5 |
Various player roles
Caters transitioning League of Legends (LoL) players
Tutorials for beginners
20-minute matches
Compatible in most devices
Great map design
Limited characters compared to LoL
Pay to unlock some champions (characters)
Increasing storage capacity per update
Those familiar with the League of Legends on PC may know the basic game genre Wild Rift falls into. Although some may hesitate to transition from the PC, we are pleased with how Wild Rift accepts all kinds of players – both familiar and unfamiliar to LoL.
On top of being a 5v5 multiplayer team game, Wild Rift contains various characters filling different roles for a team. Before the gameplay, the balance of team composition immediately denotes your chances of winning.
For those unfamiliar with the jargon or flow of the game, we think you can easily adapt to it. Wild Rift's detailed tutorials for beginners makes incoming players both welcome and well-versed to the game immediately after download.
LoL and Wild Rift have always been put side by side because of their huge fan base. Many have been in awe of the controlled 20-minute matches paired with the intricate map design.
The map design divided into three sections makes players feel progress through levels quickly within one game. After going through the sections, the main goal of claiming victory against your opponents becomes icing on the cake.
Wild Rift features over 60 champions (characters) to choose from. Many can stay hooked not only because of the gameplay, but also because of the seemingly endless discoveries of character potentials.
Although 60 characters may seem a huge deal, this is miniscule compared to LoL's 150 characters. Since most LoL players transitioned to this game, we think how they might see this more as a limit than a game improvement.
Also, many of the champions and their skins require real money to be unlocked. While you can be satisfied with taking your time with the available ones, your favorite character may require you to invest money.
Since Wild Rift also releases regular updates, you may notice its increasing storage capacity over time. We think that it may not be alarming, but it is noticeable.
4. Roblox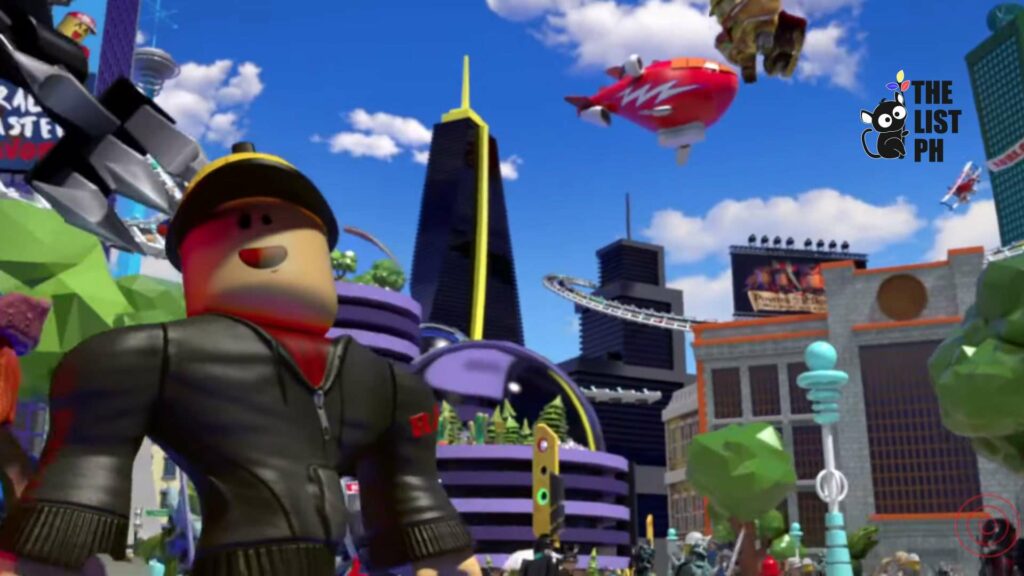 Also downloadable on App Store, PC, Xbox, & Amazon Appstore
Creator/Game Company: Roblox Corporation
Released: 2006
Game Genre: FPS, Simulation games, 2D games, Massively Multiplayer Online Role-playing games (MMORPG), Adventure game, etc.
Price: Depends on the game
File Size: at least 20 MB during installation (storage increases over time)
Device compatibility: PC (Windows, Mac, Linux, Chrome OS), Mobile (Android, iOS)
Minimum device specifications: PC (Windows 7, DirectX 10, most video cards, 1.6 Ghz processor, 1 GB RAM, 20 MB storage), Mobile (Android 5.0, iOS 9 or more)
| | |
| --- | --- |
| Google Play | 4.5/5 |
| App Store | 4.5/5 |
| Common Sense Media | 4/5 |
| Total reviews | 4.3/5 |
| Score consistency | 4.3/5 |
| | |
| --- | --- |
| Gameplay | 5/5 |
| Multiplayer Experience | 5/5 |
| Device Compatibility | 5/5 |
| Sound Effects and Music | 4/5 |
Immersive worlds
Offers different games 
Create own avatar
Create your own world
Sync progress across devices 
Controversial parent opinions
Unmoderated chat
With millions of daily users worldwide, Roblox is closely becoming a household name for children today.
Roblox does not just offer a game, it offers worlds. We recommend this for gamers of all ages because of their powerful platform allowing you to create your own worlds.
It closely resembles the features of Minecraft, another popular game allowing gamers to build their own world, and share their created world with friends.
Roblox does that and more. Game developers of the platform have created different sets of games you can enter with your avatar.
The games played in Roblox can range from cooking, simulation, action, adventure, math, horror, and more. We suggest you try any games on the platform, as new games get released every day.
Making a custom-made avatar is what you use to interact with others in Roblox. Because you have your own adjustable identity in Roblox, many stay in the platform not only to play but also to socialize and express themselves with others.
Despite the vast network already created in Roblox, we think that the lack of demarcation between "old" and "new" users help the platform to continuously evolve.
Because of the large internal network in Roblox, along with its large children user base, many parents are worried about their children's immersion.
There are no definite filters set in the platform to limit the speech and content children can access. Even with its parental controls, online predators may still find a way to interact with them.
We still suggest parents to turn on parental controls on their children's devices. The feature can limit the voice chat feature to select people making the platform safer for ages 18 and below.
5. Genshin Impact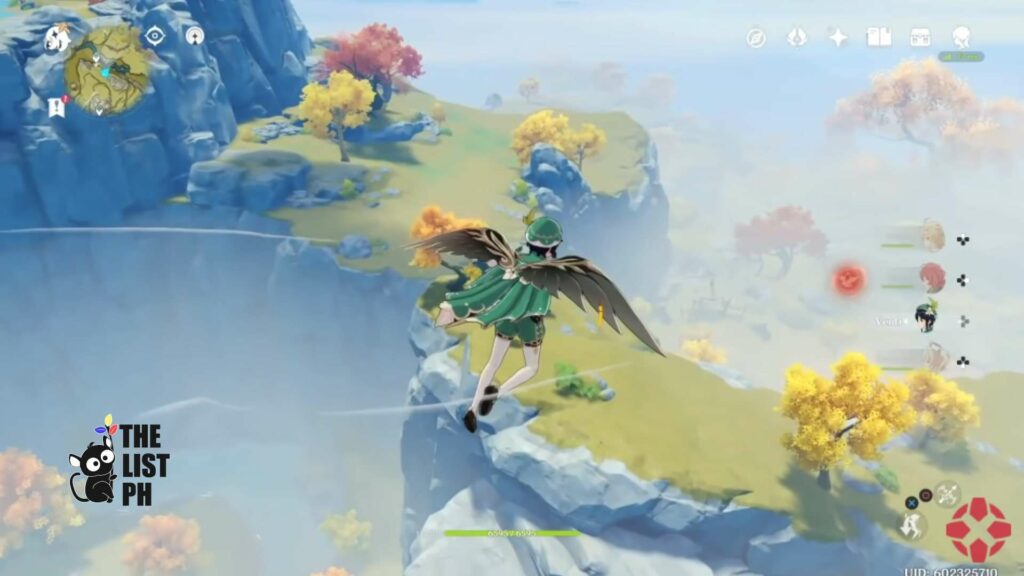 Also downloadable on App Store, PC, & PlayStation Store
Creator/Game Company: miHoYo
Released: 2020
Game Genre: Action RPG, Adventure
File Size: starts at 3.4 GB (reaches over 40 GB when played)
Device compatibility: PC, Mobile (Android, iOS), PlayStation 4
Minimum device specifications: PC (Windows 7 (64-bit), Intel Core i5, NVIDIA GeForce GT 1030, 8 GB RAM, 30 GB Storage), Mobile (Android 8.1 or iOS 9.0, 8 GB Storage)
| | |
| --- | --- |
| Google Play | 4.2/5 |
| App Store | 4.4/5 |
| IGN | 4/5 |
| Total reviews | 4.2/5 |
| Score consistency | 4.2/5 |
| | |
| --- | --- |
| Gameplay | 5/5 |
| Multiplayer Experience | 5/5 |
| Device Compatibility | 4/5 |
| Sound Effects and Music | 4/5 |
Beautiful world map
Simultaneously play multiple characters
Side quests and dungeons
Anime-inspired artwork
Leveling up for characters and talents
Character attack combinations
Huge storage capacity
Gacha Model
High device specifications
Genshin Impact won the 2021 Apple Design Awards for both Visuals and Graphics, and Google Play's Best Game of 2020. It even acquired the nomination of Golden Joystick Awards for the Ultimate Game of the Year.
Genshin Impact is just on a league of its own when it comes to its anime-inspired artwork and animation. We think that anime lovers will never get tired of interacting with their characters even with hours of game time.
We also think players of "The Legend of Zelda: Breath of the Wild" will be pleased with the similarity of the two games' maps. For both games, the exploration and quests are limitless.
Even when you only plan to complete the main plot of the game, Genshin Impact provides you with jam-packed side quests and dungeons to play. The bosses of each dungeon and the treasure chests will keep elevating the experience of each player over time.
The fun extends to the capability of leveling up all characters and their talents. You can even play multiple players through a battle or exploration.
We suggest you look for the best attack combinations between two players to explore your best attacking power. You can combine the elements of your characters to defeat even the strongest of dungeon bosses.
We recommend this for players who play with different players. Genshin Impact allows multiplayer mode to happen even if the player's joining uses different devices.
Also, the game automatically saves the progress of an account. This makes it playable across your devices and consoles without losing your progress.
Its Gacha Model may also make you pay money to progress faster in-game. Even if the game can be completed without the help of in-game purchases, the Gacha model makes it tempting for anyone to give-in to complete the game sooner.
Because of its detailed world, side quests, character stories, and mysteries, the game can easily occupy 40 GB or more of your device. We think of this as a deal breaker for gamers who stick to mobile as it can easily occupy most of your storage.
The game's high need for storage is accompanied by its high need for specs. We suggest playing Genshin Impact on devices with higher specifications to fully appreciate the artwork of the game.
FAQs about Online Games