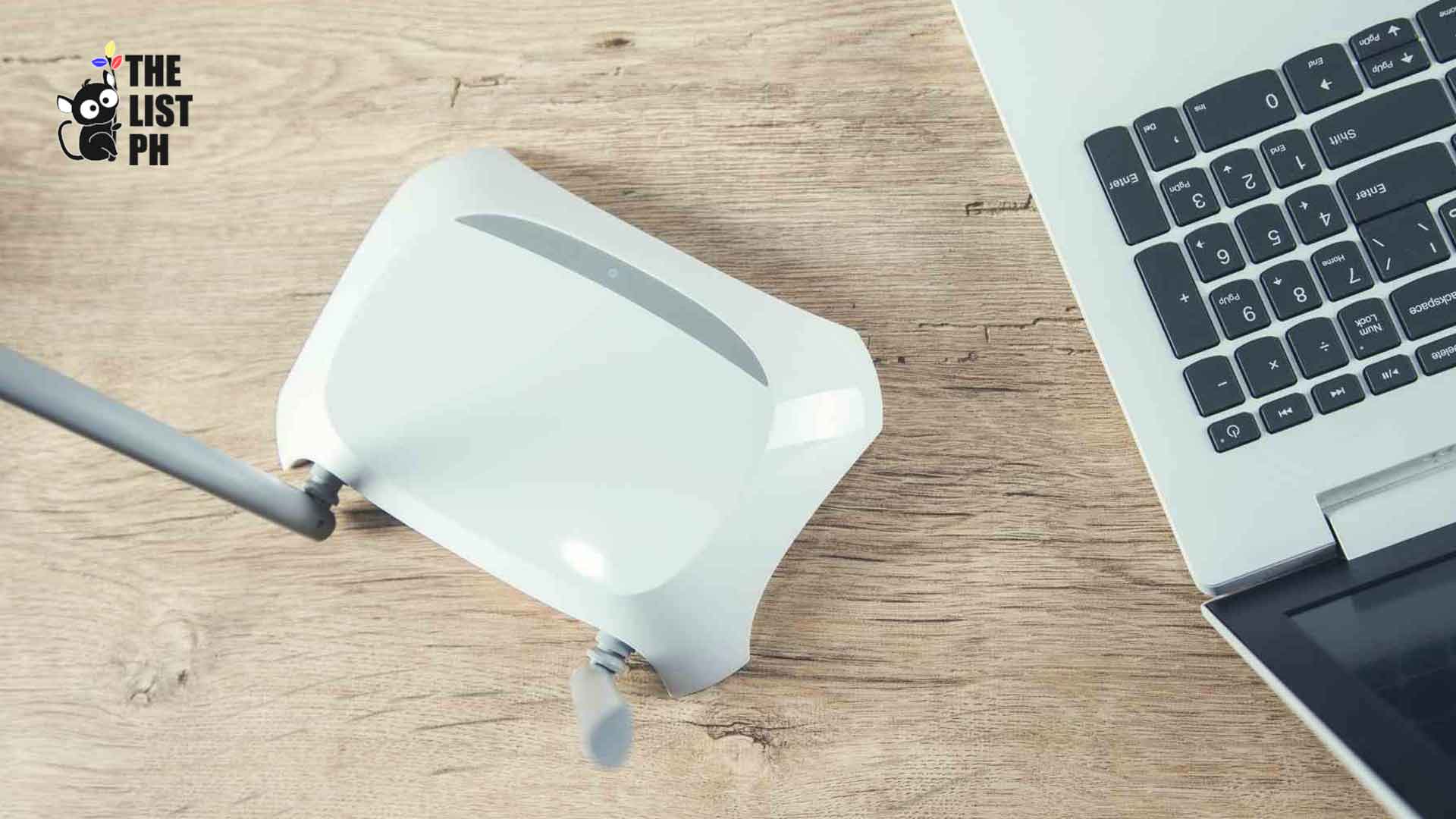 5 Best Work From Home Internet Plans in the Philippines 2022
How We Picked The Internet Plans
1. SMART Bro Rocket Sim Unli Data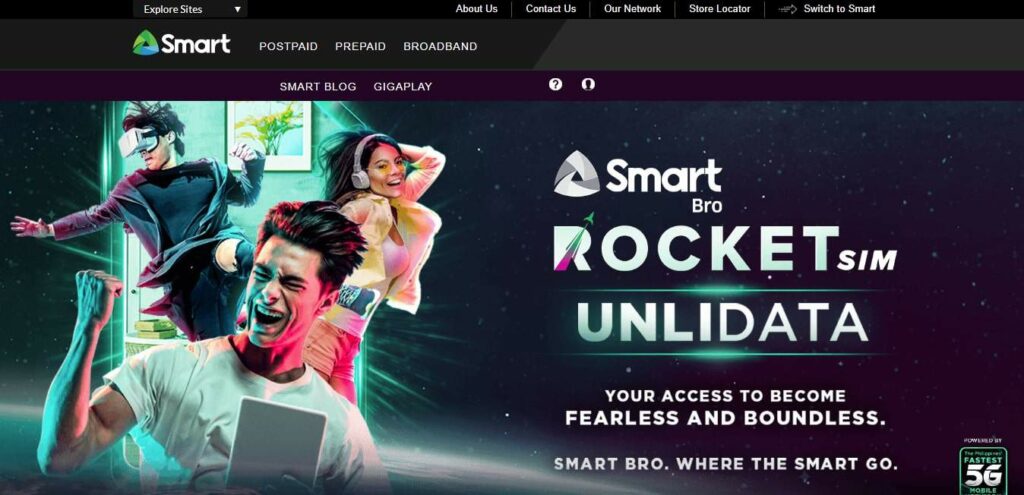 Price: Php 399 (15 days), Php 599 (30 days)
Speed: 2G to 5G speed, Up to 42 Mbps (5 MBps)
Data limit: Unlimited
Other Fees: None
| | |
| --- | --- |
| Lazada | 4.8/5 |
| Shopee | 4.9/5 |
| Total reviews | 4.85/5 |
| Score consistency | 4.85/5 |
| | |
| --- | --- |
| Pricing | 5/5 |
| Internet Speed | 5/5 |
| Reliability | 4/5 |
| Fees | 5/5 |
Portable WiFi
Unlimited data
Fast Internet Speed
Affordable
No additional fees
Requires you to be a SMART User
Reliability depends on your location
Best used with SMART Pocket WiFi for device sharing
Slower than Home WiFi Fiber Plans
If you are looking for unlimited data pocket WiFi, then the SMART Bro Rocket Sim Unli Data is the best option for you.
This product is one of the best providers of affordable and portable WiFi data. With this, you can have unlimited access to your favorite apps anywhere nationwide.
The SMART Bro Rocket Sim Unli Data gives you a fast connection, which can reach 5G speeds. Many users can enjoy up to 42 Mbps of Internet speed once they subscribe to this promotion.
You can avail the Php 399 promo or the Php 599 promo to use this product.
The former provides you unlimited data for 15 days, while the latter promo lasts for 30 days. There are no additional fees to pay to get started.
We suggest you avail the Php 599 promo to save more money in the long run. We recommend this if you think you will work not only from home, but also from other locations.
Full disclosure, its speed will not be at par with home Internet fiber plans but this is enough to let you do light tasks. We recommend this for those who only need the Internet to check their notifications or for light data usage.
You will also need to activate this through a SIM card.
If you have already used up your SIM card slots, we suggest you consider switching to SMART to enjoy the unli data promo wherever you go.
2. Converge Fiber X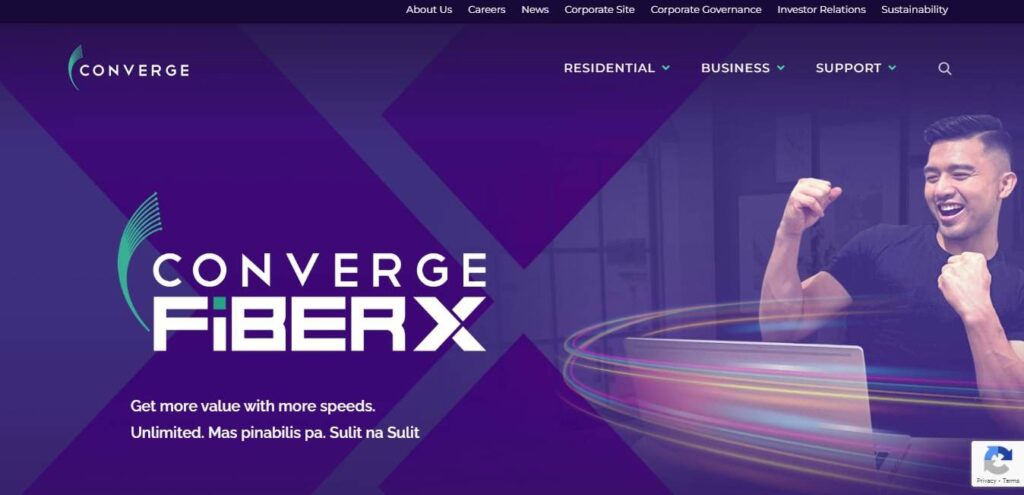 Price: Starts at Php 1,500
Speed: up to 100 Mbps (11.9 MBps)
Data limit: Unlimited
Other Fees: Php 2,500 (installation fee)
| | |
| --- | --- |
| Pricing | 4/5 |
| Internet Speed | 5/5 |
| Reliability | 4/5 |
| Fees | 3/5 |
Affordable monthly plan
Fast Internet speed
Cheaper than other providers' plans at similar speeds
Top-rated network provider in the Philippines
24-month lock-in period
Php 2,500 installation fee
Limited business branches 
If you're committed to working in one place with fast and reliable Internet, we recommend you subscribe to Converge's Fiber X plans, where you can enjoy the value of every peso you pay.
Their plans cost Php 1,500, 2,500, and 3500, giving you up to 100 Mbps, 300 Mbps, and 800 Mbps, respectively.
Aside from the monthly fee, do note that there is a Php 2,500 installation fee and 24 months of lock-in period.
We think this may make you hesitate to subscribe. You might be staying at a tentative location or looking for a budget-friendly unlimited plan without heavy initial fees.
Despite that, we recommend these for anyone who is looking for a fast, reliable Internet plan.
When we compared the pricing plans of Converge to its competitors, it turns out they provide the cheapest plans with the fastest Internet speeds.
As for their customer service, you may struggle to get ahold of them for technical difficulties. They only have a few branches built around different cities.
In Metro Manila alone, they only have 4 branches.
We think this may be a dealbreaker for you, if you prefer more personalized customer service and reliable home visits for troubleshooting.
3. GFiber Unli Plan 1699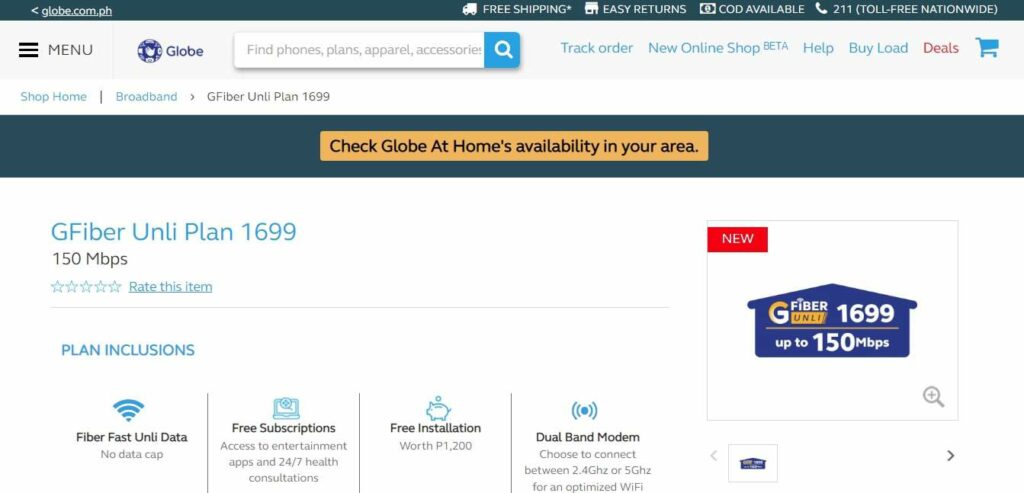 Price: Php 1,699
Speed: up to 150 Mbps (17.8 MBps)
Data limit: Unlimited
Other Fees: None
| | |
| --- | --- |
| Pricing | 4/5 |
| Internet Speed | 5/5 |
| Reliability | 4/5 |
| Fees | 5/5 |
Freebies on streaming apps and telemedicine services
No installation fee
No lock-in period
Free delivery 
May be location-sensitive 
Php 4,500 fee for modem
GFiber Unli Plan 1699 is a trend-setter for Home WiFi. What we loved about this product is how it provides so much value in its jam-packed bundle.
When you subscribe to this GFiber Unli Plan, you enjoy free services from Globe's partners.
For instance, you get 3 months of free subscription to famous streaming apps such as VIU, Discovery+, HBO GO, and Amazon Prime Video. You also receive access to the telemedicine services of Konsulta MD.
What truly sets this apart from other home WiFi plans is the absence of lock-in periods and installation fees.
We think of this as a huge game-changer for those set back by these factors. In selected areas, you can even have your modem delivered and installed for free!
A setback you may encounter is Globe's services not being available in your area. We suggest you check your location on their website first to know if you can access their services from your work-from-home address.
Globe also asks for a Php 4,500 modem installation fee for foreign nationals residing in the country.
We tilted our heads when we read this policy, but we're willing to look past this because they don't have lock-in periods, to the relief of expats.
4. GOMO SIM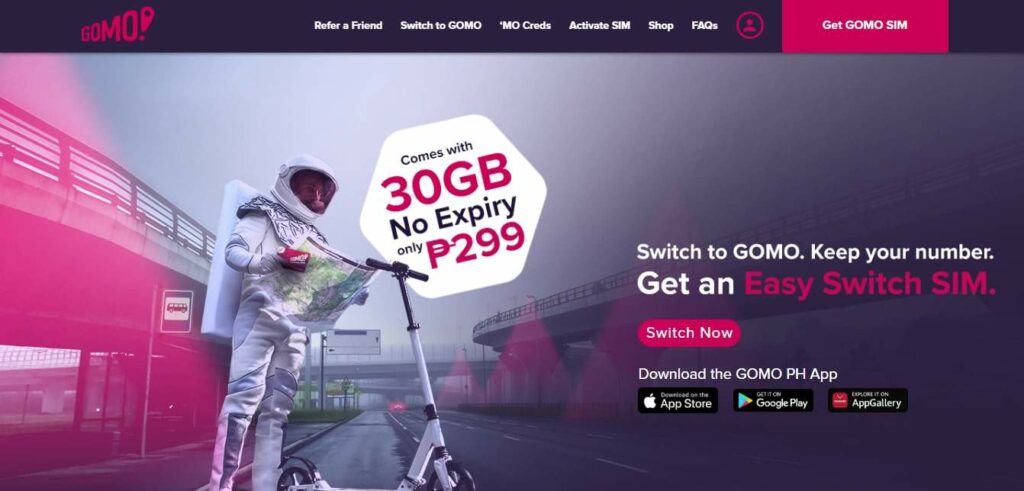 Price: Php 299
Speed: 5G, up to 5 Mbps (0.59 MBps)
Data limit: 30 GB
Other Fees: None
| | |
| --- | --- |
| Lazada | 4.9/5 |
| Shopee | 4.9/5 |
| Total reviews | 4.9/5 |
| Score consistency | 4.9/5 |
| | |
| --- | --- |
| Pricing | 5/5 |
| Internet Speed | 3/5 |
| Reliability | 4/5 |
| Fees | 5/5 |
Perfect as backup Internet plan
Users can keep their existing number
No expiry on data
Affordable
Requires GOMO SIM card to access Internet
Slow speed
Reload through GCash
We think GOMO SIM revolutionizes prepaid data and Internet data associated with SIM cards. At an affordable price of Php 299, you can avail 30 GB of data that won't expire, ever.
We recommend this for anyone looking to have backup Internet access or if you work on the go. Having no expiry date on a prepaid date made us feel less restricted and pressured, and we think you'll feel the same.
If you are afraid of abandoning your SIM card for a GOMO SIM card slot, then you have nothing to worry about.
GOMO allows you to keep your existing number when you connect the SIM card. You just need to register your number through their website to activate it.
Our minds were blown with this feature because no other Internet provider gives this service when it comes to subscribing to Internet data through their SIM.
As of writing, GOMO states that this offer only lasts until September 30, 2022. We suggest you buy the SIM card now and load up because it will not change or expire after the said date.
When reloading your GOMO SIM, you need to do so through GCash.
We think it may be tedious for non-GCash users. Loading up your GCash wallet may be a hassle if you do not regularly use the app's services.
Lastly, the speed of GOMO is only for minimal, light work.
We do not expect it to bring you a premium experience, but we think it is enough to make you stay connected until your main Internet plan returns.
5. SKY Fiber Unli Broadband Plan 999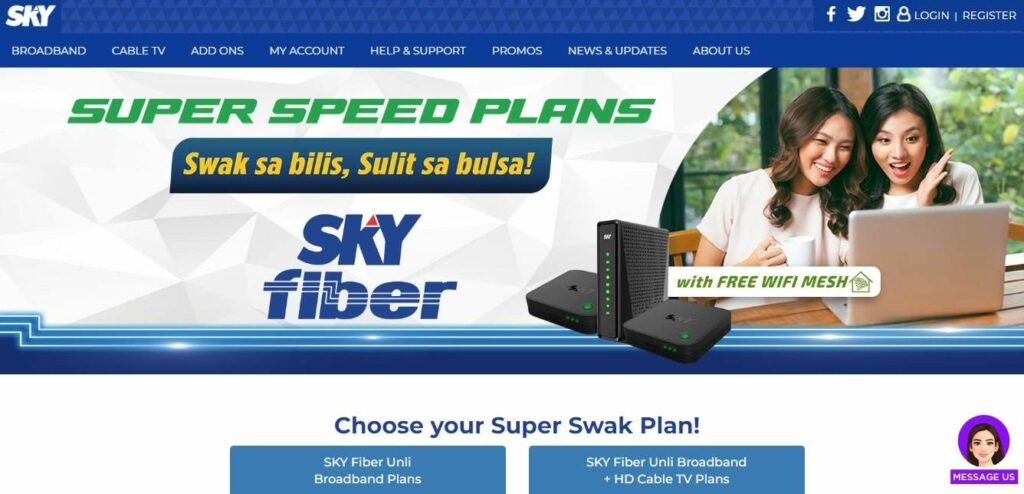 Price: Php 999
Speed: up to 20 Mbps (2.38 MBps)
Data limit: Unlimited
Other Fees: None
| | |
| --- | --- |
| Pricing | 4/5 |
| Internet Speed | 3/5 |
| Reliability | 4/5 |
| Fees | 4/5 |
Perfect for a single user
No installation fee
Free SKY Cable channels
May incur installation fees in the future
Not optimized for Internet sharing
24-month lock-in period
We recommend the SKY Fiber Unli Broadband Plan 999 for young professionals on a budget or for single users. This product provides you with enough speed to work solo at an affordable price.
You can also avail of SKY Cable Lite, which is provided for free during your installation. Subscribing to the SKY Cable Lite gives you access to 16 HD and 52 SD channels.
If you think this product is for you, we suggest you avail it as soon as possible. The SKY Fiber Plans are currently being offered with no installation fees.
This is an expense most users would gladly eliminate as they really do tend to ramp up your initial shell-out.
However, you may need to consider its 24-month lock-in period. While this is the norm, we think this can bind you to your location if you are not staying at your permanent residence.
That said, if you're sold on the plan price, you can always opt to purchase a contingency prepaid plan that can serve as your backup should the connection clog up.
Eventually, we think you should avail a faster Internet connection, especially if you are thinking of the long term or are sharing the plan with fellow family members also working from home.
FAQs about Internet plans