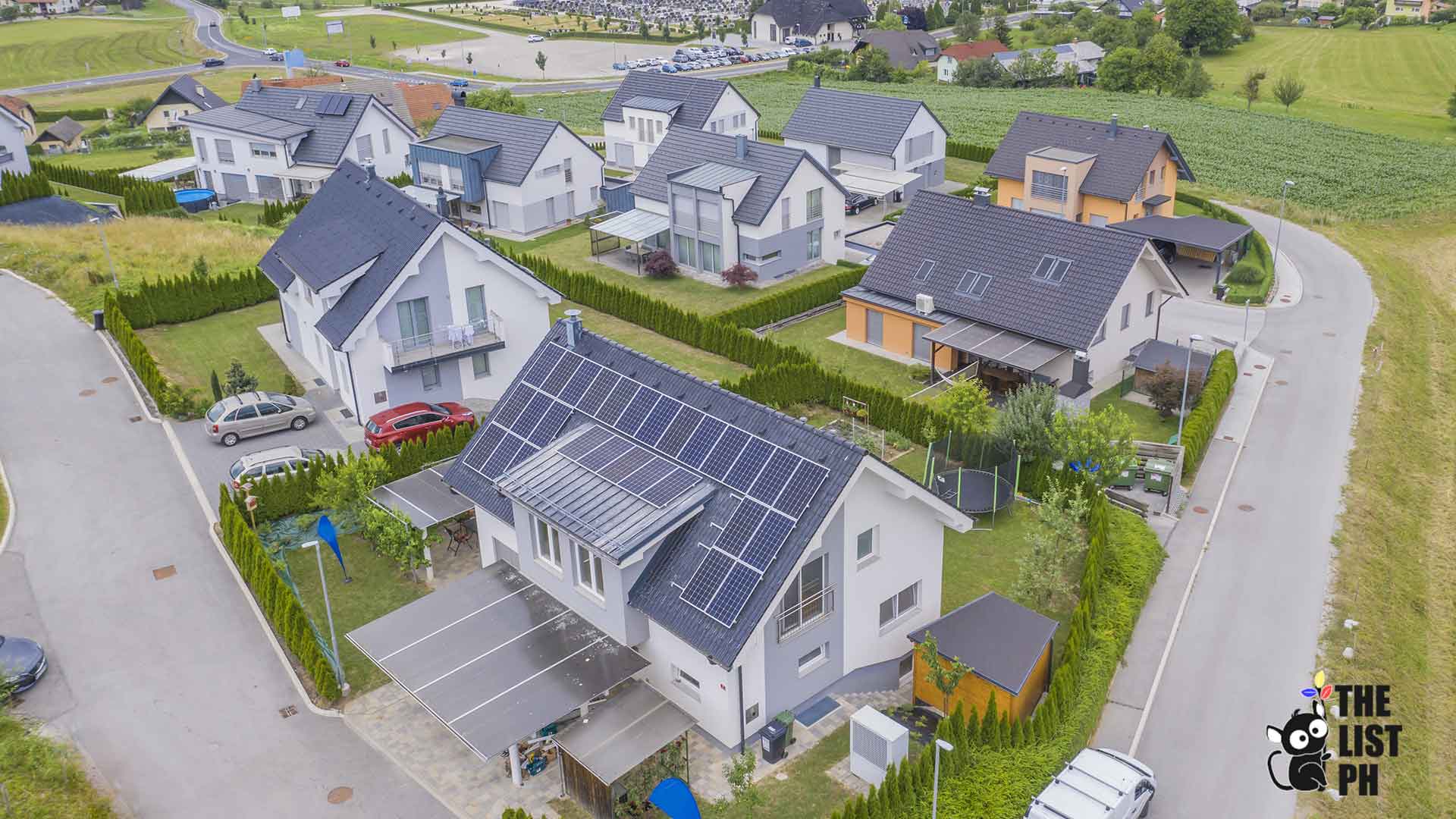 5 Best Real Estate Companies in the Philippines
Our Criteria for Choosing the Best Real Estate Companies in the Philippines
1. Ayala Land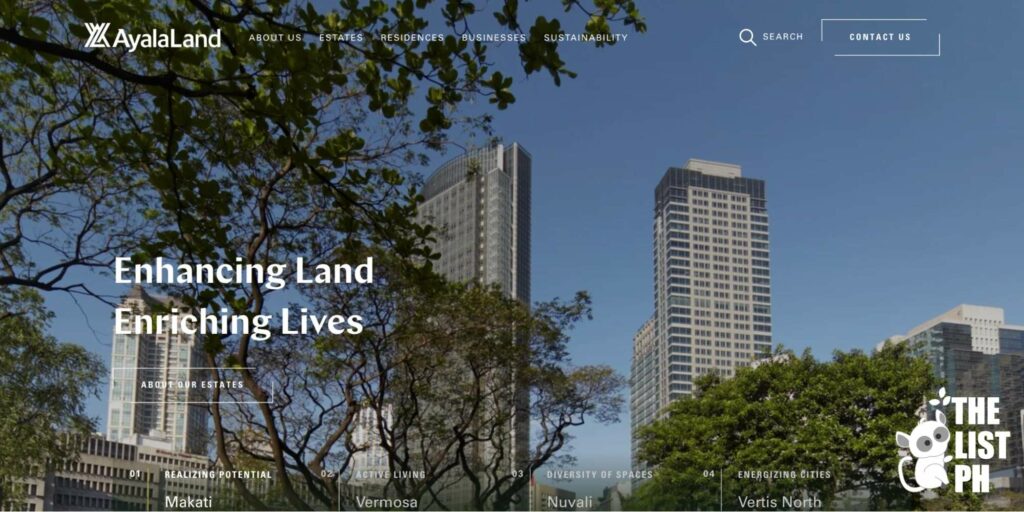 Website: https://www.ayalaland.com.ph/
Main office: Tower One & Exchange Plaza, Ayala Triangle, Ayala Avenue, Makati City, Metro Manila 1226
E-mail: [email protected]
Contact number: +(632) 7908 3882
Business hours: Monday to Friday, 8:00 AM to 5:00 PM
| | |
| --- | --- |
| Prestige | 5/5 |
| Property Quality | 5/5 |
| Location and Accessibility | 3/5 |
| Price Range | 3/5 |
High-end, well-maintained properties
Public establishments and transport amenities are accessible
"City in a city" concept
Majority of properties are in Manila-centric locations
Not suited for buyers with a smaller budget 
Established in 1988, the Ayala Land Inc. laid its foundations in an area once known as Hacienda Makati. Now with decades of industry experience, the company has become a giant in the real estate industry in the Philippines.
Its home turf Makati has also become a leading financial and business district, thanks to the residential, recreational, and commercial establishments the company was able to put up. Its commercial properties, Trinoma and Glorietta, are beloved by many mallgoers.
Ayala is the company responsible for one of the Philippines' biggest planned communities — Bonifacio Global City or BGC. Some of Ayala's biggest residential brands also include Ayala Land Premier, Alveo, Avida, Amaia, and BellaVita.
The company was able to generate Php 7.8 billion in revenue for the first quarter of 2022 alone. The company was also awarded "Most Outstanding Developer" and "Gawad Husay Sa Pagpapaunlad" at the DHSUD Awards.
One of its downsides is that it's quite Manila-centric in the sense that there are significantly fewer properties available in Visayas and Mindanao. Ayala properties are also on the more expensive side, with some properties costing anywhere from Php 7.5 million to Php 20 million.
Ayala properties, however, are popular because they are strategically master-planned and built. The company puts importance on creating "hubs" that can accommodate shopping centers, open spaces for nature, amenities for active lifestyles, transport, and pedestrian travel.
That said, professionals well into their careers and growing families with a substantial amount to shell out could be well-suited to Ayala Land properties.
2. Megaworld Corporation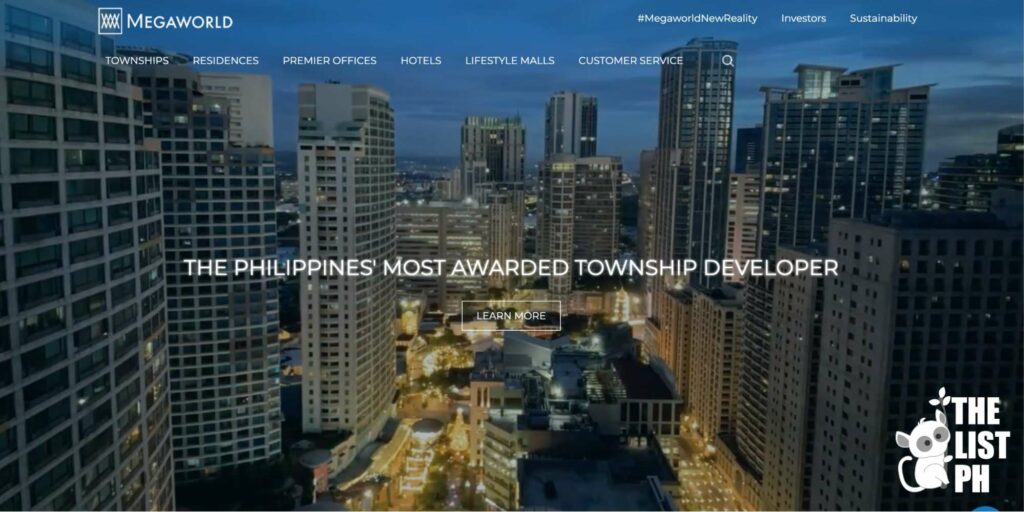 Website: https://www.megaworldcorp.com/
Main office: 28/F, The World Centre Building, 330 Senator Gil Puyat Avenue, Makati City 1200 Metro Manila
E-mail: [email protected]
Contact number: +(632) 8888 6342
Business hours: Monday to Saturday, 8:00 AM to 8:00 PM
| | |
| --- | --- |
| Prestige | 5/5 |
| Property Quality | 5/5 |
| Location and Accessibility | 3/5 |
| Price Range | 3/5 |
Well-maintained properties
Properties are located near urban areas
Not many options outside Metro Manila
Megaworld offers mostly high-end properties
Megaworld Corporation was founded on August 24, 1989, just a year after Ayala Land. The company was initially focused on pioneering office development for BDO companies, building its first few establishments in Eastwood City.
Megaworld is now dedicated to developing, leasing, and marketing real estate. It has a reputation for creating high-end residential condominiums and commercial properties that are often located in highly urbanized locations.
Presently, Megaworld has launched more than 725 residential developments, 20 malls, and almost 1.4 million sqm of leasable office space located in more than 70 office towers. Megaworld also has 11 homegrown hotel properties.
Megaworld has also grown its net income by 36% or over Php 14.4 billion last year compared to its previous records in 2020. This growth can be attributed to its 11 new residential and commercial lot projects — and of course, improved economic activity.
Among its landmark projects in Metro Manila are Forbes Town Center, Petron Megaplaza, McKinley Hill, and Newport City. Its biggest development areas include Southwoods City, Boracay Newcoast, and Davao Park District.
In terms of price levels, Megaworld has mostly high-end offerings. This could be a con if you're just a starting professional. Moreover, if you're looking to reside anywhere outside Metro Manila though, there might not be many options available to you.
But if getting to and from work is a priority, Megaworld properties are located in highly strategic areas that will allow you to access work and recreational areas easily. Condominiums are often priced at Php 7 million and up.
3. Filinvest Development Corporation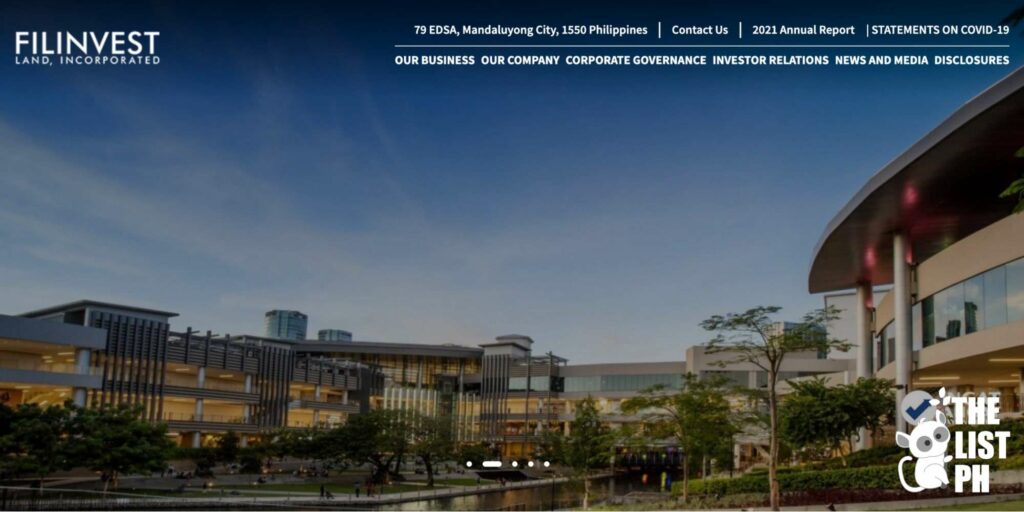 Website: https://filinvestland.com/
Main office: 79 EDSA, Mandaluyong City, 1550 Philippines
E-mail: [email protected]
Contact number: +(632) 8850 0888
Business hours: 8:00 AM to 5:30 PM
| | |
| --- | --- |
| Prestige | 4/5 |
| Property Quality | 4/5 |
| Location and Accessibility | 5/5 |
| Price Range | 5/5 |
Properties available all across the country
Mostly economical, some mid-range and high-end properties
Not many condominium-style properties available
Limited options for those who want to reside in urban areas
First established in 1955 as a used-car financing company, Filinvest was able to acquire over 4,000 acres of prime real estate around Manila in 1996, along with land in Fort Bonifacio and Cebu City.
The company has since then provided homes for over 160,000 families. Filinvest is well-known for building residential communities and villages, but it has also diversified into mid-rise and high-rise condominiums, BPO hubs, office buildings, and shopping centers in recent years.
Unlike the previous two entries, Filinvest has a much more diverse project portfolio that spans the entire archipelago. The company also has 250 ongoing developments in 50 key areas across the country.
Filinvest properties are divided into three tiers — Aspire, Futura, and Prestige. Condominiums and house and lots belonging to Aspire are more economical. Futura properties are more mid-market, and Prestige properties are more high-end.
Buyers are then able to choose between a wide array of properties that best suit their budget. Properties are often sold for less than Php 1 million, which is why it's often preferred by new or growing families.
Filinvest is not as Manila-centric as other entries on this list, so you would have limited options if you prefer to reside in this area. However, the company offers small-scale condominiums and house and lots across the country.
Filinvest Land also continuously gives back via its disaster relief program "Pusong Filinvest". Living space designs also include incorporating elements of sustainable development, which is reflective of the community that Filinvest encourages and wants to build.
4. Rockwell Land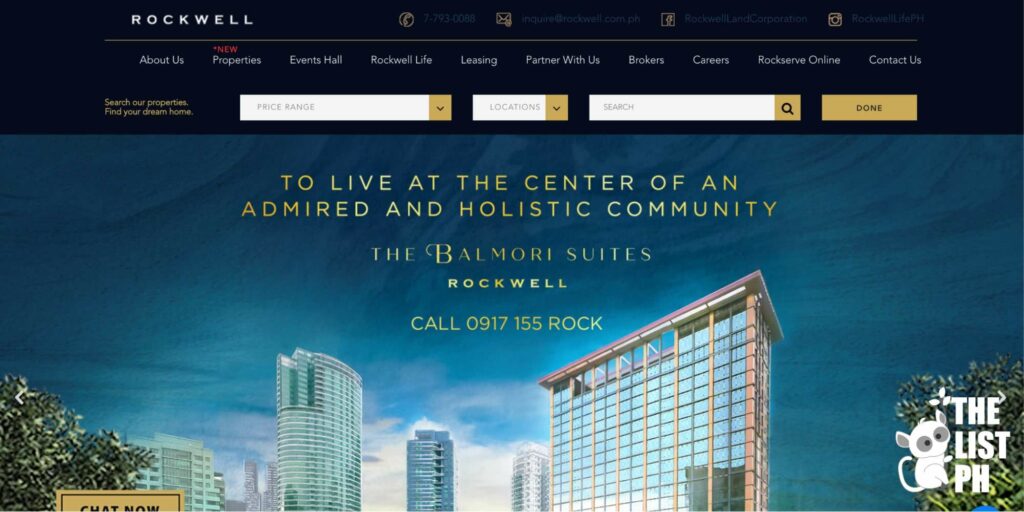 Website: https://www.e-rockwell.com/
Main office: 8 Rockwell Hidalgo Drive Rockwell Center, Makati, Metro Manila
E-mail: [email protected]
Contact number: +(632) 7793 0088
Business hours: Monday to Friday, 9:00 AM to 6:00 PM
| | |
| --- | --- |
| Prestige | 5/5 |
| Property Quality | 5/5 |
| Location and Accessibility | 2/5 |
| Price Range | 2/5 |
Quality of properties are top-tier
Urban location makes establishments, amenities, and transport highly accessible
Majority of properties are located in Rockwell Center
Properties are among the most expensive on this list
Rockwell Land Corporation established itself by transforming a thermal plant once owned by Meralco in 1998. Since then, it has expanded to become a leading company dedicated to creating quality properties.
Its main attraction, Rockwell Center, is a 15-hectare mixed-use complex that lights up the Makati Skyline. The complex is home to several office buildings, condominium towers, and the famous Power Plant Mall.
Some of Rockwell's major residences include The Grove, Rizal Tower, and One Rockwell. Additionally, the Ateneo Professional Schools of Law and Business as well as Career Academy Asia are both located in Rockwell Center.
Rockwell is also pre-selling for its ongoing projects including The Arton, Primaries, and the well-anticipated Proscenium and Balmori Suites. Outside of Manila, there are other residential property locations located in Bacolod, Cebu, Laguna, Lipa, Pasig, and Quezon City.
Similar to Ayala Land, Rockwell Land focuses on building a community concept where residences, workspaces, leisure, and lifestyle can all come together. You'll also find that Rockwell Center is popular among foreigners who are interested in the bubble lifestyle.
Their properties and amenities are also known to be high-end and of unparalleled quality, which of course comes at a high price. Property prices range from Php 5 million to anywhere above Php 25 million.
Although it's the youngest real estate company on this list, Rockwell has become a self-sustained community that has set the standard for exclusive living spaces. It's safe to say that it will grow even more in the future.
5. SM Development Corporation
Website: https://smdc.com/
Main office: SM Development Corporation, One E-Com Center, Ocean Drive, Mall of Asia Complex, 1308 Pasay City, Metro Manila
E-mail: [email protected]
Contact number: +(632) 8858 0300
Business hours: Monday to Friday, 7:00 AM to 6:00 PM
| | |
| --- | --- |
| Prestige | 4/5 |
| Property Quality | 3/5 |
| Location and Accessibility | 5/5 |
| Price Range | 5/5 |
Properties available all across the country
Range of mostly economical properties
Mostly condominium-style properties available
Properties are not top quality
SM Development Corporation or SMDC is the real estate subsidiary of the SM Group. SM earns almost USD 400 million annually from its real estate assets alone, not including what it earns from its myriad of malls around the country.
Since its incorporation in 1994, SMDC has become one of the leading property developers not only in the Philippines but also in Southeast Asia. It's committed to providing access to urban living through vertical villages that perfectly integrate with its commercial retail properties.
Its properties are strategically located in key areas across Metro Manila. These are mainly in the Central Business Districts of Mall of Asia Complex, Makati, Ortigas, Taguig, Quezon City, Manila, Pasay, Parañaque, and Las Piñas.
Outside of Metro Manila, SMDC also offers properties in Laguna, Cainta, Bulacan, Pampanga, Tagaytay, Pasig, Iloilo, Cavite, Davao, and Cagayan de Oro.
There are also SMDC condominiums that are located near the biggest universities in the Philippines, such as Berkeley and Blue in Katipunan, Green and Green 2 in Taft Avenue and Dasmariñas, and Sun in España.
The company's properties are often priced mid-ranged, with buyers opting to purchase them as investments or as rentals. SMDC condominium units are also the most economical in this list, with prices that are often below Php 5 million — similar to Filinvest properties.
Don't expect property quality and maintenance to be top-tier, though. SMDC properties might be for you if you're interested in living in urban locations or earning passive income through investing in prime locations.
FAQs about Real Estate Companies Philippines