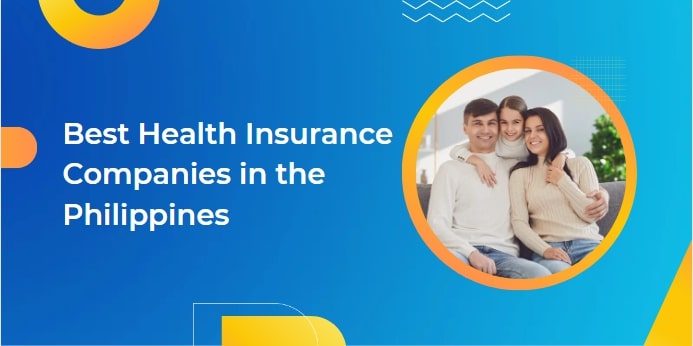 5 Best Health Insurance Companies in the Philippines
1. Allianz PNB Life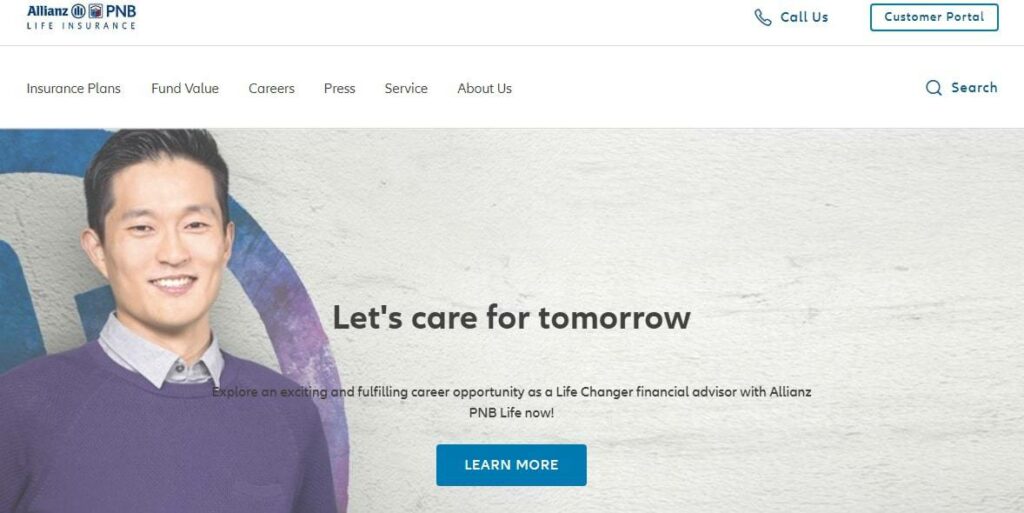 Policy Inclusions: Travel insurance, life insurance (term and permanent), health insurance (private and supplemental), property and casualty insurance, long-term care insurance, business insurance
Website: https://www.allianzpnblife.ph/
Head Office Address: 9th Floor, Allied Bank Center, 6754 Ayala Avenue corner Legaspi Street, Makati City
Contact details: 8818-4357, [email protected]
Customer Service Availability: 8 am to 4 pm on weekdays
| | |
| --- | --- |
| Google reviews score | 5/5 |
| Facebook reviews score | 4/5 |
| Total reviews | 4.5/5 |
| Score consistency | 4/5 |
| | |
| --- | --- |
| Cost | 4/5 |
| Waiting Period | 4/5 |
| Benefits and Features | 5/5 |
| Ease of Use | 4/5 |
Strong financial stability
Offers multiple forms of insurance
Offers insurance to individuals and businesses
Wide network of independent insurance agents
Offers affordable rates
Has multiple websites for various forms of insurance products
Some policies, like the "eAZy Platinum" plan, are a bit tricky, which could confuse members
Must buy policies through their authorized agents
Claims are filed by mail
Allianz and the Philippine National Bank have formed an exclusive distribution arrangement enabling them to reach a larger number of Filipinos with their goods and services. They also offer a wide range of insurance plans and policies to choose from.
Among these are health, life, and education. On top of that, they also provide discounts on a wide range of their offerings, including marked-down policy prices for businesses/employers and for customers who buy life insurance at a young age.
The branding of their latest insurance policy, "eAZy Platinum" plan, however, could easily trick customers. On the front, it promises customers great benefits, including insurance coverage for COVID-19, within a five-year term.
The catch to this, however, is that once the term expires, the policyholder may be required to extend the plan on a yearly basis and at a higher price to be eligible to claim its benefits.
This is a major drawback since the plan may be useless once the policyholder decides not to extend it, thereby wasting their investment. Unlike in other insurers' policies where the benefits remain even after the policy matures, in this one, the coverage terminates with the plan.
Overall, however, this company is still a good one. They provide excellent customer service that is well organized. They make it possible for clients to manage claims through their website and mobile application at any time, day or night.
In choosing the right policy, it's best to speak with any of their sales representatives to be better guided on which one fits your lifestyle, needs, and financial capacity.
2. PRU Life U.K.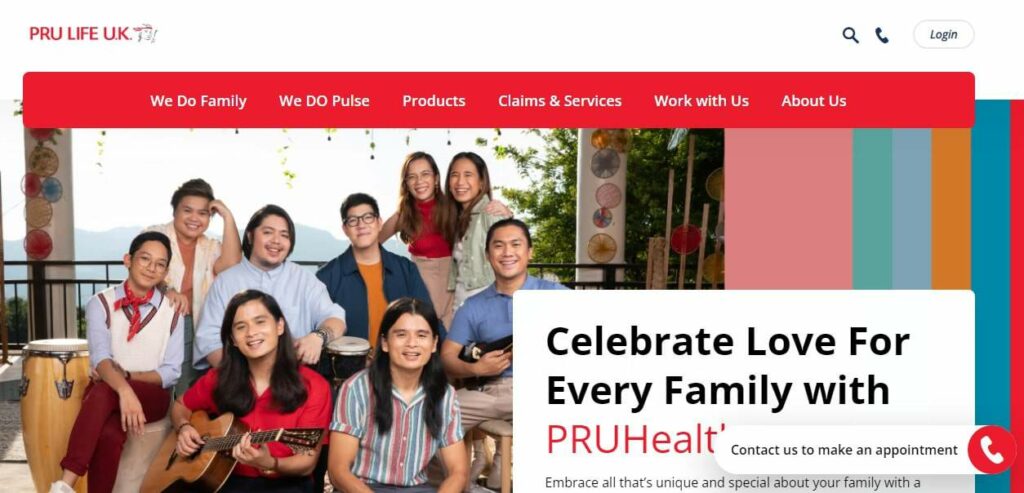 Policy Inclusions: Includes coverage for long-term hospitalization, chronic disease, ICU admission, surgical expenses, and death benefits.
Website: https://www.prulifeuk.com.ph/en/
Head Office Address: 9/F Uptown Place Tower 1, 1 East 11th Drive, Uptown Bonifacio, Taguig City 1634
Contact details: (632) 8683 9000, [email protected]
Customer Service Availability: 8 am – 5 pm on weekdays
| | |
| --- | --- |
| Google reviews score | 4.3/5 |
| Facebook reviews score | 5/5 |
| Total reviews | 4.6/5 |
| Score consistency | 4.6/5 |
| | |
| --- | --- |
| Cost | 4/5 |
| Waiting Period | 5/5 |
| Benefits and Features | 4/5 |
| Ease of Use | 4/5 |
Offers an online rate calculator as well as plenty of information for first-time buyers on their website
Enables you to accelerate your death benefit if you're diagnosed with a chronic or terminal illness
Simplified issuance of claims and benefits.
Provides moderate to severe critical illness benefit for beneficiaries with special needs under their Family Extension Benefit
Common-law and same-sex partners can be beneficiaries to the policy
Offers no whole life insurance options
Expensive term coverage
Below-average customer satisfaction ratings
Pru Life U.K. is an excellent option to consider if you are interested in purchasing term life insurance that comes with advantageous conversion choices and living perks.
They have a great mix of strengths that speak to the concerns of the insured, especially senior citizen members, such as accurate policy illustrations and competitive policy rates when compared to other insurers.
Their policies for senior citizens are a plus especially since age is a factor in the potential client's eligibility for a policy. It should be noted that most insurers don't approve the insurance policy application of those of advanced age.
The term plans offered by Pru Life U.K., however, are more expensive than similar policies offered by other insurance companies. For example, their VUL policy requires users to invest an initial amount of ₱5,000.
Significantly cheaper rates are available elsewhere for the same policy for as low as ₱2,500. It's quite an expensive investment considering that this is almost half of what a minimum wage earner receives on a monthly basis.
However, Pru Life U.K.'s VUL may be a good investment for senior members. Compared to the VUL plans of its competitors, the insurer offers benefits for the elderly at a cheaper premium.
Overall, this is a stable insurance company that one can trust and invest in. Their ability to offer products that meet your needs at high but reasonable prices is sufficient for members with enough financial capacity.
Their plans for the future are solid and can comprehensively be adjusted according to the needs and wants of the member. The wide range of insurance policies offered through their website is laid out in a way that makes it easy to use.
3. Sun Life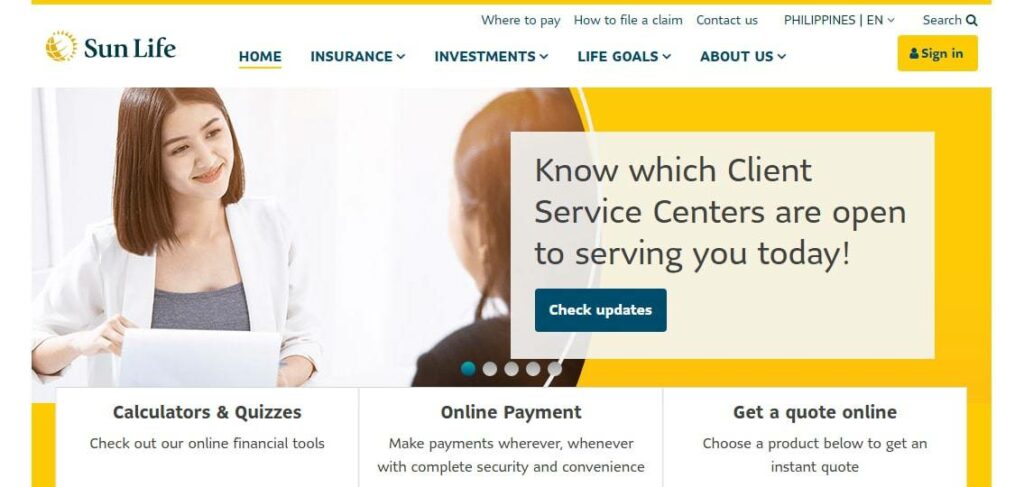 Policy Inclusions: Health and wellness coverage, limited payment period, comprehensive critical illness benefit, preventive wellness benefit, special bonus and dividend earnings, specific cancer booster benefit, life insurance protection
Website: https://www.sunlife.com.ph/en/
Head Office Address: 2/F Sun Life Centre, 5th Avenue corner Rizal Drive, Bonifacio Global City, Taguig
Contact details:
(632) 8849-9888 or 1-800-10-SUNLIFE (1-800-10-7865433) from any PLDT line
Customer Service Availability: 8:00 AM to 7:00 PM, Mondays to Fridays
| | |
| --- | --- |
| Google reviews score | 2.3/5 |
| Facebook reviews score | 5/5 |
| Total reviews | 3.6/5 |
| Score consistency | 4.6/5 |
| | |
| --- | --- |
| Cost | 3/5 |
| Waiting Period | 4/5 |
| Benefits and Features | 4/5 |
| Ease of Use | 4/5 |
Comprehensive life insurance plans
Easy to request policy changes online
Great financial strength rating
No-exam coverage available
Limited policy information online
No online quotes
Requires too many requirements before a claim is processed.
Average customer support options
Sun Life Financial is the Philippines' largest insurer, with premiums amounting to 45.46 billion in 2021. The fact that it has such substantial assets on hand adds to its sense of security.
Reputable rating agencies, like Standard & Poor's (S&P), Moody's, A.M. Best, and DBRS, have given Sun Life a financial strength rating of A+, the second-highest grade attainable.
This demonstrates that if a claim is requested, the firm will be able to fully reimburse the policyholder.
One of Sun Life's advantageous offers is Variable Life Insurance (VUL). VUL is a plan that combines life insurance and investments (mutual fund). Sun Flexilink, Sun Maxilink Prime, and Sun Maxilink Bright are some of Sun Life's most popular VUL plans.
Under this plan, part of your payment goes to fees and insurance costs, while the rest goes into a fund of your choice. The growing middle class in the Philippines finds interest in VUL funds because they pay out more than traditional plans.
However, there are still areas in which this company could improve. One of which is the processing of coverage benefits by their members.
Some members reported how slow this insurance company processes their requests. This isn't ideal especially since it could be a matter of life and death.
This is a major disappointment and could even put the company in a bad light.
4. Maxicare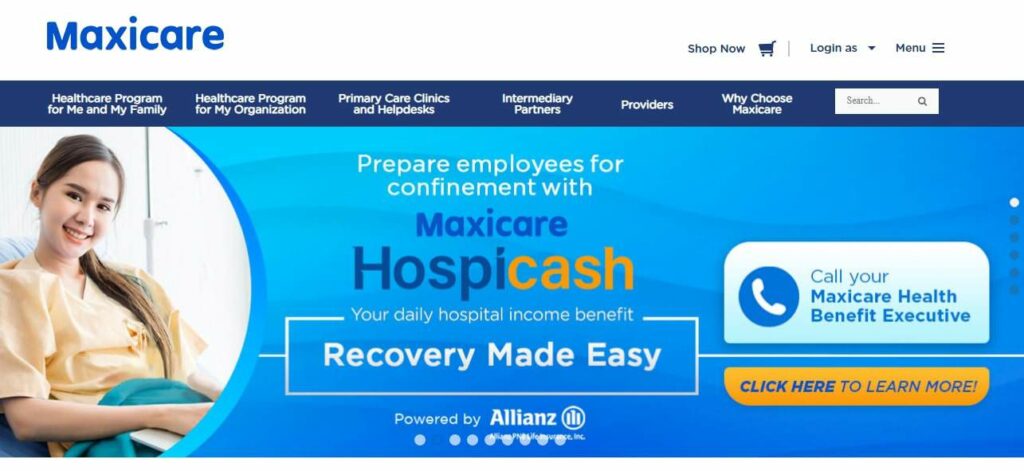 Policy Inclusions: Access to all Maxicare primary care centers (PCC) and myhealth clinics for outpatient consultation and lab availments
Website: https://www.maxicare.com.ph/
Head Office Address: Maxicare Tower, 203 Salcedo Street, Legazpi Village, Makati
Contact details:
+632 8582 1900 (PLDT)
+632 7798 7777 (GLOBE)
Customer Service Availability: 24/7 Customer Care
| | |
| --- | --- |
| Google reviews score | 2.3/5 |
| Facebook reviews score | 2.8/5 |
| Total reviews | 2.5/5 |
| Score consistency | 2.5/5 |
| | |
| --- | --- |
| Cost | 3/5 |
| Waiting Period | 5/5 |
| Benefits and Features | 5/5 |
| Ease of Use | 5/5 |
Single-use card offering up to ₱15,000 coverage on emergency treatment
Affordable cost
Exclusive wing for members in some accredited hospitals
Wide range of high-quality healthcare providers
Benefit exclusions for members with bad standing
Poor membership verification system 
When availing medical services, members need to present their Maxicare health card at any hospitals or clinics that accept it. However, this isn't always the case. Several reviews from customers say that their verification procedure renders their cards useless.
According to some members, Maxicare has a poor verification and endorsement system.
Members find it tough especially in instances where immediate medical attention is needed.
They were even reportedly asked to wait until the hospital gets in touch with Maxicare and wait for their approval before a member may be attended to, even under emergency situations.
Also, before they received the high-quality medical care they desire, members were required to supply additional documents aside from the Maxicare health card they already have.
On a lighter note, members can also extend their insurance benefits to their dependents for a relatively low yearly membership fee. This is a plus for us because other companies offer quite a higher fee for this feature. In this aspect, Maxicare offers the cheapest choice.
Being true to its mission of helping people achieve peace of mind through quality healthcare, Maxicare continues to find the best ways to make this a reality.
You can see this mission in action in their partnership with Philhealth to cover the cost of COVID-19 therapy on a case-by-case basis.
Maxicare may now offer coverage for COVID-19, however, only under certain conditions. Under this feature, HMO benefits will be deducted first before applying the PhilHealth benefits for medical expenses related to probable and confirmed COVID-19 cases.
However, unlike other companies that offer the same coverage, this would only be eligible for patients who show symptoms of COVID-19. This means that members can't request reimbursement for COVID-19 tests if they test negative.
It would be better if they also cover COVID-19 tests regardless of the results. This would encourage members to get tested.
On the bright side, though, one notable advantage of this insurance company is their most recent development to improve their service. Just this year, they activated their "exclusive wing" in selected accredited hospitals.
Members may get priority attention once they visit or are admitted to hospitals like ManilaMed and Metro Davao Medical and Research Center.
In a nutshell, we can see how this insurance company strives to provide the maximum service to its large number of members.
5. IntelliCare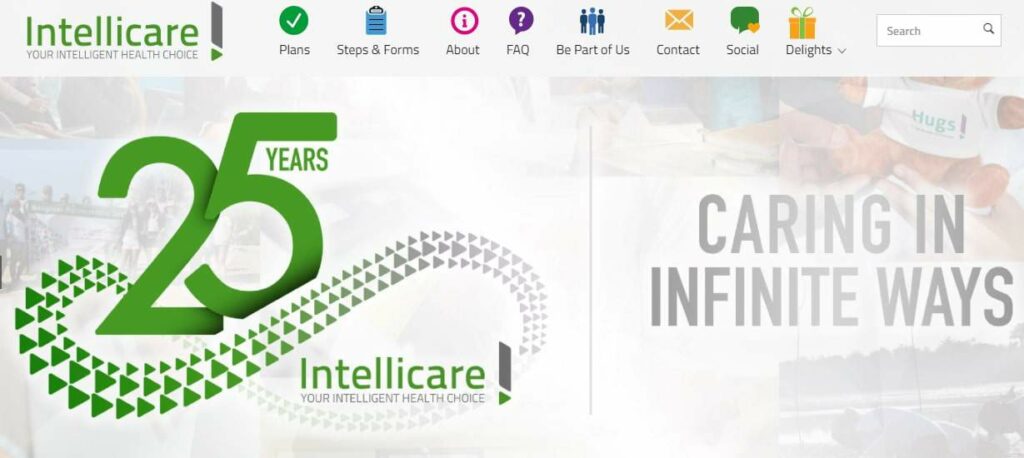 Policy Inclusions: Annual physical exam, preventive care, out-patient and in-patient confinement, emergency care, financial assistance, accidental death and disbursement, and other optional benefits.
Website: https://www.intellicare.net.ph/
Head Office Address: 4th, 7th, 11th Floors Feliza Building, 108 V.A. Rufino Street (formerly Herrera Street), Legaspi Village, Makati
Contact details:
(02) 8789-4000
(02) 7902-3400
Customer Service Availability: 24/7 Customer Care
| | |
| --- | --- |
| Google reviews score | 3.9/5 |
| Facebook reviews score | 1.4/5 |
| Total reviews | 2.6/5 |
| Score consistency | 2.6/5 |
| | |
| --- | --- |
| Cost | 3/5 |
| Waiting Period | 4/5 |
| Benefits and Features | 4/5 |
| Ease of Use | 4/5 |
Wide range of accredited medical facilities across the country.
Dependents can include a newborn child of the insured
Employers with 10 employees can avail of this HMO service
Members don't choose their policy, as it's set by their employers
Limited benefit coverage
Intellicare offers a significantly convenient and quick service to their members. Their policy guidelines state that a member may go to accredited health clinics and medical facilities with just their health card on.
Members like the fact that this firm has a large number of authorized hospitals around the Philippines. This is important since it ensures your convenience and easy access to all the services and claims right for you according to the terms of the policy you paid for.
After being accepted at their chosen hospital or clinic, members are also immediately offered the first benefit of their medical insurance by going through a series of medical examinations. Intellicare and the employer are responsible for this.
Intellicare also offers a unique and personal touch to its service. They assign account officers to insured members to help them in addressing any concerns that may occur. They also provide insured members with Wellness Programs that match their lifestyle.
Despite this, some members aired their dissatisfaction with the services of this company. According to them, while there are several options of accredited hospitals and clinics for them to choose from, the same is not true with the services they are eligible for.
Members reported the limited hospital and clinical benefits they are allowed to receive under their HMO plan.
To be fair, comparing the premiums and benefits with their toughest competitors, Intellicare offers cheaper premiums but with limited coverage.
The company can improve this further by enhancing and expanding the coverage of its plans at a more reasonable price.
After all, having a large number of accredited hospitals and clinics is not enough to make one a good insurer. A good insurer must also cover comprehensive medical services.