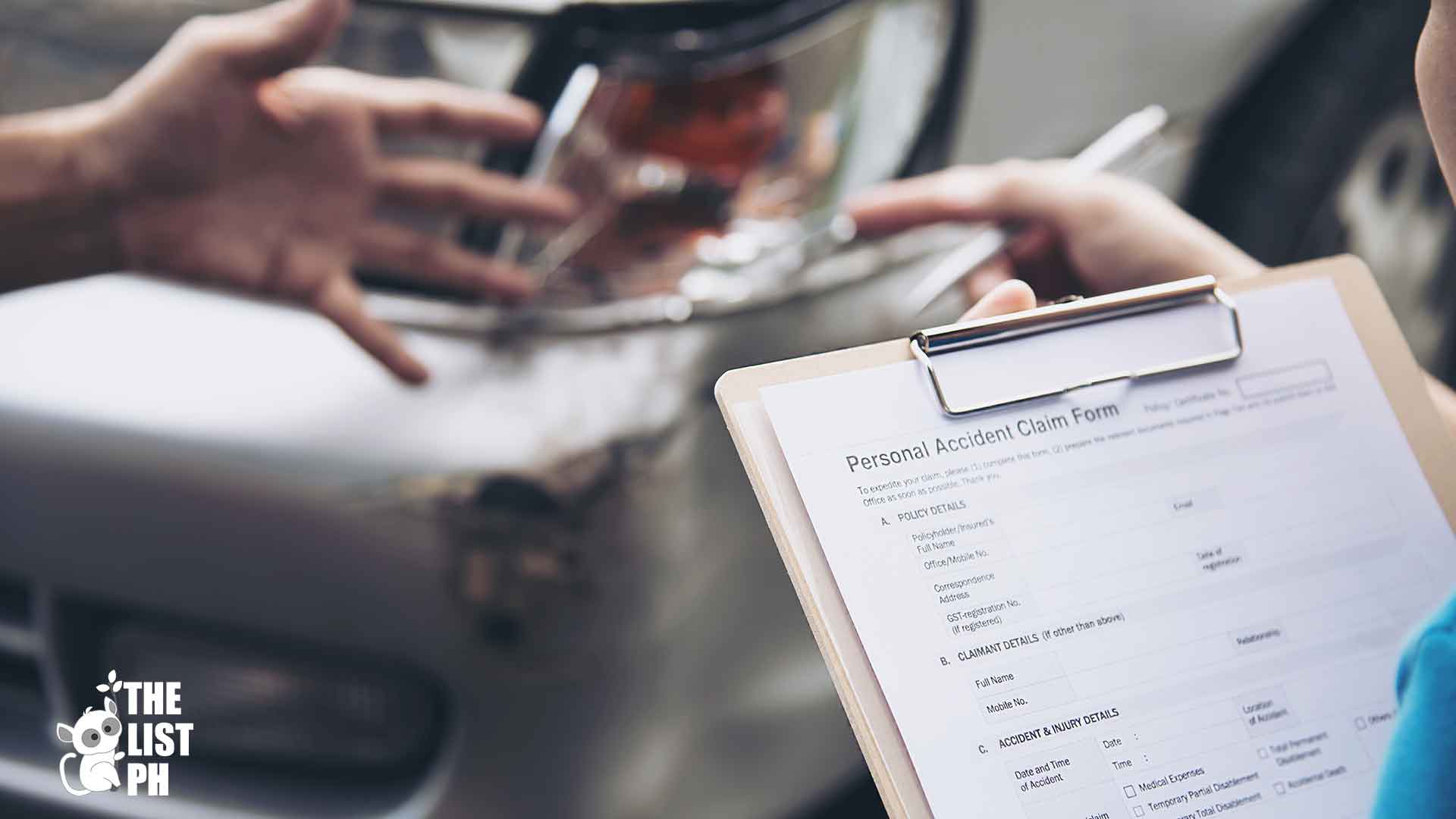 Top 5 Car Insurance Providers in the Philippines
1. Prudential Guarantee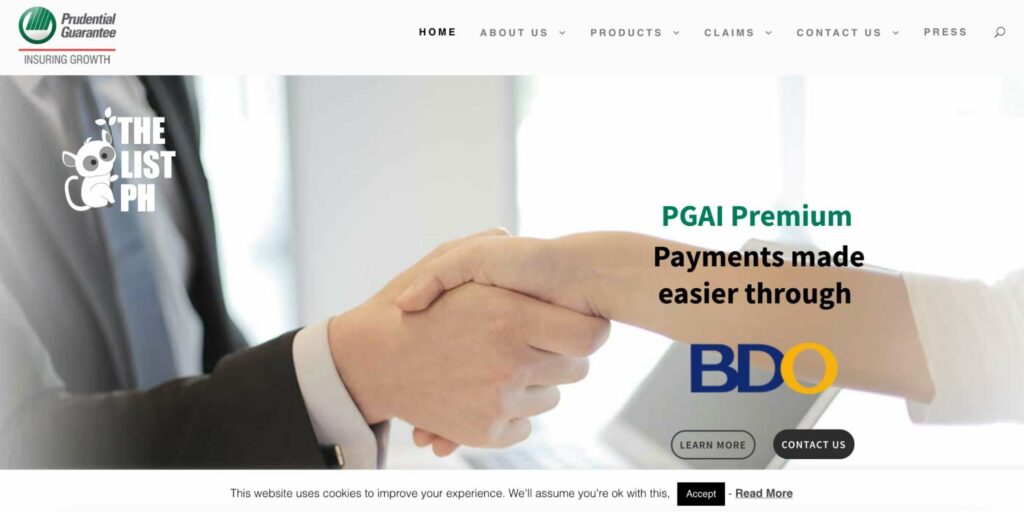 Website: https://www.prudentialguarantee.com/products/auto-insurance-program/
Main Office: Coyiuto House, 119 Don Carlos Palanca, Legazpi Village, Makati, 1229 Metro Manila
Contact Information: [email protected]
Operating Hours: 8:00 AM-5:00 PM, Mondays to Fridays
| | |
| --- | --- |
| Google reviews | 3.2/5 |
| Investopedia reviews | 4/5 |
| Total reviews | 4.1/5 |
| Score consistency | 4/5 |
| | |
| --- | --- |
| Reputation | 4.5/5 |
| Price | 4.5/5 |
| Coverage | 4/5 |
| Customer service | 3.5/5 |
Insurance policies come with a lot of perks
Includes living benefits riders with coverage
Premium prices
Slow processing of quotations
Exclusively for privately-used vehicles
Prudential Guarantee is a solid choice for those new to car insurance because they are one of the most reputable car insurance companies in the Philippines.
In fact, they ranked second in 2020 for being the highest-ranked life and non-life insurance company, which is the kind of reassuring credential you want when you are investing your hard-earned money.
We were pleasantly surprised at how packed their Comprehensive Auto Insurance Program is, even offering special privileges to clients 24/7 wherever they are.
These include free vehicle retrieval and breakdown services, free alternative overnight accommodation, and free emergency relay message among others.

In addition to that, they also cover third party damages, excess bodily injury, and if you happen to damage your own vehicle which a lot of people find really worth investing in.
The only catch is that they tend to be more expensive than other car insurance policies.
We've also spoken to some disgruntled clients who didn't like that it was so difficult to get a quotation, as they were passed on from one agent to another.
Overall, though, Prudential Guarantee is a good option if you want to enjoy the maximum benefits of a car insurance and do not mind paying extra.
2. Malayan Insurance Company, Inc.
Website: https://malayan.com/products/assets-and-property/automaster
Main Office: 4F Yuchengco Tower I 484 Quintin Paredes St. Binondo, Manila
Contact Information: [email protected]
Operating Hours: 8:00 AM to 5:00 PM, Mondays to Fridays
| | |
| --- | --- |
| Google reviews | 3.2/5 |
| Total reviews | 2/5 |
| Score consistency | 5/5 |
| | |
| --- | --- |
| Reputation | 4.5/5 |
| Price | 4.5/5 |
| Coverage | 4/5 |
| Customer service | 4/5 |
Insurance covers acts of god
Low participation fee
Easy to claim
Hard-to-find affiliate repair shops
When it comes to trustworthiness, Malayan Insurance Company, Inc. is on top of the list. In fact, it's been named Most Stable Non-life Insurer for many consecutive years by the Insurance Commission.
AutoMaster from Malayan Insurance Company, Inc. has some of the best coverages for car insurance. They can cover pretty much everything, from personal accidents and car accessories protection to third party liability, to name a few.
Initial prices for AutoMaster car insurance start at P23,000+/year, which can go higher depending on the amount of coverage you would want for your vehicle. Their participation fee is only around P2,000, which is cheaper compared to other companies.
We like the thoughtful provision of additional benefits such as Optional Value Accessories Protection. This covers the customized mag wheels and upgrade of a sound system – both nice-to-haves for any auto enthusiast.
If you care more about the maintenance of the important accessories in your car, you can opt for their Car Accessories Protection which covers the air conditioner, mags and more.
We think the price for AutoMaster is pretty reasonable given that they can also cover acts of god, which include natural disasters like flooding, landslides and more.
A lot of people also note how easy it is for them to claim their benefits. This is largely due to a very responsive customer support unit, which is actually a rarity in this industry.
We only wish they would provide more detailed information about their affiliate repair shops,a s some clients found a few of them difficult to locate.
3. Pioneer Insurance & Surety Corporation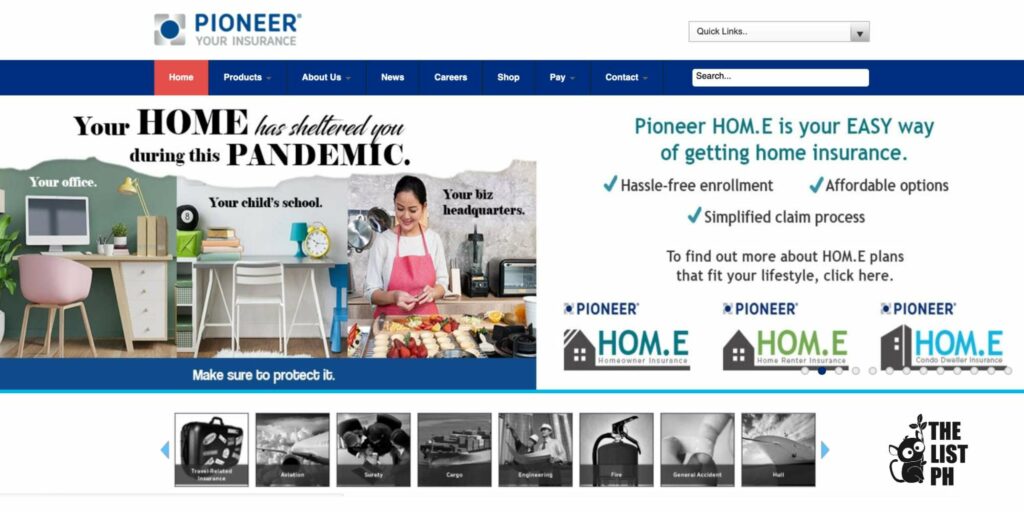 Website: https://www.pioneer.com.ph/products/motor
Main Office: 108 Paseo de Roxas, Legazpi Village, Makati City 1229, Philippines
Contact Information: [email protected]
Operating Hours: 8:00 AM to 5:00 PM, Mondays to Fridays
| | |
| --- | --- |
| Google reviews | 4.5/5 |
| Brokers Review reviews | 4.6/5 |
| Total reviews | 4.6/5 |
| Score consistency | 5/5 |
| | |
| --- | --- |
| Reputable | 4.5/5 |
| Price | 4.5/5 |
| Good coverage | 4.5/5 |
| Customer service | 4.5/5 |
Great customer service
Also covers fleet motors/vehicles
Select affiliated shops for repair
Pioneer Your Insurance covers a long list of products ranging from travel, health, aviation, OFW (Overseas Filipino Workers), general accident, and fire just to name a few.
We liked that their vehicle insurance is very concise which covers almost everything you need in a car insurance. Not only do they offer the government-mandated Compulsory Third Party Liability (CTPL), they also have Personal and Fleet packages.
The Comprehensive Motor Insurance (Personal) covers theft, loss or damage that is owned by a private person while Comprehensive Motor Insurance (Fleet) covers the damages to the vehicle that is owned by a company, organizations or government agencies.
Pioneer Your Insurance is the only company on our list that offers coverage for fleet vehicles which is very helpful if you are driving a car that you do not own.
This is perfect for people who do not want to spend more for premium car insurance. Adding extra benefits do mean extra money which we completely understand not many people care for.
Their customer service has been consistently mentioned by clients as one of their favorite thing about the company, which is saying a lot. Very few insurers here are known for being accommodating to clients.
We also hear that they are responsive to inquiries, enabling clients to sign up for a policy right away. This goes to show that promptness goes a long way in acquiring potential clients, something insurers shouldn't overlook.
We like that getting a quotation (and a free one at that!) is simple and straightforward, and can be done directly through their website. This is great for those still canvassing for the best car policy for their specific needs.
A small downside for Pioneer Your Insurance is that they only have a selected number of affiliated shops that do repair. However, it's good that they provided a list on their website so that is easier to locate.
We're happy to report that their pricing is pretty competitive. However, it must be noted that their policies don't cover acts of god, which is important to some clients.
4. BPIMS Insurance Corporation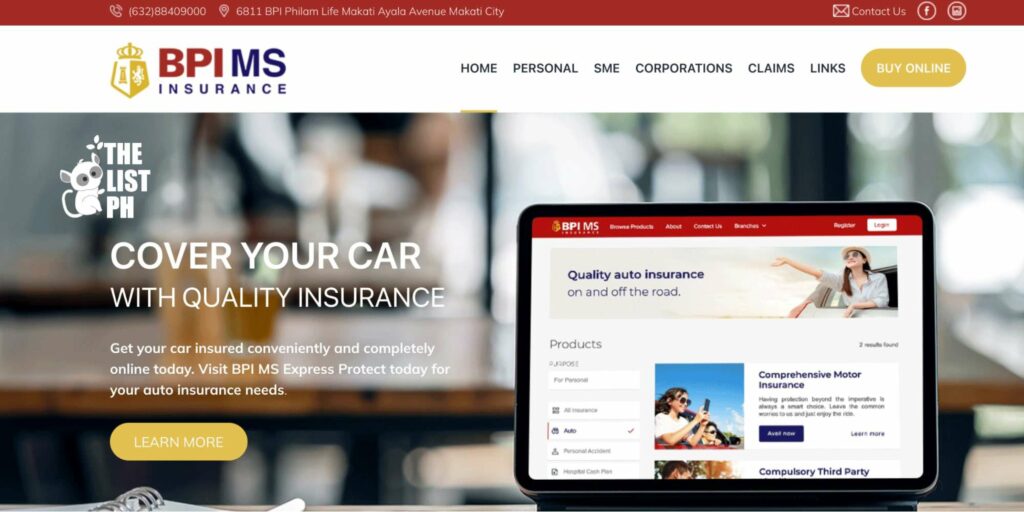 Website: https://bpims.com/
Main Office: 6811 BPI Philam Life Makati Ayala Avenue Makati City
Contact Information: [email protected]
Operating Hours: 8:00 AM to 5:00 PM, Mondays to Fridays
| | |
| --- | --- |
| Google reviews | 2.4/5 |
| Facebook reviews | 1.4/5 |
| Total reviews | 1.9/5 |
| Score consistency | 3/5 |
| | |
| --- | --- |
| Reputation | 3/5 |
| Price | 4/5 |
| Coverage | 3.5/5 |
| Customer service | 1/5 |
Easy-to-navigate website
Reasonable pricing 
Poor customer service
Claims processing takes a long time
BPIMS Insurance has a pretty good reputation since they are backed by Bank of the Philippine Islands, one of the leading banks in the country; and Mitsui Sumitomo, Japan's leading non-life insurance.
Policy pricing depends on the coverage that you would want for your vehicle. Generally, however, we noticed that their rates are cheaper compared to other car insurance companies.
Depending on the premium, we checked that their price ranges anywhere from P20,000 – P25,000 a year. We think this is pretty reasonable given the added benefits, as other companies would probably charge more than P50,000 a year.
BPIMS' Comprehensive Motor Insurance includes protection from fire, theft, malicious damage, explosion and more. This is one of the most extensive policies we have on the list.
They also offer free roadside assistance, which is a welcome perk for clients. This is a major bonus as some companies make you pay an additional premium to include roadside assistance.
BPIMS has made it easy for people to navigate their website. You can simply click and download all the forms and policy condition clauses that you may need all in one page.

BPIMS Insurance Corporation's customer service is one of the biggest cons we saw for this car insurance company. The most common feedback is that they tend to be unresponsive and lack empathy in dealing with clients.
We also hear that claims processing can take a while. Some clients have had to follow up for over two months just to process their claims.
We hope that the company is already taking steps to improve their processes, as it is good for both them and their clients.
5. Charter Ping An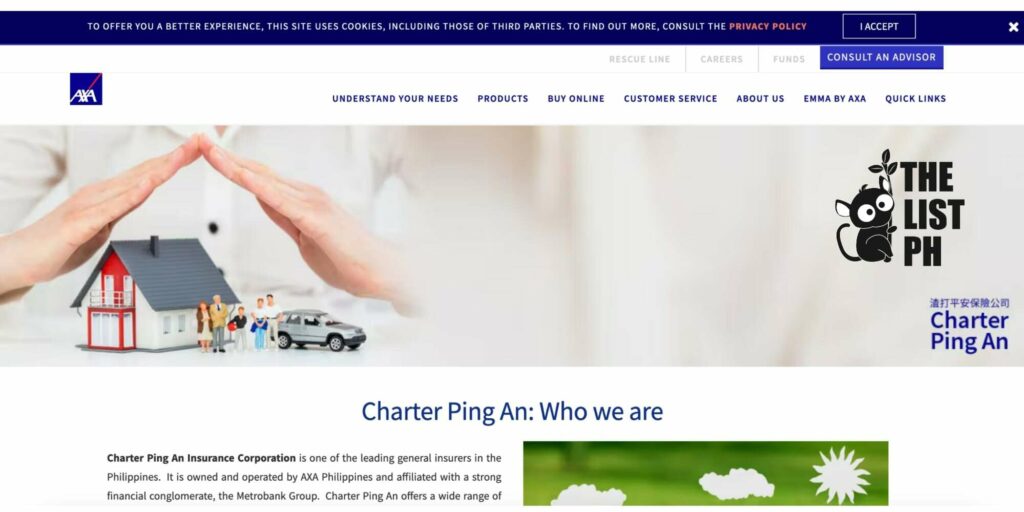 Website: https://www.axa.com.ph/charterpingan/about-us
Main Office: 54V Buencamino St, Almanza Uno, Las Piñas, Metro Manila
Contact Information: [email protected]
Operating Hours: 8:00 AM to 5:00 PM, Mondays to Fridays
| | |
| --- | --- |
| Google reviews | 5/5 |
| Facebook reviews | 3.2/5 |
| Total reviews | 4.1/5 |
| Score consistency | 3/5 |
| | |
| --- | --- |
| Reputation | 3/5 |
| Price | 4/5 |
| Coverage | 4/5 |
| Customer service | 3/5 |
Reasonably-priced policies
Quick approval process
Slow processing of claims
Charter Ping An is operated by AXA Philippines that offer a wide variety of insurance products ranging from fire, motor car, cargo, personal accidents and more.
They ranked 4th in Net Premiums Written last 2016 and 5th under the Gross Premiums Written category which was awarded by Insurance Industry Ranking.
You wouldn't have a hard time finding an accredited repair shop as they have over 50 partners all across the country. Charter Ping An has solved one of the biggest struggles of a car owner.
Charter Ping An offers reasonably-priced policies. You can start your account with the starting price of P15,600+/year, which covers the most basic needs for your car insurance – damage, theft, bodily injury, and property damage.

A great thing about Charter Ping An's policy is that it is customizable. You do need to pay an additional premium if you want to upgrade your benefits such as coverage of property damage from P500,000 (basic) to P1 million.

Upgrading the coverage for bodily injuries can cover up to P1 million, which includes death.

True to most insurers, this company also has mixed reviews. Some clients have noted that they were able to process their application within the day while some clients endured months of constant follow-up before they were even processed.
Apparently, different branches also offer varying qualities of service. This is unfortunate as clients tend to go to their nearest branch, which may not be among those highly-rated for their level of care.
FAQs about Best Car Insurance Philippines