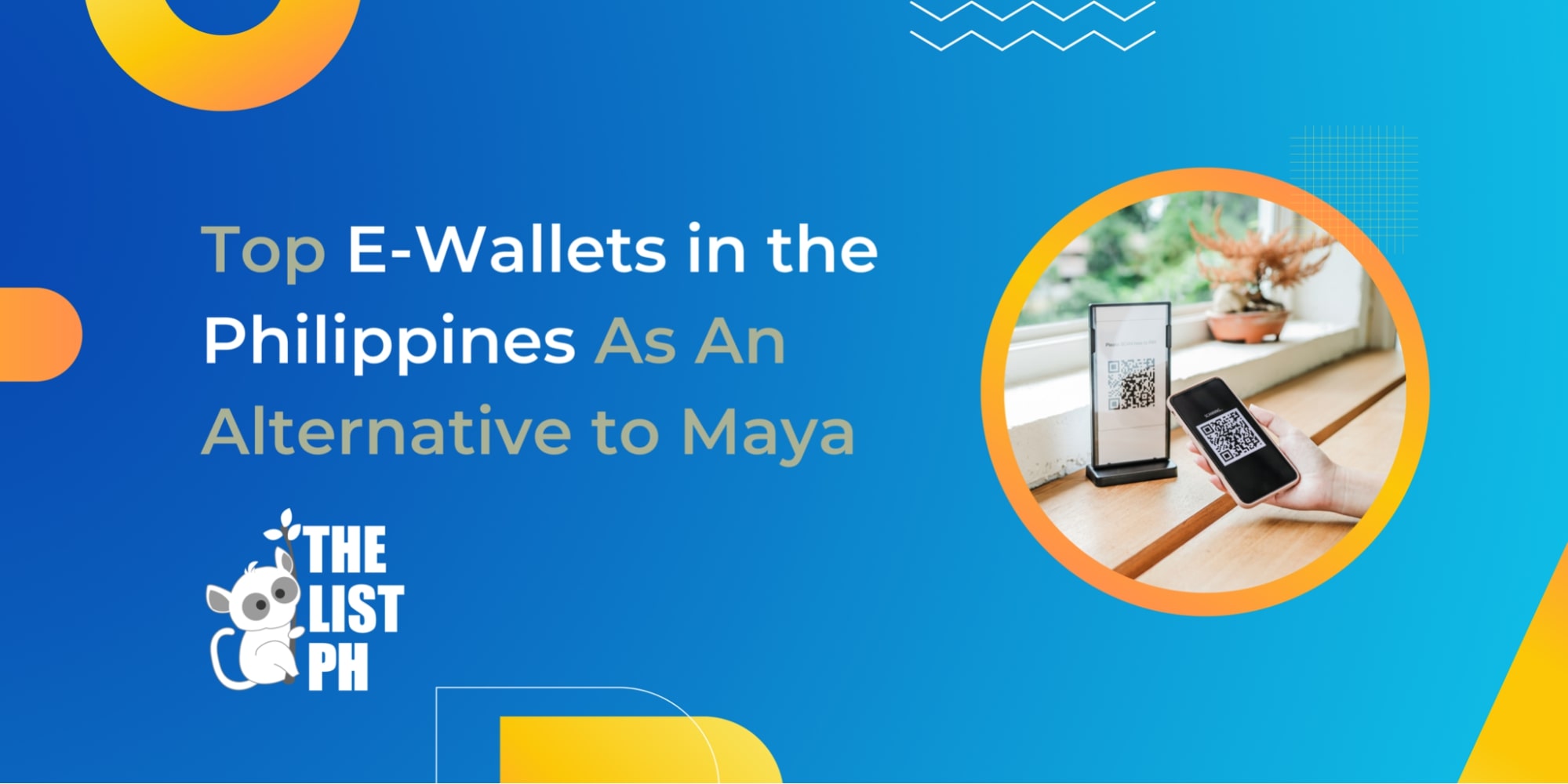 Top 5 Maya Alternatives in the Philippines
How We Picked
Prominence
We looked at the number of registered users each E-wallet service has, as well as its partner merchants that allow transactions through their channel.
Ease of Use
We considered each E-wallet's user interface, and how easy it is to make transactions through the app.
Additional Fees and Charges
We factored in the additional fees or how much each E-wallet service charges for every cash-in, transaction, or bill payment through their app.
Security
We reviewed each E-wallet based on its security measures to make sure that their customers' money is safe.
1. Gcash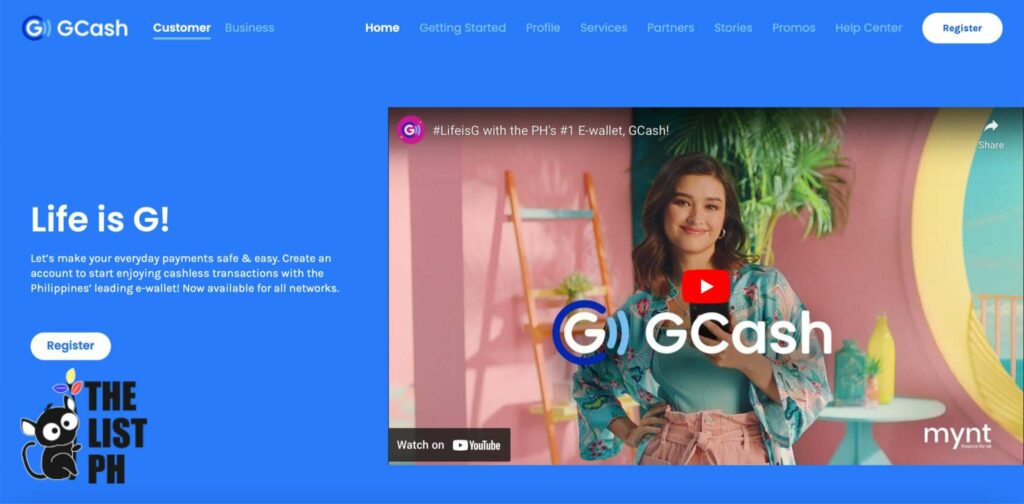 Number of Active Users: 60 million
Services Offered: Sending or Requesting Money, Payment via QR, Bank Transfer, Buy Load, Padala, Credit (Buy Now, Pay Later), Bills Payment, Bill Splitting (KKB), Send Gift, Shopping, Game Credits, Book Movies, Insurance, Loans, Mutual Funds, Savings
| | |
| --- | --- |
| Prominence | 5/5 |
| Ease of Use | 5/5 |
| Additional Fees and Charges | 4/5 |
| Security | 5/5 |
Highest number of active users in the Philippines
Easy registration
Many cash-in options
Platform offers many services
Over 5M partner merchants
Has security measures
Expensive fees
Server maintenance issues
Unverified users risk compromised accounts
Launched by Globe Telecom way back in 2004, GCash paved the way for digital banking and E-wallets to become normalized in the Philippines.
All you need is a registered mobile number and a verified ID to make a Gcash account.
With over 60 million active users, there are more Filipinos who own GCash accounts than bank accounts because of how easy it is to register with GCash and to transact on the E-wallet's mobile platform.
It has its own security measures through authentication like MPIN, OTP, and fingerprint or facial recognition app login.
What we love about the GCash platform is that it offers many cash-in options, from online bank transfer to over-the-counter transactions at most convenience stores, grocery stores, drug stores, gas stations, and department stores.
We find that what sets GCash apart from all other E-wallets is the number of relevant services their platform offers. Aside from transferring money, you can pay utility bills, load your cellphone credits or RFID, or even invest in mutual funds through the app.
GCash has unparalleled prominence among offline merchants as well. You can do everything from watch a movie, go to the grocery, and pay for parking through GCash!
In spite of its prominence and reliability, one of the downsides to GCash include its expensive additional fees. GCash charges 20 Php for any cash out above 1,000 Php.
The app is also rendered useless if there are server maintenance issues. Finally, unverified users run a higher risk of having their account compromised.
2. ShopeePay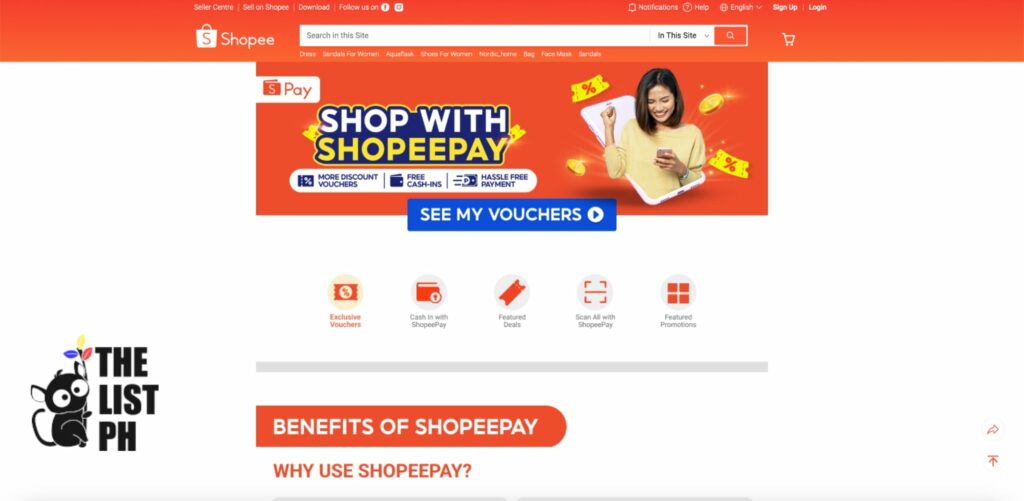 Number of Active Users: 30 million
Services Offered: Cash-in, Load, Pay Bills, Online and Offline merchant payments, Scan QR Payment, Credit (SPayLater), Cashback Tokens (Shopee Coins), Gift Cards, Loans (SLoans)
| | |
| --- | --- |
| Prominence | 4.5/5 |
| Ease of Use | 5/5 |
| Additional Fees and Charges | 3.5/5 |
| Security | 5/5 |
Popular in Southeast Asia and the Philippines
Convenient online and offline transactions (ShopeePay Near Me)
Has partner merchants
Clean user interface
Decent refund process
In-app security
1% fee every time you cash-in
Top-up doesn't always reflect quickly (3-5 working days)
The Shopee platform is among the largest growing e-commerce platforms in the region of Southeast Asia, meant to make online selling and shopping much easier.
With its companion e-wallet, ShopeePay, Filipino users can enjoy seamless online transactions within Shopee as well as convenient offline transactions with ShopeePay partner merchants.
Some of these merchants include Puregold, Family Mart, Lawson, National Bookstore, and Digital Walker. Our review of ShopeePay showed us some really cool in-app features it has, which add to user's convenience.
If you open your app and tap "ShopeePay Near Me", you can check out which stores within your area you can use your ShopeePay credits with. Now you can get your Potato Corner fix through your ShopeePay wallet!
You won't have difficulty navigating the app as ShopeePay has a very clean, intuitive user interface.
It's also a secure platform, where you are required to have both your Shopee password and ShopeePay PIN for transactions, and it also allows Face ID and fingerprint scans.
What we like about ShopeePay is that they do not charge fees when you send money from ShopeePay to other E-wallets or bank accounts. Apart from this, it provides its users with a lot of promos on the platform to get discounts on payments.
Another thing we like about ShopeePay is that it offers a decent refund process. If something goes wrong with your in-app Shopee orders and deliveries, after filing a report they quickly review it and before you know it the money's back in your E-wallet.
A downside to ShopeePay is that its top-up doesn't always reflect quickly in the ShopeePay wallet. When this happens, you'll have to wait about 3-5 working days to check if your top-up finally came through.
Another downside to ShopeePay is that since 2022, it began to charge a 1% fee when you cash-in via other E-wallets.
For example, when you cash-in 1,000 Php to your ShopeePay from your GCash wallet, your account is charged 10 pesos for that transaction.
3. Coins.PH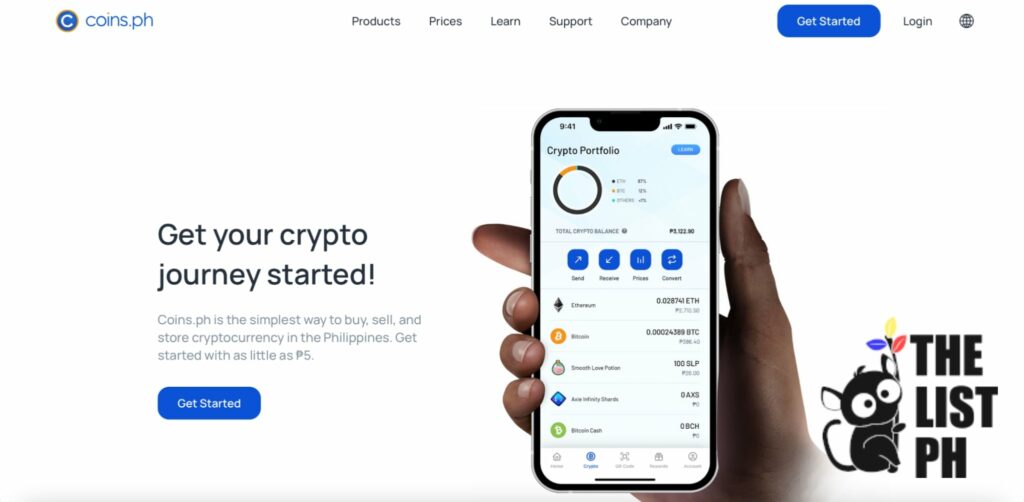 Number of Active Users: 18 million
Services Offered: Buy and Sell Crypto, Buy Load, Buy Game Credits, Pay Bills, Remit Money, QR, Payments, Investments
| | |
| --- | --- |
| Prominence | 4/5 |
| Ease of Use | 4/5 |
| Additional Fees and Charges | 2/5 |
| Security | 5/5 |
Licensed by the BSP
Secure transactions
Supports cryptocurrency
Multiple cash-in options
High transaction fees
Not the best place to shop for Bitcoins
If you're interested in finding an E-wallet that can also hold cryptocurrency in the Philippines, we recommend checking Coins.PH.
This was the very first BSP-licensed virtual currency provider in the Philippines since its establishment in 2014. This reinforces the platform's security in making digital transactions for its Filipino users.
Coins.PH as a platform is beginner-friendly, and with this, you don't need to own a bank account or a credit card to start investing in crypto.
What we love about Coins.PH is that you can freely trade and store Bitcoin, Bitcoin Cash, Ripple, and Etherium, among other cryptocurrencies in your wallet. They also allow you to trade crypto-to-crypto or fiat-crypto on the platform as well.
They have both a desktop and mobile app for you to check your Coins.PH wallet.
Coins.PH accepts cash-in over multiple channels, through OTC in Palawan Pawnshop, Western Union, M Lhuillier, Metrobank, and UnionBank.
One of the downsides to Coins.PH is their high transaction fees. They charge 1% or up to 40 Php for deposits via bank transfer, Cebuana Lhuiller, or GCash. Their fee goes up to 2% for any deposit over 100 Php.
In spite of its edge being the first cryptocurrency trading platform in the country, Coins.PH also isn't necessarily the best site to shop for the best Bitcoin prices.
Coins.PH sells Bitcoins at over-the-counter prices, which may become disadvantageous to you if you end up selling your crypto for less when prices go low.
4. GrabPay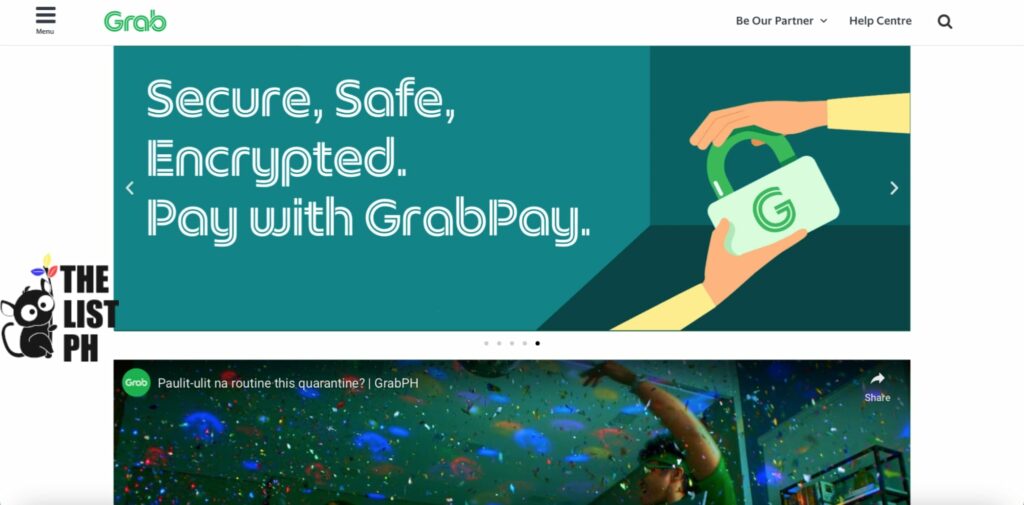 Number of Active Users: 100+ million (worldwide)
Services Offered: Cash-In, Scan QR to Pay, Transfers to other GrabPay Accounts, Banks, or E-Wallets, Payments for Delivery (GrabExpress), Transportation (GrabCar, GrabTaxi, Move It), Food (GrabFood), Grocery Shopping (GrabMart), Experiences, Hotels, Insurance,
| | |
| --- | --- |
| Prominence | 3.75/5 |
| Ease of Use | 5/5 |
| Additional Fees and Charges | 4/5 |
| Security | 5/5 |
Easier in-app transactions 
Rarely crashes or has bugs
Usefulness is limited to Grab services
Charges 15 Php processing fee for bank transfer
Limited availability 
Over the years, Grab has expanded from a ride-booking app to a "super app" that allows you to book a ride, have your food delivered, or send and receive parcels from anywhere around the metro.
With their services expanding to cater to most daily needs of the average consumer, it made sense that one of their main developments was their in-app, E-wallet known as GrabPay.
It's very easy to use and cash-in. It very rarely crashes or has bugs.
If you're a frequent Grab user, you'll know that setting up a GrabPay wallet will make payment for all your in-app transactions a lot easier.
Something you might not have known about GrabPay that we've come to love is that you can get your own GrabPay Card that you can use as a debit card for more ease of transaction. Grab developed it in partnership with Mastercard.
It's also super convenient because on the Grab app, you can collect points which can also be converted to credits to buy on GrabFood, GrabMart, or things you can use for shopping within the Grab app.
A downside we saw to GrabPay is that its usefulness is limited to Grab services, and that it charges fees. As of this writing, Grab charges a 15 Php processing fee when transferring money from your GrabPay wallet to a bank account or to another E-wallet.
Use of the GrabPay wallet is also limited to just some cities in the Philippines outside of Metro Manila. Apart from Baguio, Subic, Bataan, Pampanga, Cebu, Bacolod, Davao, CDO, or Naga, your GrabPay credits won't be usable.
5. PayPal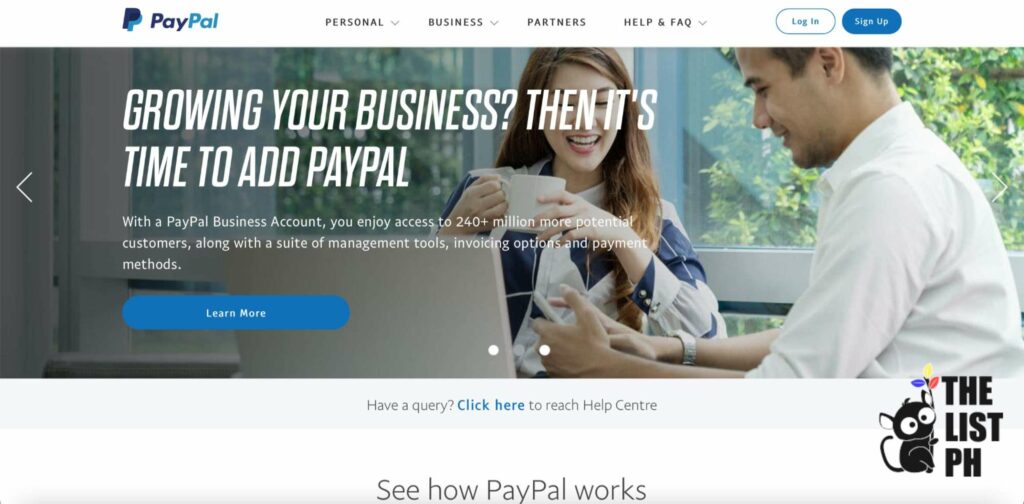 Number of Active Users: 429 million (worldwide)
Services Offered: Send Money, Online Payment, Shopping, Credit
| | |
| --- | --- |
| Prominence | 5/5 |
| Ease of Use | 5/5 |
| Additional Fees and Charges | 3/5 |
| Security | 5/5 |
Widely-used international e-wallet 
No fees for personal transactions
End-to-end encryption
Good for freelancers with international clients
Many steps for verification
Transferring money to bank takes long, or else you have to pay
A renown digital wallet all over the world, PayPal enables its users to send and receive money over a secure payment platform. It's very easy to use, and doesn't charge any fees for sending money for personal transactions.
For business transactions, PayPal usually charges a 1% fee on whatever amount you transfer.
Nonetheless, among E-wallets, Paypal is one of the safest, using end-to-end encryption to protect sensitive data in your transactions. It also uses two-factor authentication to verify if it's really you who's making the transfers.
You can connect PayPal to your personal credit or debit cards and bank accounts, as well as your other E-wallets.
Outside of the Philippines, pretty much everything and everyone (business or professional) is on PayPal, and it accommodates a roster of different currencies.
Those of us who do freelance work for international clients love the convenience of PayPal for quick and verified transactions upon the completion of our projects.
What we don't like about PayPal is that it's pretty painstaking to set up and withdraw from, though we can understand this is the drawback to having a platform regarded for its security measures. It'll require you to give your bank account information each time.
Apart from this, transferring money from your PayPal account to your bank account takes long. On average, it'll take at least 3 to 5 business days to process the transfer.

If you want to speed up the process and get your money faster, PayPal will also charge a 1% fee to your account.
FAQS about E-Wallets