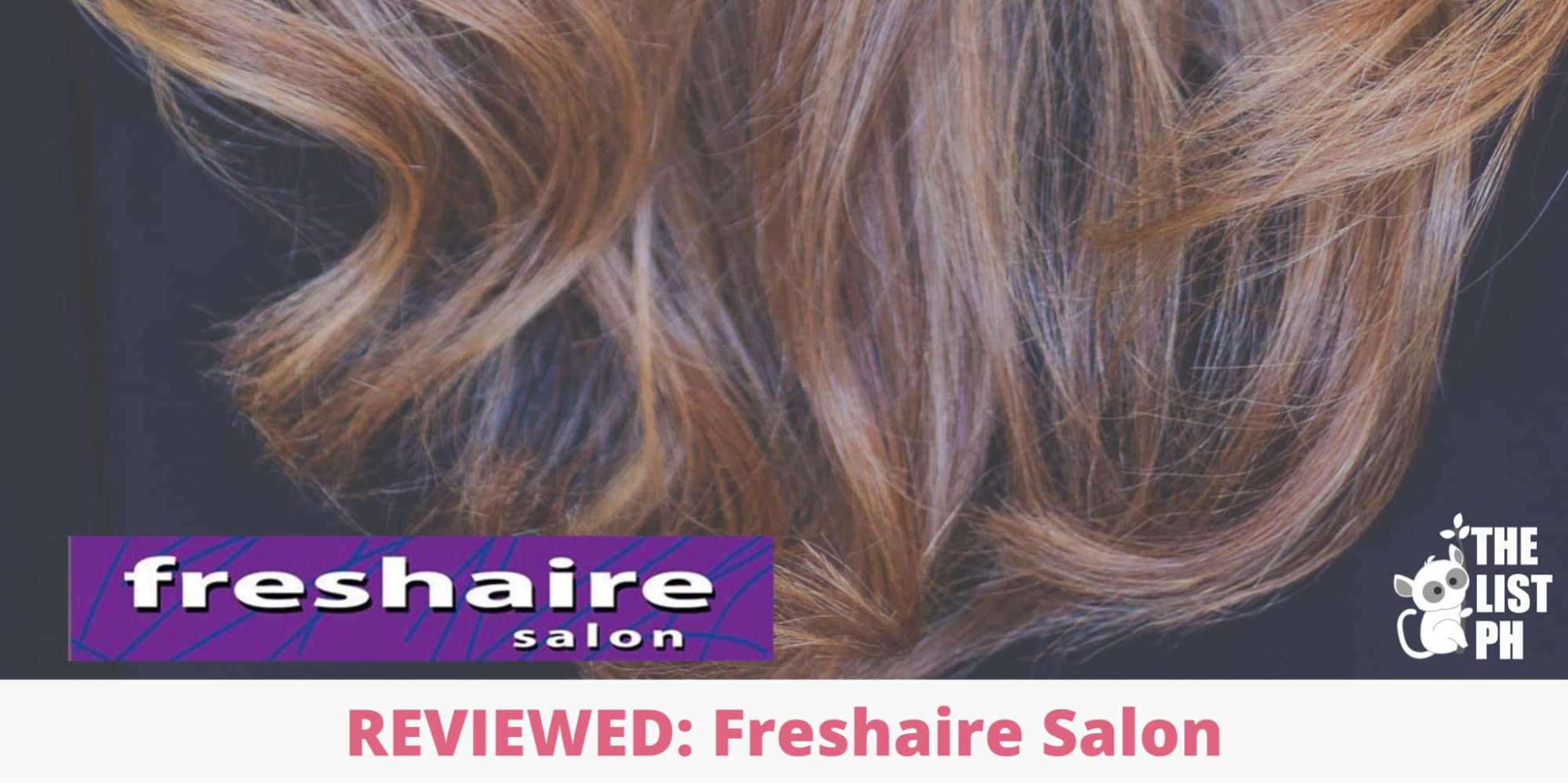 Reviewed: Freshaire Salon
Whatever the occasion or time of the year, it's no secret that Filipinos love getting themselves dolled up. For many of us, a mall run wouldn't be complete without a quick pampering through a mani-pedi or a haircut.
While we'll never run out of beauty parlors to choose from, one salon that may catch your eye during your next mall visit with its bright purple logo and interiors is Freshaire Salon.
Its first branch opened in 1990 and since then, Freshaire has continued to expand and has been committed to caring for their customers through reasonably priced, quality beauty services.
It's almost always packed with people, and with our tell-all review, you'll find out why. Check out our latest review on The List: the full treatment experience at Freshaire Salon.
How We Reviewed Freshaire Salon:
Accessibility
We considered the number of branches or locations Freshaire Salon has, as well as their service hours.

Variety of Treatments Offered
We looked at the variety of treatments they offer, from hair to nail care, body waxing and makeup services.

Price
We reviewed the store based on how much their treatments are priced, and how much value for money they offer.

Treatment Experience
We reviewed our overall treatment experience at Freshaire Salon, based on the attentiveness of their staff and the quality of their services.
Accessibility: 5/5
Multiple branches around Metro Manila
Expanded to major cities in the provinces
Most branches located in malls
Earliest appointment slot is 10 AM
Availability for walk-ins depends on branch and staffing
Easily one of the best things about Freshaire Salon is how accessible it is. There are over 30 Freshaire branches nationwide, and they're all located in popular malls in the city.
There are even more branches located outside of Metro Manila, spread out north of Luzon like in Baguio or Pangasinan to the major cities in Visayas and Mindanao.
Freshaire Salon Metro Manila Branches
Freshaire Salon Provincial Branches
You can set an appointment with them through your preferred branch's dedicated cellphone or telephone number listed in the table above.
If you wish to walk-in at Freshaire, we recommend you steer clear of busy hours like on the weekends or after-office hours. These are peak times for foot traffic in malls.
The downside of Freshaire salon having all their branches located in malls is that the earliest appointment time is at 10 AM, which is around the time the mall opens.
For longer procedures like hair straightening and coloring, expect that you will be in the mall for most of the day.
It's best you book an appointment beforehand so you wouldn't have to worry about being turned away if the branch is understaffed.
Variety of Treatments Offered: 4/5
Offers standard salon treatments for hair care
Good nail polish selection
Offers nail art
Eyebrow threading
Offers hair styling and makeup for events
No body waxing and threading apart from eyebrows
Limited hair spa treatments aside from Brazilian Blowout
What we like about Freshaire Salon is that it provides you with all the standard salon treatments you would need.
People usually come for their regular haircut with shampoo and blowdry, but you can also opt for their styling treatments.
Freshaire offers hair straightening services like Matrix OPI rebonding and relaxing, which includes the treatment as well. If you want to get a permanent, curly look, you can also get a perm suited for long and short hair.
If you don't want to do anything too serious with your mane, you can avail of their other hair revitalizing treatments like Brazilian Blowout.
We also recommend trying their hair coloring services, where you can choose among highlights, permanent, or semi-permanent coloring. They only use premium brands such as L'Oreal, Revlon, and Schwarzkopf for their treatments.
What we love about Freshaire is that they also offer other services apart from hair care.
During our visit to Freshaire in SM North EDSA at the Block, we were pleasantly surprised to find that a lot of people at the salon were also availing of their manicure, pedicure, and footspa packages.
Freshaire offers gel mani-pedis with a very good selection of nail polish. They have various colors and shades from Orly and OPI––popular, high-quality brands––that we could choose from.
If their resident artist is there, they can even do nail art for you at the branch! Depending on how elaborate you want it to be, they charge per finger (more on this in the next part of our review!)
We also like that they offer eyebrow threading and shaping within the salon, so we wouldn't have to line up at a brow studio to get those errands done.
For events and photoshoots, you can avail of Freshaire's hair styling and makeup services. You have an option of going for traditional makeup with their in-house makeup kits, or an airbrush-technique makeup job that gives you a lighter, more natural look.
Freshaire clearly has a lot to offer to its customers, but what we felt was lacking were more private cubicles for body waxing or threading in other places aside from the face.
Aside from this, we think that Freshaire could also do better by adding other hair spa treatments to their packages (beyond Brazilian Blowout), since most salons highlight such services promoting hair nourishment rather than hair texture change.
Price: 4/5
Competitive pricing
Good value for money
Sell their own shampoo, conditioner, and hair gloss products
Freshaire Club membership discounts
Expensive Brazilian blowout
Pricey gel nail removal
In terms of price, providing reasonable hair, nail, and personal beauty treatments is where Freshaire Salon shines.
Aside from convenience in location, its competitive pricing is one of the main reasons why their branches are packed during most peak mall hours.
Nowadays it's very rare to find a good haircut at less than 300 Php, so their affordable haircut with shampoo and blowdry service is much appreciated.
Their treatments also offer good value for money because of the products that they use. You can see the brands they have in-store are L'Oreal, Revlon, Schwarzkopf, OMI, and Orly.
Aside from these big brands, during our visit we learned that Freshaire also sells their own, in-house hair care products such as aloe vera shampoo, conditioner, and hair gloss.
If you see yourself becoming a regular, we recommend you join the Freshaire Club to get regular discounts on their services, and special birthday discounts as well.
You can also automatically avail of this membership by paying for your salon treatment through Gcash.
If we were to nitpick, among Freshaire's most expensive procedures is their Brazilian blowout, which is priced starting at almost 4,000 Php. While we know that blowouts are expensive, it feels like too much of a jump from their standard cut and style prices.
One of the things we liked about Freshaire was that they had gel manicure and pedicure services, but what we don't appreciate about their rates is that the price of gel removal is a third of the price of the actual manicure and pedicure.
Treatment Experience: 3.5/5
Nice staff members
Efficient customer queuing during peak hours
Highly recommended nail and foot spa services
Not the most ambient
Chairs are the same for hair and feet treatment
Inconsistent skill level among stylists
We visited Freshaire Salon SM North EDSA located in the Block, which is one of their busier Metro Manila branches.
Despite the volume of people coming in and being treated at the branch, the staff members were nice, accommodating, and competent at handling the customers coming in for their services.
From haircuts to footspas, every member of the staff was occupied except the receptionist (but she helps out when needed as well.)
Freshaire seems very used to efficient customer queuing during peak hours, though not a lot of people who put themselves on the waitlist come back past the 1 hour mark.
Like we mentioned earlier, a lot of people were having a foot spa done so we had to try it ourselves with a pedicure––and it did not disappoint. The scrub they used was a fragrant lavender, and it made our soles feel nice and smooth.

Their pedicure was good too, as the nail therapist worked quickly and thoroughly. The Orly polish was good too, as it didn't take long for it to dry and add a nice pop of color to our toes.
The downsides to our treatment experience at Freshaire Salon lay in the busy atmosphere.
This particular branch was clean but not the most ambient, as there were a lot of people having long treatments beside us snacking on food they brought in. It's safe to say that not all branches may offer the same level of comfort or ambience.
Something we didn't like with Freshaire is that they overbook spaces. When there are too many customers being worked on at a time, they use the same chairs for haircuts for hands and feet treatment as well.
Lastly, we noticed that in terms of consistency, there seems to be an inconsistent skill level among hair stylists.
Customers queuing up request for a particular stylist to do their hair, but if they aren't available, some customers are hesitant to have their cut done by someone else.
Our Verdict
Freshaire Salon is an established salon brand in the Philippines, and it's turning out to be one of the most accessible ones to date because of its location in popular malls in Metro Manila and in major cities in Luzon, Visayas, and Mindanao.
At less than 300 Php, it offers haircuts at a good value for money as well as gel manicure-pedicure and foot spa treatments that go beyond expectations for a simple mall branch.
If you want to get salon services done without the fuss, Freshaire may be a reasonable go-to. But we wouldn't recommend it for those who are looking for a place to unwind or get fully pampered because of its busy atmosphere.