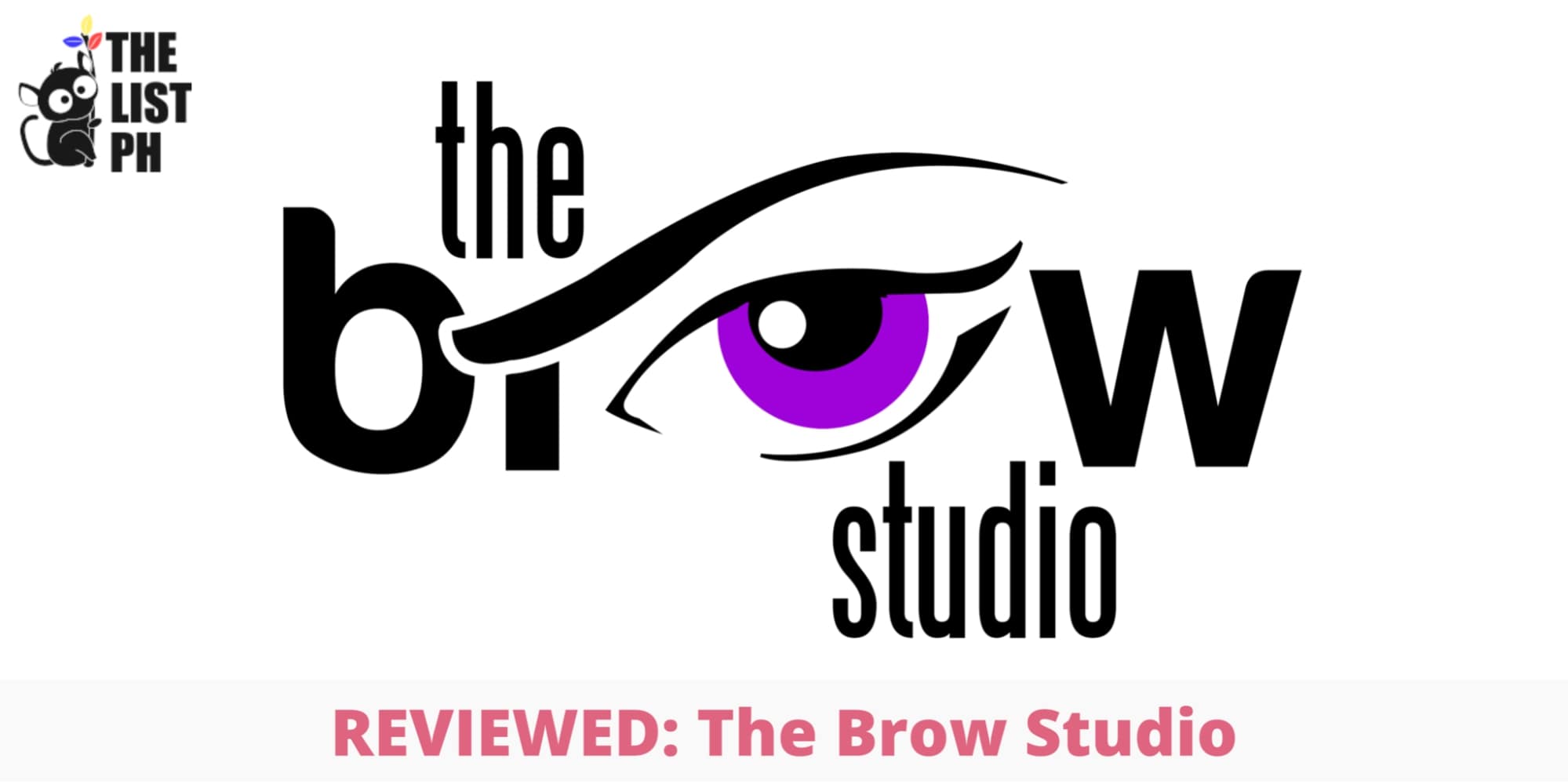 Reviewed: The Brow Studio
For the past few years, everyone has been obsessed with keeping their eyebrow game strong. We've all experienced exchanging tips on how to draw and maintain this select patch of hair that has the ability to frame your whole face.
While it's nice to learn how to draw on your brows, nothing beats a professional's touch at shaping your eyebrows and giving you a line you can trace when you touch up at home.
Here at The List PH, we reviewed one of the best Filipino-owned eyebrow salons: The Brow Studio.
How We Reviewed The Brow Studio
Accessibility
We considered the number of branches The Brow Studio has, as well as their service hours.
Price
We reviewed The Brow Studio based on their price points for their brow cleaning treatments.
Range of Treatments Offered
We looked at the range of treatments they offer apart from eyebrow shaping and threading.
Overall Experience
We reviewed our overall treatment experience at The Brow Studio based on the ambience of the branch and skillfulness of the brow therapist.
Accessibility
Multiple branches all over Metro Manila
Has branches in the province
Accepts appointment bookings via text line
Branch times depend on mall hours
Long wait during busy hours
The Brow Studio Metro Manila Branches
Since its establishment in 2010, The Brow Studio has expanded to over 20 branches all over Metro Manila and in major cities in the province as well.
They have their Baguio and Clark branches in North Luzon, their Cavite, Laguna, and Naga branches South Luzon, Iloilo and Bacolod branches in Visayas, and their Davao branch in Mindanao.
All of these Brow Studio branches are located in popular malls, such as SM, Robinsons, Megaworld, and Ayala. You can usually find them on either the top or basement level floors, along with other beauty service areas.
The Brow Studio Provincial Branches
During our visit to the Brow Studio in SM North EDSA The Block, we learned that you can conveniently schedule an appointment with The Brow Studio through their respective text lines, which vary per branch.
In the visits that followed, we followed the text line and were happy to find The Brow Studio to be very responsive in making a booking.

In terms of accessibility, the downside to The Brow Studio is that its branch times are dependent on mall opening hours.
We think it's best to schedule an appointment before going to your preferred branch, especially if you intend to walk-in during busy hours, like past 4 pm on a weekday. You should expect a wait or a long line at the studio.
Price
Affordable brow services
Great value for money with the skill level of the brow professionals
Sells in-house products
Eyelash removal and retouch priced the same
Generally more expensive than other popular brow threading services
Procedures are so fast you wonder if it's worth the price
Expensive lash lift
Here we listed the prices of The Brow Studio's most popular service areas: brows and eyelashes.
Brow Service Price List
We consider their brow services to be affordable for the general Filipino consumer, where you can get expert cleaning and designing for under 500 Php.
Based on the service alone, we can say that The Brow Studio offers great value for money given the skill level and competence of the brow professionals they hire (we'll elaborate more on this in the latter part of this review.)
If you like their work and want to maintain your freshly threaded brows on your own, the Brow Studio also sells in-house products like lash vitamins, and a brow maintenance set they call "Browmates" which contain roll-ons, tweezers, a pencil, and a brush.
Eyelash Service Price List
Another thing we liked about The Brow Lounge was that their eyelash extension removal and retouch are priced the same.
For customers who are lash extension regulars coming to great treated at The Brow Lounge, having a fixed price for both is great because you get to save up on the retouch!
The main downside to The Brow Lounge is that its rates are generally more expensive than other popular brow threading services.
They charge at least 28 Php more for the same service, and the threading procedure is so fast that we wouldn't blame customers if they'd wonder if they are actually getting their money's worth for maintenance threading every 3 weeks or so.
Another limitation of Brow Studio is that their lash lifts are priced so expensively. You need to pay about 1,388 Php when other eyelash service areas charge as low as 800 for that.
Range of Treatments Offered
Wide range of treatments to choose from
Gives option of threading, waxing, or IPL for body hair removal 
Caters to different eyebrow hair types, semi-permanent makeup recommended
Specialized services are limited to facial and body hair
Low chance of expansion into hair and nail care
One of the things we love about The Brow Studio is that they offer a wide range of treatments to choose from apart from eyebrow and eyelash services.
They have threading and body waxing for both women and men, as well as IPL hair removal if you prefer a less painful approach.
If you come to The Brow Studio to get your brows threaded, we highly recommend doing what we did which was getting other parts of your body treated to make the most of your time during your visit to the branch.
This way, you also get to spare yourself from having to go to a separate parlor to get the same errand done!
We love how The Brow Studio caters to everyone with different eyebrow hair types. Some have thick hair that needs taming, while others have very thin hairs that need to be filled.
We recommend The Brow Studio's version of microblading, semi-permanent makeup, which still gives a natural, full look to your brows.
The truth about and what is somewhat of a downside to Brow Studio is that their specialized services are only limited to facial and body hair treatments.
While this was the premise of the business in the first place––having a salon dedicated to just eyebrow care––this means that there's a low chance of The Brow Studio expanding into hair and nail care in the future.
Overall Experience
Cute branch interiors
Friendly and professional staff
Takes time to explain service
Skillful procedure 
Cramped branch layout
Not the most luxurious
Private cubicles are only for waxing
When we visited The Brow Studio at the Block, we noticed the cute, pastel interiors of the branch, and a big mirror on the wall. The branch is generally clean and tidy.
We were welcomed by very friendly and professional staff.
The receptionist patiently waited for us to decide what services we wanted to avail of, and took the time to explain each service and what kind of outcome we should expect, like how our brows would look after threading and how lashes extensions work.
Afterwards, she led us to the lounge chairs to get started on threading. There are about 4 lounge chairs and at the time there were 3 members of the staff available to treat us.
The eyebrow threading procedure was done very skillfully. The Brow Studio staff were relaxed and confident with their work, and the after results of our brow design was honestly one of the best we experienced (100% on fleek!).
It was a quick, 5-minute procedure and no one had cuts or thread wounds afterwards.
If we were to nitpick something about our experiences at The Brow Studio, we would say that they have a slightly cramped branch layout.
This is how we felt when we were the only ones at the branch, so we could imagine how it must be like during peak business hours. When customers being treated with you know each other, you can expect to hear their conversations and stories too.
Aside from this, their lounge chair area for eyebrow and eyelash services are found in a common area. They only have private cubicles for body waxing and IPL.
While the place is cutesy and clean overall, The Brow Studio's ambience is not the most luxurious. There are more chic brow and waxing places around.
If you're looking for a quiet, spa-like ambience, you won't get it here unless you luck out being the only person at the branch during your scheduled appointment.
Our Verdict
The Brow Studio is one of the best places to have your brows expertly shaped and threaded at a reasonable price.
While its pricing is slightly more expensive than its competitors, the quality of the work and skillfulness of their brow professionals justifies the additional cost.
They're consistent with the results, and as mentioned earlier, we appreciate how The Brow Studio caters to everyone with different eyebrow hair types and offers the right services for each one.
We hope you found this review helpful, and that you enjoy your next visit to Brow Studio!