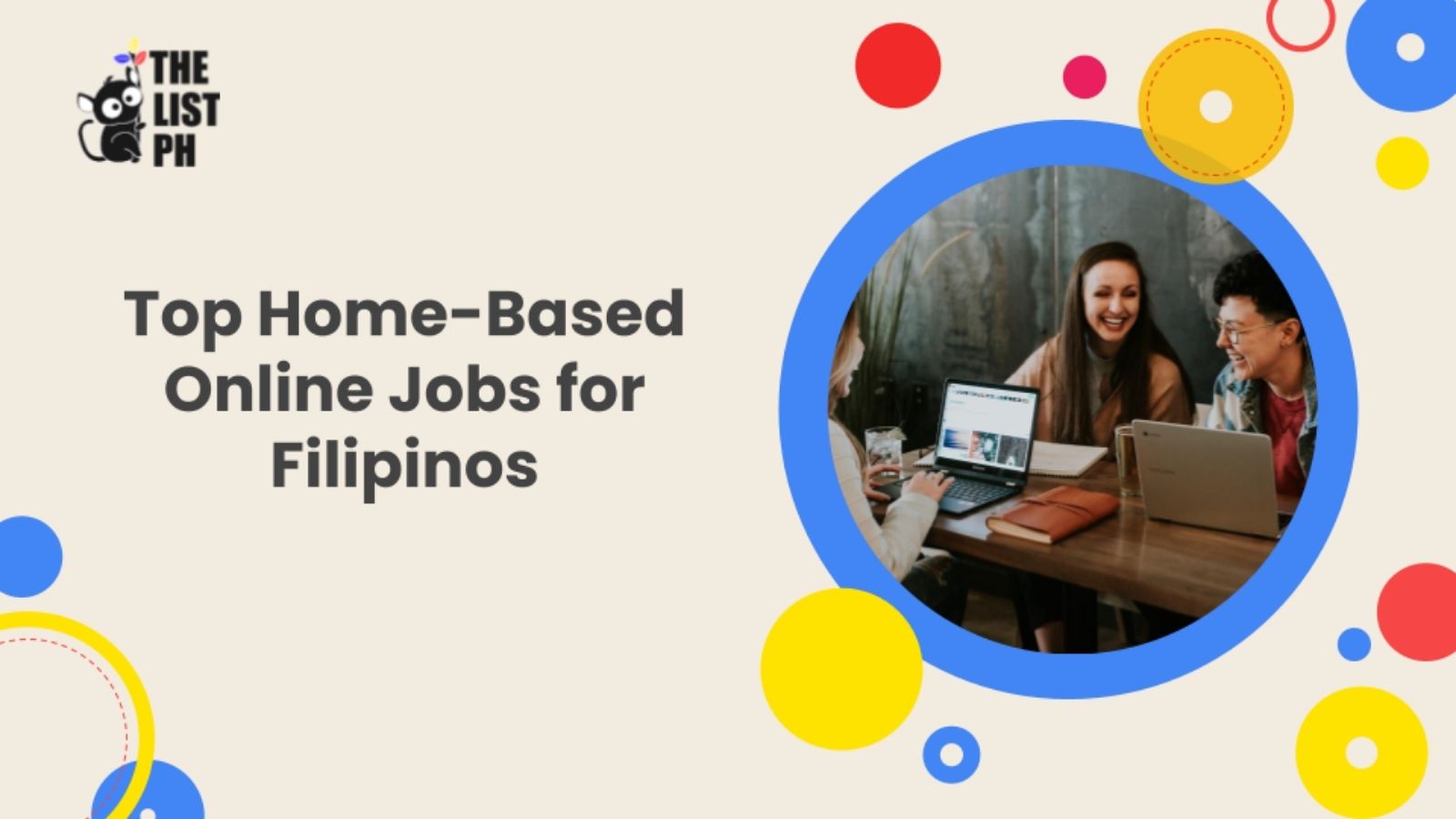 Top 15 High-Income Home-Based Online Jobs for Filipinos
It's now easier than ever to establish a fulfilling home-based online career in the Philippines. With the wealth of information available at the moment, it's the perfect time to explore the opportunities this work scenario provides.
Not all home-based jobs are alike, of course. Each one is unique and requires particular skills and qualifications — it's up to you to pick the one that best fits you.
Thankfully, a diverse range of jobs is available online. You'll need to consider which of them is best suited for your career path, experience, knowledge, and income requirements.
The Pros and Cons of Home-Based Jobs
Before I proceed with the kind of salary you'll expect to make, let's discuss some important matters first. You'll need to be realistic about what you'll potentially face as a remote worker despite all the romanticized versions of it you see, hear, or read about.
Me? I thought I was going to put my feet up on a coffee table and sip a cup of tea while balancing a laptop on my knees (typing daintily away) every day. A few years later, that vision gave way to the reality of a messy dining table, stale takeaway coffee, and a few missing keycaps.
While you're surrounded by everything familiar and cozy, distractions can suddenly pop up at home and throw your schedule off balance. Add small kids, pets, neighborhood noises, and unexpected deliveries into the mix, and you'll be tempted to move into the linen closet where you can work in relative peace.
But would I exchange all that to work in an office cubicle under stark uniform lighting again? No way.
The things I mentioned above aren't meant to discourage you from pursuing what could be a fulfilling home-based career. There are plenty of benefits to it, too, which you can weigh against the potential disadvantages that I've summarized in bite-sized pieces.
Pros
1. No commuting! No traffic!
2. You can have a better work-life balance.
3. You can manage your own time.
4. You can explore a wider range of fields and jobs.
5. You can juggle multiple gigs and hustles at the same time.
Bonus pros:
6. You can cuddle your pets/kids any time of the day.
7. You'll no longer have to avoid the office gossip.
Cons
1. Work and life boundaries can get blurred.
2. You'll have to pay for your own electricity.
3. You'll have to source your own equipment.
4. You could get feelings of isolation.
5. You'll have to work as your own HR manager.
Other cons:
6. No light-hearted banter to look forward to on breaks.
7. No office outings or get-togethers.
The Top High-Income Home Based Jobs Online Jobs for Filipinos
Even before lockdowns started, there have been countless jobs slowly transitioning to home-based setups in the Philippines. I'll be discussing the best online ones in various fields that pay good money, as well as the skills and qualifications needed for each one.
The jobs that made it to this listicle are currently the ones most commonly sought after by remote employees. In addition, I included those that provide either a decent living wage or something to build a nest egg on.
1. Project Manager
Field: Varies per project
Average salary: ₱59,400 per month
Job Description
A project manager is responsible for, well, managing projects. The job includes staying on top of timelines and budgets and ensuring the team works in perfect union.
Those are just the basics of what a project manager does. A project manager may also act as a liaison between clients, or even as a final quality checker.
If you're looking for a job in project management, I recommend finding your specific niche. For example: if you're into tech, you could focus on managing app development projects.
Skills and Qualifications
Detail-oriented
High tolerance for stress
Resourceful; able to manage costs
Able to collaborate and negotiate with suppliers and workers
2. English Tutor / English as a Second Language (ESL) Instructor
Field: Education, Online Services
Average salary: ₱19,250 per month
Job Description
English is still the de facto language for international communication, whether it's for business or personal interactions. Your job as a home-based English Tutor or English as a Second Language (ESL) Instructor is to empower students to participate in all sorts of conversations.
As an English instructor, your lessons will cover both written and spoken English. These are two different skills, and you should be ready to give lessons on each.
In addition to the technical elements of English (such as grammar and spelling), you will also teach your students how to actually use the language in day-to-day interactions. This is called conversational English and it's an important skill your students will want to learn.
Skills and Qualifications
A degree in English, communication and teaching are valuable (but not necessary)
A good grasp of grammar, spelling, syntax, and colloquialisms
The ability to convey the various aspects of the language understandable to a broad audience
An outgoing, expressive personality
3. Telemarketer
Field: Digital Sales and Marketing
Average salary: ₱14,000 per month
Job Description
Telemarketers are the front-liners in a company's selling efforts. Your job as a home-based telemarketer will be to call possible leads and get them to purchase your product.
An important aspect of a telemarketing job is knowing what you're selling. To become the best salesperson you can be, you will have to familiarize yourself with the various features and qualities of the product you're selling.
Basically, you'll need the ability to "convince" people to buy your product. There are many ways to go about this, and knowing which strategy to use to make that sale is another important skill.
All telemarketers — even home-based telemarketers — must be able to meet their monthly sales quotas. Whether you meet or exceed these numbers will be the basis of your performance evaluation — and in most cases, your income, as well.
Skills and Qualifications
Superb salesmanship
An outgoing personality and great communication skills
The ability to make a large number of calls day in and day out
4. E-commerce Specialist
Field: Digital Sales and Marketing
Average salary: ₱45,000 per month
Job Description
An e-commerce specialist is tasked with selling products online through various selling platforms. This could include your company's own online shop, as well as third-party sites like Shoppee, Lazada, and Facebook Marketplace.
In a nutshell, you have to know these platforms inside-out. This includes the ability to use the Content Management Systems (CMS) of each platform.
You have to love making sales and meeting your targets. And it's always about making customers happy, so the ability to give great service to customers should be there.
Part of your job as a home-based e-commerce specialist is to manage inventories. You'll need to stay on top of how much product you're selling, and — equally as important — how much you have left in stock.
An e-commerce specialist may also be tasked with handling promotion and marketing. This includes running ads, sending out samples, and increasing awareness of your products.
Skills and Qualifications
Knowledge and experience with different selling platforms
Sales and goal-oriented
Customer-oriented
Analytics, accounting, and inventory management skills
5. Transcriptionist
Field: Online Services
Average salary: ₱22,000 per month
Job Description
Your job as a home-based transcriptionist is to listen to audio or video recordings and transcribe the words that are being spoken. Your output is usually a word document that contains a transcription of the recording.
You will have to follow the formatting and style guide of your client. Certain transcriptions may be formatted differently—for example, a transcription of an interview will look different from a transcription of a person's speech.
As with most home-based online service jobs, maintaining a steady output is key to making a decent income. Knowing how to manage your schedule would be a valued trait for successful transcriptions.
Skills and Qualifications
Fast typing ability
Great listening and comprehension skills
Familiarity with certain accents, local expressions, slang words
6. Human Resources Manager
Field: Human Resources (HR)
Average salary: ₱44,000 per month
Job Description
Your tasks as an HR Manager will be wide-ranging. But generally, the job will include managing payroll, processing leave requests, as well as hiring additional employees.
Beyond the basic tasks, an HR Manager may also have to resolve inter-office conflicts. Basically, an HR Manager — even a home-based HR Manager — will have to work as a mediator.
An HR Manager must be a stickler for process, too. Consequently, you must be able to promote that attitude to the rest of the company
But it's not all about solving conflicts, either. HR Managers are also in charge of creating office programs to encourage collaboration and increase employee morale.
Skills and Qualifications
A degree in HR management, business management, or any related field
Process-oriented.
People and organizational management skills
7. Data Entry Specialist
Field: Online Services
Average salary: ₱16,250 per month
Job Description
A data entry specialist plays an important part in every office. As a data entry specialist, you will be tasked with encoding and collating data from multiple sources (say, customer feedback forms) into a single document.
The type of data you will encode will differ based on your clients or company. It could be anything from raw numbers to comments from clients.
The idea of entering data may seem basic, but a home-based data entry specialist must also ensure the quality and accuracy of their work. This means the data entry specialist will have to follow certain formats and do the necessary quality checks before turning over their work.
Skills and Qualifications
Good written communication skills (preferably English)
Fast and accurate typing ability
Spreadsheet knowledge will be an advantage.
8. SEO Specialist
Field: Digital Marketing
Average salary: ₱25,600 per month
Job Description
A home-based SEO Specialist is in charge of optimizing and improving the client's ranking in various search engines (primarily Google). In addition to search engine rankings, an SEO Specialist may also have to make their clients more "findable" on social media or other platforms.
SEO Specialists will be tasked with creating SEO-friendly content. This means the content should have the appropriate number of keywords.
The above scenarios are meant to optimize "organic" search rankings. An SEO Specialist may also have to manage paid SEO, which involves paying certain sites to bump up or feature the client in search results.
Skills and Qualifications
Updated on SEO principles and best practices
A keen eye for details and analytics
Knowledge of Google Analytics, Search Console, and other analytics tools
Able to create SEO-friendly content
9. Translator / Interpreter
Field: Online Services
Average salary: ₱60,000 per month
Job Description
Home-based translators and interpreters do just that — they translate and interpret. It's pretty straightforward but the details may change depending on the client or employer.
Translators or interpreters may tackle written documents, or they may work on recording and video. Some translators and interpreters may do "live" interpreting between two individuals or groups.
The language you'll be translating is one detail you'll need to consider when taking on a translating project. Most translators and Interpreters will specialize in a set of languages that determines the projects they take on.
Needless to say, it's one of the highest-paying home based online jobs in the Philippines today. Of course, the required skills and qualifications are nothing to sneeze at, either.
Skills and Qualifications
Fluent in multiple languages
Able to translate expressions and colloquialisms from one language into another
Excellent written and speaking skills
10. Internet Researcher
Field: Online Services
Average salary: ₱22,000 per month
Job Description
The job description of a home-based internet researcher includes finding data and information that's relevant to a specific project. The internet researcher will be expected to find or "sleuth" the necessary info on their own.
If you want to be one, you'll be expected to find even the most obscure tidbits of information that the client will find useful. This means developing an interest in what you're researching so that you'll think just like the audience your client is aiming for.
An internet researcher must also present their research findings in an easy-to-understand format. Most clients and employers will have their own house format, but the researcher must be prepared to use their own if the client prefers it.
Skills and Qualifications
Resourceful
Possesses a keen sense of curiosity
Fosters a wide range of interests across different fields
11. Customer Service Representative
Field: Business Processes
Average salary: ₱15,000 per month
Job Description
A home-based Customer Service Representative is tasked with addressing problems and finding solutions across different scenarios. These may include bill disputes, account concerns, and product inquiries.
The Customer Service Representative must be able to give solutions according to company processes and protocols. Even appropriate follow-ups and keeping abreast of the situation are expected of a CSR.
Thinking on your feet is a desirable trait for a CSR. Some customers might come from left field with an issue that's not on the script, so it will be up to you to assign it to the person with the right solutions.
Skills and Qualifications
At least two years in any college course
Able to understand customer issues and provide appropriate solutions
Possess good English-speaking skills
12. Technical Support Representative
Field: Business Processes
Average salary: ₱16,000 per month
Job Description
The job of a home-based Technical Support Representative is slightly different from that of a customer service representative. A Technical Support Representative is focused on troubleshooting or resolving technical issues, such as modem or printer problems.
Since home-based technical support representatives work remotely, they will have to assist customers via chat or over the phone. They will have to talk customers through the entire troubleshooting process.
Technical Support Representatives also have to stay updated on the latest developments in their company's products. This is to enable them to anticipate problems, and, most importantly, how to fix them.
Skills and Qualifications
At least two years in any college course
Tech-savvy and able to understand technical issues and provide solutions
Possesses good English-speaking skills
13. Technical Writer
Field: Business Processes
Average salary: ₱28,800 per month
Job Description
Technical writers are tasked with creating a wide range of written content. But instead of writing creative pieces, a technical writer creates more informational (or "technical") write-ups.
These write-ups may include instruction manuals, research findings, and technical reports. The technical writer must be able to present complex, and sometimes intimidating, information in a reader-friendly manner.
Technical writers may also have to do research relevant to the topic they're writing about. By its nature, technical writing needs solid research and data to support it.
Skills and Qualifications
Top-level writing skills
A college degree relevant to the chosen field
Thorough research skills
Knowledge of office and word-processing apps
14. Web Designer
Field: Tech and Web Design
Average salary: ₱24,773 per month
Job Description
Web Designers, also called front-end designers, are in charge of creating — or designing — all user-facing interfaces and elements of a website. This includes both layouts and illustrated assets (basically, everything you see on a website).
If you want a career in web design, you're going to have to be on the same page as your client. It will be your job to translate their message visually on their website.
Web Designers are also tasked with applying their designs to mobile screens since most companies now consider "mobile-first" approaches. This means the mobile version of the site is the default, with the desktop a secondary consideration.
Another task you may be expected to do is the creation of design systems and asset libraries. Making it aesthetically appealing to the user is one of the main objectives of a web designer.
Skills and Qualifications
A degree in graphic design and other related fields
Layout and illustration skills
Can keep up with evolving design trends
Knows how to create designs using Adobe Photoshop, Adobe Illustrator, and other graphic design tools
15. Web Developer
Field: Tech and Web Development
Average salary: ₱24,100 per month
Job Description
Being a Web Developer is sometimes lumped in with being a Web Designer, but the two jobs are quite different. A Web Developer's job is more on the coding side — it involves creating a working interface based on the provided design assets.
In addition to working on the back-end, a home-based web developer must also know how to work with various Content Management Systems (CMS). If you are a web developer, you will need to cooperate with the design, content, and other teams to create a satisfactory product
Web Developers are also tasked with quality control of the final output. They need to ensure all the pages load properly (and in different browsers and devices) and all links work.
Skills and Qualifications
A degree in computer science, web development, or any relevant field
Knows how to work with different programming languages, including HTML, CSS, Javascript, and PHP, among many others
Able to collaborate with other teams
FAQs About Home-Based Online Jobs in the Philippines