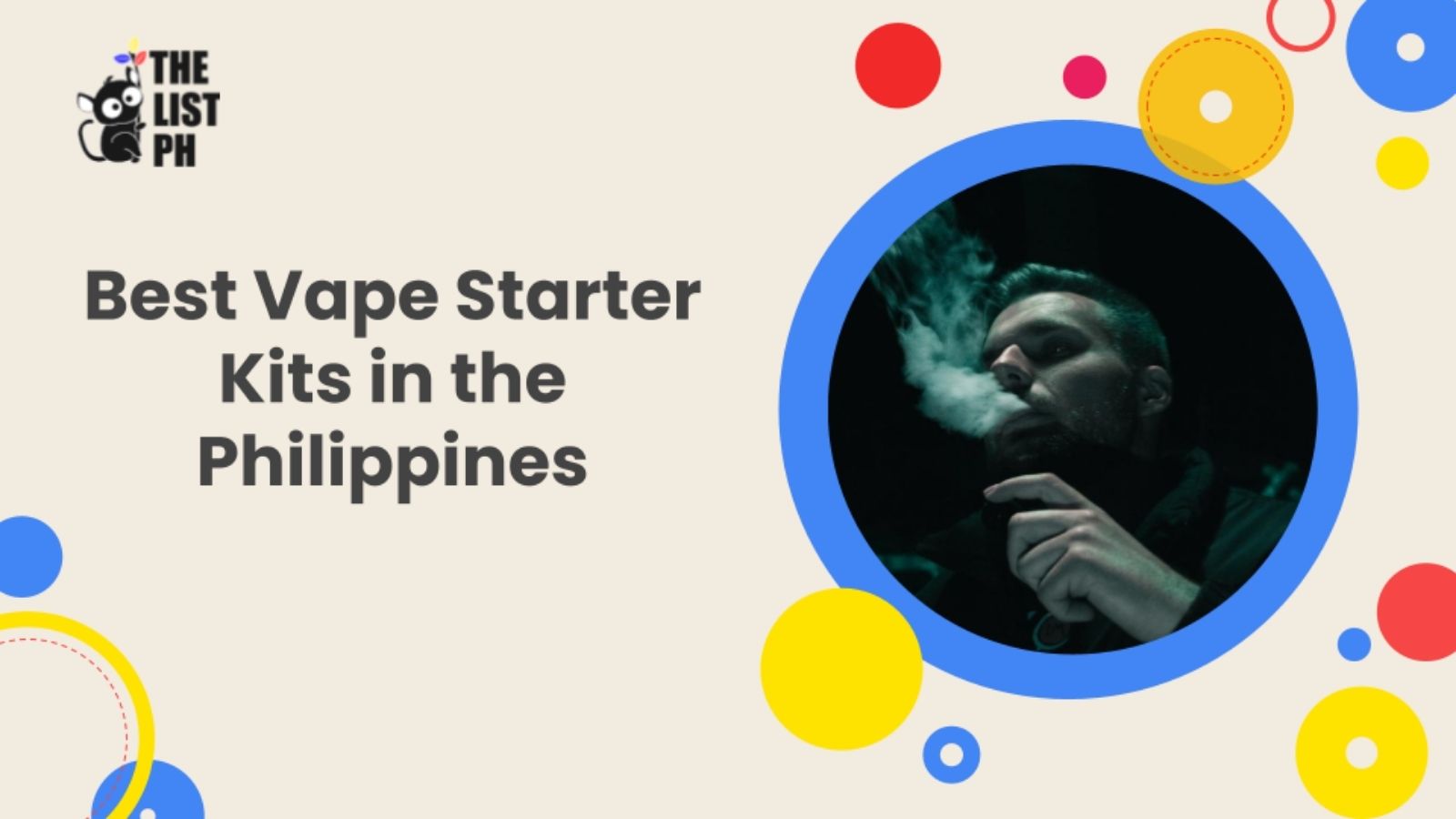 5 Best Vape Starter Kits in the Philippines
If you want to quit smoking but can't do it cold turkey, try vaping. It's a "safer" alternative that gives you the sensation of cigarette smoking but with fewer health risks.
Switching to a vape can be as gradual or as quick as you'd like it to be. The e-juices that come with vaping would have some nicotine content, which you can lower as time goes by.
So if you want to make the switch today, we're here to help. We're going to discuss the best vape starter kits in the Philippines to narrow down your choices.
How Much are Vape Starter Kits in the Philippines?
First, let's go over this. After all, another valid and practical reason to go with vape starter kits in the Philippines would be the cost.
The prices of cigarettes and tobacco products in the country have significantly spiked. In a heartbeat, vaping could present an affordable alternative for hardened smokers.
So if you're a beginner vaper, it's better to invest in a starter kit. It will help simplify your first foray into vaping while opening up to possible upgrades in the future.
Everything you'll need to start blowing fragrant smoke should be in a vape starter kit. Most sellers include a manual so you won't have to fumble about trying to get one to work.
As for how much one costs, we made sure to include brands that are reasonably priced. As you can see with the selections in the table below, not one brand goes over the ₱2,000 mark.
| | |
| --- | --- |
| VAPE STARTER KIT | PRICE |
| Geek Vape Lucid 80W & Lumi Mesh Kit | ₱850 |
| Voopoo Drag X Pod Kit | ₱2,000 |
| Smok Nord 2 Kit | ₱1,699 |
| Uwell Caliburn G Pod System Kit | ₱1,200 |
| RELX Starter Kit Solar Eclipse Celestial Series | ₱1,599 |
Some vape starter kits in the Philippines might come with a bigger or smaller price tag compared to the ones listed above. This is where we'd like to mention that all of the brands in the list are guaranteed authentic and come from legitimate sellers.
The Best Vape Starter Kits in the Philippines
What did we consider when choosing these products? Well, we thought about what kind of vape product each one is, its price and battery life, how it looks and feels, and what comes inside each kit.
Overall, we thought these ones offer the best value for your peso right now.
1. Geek Vape LUCID 80W & LUMI Mesh Kit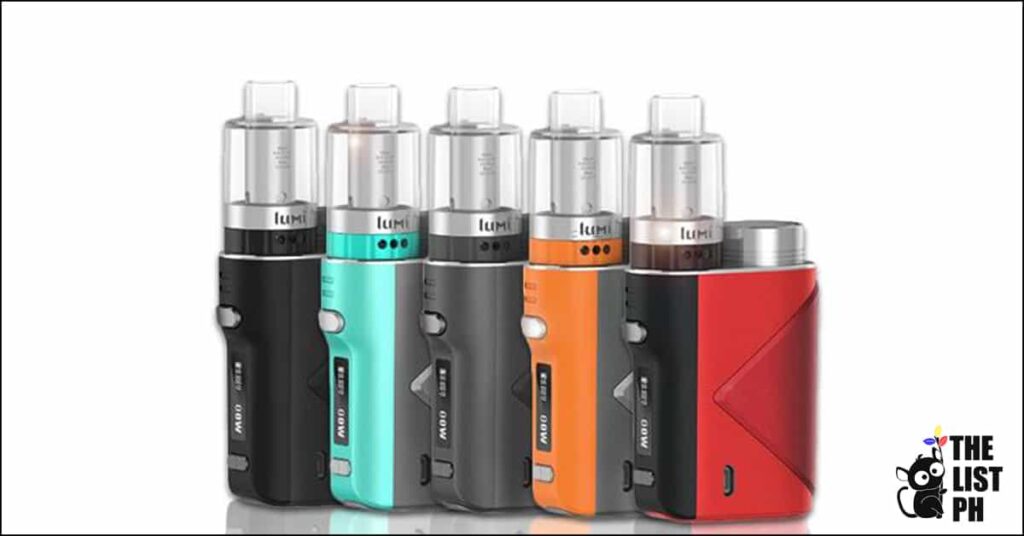 Price: ₱850
| | |
| --- | --- |
| Product Type | Box mod |
| Material | Zinc-alloy chassis construction, compatible with nickel, titanium, stainless steel wires, polycarbonate + stainless steel LUMI tank, rubber stopper |
| Battery Power | Single high-amp 18650 rechargeable battery (battery not included), micro-USB charging port |
| Kit Inclusions | 1 LUCID 80W box mod, 1 LUMI mesh tank, 1 spare parts pack,1 micro USB cable, 1 user manual |
| Design | Portable, comes in red, blue, black, gunmetal, orange, lightweight at 16g. |
A lot of first-time vapers choose this compact and colorful series from Geek Vape to begin their vaping journey. It's durable, has a pre-installed mesh coil, and is light on the hand, eyes, and pocket.
But as with most things made for beginners, the Geek Vape LUCID 80W & LUMI Mesh Kit has its flaws too. Because it was built to be compact and easy enough to operate for newbies, some of its features could compromise its overall functions.
For starters, the 24mm mesh tank is meant to be disposable. This kind of specification undermines what's supposed to be the "greener" alternative to cigarette or tobacco smoking.
This also means that if there's something wrong with the mesh coil, you can't get the tank apart to repair or clean it. You'll have to toss it out and get yourself a new one altogether, which just seems like a waste.
ight and portable for most hand and pocket sizes
A truly affordable vape starter kit
Comes in a variety of fun colors
Not made for modification
Does not include battery
Customer Reviews
See if the Geek Vape LUCID 80W & LUMI Mesh Kit is the best choice for you:
"I'm a fan of Geek Vape. I wanted something small portable and cheap that wasn't a pod system for work. This was perfect disposable tank was fine the mod I actually enjoy using when it was time to throw the tank away I decided to throw a Blitzen on it. The Blitzen is top-heavy on it but fits my pocket nicely as a great little combo with a single-coil setup." – Patrick C.
"It's really good for someone who's new to this like me. It's easy to use, and small." – Kelsey H.
2. Voopoo Drag X Pod Kit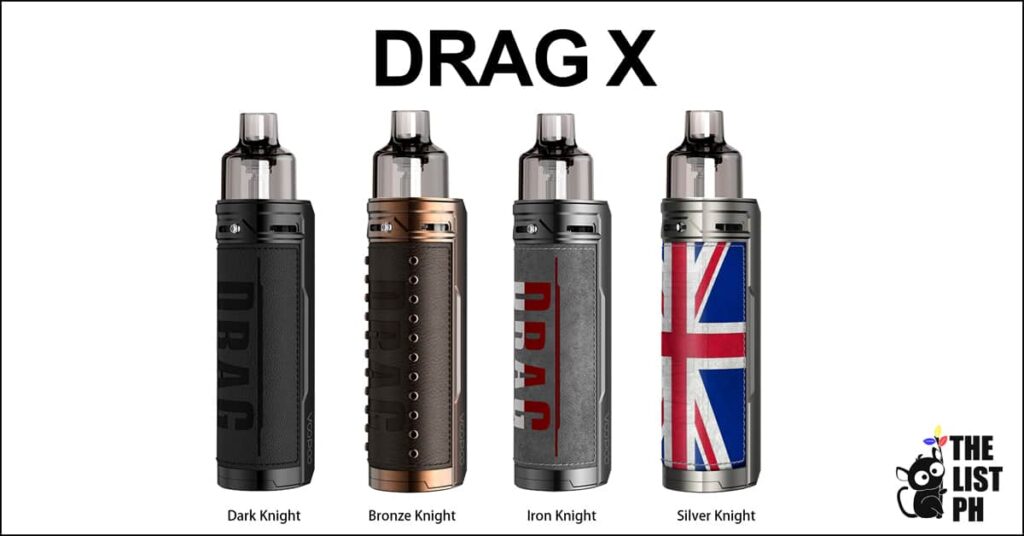 Price: ₱2,000.00
| | |
| --- | --- |
| Product Type | Pod mod kit |
| Material | Alloy & leather patch construction |
| Battery Power | Requires single 18650 battery (battery not included), USB-C fast charging |
| Kit Inclusions | 1 Voopoo Drag X pod mod device (no cell), 1 Voopoo Drag X Pod (4.5ml), 1 0.15ohm PnP-VM6 mesh coil, 1 0.3ohm PnP-VM1 mesh coil, 1 Type-C cable, 1 warranty card, 1 user manual, 1 chip card |
| Design | Anti-scratch, sweatproof, smudge-resistant body, visible LED display, limited edition designs, lightweight and ergonomic |
The Voopoo Drag X Pod Kit makes it not just to most vape starter kit lists, but also to many veteran vapers' lists. Its price tag is heftier than most but there are plenty of good reasons for this.
It's very similar in looks to its Drag S predecessor but it's longer by a few millimeters. The overall look and feel are definitely masculine and durable thanks to its leather and alloy build.
There's also a wider range with this model when it comes to the desired airflow. In contrast to just two options in previous models, there's a new customizable airflow design with this one using a sliding function.
The Voopoo Drag X Pod Kit is also one of the rare vape starters to integrate a USB-C port for faster charging. This is a great feature for those who can't do without a fully charged vape wherever they may be.
Allows adjustable airflow with a single flick
Faster charging with USB-C port
Bigger and easier-to-read LED screen
Comes in fun colors and limited edition designs
Does not include battery
Slightly more expensive than other vape starter kits
Sells out quickly
Customer Reviews
Find out how users of the Voopoo Drag X Pod Kit like their purchase:
"This mod fits perfectly in hand and required little to no effort to find and fire. The fire button is shaped inwards and doesn't sit much above the rest of the mod. Minimal accidental firing, however, it did occur… If I was picking up too many things at once. The leather is comfortable on the hands and the screen is easy to read and use. Airflow control is very easily customizable with the slide function." – HappyyCloudz
"The biggest pro for the device other than its build quality and looks is its performance giving a fantastic reliable vape. I'm sure the fire button has an eye and can see my finger approaching it fires that quickly and I also noticed a spike in power for the first 0.5 seconds before giving a stable vape at set wattage, this spike along with the insanely quick-firing response gives the effect (i know many don't like the phrase but I'm going to use it anyway) of hitting hard which is what many a vaper looks for in a device, I found the Gene chip slightly tamed with the Drag 2 but it's back kicking ass!" – Timwis123
3. Smok Nord 2 Kit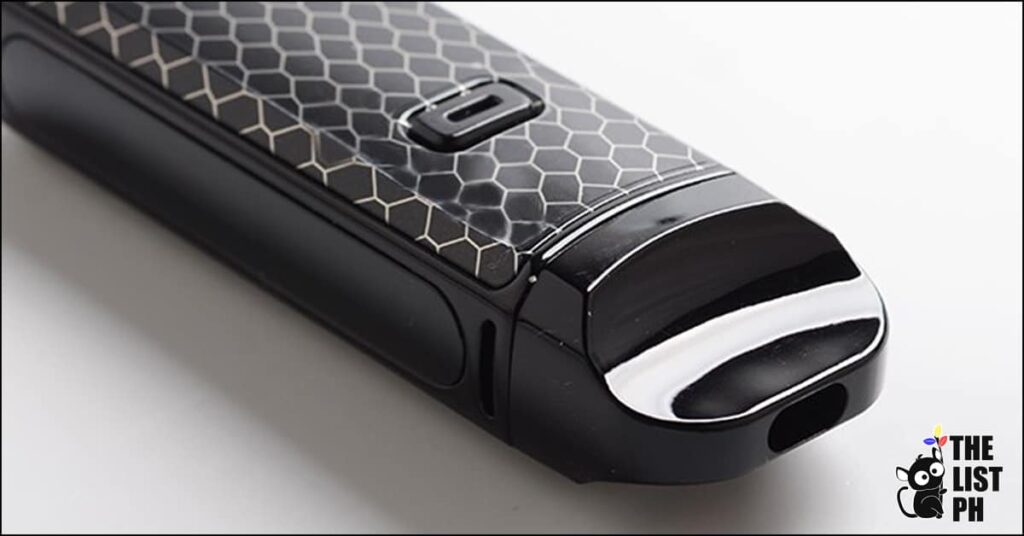 Price: ₱1,699.00
| | |
| --- | --- |
| Product Type | Pod kit |
| Material | Zinc-alloy construction, silicone stopper |
| Battery Power | Micro-USB charging, 1500mAh integrated battery |
| Kit Inclusions | 1 SMOK Nord 2 device, 1RPM Pod (RPM 0.4ohm coil preinstalled), 1 Nord 2 Pod (Nord 0.8ohm coil preinstalled), 1 USB cable, 1 user manual |
| Design | OLED display, rounded edges, ergonomic mouthpiece, easy to pocket and hold, 9 designs to choose from |
They say if it ain't broke, don't fix it. The SMOK Nord 2 kit begs to differ with its improvements that are both functional and ornamental.
A cursory glance tells you it looks uncannily like its predecessor. A closer look, though, tells you it's gained some weight and an OLED display while upping the ante on color and design combinations.
The chunkier silhouette is due to the OLED screen that gives vapers all the info on battery life, number of puffs, and wattage they need. However, there's also a downside to this added feature.
You see, when you remove the pod, you'll also be resetting the puff counter. Still, that's a relatively minor issue.
As for battery life, that's another great improvement with this upgraded Nord model.
The previous 1100mAH has been replaced with a larger-capacity 1500mAH integrated battery. This accommodates longer vaping pleasure without worrying about recharging all the time.
Integrated battery for longer vaping time
Two pods in one kit
OLED display for puff counts, wattage, battery life
E-juice levels not easily discernible
The puff counter resets when the pod is removed
Shares same configurations as previous models but chunkier
Customer Reviews
If you've got the SMOK Nord 2 kit shortlisted, read some customer feedback first:
"This is by far one of the best products I've ever purchased. My Smok Vape has been dropped on every hard surface there is and from far distances and not a crack, break or even change in its working capability. The battery lasts forever and I've even accidentally dropped it in my sink while I was doing dishes dried it out and was still working like a champ. I've purchased several other vapes and they haven't lasted my lifestyle a week. This one should be the top-rated vape out there." – Robbi Daniel
"Smok finally did something correctly! Rejoice! Nord 2 has taken all the bad things from Nord and completely eradicated them. First and foremost, the IQ-N chip alongside the screen with adjustable wattage from 1-40W is a godsend whether you plan to use it for NicSalts or regular nicotine juices. My best setting is 20-30W which is by default +5W over the Nord at full charge." – makewowgreatagain11
4. Uwell Caliburn G Pod System Kit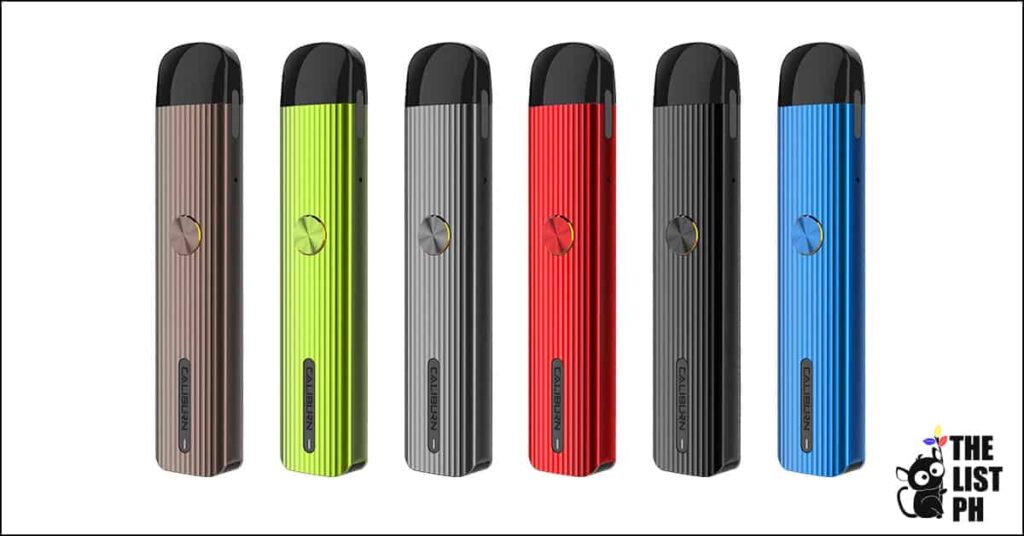 Price: ₱1,200
| | |
| --- | --- |
| Product Type | Pod kit |
| Material | Aluminum alloy, PCTG |
| Battery Power | 1.5A USB Type-C charging, built-in 690mAh battery with max 15W output |
| Kit Inclusions | 1 Uwell Caliburn G Pod System Kit, 2 Caliburn G coil 0.8, 1 Uwell Caliburn pod cartridge, 1 USB Type-C cable, 1 user manual |
| Design | Lightweight at 60g., tactile ridge design, bigger mouthpiece, slim silhouette |
The original Caliburn has been well-received by vaping fanatics for its attributes. But here comes its offshoot, the Uwell Caliburn G Pod System kit, attempting to impress even first-time vapers.
Looks-wise, it's decidedly one of the more minimalist and streamlined ones we've seen so far. The series texture and palette are muted but carry a lot of color choices, which is a plus.
Battery life-wise, there's really nothing to complain about because it's now twice the size of the original Caliburn. Even if you're running low, you can easily charge it without fretting about losing some precious cloud-chasing moments.
There's also a crystal-clear pod that allows you to see how much e-juice is left. This is a small yet vital design feature that helps vapers even without a screen indicator integrated into its design.
Internal rechargeable battery for faster charging
Dual airflow allows fuller flavor
Good color palette options
Can only hold small amounts of e-juice (2ml.)
Coils aren't pre-installed
The drip tip is a bit hard to remove
Customer Reviews
These customers have only good things to say about the Uwell Caliburn G Pod System kit:
"Very good pod system. Worthy successor of Caliburn. Coils are great in taste. It is very well processed." – [email protected]
"The Caliburn G is fantastic, definitely better than the previous! Would 100% recommend!" – Jack
5. RELX Starter Kit Solar Eclipse Celestial Series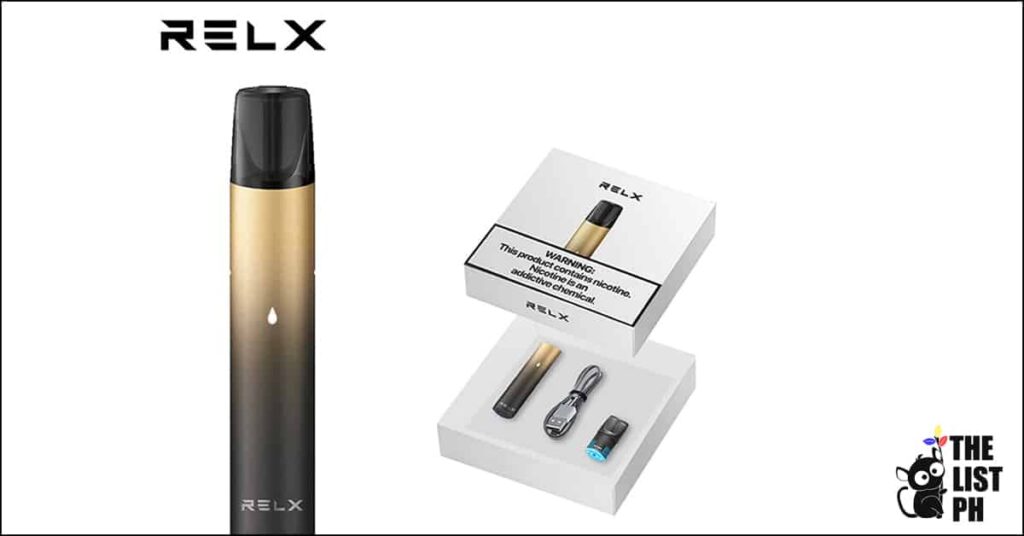 Price: ₱1,599
| | |
| --- | --- |
| Product Type | Vape pen |
| Material | FEELM ceramic coil |
| Battery Power | Charges in 45 minutes, micro-USB, 350mAH, one full day with heavy usage |
| Kit Inclusions | 1 RELX vape device, 1 RELX pod mint, 1 micro-USB, 1 user manual |
| Design | Extremely lightweight at 17g., 3 Celestial colors, oil-proof, double-sealed leak-resistant pod design, LED indicator |
It already has "starter kit" in its name, but there are other reasons this model made it to our list. The RELX Starter Kit Solar Eclipse Celestial Series has even become popular among veteran vapers, in fact.
It's an all-in-one vaping device that doesn't require complex assembly instructions. The battery and the pod pieces are all you need to start vaping your heart out.
The downside to this is that the pod needs to be disposed of once you're out of e-juice. The pod itself can only hold around 2ml. of liquid so it's possible to go through a lot of them in a short time.
Still, that's around 600 to 650 puffs per pod, which is a decent amount (comparable to around three cigarette packs). For the most part, this sleek device makes a worthy first-time vape for anyone.
Lightweight and portable vape pen for everyday use
Convenient USB charging
Non-refillable
Sells out fast
Customer Reviews
Learn how past customers liked their RELX Starter Kit Solar Eclipse Celestial Series experience:
"So many choices!had a hard time choosing with this one. RELX offers so many beautiful choices! I went with the Tiffany Turquoise Blue!" – Claire Thorn
"New fave device! Switched from JUUL, RELX is superior." – Jake Garr
FAQs About Best Vape Starter Kits in the Philippines