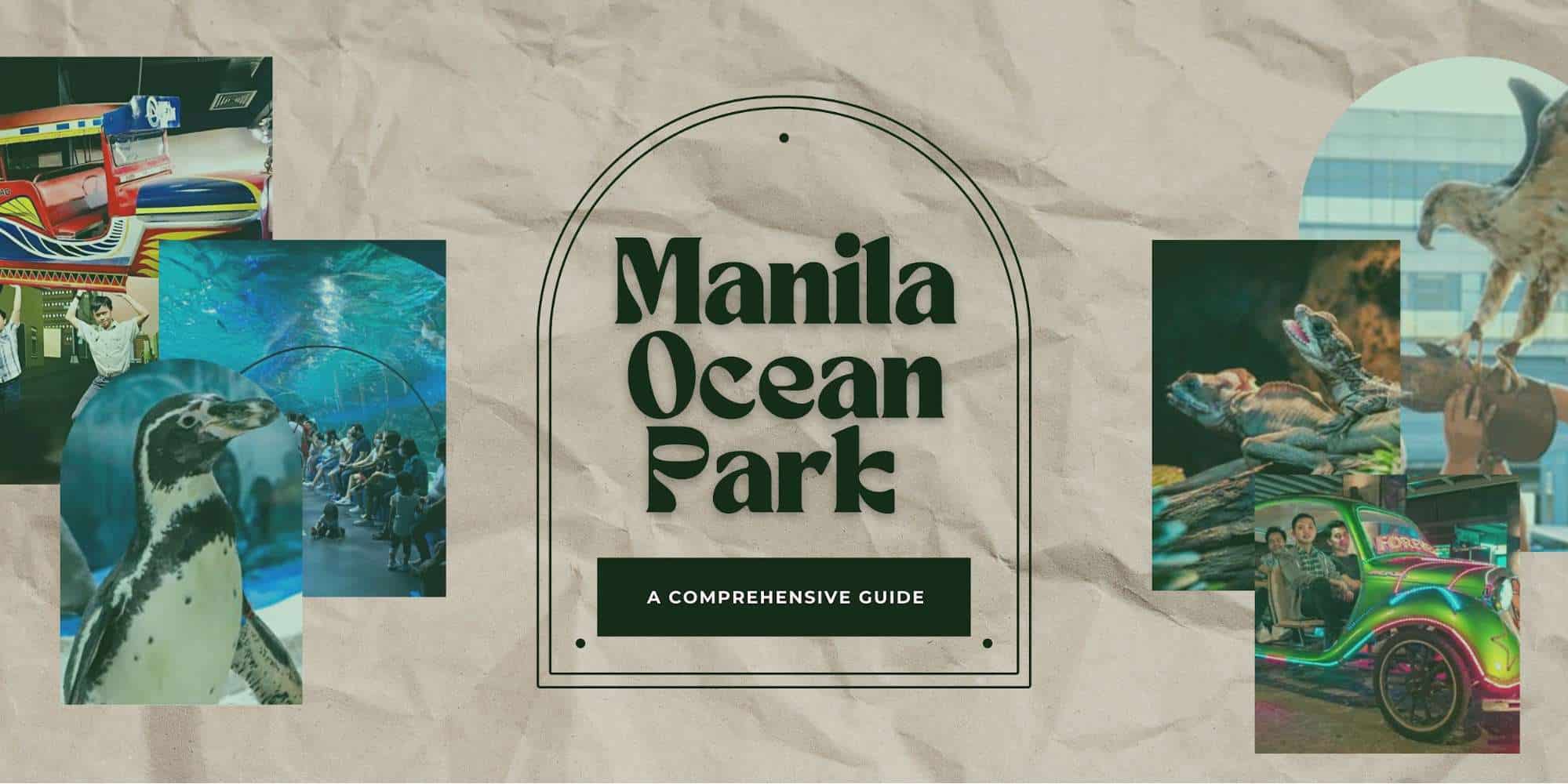 Manila Ocean Park: A Comprehensive Guide
Are you looking for a fun family-friendly destination in the city? Look no further than Manila Ocean Park!
This park features an array of attractions for all ages, making it the perfect family-friendly destination this summer to spend a day or two.
This comprehensive guide to Manila Ocean Park will help you plan a fun-filled day at the aquarium. Read on to learn more about all that this attraction has to offer!
What is Manila Ocean Park?
Manila Ocean Park is a world-class marine theme park that aims to educate and raise awareness about marine biodiversity and conservation through interactive exhibits and shows.
It's home to thousands of marine species and plants, with a main aquarium featuring over 9,000 species, including sharks and sea turtles.
Located along Manila Bay, it's a unique way to experience the ocean's wonders and learn about marine conservation.
How much is the entrance fee to Manila Ocean Park?
Manila Ocean Park entrance fee starts at Php 750. Below is a table summarizing the specific fees:
Manila Ocean Park's tickets can be acquired online or at the entrance gate. The cost of entry is determined by how tall you are, not by age.
What are the Manila Ocean Park operating hours?
Manila Ocean Park is open to visitors daily from 10 am to 6 pm. It is recommended to arrive as early as 10 am and on weekdays for the best experience.
What to see and do at Manila Ocean Park
1. All-Star Bird Show
The All-Star Bird Show is a family-friendly educational show that takes place every day from 12:30 pm to 1:15 pm and 4:30 pm to 5:15 pm at the Main Aquarium Stage.
It features birds from around the world that put on a fantastic performance to showcase their unique abilities!
2. Augmented Reality Encounter
Augmented Reality Encounter is a virtual reality (VR) experience that allows you to interact with animals.
In this interactive exhibit, you can get up close and personal with sharks, touch stingrays, feed penguins, and even pet the rare Philippine eagle.
You'll get to explore different areas of the ocean and learn about diverse and countless animals, including sharks, jellyfish, dolphins, and more!
3. Ball Pit
Get ready for a fun and playful experience at Manila Ocean Park's Ball Pit. Jump, dive, and swim in the sea of colorful balls and enjoy the excitement of this interactive activity!
With the ball pit, you can relive the childhood joys of playing in a ball pit and make new memories with your loved ones or friends.
This is a suitable activity for all ages and a great way to add a touch of playful fun to your Manila Ocean Park visit.
4. The Birds of Prey Kingdom
The Birds of Prey Kingdom is a bird show that features more than 30 species of raptors, including hawks, eagles, and falcons.
You can even have a close encounter with a gorgeous coastal raptor known as Lawin!
The attraction will give you an idea of the characteristics of the winged wonders you will see in the park.
This is a terrific way to witness these birds in action and learn more about them, and it is a must-see for bird enthusiasts visiting the park.
5. Jellies Exhibit
The Jellies Exhibit is a must-see for anyone who loves sea creatures and their respective habitats.
The exhibits feature jellyfish, sea anemones, and other types of jellies.
It is also home to gigantic tanks with vertical walls made of acrylic glass panels that allow visitors to see into them without being too close to the water's surface.
6. Penguin Talk Show
The Penguin Talk Show is a fun-filled, interactive performance where you can sing, laugh, and be playful – no matter your age!
The show allows visitors to see penguins up close and learn about their natural habitats and behaviors through an interactive and dynamic presentation.
It is performed by an animatronic penguin named Hamboo the Penguin. It uses real-time digital puppetry technology in a theater setting.
7. Sea Lion Show
The Sea Lion Show is an interactive experience that allows you to meet and interact with manatees, sea lions, and dolphins.
Guests can also learn more about these animals through educational exhibits and activities such as feeding them fish or throwing balls in their direction.
The Sea Lion Show happens back-to-back with the All-Star Bird Show. It is available on weekdays from 12:30 pm-1:15 pm and 4:30 pm-5:15 pm; and on weekends from 12:30 pm-1:15 pm and 3:00 pm-3:45 pm.
You will have a moment to mingle with the charming sea lions as they educate you about conservation efforts. The performance takes place multiple times daily, with a capacity of up to 1,900 people per show.
8. Super Toy Collection
Visitors can step back in time and relive the nostalgia of their childhood with Manila Ocean Park's Super Toy Collection.
This lineup features a wide variety of classic collections of retro toys like Superman figurines and merchandise that will take you down memory lane.
It stars Superman's Fortress of Solitude and a room full of kryptonite. It also has a customized Manila Ocean Park jeepney, making every photo an aesthetic instagrammable post.
This experience is perfect for toy enthusiasts of all ages and an excellent opportunity to share memories with loved ones.
9. The Barnyard
The Barnyard is an interactive and educational area that allows visitors to bond with domestic and exotic animals, learn about their behavior, and discover the importance of animal care.
You will be met by the irresistible charm of small mammals like hamsters and bunnies, drowning you in cuteness overload!
Kids will enjoy watching them dine, jump, scurry, and frolic. They can even observe them as they nurture their young.
10. The Birdhouse
The Birdhouse is a colorful exhibit that showcases a wide variety of beautiful birds and tune in to the small and adorable chirps of long-tailed Budgies.
You can witness birds in flight demonstrations and feed them in your palms. You can also interact with some birds and learn about their behavior, habitat, and conservation status.
The birdhouse also offers an interactive area where visitors can have close encounters with the birds and capture them in photos as souvenirs.
It is a must-see at Manila Ocean Park for bird lovers and visitors of all ages.
11. Trails to Antarctica
Manila Ocean Park's Trails of Antarctica is an exhibit where you can personally see the cutest and most adorable flightless birds, the penguins!
The exhibition features live Humboldt penguins in the Penguin Exhibit and a Christmas Village for visitors to explore. The show aims to provide visitors with an understanding of the frozen continent and its inhabitants.
Feed the penguins as family for a fun activity. You can also have photos taken by the staff for only Php 500.
This is a special opportunity to see and learn about these amazing animals and their habitat.
12. World of Creepy Crawlies
The World of Creepy features a collection of insects and spiders from different parts of the world and interactively showcases them; some of which are live animals.
It aims to educate visitors about conservation and the importance of these often-overlooked creatures.
This is a great attraction for visitors who are interested in learning more about the natural world, and it is a must-see for bug enthusiasts visiting the park.
The World of Creepy Crawlies also has interactive areas where you can get up close with these creepy crawlies and even hold one in your hand!
13. Neon Rides
The LED Light Pedal Cars attraction at Manila Ocean Park offers visitors a visually stimulating experience with its array of colorful, blinking lights.
The attraction is particularly spectacular at night as the LED lights adorning the pedal cars create a vibrant and eye-catching display.
You can capture memorable moments as you pedal your way around the park while listening and singing along to your favorite songs.
14. Oceanarium
Your visit to Manila Ocean Park would not be complete without experiencing the body of water hugging you and the creatures of the ocean waving their hands as if saying hi to you.
The Oceanarium is the largest facility of its kind in Southeast Asia, with a viewing gallery measuring over 12 meters high and over 100 meters long!
It provides visitors the opportunity to learn more about the ocean and its many inhabitants through exciting and entertaining shows and educational workshops.
Places to stay near Manila Ocean Park
Visiting Manila Ocean Park from outside the city or country? There is a good assortment of places to stay nearby.
Here are a few options to consider:
1. Hotel H2O
Hotel H2O is located within the park itself and offers guests the opportunity to experience marine life up close. Rooms feature ocean-inspired decor, and some have views of the park's attractions.
2. Bayview Park Hotel
Bayview Park Hotel is situated just a 10-minute walk away from Manila Ocean Park and offers comfortable guest rooms with city views.
3. Manila Pavilion Hotel
Manila Pavillon Hotel is a short drive away from the park and offers guests comfortable accommodations, numerous dining options, and a pool.
4. Microtel by Wyndham Mall of Asia
Microtel by Wyndham is a budget-friendly hotel located just a 15-minute drive away from Manila Ocean Park. It offers comfortable guest rooms and easy access to the mall of Asia.
FAQs about Manila Ocean Park