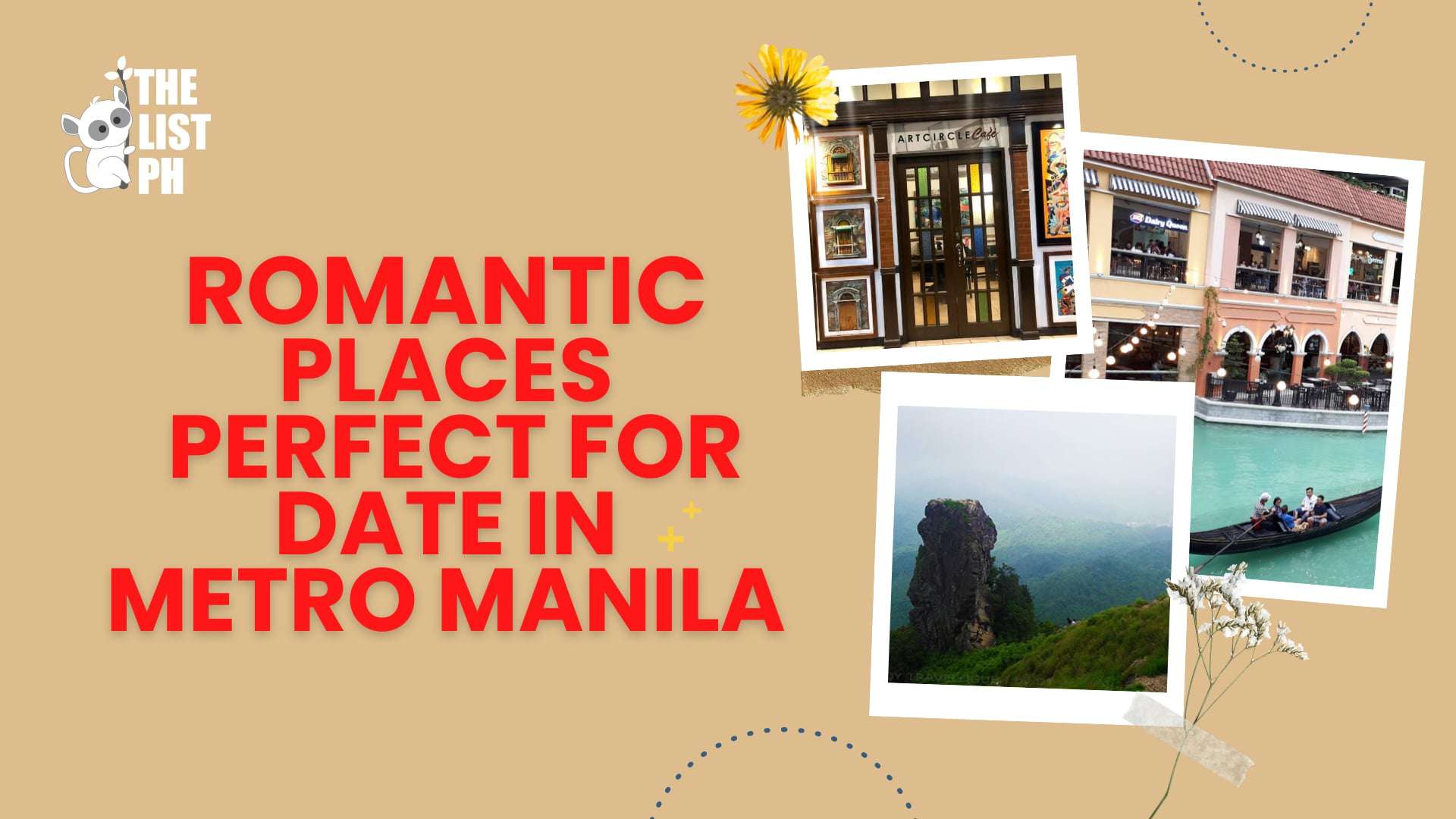 Romantic Places Perfect for Date in Metro Manila
Dating is a great way to get to know someone on a deeper level while having a fun adventure at the same time.
There are a lot of unique and romantic spots in Metro Manila where you can go on a date with your special someone. We've listed some great experiences for you to consider based on your interests!
For the Self-Confessed Romantics
1. Enjoy the sunset views at Manila Bay.
Manila Bay is known for its scenic sunset views, its historical significance site of the Battle of Manila Bay in 1898, and its bay cruise.
Why not take in the beautiful sunset over Manila Bay through a romantic cruise? The cruise includes a dinner with a stunning view of the city skyline, making it the perfect setting for a romantic evening.
For a budget-friendly option, you can set up a picnic at the Baywalk promenade and bring a tablet for an outdoor movie experience while enjoying the picturesque view of the city skyline.
If you're really looking to do something grand, whisk your date away on a horse-drawn carriage ride along the bay and soak in the sunset together!
2. Have a romantic gondola experience at Venice Grand Canal Mall.
The Venice Grand Canal Mall, located in McKinley Hill, Taguig City, offers a romantic option for couples looking for a memorable and noteworthy experience.
You both can enjoy a leisurely ride on the channel while taking in the mall's beautiful architecture and charming ambiance.
For Art and Design Enthusiasts
1. Savor art on a plate at Art Circle Café.
For couples seeking an inventive and romantic dining experience, the Art Circle Café in Quezon City is the ideal destination.
This café offers a cozy and intimate atmosphere, perfect for a special dinner date. The café is located inside the Art Circle Gallery, a contemporary art gallery, and the café's decor is inspired by the artworks on display, creating an idyllic ambiance.
The café offers a variety of delicious and unique dishes that combine different flavors and colors, making it a perfect representation of the artworks on display.
Some bestsellers include Lucban's Finest Longganisa, Crispy Pork Adobo Flakes, Pan Grilled Pork Chop with Ensalada, Shrimp Pasta Aligue, and the Black and White Tart.
They also offer a wide range of vegetarian and vegan options, making it a terrific spot for couples with different dietary preferences.
As you dine, you'll be able to enjoy a selection of delicious and unique dishes while surrounded by contemporary artworks, making it a haven for art buffs.
2. Paint the town with your love for art at Sip & Gogh.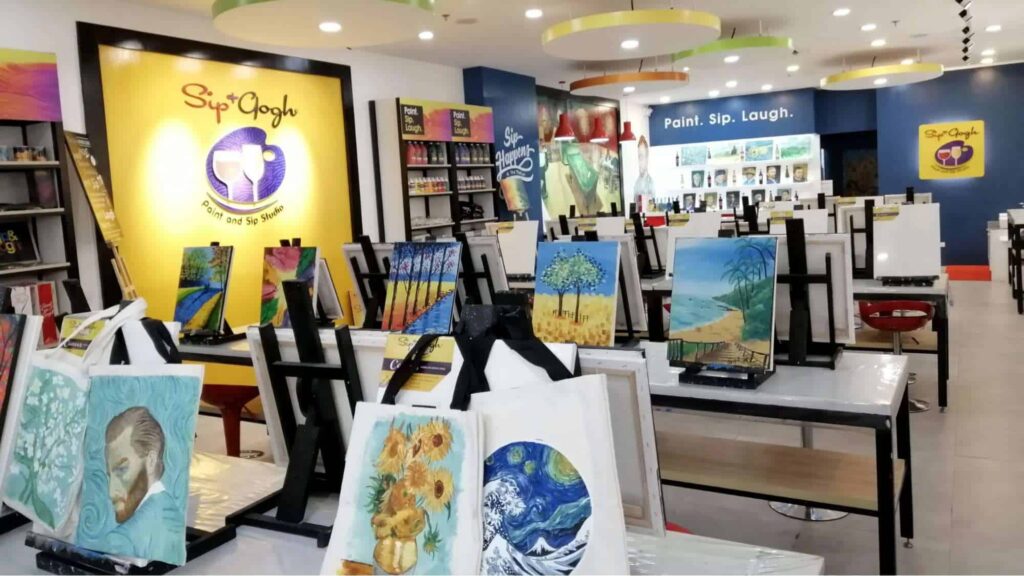 Sip & Gogh is an art studio that provides a fun and relaxed atmosphere for couples to enjoy a romantic date.
At Sip and Gogh, couples can book a painting session while sipping good wine. The studio provides all necessary art materials plus complimentary drinks and snacks, making it a creative and memorabe experience.
Whether or not you have painting experience, Sip & Gogh has experienced instructors that will guide you through all the steps needed to create your masterpiece.
This date idea is perfect for couples who enjoy art, culture and trying new things. It provides an opportunity for couples to bond over a shared experience and create a piece of art that they can take home and treasure for years to come.
For the History Buffs
1. Take a leisurely stroll around Intramuros and explore the Bagumbayan Light and Sound Museum.
If you and your date are certified history buffs, this is a great activity for you!
The Intramuros Light and Sound Museum is located inside the San Agustin Church, one of the oldest churches in the Philippines. It was built in 1587 by the Augustinian Friars.
It presents a historical narrative of the Philippines through a multisensory light and sound experience.
You and your date can enjoy this immersive experience and debrief (and debate!) over some great grub after.
2. Go on a history and culture excursion at the National Museum Complex.
To make your next romantic date a memorable and meaningful one, you can take a stroll through the National Museum of the Philippines.
This exceptional museum comprises four major sections—the National Museum of Arts, Anthropology, National History, and the Planetarium—offering a wealth of exhibits for couples to explore together.
You can take a slow walk, hold hands and enjoy each other's company in a peaceful and quiet atmosphere while going through the various collections.
Not only will you have a wonderful time together, but you will also be supporting sustainable tourism initiatives
For the Passionate Foodies
1. Do a Binondo food crawl.
Binondo is a vibrant and lively neighborhood that is home to different Chinese restaurants offering a range of traditional dishes, from dim sum and dumplings to noodles and rice.
You can take a food tour of the district and try various Chinese cuisines like Soy Chicken and Roast Duck Rice at Ying Ying Tea House and the lumpia at New Po Heng Lumpia House.
BONUS TIP: Coming out from the mouth-watering delicacies and sumptuous dishes, you can talk about a romantic walk in the Binondo Church, a historic Catholic church founded in the 16th century.
2. Have a farm-to-table experience at The Wholesome Table.
The Wholesome Table is the perfect destination for couples looking for a romantic and intimate dining experience.
The interior boasts a modern rustic aesthetic that perfectly balances comfort and style – perfect for that Instagram-worthy date night photo.
The Wholesome Table menu features a variety of healthy and delicious dishes made from locally-sourced ingredients. Their Korean Kimchi Rice Bowl, made with organic brown rice and homemade kimchi, is a must-try.
Apparently, you can also never go wrong with their Be Energized Salad, with its smokey chicken and fresh and crisp vegetables.
You can also pair your dishes with a selection of organic wines and specialty cocktails.
For Nature Lovers
1. Cool down and relax at La Mesa Eco Park.
La Mesa Eco Park in Quezon City is a perfect special date destination for couples looking to be one with nature.
You will be surrounded by flourishing greenery and the park's beautiful scenery. The park features a variety of attractions, such as a man-made lagoon, a butterfly sanctuary, and several nature trails, making it a welcome breather from city life.
You can also rent a paddle boat and have a romantic ride in the lagoon or have a picnic in one of the many designated picnic areas.
You'll be able to enjoy a variety of natural wonders, from the different species of plants and animals to the stunning views of the park.
You can also take a romantic stroll around the park's walking trails, where you'll find more hidden gems and secluded spots.
2. Experience bamboo biking around Intramuros.
If you're looking for a unique way to explore Intramuros, consider going on a bamboo bicycle with your significant other!
The local initiative known as Bambike is designed to promote sustainable tourism and reduce carbon footprints.
Pedaling through the historic streets of this walled city, you'll be surrounded by Spanish colonial architecture, lush greenery, and rich cultural heritage.
As you bike together through Intramuros, you can take photos together at Plaza San Luis Complex, Puerta Real Gardens, Japanese Cannon, and Plaza Roma, allowing you to take in the beauty and history of the place at a leisurely pace.
With the use of sustainable transportation, you can also contribute to reducing your carbon footprint and supporting environmentally-conscious initiatives.
BONUS SECTION: Romantic date locations outside Metro Manila
We're also including some bonus entries for experiences just outside the city, for those looking to go the extra mile (literally!) for their dates.
1. Check out creative expressions at Pinto Art Museum.
The Pinto Art Museum in Antipolo is the perfect destination for couples looking for an artsy and romantic cultural experience.
The museum features a variety of exhibits showcasing contemporary Philippine art, making it a superb spot for art lovers.
The exhibits change frequently, so there's always something new to see.
You'll be able to enjoy a variety of artworks from different artists, from sculptures, paintings, and photographs.
Take a break at Pinto Art Museum Café, which offers a stunning view of the museum's landscape and providing a perfect backdrop for a special meal.
You can also take a stroll around the outdoor galleries, where you'll find more art pieces and sculptures surrounded by nature.
2. Try horseback riding at Tagaytay Picnic Grove.
For couples looking for a romantic and scenic outdoor experience, Tagaytay Picnic Grove in Tagaytay City offers the perfect setting amid the cooler weather.
This popular park is known for its picturesque views of Taal Lake and the volcano. It offers horseback riding as one of its many activities.
While on horseback, the trails will take you through various terrains, including hills, valleys, and forests, giving you a chance to experience the natural beauty of Tagaytay.
For a truly romantic experience, you can also opt to have a private horseback riding experience at sunset, where you can witness the beauty of the sun setting over Taal lake while enjoying the intimate company of your partner.
3. Go hiking at Mount Pico de Loro in Cavite.
Mt. Pico de Loro is a popular hiking destination for couples looking for a romantic yet adventurous experience.
This mountain offers a challenging and rewarding hike to the summit, where couples can enjoy stunning views of the surrounding landscape and diverse wildlife.
It is also an ideal climb for beginners, which makes it ideal for couples who want to try something new together.
The summit offers a spectacular panoramic view of the surrounding waters of Batangas and the majestic mountain ranges of neighboring provinces, making the effort worth it.
---
Hopefully, we've given you some great ideas for your next date! Feel free to mix these up and create your own itinerary for a memorable time with your significant other.
Did we miss any great spots that should be on this list? Let us know in the comments below!