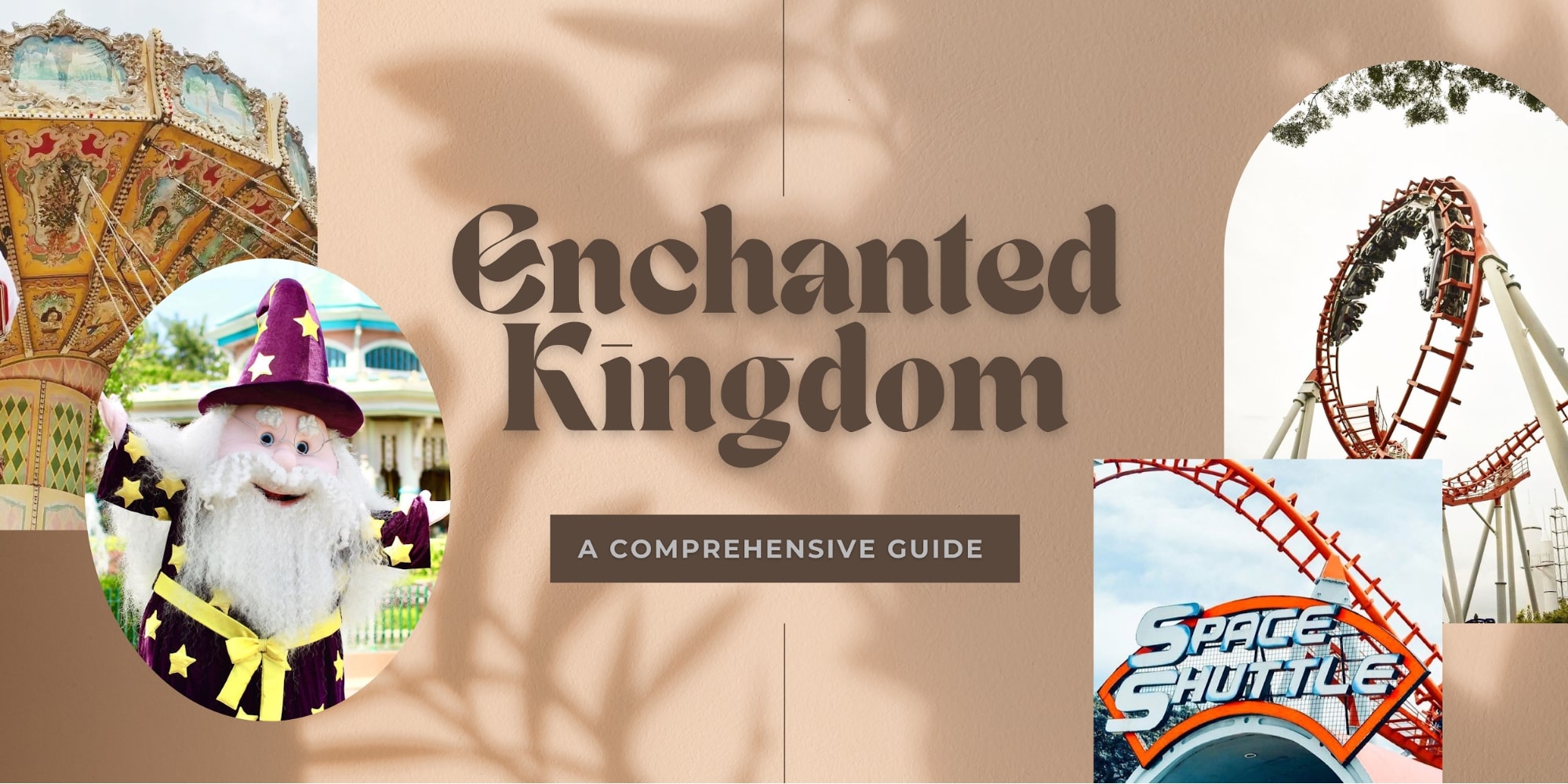 Enchanted Kingdom: A Comprehensive Guide
Looking for a fun-filled day out with the family? Search no more, you've found the place!
Enchanted Kingdom offers a wide range of attractions for all ages, from thrilling rides, entertaining shows, and delicious food options there's something for everyone to enjoy.
In this comprehensive guide, we'll let you in on everything you need to know about the Enchanted Kingdom so you can plan your visit accordingly.
What is Enchanted Kingdom?
Enchanted Kingdom is a theme park in Laguna, Philippines, that features world-class rides and attractions for families, thrill seekers, and children to enjoy. It is regarded as one of Asia's largest and most popular amusement parks.
Enchanted Kingdom offers a wide range of rides and attractions for families, thrill seekers, and children to relish.
How much are Enchanted Kingdom tickets?
Enchanted Kingdom ticket prices start from Php 999. Prices vary depending on the type of ticket and they also have discounts for children, PWDs, and senior citizens.
Purchasing tickets in advance online can also be a cost-effective option, as the park often offers discounts and promotions for those who buy their tickets online.
The park also accepts payment methods like cash, credit card or debit card, and mobile wallet.
What is Enchanted Kingdom's operating hours?
Enchanted Kingdom is open from 11:00 am to 8:00 pm on Monday through Thursday and 11 am to 10 pm every Friday and Sunday, and 11 am to 7 pm every Saturday.
We recommend checking the park's website or social media page for visits during holidays and long weekends.
Enchanted Kingdom's rides and gated attractions
Enchanted Kingdom's extreme thrill
1. Air Race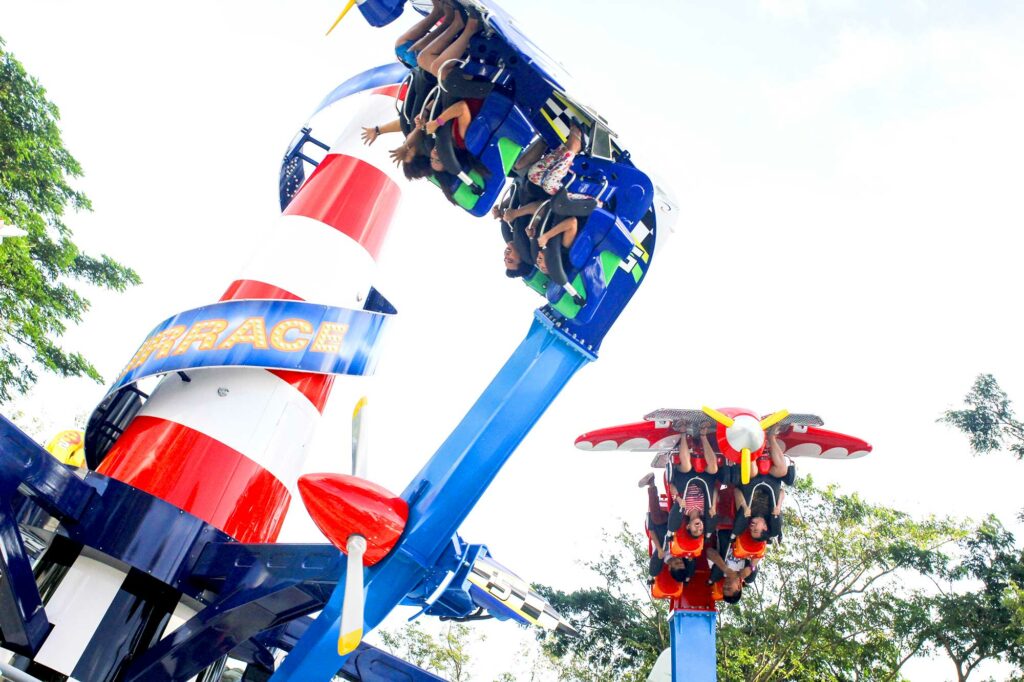 The Air Race at Enchanted Kingdom is a six high-flying acrobatic plane that will help experience the rush of being tossed and turned in the air.
The planes rotate 360 degrees around a central tower, giving you the sensation of flying like an actual aerobatic pilot.
As the first and only ride of its kind in the country, Air Race is a must-try for thrill-seekers and aviation enthusiasts alike.
2. Anchors Away
Anchors Away is a spinning pirate ship ride that takes visitors on a pirate-themed ride.
Riders board the pirate ship and are taken on a spinning journey as the ship swings back and forth, getting higher and higher. Along the way, the riders can enjoy the view of the park from the top of the ship.
Anchors Away is not for the faint-hearted, but it is a great way to get a different view of the park.
3. Ekstreme Tower Ride
The EKstreme Tower at the Enchanted Kingdom is a heart-pumping ride that will lift you 40 meters into the air, taking in the breathtaking views of the surrounding area.
You will also experience the thrill of the sudden drop at 76 kph, leaving you screaming for more.
This ride is sure to leave you a lasting impression and an exhilarating experience!
4. Disk-O-Magic
The Disk-O-Magic at Enchanted Kingdom will give you a spinning and rocking adventure.
Disk-O-Magic is a state-of-the-art ride that is perfect for families who enjoy being spun around on 24 motorcycle-like pedestal seats.
This ride combines the thrill and visual impact on both riders and onlookers.
5. Roller Skater
Enchanted Kingdom's Roller Skater ride is a taste of a coaster life without the heart-pumping intensity.
This junior coaster is perfect for families, offering just the right amount of excitement.
The Roller Skater is an excellent option for those looking to enjoy the thrill of a coaster in a more relaxed setting.
6. Space Shuttle
The Space Shuttle Roller Coaster is a popular ride at the Enchanted Kingdom.
The ride simulates the experience of a space shuttle launch, with riders being propelled along the track at high speeds, experiencing intense and thrilling drops.
It's designed to give visitors an exciting and realistic experience of what it might be like to be an astronaut.
This is a great way to feel a little bit of what it might be like to be an astronaut without ever leaving the ground.
7. Twin Spin
The Twin Spin at Enchanted Kingdom is a rollercoaster that promises twists and turns for thrill seekers of all ages.
The ride takes you on a thrilling 382-meter track of sharp downhill turns, helices, S-turns, and high-speed ups and downs, all while spinning in every direction.
Enchanted Kingdom's splashy and fun rides
1. Bump N' Splash
Enchanted Kingdom's Bump N' Splash is a thrilling ride that combines playful interaction with others, making for a truly unique and exciting experience.
You can set sail on a water adventure in one of the fifteen bright and colorful boats, each equipped with water squirters for a playful battle with other guests.
2. Rio Grande Rapids
Rio Grande Rapids at the Enchanted Kingdom is an adrenaline rush ride to the rough waters.
You will be set off on a winding watercourse filled with thrilling rapids and splashy waves.
The raft bounces and spins through the rapids, providing an invigorating experience.
3. Jungle Log Jam
Jungle Log Jam is a log flume ride which takes visitors on a journey through an Amazon-inspired themed park area.
Riders board a circular boat and take you on a wild journey through the jungle-esque scenery, passing by tall trees and amazonian aesthetic elements.
The ride culminates in a large splashdown, where the boat drops down a steep incline and into a pool of water, giving riders a splash of water.
4. Swan Lake
If you are feeling tired and weary, you can experience the serene and tranquil atmosphere in an idyllic boat ride at Swan Lake.
Guests can take a leisurely journey in one of the twelve swan-shaped pedal boats, gliding gracefully around the large pond and exploring the islets while dodging other swans.
The slow-paced ride to relax and enjoy the lake's natural beauty away from the hustle and bustle of the rest of the park.
The Swan Lake ride is a great way to spend quality time with family and friends and relax in the peaceful ambiance of the park.
Enchanted Kingdom's rides for everyone
1. Agila the Eksperience
AGILA the EKsperience is a virtual flight tour across the Philippines' scenic landscapes such as majestic mountains, beautiful beaches, and incredible islands from a unique vantage point.
Named after the Philippine Eagle, AGILA is an immersive experience created by an all-Filipino team.
Enchanted Kingdom takes pride in showcasing the beauty of the Philippines through AGILA and its souvenir shop PUGAD, which features locally handcrafted merchandise.
2. Air Pterodactyl
The Air Pterodactyl is a kiddie ride with eight adorable airplanes that give young pilots-in-training the chance to take control of their very own aircraft.
With full control over their flight height, the kids will feel like a pilot as the airplanes rotate counter-clockwise, adding an extra layer of excitement to the adventure.
It is a fun and unique way for kids to let their imaginations take flight – literally and figuratively!
3. Boulderville Express
Boulderville Express is a classic train ride that will take you on a journey through the park.
This fun ride takes you on an exciting adventure as you chug along steel rails twists and turns.
The train moves at a nice and steady pace of 7 kph, giving you ample time to take in the sights and sounds of the park.
4. Bouncing Boulder
Enchanted Kingdom's Bouncing Boulder is a mini-tower ride designed to lift you and five other passengers to a dizzying height of approximately 10 meters, before dropping you in a series of short, thrilling drops.
It is an adrenaline-filled ride that will make you scream with excitement.
5. Bumbling Boulders
Bouncing Boulder is a mini tower ride that will spin you 'round and 'round.
It is the slow spin that makes this ride exciting. Little guests also get to control their own experience by spinning the boulder in which they're riding on a revolving circular path.
It's an interactive and unique way for kids to have fun and immerse themselves in a prehistoric world.
6. Dino-Soar-Us
Dino-Soar-Us is a ride that makes kids feel like they're straight out of a dinosaur movie.
The kids get to take control of their very own Dino tub and spin and sway through the prehistoric world inside the Enchanted Kingdom.
It has six different and colorful Dino tubs to choose from. Perfect for little dino enthusiasts!
7. Dodgem
Dodgem is a car driving experience that doesn't require a license.
They have 24 vibrant bumper cars to choose from. You will weave in and out, trying to avoid and collide with other riders.
It is a unique and exhilarating experience that will make your heart race and leave a lasting impression. Again, this doesn't require a driver's license.
8. Flying Fiesta
Flying Fiesta is a ride where the chairs spin around the central tower while swinging back and forth.
Flying Fiesta is an excellent option for families to savor the feeling of flying together. It's a fun and unique way to experience the classic carousel ride
9. Rialto 4D
Rialto motion simulator theater is the latest immersive audio and visual technology that will transport you to another world.
Recently upgraded as part of the park's 20th-anniversary initiatives, the theater now boasts 108 seats, including 4 non-moving seats for guests with disabilities.
10. Stone Eggs
The Stone Eggs mini-Ferris wheel is a perfect ride for the little ones.
It simulates hatching from a giant dinosaur egg while taking flight 24 feet into the air in one of the six egg-shaped gondolas.
11. The Grand Carousel
The Grand Carousel is a classic and timeless ride. It is a beautiful and ornate ride with colorful decorations and intricate details.
It's a nostalgic experience that can remind visitors of their childhood or be a new experience shared with family and friends.
12. Wheel of Fate
The Wheel of Fate is a magical and memorable experience for visitors.
The view from the top of the wheel is breathtaking, giving you a panoramic view of the park and the surrounding area.
This is a classic amusement park ride suitable for most visitors, making it a superb option for families to experience together.
13. Up, Up, and Away
Up, Up, and Away is a whimsical, hot air balloon-inspired ride.
You will be lifted off the ground in one of the ten colorful, gently-rotating balloons.
Enchanted Kingdom's gated attractions
1. 7D Interactive Motion Theater
The 7D Interactive Motion Theater is an interactive adventure and the first of its kind in the Philippines.
With the XD Dark Ride, you'll be armed with light guns and ready to fight off on-screen enemies while scoring points and immersing yourself in a multi-sensory experience.
This cutting-edge attraction combines 3D graphics, motion technology, and 4D effects with multiplayer gaming action for an experience like no other.
2. Alcatraz
This new horror attraction at the Enchanted Kingdom will test your nerves as you navigate the eerie cell blocks of this maximum security prison.
You will face unruly inmates and other twisted creatures determined to keep you trapped within their grasp.
3. EKaleidoscope
EKaleidoscope is Enchanted Kingdom's interactive inflatable trampoline offering visitors a chance to explore the wonder of light and space in a unique and visually stunning way.
Inside, you can immerse yourself in bouncing among the stars and constellations and floating through the solar system.
4. Fun Kart
The Enchanted Kingdom's Fun Kart lets you live out your race car driver dreams on the 800-meter track filled with sharp turns and straightaways.
You can drive around the theme park in your very own go-kart.
5. Kinder Magic
Kinder Magic is like a wonderland kind of place for kids 8 years and under.
It is a place where learning and fun go hand in hand, providing a variety of educational activities such as arts and crafts, storytelling, and role-playing to keep young minds engaged.
6. Laser Mission 2.0
The Laser Mission 2.0 is an interactive attraction located in the Spaceport Zone of Enchanted Kingdom.
It is set in 2051, where players take on the role of a captured space traveler who must escape by breaking through an intricate laser security system.
The attraction offers two challenges to choose from: the Laser Maze Challenge and the Beam Buster.
Both challenges test players' evasion skills and offer an exciting and interactive experience.
7. Xtreme Paintball Philippines (XPP)
The extreme paintball arena is designed to mimic a battlefield, complete with obstacles and bunkers.
The game uses paintball markers, which fire small gelatine capsules filled with paint.
The players are divided into teams and play various game modes, such as capture the flag, elimination, and more.
The game's objective is to eliminate the opposing team or complete the game mode objective.
This activity is suitable for visitors of all ages and skill levels. The park provides all the necessary equipment and safety gear, including paintball markers, masks, and overalls.
It's a meaningful way to bond with friends and family and test your tactical skills and teamwork.
Eating and shopping at Enchanted Kingdom
Enchanted Kingdom has a wide selection of food options that cater to all tastes, including local delicacies and international cuisine.
You can choose from heterogenous restaurants like Spam Station and Digger Treats.
There are also food stands, including ice cream parlors like Magnolia Flavorhouse, on-the-go food like Stir Fried Rice, and sit-down restaurants like Amazon Grill and Lunchtime Restaurant.
Enchanted Kingdom also offers a variety of retail options for visitors to purchase souvenirs, gifts, and other items.
Places inside the park like Eldar's Specialty Shoppe sell merchandise related to the park's attractions, such as t-shirts, hats, hand sewn keychains, and character pillows.
Some shops like Pugad offer a collection of local products, from clothing and accessories to home decor. Meanwhile, the Treasure Island shop carries specialty items like comfy flip flops to waterproof ponchos.
Finally, the Tropics Trading Post offers accessories like native bracelets, plushy animal keepsakes, and whimsy socks for OOTD.
Where to stay near Enchanted Kingdom
When planning a visit to the Enchanted Kingdom, there are a variety of places to stay in the surrounding area. Here are a few options to consider:
1. Hotel Sogo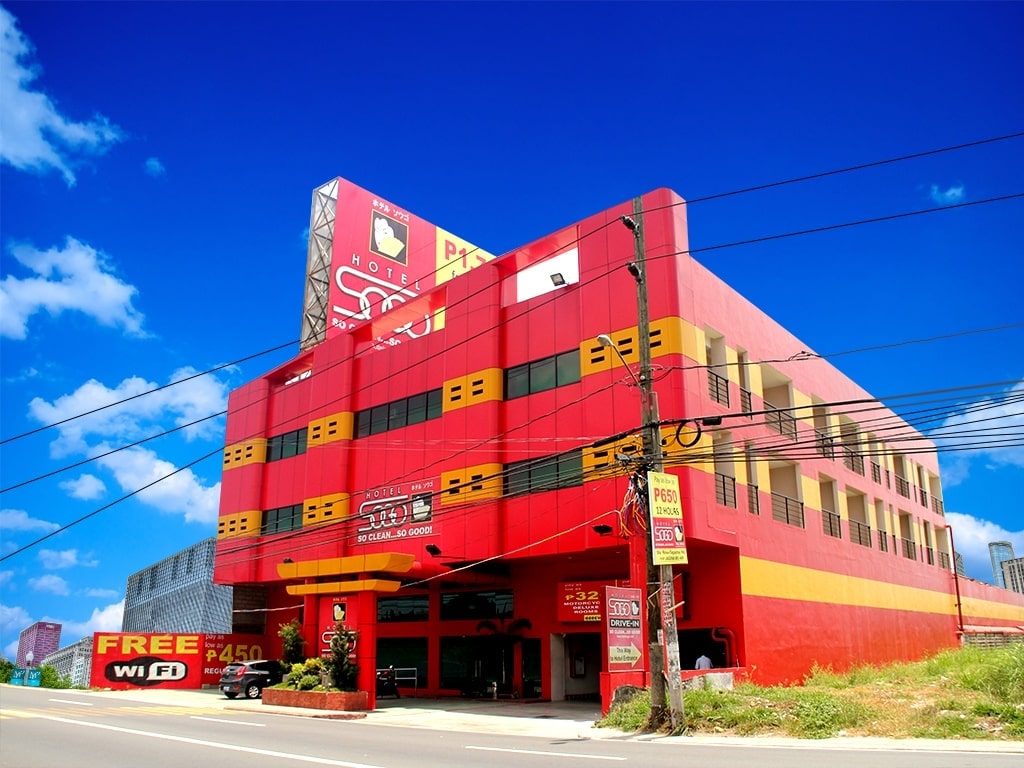 Hotel Sogo is a hotel located a few minutes away from the Enchanted Kingdom. This budget-friendly hotel offers comfortable accommodations and convenient amenities.
2. Paseo Premiere Hotel
Paseo Premiere Hotel is a simple yet luxurious hotel located just a short distance from Enchanted Kingdom. It features a variety of shops, restaurants, and other attractions, as well as several hotels to choose from.
3. Microtel by Wyndham Mall of Asia
Microtel by Wyndham offers comfortable guest rooms, free WiFi, and a convenient location near the Enchanted Kingdom.
4. El Cielito Hotel
El Cielito is a modern hotel with a restaurant, a fitness center, and an outdoor pool, and located at a short distance from the Enchanted Kingdom.
FAQs about Enchanted Kingdom
---
We hope that our guide will help you make the most out of your Enchanted Kingdom visit! If you've been here before and would want to help out a fellow visitor, share your tips in the comment box below.