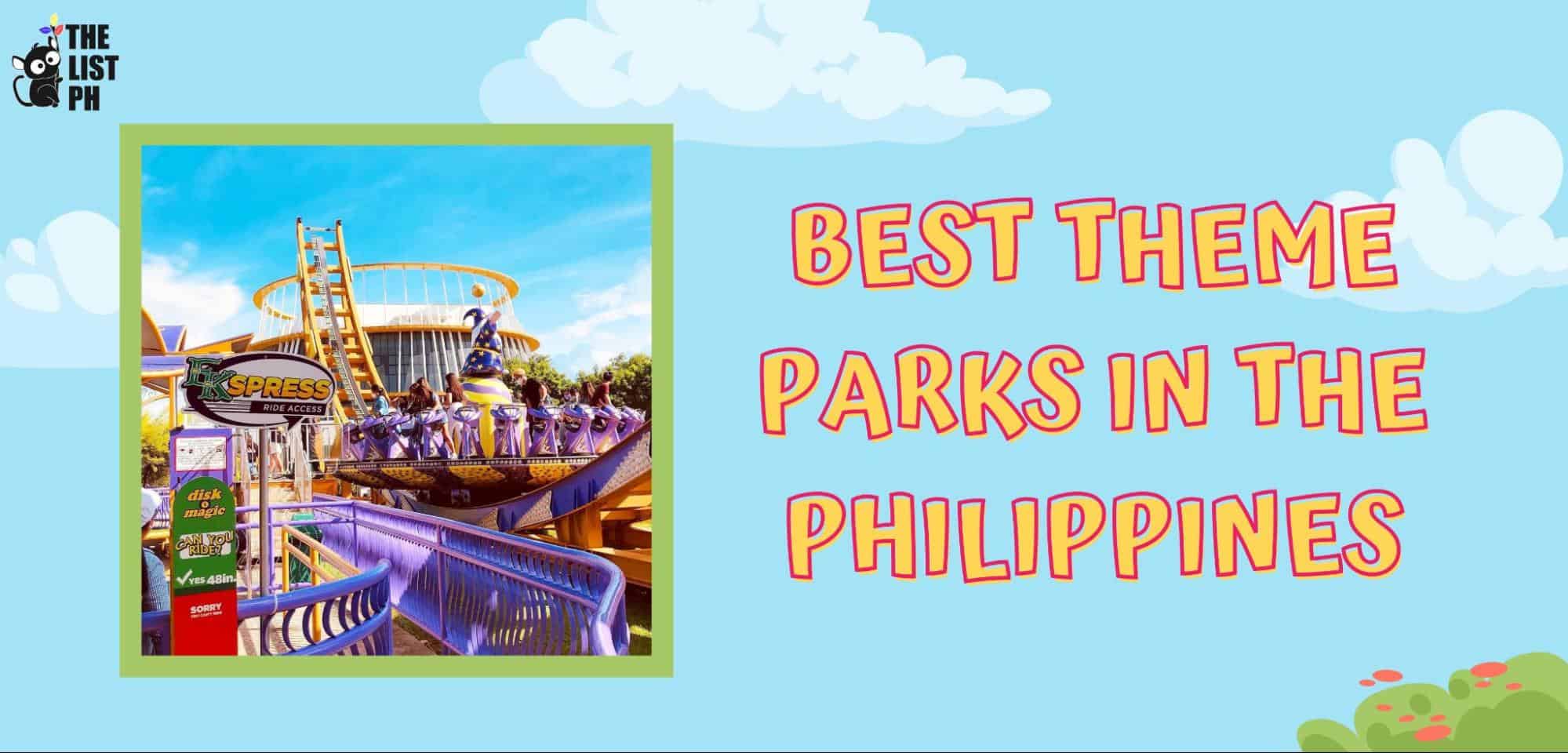 15 Best Theme Parks in the Philippines
Theme parks are a fantastic places to create lasting, unforgettable memories with yourself, your family, and your friends. Indeed, you'll treasure these moments for a long time because they offer different exciting activities for you to enjoy.
So sit back and read on as we've listed 15 major theme parks in the Philippines that you can visit to unleash your inner child!
1. Enchanted Kingdom
Enchanted Kingdom (enchanted kingdom), situated in Santa Rosa, Laguna, is exactly as magical as it sounds. Visitors can enjoy different amusement rides, like boarding a Space Shuttle or becoming a pirate with Anchors Away.
Additionally, some theaters are interactive and informative, such as the Discovery Theatre and the Seventh Portal. They also have Agila EKsperience, which allows you to see the beauty of the Philippines from a bird's eye view.
Visitors may also watch a wide range of performances and activities, including dancing, music, fireworks, and more.
Tickets in Enchanted Kingdom cost Php 999 for a regular day pass and Php 688 for a junior day pass or senior citizen and PWD tickets. They also offer a magic card that costs Php 3,000 for unlimited annual admission.
2. Sky Ranch
SKY RANCH Tagaytay
SKY RANCH Baguio
SKY RANCH Pampanga
Sky Ranch is a chain of amusement parks in the Philippines located in Tagaytay, Baguio, and Pampanga. In 2013, the first Sky Ranch opened in Tagaytay, making it the first major amusement park in the country to be built on a mountain.
All of the Sky Ranch branches have a similar amusement theme. Also, they each have a Sky Eye, a gigantic Ferris wheel that allows visitors to see a panoramic view of the area.
The strategic location and high altitudes of Tagaytay and Baguio make it a great getaway from the scorching heat of the metro. Pampanga, on the other hand, is accessible to those who want to have a side trip during adventures to the north.
Usually, there is a separate payment for admission tickets and amusement ride tickets. They have two types of tickets: pay-per-ride and ride-all-you-can.
3. Star City
Star City, situated in the city of Pasay in Metro Manila, is one of the largest climate-controlled amusement parks in the Philippines. It covers 35,000 square meters of land and features indoor and outdoor amusement areas.
Established in 1991, the park experienced a major struggle as it was burned down in 2019 and only reopened on January 2022.
The long renovation and its much-awaited comeback gave birth to a variety of energizing indoor and outdoor activities for people of all ages. Currently, they offer magnificent theme decorations and more than 30 exhilarating rides and attractions.
Their Star Pass costs Php 699 and offers attractions like the Snow World, which has an additional charge on top of the day pass.
4. Anjo World Theme Park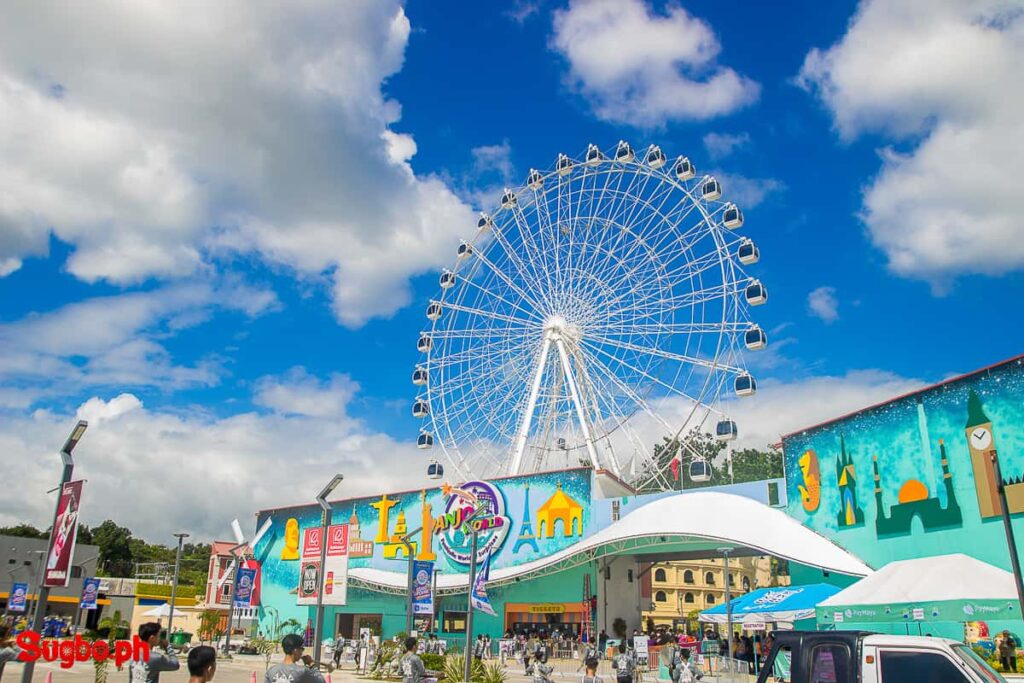 Anjo World is an outdoor theme park with twelve rides and attractions.
Popular rides and attractions include the tallest Ferris wheel in the Visayas called Anjo Eye, a spinning roller coaster called the Pharaoh, family-friendly rides like the Golden Carousel, and more.
Additionally, it features Snow World – a winter-themed attraction with views of several enormous ice sculptures in a building with -10C° temperature.
An unlimited-day adventure pass costs Php 500 for weekdays or Php 600 for weekends and holidays. They also offer Super Tres tickets that cost Php 250 (weekdays) and Php 300 (weekends) for three rides of your choice.
5. Gloria's Fantasyland
Gloria's Fantasyland, also known as Glorious Fantasyland, is the first theme park in Mindanao located in Dapitan City, Zamboanga del Norte.
It is a charming amusement park established in 2009 that delights visitors and spectators with a magnificent assortment of dreaming characters, exciting child rides, thrilling adult attractions, and more.
Among the theme parks in the country, this one is known for its spooky Horror House and the Zimmerman, the largest corkscrew coaster in the country.
Aside from the amusement rides, there are performances and the Festival of Colors Parade, showcasing 11 vibrant floats that symbolize different cultures in the country. Visitors can also enjoy the nightly fireworks show.
Tickets for a day pass costs Php 1,750, but they also offer a discount price of Php 1,500 if you pre-book on their website or Facebook page.
6. Dinosaurs Island
Dinosaurs Island is a learning attraction about dinosaurs located in Mabalacat, Pampanga.
In this theme park, you'll see life-size animatronic dinosaurs and discover their characteristics, read about dinosaur tales, and get a close-up look at the Tyrannosaurus rex.
Aside from the T-rex, visitors may also see Stegosaurus, Spinosaurus, and more dinosaur species and learn about them along the 2-kilometer Dino Trail.
They also have fossil displays, engaging activities, and interactive performances, so it's also perfect for all ages.
The entrance fee to Dinosaurs Island costs Php 560 per head and includes entrance to Insectlandia, another attraction in Clark Picnic Grounds.
7. The Mall of Asia Bay Area Amusement Park
SM By the Bay Amusement Park is the go-to spot for people who want a quick getaway after work or on a busy weekend. It is located beside the SM Mall of Asia facing the Manila de Bay.
For a Ride-All-You-May day pass, you can access eight amusement rides, including Dream Twister, Super Viking, Drop Tower, and more.
They also feature the MOA Eye, where you can enjoy the best sunset across Manila Bay.
Additionally, there are food booths and pop-up games near the attractions so that you can enjoy the amusement park fully.
8. Inflatable Island
Asia's largest floating playground, Inflatable Island, is in Subic, Zambales. It occupies 4,200 square meters and features inflatable swings, towers, bridges, slides, and much more.
The theme park also has different cute and quirky theme attractions that change from time to time. Previous designs featured Hello Kitty, Unicornzilla, Octohedz Invasion, and more.
They also have an Instagram-worthy Bali Lounge that switches up its theme annually.
The day pass rates also range from Php 699 up to Php 899. Additionally, they offer private pool rental with rooms for only Php 3,500 on top of the day pass.
9. Aqua Planet
Aqua Planet in Clark Freeport Zone in Pampanga is a 10-hectare waterpark that's home to 38 water slides and attractions.
The attractions at the waterpark are suitable for visitors of all ages. It has a child wave pool, a 412-meter wave river, and a 3,500-square-meter wave pool that produces eight kinds of waves.
There are also pools in front of a 600-inch LED TV, with several slide towers and a FlowRider surf simulator.
Their rates are Php 1,080 for weekdays and Php 1,280 for weekends and holidays. The rates for kids below four ft. are Php 880 for weekdays and Php 1,080 for weekends and holidays.
10. Manila Ocean Park
It's no doubt that you've heard of Manila Ocean Park (manila ocean park: Ultimate Guide) at least once in your life because it's always a go-to location for field trips and educational tours in Manila.
Since it is the first top-tier marine theme park in the Philippines, its distinct offerings attract many people, no matter their age.
Manila Ocean Park has different attractions, from Oceanarium to Penguin Exhibits and Sea Lion Shows. They also have an aqua-themed hotel and integrated urban resort with other aquatic life attractions.
The entrance fee depends on the attractions you want to visit, but usually ranges from Php 499 up to Php 1,000. Sometimes, Manila Ocean Park's website also offers promo deals for discounted ticket prices.
11. Magikland
The first outdoor theme park in Visayas is called Magikland, located in Silay City, Negros Occidental.
Magikland's theme is rooted in local mythology and tradition as it focuses on making the legend of the Bakunawa (the moon-eating dragon) more contemporary and entertaining.
That said, the park's primary mascot is Bakunawa, which they depicted in a friendlier, happier form. The park also uses cartoons of children around to emphasize their role in the preservation of history, culture, and folklore.
The main attractions are also for different ages since the rides are divided into three zones: Cultural Zone, Magical Zone (for children and those young at heart), and Mystical Zone (for thrill seekers).
The all-in pass costs Php 520, and they also have tickets for admission and shows that cost Php 280. For those who don't want to avail of the all-in access, they also offer pay-per-ride services.
12. Seven Seas Waterpark and Resort
Seven Seas Waterpark is the first major waterpark in the Philippines with a pirate theme established in 2017. It is located in Cagayan de Oro, Misamis Oriental, and boasts over 12 exhilarating slides, a 5,000 square meter twin wave pool, and more.
They also have Cyclone, which is 20 meters in diameter, making it the largest water slide in the country.
Aside from the typical slides, they also offer Pacific Racer, a three-tube speed challenge slide. In this attraction, people can compete against one another while launching from a height of 15 meters into cramped spiral tunnels.
For those who want a cabana, they offer Beach Gazebo for Php 900, Privateer for Php 700, and Islander Huts for Php 800.
Entrance tickets cost Php 799 for weekdays and Php 999 for weekends. Prices for kids are also more affordable, costing only Php 499 for weekdays and Php 599 for weekends.
13. Dahilayan Adventure Park
Dahilayan Adventure Park is Mindanao's most well-liked extreme thrill park, where you can experience ultimate adventures.
They have 840 meters zipline, the longest twin zipline in Asia, where you can fly like a superhero 4,700 feet above sea level.
Since it is located at the foot of Mt. Kitanglad, you'll surely witness amazing landscapes as you cruise through the air.
Aside from that, Dahilayan Adventure Park also boasts other adrenaline-seeking attractions like the Mountain Coaster, Dropzone, Basejump, and so much more.
The price of each attraction varies but the entrance fee stays the same at Php 50. Basically, you pay for what you want to try, and you can book on their website or Klook.
14. Sandbox
SandBox is a two-hectare adventure destination with a distinctive collection of experiences that offer remarkable outdoor memories for everyone.
It has the highest giant swing in the Philippines, as well as Asia's first roller coaster zip line.
It is also a perfect location to try archery, ride an all-terrain vehicle (ATV), and operate a utility task vehicle (UTV). It has a long list of thrilling attractions that will increase everyone's appreciation for outdoor activities.
From the playground for the little ones to mini-golf for the elderly, everyone in the family can also find something to do here. Hence, we consider it a huge age-inclusive theme park.
Their packages are affordable and start at Php 450 up to Php 750, depending on the attractions you want to try.
15. Carron Dreampark
Carron Dreampark is located in San Isidro, Nueva Ecija. It was established in 2012 and quickly became a hotspot for people from Central Luzon because of its carnival-themed amusement rides.
Living up to its name as a Dreampark, they offer a lot of amusement rides and attractions like The Carousel of Dreams, Heliport, Bumper Boats, Carron Express, Frosty Train, Picaroon, and more.
Additionally, they also have Midway Games or arcade games best for those who are not into amusement rides.
Despite targeting kids for their attractions, we still consider this theme park suitable for those who want to reminisce about their childhood because games and rides will surely take you down memory lane.
The cost of a ride-all-you-can ticket, including admission, is 350 pesos, and access by entrance only costs 100 pesos. Inside the park, single-ride tickets costing 50 to 100 pesos are available.
---
Whether you want to destress or find time to bond with other people, theme parks will surely allow you to enjoy and relax. So after reading, have you decided on your next theme park adventure destination?
If we missed any notable theme parks, feel free to let us know in the comments below!