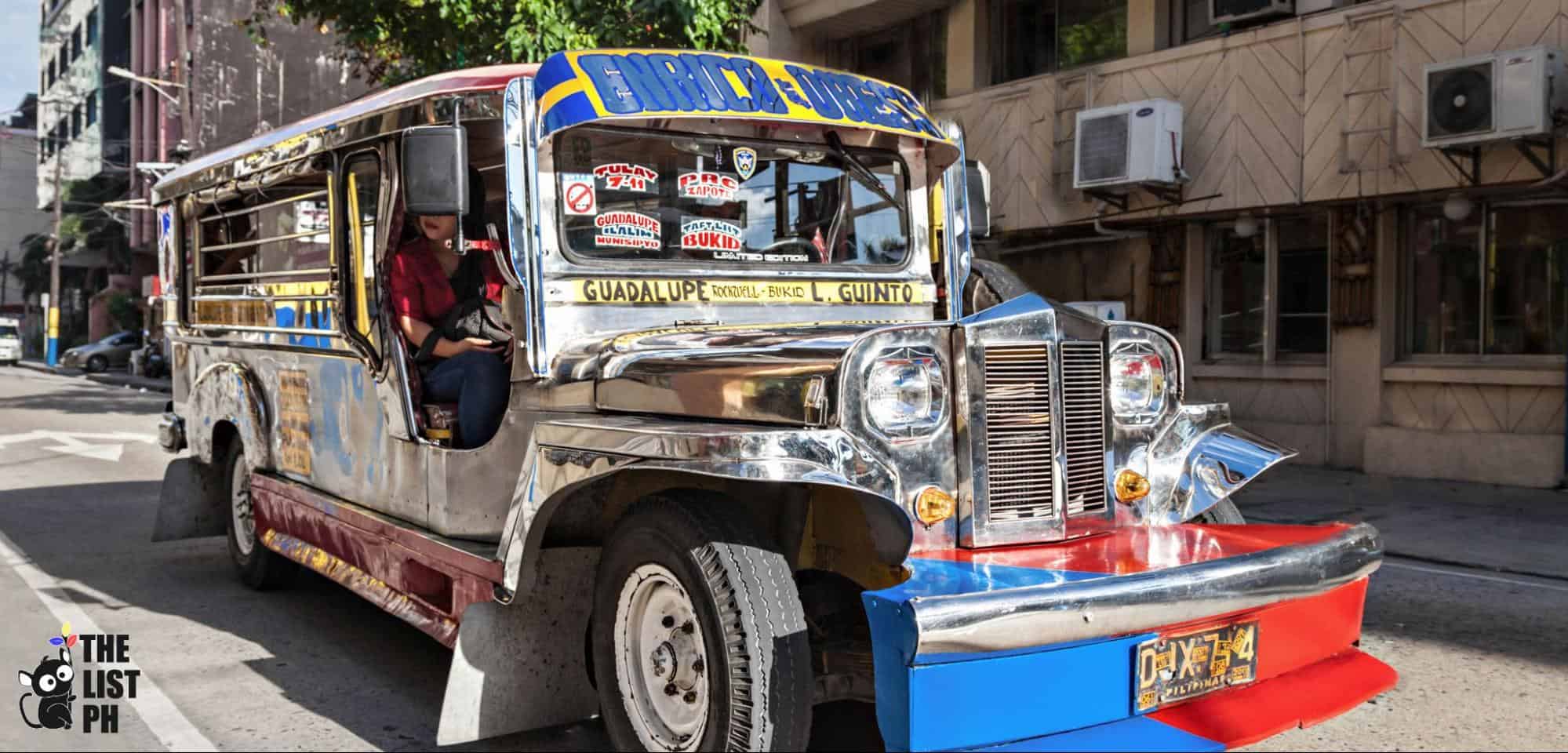 13 Modes of Transportation in the Philippines
Traveling in the Philippines can be confusing (not to mention stressful!), especially if you don't know the different modes of transportation in the country.
In this article, we'll go over the various land, sea, and air transport vehicles, along with their significance and how they're used in the Philippines.
You'll also learn how these modes of transportation are different, so you'll know what to pick when traveling within the country.
Modes of Transportation in the Philippines
Here are some of the popular modes of transportation used in the Philippines:
Jeepney
Modernized jeepney
Tricycle
Bus
Train
Van
Kalesa
Pedicab
Taxi
Roll-on, Roll-off (Ro-Ro)
Fast Craft Ferry
Airplane
Helicopter
Let's take a look at each of these in more detail. Read on below!
1. Jeepney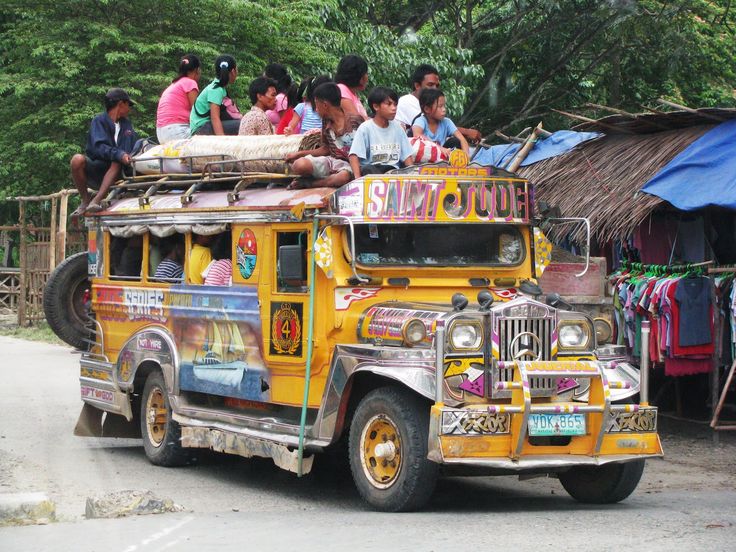 | Test | Info |
| --- | --- |
| Type of Transport | Land |
| Cost | Low ●●○○○ |
| Best For | Inter-city trips |
Jeepneys or most commonly known as 'jeeps' are the most famous mode of transportation in the Philippines.
After World War II, when Americans abandoned thousands of unusable jeeps, Filipinos, transformed jeeps and started to ride them on the streets. Since then, jeeps were mainly used by people traveling from one city to another.
Wherever you look, this cultural icon will surely catch your attention because of its bright and artistic design.
They're also one of the cheapest alternative modes of transportation, with a minimum fare of Php 12 for the first four kilometers and Php 1.80 for the next kilometers.
That said, jeepney drivers earn less compared to other public transportation vehicle, so don't wonder why some of them ask 11 people to sit on a 9-seater jeep.
As a passenger, on a full load, riding in a jeep feels like a can of sardines, with people crammed and intimately close to one another. It's even worse during rush hour because some people ride the jeep while standing at the back!
Insider Tips
1. Don't be the last person to sit.
If you are the last person to board a completely loaded jeepney, you can certainly only sit on the edge.
Though if you're only riding it for a short while and are okay with sitting at the edge, be sure to find the best position to avoid getting your legs strained.
2. You can pay by passing your fare to the person beside you.
The mode of payment in jeepneys is unique because the money is passed from person to person until it reaches the driver or conductor.
Keep an eye out for a conductor – he may be seated in the front or the back of the jeep.
3. Ask the driver or conductor if you don't know the tariff rates.
Remember not to be shy when asking the driver about the fare, especially if there isn't a conductor on board.
4. Be mindful of your destination.
In most instances, drivers of jeepneys don't inform the passengers about where they currently are; instead, the passengers are required to shout "para" in order to get the driver to stop.
So, if you're unfamiliar with where you're going, it's better to inform the jeepney driver or conductor about your destination.
2. Modernized Jeepney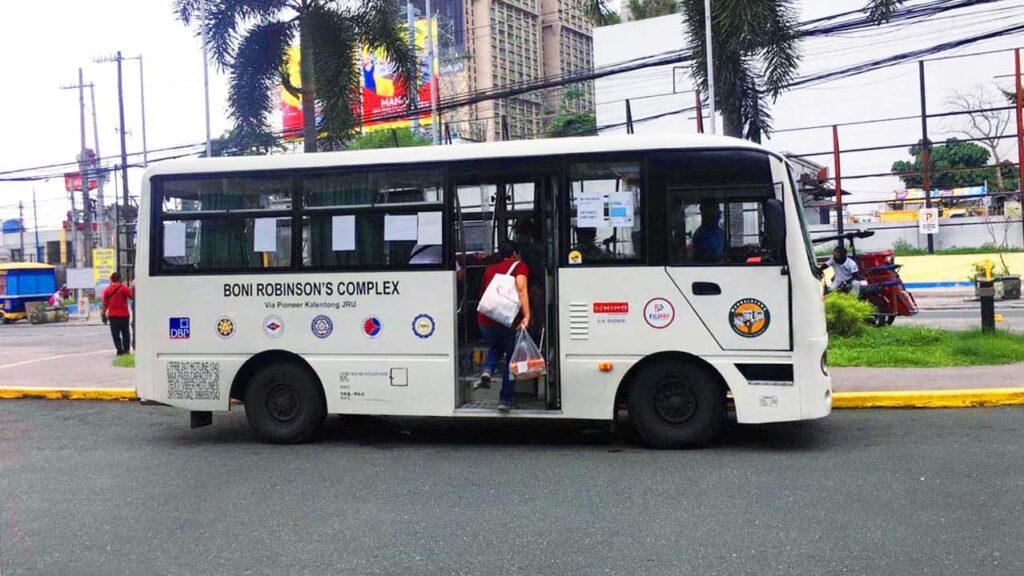 | Test | Info |
| --- | --- |
| Type of Transport | Land |
| Cost | Low ●●○○○ |
| Best For | Commuting in urban areas |
Compared to its predecessor, modernized jeeps are far better because they're enclosed and have a built-in air conditioning system.
They also have similar routes to traditional jeeps, making them the best option for anyone who prefer comfort over price as it's slightly more expensive.
The minimum fare for modern jeeps is Php 14 for the first four kilometers and Php 2.20 for each subsequent kilometer.
The payment is also easy because modernized jeeps have conductors and they give out tickets or receipts so you'll know how much to pay. Basically, no more awkward Q & As with the conductors!
But every rose has its thorn, and as this one's a relatively new mode of transportation, it's not yet available or accessible in all areas of the Philippines.
Insider Tips
1. You can pay with Beep cards.
Paying for your trip with modernized jeeps is simplified with just two taps of your Beep card upon entering and leaving. The cost of your trip will be determined automatically based on the total distance you travel.
Though there are instances where conductors will just ask you to tap the Beep card once and give you the receipt after tapping.
2. Modernized jeeps can be jam packed too.
Generally, good things come to those who wait – except when riding modern jeeps! So, immediately take a seat once you see a vacant one unless you want to be shoulders-to-shoulders with a stranger.
Remember, a modernized jeep will still pick up passengers as long as it's not yet full. Usually, the seating capacity is only 23, but it can take more people standing; hence, you should be prepared, especially if it's rush hour.
3. Tricycle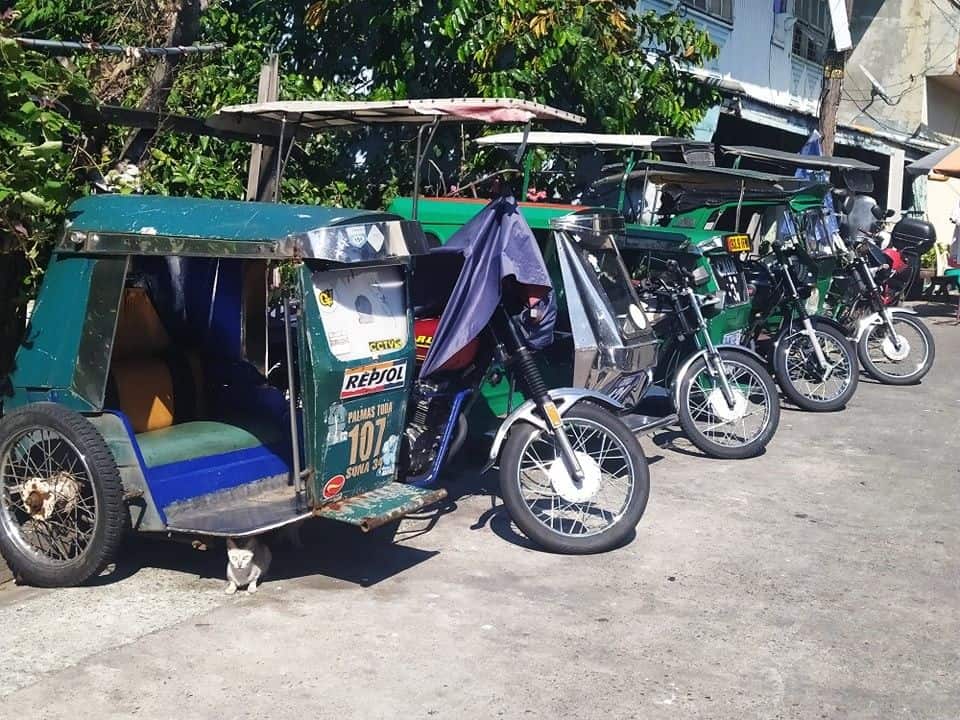 | Test | Info |
| --- | --- |
| Type of Transport | Land |
| Cost | Low ●●○○○ |
| Best For | Short-distance trips |
Tricycles are another mode of transportation used frequently – as in daily – in the Philippines.
This motorized vehicle with a small cabin or sidecar is typically used by people whose destination is not on a regular jeepney route.
However, the routes on which they're permitted to operate are limited because they're usually not allowed on highways. So please, don't force them to go somewhere they're not allowed!
Tricycles are only great for short trips because the seats can get uncomfortable after about 30 minutes of riding. That's why it's so common for people to take tricycles to and from nearby places like the grocery store, the market, the school, etc.
When it comes to cost, unlike jeepneys that follow the national fare matrix, the price of riding a tricycle depends on the municipality or city they operate in. Though usually, it can range from Php 10 up to Php 20 per head.
Tricycles' design also vary depending on the city, but usually they can also transport at least 4-5 people per ride. But for anyone who don't want to be crammed inside a tricycle, you can still ride it for a special trip as long as you pay for the vacant seats.
Insider Tips
1. Know where the terminal is.
Every city and municipality has tricycle terminals for every Tricycle Operators and Drivers' Association or TODA. Usually, these TODAs each have their designated terminals near the market.
You can avoid the hassle of trying to catch a tricycle during rush hour by asking about the terminals, which is where the tricycle drivers typically go to pick up passengers.
2. Take note of the official tariffs to know how much the fare is.
Cities and municipalities give out official tariffs to tricycle operators to display them on their tricycles.
Avoid getting scammed! Always take note of the price in the tariffs because some drivers may charge more.
3. Tricycles are more expensive than jeepneys.
If you can decide whether you'll ride a jeep or tricycle and want to save money, remember that tricycles are more expensive than jeepneys.
Since they carry a smaller capacity, you're expected to pay a bit more. Though sometimes, it's better to take tricycles because they don't just stop whenever people are hailing on the streets.
4. Bus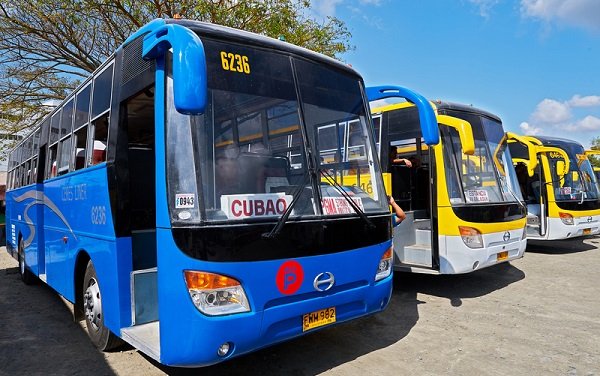 | Test | Info |
| --- | --- |
| Type of Transport | Land |
| Cost | Medium ●●●○○ (provincial bus, tourist bus, and point-to-point bus can be more expensive) |
| Best For | Inter-province trips |
Although the Philippines is an archipelago, it's still easy to travel between islands thanks to buses. They're a typical means of long-distance land travel, particularly on the larger islands.
The intercity bus network in the country is extensive, and it's possible to travel between even the smallest cities and towns.
That said, riding a bus for inter-province trips is common because it's cheap – though it can also be tiring. After all, travel time is too long for inter-island trips.
People still love buses because the fare for the first five kilometers is only Php 15, and each additional kilometer costs only Php 2.65.
There are four common types of buses: provincial, city, tourist, and point-to-point.
Provincial buses can go to nearby provinces and can even go inter-island. Though these buses usually don't go into the town unless allowed to because they can cause massive traffic jams.
Another type of bus is the city buses that primarily serve intra-urban travel and commonly transport passengers within towns.
Point-to-point buses are more expensive because they charge a flat fare rather than making multiple stops along the way to pick up passengers.
Lastly, tourist buses are more common as a service for tours and transport passengers to various tourist destinations.
Similar to modernized jeeps, buses have conductors roaming around. They're the ones who collect payments and assist you if you have pieces of luggage.
Insider Tips
1. Buses give out tickets.
Before paying for the fare, bus conductors usually give out tickets so you can see how much you'll need to pay.
In some cases though, like provincial buses on terminals, you should buy tickets onsite or online.
2. During holidays, it's better to buy tickets beforehand.
People usually visit their families in the province for holidays, so there's always a holiday rush.
3. Air conditioned buses are always cold.
When you're taking a bus, whether it's a city bus or a provincial bus, expect that it's always cold because drivers usually turn the aircon to the maximum level.
Bring a jacket with you or a shawl to prevent an uncomfortable ride.
4. Buses have a set schedule.
Depending on the bus company, there is always a set schedule for the bus to leave the terminals. Be mindful and ask the terminal station about the schedule so you can catch the bus to wherever you're going.
5. Train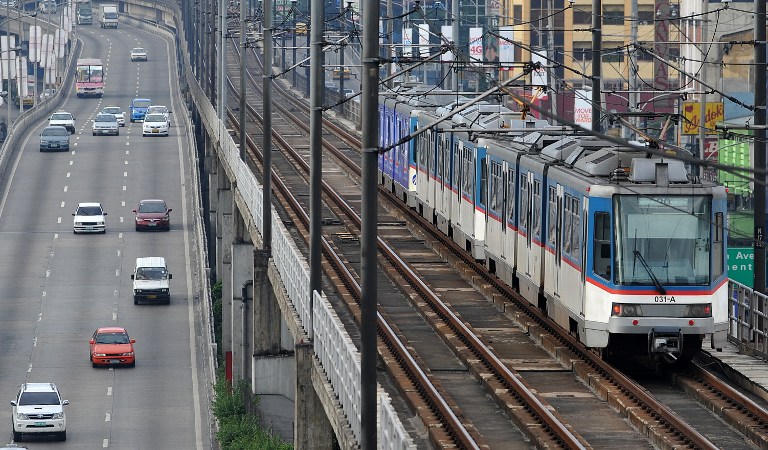 | Test | Info |
| --- | --- |
| Type of Transport | Land |
| Cost | Low ●●○○○ |
| Best For | Avoiding traffic in Manila |
People in Metro Manila prefer trains because they are easier to ride and don't get stuck in traffic, which the city is notorious for.
Trains don't usually wait until they're full before leaving, so you'll get where you're going faster on a train than in a jeep or a bus (however, once you get out of the station, you're back to square one – the traffic's still jammed).
There are three train distinctions in the Philippines, most commonly known as PNR, MRT, and LRT.
The Philippine National Railway (PNR) is the sole operator of Luzon's extensive railway system, the largest in the Philippines. It has tracks from Manila to Bicol, but the train only operates from Manila to Laguna.
Regarding prices, an airconditioned train from Tutuban to Calamba route ranges from Php 15 to Php 60, while an ordinary train costs Php 12 to Php 48.
There are also metro trains in the Philippines which are only located in Manila and nearby cities. There are three lines, which are the Metro Rail Transit (MRT), Light Rail Transit 1 (LRT 1), and Light Rail Transit 2 (LRT 2).
The MRT line serves 13 stations across the metropolis, from North Avenue to Taft Avenue. The price of an MRT ticket is typically between P13 and P28.
On the other hand, the price of the LRT ticket ranges from Php 15 to Php 30. The first LRT line runs south to north with 20 stations, from Baclaran to Roosevelt.
Conversely, the second LRT line operates in an east-west direction with 13 stations from Recto to Antipolo.
Insider Tips
1. Rush hour makes the train packed to capacity.
Riding a train from 6 AM to 9 AM can be exhausting in the mornings because of the long queues and cramped space.
Similarly, in the afternoons, from 4 PM up to 8 PM, people will also be homebound, which can be just as tiring.
2. Metro trains (MRT, LRT1, and LRT2) accept Beep cards or store value cards.
If you're a frequent train traveler, you should avail of a Beep card because it makes commuting easier.
With this contactless card, you don't have to queue for a long line to buy a ticket; you can just load up the card online.
You will also save a few pesos with every use of the Beep card because the rates are lower than when buying a single journey ticket.
3. There is a segregation scheme for trains.
Pregnant women, PWD, the elderly, and passengers with accompanied children have designated carriages.
Most trains reserve their first train car for them so their trip can be comfortable.
6. Van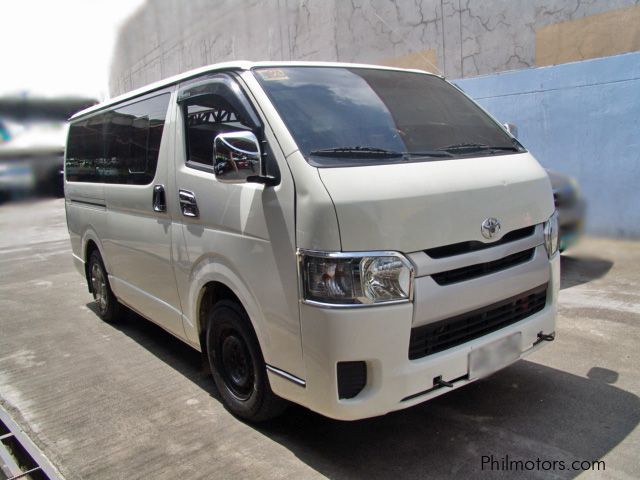 | Test | Info |
| --- | --- |
| Type of Transport | Land |
| Cost | Medium ●●●○○ |
| Best For | Long-haul trips |
The public version of the van here is popularly called UV (Utility Vehicle) Express.
Despite being more expensive than buses and jeeps, people still like taking these vans because they are air-conditioned and less cramped.
A typical UV Express van has room for 10-18 people, so it's understandable that it's a bit costly.
Aside from the UV Express vans, Filipinos usually rent private vans to tour around or have it as a service if they're going somewhere far because it's cheaper to rent and more convenient to ride.
Insider Tips
1. The best seat is the front seat.
It's no secret that the best seats in a van are the front seats because you won't have to share your seat with many people.
2. Prepare the exact fare before you ride.
When the driver doesn't have change and you don't have the exact fare, it's a recipe for the perfect commuting nightmare.
It's even worse if you're seated at the back because you have to yell at the driver for him to remember to give you your change. So, you know what to do!
7. Kalesa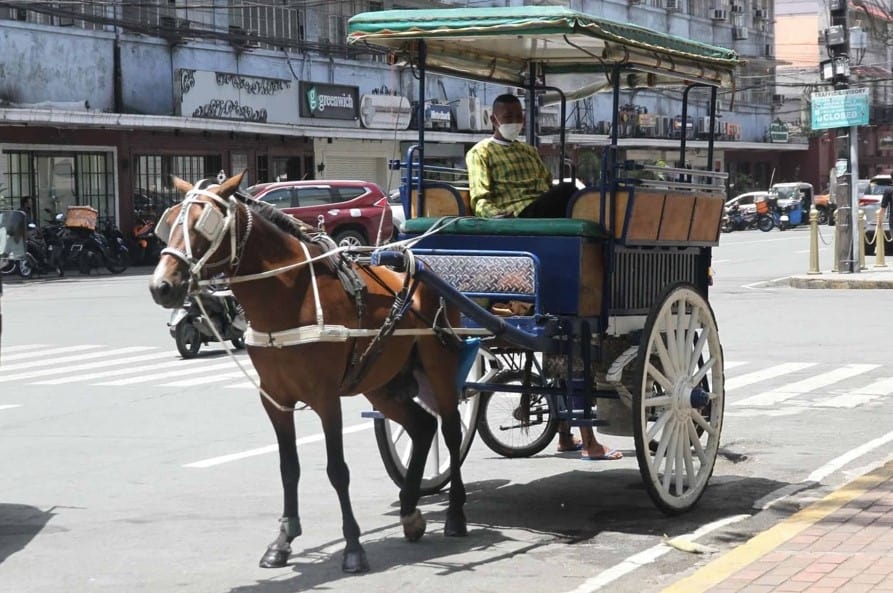 | Test | Info |
| --- | --- |
| Type of Transport | Land |
| Cost | Medium ●●●○○ |
| Best For | Touring a historical attraction |
The modern Kalesa is essentially unchanged from its historical predecessor – the horse carriage. Basically, it's great transportation because it has a roof to keep people from getting too much sun or getting wet when it rains hard.
Also, it has two big wheels, which is perfect for people who live in Manila because it's the best way to get around when the streets are flooded.
It can carry between three and five people, and the price varies depending on the driver. Because of the lack of regulation by the LTFRB, fares can vary widely, although in general, they cost more than using a tricycle or a bus.
Even though these vehicles aren't as commonly seen, they are utilized in select areas to take tourists to historic landmarks and quaint, old neighborhoods.
Insider Tips
1. Negotiate before you ride.
Before you get on the kalesa, talk to the kutsero (driver) about the destination and the fare.
Since every ride has no set cost, it usually depends on how much you're willing to pay and how much the driver will charge. That said, negotiating before you ride is best to avoid an unpleasant experience.
2. Some kutseros offer guided tours.
If you're in Intramuros or even Calle Crisologo, expect some kutseros to offer you guided historical tours about the location.
While it costs more than the regular fare, it is well worth it if you're unfamiliar with the area and would like to learn more about it.
Be mindful, however, of those kutseros that overcharge. It's good to compare prices before you avail of the tours to know where to get the best deal.
8. Pedicab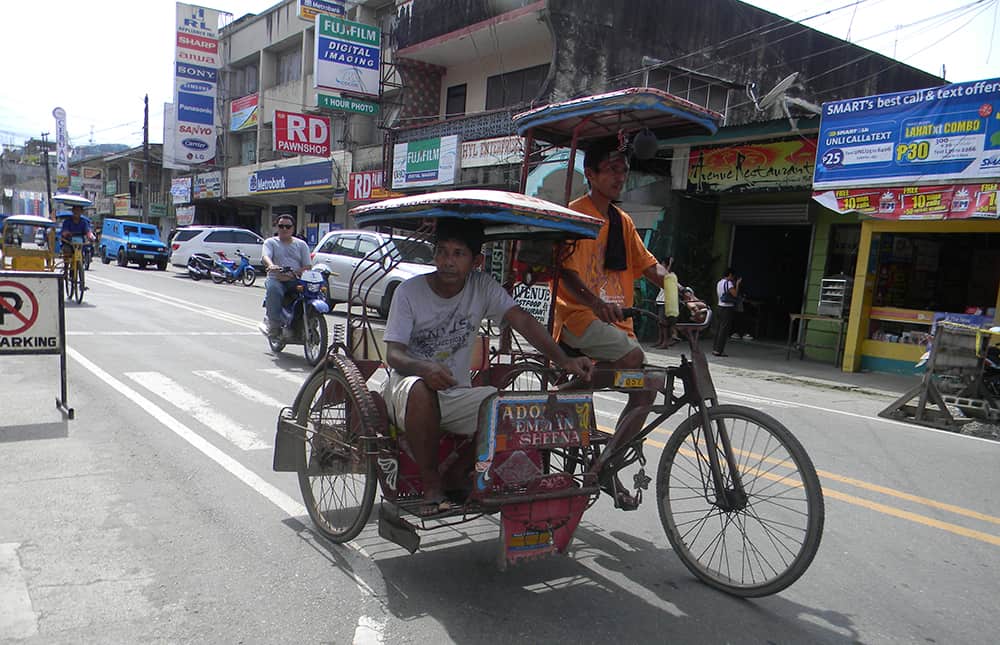 | Test | Info |
| --- | --- |
| Type of Transport | Land |
| Cost | Low ●○○○○ |
| Best For | Commuting in residential areas |
The pedicab or a cycle rickshaw serves as a local mode of transportation in the Philippines, especially in areas with a lot of small alleys.
It's a three-wheeled vehicle with a hatchback that can be rented to transport people cheaper than a tricycle (a motorized three-wheel vehicle).
However, many people no longer choose this option because it's not the best for time-sensitive travelers. Since the driver will pedal a bicycle, it is slower than motorized vehicles.
With this mode of transportation, you'll definitely face an uphill battle with the driver. Literally, if you're going to a place with uphill areas, it won't be easy to get to where you want – no, not even the driver's blind optimism will fuel that climb!
Anyway, in terms of design, unlike in other countries, passenger seats on a Philippine rickshaw are typically located in a sidecar next to the driver.
These pedicabs differ depending on the area, so you will most likely encounter those without roofs or front covers.
Insider Tips
1. They have their terminals.
Usually, pedicab terminals are near tricycle terminals. You can find drivers waiting for passengers in their designated areas.
Most of the pedicabs don't wait for the seats to get full. Instead, they charge per ride, and you pay set rates depending on the destination.
2. There are pedicab drivers in Intramuros that offer historical tours.
As you walk around Intramuros or Fort Santiago, you'll see a lot of pedicab drivers roaming around and offering historical tours that are charged per hour.
They'll take you to different spots within the area and explain some information about it, making them a tourist guide and driver in one.
Usually, they charge less than the price of having a kalesa tour, so many foreigners and even locals avail of their services.
3. Not all cities or municipalities have pedicabs.
The number of people using pedicabs has gradually decreased since tricycles became popular. Because of this, pedicabs are now rarely seen in some towns across the country.
9. Taxi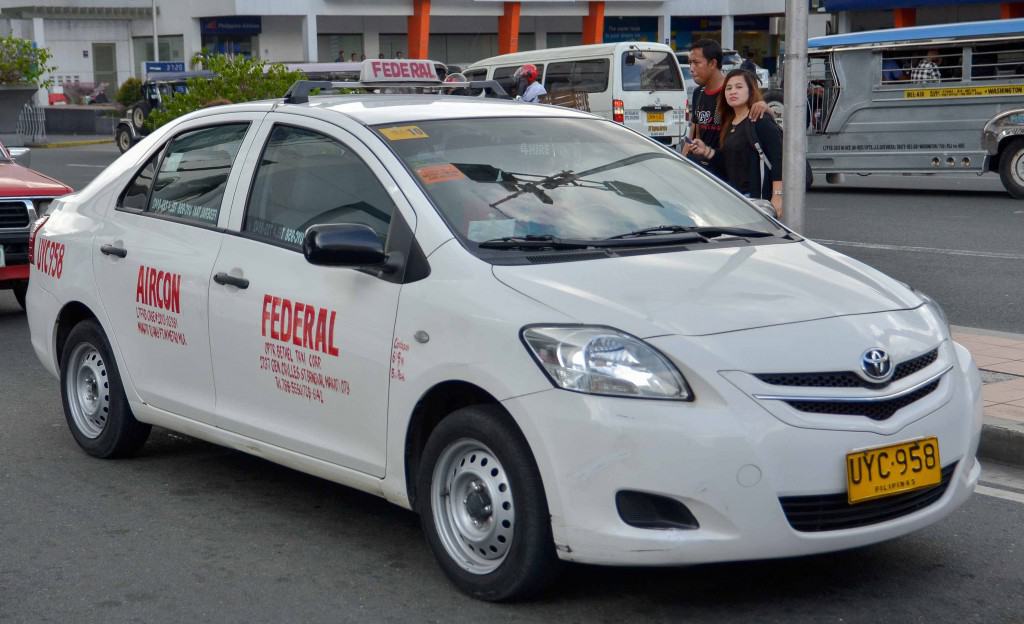 | Test | Info |
| --- | --- |
| Type of Transport | Land |
| Cost | High ●●●●○ |
| Best For | Point-to-point trips |
Taxicabs or taxis, unlike the other public transportation system, are adaptable and can be tailored to your specific (transportation) needs.
It's also unnecessary for them to stop frequently to pick up new riders, so it's a good choice for time-sensitive travelers.
For the costs, taxis in the Philippines are metered, and the base fare is Php 40. The succeeding kilometers cost Php 13.50 each, on top of a Php 2 charge for every minute traveled.
This makes it one of the most expensive options for land travel (honestly, almost considered a status symbol).
Insider Tips
1. Check the meter as you ride.
Some taxi drivers can be unreliable and may charge you more than the actual fare. Thus, you should always check the meter before your ride.
Remember that the base fare is only Php 40, so if the meter is inaccurate, you should immediately tell the driver about it so he can recalibrate the meter. If they're hesitant, it's a red flag so don't give in and just look for other taxis.
2. Be mindful of your belongings.
If you have a lot of things with you and you'll have to put things in the back compartment of the taxi, always remember it because you won't get them back once you get off.
It will be hard to track them even if you have their plate numbers, so it's better to be safe and prevent losing your things.
3. Do not carry large bills with you.
When taking a cab, it's best to have coins and smaller bills because taxi drivers don't give out change if you have a large bill with you.
Usually, they'll just say that they don't have a change, so you'll have no choice but to give it to them as a tip. That said, you can still tip them though if you liked their service, so it's really up to you.
10. Roll-on, Roll-off (Ro-Ro)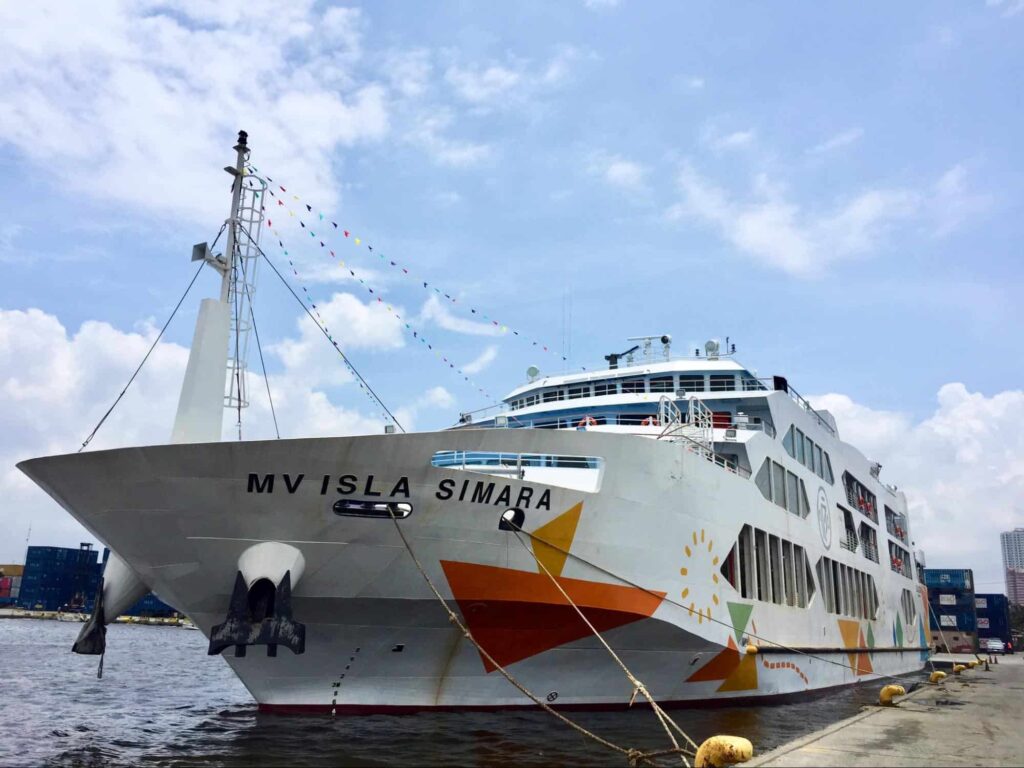 | Test | Info |
| --- | --- |
| Type of Transport | Sea |
| Cost | Medium ●●●○○ |
| Best For | Commuting inter-island with cargo |
As an archipelagic country, the Philippines consists of thousands of islands connected by ferries. Ro-Ros offer an affordable alternative to air travel for tourists.
However, because of the longer travel time required via Ro-Ros, we highly recommend you arrange your schedule meticulously. If you're planning to go via Ro-Ro, it's ideal to stay in the island for days to get the most out of your trip.
It's also the best choice for people who want to travel with their vehicles because they can be easily transported from one island to another aboard these ships.
In addition, Ro-Ro is a suitable option for businesses as it can carry heavy cargo and board trucks.
However, fare rates vary and depend on the shipping company. Because of this, ticket prices can change from time to time.
Due to its open structure, Ro-Ros may sometimes be unpleasant for passengers. If you're seated along the sides, the wind, fog, and rain will definitely hit you square in the face.
Insider Tips
1. Ro-Ro follows a strict schedule.
If you're riding a Ro-Ro, remember that you'll need to be at the port hours before your departure because they follow a strict schedule when leaving. The ship will leave even without you on board.
Since they carry cargo, the time plan is implemented strictly even if the seats are not full.
2. The best seat is in the middle row.
Design-wise, the best seat in the Ro-Ro is in the middle row. With that seat, you can avoid smelly bathrooms without worrying about getting wet in the rain or being under the sun.
11. Fast Craft Ferry
| Test | Info |
| --- | --- |
| Type of Transport | Sea |
| Cost | Medium ●●●○○ |
| Best For | Inter-island tours |
The fast-craft ferry is the best mode of transportation on the sea if you're a tourist because it's much faster than Ro-Ros.
Though it's much more expensive than the Ro-Ro, it's still a good option because it's cheaper than airplanes. Plus, who wouldn't want to appreciate the country's magnificent seascape?
The ticket price is also reasonable for this mode of transportation because you can travel fast and access modern amenities. Basically, it's a cruise dupe without the frills.
It's also air-conditioned, so it's the best option if there is light rainfall when traveling.
Tourists on a tighter budget also typically opt for this option since it protects them from the sea's unpredictable temperature swings.
Insider Tips
1. They have canteens or snack bars inside.
If you forgot to bring snacks or are hungry in the middle of the trip, good news! You can buy food in their canteen, they usually offer snacks like biscuits, junk food, and cup noodles.
On top of that, snack bars or canteens in fast-craft ferries also offer beverages like water, juice, etc.
2. They have a variety of tickets.
Some fast-craft ferries are like airplanes, with have economy, premium economy, and business class seating.
3. You can buy tickets online.
If you're unsure of the ticket prices or the available tickets, you can buy them online through the company's website (just make sure you're in the official sites).
Always check! Some fast craft ferries can be pre-booked, but most people still buy tickets at the port because not all companies sell tickets online.
12. Airplane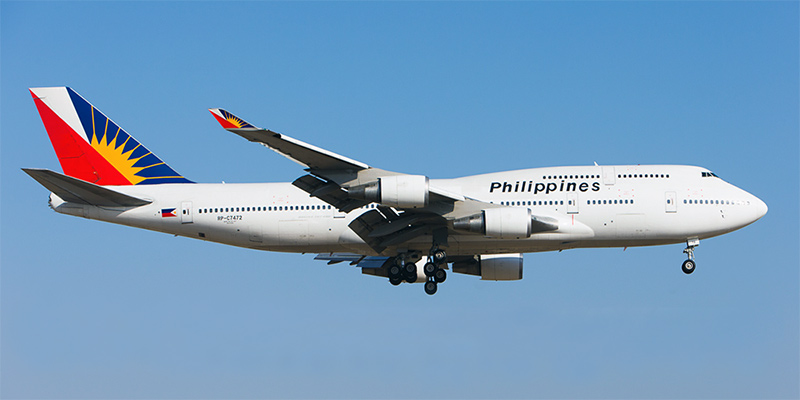 | Test | Info |
| --- | --- |
| Type of Transport | Air |
| Cost | High ●●●●○ (price depends on the airline) |
| Best For | Inter-country trips |
Despite being expensive, people like planes to travel between islands because it's faster than traversing sea and land. We all want to get where we're going as quickly as possible, right?
Additionally, airlines also have promotional fare rates, so it's the best option for people traveling as tourists.
Most of these airlines also offer miles to their loyal clients, so people usually like to travel with the same airline that they frequently fly with.
These airlines also allow their guests to upgrade their seats or buy tickets with their mileage points so it's a great option for frequent travelers.
Insider Tips
1. Bring IDs with you.
If you're traveling within the Philippines, you only need a valid ID.
For children with accompanying adults, the children's birth certificates will suffice.
For travelers going abroad, passports are needed upon leaving the country. However, it's not required when booking a ticket.

2. Check if you have supporting documents when traveling abroad.
It's preferable to over-prepare by carrying many copies of necessary documents rather than risking being caught without any.
Immigration officials are likely to be extra stringent with first-time tourists, particularly those who are solo travelers.
Some supporting documents you may need are a Certificate of Employment (COE), company ID, return flight ticket, visa, travel itinerary, hotel booking, etc.
3. Go to the airport early.
When going abroad, you should be at the airport at least 3 hours before your departure time. It's always better to be early because the check-in and baggage counter line can be too long.
For domestic flights, it's safe to be there at least 2 hours before so you can easily check in and have your bags dropped off. Sometimes, there may also be trouble with the long queue, so always be mindful of the time.
If you're coming far from the airport, we highly recommend not to just rely on navigating apps because traffic can get really bad in the airports.
13. Helicopter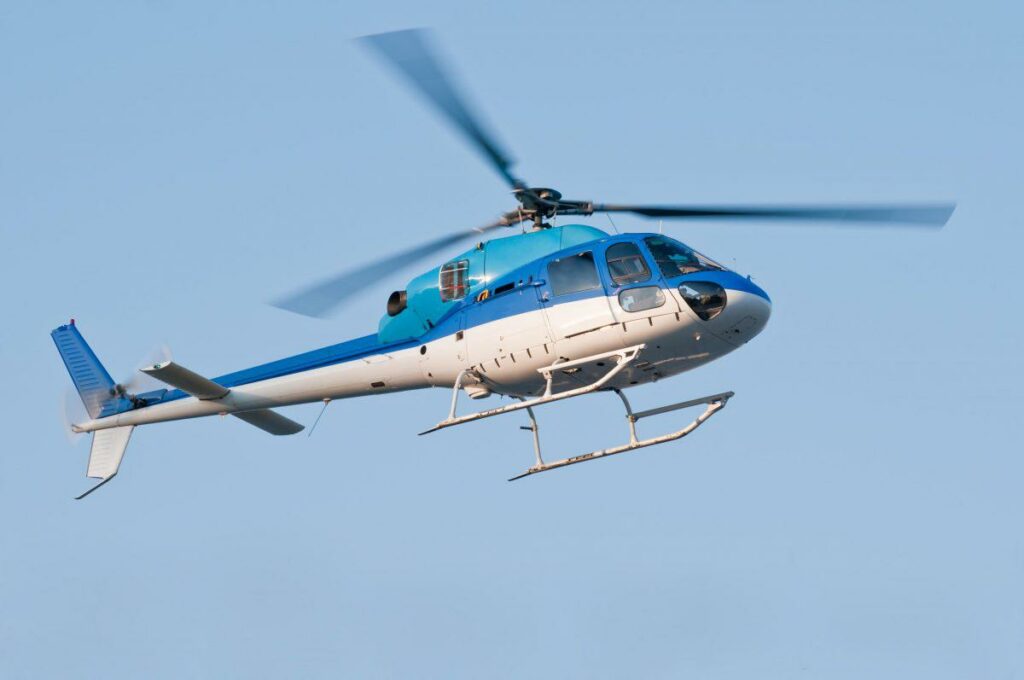 | Test | Info |
| --- | --- |
| Type of Transport | Air |
| Cost | High ●●●●● |
| Best For | Going to remote areas; Luxury experiences |
In the Philippines, helicopters are pretty uncommon because it's expensive to ride one.
In a nutshell, rich people use them for extravagant celebrations like gender reveals, weddings, photography, and more.
Insider Tips
1. Major hospitals have helipads in their buildings.
Though it's uncommon in the country, helicopters transport patients in case there's medical emergencies. That said, major hospitals ensure they have helipads in their facilities.
2. You can rent a helicopter via Facebook.
Because Facebook is so popular in the Philippines, many users post ads for helicopter rentals on their pages. Though it may sound ridiculous because it's expensive, people often look in Facebook Marketplace to find these.
FAQs on Commuting in the Philippines