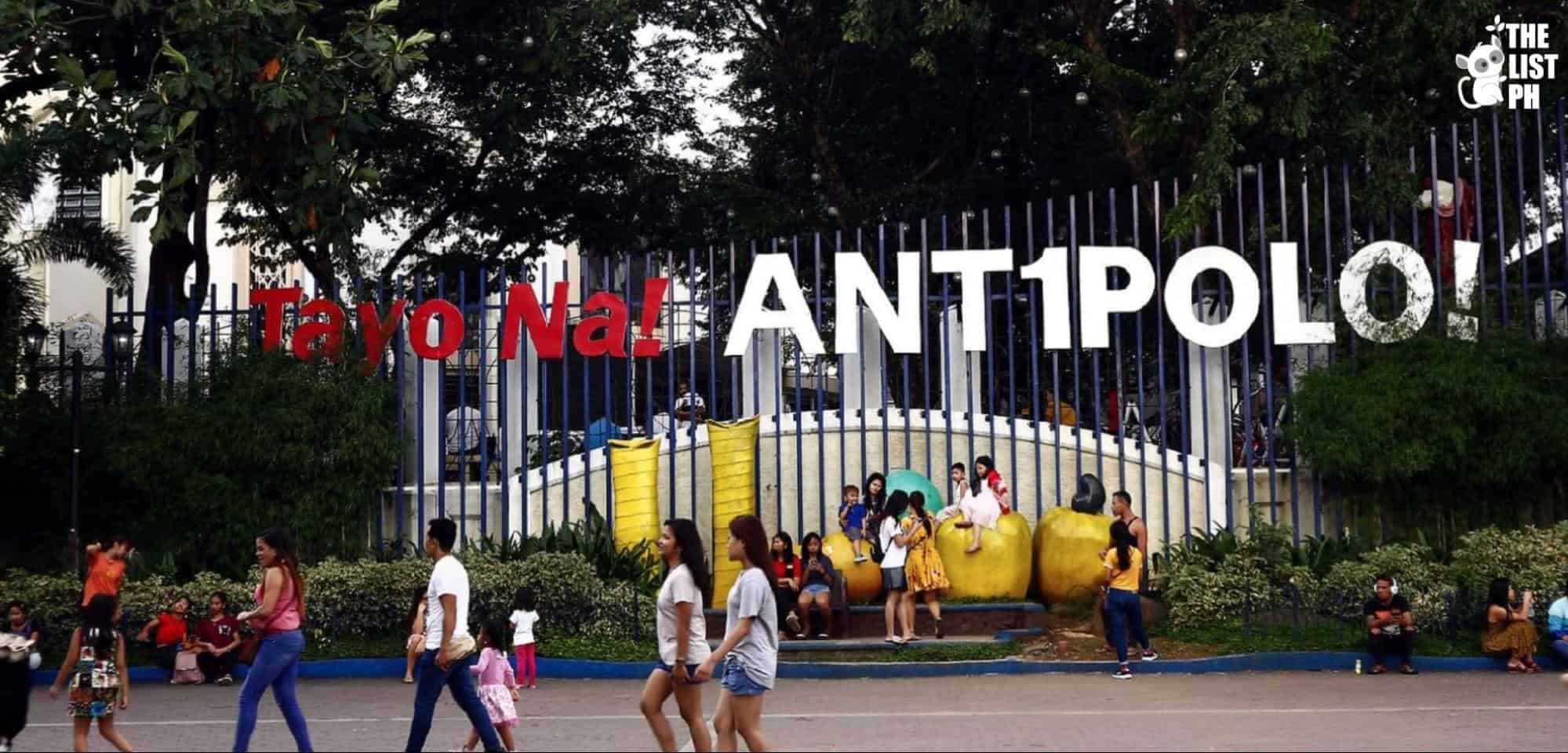 10 Fun Things to Do in Antipolo
Antipolo City has a special allure for many people because of its proximity to the mountains.
However, sometimes people from Manila don't go there anymore because it seems too close or they've been there before and think there's nothing new to see.
But this city has several unexpected things to offer. So, keep reading to discover new things you can do in Antipolo!
Things to Do in Antipolo
Stop by the National Shrine of Our Lady of Peace and Good Voyage.
Enjoy nature at Hinulugang Taktak Nature and Adventure Park.
Visit the Pinto Art Museum with your friends.
Get pampered at Luljetta's Hanging Gardens and Spa.
Explore Nelly's Mystical Cave.
Buy treats at the Pasalubong Center.
Dine in Tahanan Bistro.
Hike Malvar's Peak.
Admire the panoramic view from Cloud 9.
Take part in the Sumakah Festival.
1. Stop by the National Shrine of Our Lady of Peace and Good Voyage.
Antipolo City is known for its beautiful churches and statues. Among the most famous ones is Our Lady of Peace and Good Voyage, where one can find a statue of the Blessed Virgin Mary who is widely revered for multiple reasons.
Firstly, because of its central location in Antipolo City, the shrine is visited by locals and tourists alike to be blessed in their journeys. People also visit to have their cars and other vehicles blessed.
From May through July, this cathedral serves as a destination for millions of pilgrims from all over the globe.
People also flock to the cathedral every Sunday because the shrine is also related to the famous Nazarene Shrine. There's also an annual pilgrimage season that kicks out with the 'Pagdalaw ng Ina sa Anak' (Visit of the Mother to her Son).
Everyday in the cathedral, hundreds if not thousands of devotees walk upstairs to the Blessed Mother Mary's statue where they can pay their respect by kissing her veil.
You'll also notice how well-kept it is as visitors queue inside – literally, you'll be at peace there because the silence really brings calmness. When you enter the area, you'll be welcomed by the fragrance of the flowers and perfume donated to the Virgin Mary.
What You Need to Know Before You Go
1. They have a parking lot inside the church proper.
If you don't want to pay for parking, you can park inside the vicinity of the Church (Best Churches In Philippines). However, on Sundays, it can be full because thousands of devotees visit to attend the mass.
Given that the parking lot is protected by roving security guards, we urge that you take precautions by not leaving valuables inside your vehicles.
2. Be prepared for the traffic.
If you're going on a Sunday or on a holy week, be prepared for the traffic because a lot of devotees bring their cars to have them blessed in the shrine.
We recommend you park away from the Church and just take a tricycle so you won't have to deal with the traffic.
3. You will stand or walk for quite some time.
Since a lot of people attend the mass, and there are only limited seats in the shrine, you will most likely stand or walk for some time.
The line going to the statue can also be long so we think it's best to bring foldable chairs if you're with kids or the elderly.
2. Enjoy nature at Hinulugang Taktak Nature and Adventure Park.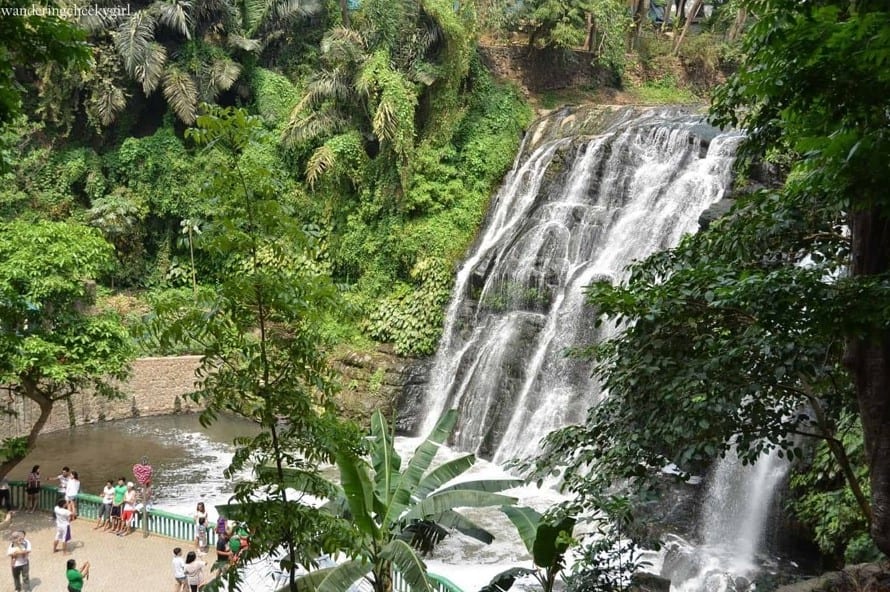 "Tayo na sa Antipolo" is a famous song in the country, and it's probably familiar to those who have heard the word, 'Antipolo'. Hinulugang Taktak is the song's major selling point, and the lyrics focus on the many ways in which you might enjoy the waterfalls.
As one of the city's oldest tourist attractions, it continues to draw people from all around. Being the nearest waterfall to the heart of Antipolo, it is one of the city's most striking landmarks.
For years, this attraction is known to have swimming amenities for visitors but the government has transformed the attraction into a nature and adventure park since its reopening in 2020.
They also already added activities for visitors like rappelling, spiderweb, canopy walking, and wall climbing (indoor rock climbing in metro manila). These activities are also free of charge and early bird catches no lines – it's on a first-come, first-served basis.
The park is generally intended for families, but the activities are limited to individuals aged 14 years old and older.
What You Need to Know Before You Go
1. Wear appropriate clothes and shoes.
The management of Hinulugang Taktak Nature & Adventure Park is strict when it comes to the clothes worn by visitors.
You don't need to wear formal attire of course, but keep in mind that they don't allow those who wear the following to enjoy their adventure offerings:
• dresses
• skirts
• doll shoes
• high heels
• adjustable Crocs
• bicycle shoes.
So if you want to enjoy their amenities, follow this simple rule so you'll be allowed inside.
2. They don't allow pets inside.
Similar to other parks, Hinulugang Taktak Nature & Adventure Park doesn't allow pets inside to maintain the park's cleanliness and order.
They're also strict with this rule, so if you're traveling with your pets, you might want to reconsider traveling to this park.
3. Monday is their maintenance day.
To make sure that the amenities are working well for the week, they do not open on Mondays for maintenance.
It's best to plan the day you're visiting so you can easily make use of the amenities inside.
Weekdays are the best, especially Wednesday and Thursday because the number of visitors is less than during the weekends. Less traffic, less people, less hassle!
3. Visit the Pinto Art Museum with your friends.
Pinto Art Museum is probably the most famous art gallery in Antipolo. The name 'Pinto', which means "door" in Filipino, represents the architectural structure of the whole museum.
It's literally a 'pinto' to the art world because they have quite a lot of art pieces. It also has a lot of galleries, and you'll walk through multiple doors to access each one.
Upon entry, you'll immediately see hundreds of modern Filipino artworks like sculptures, installations, mixed media, and paintings, making it a great destination for a quick side trip.
Additionally, this museum also makes it accessible for everyone to learn and discover the beauty of contemporary Filipino art by offering affordable entrance fees.
They also offer prenup bundles for anyone who wishes to have a pre-nuptial photoshoot in the gallery for an inexpensive rate.
What You Need to Know Before You Go
1. Wear your best light-colored outfit.
The museum has natural airflow and they don't have an air conditioning system so it can be hot throughout the day. That said, we recommend you wear light clothes to remain cool while inside.
Light-colored clothes also go well with the artwork that is placed within the Santorini-inspired structures so it's surely a plus for your Instagram feed.
2. It's located inside a subdivision.
If you're using a private vehicle to go, you will need to provide an ID upon entrance because the museum is inside the subdivision. We highly recommend you also use a navigation map to know the exact location of the museum.
Commuting there is also simple because you only need to take a jeepney (What are the modes of transportation in the Philippines?) to Antipolo Shopwise and then ride a tricycle from there.
3. There is a cafe inside.
If you're hungry while strolling, you can also visit the Pinto Café where you can dine and eat sandwiches, sushi rolls, pizzas, salads, desserts, and more.
They also have beverages like cocktails, tea, beers, and wine. The price is also reasonable because their meals are made with high-quality ingredients.
In case you want to have seats reserved for you, you can also call their hotline at 633-0329.
4. Get pampered at Luljetta's Hanging Gardens and Spa.
Luljetta's Hanging Gardens and Spa is the Philippines' first and only hanging garden and spa. And from the name itself, it already shouts that it's inspired by the old Babylonian hanging gardens.
It's the perfect place to go if you want to take a chill pill, get away from the busy life and relax, or just indulge in some spa treatments while enjoying the peace and serene environment.
They also have stunning gardens and gorgeous vistas of Laguna de Bay. The overlooking view of the skyline of Metro Manila makes a captivating backdrop as you unwind.
Aside from the view, visitors can also enjoy the lounge, jacuzzi, and sauna. Definitely a pamper-fest, if you ask us!
They also offer overnight accommodations, so they're open 24 hours for anyone who wants to visit.
What You Need to Know Before You Go
1. Bring along your sunscreen.
Since there are overlooking swimming pools (Pool Cleaning Services Philippines) that can be hot during the day, we highly recommend you pack sunscreen in your bags to avoid getting burnt.
You'll also have more fun without worrying about becoming tanned, so don't forget to apply sunscreen before swimming.
2. You don't need to bring toiletries.
There are also body wash, shampoo (Best Shampoo Philippines), and conditioner. They even offer bathrobes and towels for their visitors so it's even better because you'll pack less in your bag (travel backpack Philippines).
3. They're strict when it comes to swimwear.
Visitors who use swimming pools should dress appropriately and there are no exceptions. The swimming attires that are only allowed include one or two-piece swimsuits, trunks, or swim/board shorts.
They also do not permit underwear beneath swimsuits for health and hygiene concerns.
Additionally, they don't allow people to wear colorful shirts and maong shorts. Though they allow white shirts to be worn by women.
5. Explore Nelly's Mystical Cave.
Mystical Cave, located away from the heart of the city, is a mysterious and magical spot, a diamond in the rough.
This fascinating cave is famed for the rock formations that mimic famous religious figures. These include Jesus, Adam and Eve, Nazarene, Mother Mary, Pieta, and many more.
The cave lies in Sitio Boso-Boso, Barangay San Jose, and is accessible via Puting Bato road. Upon arrival, you must ascend on concrete walkways to reach the cave's entrance.
It has eight levels overall, and only the first level is easily accessible. Additional levels can be found by traveling deeper down, although they are difficult to reach and tourists are not allowed there.
Aside from the adventure and thrill of going into the cave, tourists also go here for miraculous healing as the water and stones inside are believed to cure and protect.
Even if you're at home, you may also have already seen it because it was the filming location for TV (Best Smart Tv In The Philippines) shows like Encantadia, Dyesebel, Marina, and Pedro Penduko.
What You Need to Know Before You Go
1. You may need a guide to explore inside.
If you want to tour inside the cave you will need a guide that will tour you around for about an hour.
Whilst touring alone is feasible, we advise against it due to the potential dangers of getting lost.
2. Wear proper shoes.
Since the cave is moist, the floor can be slippery. The concrete going to the entrance of the cave also has a lot of moss so it's best to wear shoes that have a good grip on slippery surfaces.
3. Commuting may be a challenge.
The mystical cave is not located near the town proper and it may take around 30 minutes to go there from the center of Antipolo. That said, commuting may be a challenge because a trip may be costly if you hire a tricycle.
Also, it's not famous among tricycle drivers from the town proper so they may decline you if you hire them. We highly recommend you go here if you have a private vehicle or have hired a shuttle.
6. Buy treats at the Pasalubong Center.
Located near the Antipolo Cathedral, the Pasalubong Center is also another go-to place if you wish to try different Antipolo delicacies – or if you want to do a mukbang in Antipolo.
Among the food that the vendors sell are kalamay, cashews, suman, and more. Prices are also affordable and some stores offer free taste so you and your group can try them before buying.
What You Need to Know Before You Go
1. Always look for fresh snacks.
Suman and kalamay are easily perishable so you need to pick the newer ones for an extended shelf life. Basically, look for those that are fresh as a daisy.
Always ask the vendors about the expiration of their products so you'll know if it's fresh or not.
Suman can last up to 7 days while kalamay can last up to two weeks. You can also determine if the snacks are new on their packaging.
2. Only buy from vendors in the stalls.
To make sure that you get the best and safe products, don't buy from anyone selling their products on the side of the street.
Only get your items from those with stalls as they are the ones inspected by the authorities to sell goods. They also follow safe handling of food so you should buy from them.
3. Vendors give out discounts for anyone buying in bulk.
If you're traveling with a group and want to buy pasalubong, we highly recommend you buy from the same store because they give discounts.
Store owners like people buying in bulk so they usually sell their goods for less. We also advise you to try to haggle with them so you get the best deals.
Most of the stores also get from similar suppliers so the quality of products is also the same.
7. Dine in Tahanan Bistro.
There are a lot of casual fine dining restaurants in Antipolo – and Tahanan Bistro is one the best because it is located on a hillside and it overlooks Laguna de Bay.
It also has a sizable garden with a rustic atmosphere so a lot of people coming from the metro enjoy this place.
It lives up to its name, and really serves as 'tahanan' (home) because the surrounding mimics a typical Filipino house. It is also entirely made of wood that was formerly used to build historic Philippine homes and bridges which makes the place more fascinating.
Additionally, there are artworks on display which attracts more people to visit.
The food they serve is also reminiscent of Filipino heritage because they highlight meals made with ingredients native to the country like tanglad, baboy ramo, and more.
What You Need to Know Before You Go
1. You will pick among the five-course set meals that they have.
Tahanan Bistro offers three five-course set meals namely, Pinatubo, Samat, and Tapulao.
They have appetizers, a main course, soup or noodles, fruits, and desert. That said, we recommend you only have light meals before you visit this restaurant.
2. You need to order two days before your visit if you want dietary meals.
The restaurant also offers food for people with dietary restrictions. These include a vegetarian set and a pescetarian set.
Anybody who wishes to avail of this must make a reservation at least two days before their visit – so call, text, and reserve.
8. Hike to Malvar's Peak.
Before you can hike (Day hike destinations in the Philippines) Malvar Peak, you must first have a reservation at the Mount Purro Natural Reserve which is an eco-park ideal for nature lovers and adventure seekers.
Upon arriving at the park, you will undoubtedly be mesmerized by the unending greenery, thanks to the Sierra Madre mountain range. The peak is beginner-friendly and the trail is easy to moderate in difficulty only.
Daily, there are five schedules for forest hikes which are 5:00 AM, 8:00 AM, 10:00 AM, 2:00 PM, and lastly, 4:00 PM. They also allocate guides to ensure that the groups have enough time to enjoy the summit.
Despite being only 419 meters above sea level, you can already see an overlooking view on top with a lot of foliage below.
You can also unleash your birdwatching potential because you'll see a lot of birds like the Philippine pygmy woodpecker and Philippines bulbuls on your journey.
What You Need to Know Before You Go
1. You can try other activities at Mount Purro Nature Reserve.
If you think that hiking won't be enough for you, you can also try other activities offered by Mount Purro Nature Reserve. They also have ziplining, campfires, treks to lagoons, and cultural excursions with local tribes.
They also have other facilities that you can enjoy like the nature playscape, swimming pool, cabanas and gazebos, and game room.
2. You can stay overnight.
The eco-park also accepts visitors who wish to disconnect to reconnect with nature.
The packages that they have include Forest Getaway, Romantic Mountain Retreat, and Tree Hugger Escape. These packages are inclusive of accommodations, food, and access to facilities.
3. They have a restaurant – Loli's Kitchen.
For anyone who doesn't have time to eat before going to the eco-park, you can still enjoy a home-cooked meal at Loli's Kitchen. Though, all the meals should be pre-ordered before your visit.
Their meals are also affordable, and their set rate for plated meals is only Php 350 per person.
Their snacks on the other hand only cost Php 150, making them budget-friendly for anyone who wants to try delicious Filipino meals.
9. Admire the panoramic view from Cloud 9.
The most notable feature of Cloud 9 is its breathtaking 360-degree panoramic view of the Sierra Madre mountain ranges and the metropolis.
A swinging bridge connects the lower level to the upper level of the observation deck at Cloud 9. It is safe enough to carry 15 people at once, but it is not for the faint of heart.
If you're easily motion-sick, don't also try to go via the swinging bridge because it can make you dizzy and nauseous.
An alternative way to go for anyone who wishes to try the view deck is the steel bridge where you can feel more stable as you walk.
What You Need to Know Before You Go
1. You don't have to pay the entrance fee if you ate at the restaurant.
Since Cloud 9 has a restaurant, they offer free entrance to the viewing deck for a minimum spend of Php 300.
2. The best view is seen at night.
Though you can see the panoramic view during the day, it's still worth visiting during the night because of the city lights in the metro.
The night brings out the best of the city because the skyscrapers are even more colorful at night than during the day.
3. They have a Butuan CARAGA Heritage Museum.
Few people are aware that Cloud 9 is home to a museum (Must Visit Museum In The Philippines). Artifacts from Butuan City and the CARAGA area are shown at this little museum.
In this area, you may see heirlooms, wall art, and historical artifacts on display. Simply ask the staff about its location and they will gladly escort you or point you toward the museum.
10. Take part in the Sumakah Festival.
Sumakah Festival is a celebration held on May 1st to showcase Antipolo city's goods, namely, suman, mangga (mangoes), and kasoy (cashews) as well as the traditional mode of transportation used to ascend in the city, known as the hamaka (hammock).
The city government prepares a lot of activities for this month-long celebration like street dances, performances, and more.
Also, they set up a variety of events each week that are open to all residents of Antipolo. So ready your ears, and be prepared to party if you want to take part in this celebration.
During the launch of the festival, the drum and lyre troupes from different schools also march together in the town. Other dance performers also look elegant with their glammed makeup (top cosmetic brands in the philippines) and vibrant costumes.
What You Need to Know Before You Go
1. Prepare your phones and cameras.
Every May 1, the streets of Antipolo are filled with whole-day festivities that usually start with the marching of the drum and lyre bands. This is also known to be the highlight of the feast because the streets become colorful and lively.
So record all the special moments from your Sumaka celebration, we encourage you to prepare your phone and camera because there will surely be a lot to capture.
2. Wear comfortable clothes.
Because you may take time to watch the events, we suggest you wear the best comfortable clothes you have.
It can also be hot during this month so we recommend you wear summer outfits or bring a portable fan so you'll have no problem with ventilation.
If you're going to multiple events, it's also best to bring spare clothes so you won't feel sticky or sweaty.
FAQs about Antipolo City