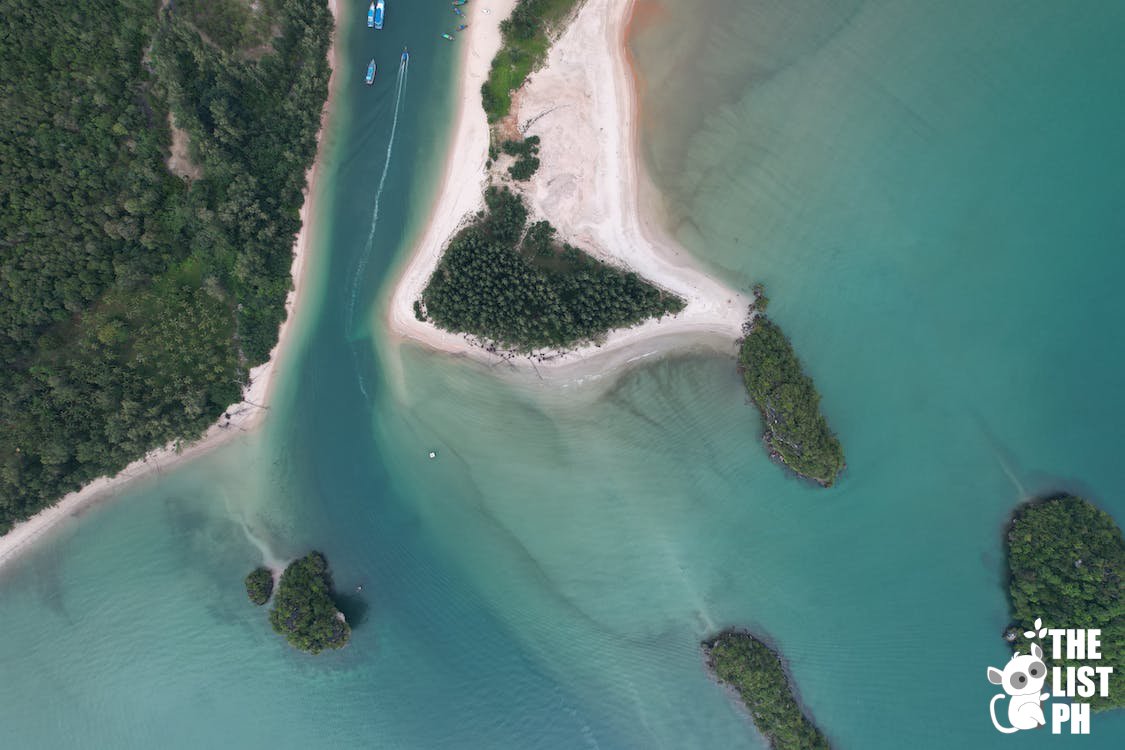 Your Ultimate Travel Guide: Things to Do in Cagayan de Oro
If you're looking for a destination in the Philippines that offers adventure, nature, and culture, look no further than Cagayan de Oro! This city in Northern Mindanao has something for everyone, from thrill-seekers to history buffs.
Here are a few fun activities to include in your CDO bucket list.
Things to do in Cagayan de Oro
1. Visit Bukidnon Pineapple Farm.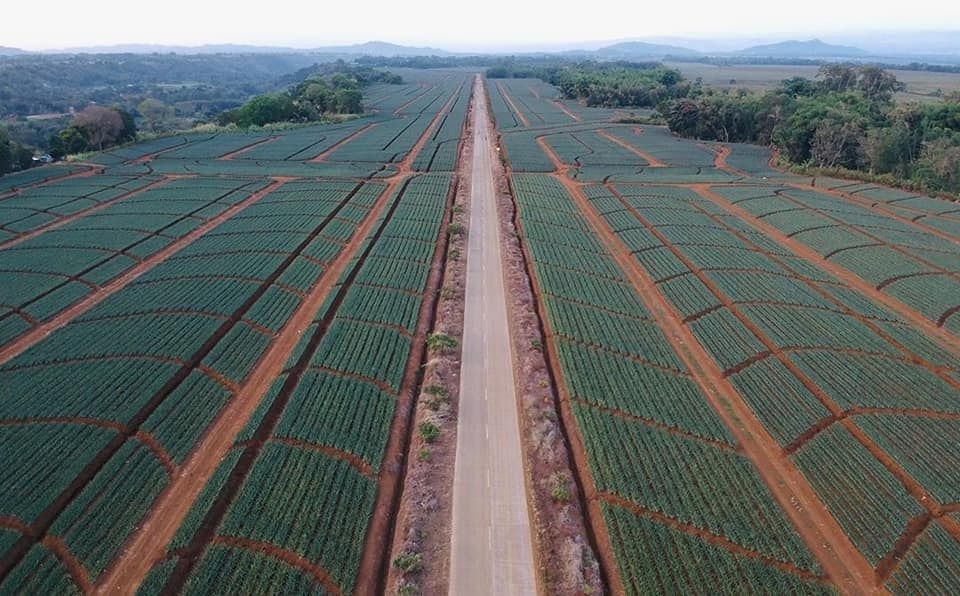 Test
Info
Address
Camp Philips, Manolo Fortich, Bukidnon
How to go there
Ride a bus from CDO to Manolo Fortich or a van to Camp Philips.
Fare fees
Van: Php 50
Bus: Php 25
Best time to visit
8 AM - 4 PM
Camp Philips is where the Del Monte Pineapple Plantation is also located. Upon arriving at Camp Phillips, you will find a giant pineapple statue, an excellent spot for pictures!
Del Monte has made the wide-area accessible to the public, so one can explore it without requesting permission. You will also see the American-style apartment complex constructed by the Americans for Del Monte personnel!
When visiting Bukidnon, include Camp Phillips and the Del Monte Pineapple Plantation on your schedule to try the sweetest and tastiest pineapple in the Philippines.
Insider Tips
• You can buy goods at their souvenir shop.
Purchase some pineapple treats, including fresh pineapple fruit, pineapple jam, pineapple yema, and a variety of other pineapple treats. These items are available at their souvenir shop for a fair price.
• They are family-friendly.
Aside from the plantation, there is a church you can visit and a vast playground where kids would love to play!
• You can pick a free ripe pineapple.
You can pick whatever pineapple you like on their plantation, but they have an eat-it-where-you-picked-it policy in place to ensure no one hoards the pineapples!
2. Explore Camiguin Island.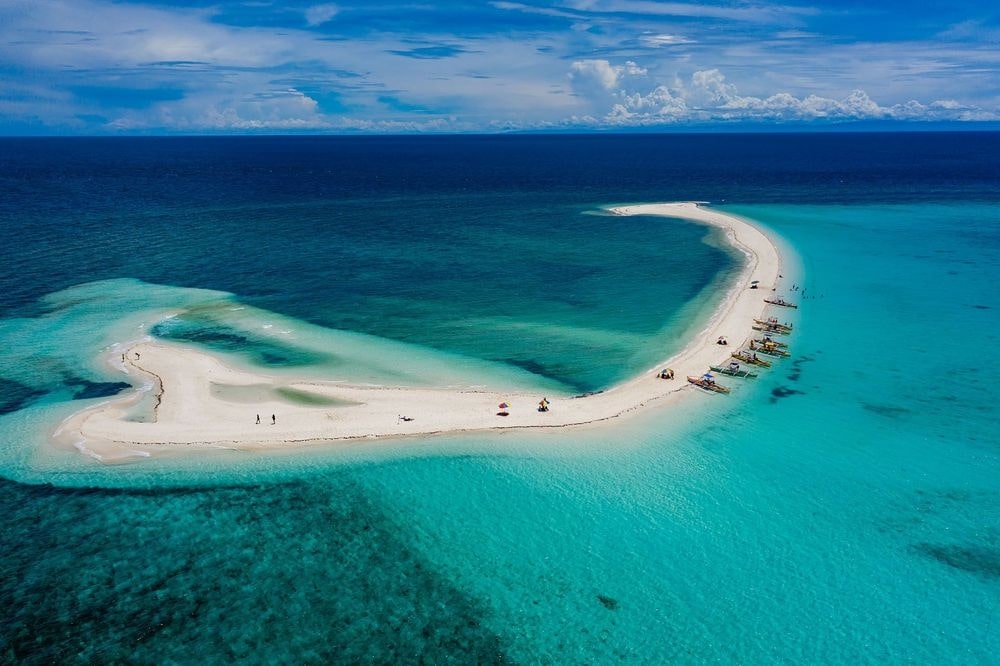 Test
Info
How to go there
Ride a ferry from CDO
Fare fees
Php 400
Best time to visit
April - July
Places to visit and activities
White Island Camiguin
Ardent Hot Springs
Katibawasan Falls
The walkway to the Mt. Vulcan
Old Spanish Church Ruins
Bura Soda Water Swimming Pool
Mantigue Island
Hike Mt. Hibok Hibok
Tuasan Falls
Snorkeling
Due to the volcanic eruptions that made Camiguin Island its striking appearance, the island is often called the "island born of fire." In fact, seven volcanoes may be found on the island.
It's a tropical paradise with many things to do and see, including incredible waterfalls, hot springs created by volcanic activity, historical sites, island hopping, snorkeling, and trekking.
They are also known for lanzones – they're among the sweetest the country has to offer!
Insider Tips
• Rent a scooter to get around the island.
The best way to roam around Camiguin is to rent a scooter from the locals. You can rent a scooter for a day for only Php 300!
• Go early to the ferry station if you're planning to bring your car.
The ferries going to the island can only carry one private vehicle per trip, and if you want to get on the ferry first than the other passengers with their cars, go as early as you can.
• Remember your COVID-19 vaccination card.
They might require your vaccine card to enter the island. Remember your card or QR code to lessen the hassle.
3. Have a good time at Mapawa Nature Park.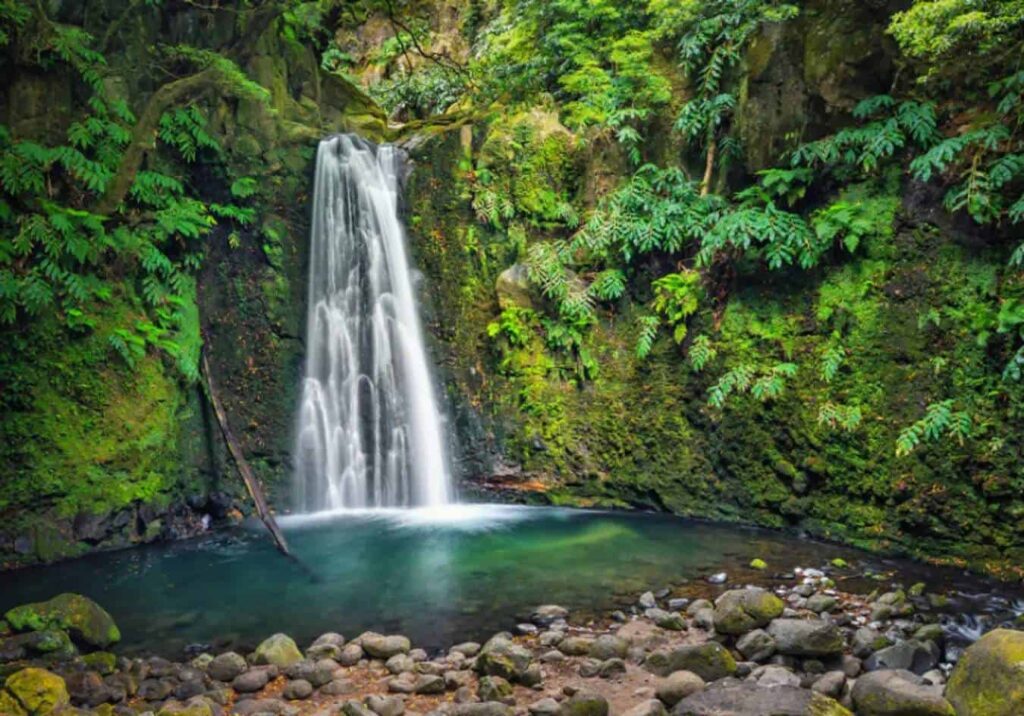 Test
Info
Address
Country Park, Cagayan de Oro
How to go there
Ride a van/habal from CDO
Best time to visit
8 AM - 5 PM
Park fees
River trek package - Php 1300
Environmental fee - Php 50
Camping fee - Php 100 (minimum of 10)
Horseback riding

— Php 200/hr

— Php 125/30mins

— Php 100/15mins

Swimming pool - Php 75
Zipline - Php 325
Trail run/hike - Php 300 (fou tour guide)
Have you ever wanted a cheap yet worthwhile adventure? We highly recommend Mapawa Nature Park, where time stands still, and conservation and conversation are given utmost attention.
With just a 30-minute journey from the City of Cagayan de Oro, you can treat yourself to a fulfilling, soothing, and spectacular beautiful eco-friendly tour!
Insider Tips
• Call the nature park days before your trip.
For the facilitators to be ready and tell you whether the location is suitable for canyoneering, whether the weather is favorable, or if it is already completely booked, it is preferable to phone days in advance.
• They have a camping site if you want to camp with friends or family.
The nature park has a camping site that you can also try. It is best for outdoor camping or team-building activities!
• You can rent a habal going there.
There are few transportation options you can find going to the park so it will be best if you rent a habal and they can wait for you or fetch you again after your trip.
4. Enjoy the slides in Seven Seas Waterpark.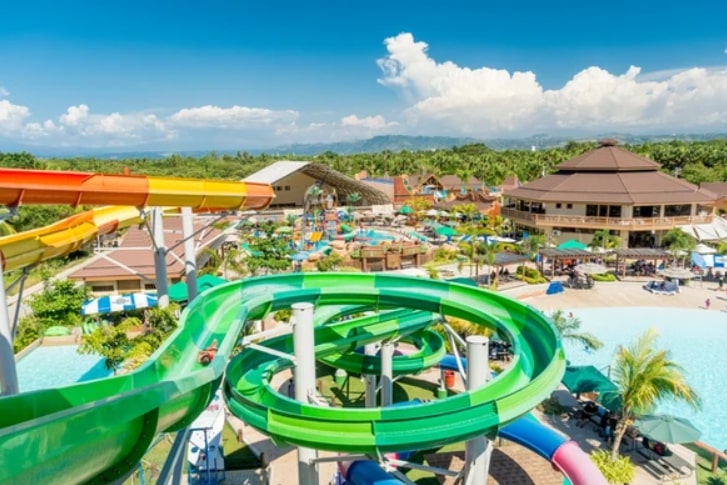 Test
Info
Address
Opol, Cagayan de Oro
How to go there
Ride a jeep or bus
Best time to visit
March - May
Resort fees
Entrance and swim only

— Php 599/Adult and Kids below 4ft

— Php 479/Senior citizens and PWD

Unli access on slides (ad on/optional) - Php 349
Cottages
Beach Gazebo - Php 900
Privateer - Php 700
Island Hut - Php 600
Website
https://www.sevenseaswaterparkresort.com/
Seven Seas Waterpark is the first top-tier waterpark in the Philippines with a pirate theme! This pirate-themed attraction is a thrill-seekers' paradise ready to give you a day full of fun and excitement!
The waterpark opened in 2017 and has cutting-edge features like over 12 thrilling slides, a 5,000 square meter twin wave pool, a 400-meter-long lazy river, and many more family-friendly amenities!
Insider Tips
• They don't allow food inside.
The resort doesn't allow bringing food inside the place but offers affordable food you can find and enjoy.
• It's best to go on a weekday.
The resort can be full-packed every weekend, so if you want to enjoy all the slides, you better go on a weekday.
5. Try whitewater rafting.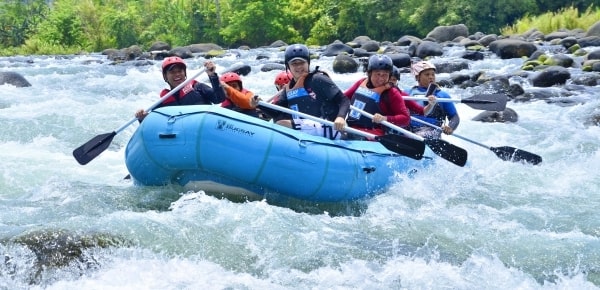 Test
Info
How to go there
Ride a bus or rent a van
Best time to visit
July onwards
Fees
Advance course - Php 1000/pax
Basic course - Php 700/pax
The only city in the whole country that provides year-round rafting is CDO. Rafting on the Cagayan River is a thrilling and exciting experience because of the river's depth, incline, and rock formations.
Participants can select the amount of thrill they can manage, from "beginner" to "advance" to "extreme." You can face only 14 rapids or all 21 of them!
Real whitewater rafting on the Cagayan River offers all that makes for a one-of-a-kind excitement, with excellent loudness and power of water flowing over rocks and boulders at intervals of no less than 10-15 minutes.
Insider Tips
• Bring a dry bag.
The waters can get crazy and exciting, so always remember to use a dry-bag so your things won't get wet.
• The guides can help you take photos.
The guides were very friendly, helpful, and knowledgeable. They will also offer to take photographs of you and the experience.
• Wear sunscreen or a long-sleeved rashguard.
The sun can be harsh while doing activities. Make sure to put on a lot of sunscreens or, better yet, wear a long-sleeved rash guard.
6. Conquer your fear at Dahilayan Adventure Park.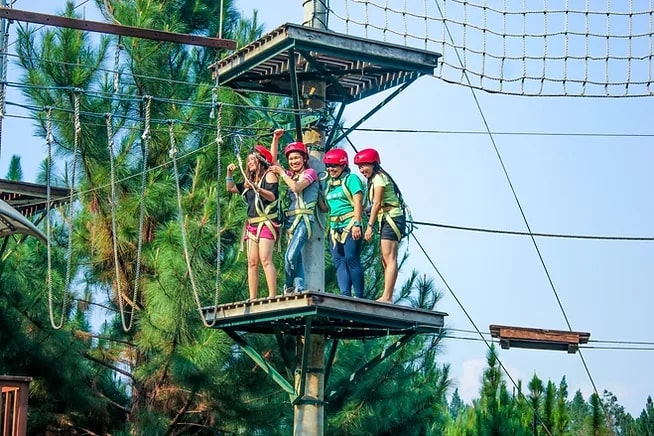 Test
Info
Address
Brgy, Manolo Fortich, Bukidnon
Best time to visit
July onwards
Fees and activities
Zipline 840m - Php 500
Zipline 470m - Php 250
Dropzone - Php 500/single rider and Php 750/pair
Razorback Mountain Coaster - Php 400 /single and Php 600/pair
Skytower Base Jump - Php 400
Python Roller Zipride - Php 300
Dahilayan Boot Camp - Pho 250/adult and Php 150/kids
Flying Lizard Canopy Glider - Php 250
Rope Course - Php 200
Website
https://www.dahilayanadventurepark.com/
Are you looking to go on the biggest adventure of your life? Get in on the action and fly like Superman from a launch point 4,700 feet above sea level on Asia's Longest Dual Zipline.
The adventure park's activities will give you the thrill of a lifetime! In the chilly, cloudy climate of Dahilayan, people connect with their relatives and friends over a fun adventure.
Insider Tips
• They are a family-friendly adventure park.
There are activities for kids, but there are also activities only those adults with brave hearts can try.
• Bring your private vehicle.
It's best to rent a car to get to the place. The chartered bus and habal-habal are the only public transport.
• They have hotel rooms you can stay in.
If you want to rest and spend a night at the adventure park, they have rooms that can accommodate you. There is also a cafe inside, as well as snack bars.
7. Visit Divine Mercy Shrine.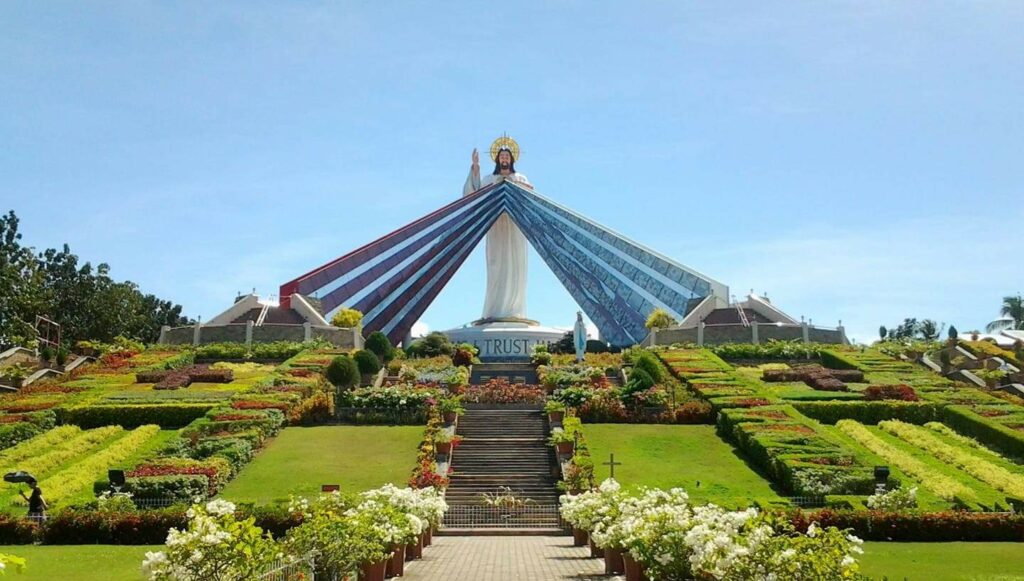 The City of El Salvador in the Misamis Oriental Province is home to the Divine Mercy Shrine, a tall and magnificent Catholic monument.
The statue shows Jesus Christ blessing the visitors while two "beams" of hope and faith emanate from his heart. These are also built with stairs so visitors can go as close to Christ's most precious heart as possible.
Worshiping and praying for those looking for a solemn place is spacious. Overlooking the shrine is the beautiful beach!
Insider Tips
• Don't wear sleeveless or short skirts for girls.
Sleeveless shorts and above-the-knee dresses are NOT allowed. If you arrive in El Salvador wearing a short skirt or sleeveless, you can rent a shawl near the entrance area for only Php 30.
• They have a souvenir shop.
If you want to buy souvenir items fo an affordable price, you can visit their souvenir shop inside the shrine.
8. Explore Macahambus Adventure Park.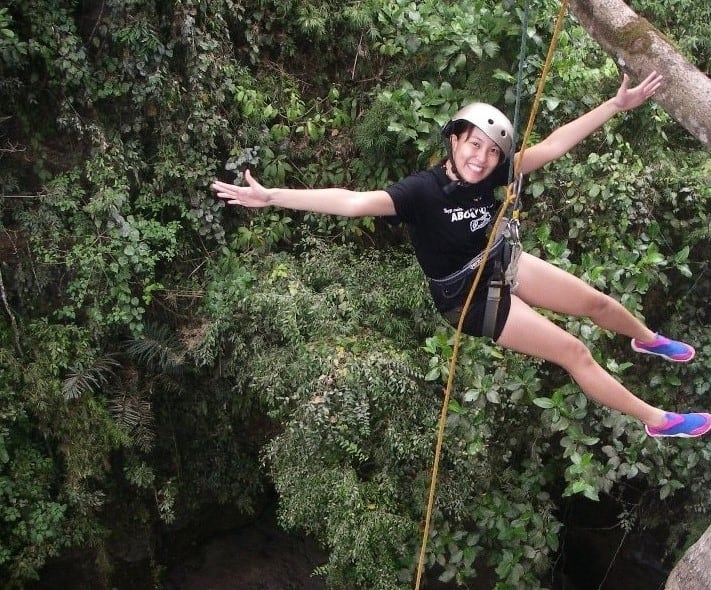 This adrenaline-pumping adventure park in Cagayan de Oro City is a must-visit if you enjoy extreme sports!
You can go rappelling from a 150-foot cliff in Barangay Lumbia, just 10 minutes from the airport. You get a breathtakingly exhilarating view of the forest from above with this incredible experience!
You should also try the 120-meter zipline for a similar heart-pounding experience.
If you're not into extreme rides, the 135-meter-long Sky Bridge is where you may go to take in the magnificent views of Mother Nature, including the century-old trees at the adventure park!
Insider Tip
• Bring water and snacks with you.
There are no stores around the adventure park so it will be better if you bring a lot of water with you so you won't be thirsty after trying all the activities.
9. Try paragliding.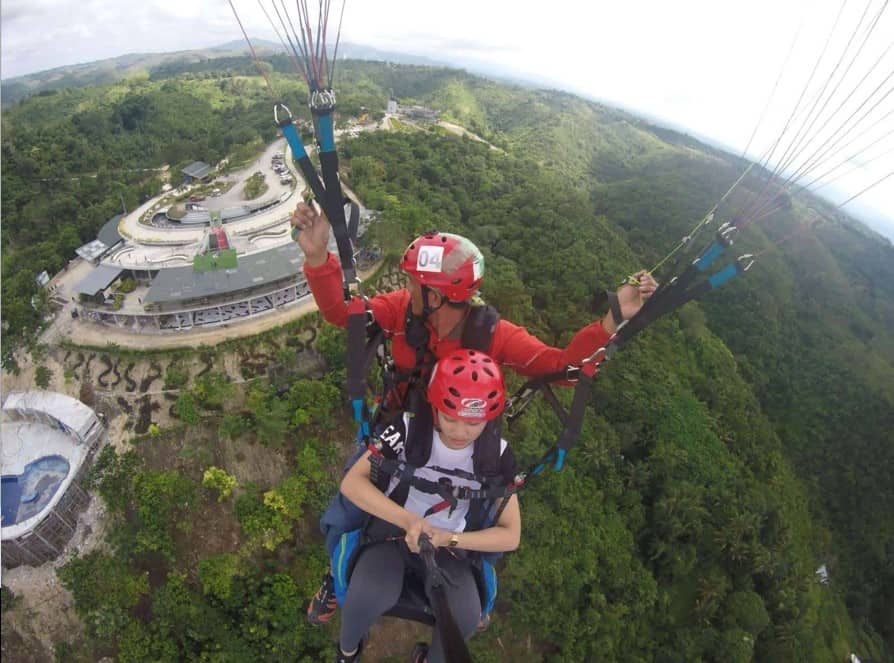 Don't leave your imagination of flying to dreams; paragliding in Cagayan de Oro City will allow you to experience it in the real world. In addition to being called the City of Golden Friendship, CDO is also regarded as the Philippines' adventure capital!
Additionally, thanks to tandem flights with top-brass paragliders, you won't need to worry about committing to training or having prior flying experience.
Insider Tips
• You can have a videotape of your experience.
Taking a video of your paragliding experience is included in your fee, and you can request a copy from your paragliding pilot!
• Book a week before your target date.
Reservations must be made at least one week to a few days before the flight. There are no reservation or booking fees!
10. Catanico Falls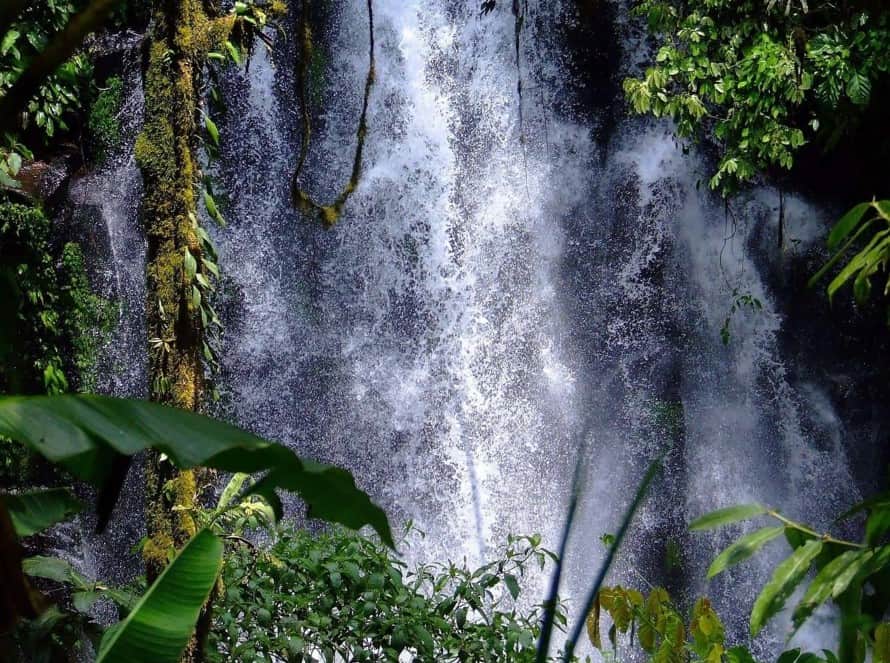 Test
Info
Address
F.S. Catanico, CDO
Best time to visit
March - June
Fees
Entrance fee - Php 20/pax
Cottage - Php 300
One of the many natural wonders that make Cagayan de Oro famous is Catanico Falls. It is a magnificent sight, a region of rocks and rock formations through which roaring water rushes and finally falls spectacularly.
The municipality's administration created a little area close to the falls. It features restrooms, rental picnic shelters, and a viewing spot. The trip to the falls takes only about 30 minutes from the city, making it the best tourist destination!
Insider Tips
• There are dogs you have to watch out for.
Watch any lunch you bring in from the dogs in the area if you don't want to lose some food while swimming.
• Remember to bring your power bank.
There is no power outlet at the falls so we suggest you bring extra batteries and power banks if you're planning to use your phone or camera.
---
Cagayan de Oro offers a unique and diverse travel experience perfect for adventure-seekers, culture lovers, and foodies. Take the chance to visit this gem in the Philippines!