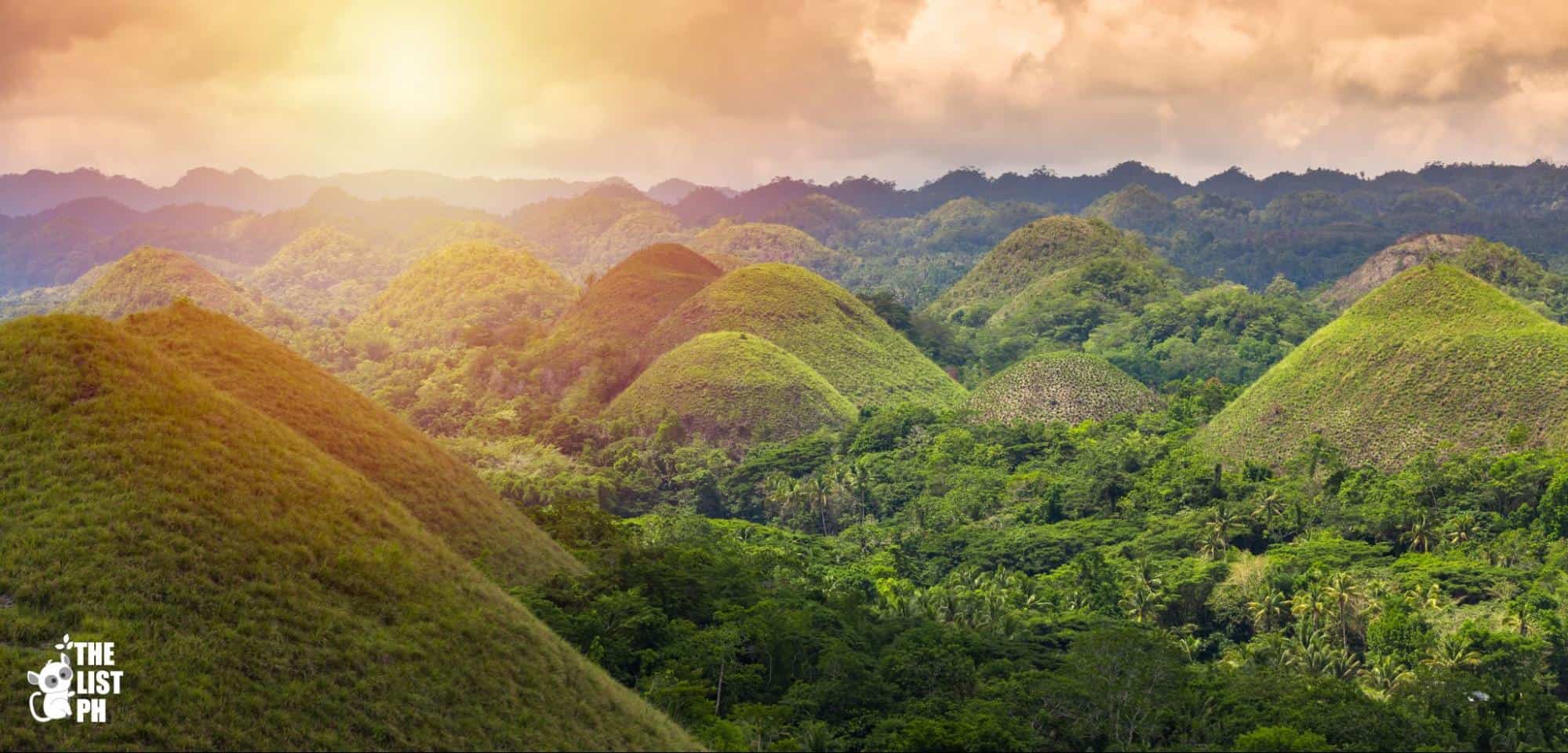 10 Things to do in Bohol
Bohol is considered the tenth biggest island out of the 7,000 islands in the Philippines.
While it may not be as well known as Boracay or Palawan for its white sand, it still has amazing scenery and heritage sites that people can go to.
Keep reading as we take you through best things to do when you visit!
Things to Do in Bohol
1. Have a fear-conquering experience at Danao Adventure Park.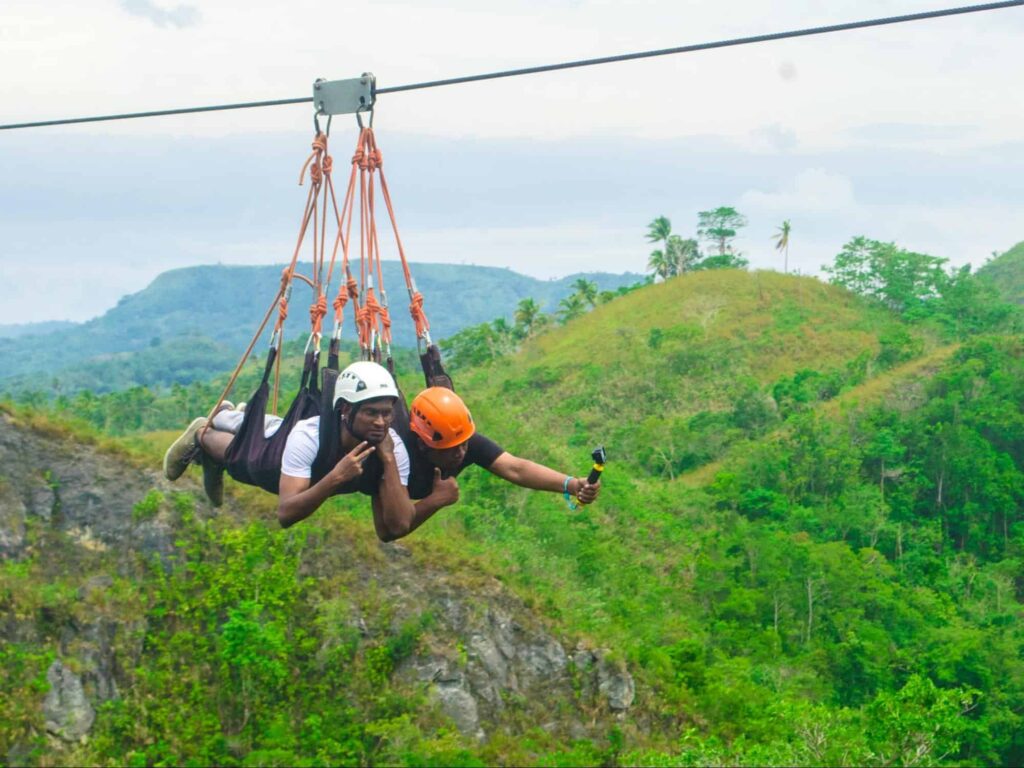 Test
Info
Address
Buenavista-Carmen-Danao-Jetafe Road, Magtangtang, Danao, Bohol
Fees
The Plunge - Php 700

Zipline - Php 350.00

Giant Swing (Solo) - Php 500

Giant Swing (Tandem) - Php 800

The Sky Ride - Php 250

Fee - Php 40

Parking fee - Php 20

Website
https://www.facebook.com/profile.php?id=100063486206675
Danao Adventure Park is a well-known adventure attraction in Bohol. The park is a popular destination for those who enjoy engaging in adventurous activities, making it known as the Extreme Adventure Tour location in Central Visayas.
They're also famous because they offer a comprehensive package based on ecotourism principles. So, they invest in high-quality equipment and experienced employees, ensuring your safety.
The adventure park also became one of the nation's top zipline destinations because of its stunning location in the center of mountain ranges. It's also a plus that they have the lovely Wahig River meandering through the vicinity.
Additionally, they have exciting activities like river trekking, wall climbing, off-road buggy, sky ride, cliff rappelling, village tour, rock climbing, root climbing, and suislide.
Added to that, the park also has fantastic spots for sightseeing, kayaking, and bird watching.
What You Need to Know Before You Go
1. They have a weight limit when it's raining.
To ensure all their guests are safe, they strictly follow a maximum weight limit of 60 kg during rainy days.
Though, if there's only a drizzle, they still allow anyone who wants to try their extreme activities.
2. You will ride a habal-habal from Danao Terminal.
There are no buses heading straight to Danao Adventure Park. If you're coming from Tagbilaran City, you can ride a bus to Danao Terminal.
From there, you should ride a motorcycle (Best Motorcycle Philippines), also known as habal-habal.
2. Check out the Hinagdanan Cave in Dauis.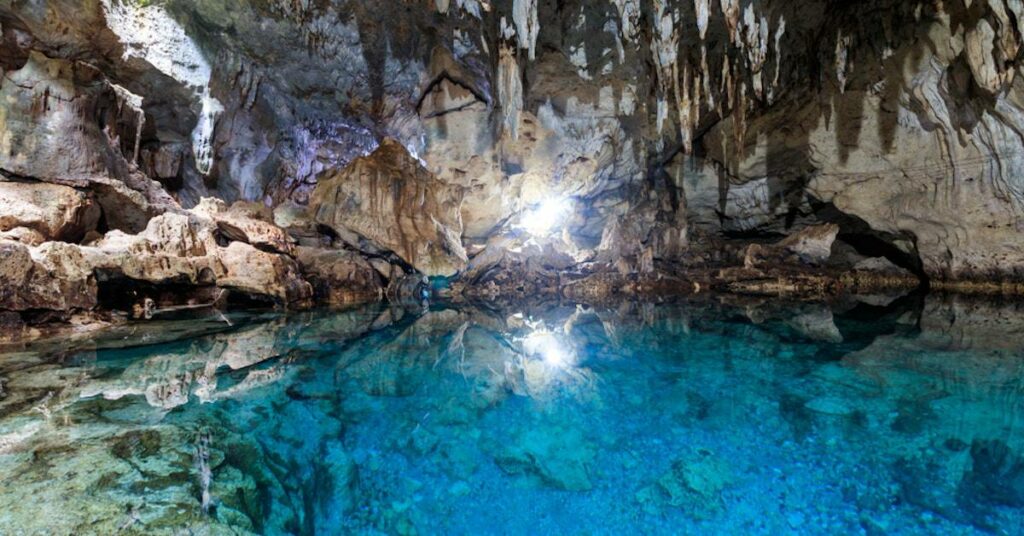 Test
Info
Address
Bingag, Dauis, Bohol
Fees
Entrance Fee - Php 25

Swimming - Php 100
Bohol has numerous beautiful caverns, including the Hinagdanan Cave, which means "Laddered" in Cebuano.
Though Hinagdanan Cave is known for its breathtaking scenery, it also has a rich history related to World War II. The locals tried to utilize the cave as a refuge from the Japanese Imperial Army, but they were eventually discovered.
The cave of Hinagdanan is a karst formation, meaning it is composed primarily of limestone. It also has a freshwater lagoon 10-12 meters deep with many stalactite and stalagmite formations.
Surprisingly, even if it's a cave, you won't need any flashlight (Best Emergency Flash Lights In The Philippines) because of the natural light from the ceiling holes and artificial light from the stairwell.
What You Need to Know Before You Go
1. You can stay in Dauis and enjoy other tourist destinations there.
If you're in the neighborhood after visiting Hinagdanan Cave, you shouldn't miss the Dauis Church, Bikini Beach, or Bingag Beach.
2. Invest in non-slip shoes.
The cave can be slippery because of the formations inside. If people also walk around, the ground will become extremely slimy, so be careful with your steps.
It's best to bring your swimming shoes that can tightly grip the ground.
3. You cannot bring food and drinks inside.
People at the entrance will hold your food and drinks if you have them. It's best not to bring them as you go because restaurants are already around the area.
4. Extra help is available.
Tour guides take you all throughout the cave. They are also experienced in taking pictures and can easily reprogram your camera and take good photos without using the flash.
They are paid in tips and usually don't charge a specific amount.
3. Take a plunge into the deep end with Anda Scuba Diving.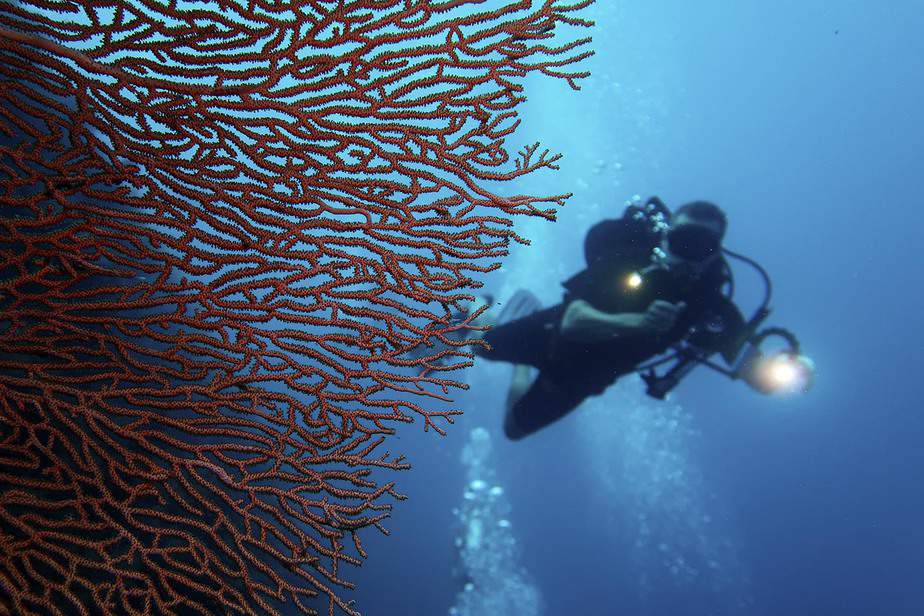 Test
Info
Address
Hôtel Island View Beachfront Resort

Bacong, Anda, Bohol

Fee
Snorkeling - Php 1,000

Fun dive with dive equipment - Php 2,500

Fun dive with no equipment - Php 2,000

Scuba Diving - Php 5,000

Night dive - add Php 200

Website
https://en.andascubadiving.com/
Anda's dive sites provide the perfect setting for beginners to the sport because it has warm water (about 28 degrees). It also has a calm sea with spectacular reefs, and it only takes quick boat rides (around 5 minutes each) to go to the diving spot.
You can try diving with Anda Scuba Diving because they have a diving facility that provides scuba training in a safe, comfortable, and personalized setting.
They also have scuba diving lessons for beginners all the way up to dive master level, as well as recreational dives on Anda's incredible 14-kilometer-long reef.
They also offer professional divers to guide you if you're a beginner. For two hours, beginners will go through briefing and training in the pool, and then they'll do a full dive into the ocean with a depth of 12 meters.
Those with diving certificates can also avail of their fun dive services, where you can rent diving equipment if you don't have one. Their services are also diverse, and they offer night diving for certified Advanced Open Water divers.
If you're not an experienced diver and don't have time to learn about scuba diving, you can still go on the dive boat and check out the sea turtles and coral reefs by snorkeling. You'll be dropped on the reef for one hour and explore underwater with your group.
What You Need to Know Before You Go
1. They offer different courses.
Anda Scuba Diving also offers classes for anyone who wishes to take scuba diving to a higher level. Their training includes Open Water, Advance Open Water, Emergency First Response (EDR), Rescue Diver, and Master Diver.
The price of their training also ranges from Php 10,000 to Php 55,000. The training can also last from 1 day up to a month.
Besides scuba diving courses, Anda Scuba Diving also offers coral propagation courses with Ocean Quest Global's method.
2. You can book a reservation online.
Anda Scuba Diving makes it easy for guests to book their services by offering online reservations. You don't have to go to their location to know if there are available slots, and it's easier just to contact them first.
It's also better because they can accommodate you immediately if you have a set appointment.
3. You can get special accommodation rates if you stay for more than five days.
For anyone who wishes to stay in Anda for extended periods, they offer discounts at Hôtel Island View Beachfront Resort.
4. Discover Bohol's history at the Bohol National Museum.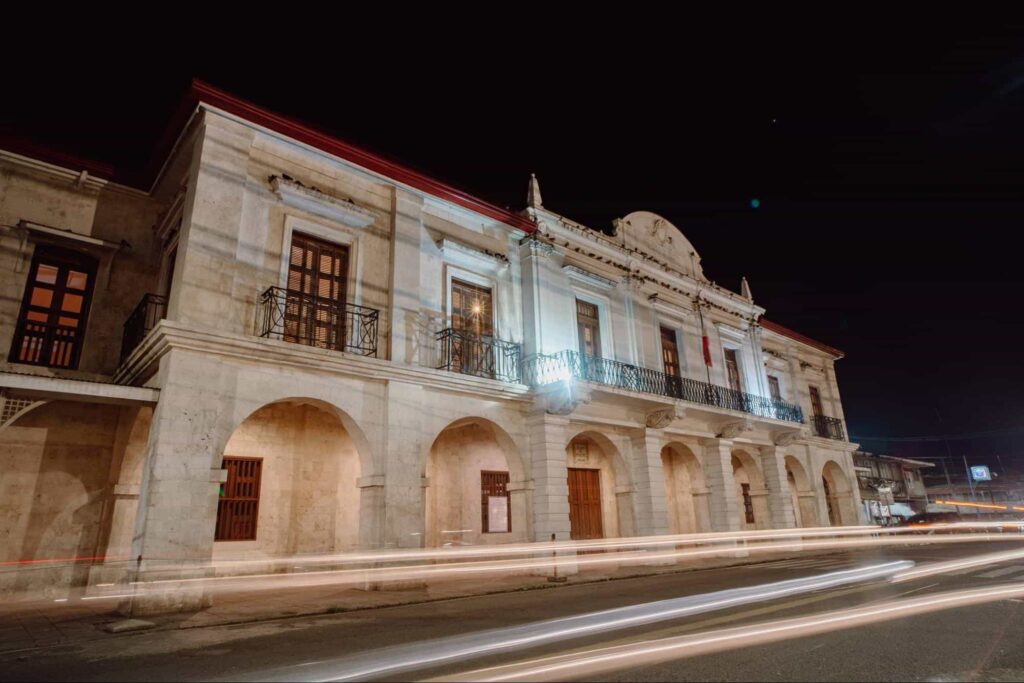 Bohol National Museum is located in the restored 1860 Provincial Capitol Building, which was destroyed by an earthquake in 2013.
A large portion of the museum is devoted to showcasing the findings of archaeological digs and explorations conducted at Anda, which sheds light on Bohol's history.
Aside from that, a lot of materials in the museum also came from the remains of the historic churches that took significant damage in the earthquake that hit in 2013.
The museum also stores information on how the earthquake affected the conservation, preservation, and protection of cultural artifacts in Bohol and Eastern Samar.
They also host artwork exhibitions, like one by Boholano artist Napoleon Abueva, who was considered the Father of Modern Filipino Sculpture. He was also a National Artist for sculpture, making him a dear treasure of Bohol.
Aside from those, the museum is also home to the preservation of information about the natural resources in Bohol. This includes the flora and fauna that are present in the area.
What You Need to Know Before You Go
1. You cannot use flash inside the museum.
To preserve their paintings and other artifacts, the Bohol National Museum doesn't allow flash photography inside.
Flash photography could also fade the colors of priceless artworks, so it's better to be careful if you're visiting. Keep in mind that certain pigments are photosensitive, and their breakdown is accelerated by exposure to light.
2. You cannot take videos inside the museum, either.
While other museums allow taking videos inside, Bohol National Museum doesn't allow it as they follow the National Museum's general guidelines.
Remember, you can only take videos outside the premises and not inside the museum.
3. Pets are not allowed.
Do not bring your pets if you plan to go to Bohol National Museum because they will not let you go through if you're with them.
It's better to keep your pets in your accommodation, or if nobody's watching them, you can opt to go to pet-friendly spots (Pet Friendly Cafe And Restaurants In The Philippines) instead.
5. Explore Can-umantad Falls.
| Test | Info |
| --- | --- |
| Address | Candijay, Bohol |
| Fee | Adult - Php 75 |
Can-umantad Falls in Candijay is one of the most beautiful waterfalls in Bohol. It's also the tallest waterfall in Bohol, located in Brgy. Cadapdapan, which is about an hour away from the municipality of Anda.
Can-umantad Falls got its name from its sixty feet (kan-uman) height. From the starting point, it's only a short 5-minute walk, and you'll pass through dirt trails, stone steps, and wooden bridges that cross the running freshwater stream.
There are also some rockpools leading up to the main set of falls, which are very inviting with their milky blue waters. Dipping on it lets you cool off after your trip to this hidden tourist spot.
After bathing in the lower pool, you can continue along the trail, and within minutes Can-umantad Falls will reveal itself.
The water from the falls comes from Pundol Spring in Candapdapan. It flows downhill into a large basin below where you can swim in the refreshing water.
There are also several places to sit around the falls, allowing you to admire the site.
What You Need to Know Before You Go
1. It can be too hot while you're in the falls.
Very little vegetation surrounds the area where you can stay, so it's better to bring an umbrella with you.
While the water is cool, we still recommend you go there after lunch because it's too hot if you'll stay there until noon.
2. Road conditions can be bad.
The road leading in and out of the falls is in terrible shape, so you should prepare to get stranded or cause severe damage to your vehicle.
It's best to ask locals about the road condition because navigating apps can be unreliable sometimes. There are also weakened pavement, numerous deep potholes, and construction or repair zones, so it's better to be careful.
Bringing a small car is also not ideal because of the roads. Rocks and uneven pavement may also scratch the lower part of your car.
3. You can shoot with your drone.
Because the falls are the tallest in Bohol, shooting at a higher angle is ideal. It's even better if you have a drone to shoot the panoramic view of Candapdapan.
6. Swim at Dumaluan Beach.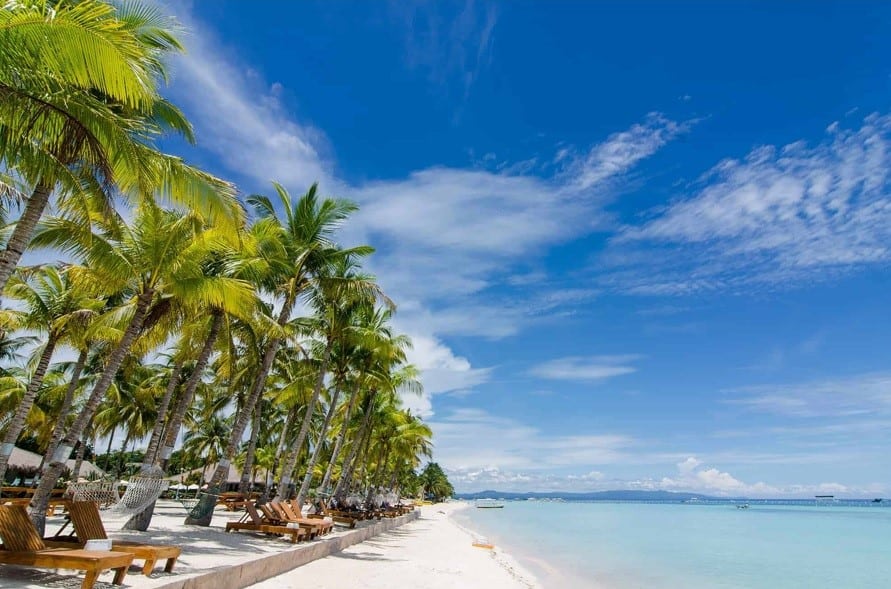 | Test | Info |
| --- | --- |
| Address | Panglao, Bohol |
| Fee | Depends on the beach front resort |
Dumaluan Beach has wide and has a long stretch of sand, making it perfect for strolls. The location is also a convenient alternative to Alona Beach due to its proximity to hotels and dining options.
The beach has pristine, with soft, white sand and calm, clear water, ideal for splashing around with friends and family. There are also a lot of sporting activities like kayaking, banana boating, jet skis, snorkeling, etc.
There are also many accommodations near the area, and you can easily pick one depending on your budget.
What You Need to Know Before You Go
1. It can be difficult to swim if it's low tide.
This beach is best for families with kids because the water is shallow. When it's low tide, swimming can also be challenging, so it's only best for those who want to dip in the water.
2. You have to pay for the beachfront resort.
This beach is not as accessible as the other beaches in Panglao because you have to pay the entrance fee to the beach.
The prices also vary depending on the resorts. Thus, we suggest you try comparing prices first.
7. Stop by the Baclayon Church.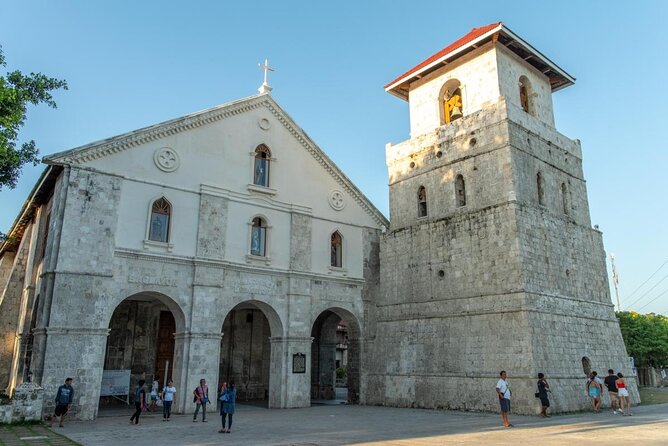 Test
Info
Address
Baclayon, Bohol
Fee
Church - FREE

Museum - Php 50
The Baclayon Church in Bohol is one of the Philippines' oldest Catholic churches. In 2020, it was designated as a National Cultural Asset and National Historic Monument.
Like other colonial churches, its style was heavily influenced by the repeated necessity to rebuild after natural disasters. The church stood still after fires, earthquakes, the invasion of American forces, and World War II destruction.
The church is located along the National Road, which runs parallel to the coast, just six kilometers from Tagbilaran City. Due to its convenient location, it serves as a great jumping-off point for excursions across Bohol province.
If you want to go here, it's easy to find a jeepney bound for Baclayon at the Dau Bus Station in Tagbilaran City.
What You Need to Know Before You Go
1. The restroom relies on donations for maintenance.
Behind the church are the restrooms, and the management asks for donations to maintain them.
There is a staff at the entrance, and you may need to pay Php 5 to use the comfort room. It's always best to have coins with you when you go.
2. Parking is free.
Parking in the vicinity of the church is free, so don't pay anyone who asks you for money. Though sometimes, there are situations when men who help you find a parking spot would ask for coins.
8. Bilar Man-made Forest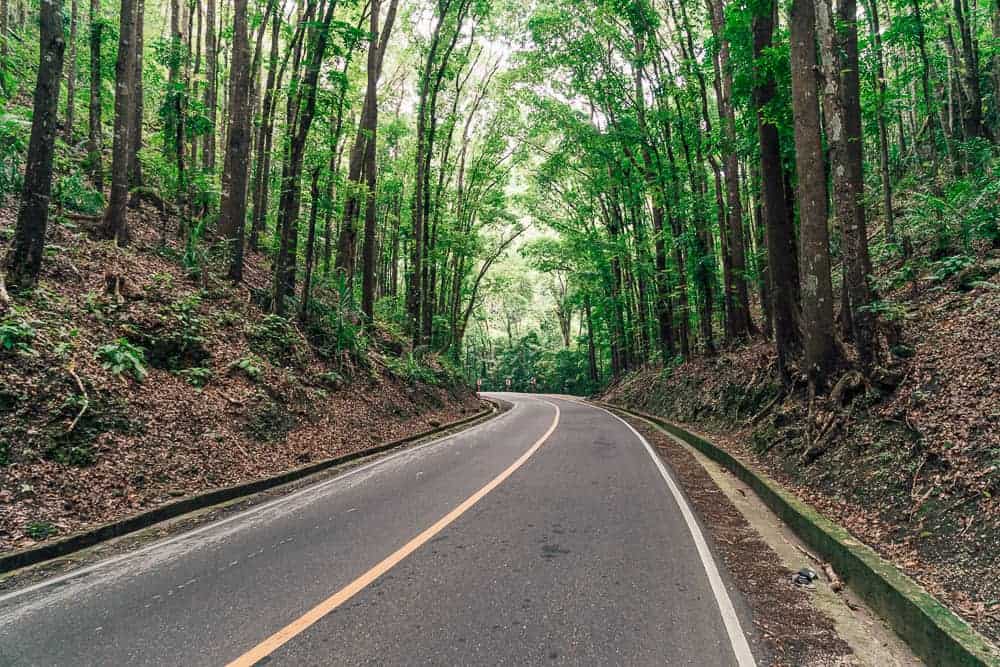 | Test | Info |
| --- | --- |
| Address | Loay Interior Road, Bilar, Bohol |
| Fee | FREE |
Bohol Mahogany Forest, sometimes called Bilar Man-Made Forest, is a large forest that spans the boundary between Loboc and Bilar for a distance of two kilometers.
Trees in this woodland are predominantly white and red mahogany, a continuation of a reforestation effort that began well over 50 years ago.
During the warmer months, the temperature drops significantly once one enters the forest.
The uniformity in tree height and the extensive splay of the trees' branches contribute to the dense nature of the artificial forest. When you go here, you'll still feel cool and refreshed, even if it's summer or just a sunny day.
The area also has thick canopies of branches and leaves. Tree roots are also a sight to behold as they spread out from the soil, wind over the terrain, and even reach the road's edge.
Because of the view, people go to this place to shoot photos and videos. Tourists also like going here because it's easily accessible and free.
What You Need to Know Before You Go
1. Be mindful of the cars on the road.
You can take pictures beside the road, but always be mindful of the cars. Since it's beside a national highway, cars can be fast, and there are also blind curves through the forest.
If you're taking a picture, always be safe and have someone watching behind you.
2. There are no restrooms or restaurants around.
The man made forest is far from the center of the municipality, and it may take a while before you can see a restroom or a restaurant.
We highly recommend you eat first and go to the toilet before visiting this tourist attraction.
9. Visit Sikatuna Mirror of The World.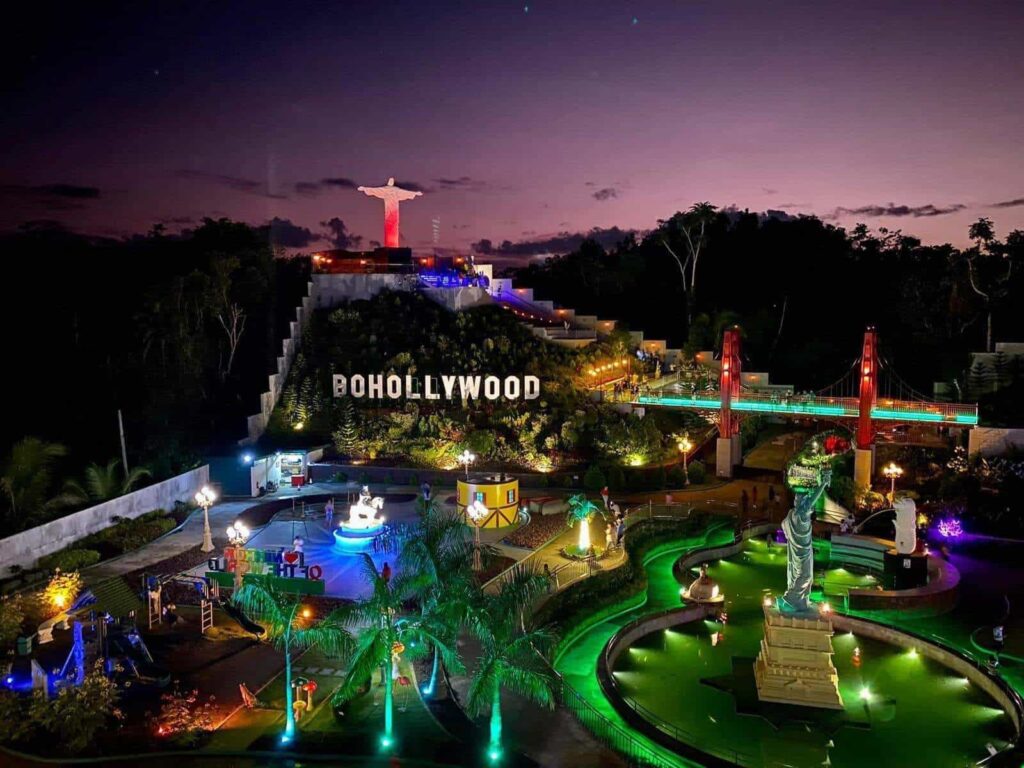 Test
Info
Address
Libjo, Sikatuna, Bohol, Sikatuna, Philippines
Fees

Daytime:

Adults - Php 120

Senior/PWD - Php 100

Children below 3 feet - Php 50




Nighttime:

Adults - Php 150

Seniors/PWD - Php 130

Children under 3 feet - Php 50

Website
https://www.sikatunasmirroroftheworld.com/
Sikatuna Mirror of The World is a family-owned park, constructed so that the owners can introduce their travels and experiences overseas to Filipinos.
Since its beginnings, the park has been transformed into a beautiful botanical garden with palm trees, orchids, and other tropical vegetation. The paths are also colorful, and they blend well with natural settings.
There are also many places to sit so you'll definitely enjoy going here with your families. It's also not a problem if kids and older family members accompany you.
Most of the guests to the Mirror of the World and Botanical Garden look forward to seeing well-known attractions from all across the globe. These include Christ the Redeemer in Rio de Janeiro, France's Eiffel Tower, and California's Golden Gate Bridge.
In addition to the landmarks and the gardens, visitors can also enjoy special events and live music.
After walking around, you can also stop into Café Acropolis for some tasty snacks and reasonably priced drinks.
What You Need to Know Before You Go
1. It's more crowded at night.
Though it is more expensive to go at night, it's still more crowded because of the illuminated landmarks people are attracted to.
2. There are only a few accommodations nearby.
Sikatuna is not yet as famous as other tourist sites in Bohol, so having accommodation nearby is uncommon.
It's best to go here in a private vehicle because it's only an hour from Panglao, where plenty of accommodation is available.
3. They're pet-friendly.
One of the best things about this place is that you can bring your pets with you as long as you follow the park rules.
They also don't charge pet fees, so it's even better for fur parents. Just ensure you handle your pets well and they don't go rowdy while inside.
10. Try the Loboc River Cruise.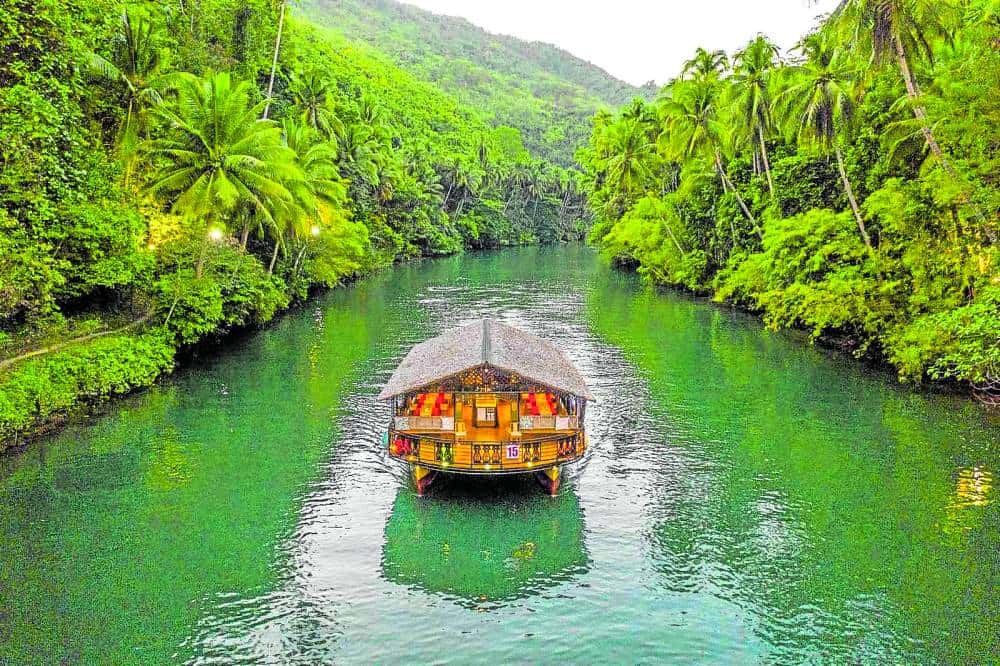 | Test | Info |
| --- | --- |
| Address | Loboc River, Bohol |
| Fee | Php 850 |
The Loboc River Cruise is an initiative by the local government unit of Loboc. It starts at Loay bridge and goes through the river for about one to two hours.
You will see the river's surroundings and enjoy nature because it surrounds the path you're taking.
You will also be entertained because the riverside locals will dance and play music.
What You Need to Know Before You Go
1. Phone signal reception may be unstable.
While you're taking the cruise, phone signal may be unreliable even with whatever mobile network (Best Mobile Network In The Philippines) you have. That said, it's best to enjoy the cruise and disconnect even for just two hours.
2. It's not the best place to go to when it's raining.
Check the weather forecast before going to Loboc because the cruise is not as enjoyable when it's raining. Though it's still safe and has a roof, the rain may cause you not to appreciate the surroundings.
FAQs about Bohol