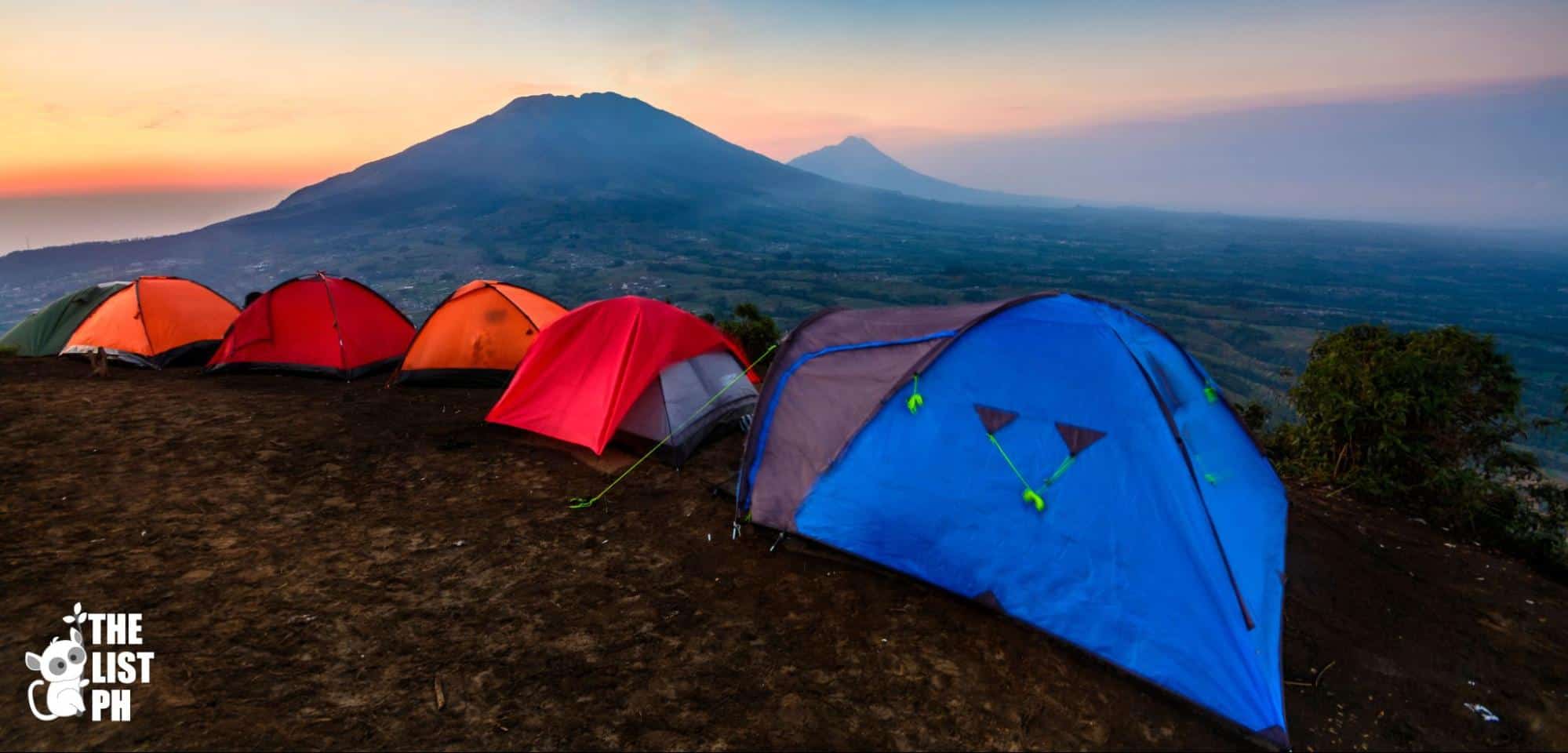 10 Great Camping Places in Tanay, Rizal
Even a two-hour drive can get you to a place where you can relax or just enjoy nature without taking a long trip to the country. You could go to Tanay, Rizal, where there are many places to camp.
It is home to many mountains and forests, and it is one of the reasons why its camping spots are so well-known for their breathtaking views.
So without further ado, let's dive into some of the most famous camping destinations in Tanay.
What are the camping places in Tanay?
You can visit the following camping places in Tanay, Rizal:
Nature Venture Camp
Pangarap Garden Resort
Lambingan Hills
RJ Hillcrest Nature's Camp
The Preserve – Cayabu, Tanay
Anito Hills Tribal Camp
Camp Cawayan Daraitan River
Rainbow 89 Ecopark Camping and Trekking
Camp Hiatus
Cielo Alto
Read on below to learn more about each of these camping spots!
1. Nature Venture Camp
Established in 2021, Nature Venture Camp has been the go-to campsite for those who want to enjoy a peaceful escape from the city.
Located in Sitio Mayagay-Uni, Tanay, the campsite is situated between two mountains, giving you a breathtaking view of the sunrise and the endless sea of clouds.
They also have a strategically installed view deck that allows visitors to enjoy the scene from a higher viewpoint.
What You Need to Know Before You Book
• They ask for a deposit.
Nature Venture Camp requires a 50% deposit before your scheduled visit. Otherwise, they won't accommodate you.
They also don't allow walk-ins, so you must pay in advance through GCash, BPI, or BDO to reserve a slot.
• Their campsite is powered by the sun.
The campsite runs on solar power, so be sure to pack your portable chargers. It's best to have fully charged electronics, batteries, and power banks in this kind of location because charging can be expensive.
Fees at Nature Venture Camp
Note: Actual prices are subject to change
2. Pangarap Garden Resort
Pangarap Garden Resort is a campsite in Brgy. Cuyambay, Tanay is famous for its affordable rates and accessible location.
This campground offers reasonable day trips and overnight rates, making it a good option for anyone looking for an inexpensive camping experience.
Access to the swimming pool and other amenities, like a grill and restrooms, are also included in the entrance fee.
It is conveniently located next to the main road, so guests don't need to worry about too much walking or hiking.
Lastly, there is a small store nearby where guests may purchase various items, including food, drinks, paper plates, soap, shampoo, snacks, and more.
What You Need to Know Before You Book
• They bring their A-game in terms of entertainment.
To entertain guests looking to get away from the hustle and bustle of the city, Pangarap Garden Resort hosts a live band every Saturday.
The management also allows guests to bring their speakers (best bluetooth speaker Philippines) and portable karaoke as long as it is not used after 10:00 PM.
• They offer facilities with no limitations or restrictions.
Amenities like the swimming pool can be used all day, depending on your availed package.
For people who avail of a 24hr stay, you can enjoy the pool day and night without any restrictions as long as you do not disturb other guests.
Also, their restrooms and sinks have an unlimited water supply because it is sourced from the mountains. But we urge you not to consume too much water, especially if you do not need it.
Fees at Pangarap Garden Resort
Note: Actual prices are subject to change
3. Lambingan Hills
Lambingan Hills is a campsite that overlooks the Laguna lake and is nestled in lush greenery. There is a beautiful garden with different flowers, tree swings, and a large camping area for overnight guests.
Inside the campsite, there is also a sari-sari store that is open from 6 AM to 10 PM. However, if you'd like to save money, feel free to bring your own food—there's no corkage fee for doing so—but please be cautious and always practice CLAYGO.
An outdoor swimming pool is also available, and it is constantly replenished by a nearby spring so the water is always fresh. Though it has additional payment if you want to try it.
What You Need to Know Before You Book
• They have a lot of IG-worthy spaces.
Lambingan Hills is known for their Instagrammable spots inside the campsite. Many visit this campground for the stunning scenery, which is enhanced by the vibrant flowers and painted buildings.
It is also a nice site to visit because they have a panoramic view of the mountains and Laguna lake all around them.
Because it sits on a hill, this location is especially popular for overnight camping given that it provides beautiful scenery of the night sky.
• Their offerings can be expensive.
The admission fee, the fee for accommodation, and the fee to use the swimming pool are all separate costs, which means that their services can be quite pricey.
Hence, if you are traveling to Lambingan Hills, you should bring additional pocket money with you.
Fees at Lambingan Hills
Note: Actual prices are subject to change
4. RJ Hillcrest Nature's Camp
RJ Hillcrest Nature's camp is located in Brgy. San Andres, near the Citizen Armed Force Geographical Unit Camp or CAFGU.
It is known as a location with no internet or mobile network signal; hence it is a perfect place for people wanting a digital detox.
Both the great outdoors and various recreational opportunities may be found in Hillcrest. Their offerings include access to our swimming pool, river, mini falls, bamboo hanging bridge, ornamental and vegetable gardens, and more.
However, considering it is a three-minute walk from the parking lot to the nature camp, this campground may not be for those with young children or older people.
What You Need to Know Before You Book
• They have three campgrounds.
RJ Hillcrest Nature's Camp provides three different campgrounds for their guests. They have the Hillcrest campground, Riverside campground, and Raw camping campground.
Those who love overlooking locations will get the most admirable view at Hillcrest Campground. On the other hand, the Riverside campground is for people who desire convenient access to the river and pool.
Lastly, the Raw camping campground is for individuals seeking seclusion from the major amenities.
• They offer fruit-picking activities.
Due to the abundance of fruit-bearing trees at RJ Hillcrest Nature's Camp, they also offer fruit-picking activities for a nominal fee. They have guava, banana, and other fruits within the vicinity.
• They require a reservation.
Before going to RJ Hillcrest Nature's Camp, guests must pay their required down payment, usually less than half the total fee. The payment must also be sent through GCash before guests can reserve the slot at the campsite.
Fees at RJ Hillcrest Nature's Camp
Note: Actual prices are subject to change
5. The Preserve – Cayabu, Tanay
The Preserve – Cayabu, Tanay is located in Sta. Ines Road, Brgy. Cayabu. It is beside the Lanatin River, so they can only accommodate a limited number of people daily.
They only accommodate a daily maximum of four groups, with an overall capacity of 25 guests. The number of people in each group determines which camping spaces are allotted to that group, so reservation is encouraged.
Because of this limitation, The Preserve – Cayabu, Tanay is known as a perfect sanctuary for people who prefer quiet camping. Their pre-assignment of campgrounds also allows guests to have their own private space.
Many visitors also enjoy their campsite because the entrance fee already includes parking, use of the camp area, tent pitching, environmental fee, and access to facilities.
What You Need to Know Before You Book
• They have reasonable pricing.
When it comes to pricing, The Preserve – Cayabu, Tanay is not only inexpensive, but they also provide discounts for people with disabilities and senior citizens.
In addition, they waive the entrance cost for children younger than 12 years old.
• They are pet-friendly.
The Preserve – Cayabu, Tanay is pet-friendly, and they have strict rules about pets to ensure that only responsible pet owners can access the campground. One rule is ensuring the pets stay in their owner's designated camping area.
Additionally, to keep the camp clean and well-kept, guests who leave their pet waste lying around pay an extra Php 200 cleaning fee.
Lastly, a Php 500 cleaning fee for each pet brought without notice will be charged.
• You must bring all your equipment.
This campsite doesn't have rental equipment, so guests are advised to bring their camping gear. You must bring your cooking equipment, tents, and other things you will need during your stay.
Fees at The Preserve – Cayabu, Tanay
Note: Actual prices are subject to change
6. Anito Hills Tribal Camp
Anito Hills Tribal Camp is a campground in Sta. Ines Road boasts 6 hectares of farm and campground.
It is also a place where you can relax and enjoy all the outdoor activities in the area. You can try camping, cooking outside, swimming, hiking, riding an ATV, biking, and meditating, among other things.
Guests can also try communing with nature by bird watching, tribal immersion (during events), and more.
They have a shade of tall trees, bamboo, and coconut trees, and it is near the Lanatin River and streams that connect to it. You can walk along the river stream for 45 minutes, passing waterfalls and a lagoon.
To experience more tribal camping, you can also hit the trails and hike up to the top of Mt. Maynoba and Mt. Cayabu.
What You Need to Know Before You Book
• They offer ATV Adventure packages.
For only Php 2,500 per pax and a minimum of 3 pax per tour, you can already try their ATV adventure in Lanatin River-Sta. Ines trail.
Anito Hills Tribal Camp's guides will accompany you through the muck and rivers of the famous Lanatin River routes.
As you go through your path, the trained guides can also take stunning photographs so make sure to lend them your cameras and phones (most durable smartphone).
Moreover, you'll get the opportunity to go through dense forests while passing a settlement of the indigenous Dumagat Tribe.
• They house the Lakan Tribal Cafe.
The tribal experience doesn't end in the campground and off-road adventure. The Anito Hills Tribal Camp also offers an inviting cafe with a tribal vibe, popular with campers and other visitors.
They are only available every Friday, Saturday, and Sunday though they accept pre-orders for their guest campers.
Their menu includes different Filipino dishes and katutubo dishes together with hot and cold drinks. Some of their notable dishes are binunyog (sinaing sa buho), sagkit (dried spicy adobo), and Rapu's tinola (native chicken).
Fees at Anito Hills Tribal Camp
Note: Actual prices are subject to change
7. Camp Cawayan Daraitan River
Camp Cawayan is a private campground that may be found in the vicinity of Brgy. Daraitan, Tanay, Rizal.
Their campground only accommodates groups of up to 8 people, making it a famous place to camp with friends.
The atmosphere of the campground is somewhat reminiscent of that of a homestay, which makes it easier for guests to socialize and form stronger bonds. It also sits right next to the Agos River so you may enjoy the sights and sounds of nature.
In addition to that, there is a fire pit or a campfire area for guests to use so that they may appreciate being one with nature even more.
What You Need to Know Before You Book
• They don't have rentals available.
Though the campsites' fees are inclusive of a lot of amenities, Camp Cawayan Daraitan River still requires their guests to have personal essentials for sanitation purposes. These bring their cutlery, bedding, blankets, and pillows.
• You may need to cross the river with a raft.
Going to Camp Cawayan Daraitan River would not be possible without crossing the Agos river. Remember that you cannot cross the river with your car because the water can be shallow.
It is relatively easy to go to the campsite though because there is an available parking area near the river. There are available rafts as well so you don't have to carry all of your things with you.
Fees at Camp Cawayan Daraitan River
Note: Actual prices are subject to change
8. Rainbow 89 Ecopark Camping and Trekking
Rainbow 89 Ecopark Camping and Trekking is a campsite in Brgy. Cuyambay, which can easily be accessible by cars. However, upon arriving in the area, you will need to trek because the campsite is on top of the hill.
Many people visit this area because of the trekking adventure and the picturesque view that the campsite offers.
Though the 365 steps can be challenging for small kids and elderly, people are nevertheless in awe to witness the 360˚ view of the Sierra Madre range.
This campground draws in visitors not just for its great spot but also for its grotto, which features enormous statues of the Virgin Mary and Jesus. There are also other activities available for adventure seekers like the spider web and Burman bridge.
What You Need to Know Before You Book
• You need to bring all your things before going to the campsite.
Though already developed, the steps can be steep, and you don't want to leave anything behind in your cars or motorcycles.
Trekking will drain you physically, so be sure to always double-check your belongings.
If you don't want to carry your items or have a lot of heavy equipment with you, you can avail services of the porters once you get to the parking area.
• It is cold at the campsite.
Bring your jackets and blankets because it can be too cold at the campsite. As it is on a high hill, the breeze will definitely differ from the temperature below so don't hesitate to bring warmers with you.
Fees at Rainbow 89 Ecopark Camping and Trekking
Note: Actual prices are subject to change
9. Camp Hiatus
For anyone wanting to experience car camping, one of the go-to camping places is Camp Hiatus in Brgy. Sto. Niño, Tanay. They have riverside access, and 4×4 car owners often visit the area because of its accessible location.
Their entrance fee rate already includes tent pitching and the use of facilities. Because of this, guests enjoy the campsite even more because they don't need to pay additional fees for car camping and installing tarps, hammocks, and more.
They also feature volleyball and basketball courts so guests can play a sport while enjoying the beautiful surroundings.
What You Need to Know Before You Book
• They have one river crossing.
It is recommended to only bring cars with high ground clearance because you will need to cross a river when going to Camp Hiatus.
• They offer an ATV rental.
You can avail of an ATV in Camp Hiatus as they partnered with Tagpuan Camp and Ecopark. The rate depends on the trail, hence pre-booking is always recommended.
Fees at Camp Hiatus
Note: Actual prices are subject to change
10. Cielo Alto Place
Cielo Alto Place is a cozy location in Sitio Mayagay, Tanay, Rizal, perfect for glamping. Though it is mainly a venue for celebrations like birthdays, weddings, and others, they still offer cabins for people who want to try exclusive glamping.
There are three VIP rooms available at Cielo Alto for families but for those who want to try more fun but cheaper accommodations, there are triangle cabins available.
Because it is beside the main road, a lot of people like to visit Cielo Alto Place because it's situated in an ideal location to see a sunrise or sunset under a cloudy sky.
Visitors also enjoy the bonfire at night which costs Php 350.
What You Need to Know Before You Book
• They have live bands every Friday, Saturday, and Sunday.
Every weekend, Cielo Alto Place has an acoustic night from 6:00 PM up to 9:00 PM where bands come to perform. Everyone is welcome to come to watch and enjoy the live music at the event, as there is no admission fee.
• You cannot cook because it is strictly prohibited.
Cielo Alto strictly prohibits cooking but they don't charge a corkage fee for cooked meals, food, drinks, and liquors in case you bring them inside.
They also have a restaurant available from 8:00 AM up to 9:00 PM.
• They don't allow pets.
Because they want to keep the area as clean as possible, they do not let pets be at the campground. Hence for pet owners, Cielo Alto Place is not the best option.
Fees at Cielo Alto Place
Note: Actual prices are subject to change
How do you get to Tanay?
Public Transportation from Cubao
From Cubao, take a jeepney (What are the modes of transportation in the Philippines?) going to Cogeo, Padilla, or Paenaan and ask the driver to drop you at Cogeo Market.
From Cogeo Market, take a jeepney bound for Sampaloc, Tanay.
In case you missed the last trip of jeepneys to Sampaloc, Tanay, you can rent a tricycle going to your desired campsite.
Most campsites are along Marilaque Highway, so ask the driver to drop you off at the landmark specified by the campsite managers.
Private Car
Use Waze or Google Maps and pin the location of your desired campsite.
Sometimes, pinned locations are inaccurate, so ask your campsite managers about the landmarks.
There are times when the signal fluctuates while you're along the Marilaque highway, so we recommend downloading your route offline.
What to Do Before Camping in Tanay
Here are some of the things that you should do before camping:
1. Pick your campsite.
When picking your campsite, keep in mind your abilities and equipment. If you're a beginner, it is recommended to go to campsites that have easy access to different amenities.
Also, another consideration is the goal of your camping trip. Thus, you should pick your campsite based on your needs.
2. Coordinate with the camping place managers.
Coordinating with camping place managers will surely make your life easy because they can easily answer all the questions you have in mind.
They are also the ones to reserve your slot in case reservations are needed.
3. Prepare your camping equipment.
If you want to get the most out of your camping experience, being prepared is essential. When you get to the campground, it will be much easier for you to enjoy yourself if you have all of the necessary camping equipment with you.
What to Bring When Camping in Tanay
1. Food and Water
Always pack enough food for you and your companions (if any). We highly recommend you bring canned goods or any food that is not easily perishable.
We think it's best to buy water in any store along the way so you'll not have to bring it with you throughout. If you have foldable water containers, we suggest you refill them at a water refilling station near the campsite.
2. Utensils and cookware
We recommend you bring your utensils because not all campsites have restaurants or canteens nearby.
Also, bring your own portable cook set to cook whenever necessary. Pick foldable cookware that doesn't take up much space in your bag.
Bring along cups, plates, a knife, and a spatula. Chopping board and ladle may be optional because you can substitute them with plates and spoons.
You also need a portable stove and an aluminum sheet (wind resistant).
3. Tent
Tents will be your home while you're camping, so make sure to bring sturdy ones with you. You may also opt to invest in waterproof and durable tents to avoid getting wet in case of a sudden pour.
Sometimes, durable tents can be heavy, so we highly recommend investing in a tent that is strong and lightweight especially if you're commuting or motocamping.
4. Clothes and towels
Even if you're only staying overnight, pack extra clothes with you so you can have a fresh pair in case of an emergency. Towels are also a must because if you need to bathe, it will be easy for you to dry yourself.
If you're staying for a long time at a campsite, we recommend you not pack too many clothes because they will take up a lot of space in your bag.
5. Flashlights or lanterns
Raw-camping or not, we stress the need for flashlights (Best Emergency Flash Lights In The Philippines) and lanterns when you're camping to keep you safe at night.
Sometimes, campsites can get too dark, so we recommend you always have it on a lanyard or keep it in your pocket all the time.
6. Emergency kit
Since you'll be away from the city, an emergency kit is always a must. Bring along medicines like paracetamol, anti-diarrhea medication, antihistamine, etc.
Also, bring gauze, bandages, plasters, and other emergency first-aid essentials.
7. Camping blankets and pillows
Sleeping in a tent can be pretty uncomfortable, especially at night, as it can get too cold. Because of this, we recommend you bring camping blankets and inflatable pillows.
8. Cleansing essentials
Don't forget to pack up soap and shampoo (Best Shampoo Philippines) because, unlike hotels, campsites don't give free sample-sized cleansing essentials.
Also, bring your toothbrush, toothpaste, tissue, and other cleansing essentials because not every campsite has a nearby store.
9. Phone
Even though you're going to unwind, you will still need a phone on your camping trip to help you navigate and connect in case of an emergency. Most phones nowadays have a built-in compass so it's a good thing to have.
Also, you may also need to call or text the campsite managers in case you need assistance going to the site. Though always double-check the signal because the mobile network's (Best Mobile Network In The Philippines) reception depends on your location.
10. Power bank and extra batteries
To ensure that you can use your electronic devices for a long time, you should bring along power banks and extra batteries with you. Make sure that everything is fully charged so you will have backups in case you need them.