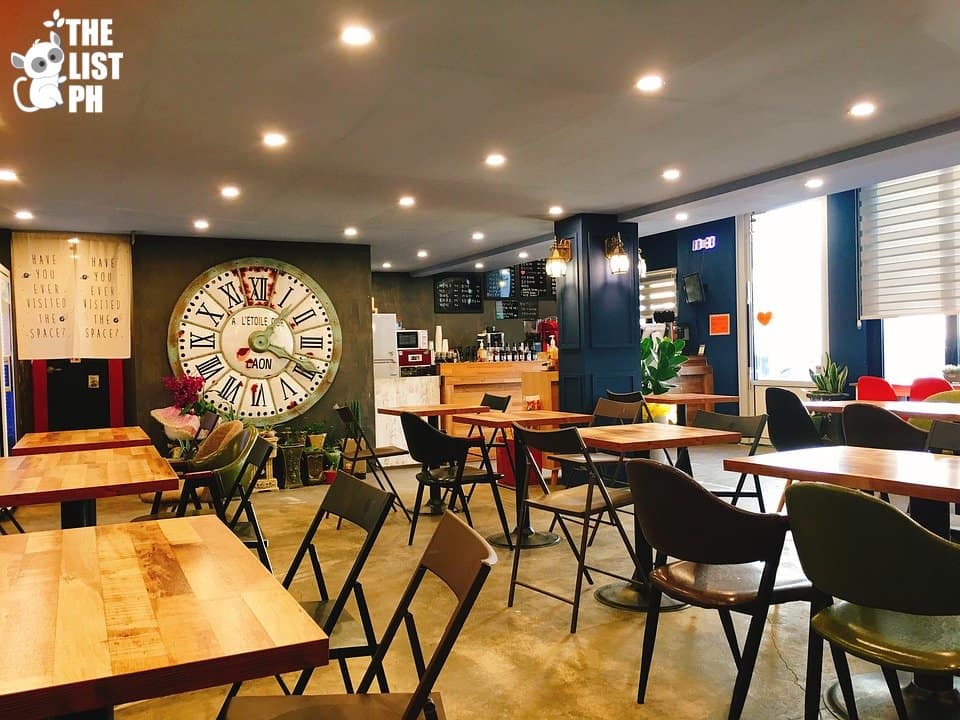 The 12 Best Aesthetic Coffee Shops Near Metro Manila
More than just the great brews, many of us head to coffee shops for the ambiance. These days, many of the younger crowd are hunting for the shops with the most Instagrammable interiors!
Thankfully, Metro Manila is home to so many of these aesthetic cafes! And just for you, we rounded up some of our favorites in the city.
1. Flower Ranch Cafe
Yup, you guessed it – The Flower Ranch Cafe began as a small flower business. When the owner visited Seoul, she fell in love with the creative interiors of the coffee shops there and decided to turn their place into an aesthetic cafe.
We love The Flower Ranch's rustic vibe, with its light-colored walls and wooden accents – and of course, blossoms and bouquets that are virtually everywhere.
Pro tip:
You can buy fresh and dried flowers at this coffee shop at a very reasonable price.
2. Three Squares Cafe and Bar
Dubbed a "design-inspired café and bar," and located inside modern furniture shop Design Story, Three Squares is a great place to appreciate contemporary pieces while enjoying a steaming-hot cup of joe.
Pro tip:
Try their peach iced tea or toffee nut iced coffee, two of their bestsellers!
3. Kandle Cafe
Kandle initially created a name for itself with its coffee brews and blends. Today, it's also known for its delicious food, signature cakes – and yes, beautiful ambiance.
Whether you have your coffee indoors or outdoors, each space has a modern yet cozy vibe. We love that its outdoor space is decked out in greens – make sure to grab a table al fresco if the weather permits!
Pro tip:
Don't miss out on the KANDLE Burger, the cafe's take on this classic comfort food. It comes with red pesto, cheese, sautéed onions, tomato, and greens.
4. Cinema 76 Cafe in Anonas
Production giant TBA Studios has created Cinema '76 Cafe, which combines two things that are hard not to love: coffee and movies!
Featuring distinctive movie-themed décor, this cafe is a great space to unwind and talk about your favorite films.
Pro tip:
The cafe has trivia nights held on select nights and live music performances on some weekends.
5. Grateful Cafe in Mandaluyong
Mandaluyong's Grateful Café is a sunny, carefree paradise with a dash of eclectic flair.
The indoor space is tastefully decorated with mix-and-match pieces, as well as lovely artwork. Then there's the vegetation and flowers in their outdoor seating area, creating a nice little nook to have your next garden-inspired IG photo taken.
Pro tip:
Try their specially crafted signature coffee mixed with freshly squeezed orange juice. It's a great pick-me-upper!
6. La Cathedral Cafe in Intramuros
Have you ever dreamt of sipping coffee while enjoying the beautiful scenery on the streets of France or Italy? Well, that dream is not limited to those places alone.
There is a unique cafe near the coast that offers a similar experience. Welcome to La Cathedral Cafe in Intramuros!
This cafe provides a fantastic view of the historic structure. Enjoy your coffee and meal on the roof deck while admiring the breathtaking scenery behind the Manila Cathedral.
Pro tip:
Make sure to try their best-selling Spanish hot chocolate. The cocoa beans are roasted and ground in-house to bring out their full flavor.
7. Flossom Kitchen + Cafe in San Juan
The Flossom Kitchen + Café has a garden theme that makes you feel like you're in a different country. The restaurant has fresh flowers, rustic wooden furniture, and wall decorations that create a paradise-like atmosphere.
The "flower wall" is refreshed every one to two weeks with new blooms by events stylist Teddy Manuel!
Pro tip:
Don't forget to try Flossom's Ube Champorado, which also features anchovies and yema sauce for a mouthwatering sweet-salty combination you will remember.
8. Kilograms Cafe in San Juan City
Kilograms Cafe has become a favorite spot for locals and tourists with its charming ambiance and excellent service. The beautiful interior design is the first thing that catches your eye when you walk in.
The decor combines vintage and modern elements, creating an inviting atmosphere that will make you feel right at home.
Pro tip:
Start with their most popular drink, the Iced Caramel Latte. Their sandwiches are also a must-try because of their signature grilled brioche.
9. Satchmi
A lifestyle brand combining music and style, Satchmi boasts a nice vintage vibe, providing a nostalgic feel of the good old days of music.
One thing that sets Satchmi apart from other record stores is its selection of vinyl records – so you can listen while you sip.
Pro tip:
Satchmi has a listening bar where you can try vinyl before buying them. This is a great way to find new music and to hear how your favorite albums sound on vinyl.
10. Blocleaf Cafe in Malate
Blocleaf Cafe's clean and contemporary interiors offer a warm and inviting atmosphere enhanced by its minimalist and contemporary design. The walls are also adorned with beautiful art pieces that add character to the space.
The star of the show, of course, is the coffee. Blocleaf Cafe takes pride in serving high-quality coffee sourced from local farmers.
Pro tip:
Try their signature cold brew and bestselling dishes beef salpicao and garlic butter shrimp!
11. Kale Cafe + Restaurant in Novaliches
Kale Cafe + Restaurant exudes a cozy industrial vibe, making it a great space to hang out with your friends in the city.
It has an extensive menu that caters to various dietary preferences. There are plenty of options for vegans or vegetarians, such as Vegan Lasagna, Vegan Mushroom Adobo, and Vegetarian Quesadilla.
Pro tip:
Make sure to try their signature dish, the Kale Caesar Salad. It's a healthy and delicious option made with kale leaves and tahini paste made from ground sesame seeds, perfect for those who want to indulge without feeling guilty.
12. Papakape in Makati
If you're a coffee lover looking for a unique coffee experience, check out Papakape. Whether you're in the mood for a simple cup of joe or something more adventurous, Papakape has got you covered.
You will see a little glass house as you approach Papakape's location; their coffee bar and counter are located here. Across from it is a greenery-filled outdoor dining area with rustic-looking chairs and tables.
Pro tip:
We highly recommend trying the iced coco latte, which even has a hint of ginger. The baristas swear by it!