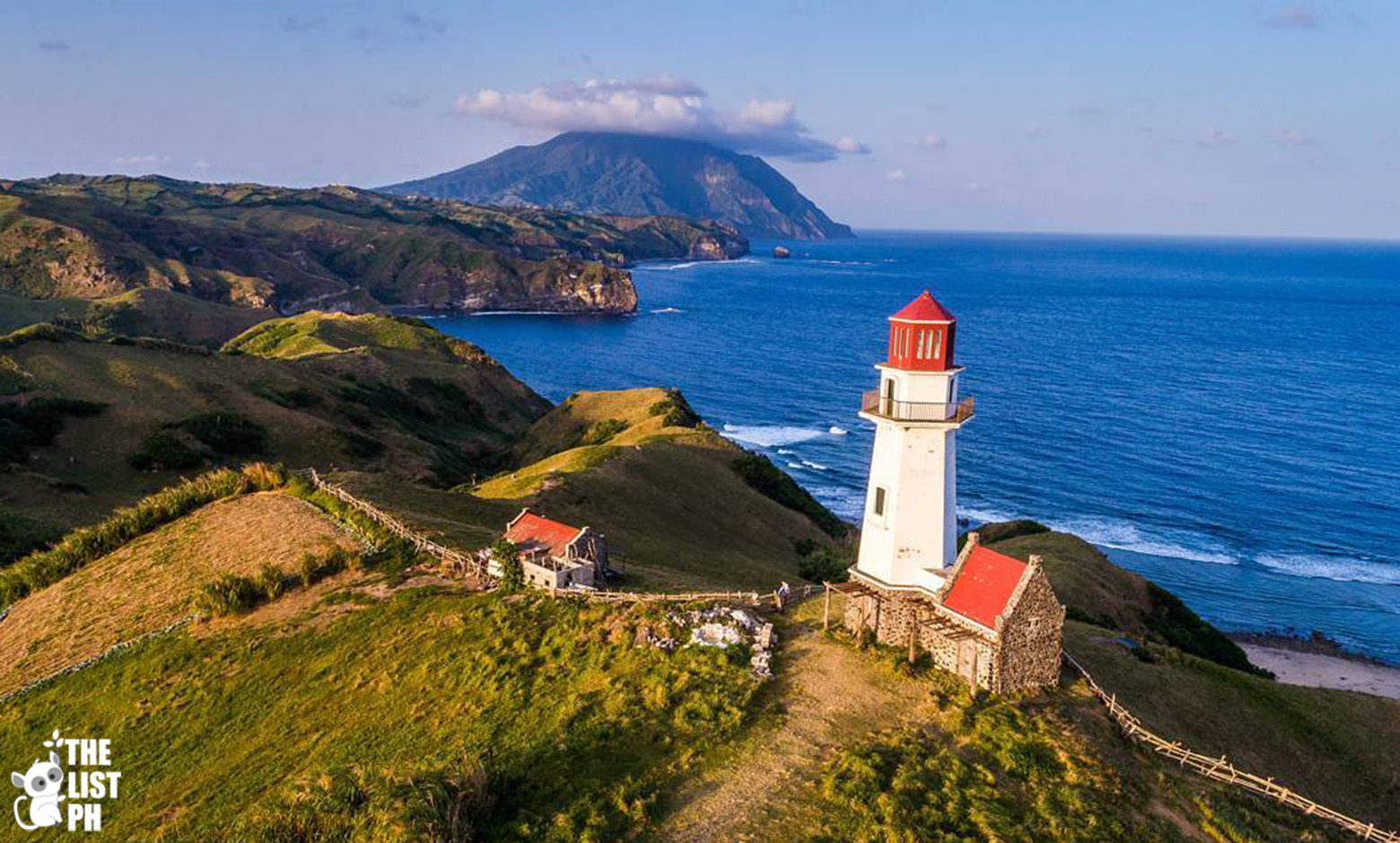 Top Things You Can Do in Batanes
Welcome to the slice of paradise that is Batanes! This isn't just an archipelagic province; it's a playground of wonders waiting to be uncovered.
In this guide, we're going to unveil the most incredible things to do in Batanes. You may think of it as your passport to rolling hills that touch the sky, quaint villages straight out of a storybook, and a warm local culture.
So, get ready for an adventure that will probably make you ask, "Why haven't I been here sooner?"
1. Visit the Sabtang Lighthouse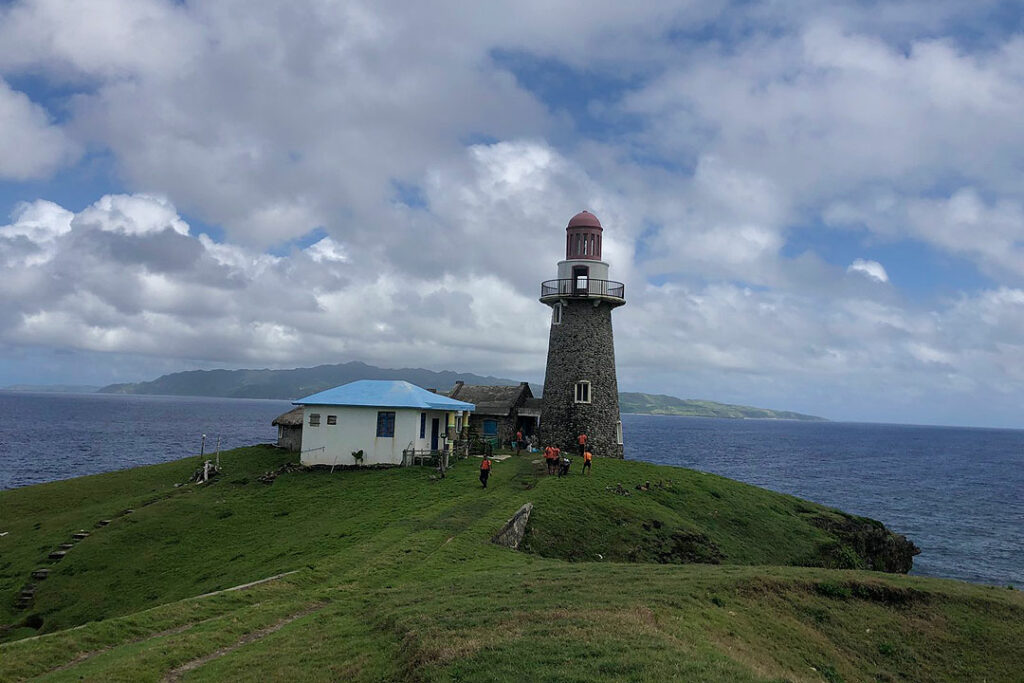 Address: Sabtang, Batanes
Operating Hours: Monday-Sunday: Open 24 hours
Entry Fee: While the entry fee to the Sabtang Lighthouse is free, it's important to note that there's an environmental fee of Php 200 required upon entry to Sabtang Island.
How to Get There: Take a tricycle from Basco to Ivana town, then a ferry from Radiwan Port to Sabtang (departures at 7 AM and 11 AM), with a travel time of about 45 minutes.
Situated on Sabtang Island, the Sabtang Lighthouse attracts curious tourists with its stone walls left in their natural state. Its robust construction, employing rubble masonry, underscores the resilience required to withstand the province's tempestuous weather.
As you ascend the tower's observation deck, a mesmerizing panorama unfolds. Here, you'll see rolling hills dancing against the backdrop of the endless ocean, a sight that captures the essence of Batanes.
Pro tip:
Batanes weather can be unpredictable, so bring a light jacket or shawl. The winds can get chilly even on a sunny day, and you'll want to be comfy while enjoying the view.
2. Explore Morong Beach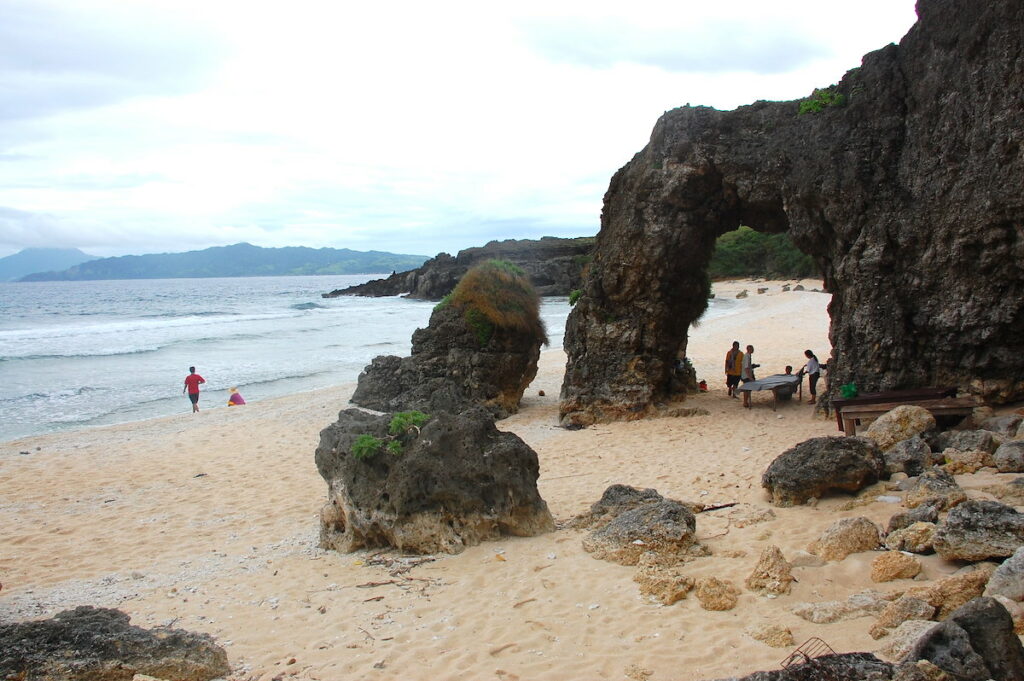 Location: Sabtang Island, Batanes
Entry Fee: No entrance fees for Morong Beach, but a Php 200 environmental fee is mandatory for Sabtang Island entry. It's often included in Batanes tour rates, but check with your operator to be sure.
How to Get There: Upon arriving in Basco, Batanes, plan your trip for the next day, as the boat to Sabtang usually leaves at 7 AM. Arrange a tricycle to take you to Ivana Port. Board a traditional Ivatan boat, called a faluwa, to San Vicente Port in Sabtang Island.
Morong Beach offers a modest stretch of white sand cradled by low grass-covered hills and a glassy turquoise sea. Renowned for Nakabuang Arch, the most photographed spot in Batanes, this beach epitomizes the unspoiled charm of Sabtang Island.
Its inviting waters, akin to Boracay's but far quieter, beckon for a leisurely swim, making it a must-visit as part of the Batanes experience. You can explore this Batanes attraction along with others by participating in a Sabtang Island day tour.
Pro tip:
While Paypanapanayan Canteen is a common lunch stop on the Sabtang Island Tour, consider exploring nearby carinderias for a more budget-friendly and authentic dining experience.
3. Take a trek to Mount Iraya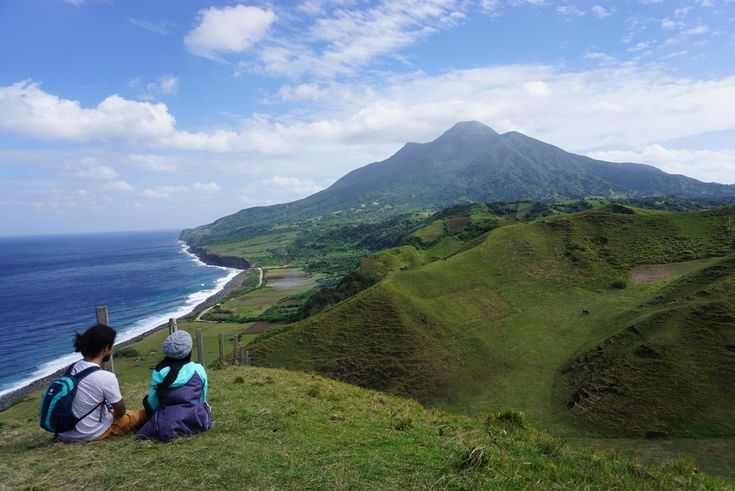 Location: Batan Island, Batanes
Duration of the Hike: 3-4 hours
Distance: 20.12 km (roundtrip)
Elevation Gain: 1,009 meters above sea level
Hike Difficulty: Challenging
Mount Iraya is an active volcano and holds a significant place in the Ivatan culture. According to local lore, a mysterious ring of clouds hovers above the mountains whenever an important tribal member passes away.
The narrow, tree-covered path presents challenges, especially as it gets muddier and slipperier, testing the mettle of even seasoned hikers. However, the summit unveils a panoramic reward— views of the island that make the trek well worth the effort.
Pro tip:
Consider reaching out to Bisumi Tours—they specialize in group hikes. The rates kick off at Php 3,600 for a solo trekker and go up based on the size of your group.
4. Have a spiritual sojourn at Mt. Carmel Chapel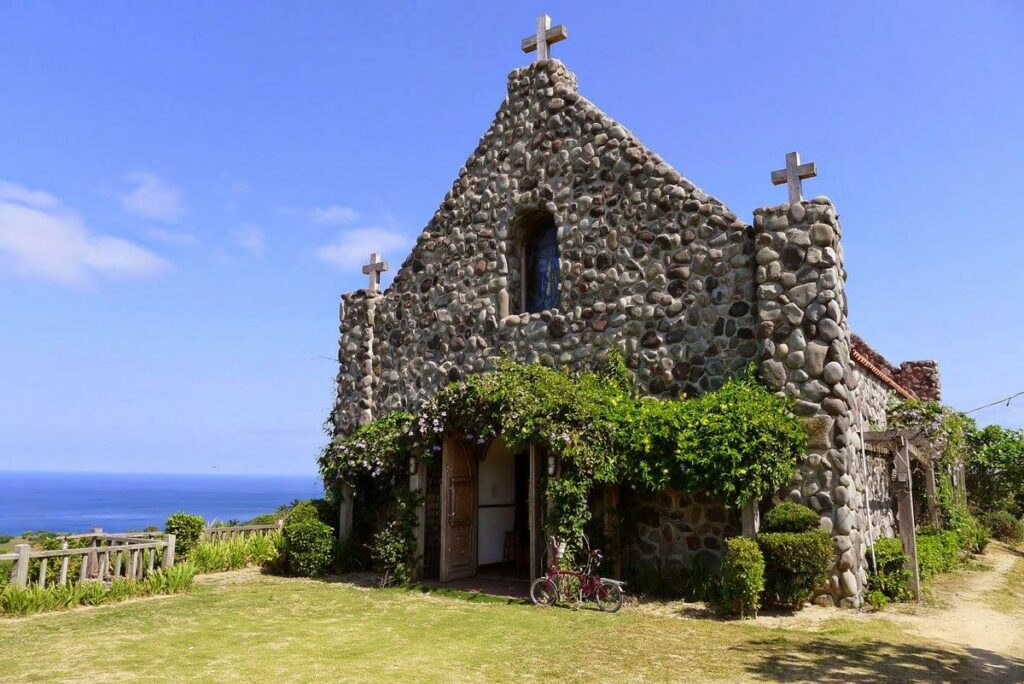 Address: CXHC+W8F, Basco, Batanes
Entry Fee: While there's no admission fee, a donation box is positioned near the arch before entering the chapel for those interested in contributing to the chapel's reconstruction.
How to Get There: From Basco Municipal Hall, follow the National Road to reach Mt. Carmel Chapel on the hill. The most convenient means are through a tour provider or a tricycle. Contact BATODA to arrange a ride to Mt. Carmel Chapel for Php 60.
One of the best things to do in Batanes is to explore its myriad of churches, and among the gems is Mt. Carmel Chapel, affectionately known as Tukon Church by the locals. It is perched atop a hill and inspired by the traditional stone houses of the province.
What sets this chapel apart is not just its architectural charm but its intimate ambiance, making it an ideal setting for small, romantic marriage ceremonies. Inside, you'll be greeted by paintings of saints, adding a touch of artistry to the spiritual atmosphere.
Pro tip:
Don't miss the nearby PAGASA Radar Station—it's a unique blend of tech and nature. Perfect for a quick detour after the chapel visit.
5. Take a look at the Savidug Stone Houses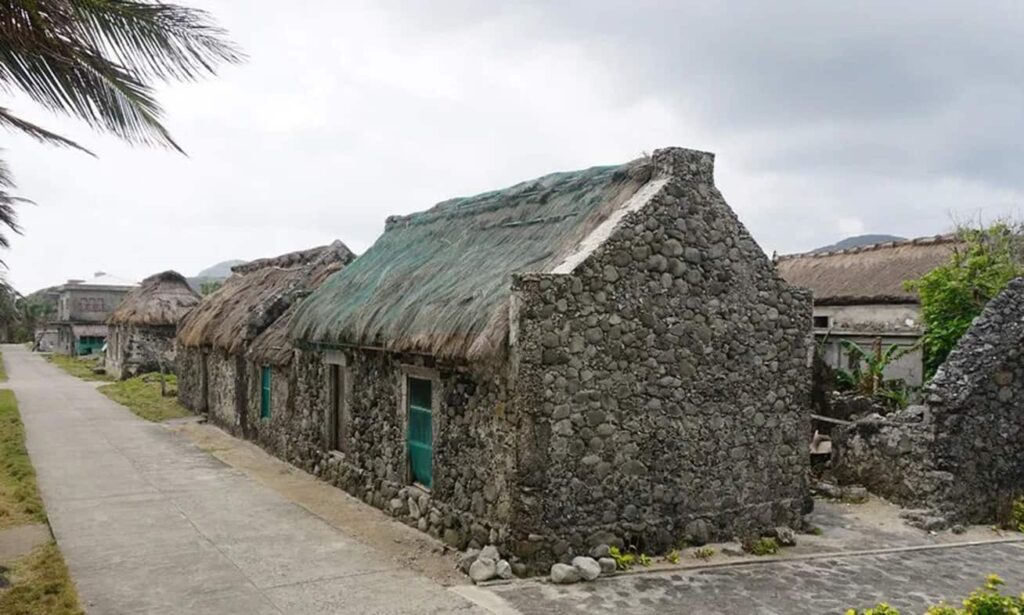 Location: Sabtang Island, Batanes
Entry Fee: There's no admission fee, but a Php 200 environmental fee is required upon entry to Sabtang Island.
How to get there: Take a boat from Ivana Port heading to Sabtang Island.
A visit to Savidug Stone Houses is a friendly immersion into the art of preserving traditions in the heart of Batanes. Savidug, a coastal village on Sabtang Island, is adorned with cogon-roofed stone houses reflecting the traditional Ivatan dwelling style.
The village showcases their Sinadumparan-type Batanes houses as artistic testaments to the island's heritage. Here, you'll also discover the detailed maintenance process of these houses, with each cogon roof slated for replacement on specific days.
Pro tip:
Some stone houses are still residences. Be mindful of personal spaces and avoid peeking into windows or doorways.
6. Stay at Fundacion Pacita Lodge
Address: Brgy. Chanarian, Tukon Basco, Batanes
Website: https://www.fundacionpacita.com/ 
Contact Details: 0928 997 4137, [email protected]
Operating Hours: Monday-Sunday: Open 24 Hours
Room Rate:
Itaw Room (Ideal for solo or traveling pair)
Off-season Rate: Php 9,360
Peak Season Rate: Php 12,870
If you seek upscale lodging options in Batanes, consider the Fundacion Pacita Lodge. It is nestled atop a scenic hill in Basco and has 12 rooms distributed between the gallery and garden buildings, each featuring an en suite bathroom and private balcony.
It also has an on-site restaurant that serves a delicious array of Western favorites and local specialties. What makes it a top choice is not just its luxurious ambiance but also its breathtaking panoramic views of the island's interior and the Pacific coastline.
Pro tip:
Take advantage of Fundacion Pacita's airport transfer service for a hassle-free arrival. You can also utilize its complimentary shuttle service to Basco town – it's a great way to explore the local area without worrying about transportation.
7. Try the local dishes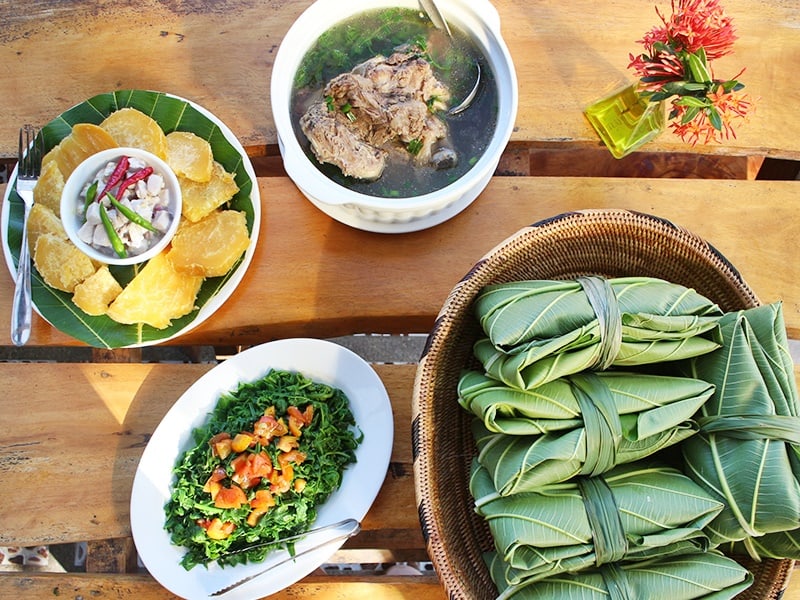 After a day of exploring the scenic landscapes and cultural gems, it's time to delve into the local culinary scene of Batanes. Don't miss the chance to savor their seafood delights such as the local lobsters known as payi and the unique flying fish, dibang.
You can also indulge in traditional dishes such as uvud, vunes, and luñis. Some of the recommended restaurants to sample these delectable dishes include Vunong Dinette, Pension Ivatan, SDC Canteen, and Paypanapanayan Canteen.
Pro tip:
Bring home edible souvenirs. Look for locally produced items like Batanes vinegar, dried fish, or traditional snacks to share the flavors of your trip with friends and family.
8. Embark on a Batan Island North Tour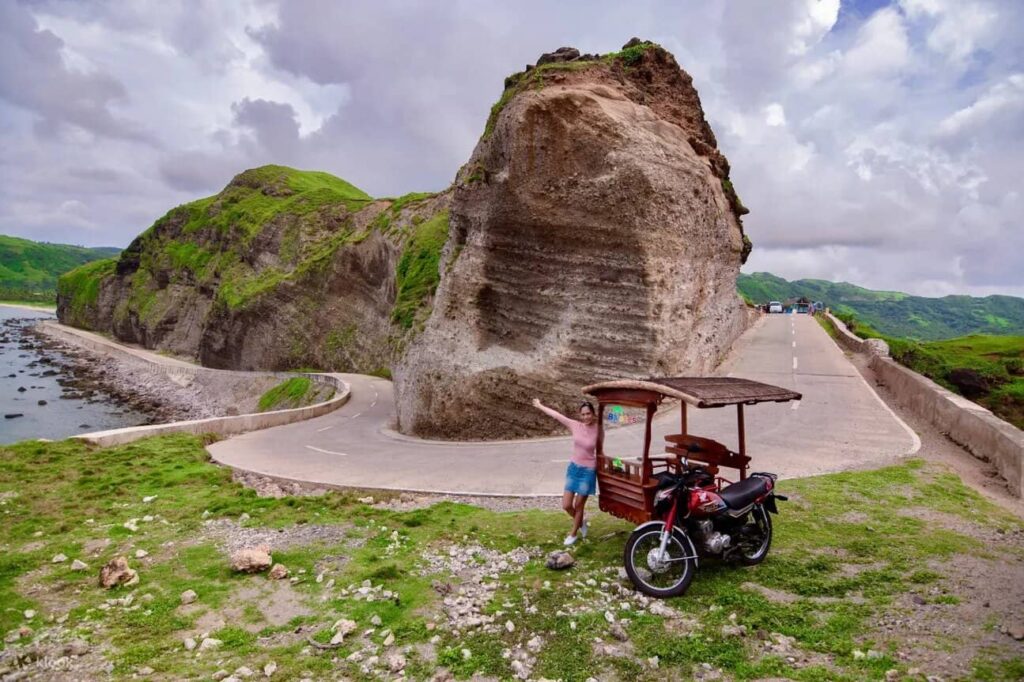 Website: https://guidetothephilippines.ph/trips-and-experiences/batanes-tours/north-batanes-half-day-tour-lunch-transfers-basco-lighthouse-vayang-rolling-hills 
Duration of the Tour: 6 Hours
Tour Fee: Php 5,063 per person
If you're looking to discover multiple attractions in Batanes in a single day, why not take on the Batan Island North Tour? In this tour, you'll visit the rolling hills, unwind on a serene beach, and navigate through a historic Japanese tunnel, among other stops.
This private tour ensures a seamless experience, complete with the guidance of a DOT-accredited expert, covering environmental and registration fees, and offering convenient pick-up and drop-off directly from your accommodations in Batanes.
This tour includes visits to the following attractions in North Batan:
Tukon Chapel
PAGASA Radar Station
Dipnaysupuan Japanese Tunnel
Valugan Boulder Beach
Our Lady of Immaculate Conception Cathedral
Basco Lighthouse
Naidi Hills
Vayang Rolling Hills
Pro tip:
Save the stop at Vayang Rolling Hills for later in the afternoon. The sunset paints the hills and the sea with warm hues, creating a magical panorama – the perfect farewell to your Batan Island North Tour.
9. Grab a bite at Bunker's Café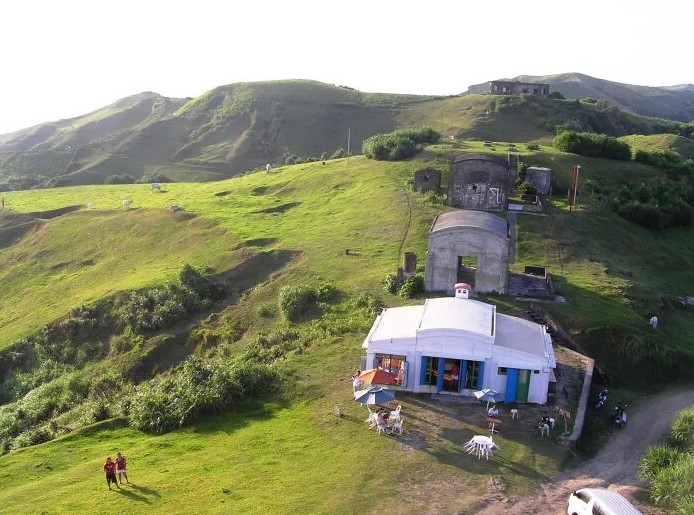 Address: Naidi Hills, Basco, Batanes
Social Media: https://www.facebook.com/p/Bunkers-Cafe-100076320172343/ 
Contact Details: +63 999 727 4789
Operating Hours: 6 PM onwards
For a unique dining experience, head to the Bunker's Café atop Naidi Hills. This cozy restaurant is situated within an old bunker from the American occupation and provides not only a historic ambiance but also proximity to the iconic Basco Lighthouse.
With a limited seating capacity, Bunker's Café emphasizes pre-ordered dishes, so it's wise to secure reservations in advance. Their standard Php 300 per person price tag covers a well-rounded meal, including fish, meat, vegetables, and a delightful dessert.
Pro tip:
Don't shy away from trying their "Adobo with Palek." It's a local twist that adds sugarcane wine for an extra kick, providing a flavorful departure from the traditional adobo.
10. Discover Chadpidan Beach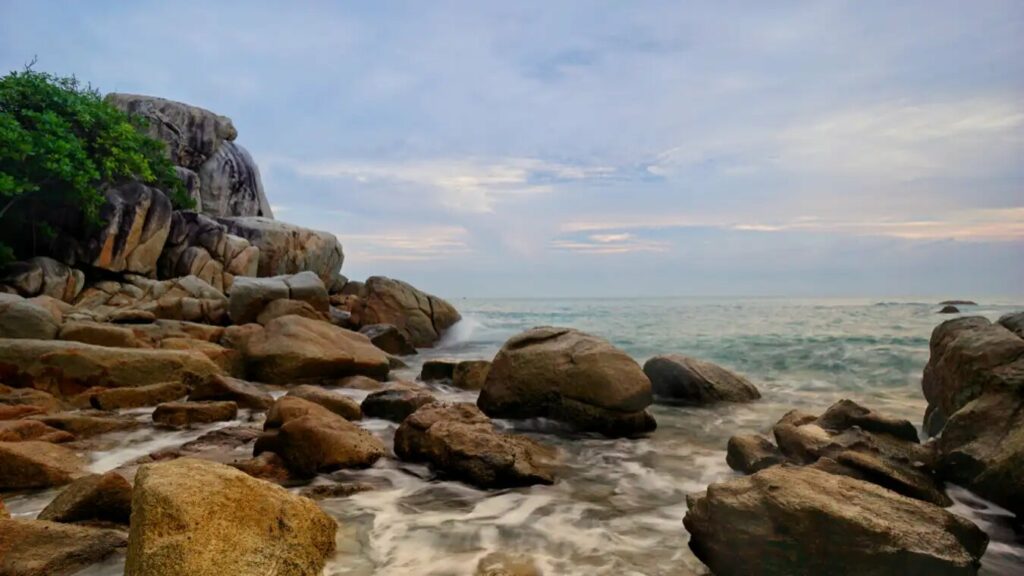 Location: Songsong Iraya Road, Basco, Batanes
Entry Fee: Free
How to get there: Take a tricycle or motorcycle from Basco Airport or the town center. Bicycles are also an available transportation option.
Tucked away on the western side of Batan Island is Chadpidan Beach, which shows off a remarkable display of boulders, remnants of Mt. Iraya's ancient eruptions. Over time, the West Philippine Sea has shaped these rocks into a neat spectacle.
You'll have to navigate the rocky and sometimes, muddy paths to reach there, but the views are certainly worth it. The cliffs appear as if a giant has taken bites along the edge, featuring abrupt dents and sudden drop-offs that shape a distinctive landscape.
Pro tip:
Plan your visit earlier in the day to avoid the midday heat. The sunlight then just works magic on those boulders, making them look even more spectacular.
11. Pray at Ivana Church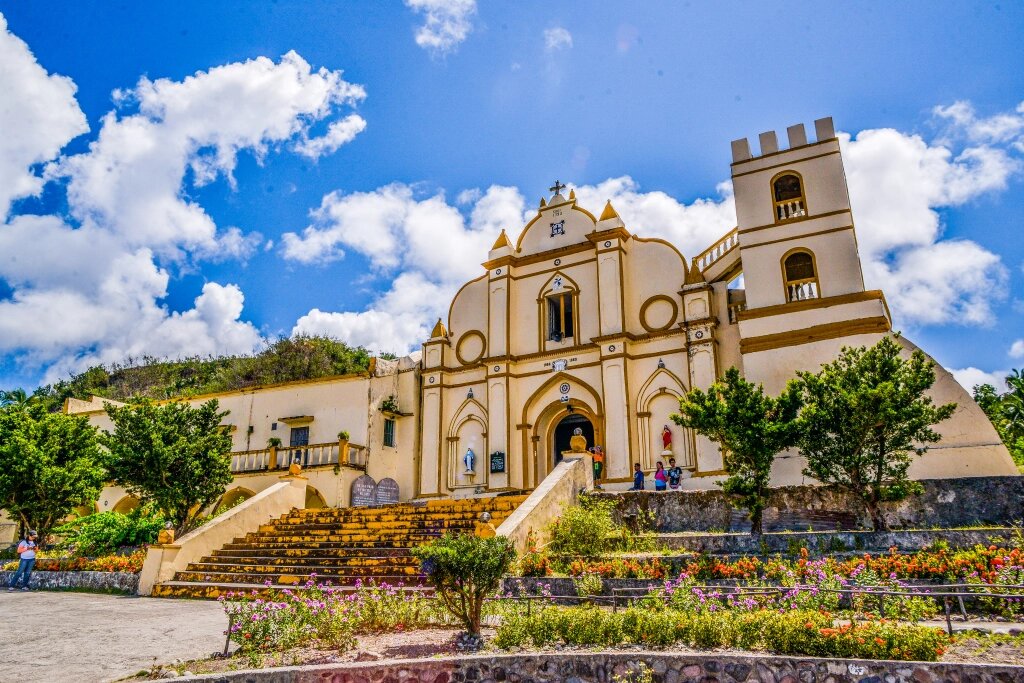 Address: Ivana, Batanes
Operating Hours: Monday-Thursday: 5 AM–8:15 PM, Friday: Open 24 hours, Saturday & Sunday: 5 AM–8:15 PM
How to get there: Hire a tricycle to take you to Ivana Port, where you'll find the church situated directly across from the port.
Recognized as a National Historic Landmark by the National Historical Commission, the San Jose de Ivana Church was a spiritual haven for the Ivanans, Sabtangs, and Uyugans. Its roots trace back to 1775 and it's a testament to Batanes' rich history.
The church ruins, still visible today, whisper stories of bygone eras. Its crenelated structure and rare wooden beams echo the architectural uniqueness of Batanes, inviting visitors to explore not just a church but a chronicle of the island's past.
Pro tip:
Remember that Ivana Church is a sacred place. Be mindful of your noise level and actions to maintain the tranquil environment.
12. Learn about Ivatan heritage at the House of Dakay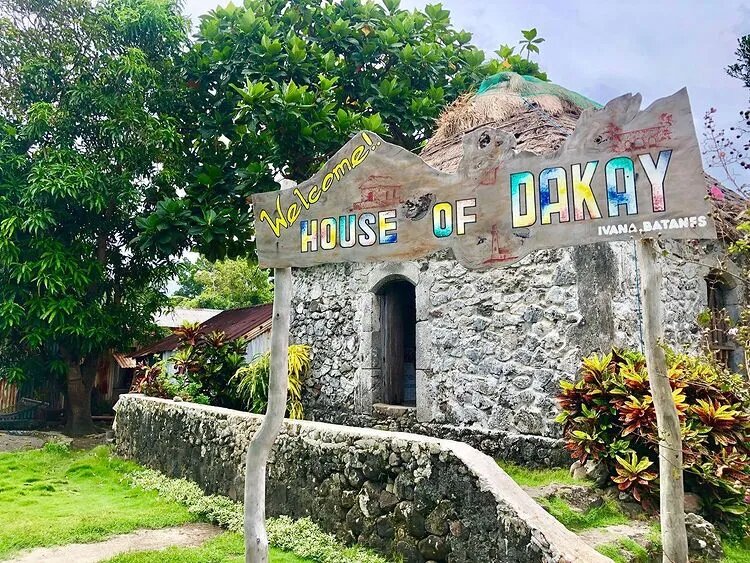 Address: Ivana, Batanes
Contact Details: 0908 770 7802
Entry Fee: Free
How to get there: You have the option to reach the House of Dakay by motorcycle, bicycle, tricycle, or on foot.
If you're in Batan's Ivana, don't miss a visit to the House of Dakay. It's the oldest surviving Ivatan house in Batanes and it proudly withstood the tremors of a powerful earthquake in the early 1900s.
It was commissioned by Luisa Estrella in 1887 and later entrusted to her favorite nephew Jose Dakay Estrella. This "bahay na bato" has a rich history etched into its sturdy walls.
Pro tip:
If you get a chance to meet Lola Ida, the guardian of the house, strike up a conversation. She's a treasure trove of local history and stories – you might learn something that won't be in your travel guide!
13. Connect with the community at Diura Fishing Village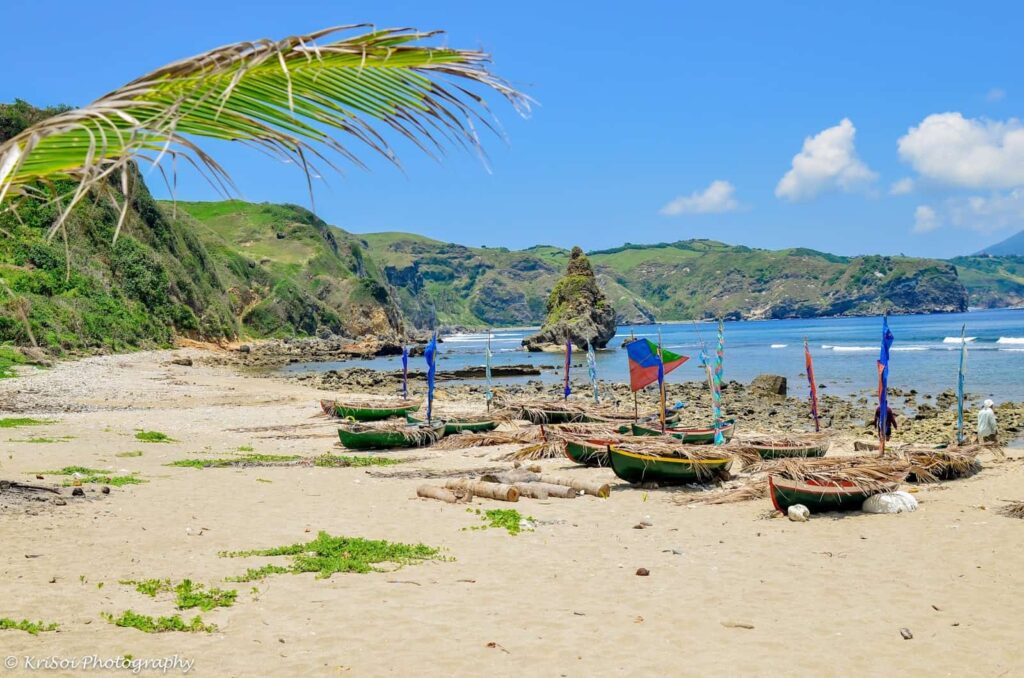 Location: Mahatao, Batanes
Entry Fee: Each traveler needs to pay a Php 50 environmental fee, payable upon registration in Mahatao.
How to get there: You can reach Diura Fishing Village in ten minutes either by taking a tricycle or by participating in a day trip to the village.
If you want an immersive experience in Batanes, pay a visit to the rustic charm of the Diura Fishing Village. It's a refreshing deviation from the usual island activities of swimming and hiking, offering a glimpse into the daily lives of the local fishermen.
It also provides stunning views of Madi Bay, the Pacific Ocean, and the majestic Mount Iraya. If you're up for a short trek, don't miss the Rakuh-a-idi Spring, known as the Spring of Youth, which offers a tranquil natural pool with panoramic views.
Pro tip:
Plan your visit in March or April to witness the kapayvanuvanu, a ritual performed by Diura fishermen. It features a shaman and a pig offering, believed to usher in a prosperous fishing season that extends until May.
14. Experience trust in a cup at the Honesty Coffee Shop
Address: National Rd, Ivana, Batanes
Contact Details: 0908 771 1565
Operating Hours: Monday-Sunday: 9 AM–9 PM
How to get there: You can get to the Honesty Coffee Shop from either Basco Airport or Basco Town Proper by tricycle.
For a unique experience in Batanes, visit the Honesty Coffee Shop, which is owned by retirees Jose and Elena Gabilo. This charming establishment is featured in local films like "You're My Boss," and has been serving travelers since 1995.
Interestingly, it operates on the principle of honesty, and here's how: the shop is unmanned. From 6AM to 6PM, it becomes more of a sari-sari store, providing essential items for travelers—think instant coffee, soda, and local pastries, among others.
Pro tip:
Small bills and loose change are your best friends. It makes paying for your items hassle-free and ensures the honesty system runs smoothly.
15. Check out Tayid Lighthouse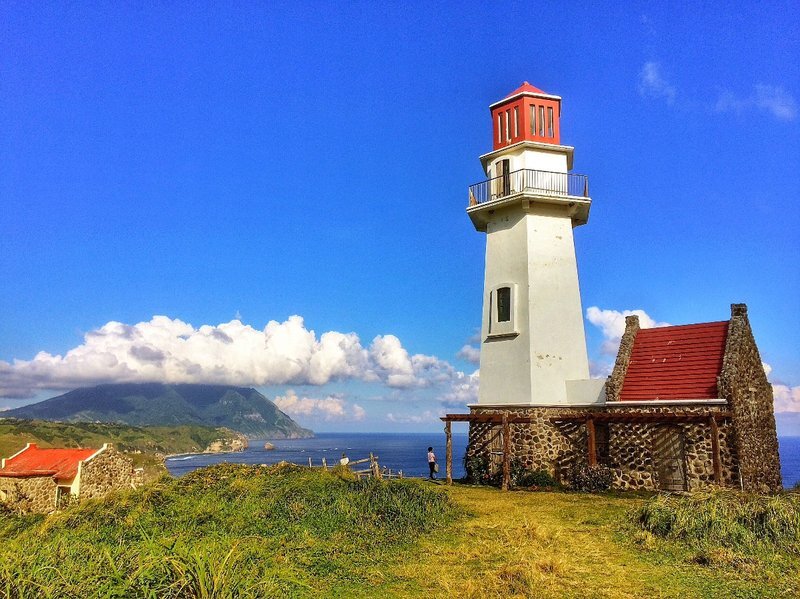 Location: Mahatao, Batan Island, Batanes
Entry Fee: Be aware that registration is required at the Mahatao registration area located next to San Carlos Borromeo Church. A fee of Php 50 per person should be paid here.
How to get there: Take a tricycle or bicycle to reach the lighthouse.
Another captivating lighthouse that is worth the visit in Batanes is the Tayid Lighthouse. This hexagonal tower deck, built in the early 2000s, has become a landmark often mistaken for an 18th-century-old structure.
Its location provides a unique perspective, visible from the Rakuh a Payaman, Diura Fishing Village, and the main viewing point of Marlboro Country. It offers panoramic views of the lush green landscapes, the open ocean, and the imposing Mount Iraya.
Pro tip:
Look out for local artisans or vendors selling handmade crafts near Tayid Lighthouse. Purchasing a small souvenir directly from the creators contributes to the local economy and gives you a piece of Batanes to take home.
16. Wander through the Songsong Ruins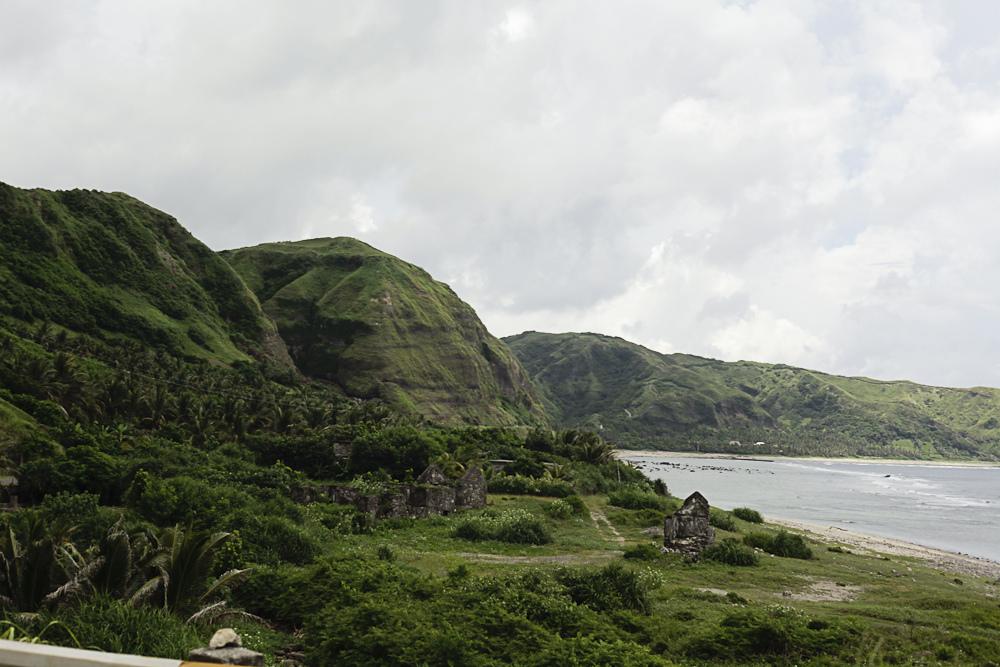 Location: Sitio Songsong, Uyugan, Batanes
Operating Hours: Monday-Sunday: Open 24 hours
How to get there: It is situated 23 kilometers away from Basco and 3 kilometers away from the town. You can opt to take a tricycle to reach this destination.
The quiet beauty of Songsong Ruins offers a unique glimpse into the island's past, making it a must-visit destination in Batanes. Once a thriving village, Songsong fell victim to the tidal wave in the 1950s, forcing its residents to abandon their homes.
Today, the remnants of this tragedy stand as a silent testament to the village's resilience. Some structures have found new life, lovingly restored and occupied by descendants who ensure the preservation of this historical site.
Pro tip:
Respect the historical value of the ruins. Avoid touching or moving any stones, preserving the place for future visitors.
17. Witness magical views at Chamantad-Tinyan Viewpoint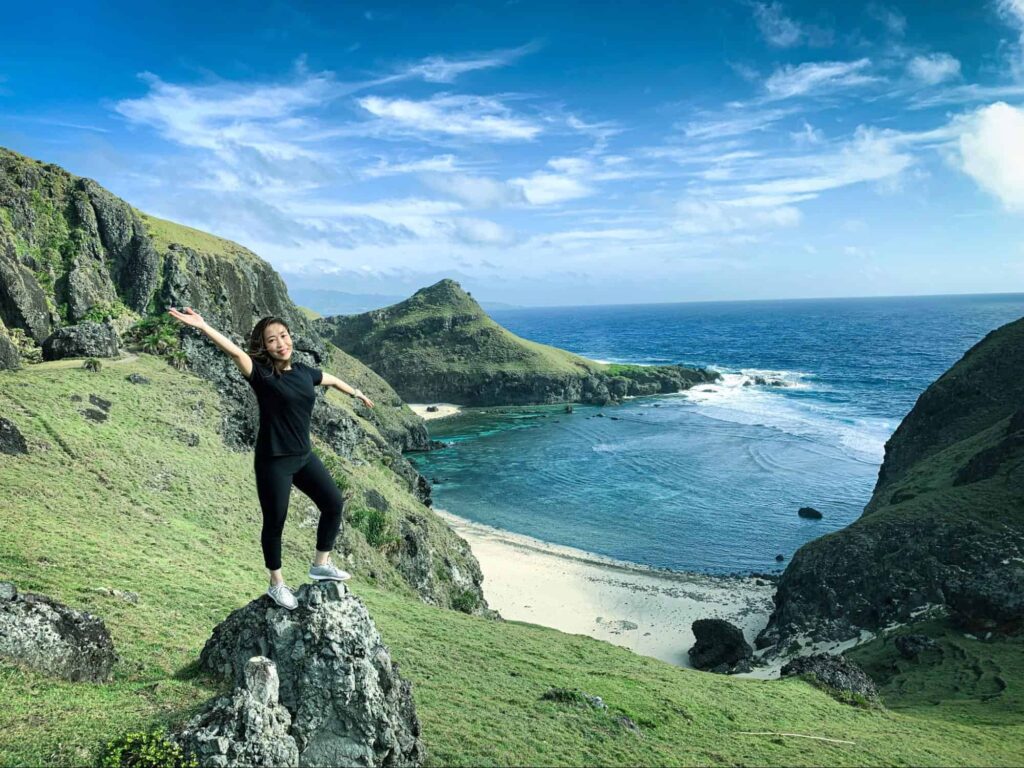 Location: Sabtang Island, Batanes
How to get there: Once in Basco, take a tricycle to Ivana Port, where you can board a faluwa boat heading to Sabtang Island. Upon arrival, hire another tricycle to reach Chamantad-Tiñan Viewpoint.
Get ready to be captivated by the scenic beauty of Chamantad-Tinyan Viewpoint on Sabtang Island, a hidden gem in the Batanes archipelago. As you ascend the highest hilltop, it reveals a seascape with powdery sand and low to mid-sized rocks.
Along the way, you'll encounter idyllic huts showcasing locally-made delicacies, including the Ivatan sugarcane wine and wild tea called tubho. You can also embrace the local culture by interacting with Ivatans donning their traditional clothing.
Pro tip:
Bring a camera with a wide-angle lens to capture the vastness of the landscape. Don't forget spare batteries and memory cards; you'll be tempted to take numerous photos of the picturesque surroundings.
18. Marvel at Batanes' panorama from Chawa View Deck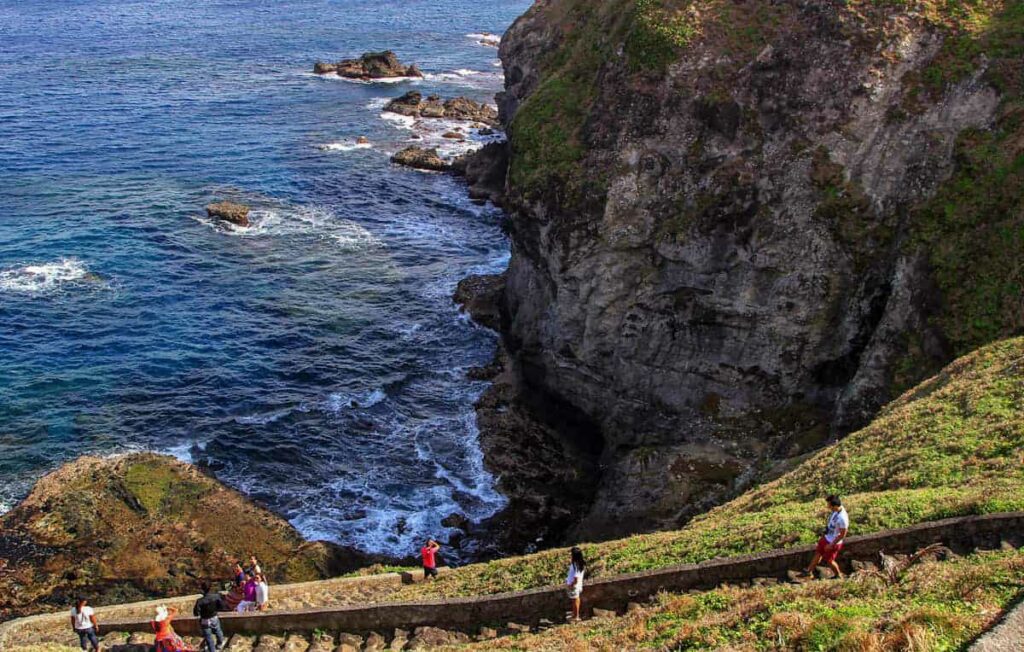 Location: Mahatao, Batanes
How to get there: Hire a tricycle for a tour of South Batan or opt for a private van heading to South Batan.
The Chawa View Deck is perched on the mountainside between Basco and Mahatao in South Batan Island. Renowned for its lofty position, this viewpoint offers an unparalleled panoramic vista of the West Philippine Sea.
The view deck is not just about sightseeing; it also boasts a cave dedicated to the Virgin Mary, providing a space for quiet reflection amid the natural beauty. Another distinctive feature is its winding staircase that leads to the rocky shore.
Pro tip:
The staircase descent to the rocky shore is an adventurous feat, so consider carrying a compact backpack with essentials. It'll make your exploration more enjoyable without unnecessary baggage.