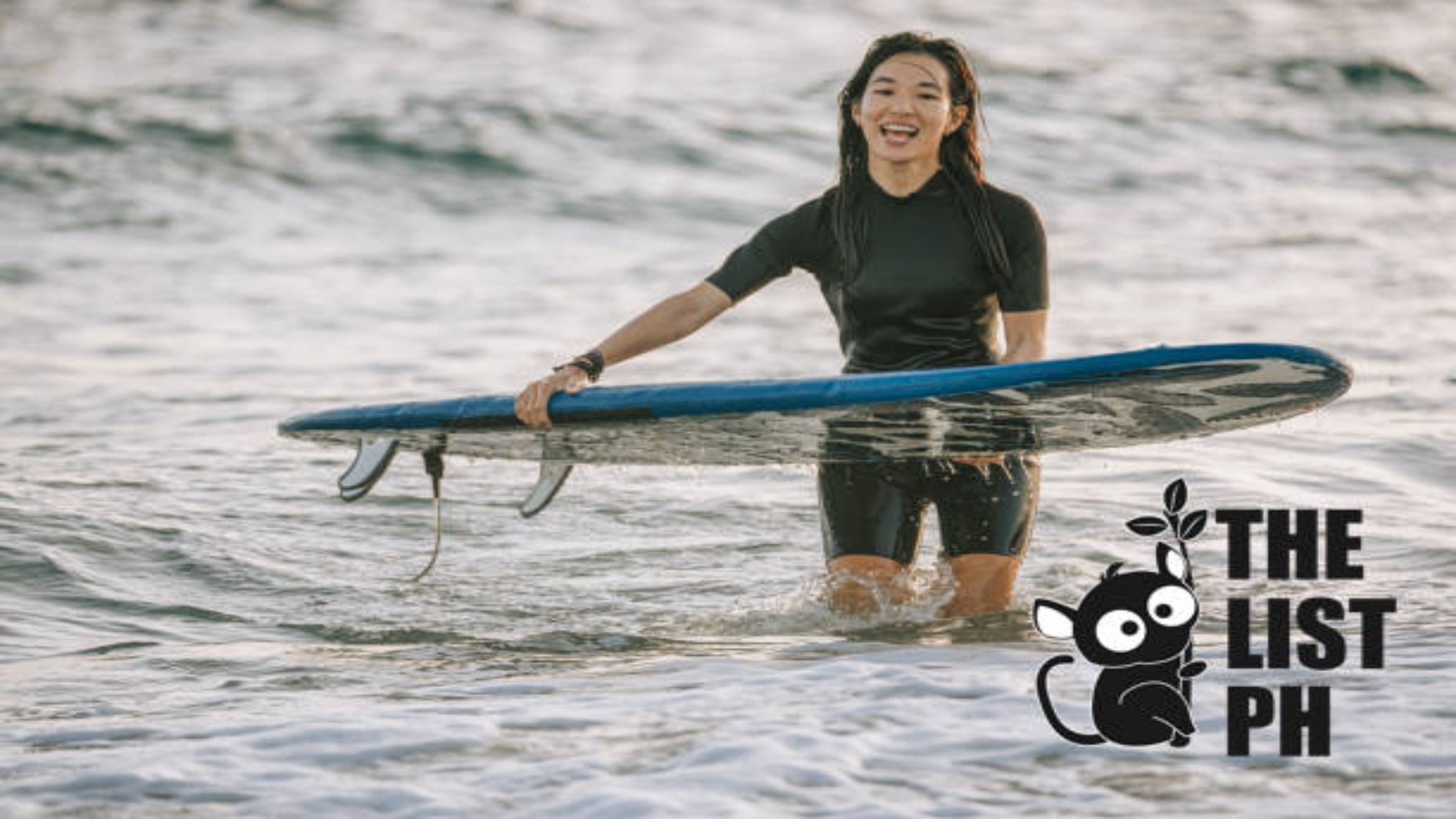 Riding the Wave: The Philippines' Gnarliest Surf Spots
The Philippines is popularly known for its lovely beaches, but people often overlook that it's also home to thrilling surfing spots. The country has a shoreline of 36,000 km and over 7,000 islands, so you'll surely find a scenic paradise to ride some waves in.
With so many islands, it can take time to find places worth surfing at, but don't worry; we've got you covered with this list of the best surfing spots in the Philippines!
1. Cloud 9
Address: R578+F36 Siargao Island, General Luna, Surigao del Norte
Operating hours:
Siargao's Cloud 9 is renowned as one of the world's top surfing spots and offers one of the best surfing experiences in Asia. This southern island in the province of Surigao Norte is a surfer's paradise amid the Philippines' tropical beauty.
The island's powerful reef breaks formed by offshore winds and high tides offer a fun challenge that skilled surfers will enjoy. Newbies can also have some fun, as the island's gentle waves are great for practicing before tackling more challenging spots.
Pro tip:
After a day of surfing, make sure to ask some of the locals about the island's secret lagoons. There are many of them in the area, where you can take a dip in peace. 
2. Baler
Address: Baler, Aurora
Operating hours:
Baler has always been a local hotspot for surfing and family fun, but its popularity grew after the 1979 film Apocalypse Now. This small seaside town is a couple of hours away from Manila, and it's home to several beaches where riding waves is a must-do.
Its proximity to Manila and never-ending waves that peak from July to December make it the perfect weekend getaway. Some of our favorite places to have an exhilarating day maneuvering huge waves are Sabang Beach, Cemento Beach, and Charlie's Point.  
Pro tip:
If you want to avoid huge waves, consider planning your visit to Baler between March and May, when you can enjoy smaller waves that are good for beginners. 
3. Real
Address: Real, Quezon
Operating hours:
Real is a dark-sand beach with excellent surfing opportunities nestled within the serene province of Quezon. While you rarely hear about this beach, any surfer in the know will tell you that this place offers an authentic wave-riding experience for all skill levels.
Just a few hours from Manila, this low-key beach is a surfing haven similar to Baler that sees minimal crowds year-round. As for the waves, Real usually has gentle waves that ensure a smooth and relaxing ride.
Pro tip:
One of the best things about Real is that it's a pet-friendly beach, so don't worry about your furry friends missing out on the fun. 
4. San Juan
Address: San Juan, La Union
Operating hours:
San Juan is a coastal town that has become popular these past few years due to its appealing surfing opportunities.
The town has numerous areas that offer different surfing experiences for various skill levels, such as The Point and The Bowl, which are great for expert surfers, and The Beach Break, which is tailored for beginners.
Pro tip:
If you want a more extreme surfing experience, visit during July. This is when the southwest monsoon begins, so the waves are much stronger during this time of year. 
5. Bacnotan
Address: Bacnotan, La Union
Operating hours:
If you find the crowds in San Juan to be too much for your liking, head to Bacnotan. Just around 20 minutes away, this neighboring town is another surfing hotspot known for its lovely sunsets and beautiful shoreline.
Bacnotan shares a similar vibe with San Juan but stands out as a more low-key destination, offering longer wave-riding experiences on sandy breaks. Much like San Juan, the best time to visit the area is in October.
Pro tip:
A popular surfing spot in the area is the sea in front of Holcim Cement Factory, where the waves are ideal for leisurely long rides on your surfboard
6. Baras
Address: Baras, Catanduanes
Operating hours:
Baras is an excellent option for beginners and experienced surfers since the municipality's beaches provide gentle waves in February and mighty right-hand reef breaks from July to October.
One of Baras' most famous surfing spots is Puraran, where you can enjoy the luxury of consistent barreling waves known as "The Majestic." The annual Puraran Surfing Cup also happens here, as surfers show their best skills during the Catandungan Festival.
Pro tip:
Visit the Balakay Puraran viewpoint, which is 15 minutes away from Puraran Beach. This place offers a majestic view of the Puraran Cove and its natural beauty.  
7. Guiuan
Address: Guiuan, Eastern Samar
Operating hours:
Guiuan is a coastal town in the province of Eastern Samar, where you'll find an abundance of white-sandy beaches, crystal-clear waters, and lots of amazing surfing spots that flow with barreling waves.
The town is a great place to practice for those new to surfing since it's known for having gentle waves about two to three feet high. Meanwhile, experienced surfers looking for a challenge can take on giant waves brought in by the monsoons from June to November.
Pro tip:
Guiuan's waters are shallow and have tons of rocks under the water that can sometimes lead to cuts and injuries, so always bring some band-aids or a first-aid kit just in case you have a nasty wipeout. 
8. Calicoan Island
Address: Calicoan Island, Guiuan
Operating hours:
Another awesome spot to go surfing is Calicoan Island, located right beside Guiuan! This picturesque island boasts powerful wave swells and exposed reef breaks coming from the Pacific Ocean, making it attractive to surfers around the country.
Calicoan is where national surfing competitions usually occur, so expect many tourists searching for the best surfing experiences. The surfing season on the island spans from November to March, while extreme waves show up around September to October.
Pro tip:
While you're at Calicoan Island, visit the Linao Cave & Lagoon. This incredible lagoon looks like it came out of a movie with its scenic atmosphere and crystal-clear blue waters. 
9. Lanuza Bay
Address: Lanuza Bay, Surigao del Sur
Operating hours:
For surfers seeking exhilarating rides on the waves, Lanuza Bay is a must-visit. Located in Surigao del Sur, this surfing spot is loved by intermediate and expert-level surfers in search of a challenging experience.
The bay offers a variety of breaks, such as challenging reef breaks, smooth beach breaks, and exciting point breaks. Aside from that, the bay is known for its long right-hand waves, which make it great for longboarders and advanced surfers.
Pro tip:
To maximize your surfing experience here, we suggest visiting in November when the Lanuza Surfing Festival takes place.
10. Bagasbas Beach
Address: Bagasbas Beach, Daet
Operating hours:
Bagasbas Beach in Daet is a prime getaway for surfing adventures in the province of Camarines Norte. Its expansive shoreline and consistently strong waves that flow year-round make it a go-to for surfers of all skill levels.
Although the waves at Bagasbas Beach are strong, its sandy shores make it a good place for newbies to practice beach breaks. Waves here range from three to six feet but occasionally reach eight feet, providing an adrenaline-filled ride for experienced surfers.
Pro tip:
The great thing about Bagasbas Beach is that the town of Daet sees few tourists, so expect to have the lovely beach all to yourself.
11. San Narciso
Address: San Narciso, Zambales
Operating hours:
San Narciso is hard to beat when it comes to surfing destinations that are perfect for a day trip. Just 3 hours away from Manila, this place is one of the best to ride the waves in Zambales, and it's easy to "sea" why.
Crystal Beach Resort is one of the most popular surfing spots in the area. Its consistent stream of curling waves provides experienced riders with a leisurely surf while also being an excellent learning ground for newbies. 
Pro tip:
While you're at Crystal Beach Resort has a restaurant that serves all kinds of food if you get hungry, such as roast beef, chopsuey, buttered fried chicken, and more. 
12. Pundaquit Beach
Address: Pundaquit Beach, San Antonio, Zambales.
Operating hours:
Located in San Antonio, Zambales, Pundaquit Beach is fast becoming one of the province's surfing hot spots! It's primarily known for its calm waves and modest beach scene, unlike beaches in San Narciso and San Felipe, where the swells are stronger.
The beach was once a venue for Stonemney's seminars, which led to the locals embracing the art of surfing on the waves and swells along the nearby shores. Surfing has become so common in Pundaquit that you'll find rentals everywhere. 
Pro tip:
Make sure to visit Pundaquit Falls, which you can find southward towards the Pundaquit River. It's home to several small but mesmerizing pools of water that you can relax in. 
13. San Felipe
Address: San Felipe, Zambales
Operating hours:
For those looking for a more tourist-friendly place to surf in Zambales, San Felipe is a great option. Not only is it close to San Antonio and San Narciso, but it's also filled with kubo-styled houses that you can rent without breaking the bank!
There are several beaches in San Felipe, but we recommend visiting Liwliwa Beach. Liwliwa was a quiet fishing village until it became a renowned surfing destination because of its waves, which are suitable for hours of surfing.
Pro tip:
If you're looking for a silly but thrilling activity to pass the time, we suggest riding a banana boat on Liwalia Beach! Recently, there have been tons of these inflatable banana boats that pull you across the water at high speeds. 
14. Mati
Address: Mati, Davao Oriental
Operating hours:
Mati is a municipality famed for its lovely beaches, decent waves, and diverse marine life featuring dugongs and sea turtles. The peak wave season unfolds from September to March, reaching extreme heights in December.
Moreover, the beach is home to an enthusiastic surfing and skimboarding community known as the Amihan Surf and Skim Team!
Pro tip:
Dahican Beach boasts waves that surge ten feet high, so we advise you to hone your skills before taking on these challenging waves.
15. Nagtabon Beach
Address: Nagtabon Beach, Puerto Princesa, Palawan
Operating hours:
Nagtabon Beach is just 40 minutes away from Puerto Princesa, and it's a relatively new surfing spot that has quickly gained popularity among locals and international tourists.
The beach comes alive from October to March, when swells transform it into a surfing haven that draws surfing enthusiasts from around the globe. It's a place where surfers happily ride the waves and soak up the vibrant energy of the beach!
Pro tip:
One thing you don't want to miss is watching the beautiful sunset on Nagtabon Beach. The Beach offers a picturesque sight of the sun's orange rays reflecting off the sea's blue waters – which looks like something straight out of a movie scene. 
16. Pagudpud
Address: Pagudpud, Ilocos Norte
Operating hours:
Pagudpud is a municipality in Luzon that is well-loved by many surfers for its abundance of left-hand waves from July to September. While primarily known for its beach scene, Pagudpud is also an ideal destination for anyone interested in longboarding and surfing.
You'll experience a mix of speedy and hollow waves breaking on reefs, which is also suitable for people of all skill levels. Also, most of the surfing spots in the area are empty despite its famed beaches – making it a great place to shoot some highlights. 
Pro tip:
One place you need to visit for Instagramable pictures is Burayoc Point. It's a picturesque spot that's great for photos because you can snap a shot with the lovely waves of Saud Beach and the Bangui Windmills in the background. 
17. Gubat
Address: Gubat, Sorsogon
Operating hours:
Gubat is a surfing destination that has recently gained popularity for its serene atmosphere and surf-friendly currents. The province isn't the most developed location, but its expansive white beaches attract locals and visitors from around the country.
Buenavista Beach is one of the beaches in the province we recommend visiting if you're looking for consistent barrel waves and sandy breaks. For the best surfing experience, plan your visit between October and March because this is when the waves peak! 
Pro tip:
We recommend tasting some delicious local delicacies that can only be found in Gubat. The municipality has many dishes, but their pawik (spanner crab) and cupapa (slipper lobster) are worth trying. 
18. El Nido
Address: El Nido, Palawan
Operating hours:
Duli Beach is our favorite surfing spot in El Nido, as it offers a lovely atmosphere and swells suitable for surfers of all skill levels. This low-key beach is an escape from bustling tourist crowds, making it an ideal place to savor the joys of surfing!
The beach averages seven months of surf-worthy waves each year, and the surfing season typically lasts from November to April. What we love about Duli Beach is its sandy slopes, which create nice beach breaks that offer an enjoyable riding experience.
Pro tip:
If you want to rent a surfboard, you'll find many options at Duli Beach Resort, which offers 8-foot foam longboards suitable for beginners. They also have an extensive collection of both short and longboards in various sizes for more skilled surfers.
19. Cabangan
Address: Cabangan, Zambales
Operating hours:
Cabangan is among the least-known surfing spots in the country, and it's also one of the best-kept secrets of Zambales. With strong waves and an abundance of beautiful greenery surrounding the beach, it's one of our top spots for watery fun.
This sandy beach is one of the many lahar beaches around Zambales, where you'll find fishermen riding the waves when they're not busy. Also, Cabangan's steep slopes make it perfect for practicing beach breaks all day long. 
Pro tip:
If you're looking for the freshest fish, we recommend waking up early and strolling along the beach. On some mornings, local fishermen haul in a giant net filled with all types of fish, which you can buy right as they are brought to shore.