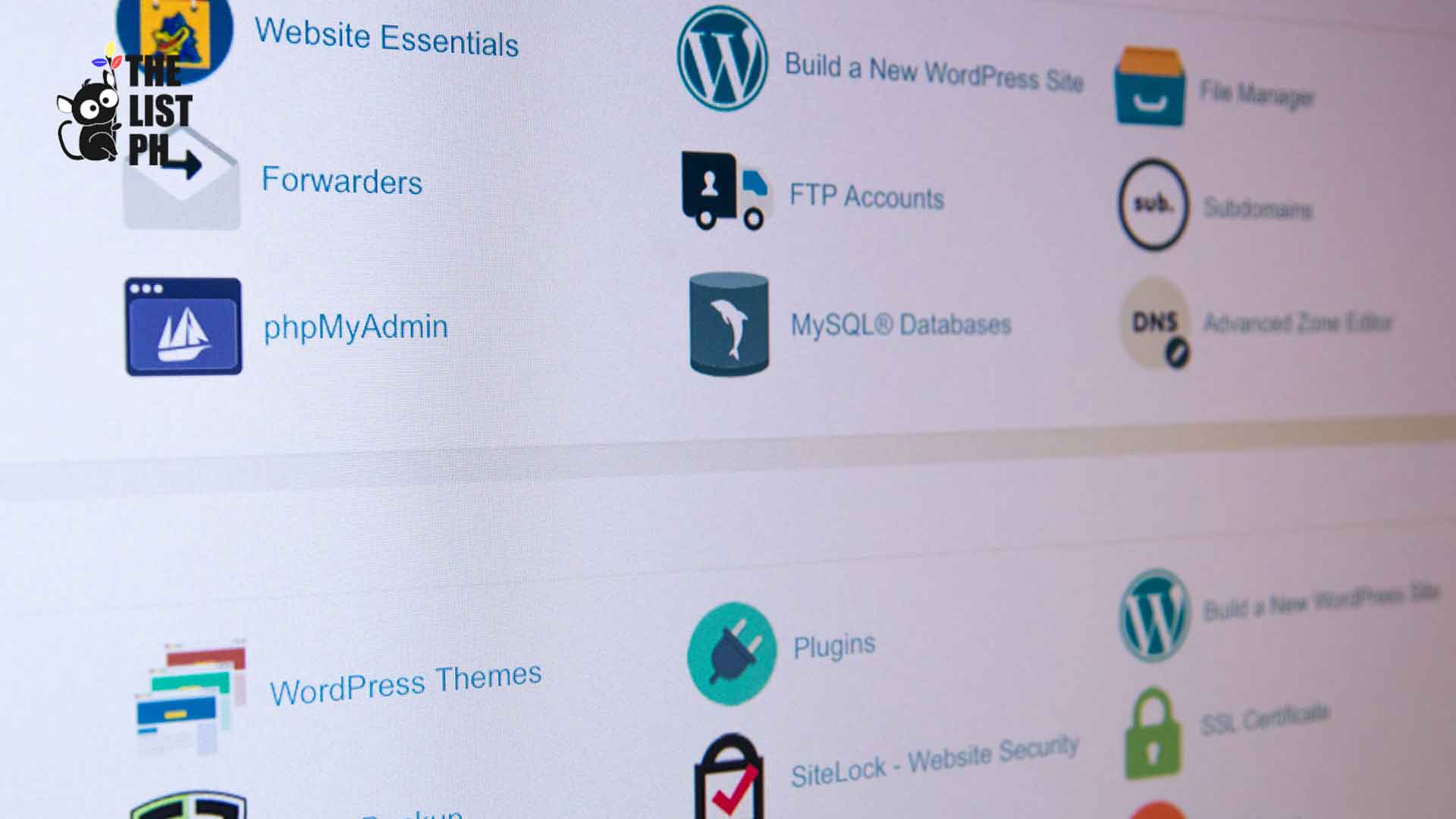 5 Best Web Hosting Sites in the Philippines
1. Bluehost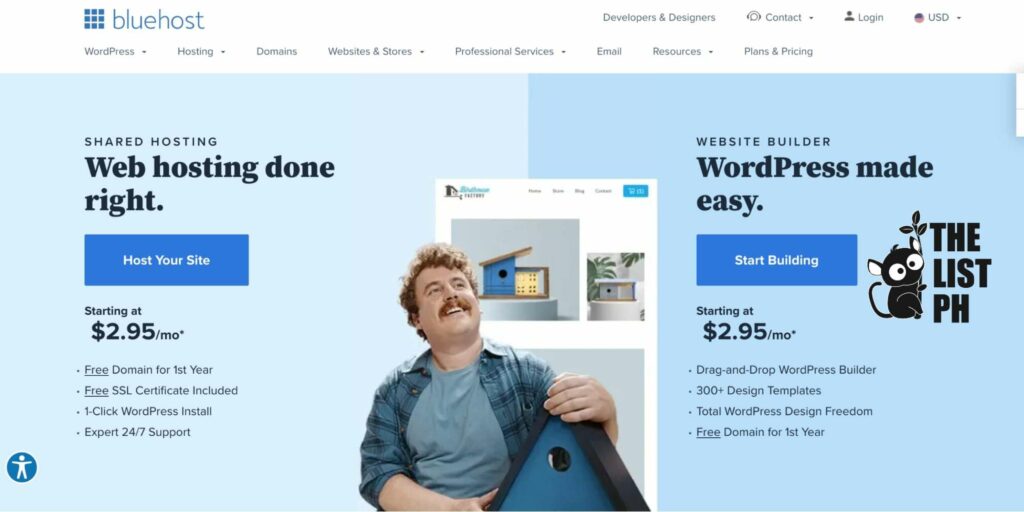 Website: https://www.bluehost.com/
Operating Hours: 24/7
Starting Price: $2.95 for the first month
| | |
| --- | --- |
| WPBeginner reviews | 4.9/5 |
| Trustpilot reviews | 4.1/5 |
| Total reviews | 4.5/5 |
| Score consistency | 4/5 |
| | |
| --- | --- |
| Price | 4.5/5 |
| Features | 4.5/5 |
| Security | 4.5/5 |
| Customer support | 5/5 |
Dependable server uptime
Hassle-free WordPress integration
Beginner-friendly pricing
Hidden charges and expensive renewal prices
Less storage
Bluehost is a Utah-based web hosting company that powers over 2 million sites worldwide. They are one of the pioneers in the industry as they have been established way back 2003, giving them plenty of experience that helps customers build their websites.
Uptime is a critical feature when it comes to web hosting. If your website is down, users won't have access to it, which is bad for business.
That said, we were impressed with Bluehost's uptime which is around 99.99% – almost perfect!
The most impressive feature for us here is easy WordPress integration. All you have to do is sign up for an account and Bluehost will do all the work for you.
The pricing for BlueHost is very reasonable, with their cheapest plan starting at $2.99/month. We're glad to know that Bluehost also offers a 30-day money back guarantee.
Despite having cheap starter plans, you might want to keep an eye out on the sneaky additional costs that they apparently add before you can check out. You can always uncheck them before paying for the plan.
Many users were also reportedly shocked with how much the renewal plan costs, which is more than double the starter rate. Renewing your plan will set you back $7.99/month after the first month while renewing dedicated hosting plans start at $79.99/month, which is pretty steep.
Comparing its storage space to its competitors, Bluehost has very limited storage for their basic plan. You can expand the storage, of course; but it also means paying extra for it.
On a brighter note, Bluehost has great customer service feedback from their users. They offer 24/7 chat support, which makes them accessible to their clients at any time of the day.
2. HostGator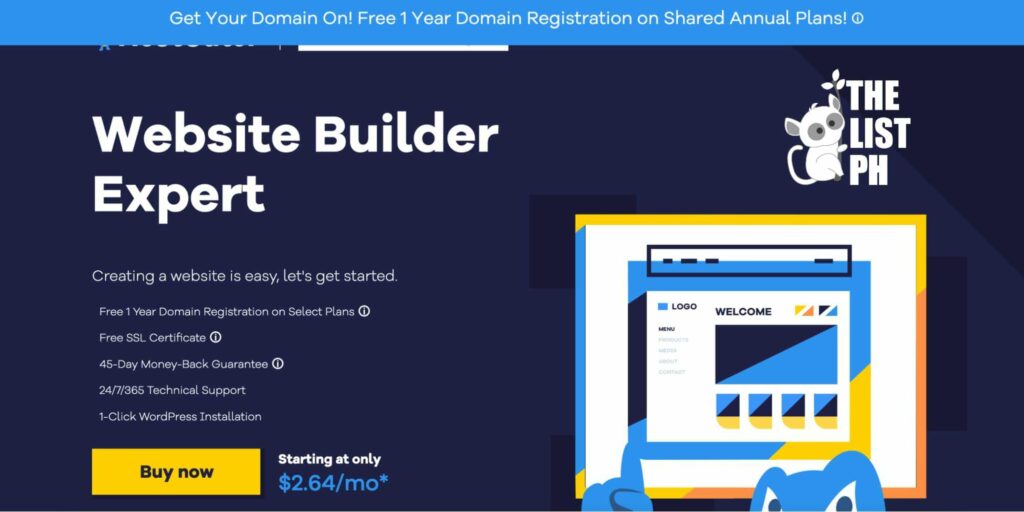 Website: https://www.hostgator.com/
Operating Hours: 24/7
Starting Price: $2.75 for the first month
| | |
| --- | --- |
| Hosting Advice reviews | 4.5/5 |
| WPBeginner reviews | 4.9/5 |
| Total reviews | 4.7/5 |
| Score consistency | 4.5/5 |
| | |
| --- | --- |
| Price | 4.5/5 |
| Features | 4.5/5 |
| Security | 5/5 |
| Customer support | 5/5 |
Uptime guarantee of 99.99%
Free SSL certificate
Free email marketing software
A bit more expensive compared to other hosting sites
Inconsistent customer service
HostGator has a humble beginning as it was planned in a dorm room in Florida Atlantic University back in 2022, hence the name. It is one of the top ranked web hosting sites with over 2.5 million websites worldwide.
Similar to Bluehost, HostGator has also a high uptime guarantee of 99.99%. It means that the website will experience less than an hour of downtime per year, which is amazing.
We lke that they offer a free SSL certificate which authenticates a website's identity for security measures and allows an encrypted connection. HostGator also offers SiteLock, which will run on the daily to monitor any potential site breaches or hacks, and notify you instantly.
They offer different types of hosting, the cheapest of which starts at $2.75/month. The most expensive service is recommended for large ecommerce businesses, starting at $89.98/month.
You can upgrade your addons but take note that they can be quite expensive. Some users noted that they had to pay an additional $10 per GB a month for additional RAM.
HostGator's best edge among other hosting websites is their free email marketing management called Constant Contact. It allows you to send out newsletters and create email automations.
We hope that HostGator's customer service improves to be more consistent with handling customer problems. There were instances where the agent reportedly just stayed silent until a customer had to hang up.
3. InMotion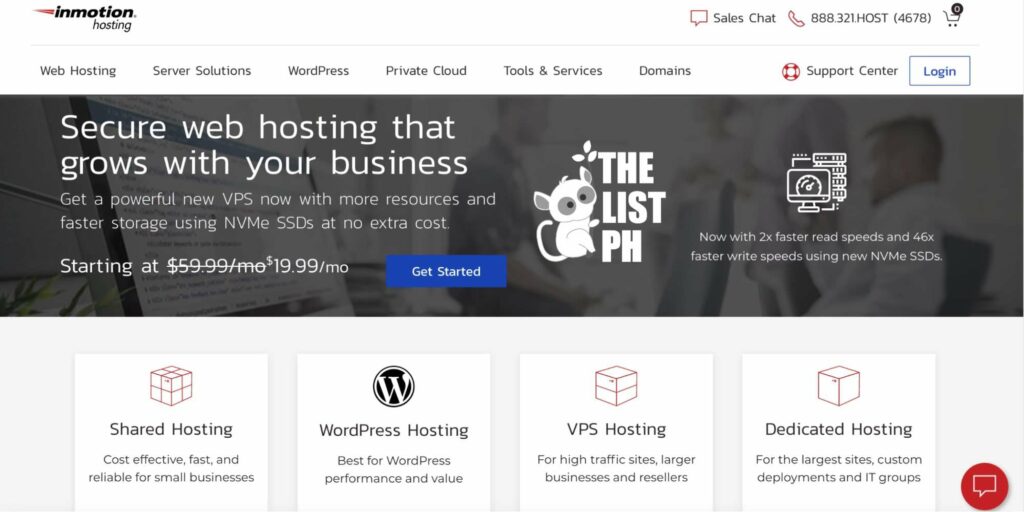 Website: https://www.inmotionhosting.com/
Operating Hours: 24/7
Starting Price: $2.29 for the first month
| | |
| --- | --- |
| Website Planet reviews | 4.5/5 |
| WPBeginner reviews | 4.8/5 |
| Total reviews | 4.65/5 |
| Score consistency | 4.5/5 |
| | |
| --- | --- |
| Price | 4.5/5 |
| Features | 4.5/5 |
| Security | 4.5/5 |
| Customer support | 5/5 |
Unlimited disk space
Free SSL
Highly trained employees
No data servers in Asia
Subpar checkout process
InMotion has quite an impressive resume for a smaller web hosting company. Through the years, they have received awards from Digital.com as Best Hosting Provider; and, for two consecutive years, won Web Hosting Cat's Best Web Hosting Award.
Compared to the first two on our list, InMotion has a longer downtime at less than three hours of downtime a year. We think that this is not bad, though, especially considering features and pricing.
InMotion prides itself in its server speed. They have two U.S.-based data servers which are located in Los Angeles and Virginia.
We hope, though, that they would also consider adding data servers in Asia in order to have speedier websites.
Many users tried the Website Speed Checker by Bitcatcha and were blown away by InMotion's speed. The average result is around 171.9 ms for most websites and InMotion was able to score 2 ms in the United States area.
InMotion's Shared Business Hosting plan already includes unlimited disk space and bandwidth. Having unlimited bandwidth is pretty common but disk space is rare when it comes to basic plans, which earns them top marks from us.
We can say that InMotion is pretty secure because they offer a free SSL certificate with any plans. It helps secure customer information and online transactions on the website.
It is impressive to learn that their customer service team undergoes a minimum of 160 hours of training to expand their knowledge on operating systems, web hosting and more. No wonder their customers talk highly about their team.
We hope,though, that InMotion improves their checkout process. Users find it annoying that there is no clear indication on what to do or where to click, with some even mentioning issues completing their purchases.
4. A2 Hosting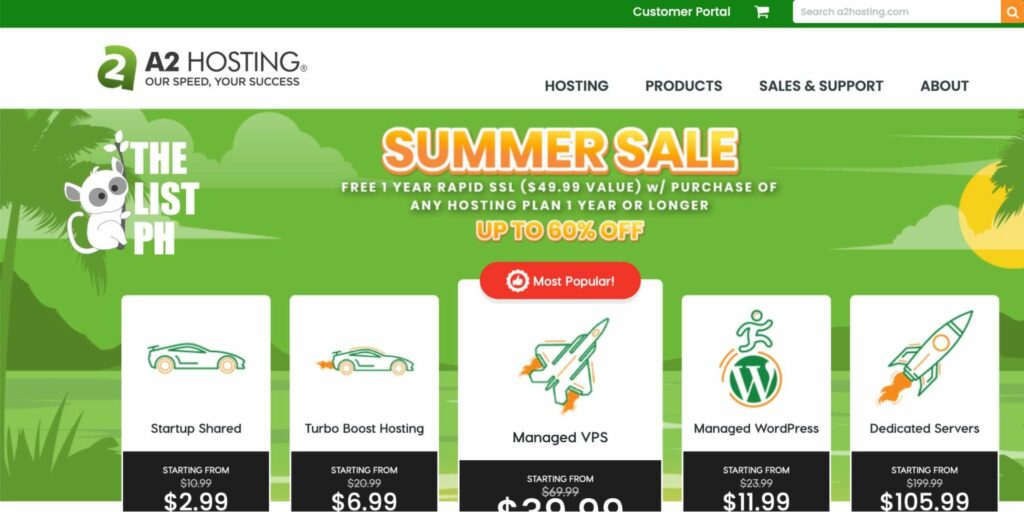 Website: https://www.a2hosting.com/
Operating Hours: 24/7
Starting Price: $2.99 for the first month
| | |
| --- | --- |
| Trust Pilot reviews | 4.5/5 |
| Forbes reviews | 4.2/5 |
| Total reviews | 4.35/5 |
| Score consistency | 4.5/5 |
| | |
| --- | --- |
| Price | 3.5/5 |
| Features | 3.5/5 |
| Security | 4.5/5 |
| Customer support | 4.5/5 |
Great content management system
Responsive customer service
Free cPanel control panel and SSL certificate
Not-so-competitive uptime
Slow sign-up process
A2 Hosting is an independently owned company in Ann Arbor, Michigan. After years and years in the industry, they have gathered several awards such as Host Advice's Users' Top Choice, Excellent Service and Editor's Choice just to name a few.
What sets A2 Hosting apart from their competitors is their anytime money-back guarantee. For the first thirty days, you will be able to get a full refund if you did not enjoy their service.
We were impressed with A2 Hosting's content management system (CMS) because they are able to work seamlessly with different integrations like WordPress, OpenCart, Drupal, Joomla, or Magento with just a few clicks – all without a developer's help.
Just like the other website hosting platforms on our list, A2 Hosting provides a free SSL certificate for all their plans, which makes your website secure.
One of the most popular control panels in the United States is the cPanel, which you can get with A2 Hosting's monthly plans. It allows you to simplify the website and have access to the server manager.
A2 Hosting also takes pride in their "Guru Team", who man their support channel. We were happy to know that non-users can now use their live chat feature because it helps them decide whether or not they would want to avail their service.
Although the website claims to have 99.99% uptime, many users testified that their website is not that speedy, compelling them to pay an additional fee to enjoy Turbo Speed.
And while reasonably-priced, we think you will eventually outgrow their basic plan which is the cheapest one they have because its features are so limited.
One of the biggest aches of their users is the slow sign-up process. We hope that they improve this aspect so many people would be encouraged to use the service.
5. SiteGround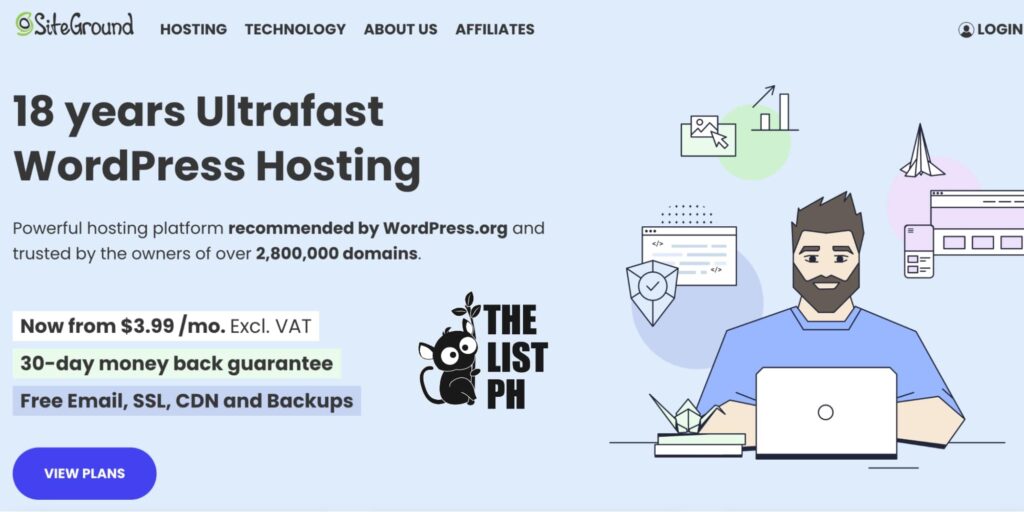 Website: https://www.siteground.com/
Operating Hours: 24/7
Starting Price: $3.99 for the first month
| | |
| --- | --- |
| Tool Tester reviews | 4.6/5 |
| Trust Pilot reviews | 4.6/5 |
| Total reviews | 4.6/5 |
| Score consistency | 5/5 |
| | |
| --- | --- |
| Price | 3.5/5 |
| Features | 4/5 |
| Security | 4.5/5 |
| Customer support | 5/5 |
Excellent uptime
Impressive customer service
Allows collaborators
Best basic plan
Hefty pricing
Limited database size
SiteGround is home to more than 2.8 million domains all over the world. They have been recognized twice by the Stevie® Awards, one of the most prestigious international business awards – bringing home the People's Choice vote and the Silver award.
We were very impressed with SiteGround's uptime, which is 99.98%. It means that for a year, the downtime of the website would only total less than two hours.
If you are looking for a WordPress-focused web hosting site, SiteGround offers WordPress integration for all their plans. They also offer free website transfers if you're coming from a different site, with an agent conveniently facilitating it for you.

StartUp has the most impressive basic plan among the ones in the market. Not only does it offer 10 GB of disk space, you can also have free email accounts and enjoy cPanel hosting.
They also offer free Let's Encrypt certificates for all the plans, which protects your website from encryption. With just a few clicks, you can easily install it.
We were pleasantly surprised to know that they allow collaborators for the website. This would be a great feature if you happen to have a team – there is no need to share an account, as you're essentially paying for one account that can be enjoyed by many.
Although, we were surprised by how pricey the plan is after your first month, which goes up to $19.99/month. We recommend that you purchase your own domain name since SiteGround's prices are steep.
Each SiteGround plan comes with only 1 GB of database which may cause a problem with larger sites. You don't have to worry about this if you're just starting out, though.
If you are willing to look past the hefty price tag, SiteGround is overall a great web hosting platform.
FAQs about Best Web Hosting