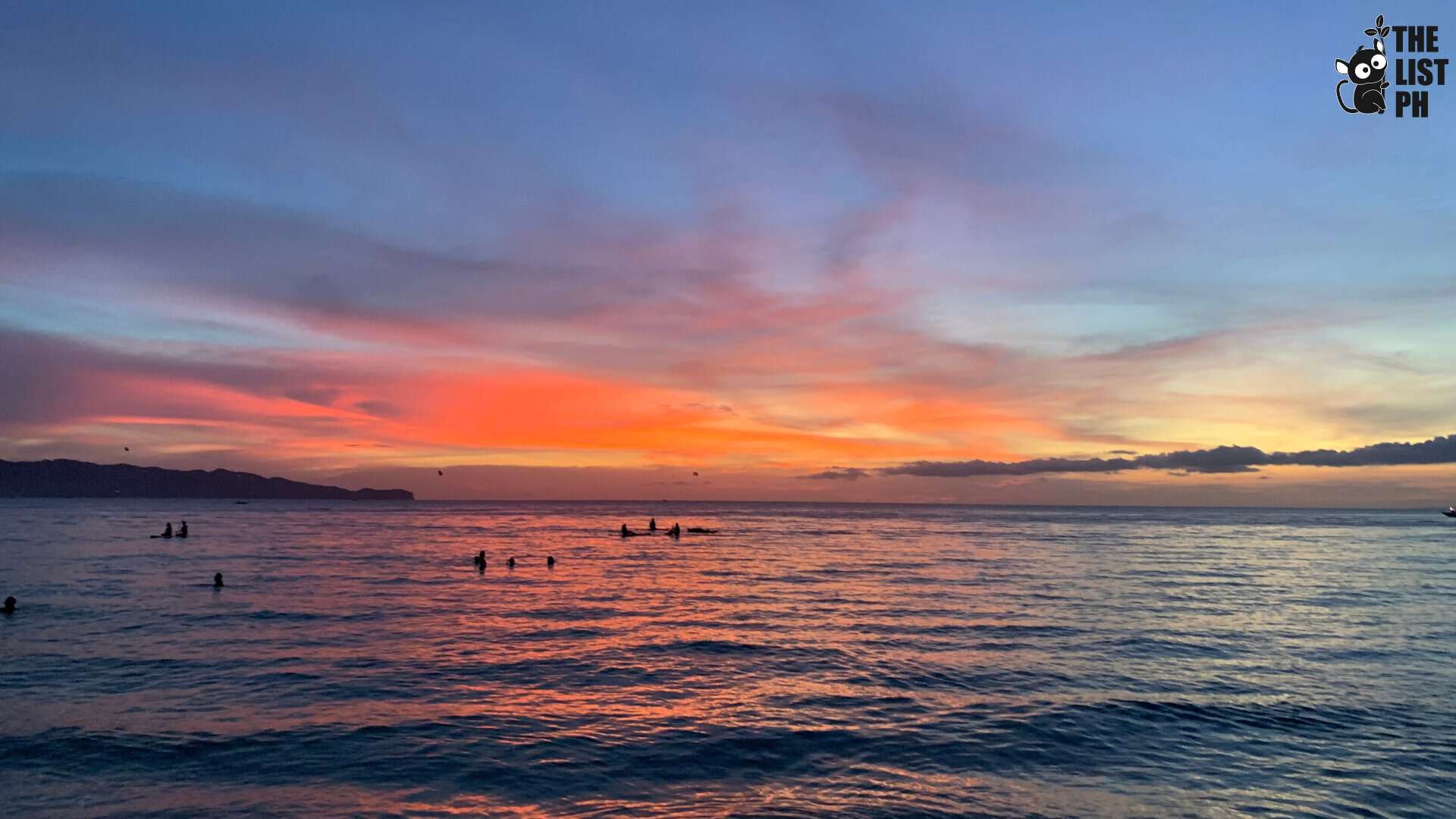 10 Famous Attractions In Visayas
Visayas is famous for its stunning beaches, crystal-clear waters, and vibrant marine life, making it a popular destination for beach lovers and water sports enthusiasts.
Here are some of the most popular places and attractions in Visayas!
1. Boracay Island (Aklan)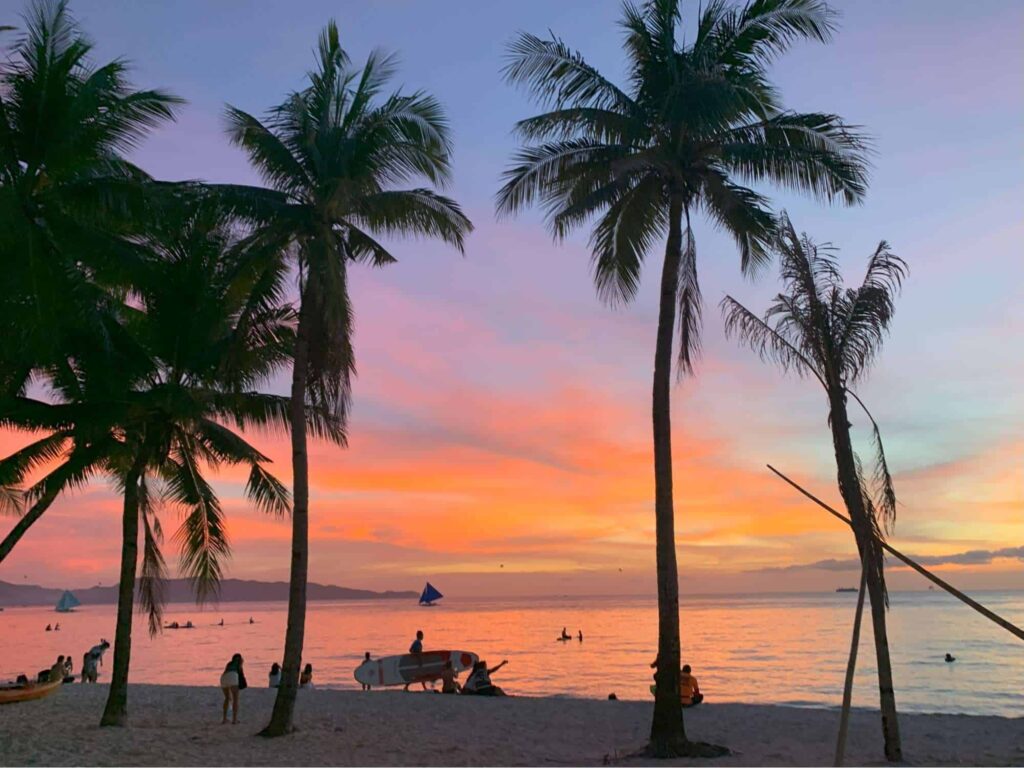 Boracay Island is the most popular tourist destination in Visayas, attracting celebrities and tourists alike. It has captured the hearts of many with its renowned white sand beaches, beautiful sunsets, and vibrant nightlife.
It offers a perfect blend of natural beauty and a lively atmosphere, making it a must-visit destination for travelers seeking a memorable beach getaway. Check out our previous article, Top Things To Do in Boracay, for the ultimate itinerary.
Pro Tip:
Make the most of your Boracay experience by catching the enchanting golden hour or sunset, typically occurring between 5 PM to 7 PM.
2. Cambugahay Falls (Siquijor)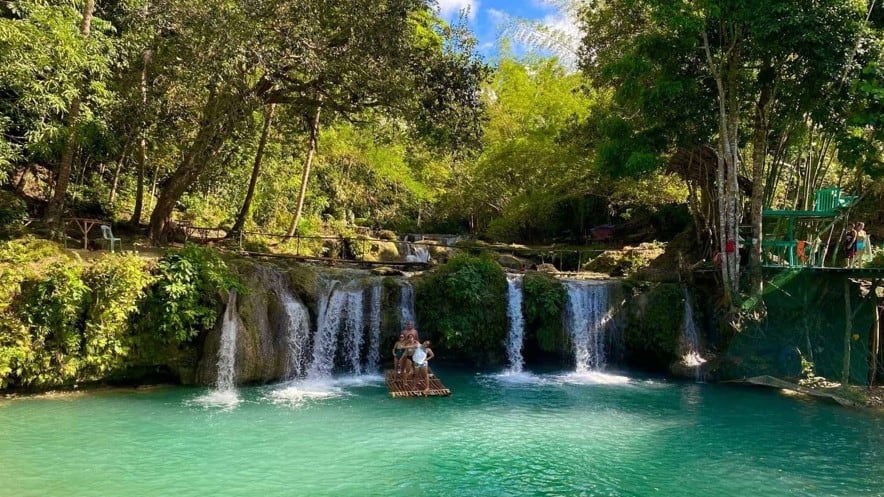 Operating Hours: Monday to Sunday – 7 AM to 5:30 PM
Price:
Entrance – P20
Parking – P10
Swing Rope – P50 (unlimited)
Bamboo Raft Rental – P50
Cambugahay Falls is famous for its stunning tiered cascades, crystal-clear blue waters, and serene rainforest surroundings. Visitors enjoy the opportunity to swing like Tarzan on ropes and take refreshing jumps from the falls.
The best time to visit Cambugahay Falls is during the dry season, which lasts from April to November. Rainy days can turn its crystal-clear blue water muddy and brown.
Pro Tip:
Maximize your Siquijor exploration by renting a motorbike at the port. It's convenient and affordable, typically priced at P250 to P350 for a 24-hour rental.
3. Kansalakan Enchanted River (Guihulngan)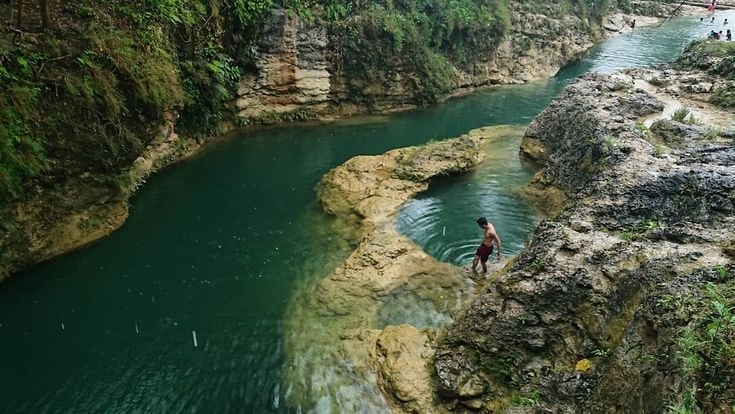 Kansalakan Enchanted River is a stunning natural wonder, boasting a clear, deep river with small cascades and circular holes, adorned by its captivating jade green color that contrasts beautifully with the lush greenery around it.
A favorite spot for both locals and tourists, the river offers opportunities for swimming, cliff jumping, and serene relaxation. "The Eye," a naturally formed circular pool near the roadside cliff jumping spot, adds to Kansalakan Enchanted River's allure.
Pro Tip:
Charter a motorbike for P300 per person at Guihulngan Public Market. It will take you to the Kansalakan Enchanted River and Hinakpan Mystical Hills, which are picturesque mounds reminiscent of Bohol's famous Chocolate Hills.
4. Langun-Gobingob Cave (Samar)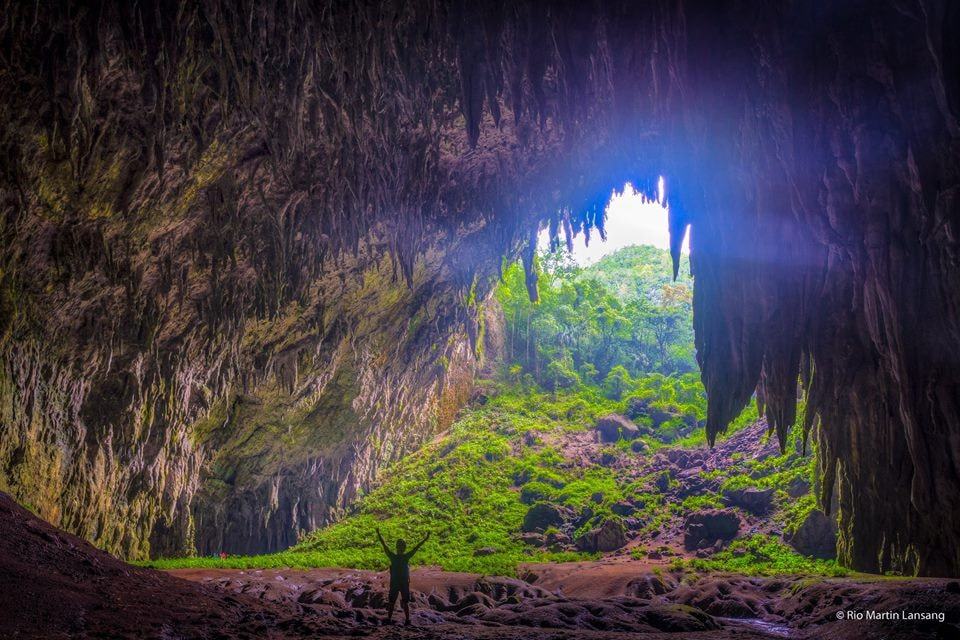 Langun-Gobingob Cave is the Philippines' most extensive cave system and the second-largest in Asia. It has historical significance because it was once home to early humans, as evidenced by ancient paintings and artifacts.
Because of its stunning stalactites and stalagmites, Langun-Gobingob Cave has become a popular destination for spelunking and cave exploration enthusiasts.
Pro Tip:
The best time to visit this cave is during the summer, from April to May.
5. Kawasan Falls (Cebu)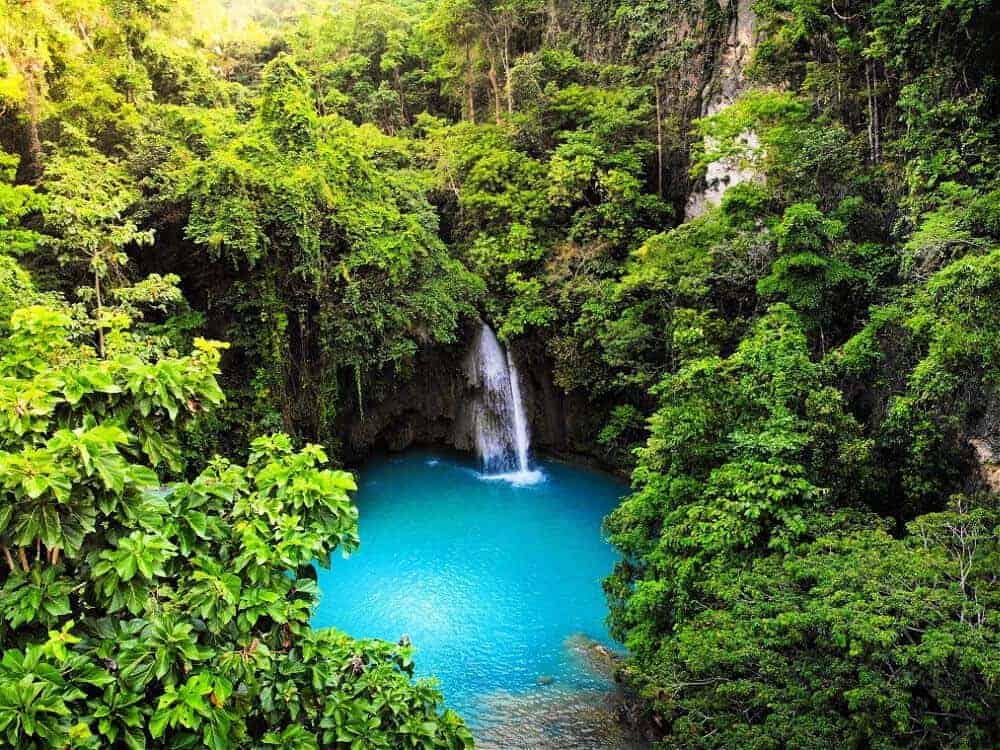 Operating Hours:
Monday to Sunday – 8 AM to 6 PM
Price:
Entrance – P45
Parking – P50
Canyoneering Tour – P1500
INCLUSION: Gears and a professional tour guide.
Kawasan Falls is a popular tourist destination in Cebu because of its stunning turquoise water, which is caused by limestone rocks that release calcium carbonate. It is a popular destination for swimming, cliff jumping, and canyoneering.
In addition to the thrilling adventures, the area offers various hiking trails that provide breathtaking views of the falls, making it a must-visit destination for nature enthusiasts.
Pro Tip:
Rent a scooter for just P250 or a tricycle in Moalboal to reach Kawasan Falls directly without the need for a tour or canyoneering. This way, you can explore the falls at your own pace and enjoy the scenic journey to the fullest.
6. Islas de Gigantes (Iloilo)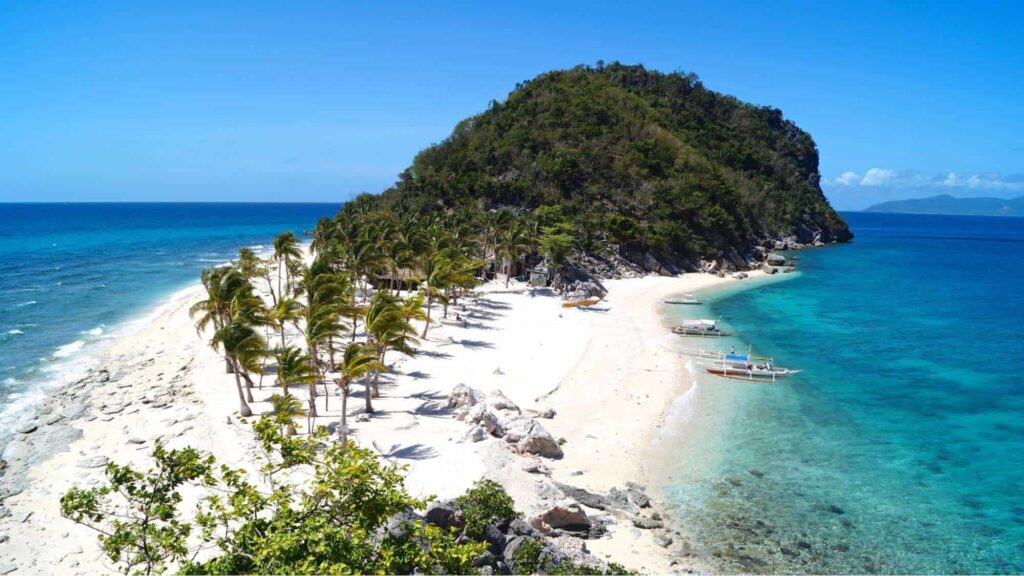 Price:
Island Hopping – P2000 to P2500 (for up to 10 people)
Guide – P500
Cabugao Gamay Island – Entrance – P20
Antonia Beach – Entrance P20
Tangke Gigantes Norte Lighthouse – Motorbike Taxi Roundtrip – P60 (per person)
Bakwitan Cave Tour – Cave Guide – P500
Transportation (Roundrip) – P200
The Giant Islands, also known as Islas de Gigantes, were originally named Sabuluag after a tree species found on the islands. Spanish colonizers later changed the name because of a local legend about gigantic human bones being found in the caves.
Must-visit spots in Islas de Gigantes include Tangke Lagoon, Cabugao Gamay Island, Bakwitan Cave, Cabugao Norte Lighthouse, and the picturesque Antonia Beach.
Pro Tip:
Visit Gigantes Island around the fourth Sunday of January to catch Iloilo's famous Dinagyang Festival.
7. Hinagdanan Cave (Bohol)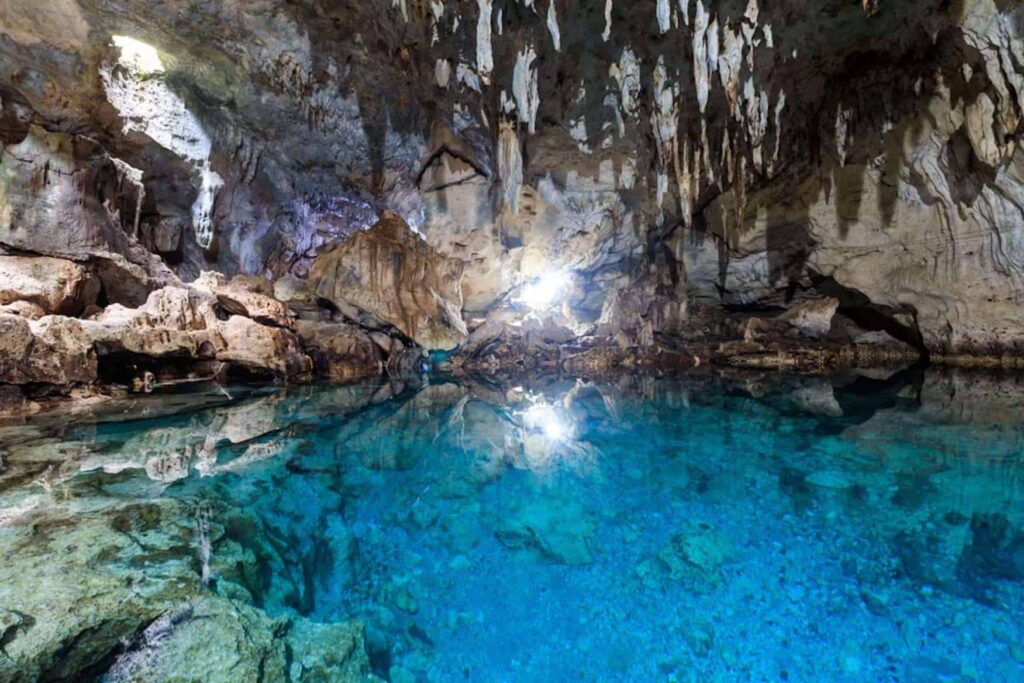 Operating Hours:
Monday to Sunday, 7:30 AM to 5 PM
Price:
Entrance – P50
Parking – P20
Scooter Rentals -P300 to P350 (per day)
Tricycle – P100 – P150
The name "Hinagdanan" means "laddered" in Bohol, and it is inspired by the story of the farmer who accidentally discovered it while clearing his land and built a ladder down to the hole to share the beauty of the cool waters with the village.
As you make your way down into the cave, you'll be captivated by a breathtaking underground lake adorned with clear turquoise waters and enveloped by magnificent stalactites and stalagmites.
Pro Tip:
After your cave exploration, don't miss the thrill of Molave Cliff Jump and the beauty of Panglao Beach, both just a quick 10-minute drive away from each other.
8. Cuatro Islas (Leyte)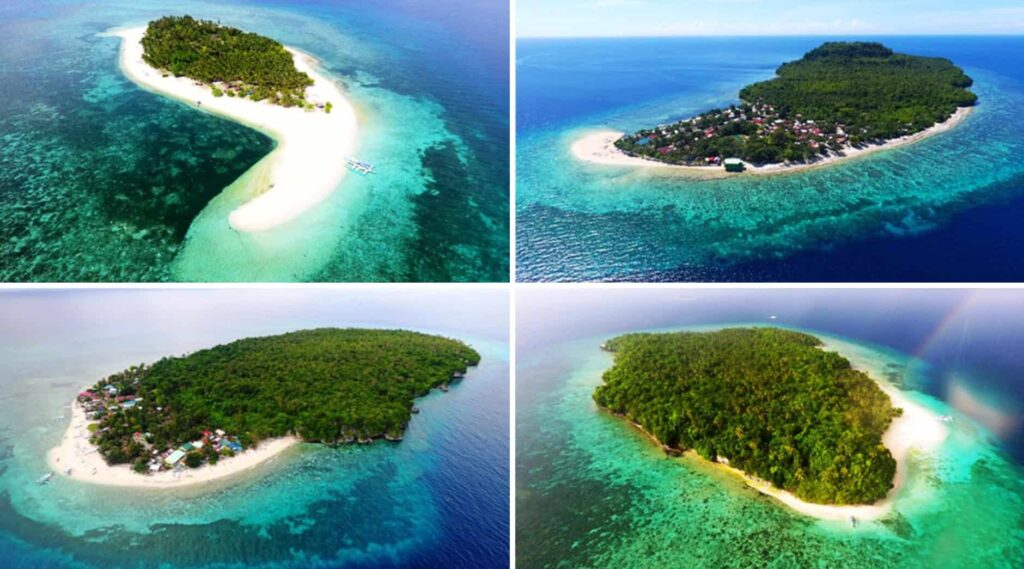 Price:
Island Hopping – Boat Rentals – P1300 to P1700 (per person)
P3000 (up to 10pax)
P4000 (up to 20pax)
Cottages – P500 (Day rental) | + P50 (Overnight)
Open Huts – P300 (Day rental) | + P50 (Overnight)
Tent Rental – P200
Tent Space – P50
Entry Fees – P50 (per island)
Snorkeling gear rental – P250 – P550
Cuatro Islas, which translates to "Four Islands" in Spanish, includes the islands of Apid, Digyo, Mahaba, and Himokilan. The largest, Himokilan, offers a secluded cove as well as exciting activities like mountain trekking, reef diving, snorkeling, and Takobo Nursery.
Mahaba, which means "long," has a marine sanctuary that is home to sea turtles and offers opportunities for snorkeling and diving. Apid has a charming fishing village; while Digyo, also known as Little Boracay, has lovely sandbars perfect for kayaking.
Pro Tip:
Himokilan Island is no longer under Inopacan's jurisdiction, so you must book a separate boat from Hindang to visit it. However, If you book through Hindang, you will not be able to visit the Mahaba, Apid, and Digyo Islands.
9. Pulangbato Falls (Valencia)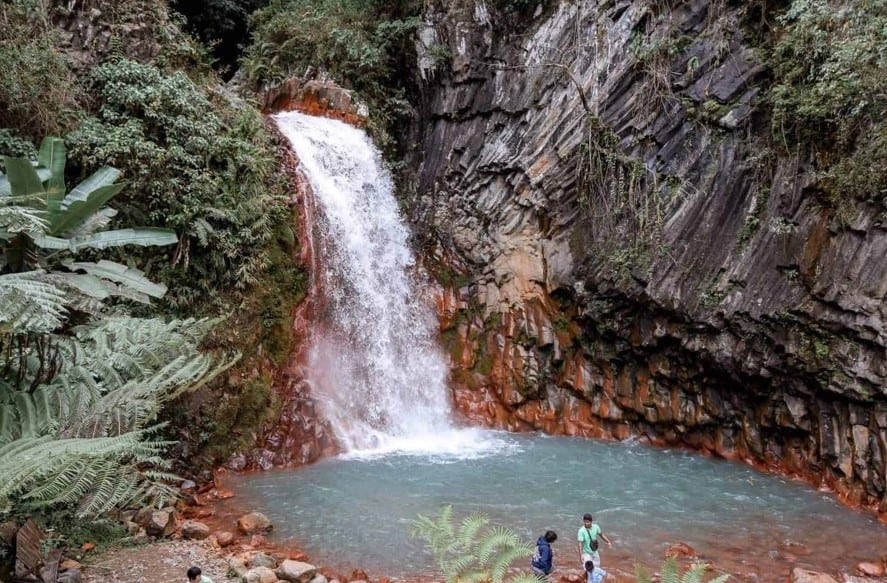 Operating Hours:
Monday to Sunday – 9 AM to 5 PM
Price:
Entrance – Adult – P50
Children (10 years below) – P20
Parking – P10
Locker Rental – P25
Table and chair – P200 (Day rental)
Cottage – P300 (Day rental)
Guest House – P2000 (Day rental) | P3000 (Overnight)
Pulangbato, or "Red Rock" in the local dialect, lives up to its name as the cool waters flow through naturally reddish rocks in the Red Rock Valley.
The sight of Pulangbato Falls, surrounded by red rocks and lush green forestry, is simply picture-perfect, making it a majestic and scenic destination.
Pro Tip:
Before you leave Valencia, visit Red Rock Hot Spring, which is only 800 meters down the road and offers a relaxing and refreshing experience to end your trip on a high note.
10. Apo Island (Dauin)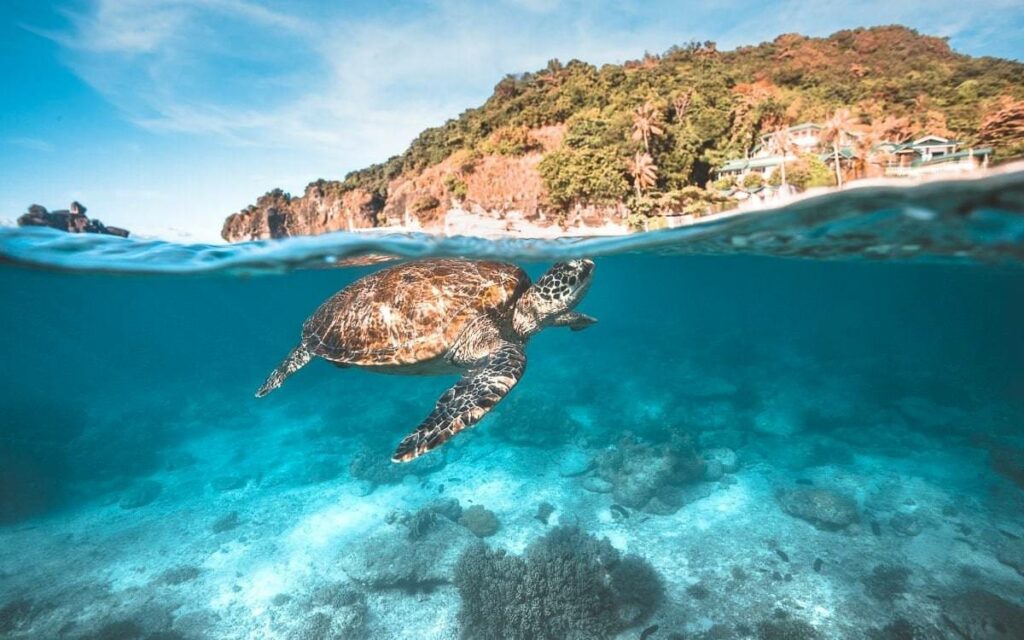 Price:
Entrance – P150
Boat ride – P3500 (round trip)
Snorkeling and guide – P300
Atlantis Dive Resort – P4095
*Includes tour guide, boat transfers, mask, snorkel, fins hire, barbeque lunch, and marine park fees.
*Includes includes dive instructor, dive equipment, barbeque lunch, and marine park fees.
Apo Island, a small volcanic island, boasts 6 hectares of pristine coral reef surrounding it. Since 1982, it has been home to the longest-lasting community-run marine protected area initiative in the Philippines.
This makes it one of the best diving destinations in the country, where you can witness large pelagic schools, bannerfish, batfish, turtles, mantas, reef sharks, frogfish, and an abundance of nudibranchs, along with the ever-charming turtles.
Pro Tip:
After swimming with the turtles, take a hike along the Habagat Trail to the Rock Point View Deck, where you can see breathtaking panoramas of the tiny villages and an incredible overview of Apo Island.