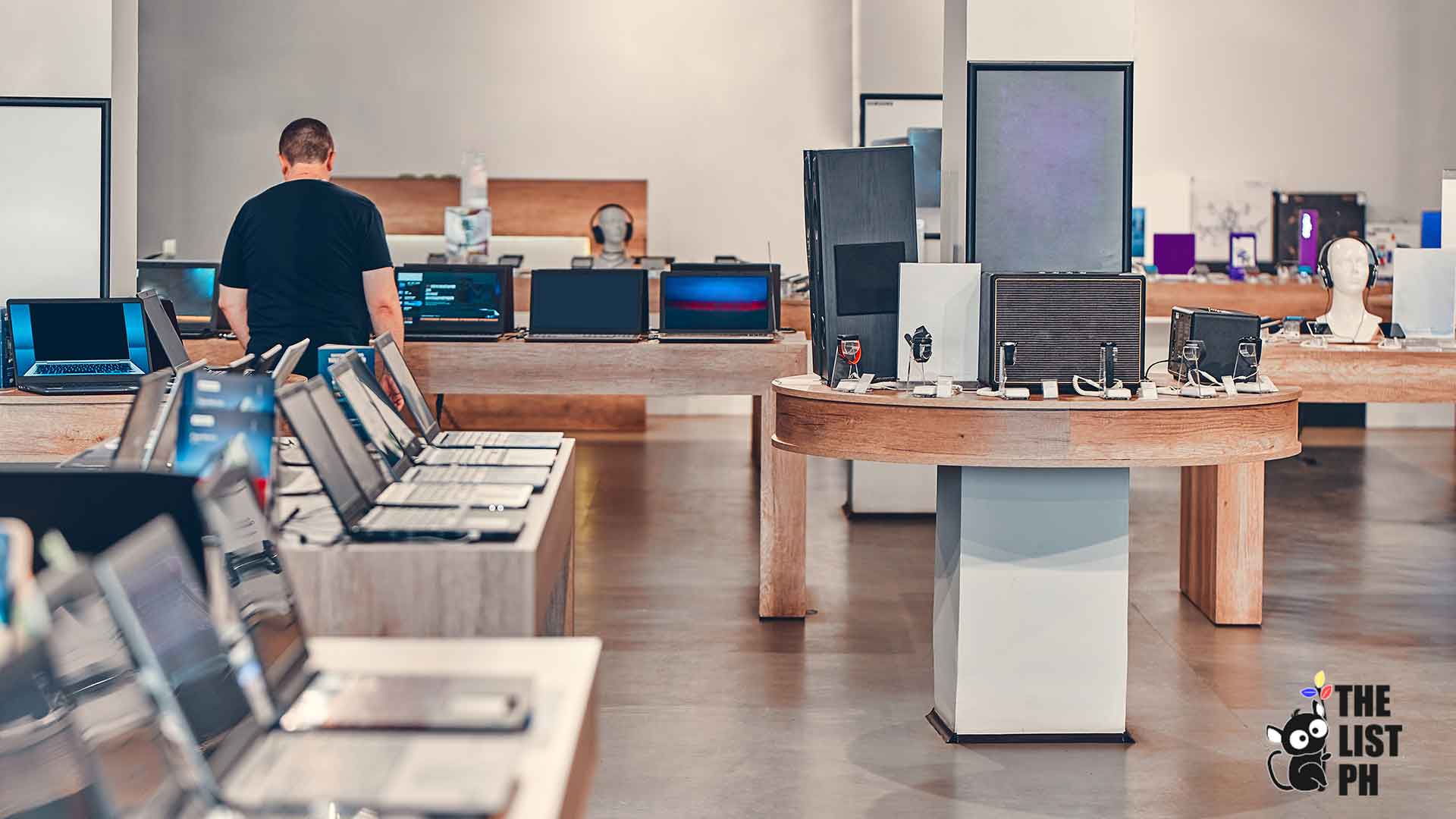 Top 5 PC Stores in the Philippines
How We Picked:
Selection Variety
We looked for PC stores that offered a sizable variety of brands and computer parts, from hardware to graphics cards.
Accessibility
We considered the number of branches or locations covered by the stores on our list and their service hours.
Convenience of Transaction
We factored in the store's available payment and delivery methods.
Customer Service
Either in person or online, we looked into the store's responsiveness to customer concerns; as well as if they offer a warranty and return policy.
1. PC Express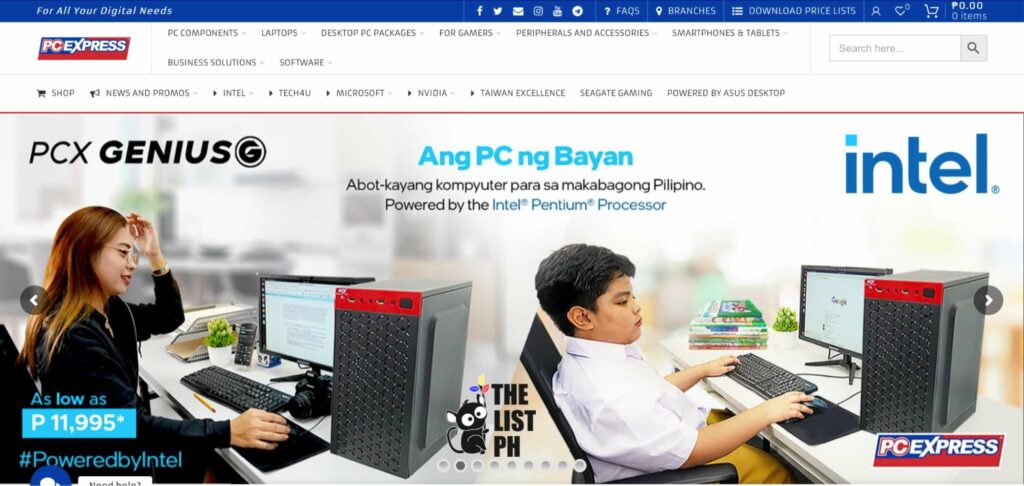 Products: PC components, PC packages, laptops, peripherals and accessories, gaming peripherals and accessories, business solutions, smartphones and tablets, software
Website: https://pcx.com.ph
Operating Hours: Varies per branch
Accepted Modes of Payment: Debit, Credit, and Prepaid Cards, Bank Transfers, Online Bank Transfers, Cash Payment
| | |
| --- | --- |
| Selection Variety | 5/5 |
| Accessibility | 5/5 |
| Convenience of Transaction | 5/5 |
| Customer Service | 4/5 |
Popular brand with an official website
Has multiple branches across Luzon and in Cebu, available for delivery and pick-up
Accepts credit card transactions
Store times vary depending on branch
Poor service reviews depending on branch
If you're a frequent mall-goer or just want to get your personal shopping done as quickly as possible, you're sure to know that one of the most popular computer stores in the Philippines is PC Express.
They have over a hundred products offered and carry all the huge brands in their selection, from Intel to NVIDIA graphics cards and Seagate SSDs to AMD processors.
If you prefer browsing in the convenience of home, you can create an account on the PC Express website. Their site provides online shopping options where you can add items to a wishlist and compare product specifications with one another.
You can view a comprehensive price list, and from there you can checkout and have your item shipped directly to home.
What we love about this computer store giant is that if you can't find the item you're looking for in any of their stores or on their website, they offer a service where you can chat with PC Express on Viber.
There they'll gladly help you find, source, and purchase what you need, as long as it's available locally.
Should you decide to go to their physical store, it would be best to check out what their operating hours are in the branch nearest to you. Since it's such a huge chain, the friendliness or accommodation of the PC Express staff may vary from store to store.
If ever you become unhappy or have questions regarding your purchase, it's worth noting that PC Express has a customer support hotline that accepts calls and texts daily from 9:00 AM to 10:00 PM.
From our experience, they are very responsive to Viber inquiries and follow a standard one-year warranty for most of their products (except for consumable items like printer ink and toner or batteries for laptops and smartphones.)
2. EasyPC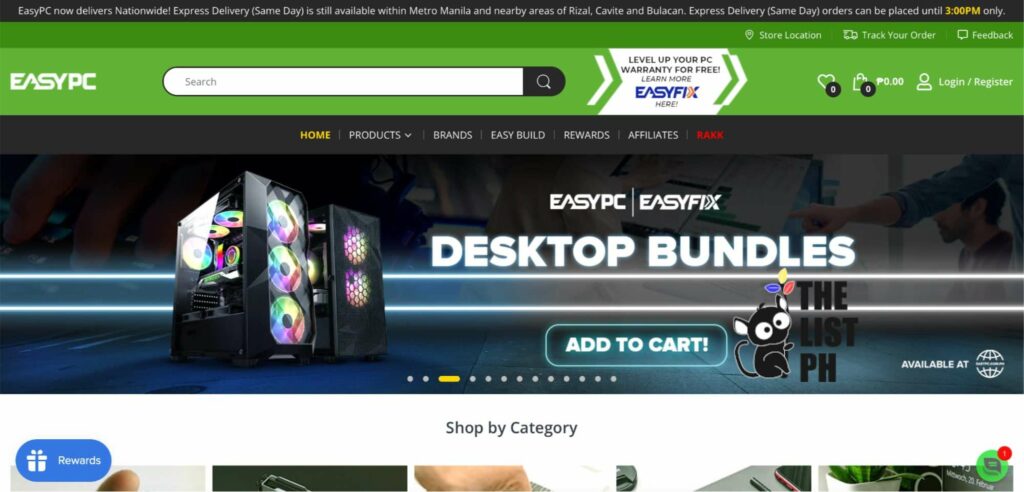 Products: Components, peripherals, accessories, PC furniture, OS and softwares, laptops, tablets, pre-built desktops
Website: https://easypc.com.ph | https://www.facebook.com/easypc.ph/
Operating Hours: 10:00 AM – 7:00 PM
Accepted Modes of Payment: Xendit, Billease, Cash on Delivery
| | |
| --- | --- |
| Selection Variety | 5/5 |
| Accessibility | 5/5 |
| Convenience of Transaction | 4/5 |
| Customer Service | 5/5 |
Large inventory of PC parts
Has multiple branches
Open daily from 10 AM to 7 PM
Available for corporate orders
Pick up time is only from 12-4 pm
In-house delivery services limited to certain areas
Doesn't offer credit card payment
With over 900K followers on Facebook, EasyPC is one of the fastest growing and most well-received computer stores locally. They have branches in Quezon City, Makati, Alabang, and Bacoor, Cavite that are all open daily from 10 AM to 7 PM.
EasyPC offers a wide range of products from desktops, laptops and tablets.
It also has a large inventory for everything you'd need to build a PC, from component parts like a processor, graphics cards, and a motherboard to peripherals like a Corsair RGB keyboard and a RAKK brand gaming mouse.
True to its name, EasyPC is known for providing their customers with great ease of transaction, especially for shopping online.
They have a great user interface for the website, which makes it easy to navigate through and more appealing to purchase parts from.
EasyPC prides itself on successful, hassle-free transactions, where customers receive their orders on the same day and pay cash upon delivery. Sadly, they have yet to offer a credit card payment scheme.
For those of you who are looking to build their own PC for the first time, we recommend checking out EasyPC's starter builds on their website. They come at a fair price, provide some freebies, and ultimately meet buyers' expectations with their pre-built PCs.
We also highly commend their after sales service. The EasyPC store is quick to respond to refund concerns through their website, Facebook page, and company email.
They certainly live up to their company motto: "Friendliest People. Quickest Fixes. Lowest Prices. Service at its Finest." EasyPC customers rave about how kind both their store staff and customer service representatives are.
Take note that in-store pickup can only be done within a 12 noon to 4 PM window everyday. Aside from this, EasyPC delivery areas are limited to Metro Manila, Rizal (Antipolo, Taytay, San Mateo), Cavite (Imus, Bacoor), and Bulacan (Meycauayan).
Any customer outside of these areas will have to make arrangements with third-party delivery service providers.
3. Complink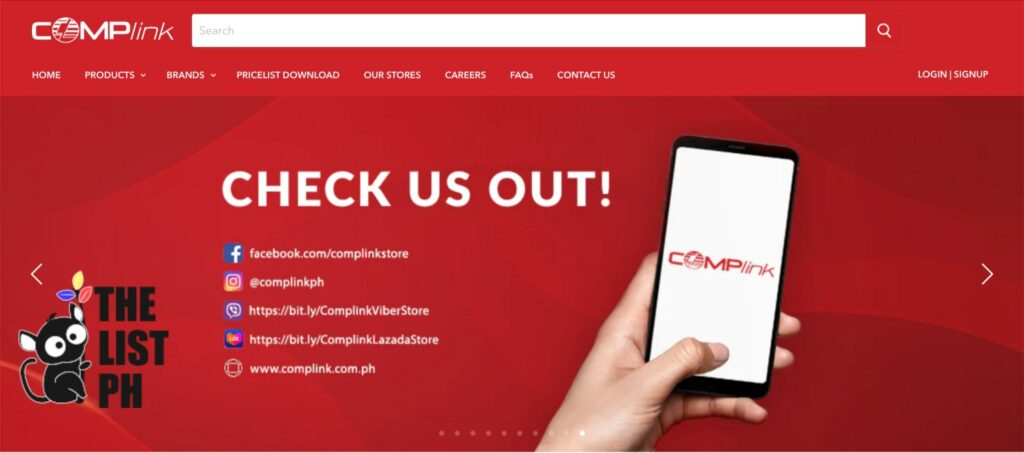 Products: Desktops, laptops, gaming equipment, networks devices, peripherals, printers, scanners, smartphones, tablets
Website: https://www.complink.com.ph/ | https://www.facebook.com/complinkstore/
Operating Hours: Follows mall operating hours
Accepted Modes of Payment: Cash, credit card
| | |
| --- | --- |
| Selection Variety | 3.75/5 |
| Accessibility | 5/5 |
| Convenience of Transaction | 5/5 |
| Customer Service | 3.5/5 |
Located in popular malls inside and outside of Metro Manila
Can sell products and parts in bulk
Offers installment for both credit card and non-credit card holders
Doesn't sell component parts for a PC
Doesn't offer in-house delivery for non-bulk orders
Doesn't support cash on delivery as a payment method
Complink is an authorized reseller of a handful of tech brands, from Asus to Lenovo and Philips to Wacom.
All Complink branches can be found in popular malls such as SM, Ayala, and Robinsons. With extremely convenient locations scattered across dozens of malls in the country, it serves as a one-stop shop for gadgets for everyday use.
Complink accommodates bulk, corporate orders for clients looking to invest in new laptops and routers to expand business needs. They offer delivery for wholesale orders, but not for individual, non-bulk orders.
If you happen to be a hobbyist building a PC from scratch, you might not be able to find everything you need here. They don't sell many component parts for builders.
We recommend Complink for making laptop purchases. They give customers discounted rates when they pay in cash.
If you are thinking of buying online through their website, you can browse through products grouped according to category. You will be redirected to their sales team on Viber or to Complink's official store on Lazada.
Complink offers credit card installments at 0% interest from 3-12 months for major banks. They also accept installment payments from non-credit card holders through Home Credit Philippines.
They do not, however, allow cash payment on delivery for their products. This is a bummer for customers who wish to play it safe and examine the unit before finalizing the purchase.
4. Dynaquest PC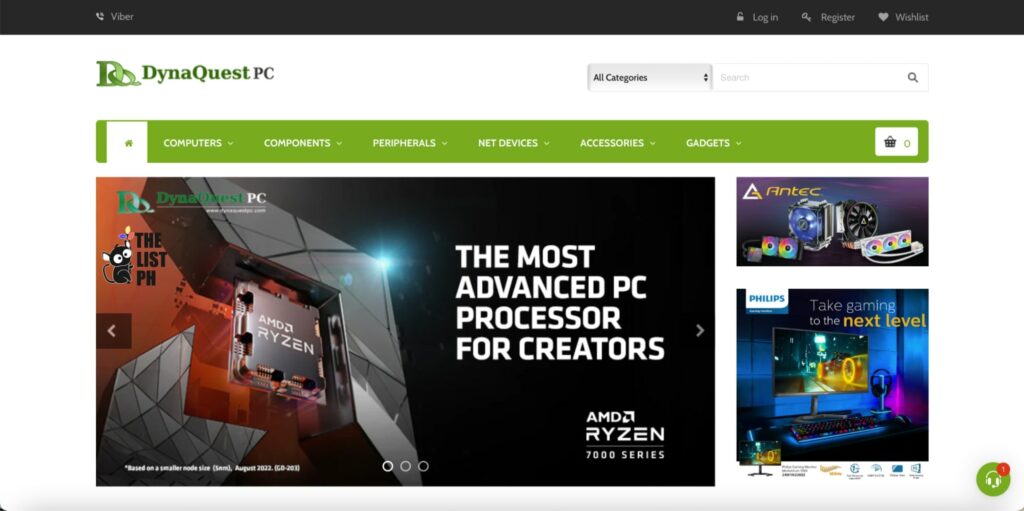 Products: Computers, components, peripherals, net devices, accessories, and gadgets
Website: https://dynaquestpc.com
Operating Hours: 9:00 AM – 7:00 PM Mon-Sat, 9:00 AM – 6:00 PM on Sundays*

*Their Parañaque branch is open from 10:00 AM to 7:00 PM on Sundays.
Accepted Modes of Payment: Bank transfer, online bank transfer, cheque, Gcash, Paymaya, Smart Money, credit card (in-store)
| | |
| --- | --- |
| Selection Variety | 5/5 |
| Accessibility | 3.5/5 |
| Convenience of Transaction | 4/5 |
| Customer Service | 3/5 |
Comprehensive inventory for computer parts and other PC supplies
Has tons of payment methods to choose from
Offers free build assembly if you buy all parts from their store
Not conveniently located in malls
Not the best response rate compared to other shops
Requires full payment for reservation
Dynaquest PC is gaining traction as a reputable computer store in the Philippines. They provide a lot of payment options for their customers, which builds trust that they are a legit brand and seller.
We like that their website has all the information you need on their inventory and what kind of items they sell. It also indicates which items they have on sale, which can go up to over 1000 Php less for certain products.
They have the DynaQuest online store on their website and their official store on Lazada as well, with a high customer rating.
For inquiries, you can message the store on either Facebook or Viber to check the availability of the item you're looking for.
From there, one of their sales representatives will message you personally, providing the specifications and details of your intended purchase. They will advise if the product is in stock and if you can proceed to finalize your payment.
What we love about Dynaquest is that if you decide to buy all your PC parts from their store, they also offer free build assembly service. Dynaquest currently has four branches in Manila, Mandaluyong, Makati, and Parañaque City.
Do note that their physical stores are based in commercial buildings, not in shopping malls with more foot traffic. When you visit, you won't be able to compare their inventory with other stores; your only intention is to visit Dynaquest.
Also, we would advise that you ascertain the items you're buying are all compatible with your current setup, as Dynaquest requires full payment for reservation (if you're shopping remotely, and via bank transfer).
Their after-sales service also tends to respond more than 24 hours after an inquiry is posted, so be ready to wait if needed!
5. JDM Techno Computer Center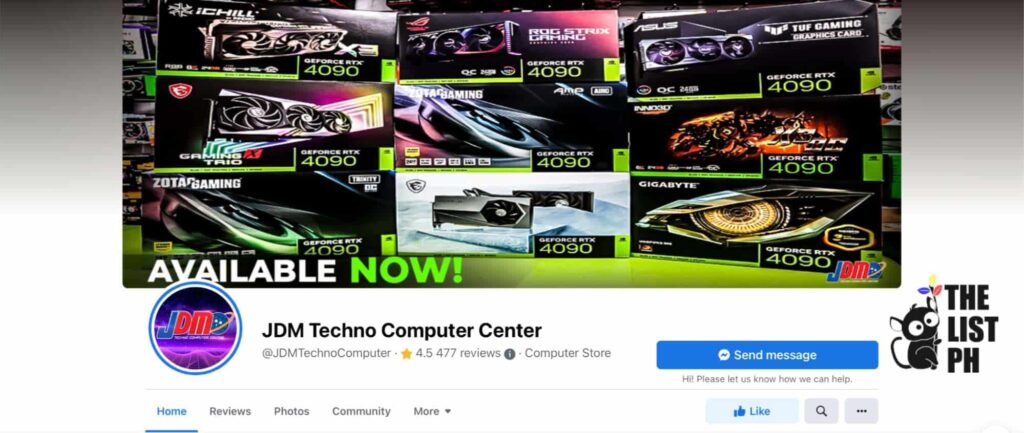 Products: Desktops, laptops, computer parts
Website: https://www.facebook.com/JDMTechnoComputer/
Operating Hours: 10:00 AM – 6:00 PM
Accepted Modes of Payment: Cash
| | |
| --- | --- |
| Selection Variety | 4/5 |
| Accessibility | 3.5/5 |
| Convenience of Transaction | 3.5/5 |
| Customer Service | 5/5 |
Offers services to build your custom PC
Known for their accommodating staff
Offers multiple contact numbers for customer needs
Operations are limited to one physical store
Needs to be reached through Viber because cellular signal is weak in the store
No in-house delivery service
Unlike the other stores on our list, JDM Techno CC's operations are limited to their physical store in Gilmore.
People come to JDM Techno Computer Center for their custom PC builds. They have a great selection of components and peripherals, and if ever they don't have what you're looking for in stock, they will find a way to get it just for you.
Something worth raving about for JDM Techno Computer Center is how cool and accommodating their staff are. They really took the time to answer our questions and make recommendations for what kind of upgrade we should get.
After making a gadget purchase, they also provide the number of their in-house technician, should we encounter any concerns once we come home with the product.
The staff at JDM Techno Computer Center share almost the same enthusiasm as their customers when it comes to finding the specific parts they're looking for and creating the perfect build according to their taste.
We're convinced that this is the perfect energy to have when you provide computer build and sell services. They recognize that each customer has very specific needs and is very discerning in buying parts since these usually don't come cheap.
As of this writing, their website is currently undergoing maintenance. All of their store and contact information can be found on their Facebook page, which lists down the phone numbers you can use to talk to their staff or reserve items from the shop.
The irony here is cellular reception is very weak in their actual store, so all inquiries need to be coursed through Viber. They also don't have an in-house delivery service, but will gladly assist customers who book an on-demand, same-day delivery platform.
FAQS about PC Stores