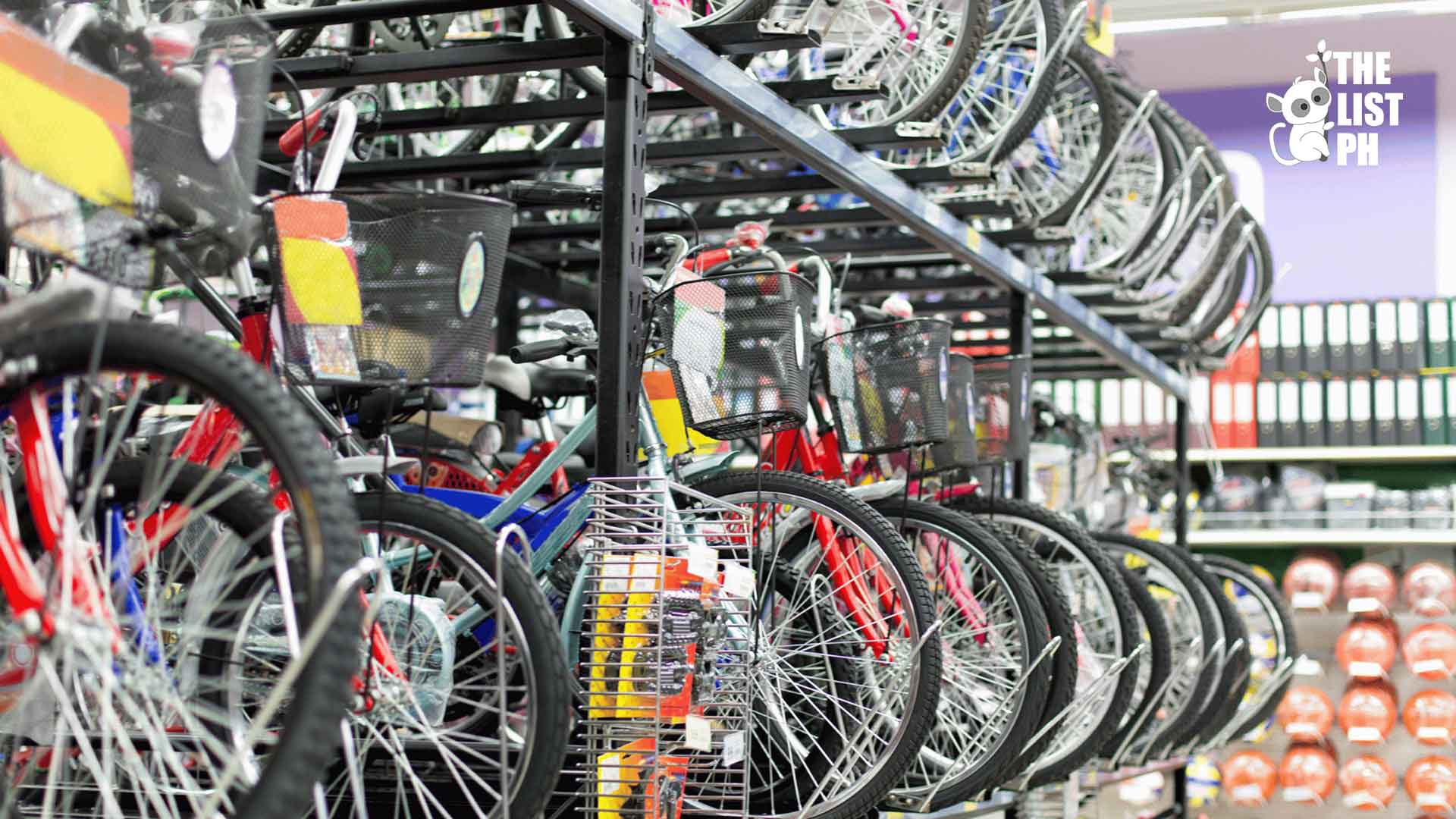 Top 5 Best Online Bike Shops in the Philippines
How We Picked
Price
We chose online bike shops that are worth your money. From affordable options to mid-range, we've added it on to the list.
Variety
We selected online bike shops that offer different types of bikes for the customer to choose from.
Accessibility
The online bike shops we have added to the list are easily accessible in both Lazada and Shopee.
Durability
The online bike shops that we've added to the list have great quality products that will last for a long period of time.
1. Decathlon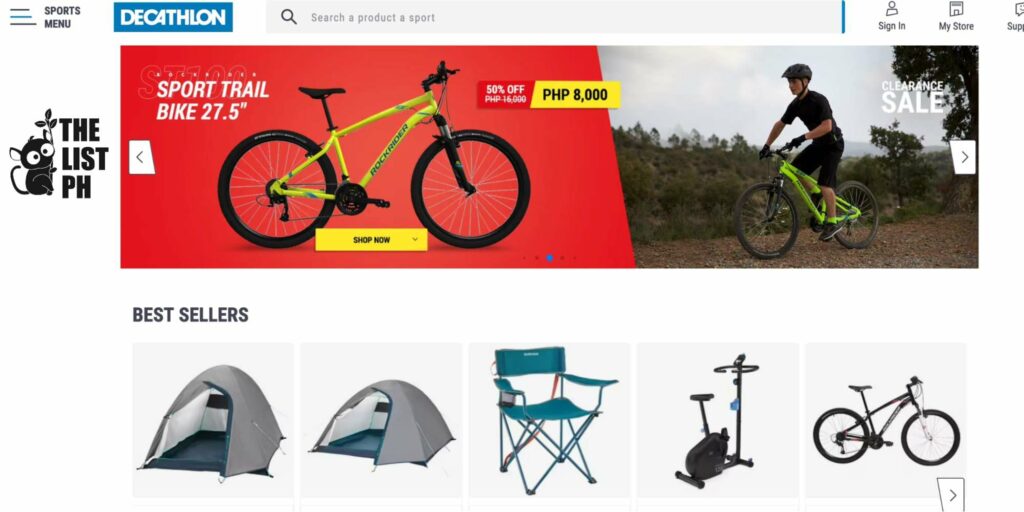 | | |
| --- | --- |
| Shopee reviews | 4.9/5 |
| Facebook reviews | 4.9/5 |
| Total reviews | 4.9/5 |
| Score consistency | 5/5 |
| | |
| --- | --- |
| Price | 4.5/5 |
| Variety | 4.5/5 |
| Accessibility | 5/5 |
| Durability | 5/5 |
User friendly website
One-stop shop
Minimum of 2 years warranty
Poorly packaged products
Delayed packages
Decathlon is a French sports brand that is one of the leading retailers of sporting gears in the world. They have more than 1,600 stores in 60 different countries just in 2020 alone.
The store offers a vast array of bikes and accessories such as road bikes, mountain bikes, bike saddle bags, bike bell, training wheels and bike locks to name a few. This is a one-stop shop for everything sports-related.
One of the best features when shopping in Decathlon is that the interface is very user friendly. The checkout process just takes a few simple steps and you can track it easily on the site.
Prices range from affordable to mid-range, which is very reasonable for the quality that you are getting. You can get a decent bike from Php 8,000 up to 22,000. Many people have noted that the bikes they bought have lasted them year after year.

We recommend checking on the deals that they have on the website where you can purchase a bike at 50% off the original price. We are also impressed with the 2-year warranty that comes with each product.
Customers we've spoken to were disappointed to receive poorly packed parcels which resulted in damaged goods. We hope that they would secure the items properly before handing it to couriers.
Another issue is the delay on shipping out the items, according to their customers. Some even took weeks before they were able to get the item even if they paid a hefty amount for the shipping fee.

2. Toby's Sports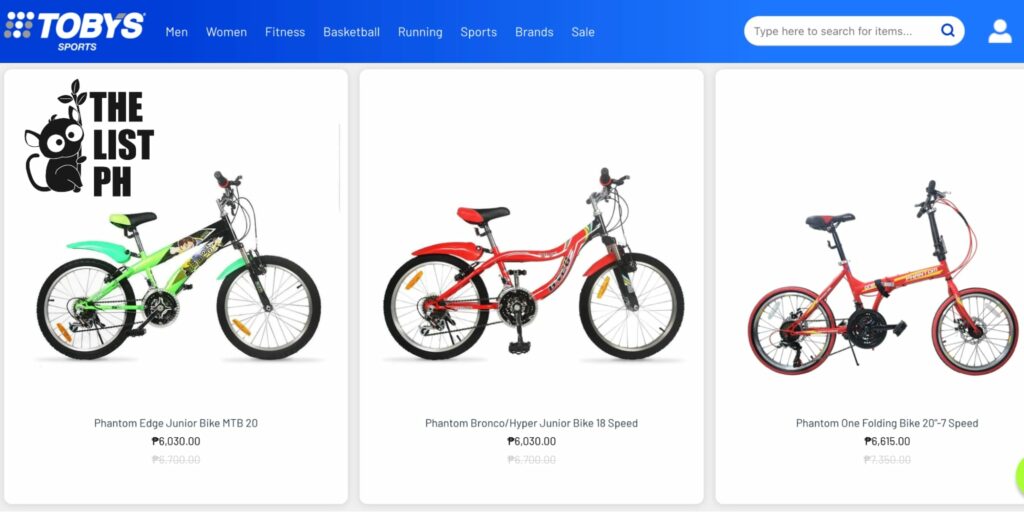 | | |
| --- | --- |
| Shopee reviews | 4.9/5 |
| Facebook reviews | 4.8/5 |
| Total reviews | 4.85/5 |
| Score consistency | 5/5 |
| | |
| --- | --- |
| Price | 4/5 |
| Variety | 4/5 |
| Accessibility | 5/5 |
| Durability | 5/5 |
Easy-to-navigate website
12-month warranty for any equipment
Known for great customer service 
Expensive
Limited selection
Toby's Sports is one of the largest sports shops in the Philippine market today. They offer a wide variety of brands such as Nike, Saucony, Adidas, and Spalding just to name a few.
If you are just starting out and you want a one-stop shop, Toby's Sports is a good option. You can be sure that what you are buying is legit because they only sell authentic products.
Toby made sure that customers will have an easy time checking out from their website because it is very user friendly. They've organized items by category from men's, women's, sports, fitness, brands and even on sale products.
There are a lot of people who put their trust into Toby's Sports because they know that their bikes will last a good amount of time. We are also delighted to know that they offer 12 months worth of warranty on any of their equipment.
Toby's Sports sells their products through three online platforms which are Shopee, Lazada and their official website. The website is very easy to use and many users mentioned they were able to check out within a few minutes.
We were very impressed with their customer service because you can chat with a live agent during their office hours. An automated response is also available for their frequently asked questions when they are offline.
If you have a strict budget in mind then we do not recommend Toby's Sports as they can get pretty expensive. You can definitely get cheaper bikes with the same quality.
Toby Sports offer different types of bikes ranging from mountain climbing to kid's bikes. However, they do not have bike accessories which some of the bike enthusiasts look for in a one-stop shop.
3. MARU Bicycle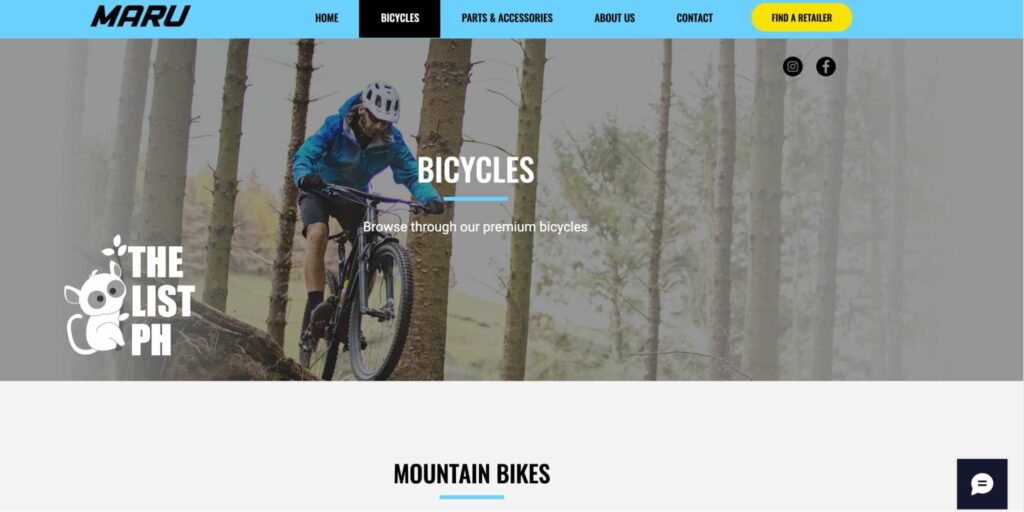 | | |
| --- | --- |
| Shopee reviews | 4.0/5 |
| Lazada reviews | 4.55/5 |
| Total reviews | 4.275/5 |
| Score consistency | 4.5/5 |
| | |
| --- | --- |
| Price | 4.5/5 |
| Variety | 4/5 |
| Accessibility | 5/5 |
| Durability | 4/5 |
One stop shop
Wide variety of bikes
Bikes are lightweight and portable
Bikes are not upgradable
Subpar chat support
MARU Bicycle is a Japanese-inspired brand that delivers high quality bikes that are perfect for either sports and daily transportation. It is composed of alloy composite frames which makes it lightweight.
We were so impressed with the wide selection of bikes that ranges from e-bikes, road bikes, tri-wheels and BMX to name a few varieties. You can easily browse through their website and select bikes that suit your needs.
If you want to physically check the items, you can visit their website and check the list of retailers. The good thing about it is that MARU Bicycles is not tied to just one retailer, which makes it more accessible.
Unlike other bike shops that only carry bikes, MARU Bicycles offer different accessories and branded merch. Although when you visit their Shopee and Lazada stores, some people find the catalog overwhelming.
The price ranges from affordable to mid-range and many people can attest that it is definitely worth the price. Bike prices start from Php 4,000 up to Php 16,000.
The Yamato is their most popular type of bike if you are looking for durability that is made out of carbon steel.
We hope that they will release bikes that can be upgraded part by part. For bike enthusiasts, this is very important if you're specific with the part you want on a bike without necessarily replacing it.
MARU Bicycle should also improve their chat support since they have a very low rating. This will be great for new customers who are needing guidance when purchasing from them.
4. EPBCInfinix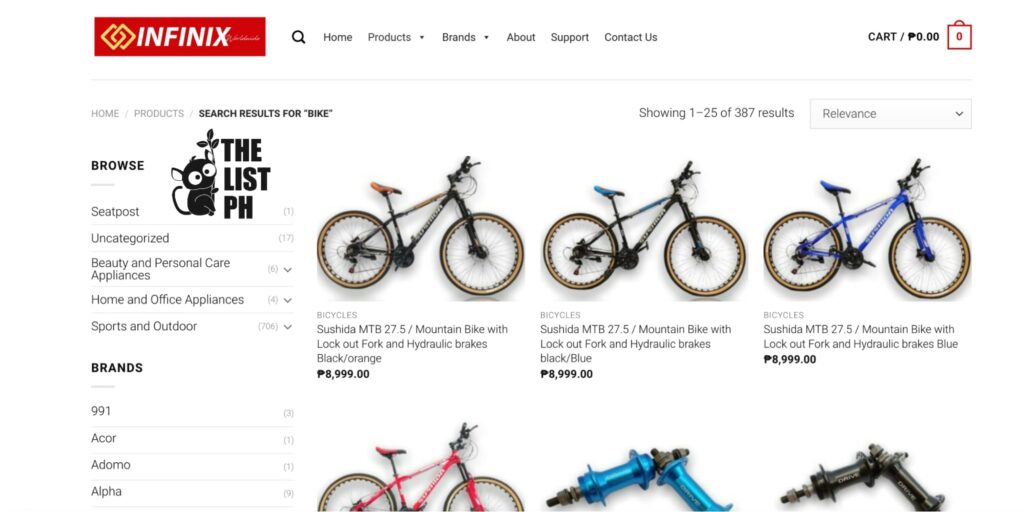 | | |
| --- | --- |
| Shopee reviews | 4.8/5 |
| Lazada reviews | 4.65/5 |
| Total reviews | 4.725/5 |
| Score consistency | 4.5/5 |
| | |
| --- | --- |
| Price | 4.5/5 |
| Variety | 4/5 |
| Accessibility | 5/5 |
| Durability | 4/5 |
One stop shop
Ships on time
Good customer service
Product quality is just average
Most of the items are sold out
ePBC Infinix Inc. is an online shop that sells various different products like home appliances, beauty gadgets to bikes. They also carry different brands Wellgo, Stark and Infinix that deliver high quality products.
Not only do they sell different kinds of bikes, they also sell accessories that come along with it. It's a one stop shop for all your biking needs which is very convenient.
ePBC Infinix Inc. takes pride in being able to ship on time and they pack their items very carefully. There are very minimal complaints that they received damaged goods because the items are securely packed.
They have a very high rating when it comes to customer support in their online platforms. It means that they are responsive with customer inquiries and would be able to respond within a couple of hours.
The price of the items are very affordable and it is perfect for people who would like to purchase a bike but considers a budget. The highest price that you'll see listed is around Php 12,000 which is still pretty reasonable.
One of the down sides for the ePBC Infinix Inc. is that the products are not made from the best quality and it is quite average. The price tag for bikes available in this shop makes sense since they are affordable which starts at Php 2,000.
When you're browsing through their catalog, you might notice that the majority of their bikes are out of stock. It's best to purchase the bike you want because they are highly in demand.
5. Hiland Bikes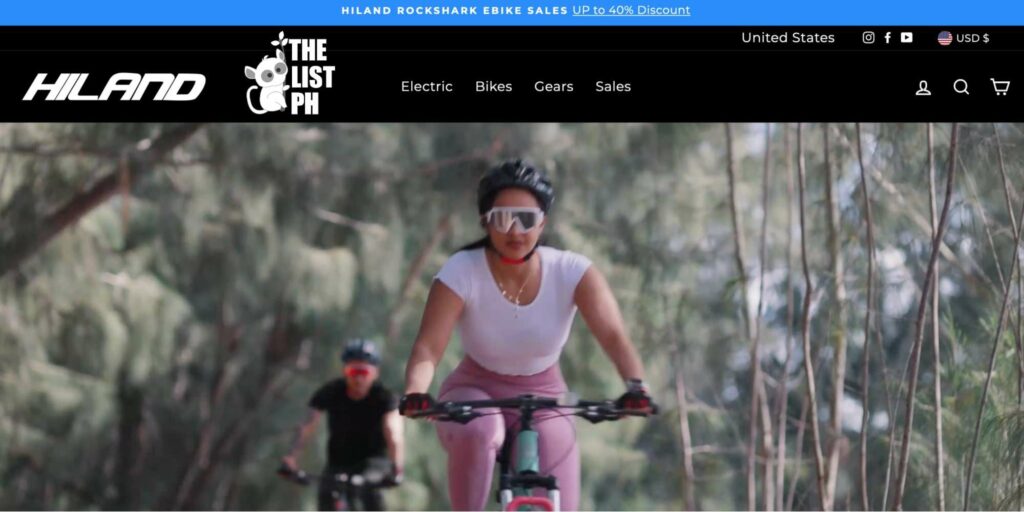 | | |
| --- | --- |
| Lazada reviews | 4.65/5 |
| Amazon reviews | 3.9/5 |
| Total reviews | 4.27/5 |
| Score consistency | 4.5/5 |
| | |
| --- | --- |
| Price | 3.5/5 |
| Variety | 4.5/5 |
| Accessibility | 3.5/5 |
| Durability | 4/5 |
Good selection of bikes
Quickly responds to customers
Packaged securely
Expensive
Product inconsistency
Hiland Bikes is a company that exports bikes and accessories overseas. They now cater to more than 70 countries and take pride in their certification from the United States.
This is perfect for people who want to have a wide variety of bikes to choose from since they have bikes for any unique need. From electric bikes to mountain bikes, we're super impressed by the range of their selection.
They have a 93% on Lazada which means they respond to queries very fast, which customers we've spoken with can attest to.
Many of the customers have also noted how securely their products were packaged upon arrival. Each item or part is neatly sealed with bubble wrap to prevent any scratches and damage.
If you have the budget, we think that Hiland Bikes is definitely worth checking out. That said, it's worth noting that the price range is steeper compared to other online shops – bikes can go anywhere from Php 7,000 to Php 16,000.
Another important note to keep in mind is that there are complaints regarding the consistency of the product. Some people experienced cracks and breakage of different parts of the bike within a few uses.
FAQs on online bike shops