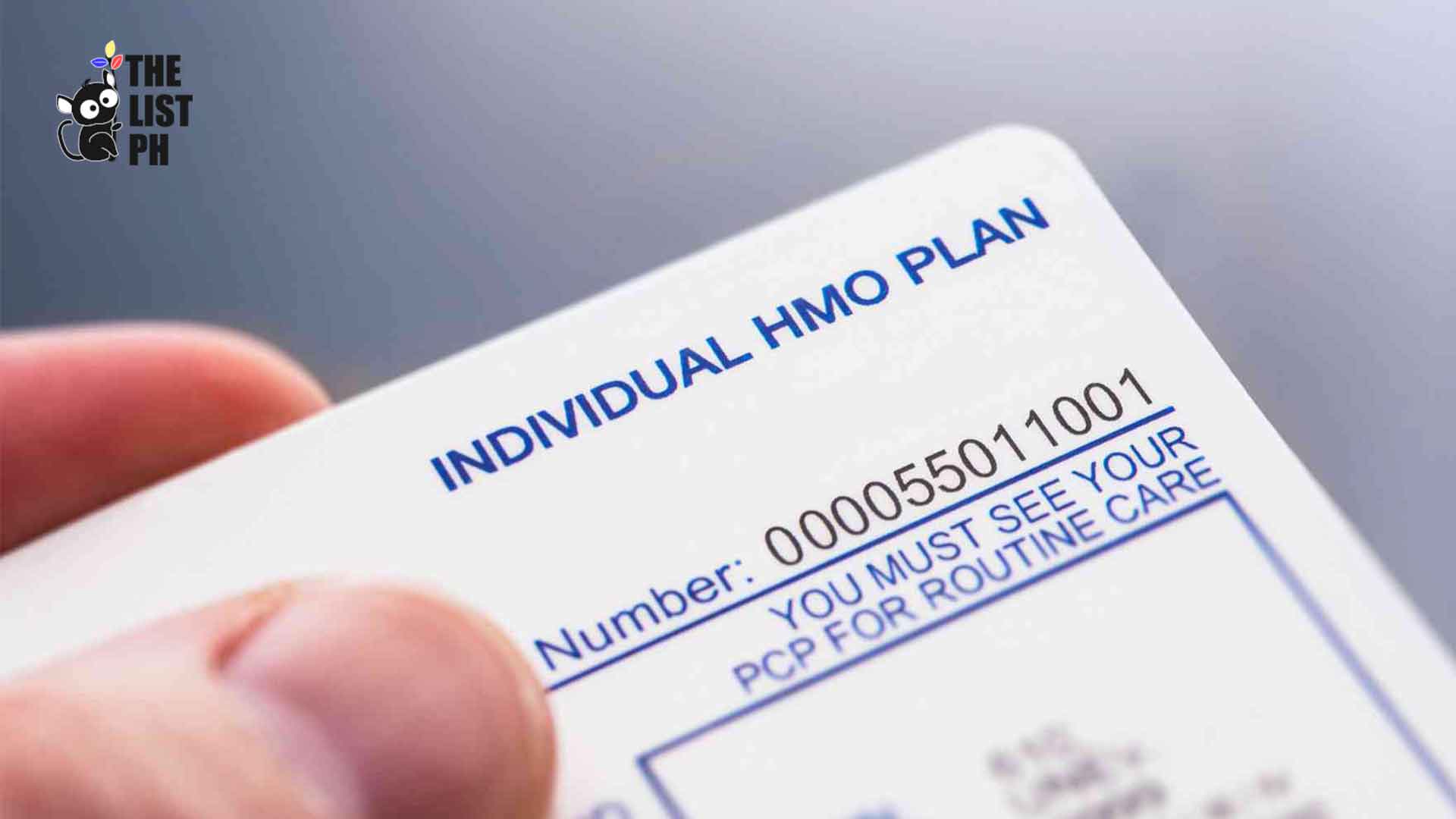 5 of the Best Health Cards in the Philippines
How We Picked
Cost
Paying Health Maintenance Organization (HMO) premiums can cost a fortune to insure yourself or your family. We picked the best HMOs (comprehensive and prepaid) available in the market to give you the best choices for your medical concerns. 
Coverage and limits
HMOs vastly differ in the medical coverages and limits they cover for you and your family. We included the HMOs with wide coverage and high ceiling limits depending on you and your dependents' needs. 
Network
Your HMO coverage can only take effect if your hospital and its medical professionals are partnered with HMO companies. We recommended the HMO plans partnered with various hospitals nationwide. 
Customer service
Claiming your HMO coverage and adhering to your HMO's policies can be a tedious and distressing experience. Hence, we considered customer service as an important factor in choosing our recommendations.
1. MyMaxicare
| Test | Info |
| --- | --- |
| Cost | starts at Php 4,200 per head/yea |
| Benefits | In-patient care, Out-patient care, Preventive Care, Emergency Care, Annual Check up, Dental Care (Optional), Maxicare's International Assist Program, Dreaded Disease/Condition |
| Age Eligibility | 15 days old to 60 years old |
| Best for | Single professionals, Married Couples, Families |
| | |
| --- | --- |
| Cost | 4/5 |
| Coverage and limits | 4/5 |
| Network | 5/5 |
| Customer service | 5/5 |
Comprehensive Health Plan
Perfect for working professionals and their families
Wide networks nationwide 
Accessible and good customer service 
Quick plan computation
Short age requirements for dependents (0 years to 21 years and 5 months old)
Coverage does not apply to senior citizens 
Low maximum benefit limit 
If you are looking for a comprehensive health plan for yourself or your family, MyMaxicare HMO best suits your medical needs.
MyMaxicare is packed with a wide coverage tailored for most of your medical needs. We think this is perfect for well-off families and professionals because the premium is worth every penny you pay.
Even better, Maxicare (the health care provider of MyMaxicare) is connected to thousands of hospitals and medical professionals across the country. Subscribing to MyMaxicare immediately opens your doors to capable experts under their network.
With a low starting price, you will be able to avail extensive medical services absent from other HMO plans. We think of this as a great deal for anyone looking for an all-around medical HMO plan.
Many customers are also pleased with Maxicare's customer service.
They added a 24/7 Telemedicine feature on their app, which allows you to consult any medical concern to a medical professional through a short video call. Most of their payments and request processes are done online to make it easy for you to avail their services.
MyMaxicare is best for young families because of the age limits for dependents.
When your dependents are passing 21 years and 5 months, they will be removed from your coverage. The opposite, which is having senior citizens as dependents, will also be excluded from your coverage.
Compared to other premiums, MyMaxicare has a lower maximum limit. We think of this as a consequence of providing wide coverage.
This will not be a problem for you if you will not accumulate hospital bills due to extended stay or expensive surgeries.
However, if you anticipate your medical bills to approach millions, we recommend you look for other HMO as alternatives.
2. Pacific Cross Select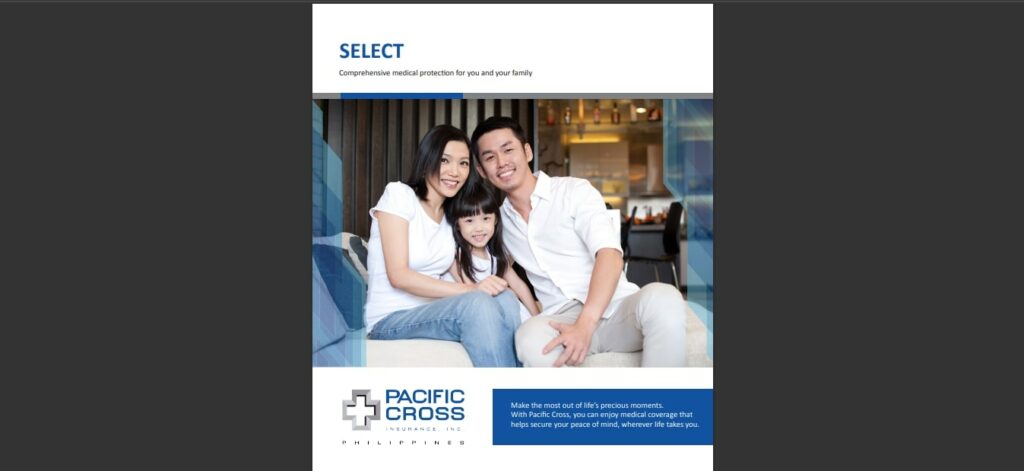 | Test | Info |
| --- | --- |
| Cost | starts at Php 5,227 |
| Benefits | Basic Hospital Benefits, Surgery, Critical Care, Emergency care, Travel Insurance, Dental (Optional), Out-patient (Optional) |
| Age Eligibility | 0 years old until 65 years old |
| Best for | Travelers, Families |
| | |
| --- | --- |
| Cost | 3/5 |
| Coverage and limits | 5/5 |
| Network | 4/5 |
| Customer service | 5/5 |
High maximum
Overseas coverage
Comprehensive plan
Good customer service 
Free child coverage (after birth)
Travel benefits included in core benefits
Added charges for semi-annual subscription
No pregnancy-related expenses
Coverage does not apply to senior citizens 
Optional out-patient benefits
Frequent travelers will be happy to avail the Pacific Cross Select HMO plan for their whole family.
What makes this attractive and unique are its high maximum limit, worldwide customer assistance, and travel benefits. If this HMO did not exist, it would take three different coverages to provide what Pacific Cross Select offers.
If you subscribe to Pacific Cross Select, your limit can reach up to 1.5 million pesos! With healthcare becoming the biggest worries of Filipino families, this plan alleviates most concerns they might face.
The coverage of this HMO plan applies even when you travel out of the country. Even if it only covers you for 30 days, we take this as a win because it compounds your relief when you unwind in international tourist destinations.
Travel benefits are also included in this plan. You can enjoy a travel-free experience, as it insures your vehicle rental excess, baggage delay, loss of personal belongings, theft, trip cancellation, and more.
There is so much to compliment about Pacific Cross Select, but its cons can sting if you are unaware.
For example, we recommend you subscribe through annual payments rather than semi-annual payments. Semi-annual payments (payment of every 6 months) incurs 8% surcharge and additional tax charges.
The HMO plan provides free child coverage after birth, yet they do not stick with you prior to that. Any pregnancy tests and childbirth expenses are omitted from their coverage.
Lastly, you have to pay additional fees for out-patient and dental benefits.
Although the plan is worth the additional payment, we think that families often need to budget their money, especially when they have newborns.
If you think you will avail consultations and laboratory tests yearly, we suggest you check other HMO plans which already include out-patient care.
3. ALLCARE Prepaid Bundles (Lite/Optima/Complete)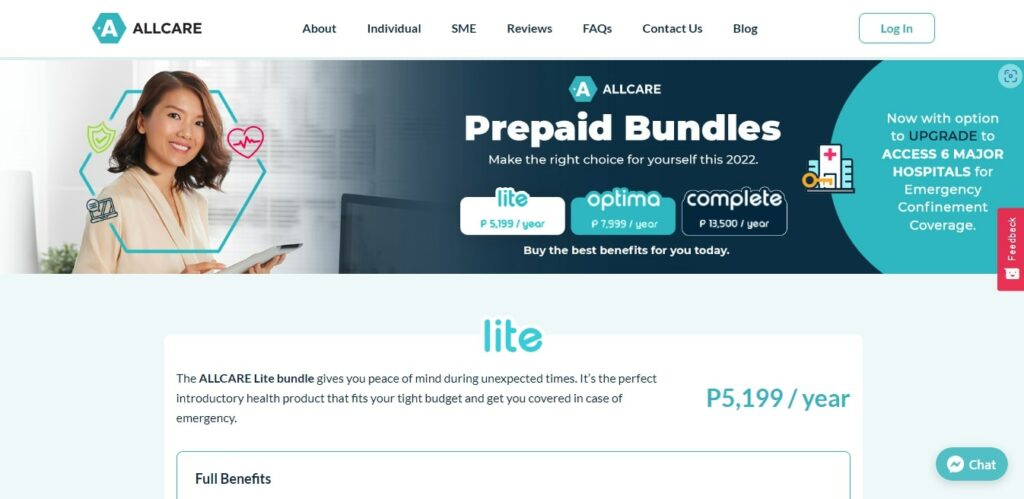 | Test | Info |
| --- | --- |
| Cost | Php 5,199/ year (Lite), Php 7,999/year (Optima), Php 13,500/ year (Complete) |
| Benefits | 24/7 Telehealth Subscription, Annual Physical Examinations, Emergency Coverage, Gym membership, Travel perks |
| Age Eligibility | 18 years old - 50 years old |
| Best for | Single and young working professionals, Freelancers |
| | |
| --- | --- |
| Cost | 3/5 |
| Coverage and limits | 3/5 |
| Network | 5/5 |
| Customer service | 4/5 |
Maxicare partner
Mental health coverage
24/7 Telehealth subscription
Generous out-patient care and testing
Fitness perks
Travel perk via Cebu Pacific GetGo
Narrow coverage
Narrow age eligibility 
Expensive plans
If you have been doing your independent search, you know how difficult it is to look for the best HMO for you. We suggest you check out ALLCARE Prepaid Bundles for its simple layout of medical terms meant for consumption of non-medical individuals.
ALLCARE Prepaid Bundles provides you with simple selections of HMO plans. Out of most premiums we have screened, this provides the most digestible terms and conditions for HMO plans.
If you have also been on a lookout for mental health coverages, this one may provide you with a basic one. Despite its rarity in most HMOs, ALLCARE provides recommendations for seeking mental health services.
ALLCARE is also generous with its out-patient coverage and tests. They also provide you with 24/7 Telehealth, which you can use to receive digital medicine prescriptions.
We think you will benefit from this if you prefer to conduct annual tests. If you avail this, we suggest looking at these prepaid bundles as your preventive measure for critical, chronic, or viral illnesses.
Speaking of preventive measures, ALLCARE prepaid bundles provide you with fitness and travel perks. These bundles can help you stay fit and unwind under this subscription.
We strongly recommend it for single and young working professionals and freelancers. Your dependents will have to buy their own subscriptions instead because dependents are not included in the bundes.
Also, although a partner of Maxicare, the bundles' coverage is narrow compared to other HMO products. We also think of ALLCARE's bundles as more expensive premiums than their other counterparts.
Its narrow age eligibility may also make you hesitate to subscribe when you have an established career. At that point, you might want to subscribe to premiums extending to older age brackets.
4. InLife Total ProtectER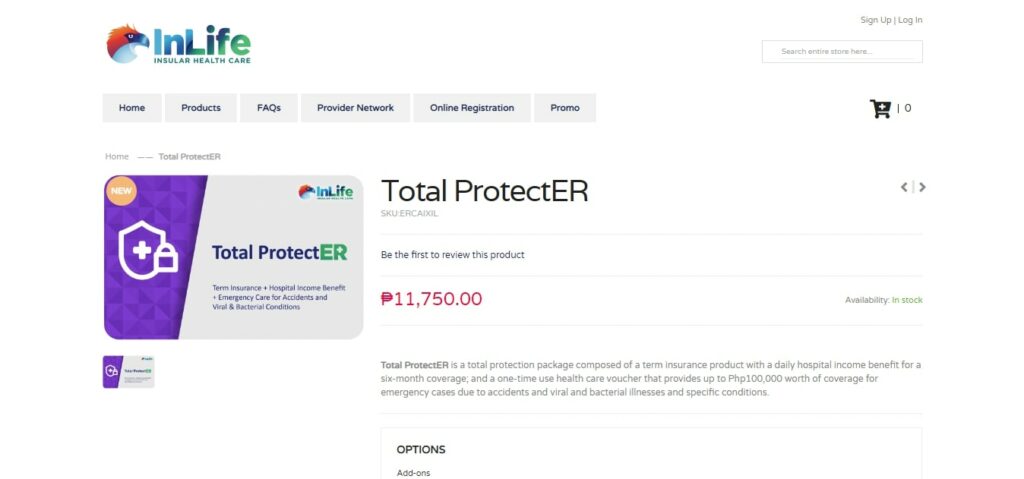 | Test | Info |
| --- | --- |
| Cost | Php 11,750 |
| Benefits | Outpatient care, Inpatient care, Emergency care for accidents, Treatment for viral and bacterial illnesses, Basic Hospital Confinement, Life Insurance |
| Age Eligibility | 18 years old - 64 years old |
| Best for | Working professionals, Freelancers |
| | |
| --- | --- |
| Cost | 5/5 |
| Coverage and limits | 3/5 |
| Network | 4/5 |
| Customer service | 5/5 |
Affordable prepaid health card
Can be used for viral illnesses (including COVID-19)
Includes life insurance 
100% online purchase, registration, and activation 
Hospital confinement only available for the first 6 months
Two-month waiting period
Only focused on emergency care
If you are only looking for a prepaid health card for emergency use, InLife Total ProtectER is an obvious choice for you.
We recommend this for young and healthy professionals. Since you would be confident of being safe from chronic or critical illnesses, or medical complications due to age, then emergency would be the only thing you might want to insure.
What sets this prepaid card apart lies on being able to afford high medical and life insurance coverage. With COVID-19 inevitably staying on like the flu, having this protection even without an emergency use makes it a worthwhile investment.
To make things more accessible and easy for you, the purchase and claiming of your benefits all happens online. We think of this as a very convenient way to get insured given how other HMOs require various documents to get processed before its coverage activates.
Because this health prepaid card is focused on emergency care, we think you already know what it lacks.
If you need other medical coverages, such as doctor's appointments or lab tests, we recommend you look for other prepaid cards focused on those.
Additionally, we find the two-month waiting period to be too long before its policies take effect. Other HMOs we screened only take 30 days or less for their policies to take effect.
We think of that as a huge disadvantage since this card only covers you for 12 months. You also need to keep in mind that the emergency care policies can only take effect for the first 6 months of your purchase.
If you get into an emergency incident in the next six months, you will not be able to claim emergency-related benefits.
5. Maxicare EReady Advance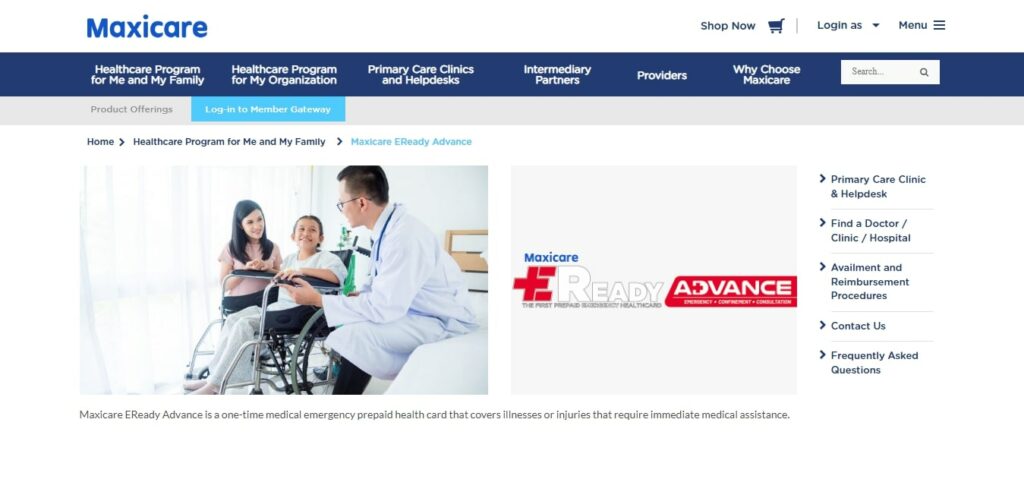 | Test | Info |
| --- | --- |
| Cost | Php 2,950 (Titanium), Php 3,950 (Platinum) |
| Benefits | Emergency Treatment (including room fees), Inpatient Care, Dental discount on Metro Dental |
| Age Eligibility | 15 days old to 65 years old |
| Best for | Children to Teenagers, Working professionals, Freelancers |
| | |
| --- | --- |
| Cost | 5/5 |
| Coverage and limits | 3/5 |
| Network | 5/5 |
| Customer service | 5/5 |
Free and unlimited consultations
10% discount on dental care (Metro Dental services only)
Nationwide Emergency Room Access
Access to major hospitals in Metro Manila
The Maxicare EReady Advance indeed makes you ready for emergencies and in-patient care. For a cheap price, your accidents and emergency care will be insured up to Php 50,000.
When someone gets confined due to emergencies, the medical bill can easily accumulate because of tests, surgeries, and treatment. Big hospitals also only provide expensive options compared to public hospitals.
With Maxicare EReady Advance, we think you will be prepared for any emergency. Maxicare can provide you access to thousands of hospitals nationwide, including the major hospitals.
Even the medicines you might use (as prescribed by a medical practitioner) can be covered by this prepaid health card. This includes the casts or sutures you might get to get better post-treatment.
If you live near a Maxicare Primary Care Clinic (usually within malls), this prepaid card can be your ticket to free and unlimited consultations. We consider this a huge win for professionals or freelancers who may be interested in this product only because of its preventive power.
Because this prepaid health card is affordable for many, it only mostly covers emergencies and in-patient care.
We recommend this as a starting point for your health card selection, especially if you do not think of spending too much for medical bills yet.
Also, Php 50,000 may be a bare minimum under medical contexts. Your medical bill can easily reach Php 100,000 or more, if your emergency becomes more severe than anticipated.
FAQs about health cards in the Philippines