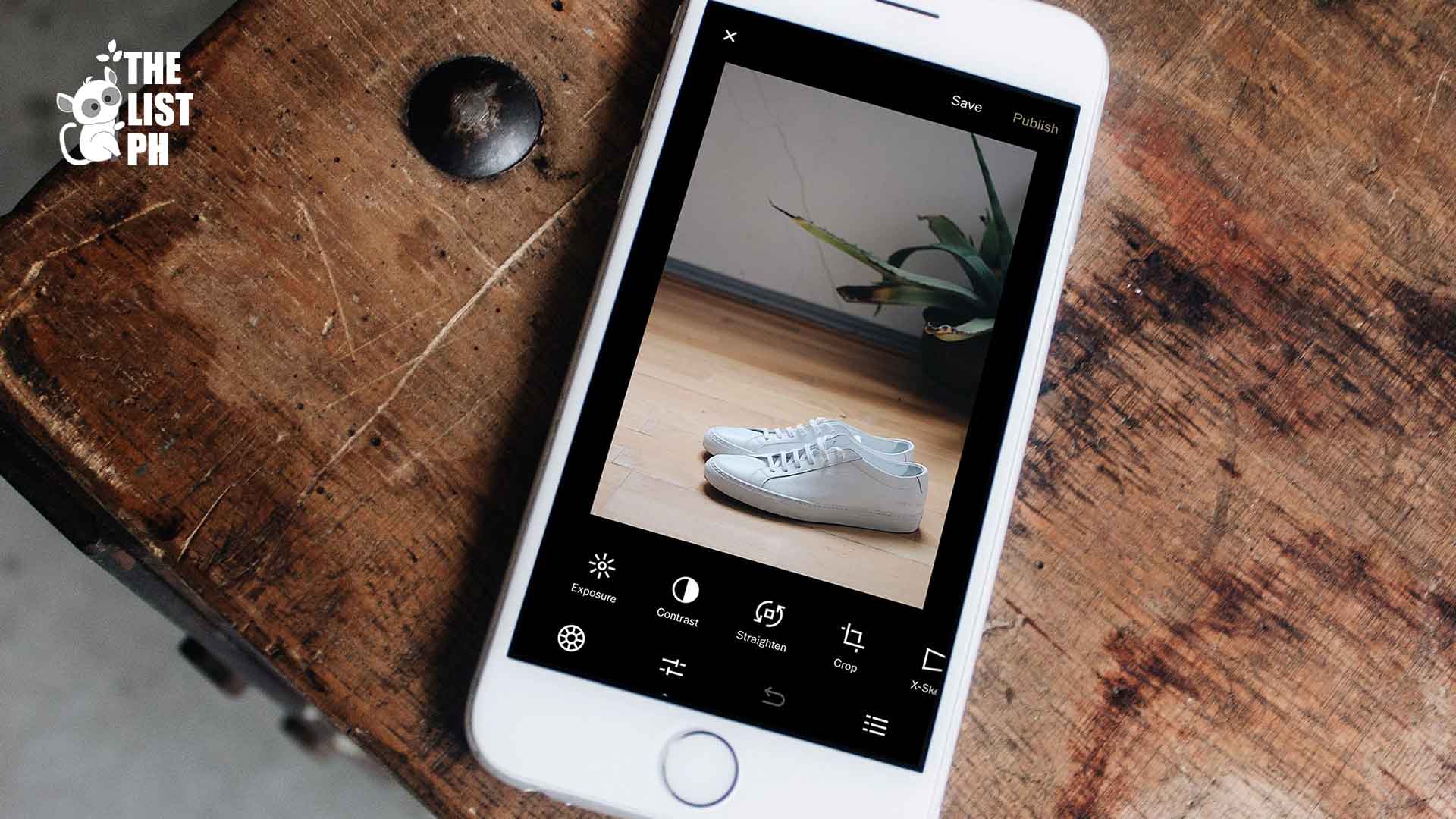 The 5 Best Aesthetic Photo Editors Available in the Philippines
How we picked
Price
We selected the photo editing apps that are worth the subscription fee.
Accessibility
We picked photo editors that are easily downloaded on different types of phones.
Features
We made sure to only include photo editing apps that have a wide variety of features to offer users.
User-Friendliness
We considered the ease of use of each photo editing app.
1. VSCO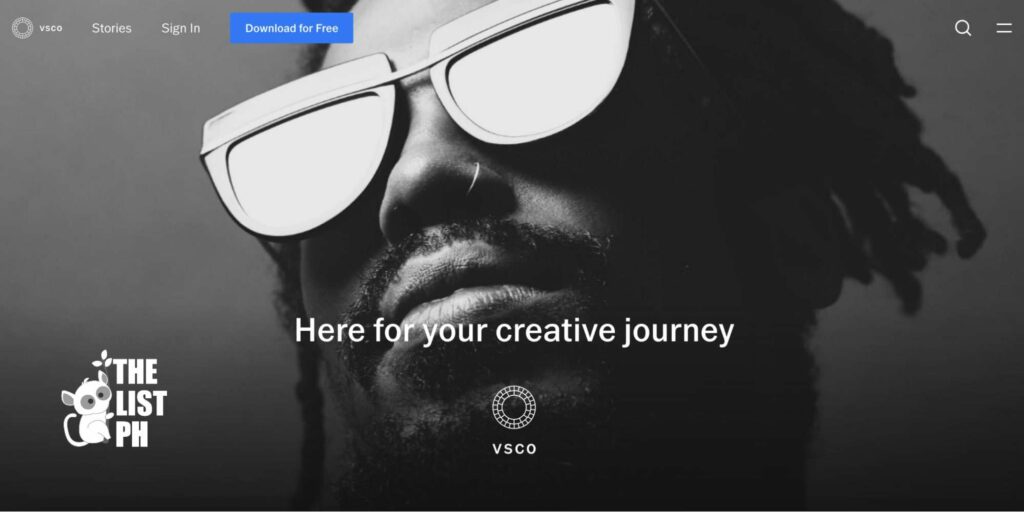 Website: https://www.vsco.co/
Pricing: P1,150 per year and P399 per month
Size: 57.11 MB (Android); 153.6 MB (iOS)
| | |
| --- | --- |
| Apple App Store reviews | 4.6/5 |
| Google Play reviews | 3.4/5 |
| Total reviews | 4/5 |
| Score consistency | 4/5 |
| | |
| --- | --- |
| Price | 4/5 |
| Accessibility | 5/5 |
| Features | 4.5/5 |
| User-Friendliness | 4.5/5 |
Widest variety of filters
Can also edit videos
Allows you to copy and paste edits
Expensive
No website or desktop app
Whether you have an android or an iOS gadget, you can install the VSCO app with just one click. We appreciate that the app's free version already offers a good selection of filters that allows the user to edit aesthetic photos.
VSCO is the number-one app on our list that offers the most variety of filters. Whether you are looking for a film-like aesthetic or a clean, minimalist look, you can do all of that in VSCO.
Not only can you add cool filters to your photos – the app also comes with tools such as brightness, contrast, grain and white balance, just to name a few. You can definitely customize how your photo would turn out.
VSCO is also known for its very minimal and easy to use interface. Many users find it very easy to navigate – even those with no photo editing experience.
In fact, while testing it out ourselves, we were able to successfully edit a photo within a few minutes.
We like that VSCO offers insights on filters they think would best suit your photo. This feature is very convenient if you feel overwhelmed on which filter to go for.
An added bonus for VSCO is that you can now edit videos on the app – perfect for new content creators.
Another cool feature of VSCO is that if you've spent hours and hours editing a certain photo and you want the same preset to be added to a different picture, you can simply copy and paste it and the edits will be duplicated.
The only caveat to all of these is that VSCO is more expensive compared to the other editing apps on our list. It costs P399 for monthly subscriptions and P1,150 annually, with the latter being the better deal, in our opinion.
We also hope that VSCO comes out with a desktop or website version so people can edit on a larger screen.
2. Snapseed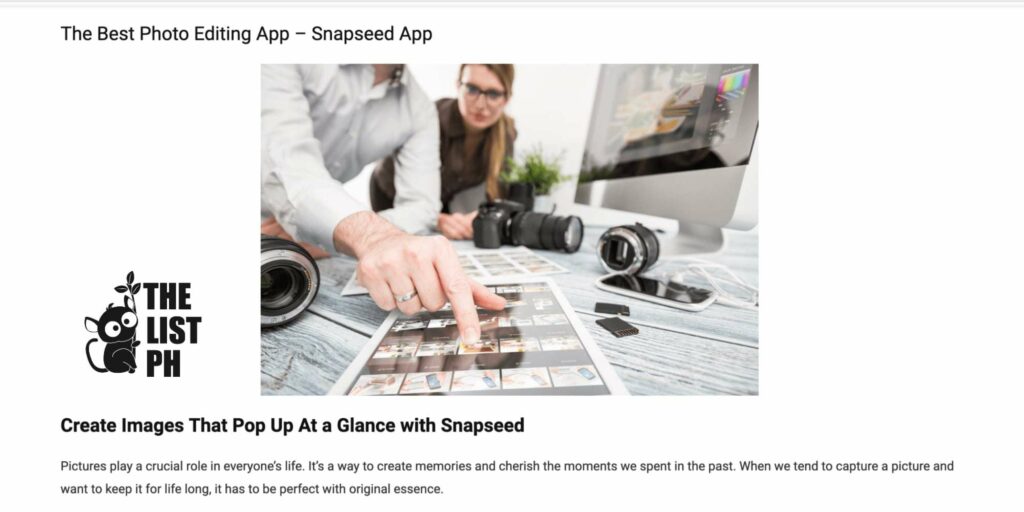 Website: https://snapseed.online/
Pricing: Free

Size: 22 MB (MB), 87.9 MB (iOS)
| | |
| --- | --- |
| Apple App Store reviews | 3.7/5 |
| Google Play reviews | 4.4/5 |
| Total reviews | 4.05/5 |
| Score consistency | 4/5 |
| | |
| --- | --- |
| Price | 5/5 |
| Accessibility | 5/5 |
| Features | 4/5 |
| User-Friendliness | 4.5/5 |
Vast selection of photo-correcting tools
User can edit on desktop
Does not disrupt photo quality
No presets available
Edits one photo at a time
Snapseed's interface is sleek and very simple, yet offers very detailed photo enhancements.
Besides the usual photo adjustment tools like brightness, contrast, etc, Snapseed also has a brush tool that allows you to pinpoint exactly where you want to edit to be applied.
This is great for people who are very keen in refining their photos but do not have the time to edit them in Photoshop. Snapseed allows you to transform photos without the hassle of difficult navigation, which we give them major props for.
All you need to learn is that you need to swipe up and down to select your preferred effect and swipe right to left to adjust its strength. From here, you've pretty much nailed the interface down.
Another feature that we loved about Snapseed is the RAW Develop tool, which allows you to upload and tweak RAW files and export them as JPEG without ruining the photo quality.
The best part? Most apps usually lessens the quality once you export them, but not Snapseed.
A few years back, you would need to pay around $5 to be able to access all the tools for Snapseed. We are so glad that the app now comes for free.

Not only is Snapseed available for iOS users and Android users, they also allow you to edit your photos on your desktop. Simply install the app on your device and you can now edit on a bigger screen which is great if you want a more detailed edit.
That said, if you want your editing to be touch and go, then Snapseed might not be for you. While they offer the best photo enhancing tools, they don't have presets of filters for you to choose from.
We're hoping that Snapseed would also allow you to save drafts of your photos and also add a feature where you can edit multiple photos at a time.
Right now they only let you edit photos one at a time, but since the app is absolutely free, we think it is still worth trying.
3. Prequel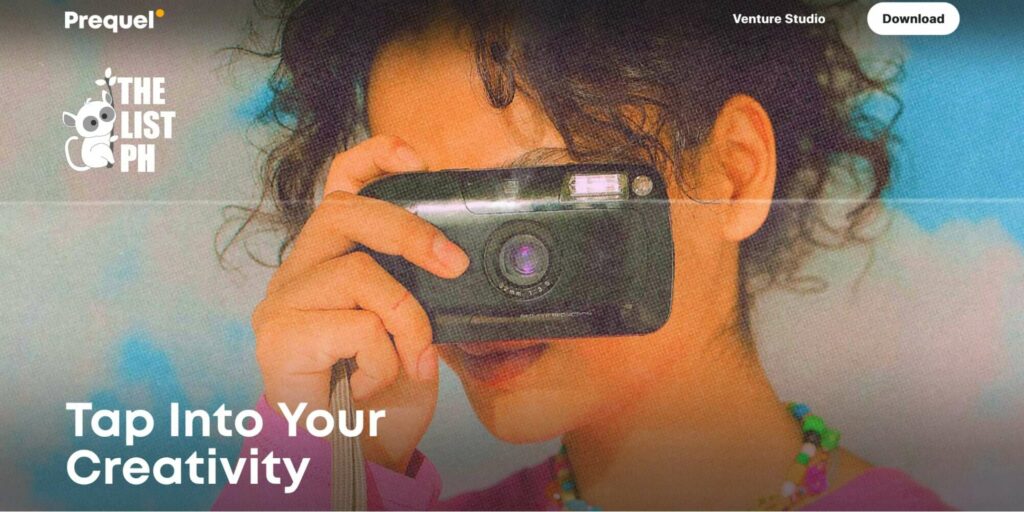 Website: https://prequel.app/
Pricing: P259 per week

Size: 280.4 MB
| | |
| --- | --- |
| Apple App Store reviews | 4.7/5 |
| Google Play reviews | 4.5/5 |
| Total reviews | 4.6/5 |
| Score consistency | 5/5 |
| | |
| --- | --- |
| Price | 3/5 |
| Accessibility | 4.5/5 |
| Features | 4.5/5 |
| Userr-Friendliness | 4.5/5 |
Fun and trendy filters
AI-powered effects
Offers video templates
Expensive
Image quality gets affected once exported
With the rise of Instagram stories and reels, many people turned to Prequel to use for the retro and vintage effect. Many users have noted that it is thrilling to use because the app releases new trendy filters every now and then.
We were also impressed with the Al-powered effects that turn any image or video into a cartoon. Many users enjoy this feature as the cartoon looks very lively and colorful.
Prequel also takes pride in the video templates that they have. No matter what style you have for editing, there is a video template ready for you.
This is great for people who do not have much experience with editing since you only need to input the images and video, and let the app will do its magic. It also allows you to shoot with the filter on, which makes everything very easy.
The app is available for both iOS and Android users. We find that Prequel's interface very user-friendly – you can just point and shoot with no fuss.
Prequel's free version already includes a good amount of filters and presets. They also offer a free trial period for those who want to experience the Prequel Gold features.
We think this is a great way to know if you're willing to commit to their price.
One of the disadvantages of the Prequel Gold is that it is the most expensive app on our list – it costs around P259 per week. We hope they can offer monthly plans with more affordable pricing.
We also noticed that the image and video quality is not as crisp as the raw file when exported from the Prequel app. Fortunately, this doesn't mean that the image or video is in poor quality – it's just not as crisp as the original file.
4. Picsart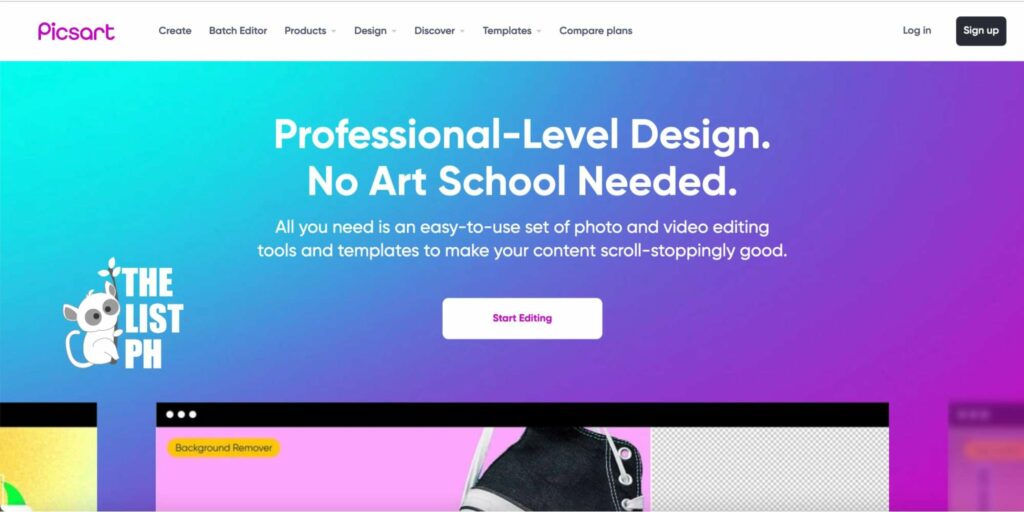 Website: https://picsart.com/
Pricing: P1,050 per year or P159 per month

Size: 66.3 MB
| | |
| --- | --- |
| Apple App Store reviews | 4.7/5 |
| Google Play reviews | 4.1/5 |
| Total reviews | 4.4/5 |
| Score consistency | 4.5/5 |
| | |
| --- | --- |
| Price | 4/5 |
| Accessibility | 4.5/5 |
| Features | 4.5/5 |
| User-Friendliness | 4/5 |
Multiple editing tools
Allows you to edit videos
Can layer on effects
Promotes tacky images
Occasionally lags
Picsart was first developed as a standalone photo editing app by Armenian programmers Artavazd Mehrabyan and Mikayel Vardanyan. Now, they have added upgrades such as video editing.
This app is considered the all-in-one app for editing. You can add text overlays, add filters, create a collage and even draw on your photos!
A lot of users enjoy that this app does almost everything you need.
Picsart has a wide variety of tools that are essential for detailed photo editing. You can remove the background, use the cloning tool to conceal unwanted objects/people and even draw on stickers to your images.
We were also impressed that Picsart has an editing app that allows you to produce quality videos without the complicated process. They also offer online editing where you can just login using your account and edit from there.
What's great about Picsart compared to the other apps on our list is the layered feature. You edit the effects without disrupting the other layers you've added to your photo.
We also like that you can select the quality of the photo when exporting. This is great if you're conscious of the space that your photos take up on your phone.
We think that the pricing is just about right considering you get all the tools in one app. You can opt for monthly rates for P129 or save more using the annual rate of P1,050.
When you launch the app, you might see a lot of tacky images as inspiration that we think are not very pleasant to the eyes. Don't worry about it as you have the option not to follow the template.
A common complaint from users is the occasional lag from the app. We hope Picsart improves on this to give the users a smoother experience while editing on the app.
5. Afterlight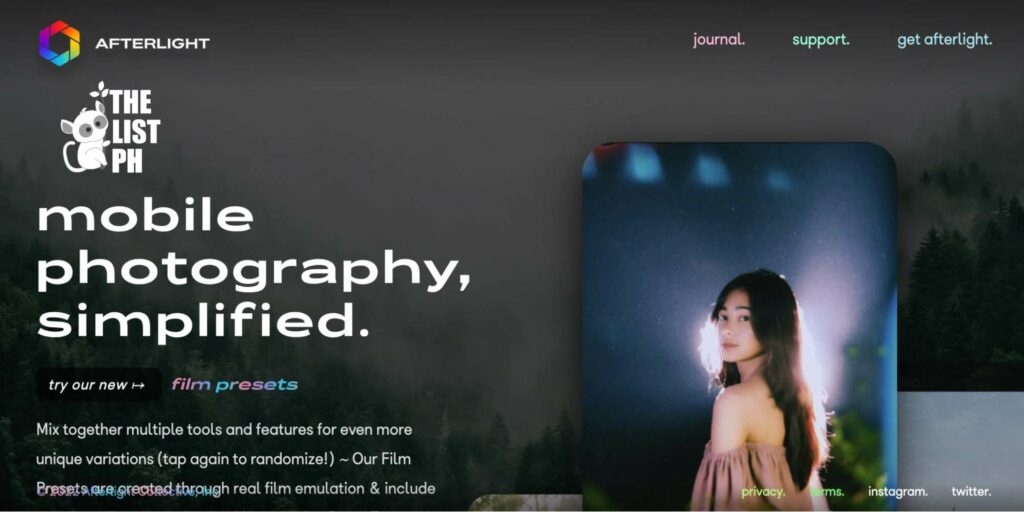 Website: https://afterlight.co/
Pricing: P929 per year

Size: 274.6 MB
| | |
| --- | --- |
| Apple App Store reviews | 4.7/5 |
| Google Play reviews | 3.8/5 |
| Total reviews | 4.25/5 |
| Score consistency | 4.5/5 |
| | |
| --- | --- |
| Price | 4/5 |
| Accessibility | 4.5/5 |
| Features | 3.5/5 |
| User friendly | 4.5/5 |
Double Exposure tool
Achieves film-like photos
Advanced color tools
Expensive
Occasional crashing
Afterlight became very popular to photo enthusiasts because it allows you to achieve that film-like effect without needing to purchase a film camera. They have a wide variety of filters to choose from and you can even add light leaks similar to old film photos.
One of the unique things about Afterlight is the Double Exposure tool which allows you to blend two or more photos in a single portrait. Many users enjoy this feature as it allows them to produce very aesthetic pictures with just a few clicks.
Afterlight also allows you to adjust and play with the colors on your photo. This is great for more advanced photographers that would like to play with the hue, highlights, and shadows of the photo.
You can easily download the app on your phone whether you are using iOS or android. Unfortunately, they do not have a desktop option for photo editing.
Many users noted that the app is very easy to navigate. All the tools are nicely laid out in the app so even if it is your first time using it, you will not get confused.
We think the fee is a bit high, considering that you need to pay for the more advanced tools that come free with other apps. You'll be paying P929 annually.
We noticed that the free version is very limited so you'll eventually need to upgrade to freely use the app.
We were quite disappointed to know that the app sometimes crashes. Many users were quite disappointed with this since they are paying a good amount of money.
Hopefully, the Afterlight team will look into this issue.
FAQs on Aesthetic Photo Editors