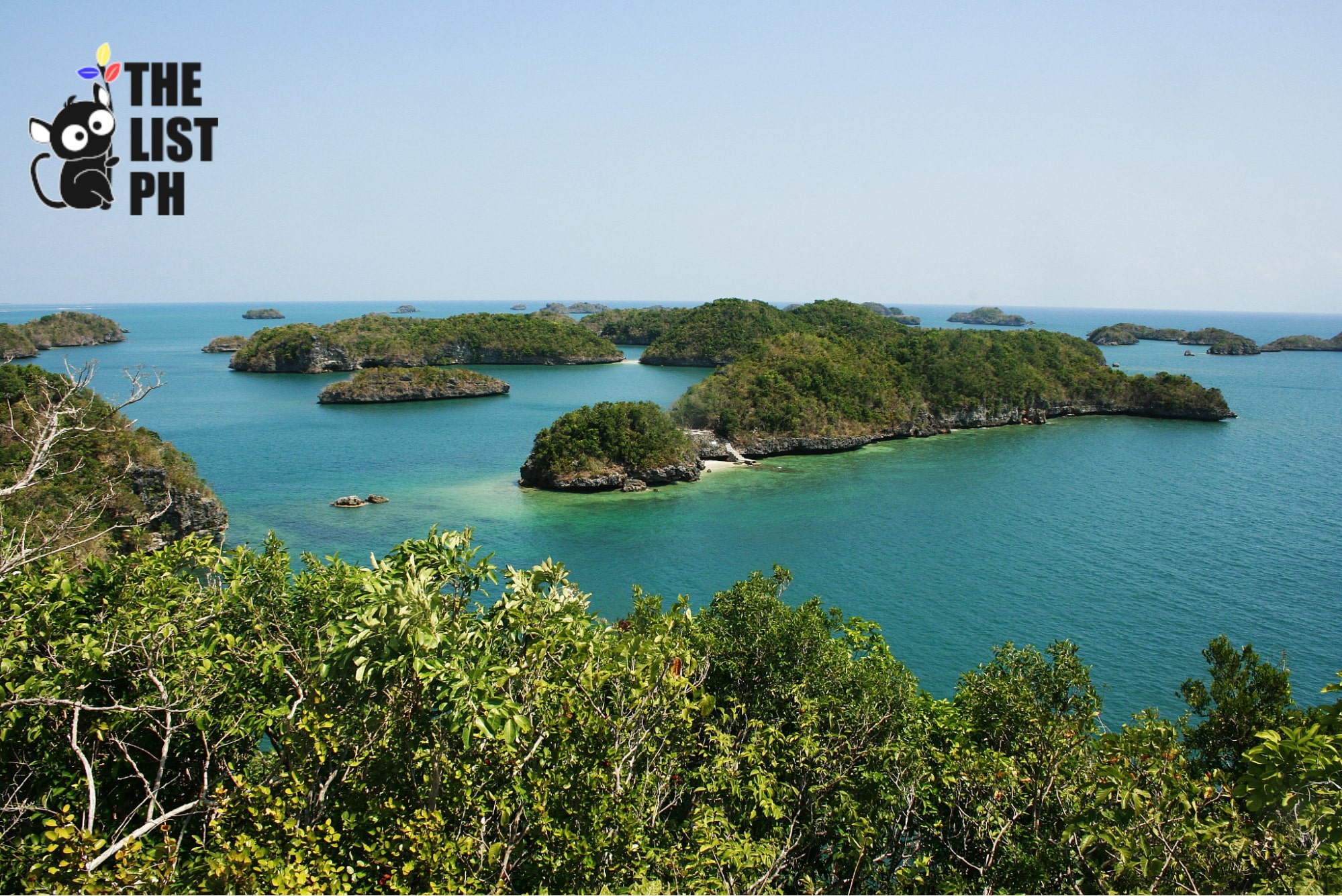 Our Ultimate Hundred Islands Travel Guide
The Hundred Islands National Park is an absolute gem. I've been there myself, and let me tell you, it's a paradise waiting to be explored.
Each island here has something unique to offer, so you definitely won't get bored.
Ready to explore Pangasinan's Hundred Islands? Here's our ultimate travel guide — we share travel tips, destinations, and activities to try in the area!
Best Time to Go
The best time to head to the Hundred Islands is during the dry season, from November to May. The tides are favorable, and you can explore the islands without worrying about the rain.
It's important to take note, however, that these months are also peak tourist season. Schedule on a weekday if you want to avoid the crowds.
How to Get Around
There are two ways to get to the Hundred Islands National Park from Manila. Since it's located in Alaminos City, Pangasinan, you can get to the national park via bus or private vehicle.
Bus: Various bus companies have routes from Manila to Alaminos for a one-way fare of P350 – P470. From Alaminos, you can ride the tricycle to get to the Lucas Wharf.
Private vehicle: The drive to Lucap Wharf from Manila will take approximately 4-5 hours depending on traffic, and whether you pass by tolls. From there, you can ride the boat heading to the islands.
Where to Stay Near the Hundred Islands
While there are no accommodations in the islands themselves, there are some in the municipalities within the vicinity.
Carribean Transient House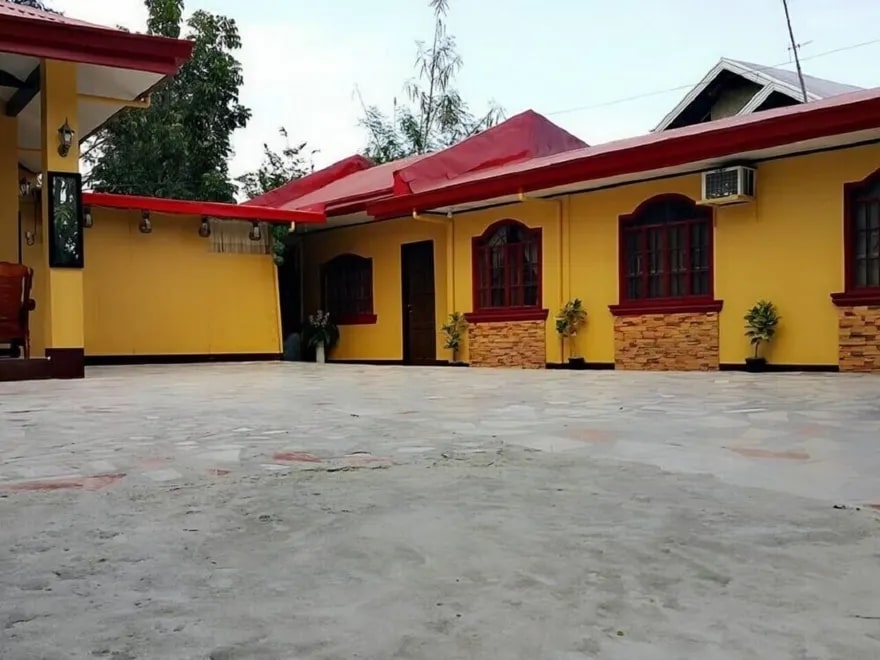 Address: #545 Sitio Galiz, Lucap, Alaminos, 2404 Pangasinan
Contact No.: 0921 289 0495
If you're a large group or a family touring the islands, then this transient house should be your top pick. It has multiple rooms, plus you get to enjoy free Wi-Fi, parking space, air conditioning, and complimentary breakfast.
It provides a quiet place away from the tourist bustle. 
Pro tip: 
We advise that you book online to avoid day-of booking fees.
Zeny Milanes Transient House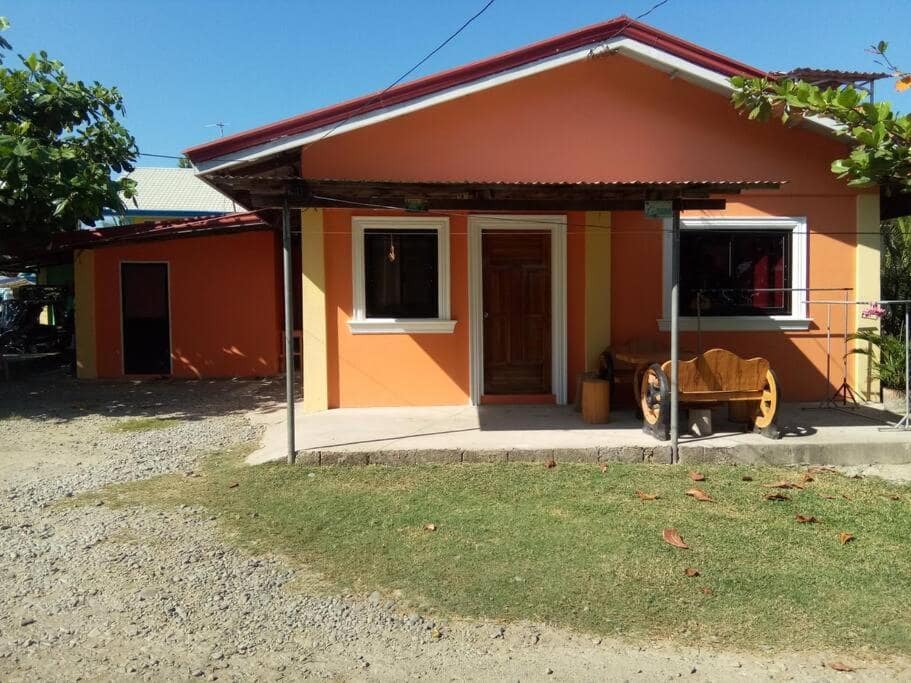 Address: Sitio Recudo, Barangay Lucap, Alaminos City, Pangasinan
Contact No.: 0928 962 8826
Social media: Facebook
This accommodation is one of the best choices if you plan to drop your bags and immediately go island hopping. The house is located near the Lucap Wharf and would only take 15 minutes to reach.
It's pet-friendly, but we advise you not to bring your beloved fur child along when you're doing the island tour – they might get stressed from the trip. 
Pro tip:
A reservation fee is required to book a room here.
Alona's Traditional Filipino Home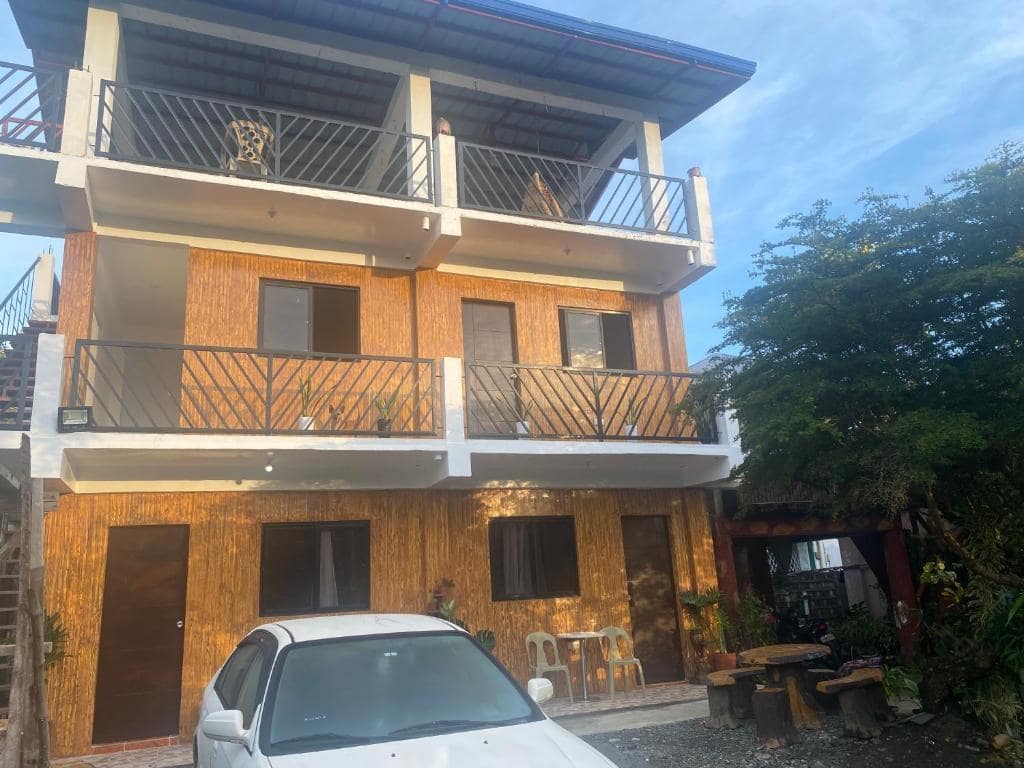 Address: 527 Sitio Galiz, Lucap 2404 Alaminos, Pangasinan
Contact No.: 0927 077 9127
Operating hours: Always open
Social media: Facebook
This traditional Filipino-style lodging is best for families or groups of friends composed of 3-6 people. The bathroom and kitchen are shared spaces – things to consider when you would rather stay in a place with people you know well.
Its location is quiet yet just a tricycle ride away from the markets and the wharf. Each room has a refrigerator to store your market-bought items or snacks for those midnight cravings.
Pro tip:
If the helper is in the vicinity, you can ask them to help you out with groceries and cooking. Just make sure to hand them money for ingredients.
V. Hauschild Transient Houses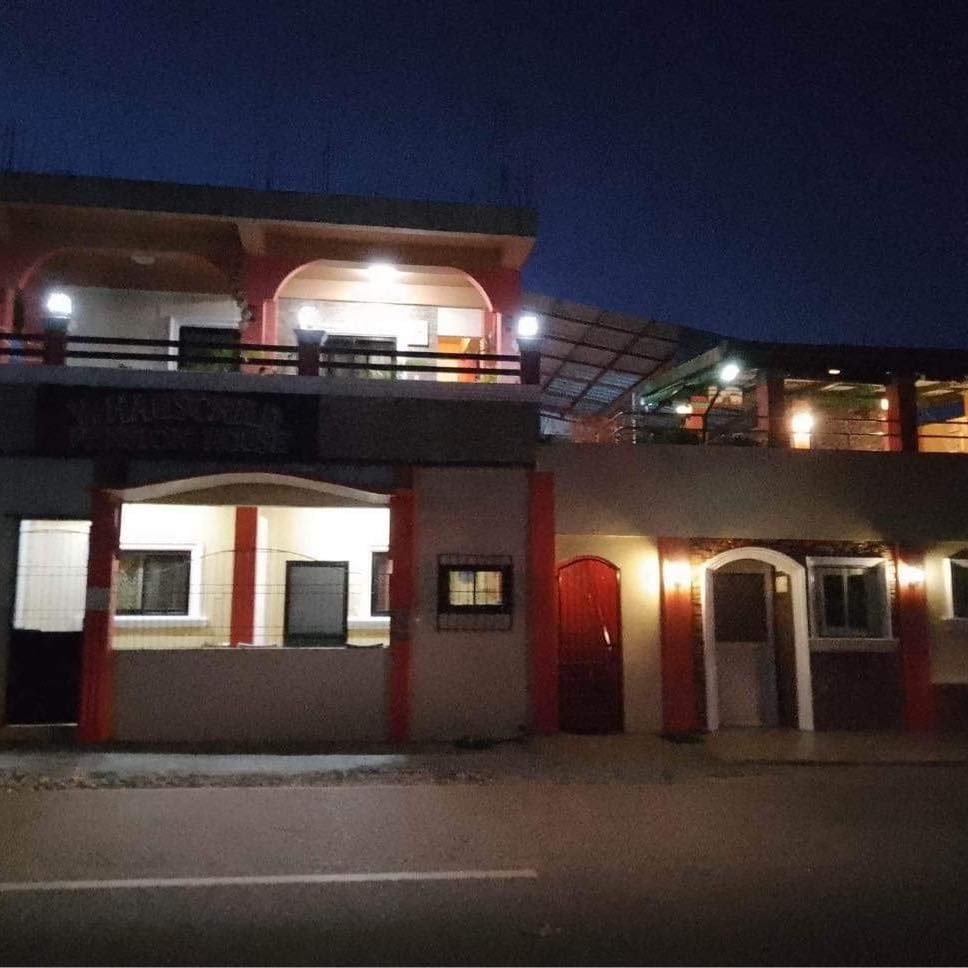 Address: 322 National Road, Lucap, Pangasinan, 2404 Alaminos, Pangasinan
Contact No.: 0920 946 3915
Social media: Facebook
Whether you're going as a family or on a double-date trip with your best friend, this transient house is a good pick. It's close to the wharf and night market should you want to save up and prepare your own meals during the outing.
Pro tip:
Don't leave your cooking unattended in the kitchen area. There's no overhead fan to deter flies and insects. 
Maxine by the Sea Restaurant and Lodge
Address: 52R4+92R, Alaminos – Lucap Rd, Lucap, Alaminos, Pangasinan
Contact No.: 0977 602 3843
Operating hours: Monday – Sunday, 7 am – 10 pm
Social media: Facebook
When you talk about Maxine by the Sea, locals and frequent goers will know it as the restaurant near the Hundred Islands wharf. It's famous for its freshly caught seafood cooked in various styles, such as kare-kare or sinigang, or served on a platter.
This restaurant does offer lodging and is recommended for its clean rooms and the overlooking view.
Pro tip:
Bring your valuables with you. There are no safes available in the rooms. 
Where to Eat Near the Hundred Islands
A whole day out on the islands can definitely make anyone hungry. While you can pack food to eat, there are nearby restaurants to grab a quick bite.
Here are our recommendations!
Maxine by the Sea Restaurant and Lodge
Address: 52R4+92R, Alaminos – Lucap Rd, Lucap, Alaminos, Pangasinan
Contact No.: 0977 602 3843
Operating hours: Monday – Sunday, 7 am – 10 pm
Social media: Facebook
As Maxine by the Sea Restaurant and Lodge is near the wharf heading to the Hundred Islands, you can get your fill here before your day of exploring. 
Pro tip:
The restaurant only accepts cash payments. 
Celias' Cafe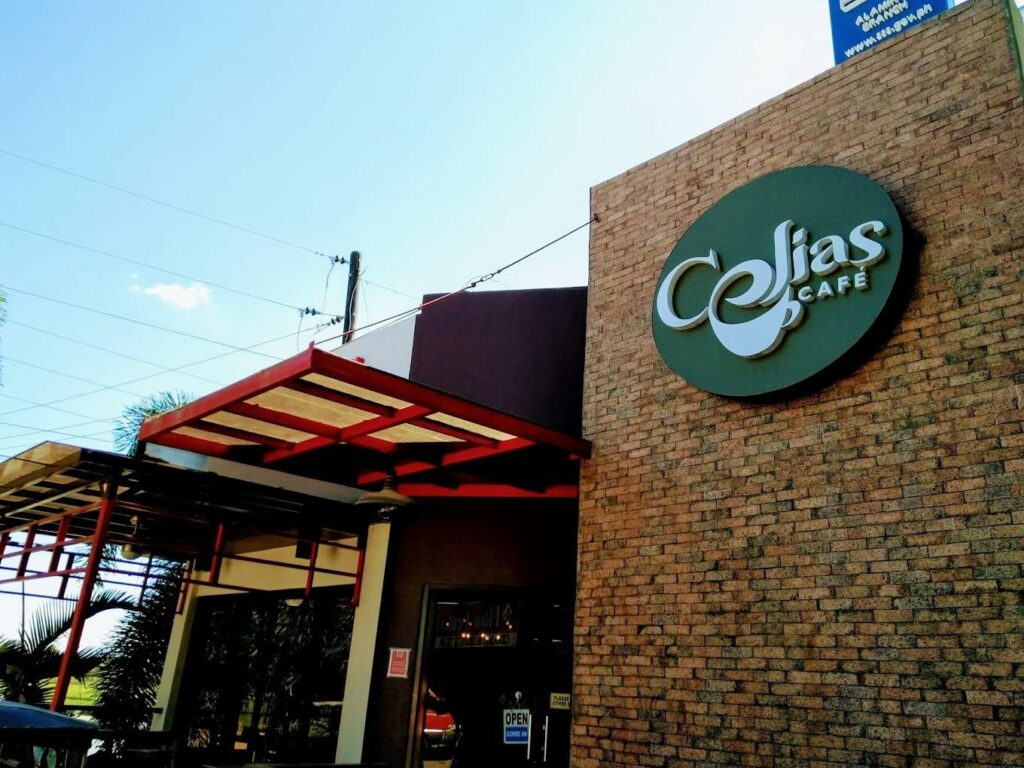 Address: SSS building, Marcos Avenue, Palamis 2404 Alaminos, Pangasinan
Contact No.: 0917 100 2546
Operating hours: Monday – Sunday 7:30 am – 9 pm
Social media: Facebook, Instagram
Celias' Cafe is one of the must-visit cafes when you're in Alaminos, Pangasinan. It offers good breakfast fares and well-made coffee.
Pro tip:
We definitely suggest getting the Ultimate Alaminos Breakfast. Pair it up with their coffee to get your day of adventure started. 
Along D' Rod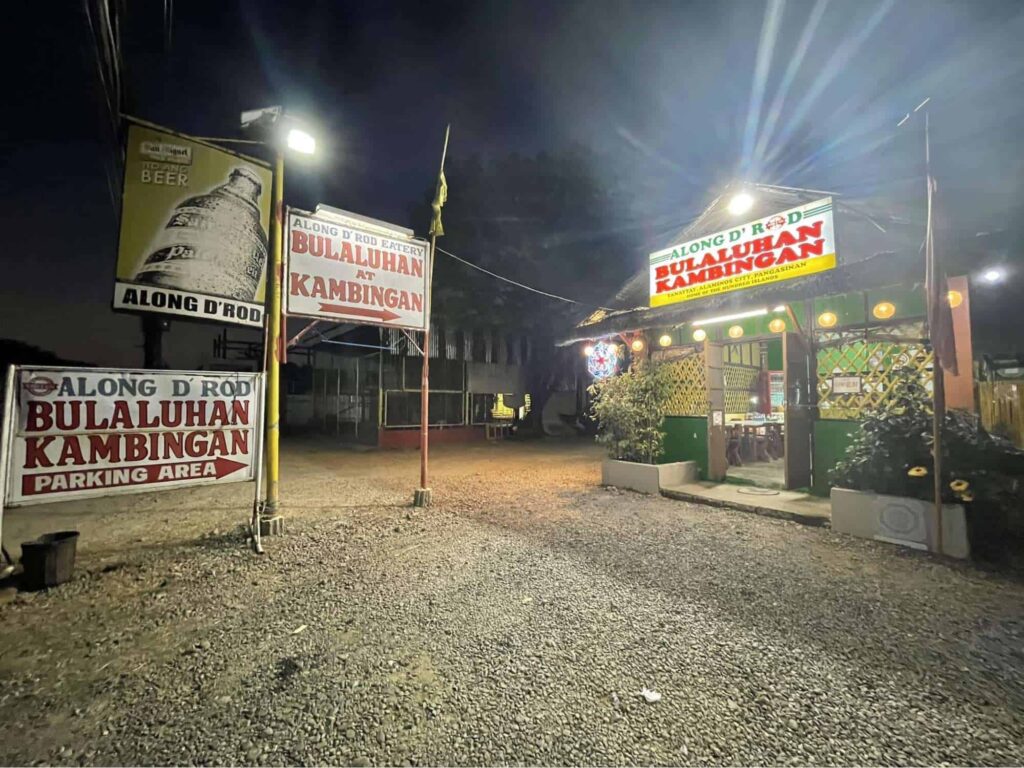 Address: 4XWQ+6R4, Poblacion, Alaminos, Pangasinan
Contact No.: 0999 589 7053
Operating hours: Monday – Sunday, 7 am – 9 pm
Social media: Facebook
Along D'Rod is one of the best restaurants to stop over if you're craving hot soup. Apart from bulalo, they offer local delicacies like pigar-pigar, too.
Other must-tries are the calamares and sisig. 
Pro tip:
Servings are small. So, make sure to order more if you're really hungry. 
Shimas Cafe & Restaurant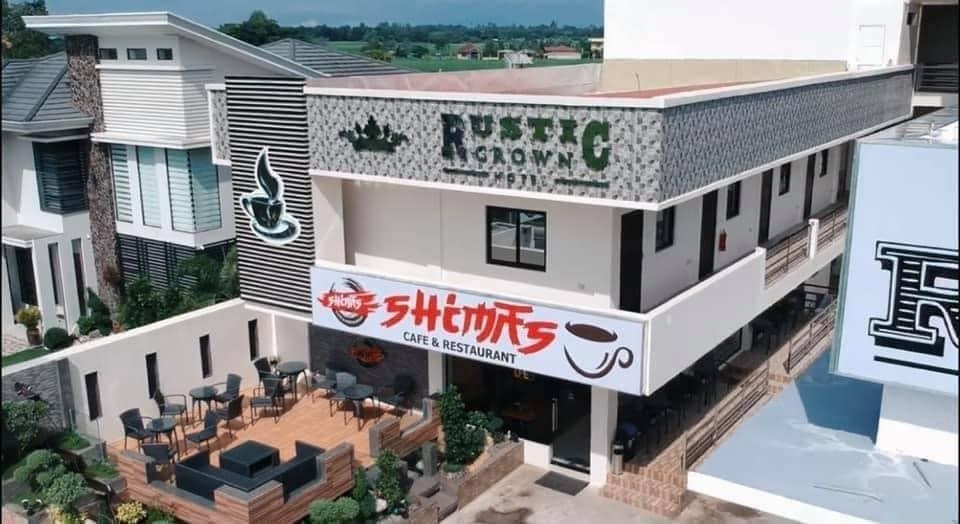 Address: 5XHV+959, Alaminos – Lucap Rd, Alaminos, Pangasinan
Operating hours: Monday – Sunday, 10 am – 7 pm
Social media: Facebook, Instagram
If you want a variety of food to choose from, then try out Shimas Cafe & Restaurant. You can order a cordon bleu meal or the pork katsu before heading to the Hundred Islands.
This restaurant is also known for its ambiance. It's one of the best places to be after touring the islands. 
Pro tip:
The staff are open to special requests when it comes to the drinks and food. Make sure to inform them of any dietary restrictions.
Appetitoso Cafe And Bistro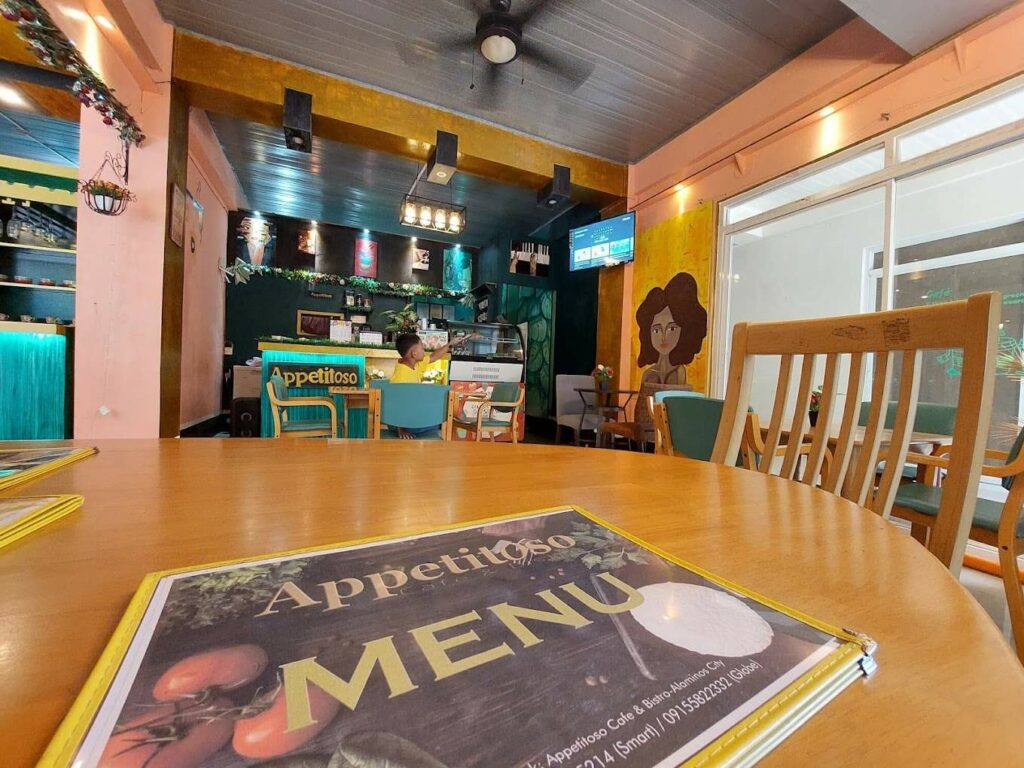 Address: Ground Floor RML Building M. Montemayor St, Alaminos, 2404 Pangasinan
Contact No.: 0906 244 6392
Operating hours: Monday – Sunday, 8 am – 7 pm
Social media: Facebook
If you're craving Asian food, you should check out Appetitoso Cafe and Bistro. This restaurant offers a wide range of cuisines from Indian and Viet to Malay, and more.
Apart from their restaurant, they also offer catering services. 
Pro tip:
Order the cheesy fries and wings. They're crowd favorites. 
What to Do
Each island has various activities to offer, and we mean a lot. Trust us, it can get overwhelming.
That's why we listed some of the must-try things to do on each island. 
Go cave cliff jumping at Marcos Island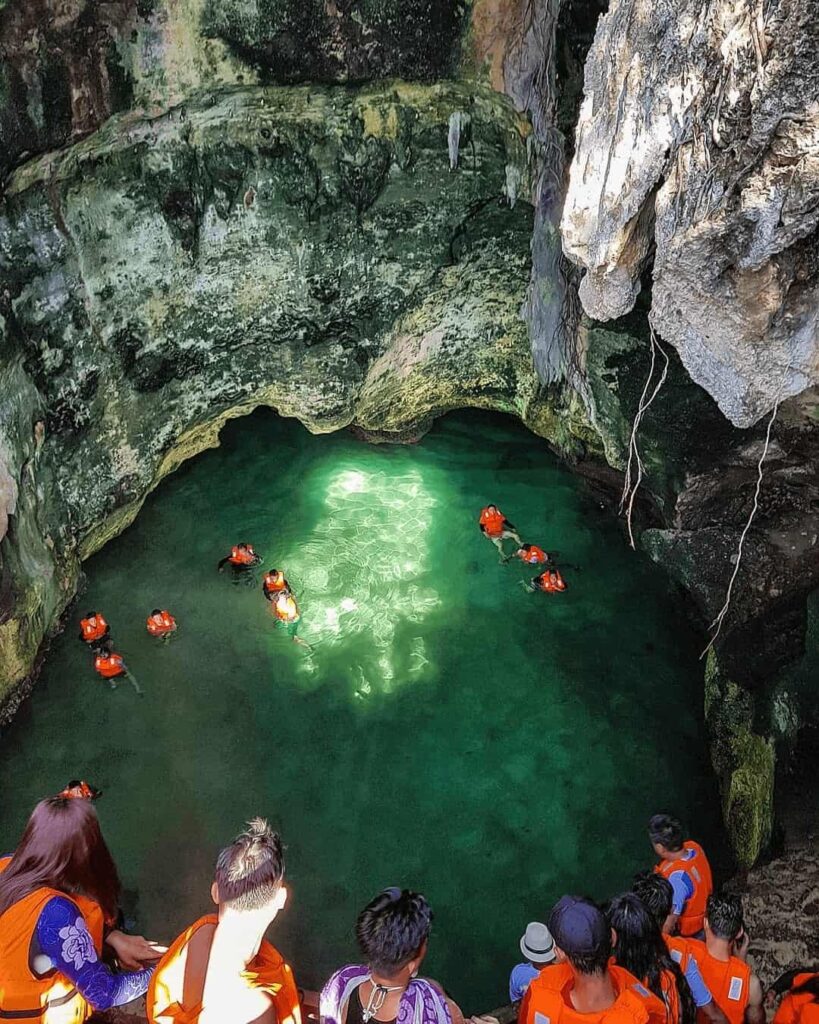 The island's underwater cave is ideal for thrill-seekers. It offers a 15-20ft cliff jump, then exiting through its narrow entrance. Afterward, you can enjoy snorkeling or swimming in the surrounding waters.
If you just want activities at a chill pace, you can stay at the small beach. It's perfect for playing in the water or sunbathing.
Try the island's longest zip line at Governor's Island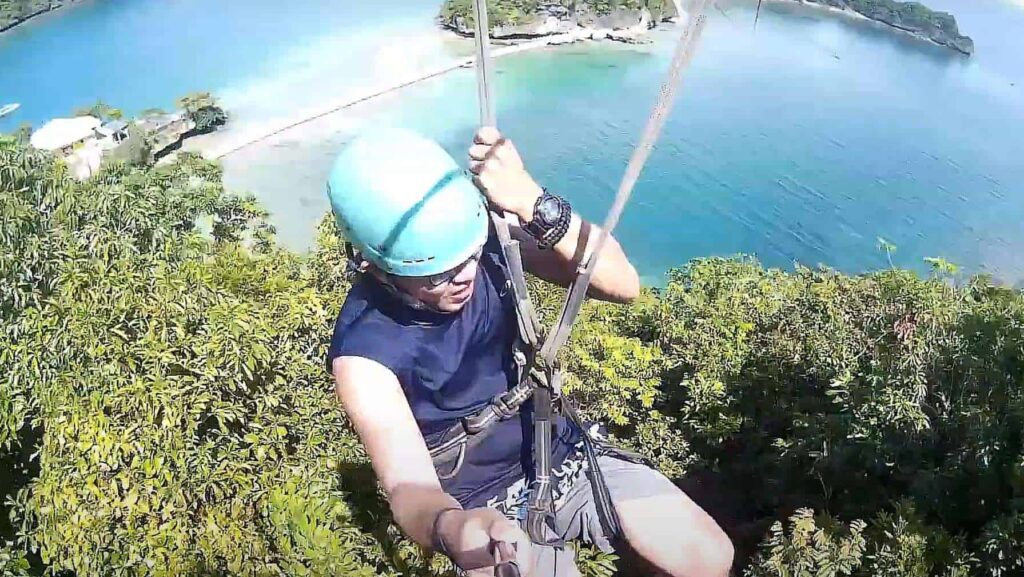 Governor's Island stands out as a top destination within the area. It features a pristine white sand beach, clear waters, and a breathtaking view of the neighboring islands in the park.
The island's main attraction is its 546-meter zipline. If you're not up for that, you can choose to swim and snorkel or unwind by the beach.
Set up a picnic at Quezon Island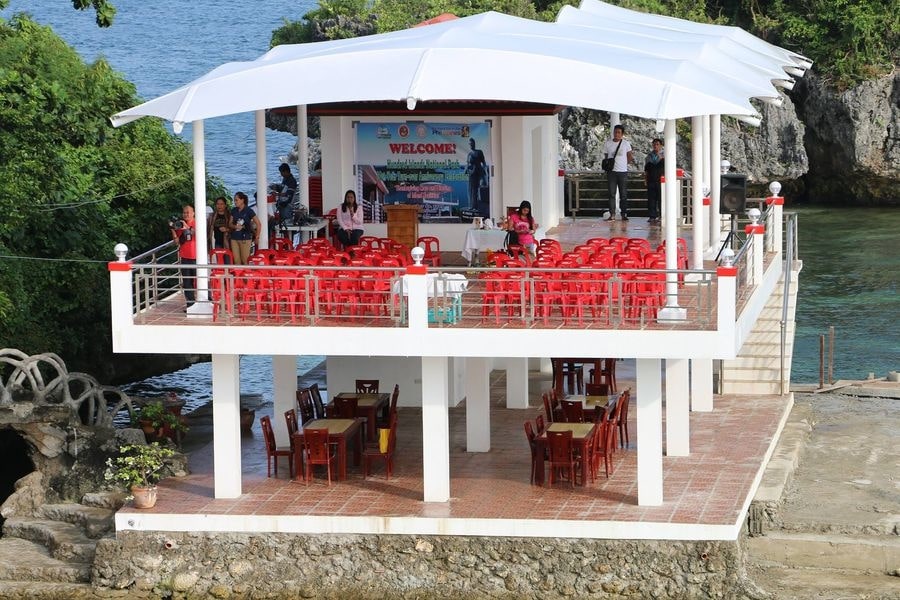 Quezon Island's white sand beach is the island to visit if you're with family or friends. It's the perfect location for your photos and other group activities like swimming and beach volleyball.
Once you're tired of the activities, you can set up your snacks or meals at the picnic area. The shaded location also has tables and benches prepared – but remember to clean as you go after eating!
Snorkel at Virgin Island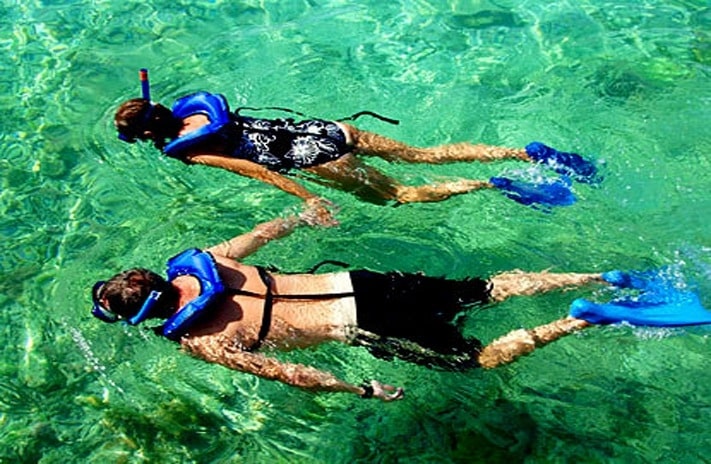 Virgin Island is a small island known for its sandbar that appears during the low tide. Tourists frequently visit the island for this.
Besides walking along the sandbar, there are plenty of activities to enjoy on this island, including snorkeling and helmet diving.
Visit the sea turtles' nesting sites at Turtle Island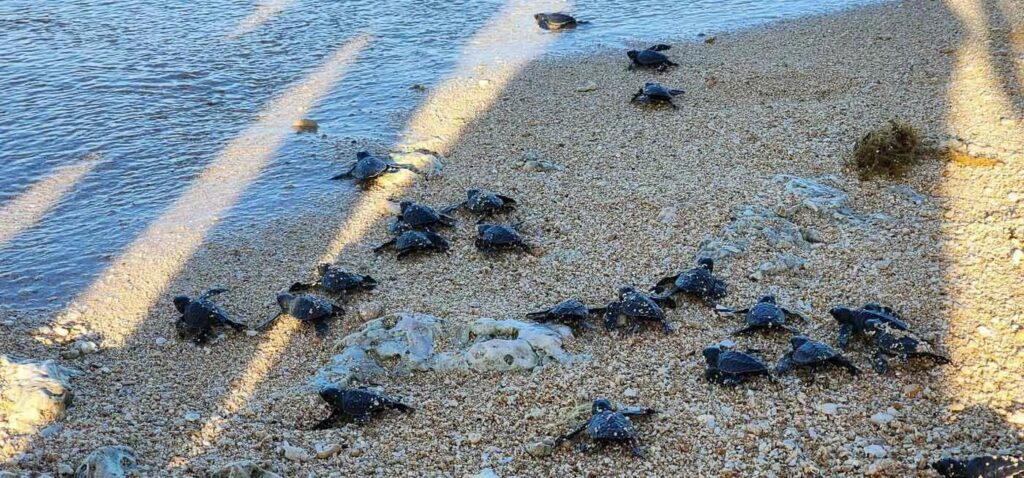 Turtle Island earned its name from, you guessed it, the turtles nesting in certain sections. Visitors can explore these sites, ensuring they take care not to disturb the nesting areas.
When visiting this island, be cautious about where you step to avoid disturbing nests. Ensure you carry out all your trash and dispose of it properly, leaving the area clean.
Where to Shop
When it comes to shopping near the Hundred Islands, you won't find sprawling malls or bustling shopping districts. Instead, you'll discover local markets and stores offering fresh produce, unique items, and souvenirs.
Alaminos City Public Market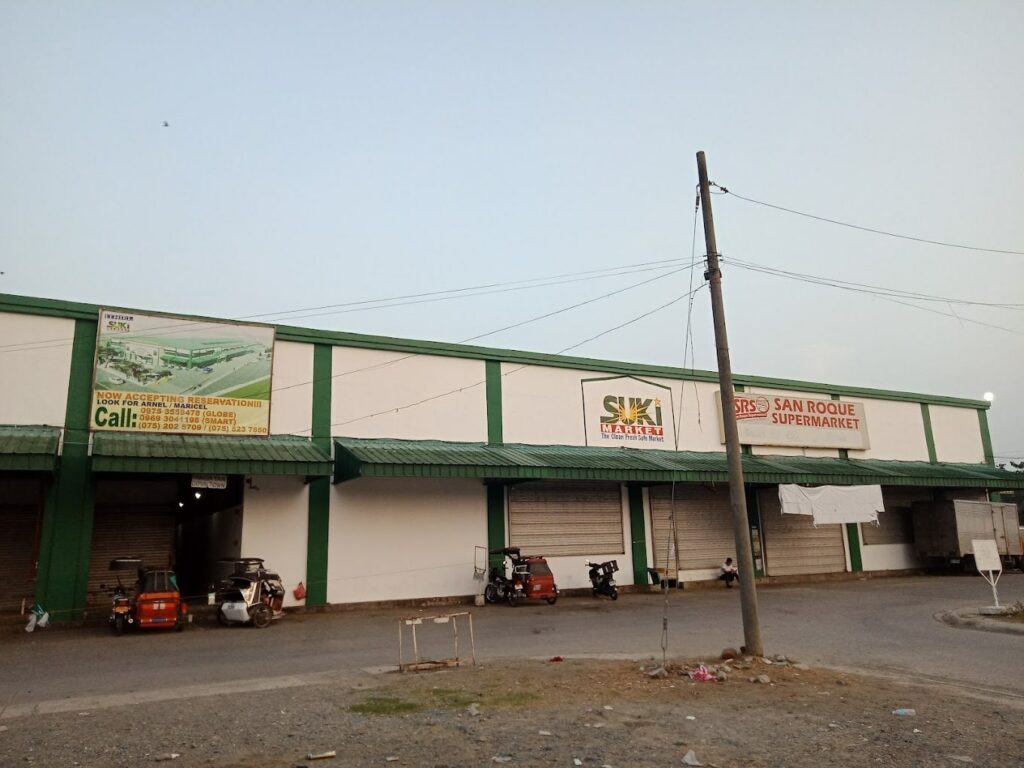 Address: 5X4J+HMG, Sison Street, Alaminos, Pangasinan
Operating hours: Monday – Saturday 9 am – 5 pm, Sunday 7 am – 6:30 pm
Contact No.: (075) 552 7406
This market is the central hub for locals and tourists alike. Here, you can find fresh produce, local delicacies, handicrafts, and souvenirs.
It's a great place to immerse yourself in the local culture. Plus, you can easily select and purchase unique items to take home.
Lucap Wharf Souvenir Shops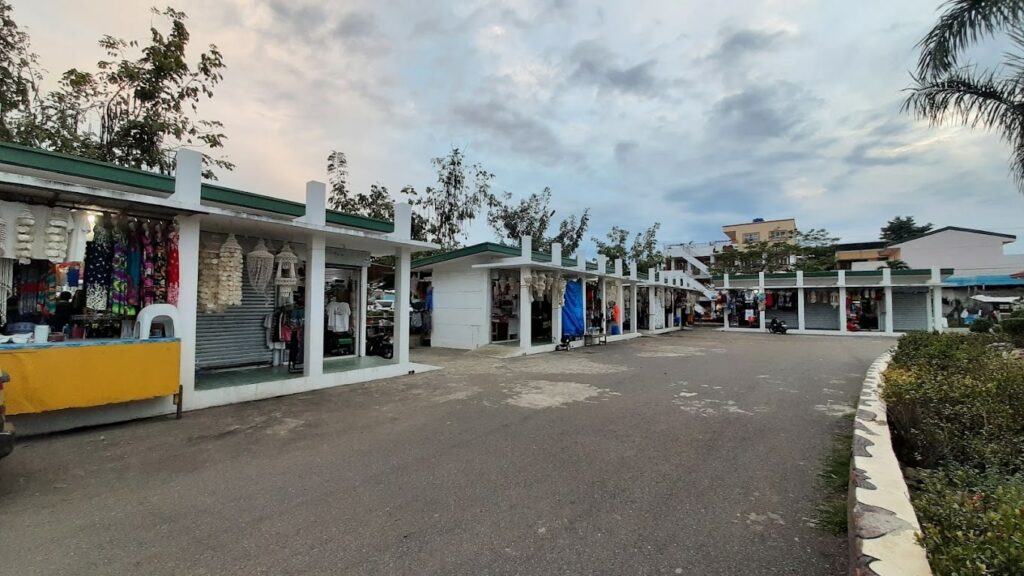 Address: 52R3+Q69, San Jose Dr, Lucap, Alaminos, Pangasinan
Along the Lucap Wharf, there are several small souvenir shops where you can buy shells, keychains, shirts, and other beach-themed souvenirs. It's a convenient stop after your island adventures.
One Town, One Product (OTOP) Hub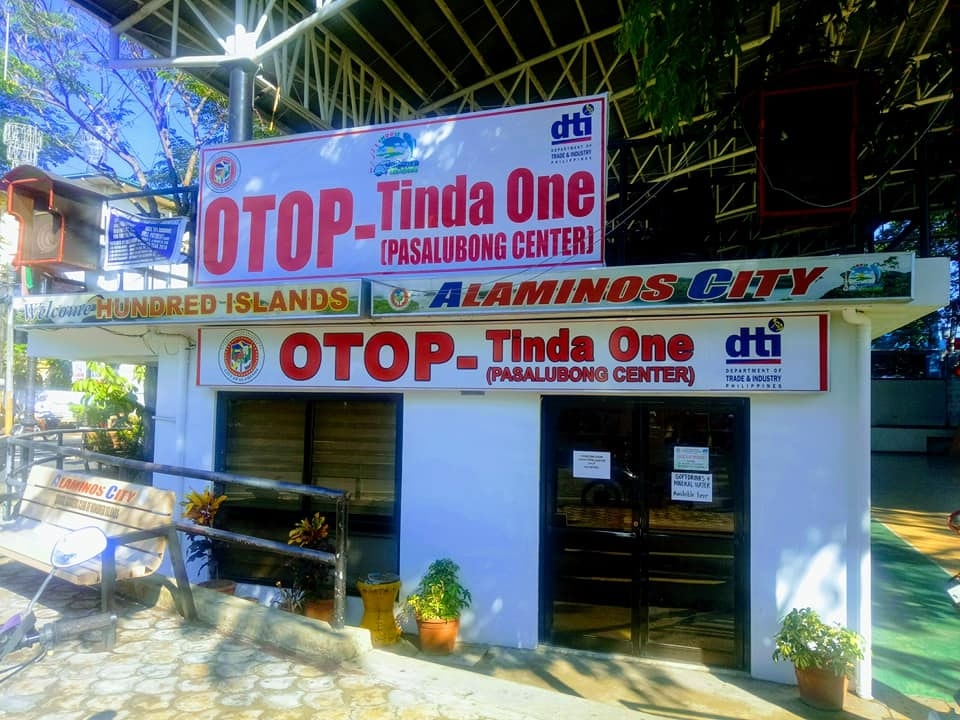 Address: Plaza Enrique Braganza, Sports Complex, Alaminos, Pangasinan
Operating hours: Monday – Friday, 8 am – 5 pm
The OTOP hub is an all-in-one location for locally-made items from the province. Here, you can find local cuisine, traditional woven products, pottery, and other crafts made by local artisans.
When you're in the area, make sure to support the local community and purchase authentic Pangasinan products.
Which Neighbourhoods to Visit
When exploring the area of Pangasinan, you'll discover several charming neighborhoods and towns that offer unique experiences and attractions. Here are some worth visiting.
Lucap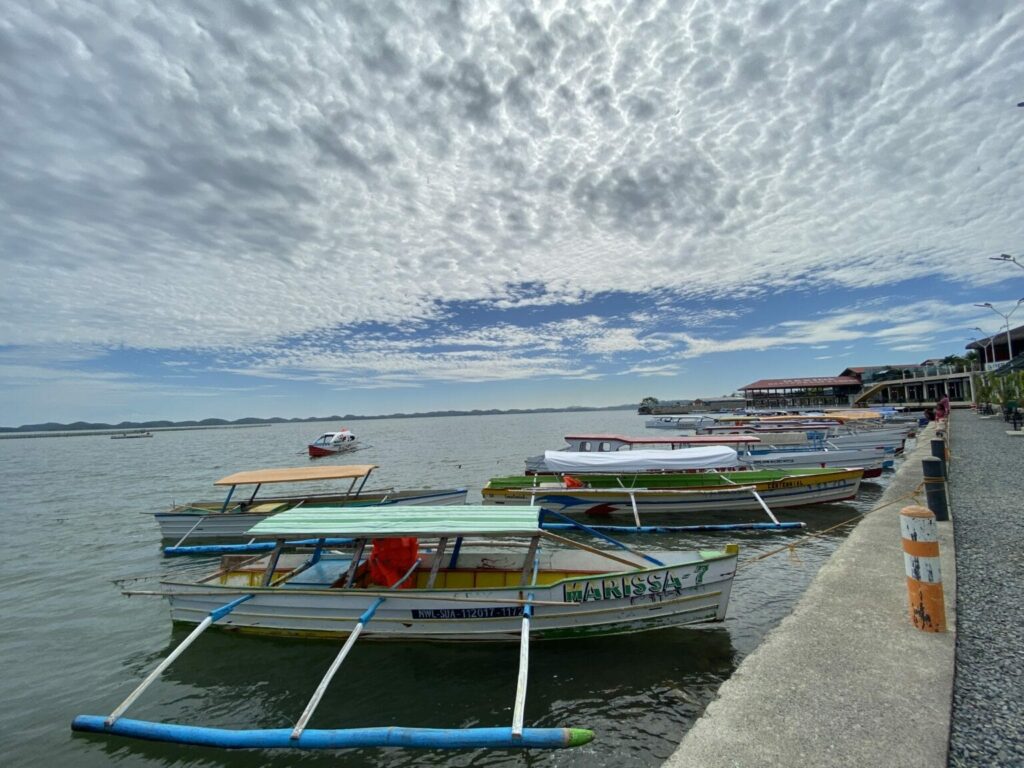 Lucap is the gateway to Hundred Islands and the primary starting point for island-hopping tours. It's a neighborhood with numerous restaurants, souvenir shops, and accommodations.
Don't miss the chance to stroll along Lucap Wharf. You can enjoy the scenic views of the islands as well as the restaurants and lodgings within the area.
Alaminos City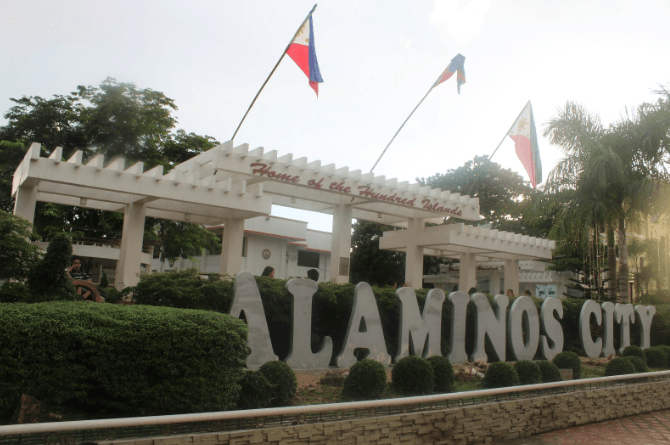 Alaminos City is the nearest city to the wharf heading to the Hundred Islands. That's why there are tons of beaches nearby – perfect if you want to partake in some form of water adventure.
Interestingly, it also serves as a hub for travelers. You should visit the Alaminos Public Market to experience the city's vibrant atmosphere and sample fresh local produce and delicacies.
Bolinao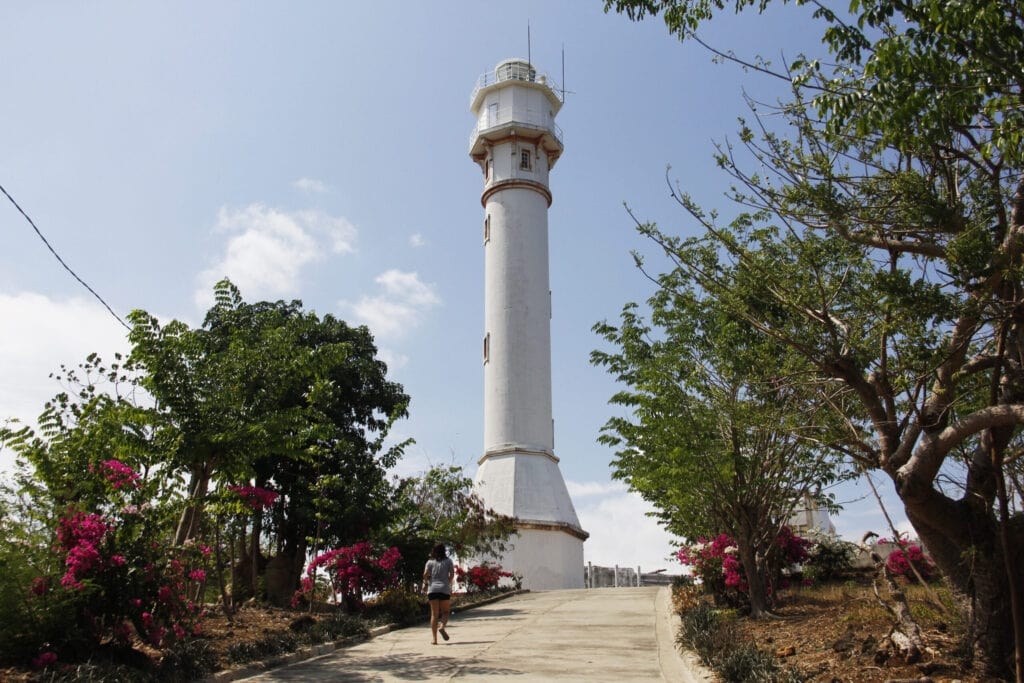 Bolinao is a picturesque town located to the northwest of the Hundred Islands. It's famous for its beaches like Patar Beach, which boasts fine white sand and crystal-clear waters.
Bolinao is also home to the Cape Bolinao Lighthouse, a historic landmark and the second-tallest lighthouse in the country, offering panoramic views of the coastline.
Anda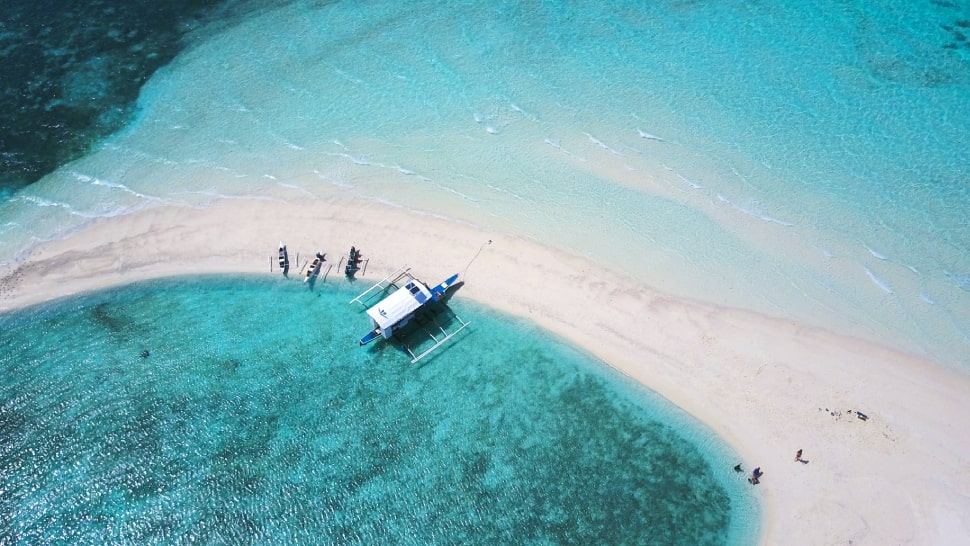 Anda is known for its pristine beaches. Tondol Beach, in particular, is a must-visit spot in the municipality.
The area also has other spots worth visiting such as the Panacalan sand bar, Cory Island, and Macaleeng Salt Farm. So don't forget to bring spare swimsuits and clothes!
Bani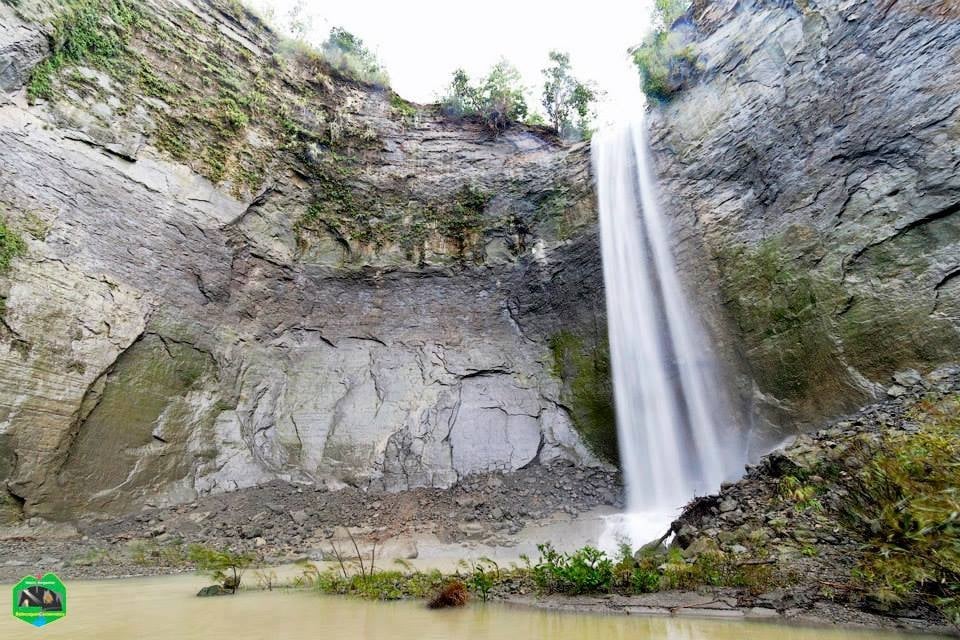 Bani is a coastal town known for its scenic landscapes. It's perfect if you like going to beaches and nature spots that have fewer tourists.
Bani is home to several beach resorts like Surip Beach and coves like the Nalsoc Cave. You can also take a dip in Baliwangga Falls if you're more fond of freshwater.
Dasol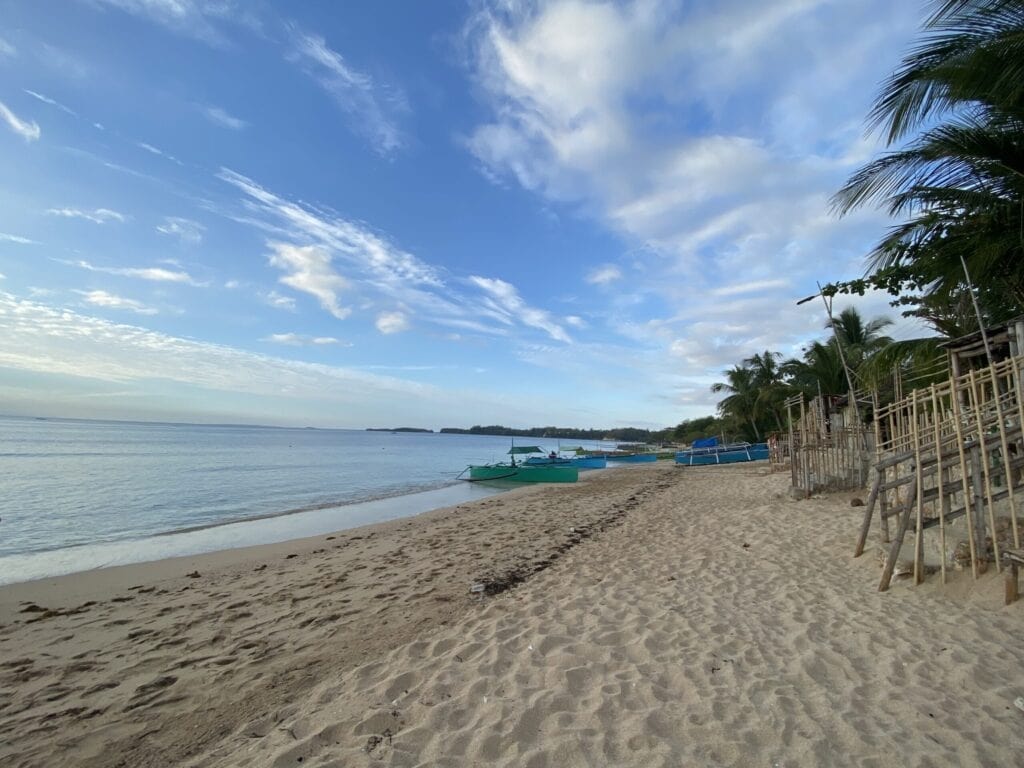 Dasol is a town located to the north of the Hundred Islands. It's known for its unspoiled beaches and clear waters.
Tambobong Beach in Dasol is a hidden gem with powdery white sand and a relaxing atmosphere. It's an ideal spot if you want to unwind away from the crowds.
What to Expect from the Hundred Islands Weather
Dry season: Expect warm and humid weather from November until May.
Wet season: Occasional rain showers might occur or typhoons have a high chance of occurring from June until October.