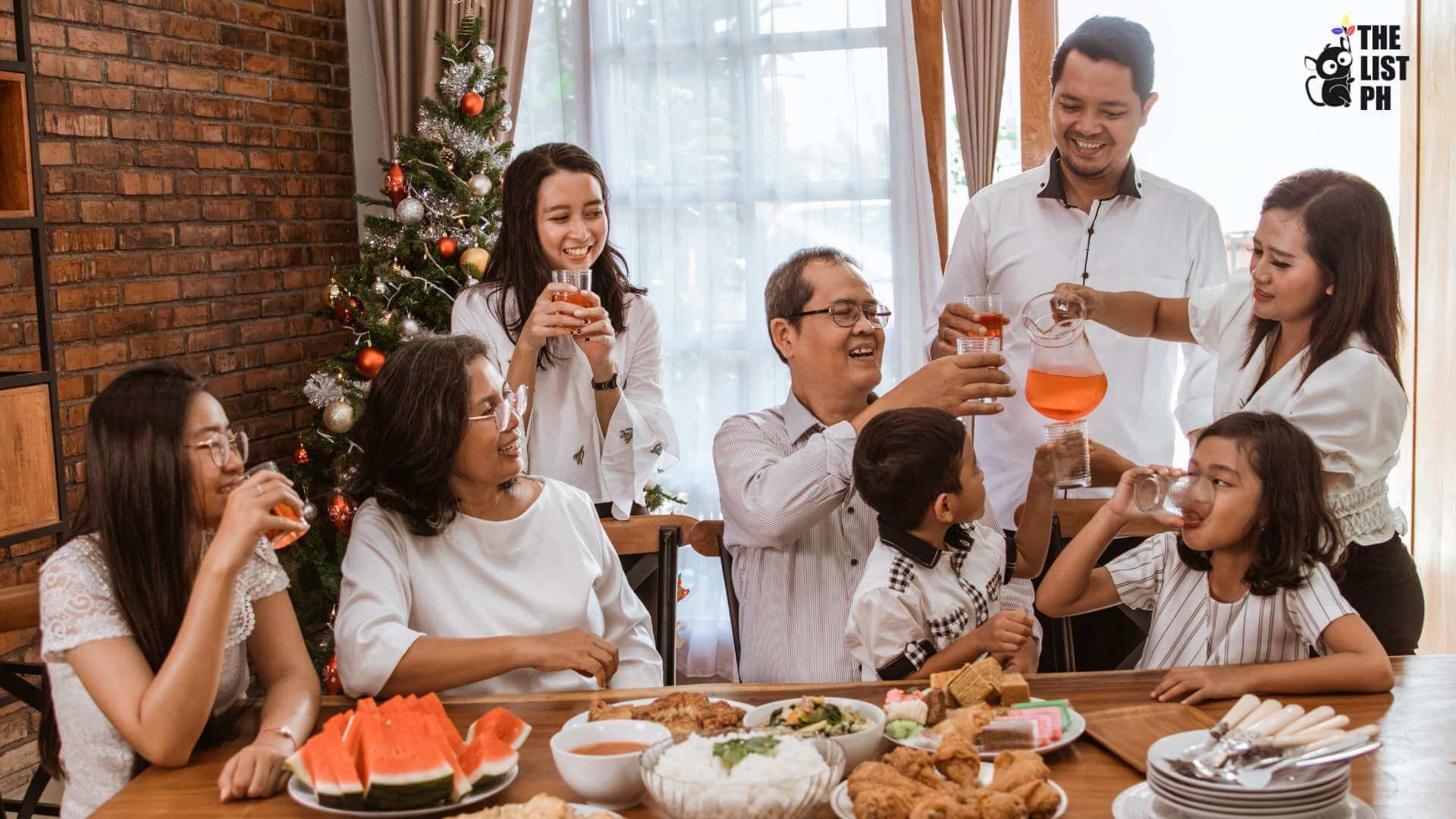 How to Celebrate Christmas and New Year, Filipino-Style!
The Philippines is a country of rich culture and tradition, and this is especially evident during the holidays. Christmas and New Year's are the biggest holidays in the Philippines, and they are celebrated with a wide variety of customs.
If you're in town and want to celebrate the holidays like a local, here are some things to keep in mind!
Start playing Christmas music in September
In the Philippines, Christmas is not just a single-day celebration, but a season that begins as soon as the "ber" months start. The country is transformed into a festive wonderland, with colorful lights, lanterns, and decorations everywhere.
You'll see Jose Marie Chan's face everywhere, a famous singer who became a meme and an iconic part of the Filipino Christmas because of his Christmas songs that are always played in malls and on the radio starting as early as September.
Deck the halls with beautiful and colorful Christmas decorations
As soon as September arrives, Filipino homes and establishments come alive with these essential Pinoy Christmas decorations.
Christmas Tree
Filipinos love to decorate Christmas trees with a lavish display of colorful ornaments, lights, and garlands. We love using various baubles, bows, and ribbons to make the trees look grander and more festive.
We even make our Christmas decorations by hand. Some common elements found on Filipino Christmas trees are stars, angels, and miniature lanterns known as "parols," which hold significant cultural and religious significance during the holiday season.
Parol
A parol is a traditional Filipino Christmas lantern. Traditionally, it is made of bamboo sticks and colored paper or cellophane, forming a star-shaped lantern with a light inside.
The light symbolizes the Star of Bethlehem, guiding people to the birthplace of Jesus. Nowadays, parols have evolved, and many are made with various materials, including recycled ones like plastic bottles and used packaging materials.
Belen
A belen is a Christmas decoration that depicts the nativity scene, reminding Filipinos of Jesus Christ's birth. It usually includes figures of the baby Jesus, Mary, and Joseph, as well as shepherds, animals, and the three wise men.
The belen is an important part of Filipino Christmas traditions because it serves as a visual representation of the true meaning of Christmas, which is the celebration of Jesus Christ's birth.
Be ready to open your door to little Christmas carolers
Christmas caroling is a popular Filipino tradition in which children visit homes and sing Christmas songs such as "Sa May Bahay, Ang Aming Bati" (To the Owners of the House, We Say Merry Christmas).
In exchange for their heartfelt performances, homeowners usually give the children monetary gifts as a token of appreciation for spreading the holiday cheer.
Get ready for Manito Manita
Manito Manita is a gift exchange tradition, similar to Secret Santa, where participants draw names to become a "manito" (male gift recipient) or "manita" (female gift-recipient).
It is commonly practiced among family, friends, colleagues, and classmates. Each gift-giving session has a theme, like giving something "long," and participants keep their assigned person's name secret until the final gift-giving day.
Attend the Misa de Gallo
Misa de Gallo, also known as Simbang Gabi, is a Filipino Christmas tradition in which nine early morning Masses are held in the days preceding Christmas. It begins on December 16th and concludes on December 24th with the Christmas Eve Mass.
The novena of Masses is an important religious practice for Filipino Catholics, and many believe that after finishing the nine masses, you can make a special wish that will be granted by God.
Indulge in some traditional Filipino holiday food
During this holiday season, you'll get to enjoy these tasty traditional Filipino Christmas must-haves:
Bibingka
Bibingka is a popular Filipino delicacy often sold by vendors outside churches during the Misa de Gallo. It is a traditional rice cake made with rice flour, coconut milk, sugar, and butter, baked in banana leaves.
Topped with cheese and salted egg, bibingka has a deliciously rich and slightly sweet flavor that makes it a favorite treat for churchgoers during the Christmas season.
Puto Bumbong
Puto Bumbong is another popular Filipino delicacy that you will see outside the church after the Misa de Gallo. It is a purple rice cake made with glutinous rice flour that is steamed in bamboo tubes and topped with grated coconut and brown sugar.
The soft and chewy texture, combined with the sweet coconut and muscovado sugar toppings, makes it a delightful and comforting treat, especially when enjoyed with a cup of hot tsokolate (chocolate).
Queso de Bola
Queso de Bola is a round-shaped, aged Edam cheese that is commonly served during Noche Buena, the Filipino Christmas Eve feast. It is a popular holiday treat known for its distinct nutty and slightly tangy flavor.
Traditionally, the cheese is presented in a red wax coating, adding to its festive appearance and making it a cherished part of the Christmas celebration in Filipino households.
Have Noche Buena
Noche Buena is a traditional Filipino Christmas Eve dinner that we enjoy with our families and friends. The name comes from Spanish words meaning "good night," and it's observed at either 10 PM or 12am on December 25.
In this festive meal, you'll see Filipino favorites such as ham, pancit or spaghetti, mango float, leche flan, and lumpia. It is also a time for family members to laugh, bond, and exchange gifts.
Don't forget your 12 lucky rounded fruits
The display of 12 or 13 lucky round fruits is a common practice during the New Year's celebration. This custom is influenced by the Chinese belief that round shapes represent prosperity and good fortune.
These round fruits, which include oranges, apples, grapes, and other tropical fruits, are thought to bring good fortune and abundance in the coming year and take center stage as the centerpiece of the Media Noche.
Be present for Media Noche
The term "Media Noche" refers to the New Year's Eve celebration, a festive gathering where families and friends gather to greet the new year. Like in Noche Buena, a lavish feast is prepared, and the dining table is piled high with delectable dishes.
The highlight of the celebration is the countdown to midnight, where people joyously welcome the New Year with loud cheers and fireworks.
Jump as high as you can on New Year's Eve
On New Year's Eve, children are encouraged to jump as high as they can when the clock strikes 12.
According to superstition, the higher you jump, the taller you'll grow. So, if you see kids (or even adults) leaping wildly at midnight, it's all part of the fun and belief in this folklore tradition.
Be as noisy as possible on New Year's Eve
On New Year's Eve, Filipinos make loud noises with fireworks or banging objects as a practice to ward off evil spirits and bring good luck for the coming year.
We believe that silence attracts negative energy, so we try to be as loud as possible to keep any evil forces at bay. Children use a variety of noisemakers, including torotots (horns), hit pans, and drums.