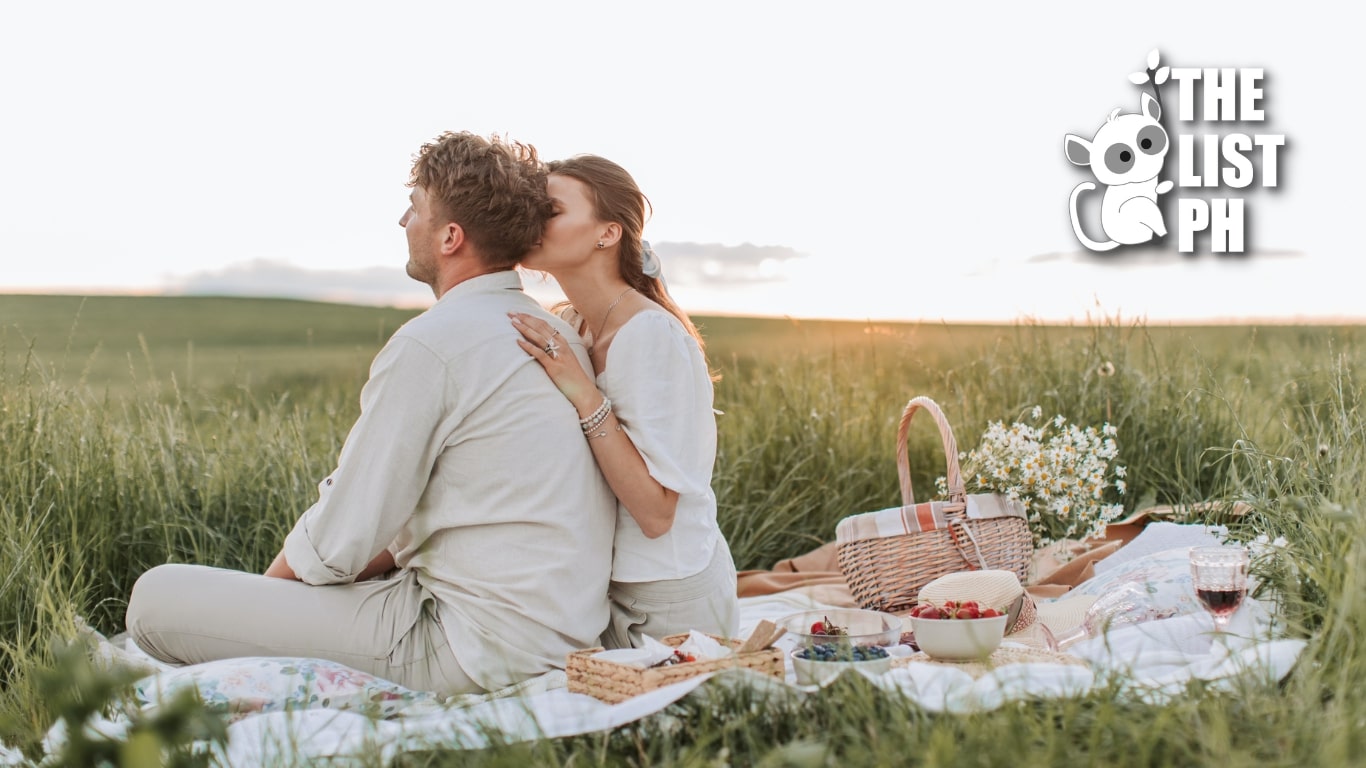 Romantic Places in the Philippines: Weekend Getaways for Couples
Welcome, lovebirds, to the land of pristine beaches, lush jungles, and breathtaking landscapes. The Philippines is more than just a backdrop for rom-coms and cheesy soap operas, it's a paradise for those who seek adventure and romance.
But hey, we're not just any travel guide. We're your wingmen, your trusty companions on this journey of love. We've got the inside scoop on the best restaurants for candlelit dinners, the most secluded spots for sunset picnics, and the coziest resorts for cuddling under the stars.
And let's be real, who needs the Eiffel Tower or the Grand Canal when you can take a romantic stroll through the colorful streets of Davao City, or ride a bamboo raft down the river of Villa Escudero? Plus, you'll have the added bonus of impressing your date with your knowledge of local culture.
So, pack your bags, grab your significant other, and get ready for an adventure that will make your friends back home green with envy. We've got your back, and we promise to make this a trip you'll never forget.
Where are the most romantic places in the Philippines?
In this article, we featured the following romantic spots from Cebu, Davao, and Metro Manila, Philippines:
We've crafted sample itineraries for weekend getaways in each area, so do read on and see if you and your partner would like to get loved up in any of these places!
Itineraries for a Romantic Getaway in the Philippines
1. Cebu
Cebu is known for its rich history, beautiful beaches, and delicious food.
For a romantic getaway in Cebu, you can explore ancient temples and museums, relax on white sand beaches, and indulge in mouth-watering local delicacies.
Where to Stay: Plantation Bay Resort and Spa
Plantation Bay is a romantic oasis for couples seeking a slow-paced, stress-free life. In addition to massages and spa treatments, they offer water activities like diving and kayaking for couples.
Day 1 of Romantic Cebu Experience
1. Terrazas De Flores Botanical Garden
The Terrazas De Flores Botanical Garden is a blooming utopia. The garden is the dwelling place of more than 120 species of flowers, like roses, sunflowers, and orchids.
The garden is meticulously structured with terraces positioned at elevated altitudes, with a breathtaking panoramic view of the place.
In addition to the garden's exquisiteness, it has a charming cafe where couples can unwind with a warm cup of coffee or chat while immersing themselves in picturesque surroundings.
Pro Tip: Visit during sunset hours when the sun casts a warm golden glow for a more romantic and magical experience of the garden.
Afterward, you can relax on one of the garden benches, take each other's hand, and let the serene ambiance soothe your soul!
2. The Temple of Leah
The Temple of Leah is a magnificent temple also known as the "Taj Mahal" of Cebu. It is located on the hills of Busay. It is a tribute of Teodorico Soriano Adarna to his wife Leah Villa Albino-Adarna. It is.
The temple's stunning Roman-inspired architecture contains a library, a bar, and a museum making it a perfect spot for couples to share the beauty of love with each other.
The temple features a wide array of statues, from lions to angels to gladiators, and the piece de resistance, the 10-foot statue of Leah, is located near the temple's lobby.
You can also enjoy a cup of coffee with your lover at the temple's cafe with the backdrop of the breathtaking view of the city.
After that, you can stroll around the temple's garden, snap some romantic photos, and soak in the beauty of this grand tribute to love.
3. Lechon Cebu Experience
Cebu is known as the Lechon Capital of the Philippines, so you'll find plenty of places to try this mouthwatering dish.
This traditional Filipino dish involves slow-roasting an entire pig over an open fire, resulting in juicy and crispy meat that's perfect for any occasion.
For the ultimate lechon experience, you simply have to visit the famous Rico's Lechon. With their perfected roasting technique, their lechon has crispy skin and deliciously flavored meat that will leave you wanting more.
Day 2 of Romantic Cebu Experience
1. Jumalon Butterfly Sanctuary and Art Gallery
The Jumalon Butterfly Sanctuary and Art Gallery offers a unique opportunity to immerse oneself in the harmonious coexistence of art and nature.
The sanctuary houses an extensive collection of over 55 butterfly species alongside a diverse array of insects, complemented by a fascinating display of artwork.
Couples can leisurely traverse through the luxuriant gardens and be greeted by a plethora of colorful flowers and fluttering butterflies.
You can take a moment to admire the intricate details of each butterfly's wings and the vibrant hues that adorn them. Take the chance to snap some photos and capture the enchanting moment!
Once you've had your fill of the butterfly adventure, step inside the art gallery to marvel at the stunning works of art by the sanctuary's founder, Julian Jumalon.
2. The Carbon Market
For over a century, the Carbon Market has been a vibrant hub of commerce in Cebu City, offering visitors a unique opportunity to immerse themselves in the local culture.
Within the bustling marketplace, an astonishing array of goods is available for purchase, ranging from fresh produce and seafood to handicrafts and clothing.
The market is a perfect place to acquire souvenirs or sample local delicacies like dried fish, chicharon, and mangoes, perfect for pasalubong.
Additionally, several small restaurants and eateries are present within the market, offering visitors the chance to taste Cebu's famous street food. For the more daring, exotic fruits and snacks are also available for sampling.
3. The Crown Regency Sky Adventures
The Crown Regency Sky Adventures in Cebu is an adrenaline-pumping attraction that provides a range of exciting activities against the backdrop of the cityscape.
Thrill-seekers can experience the rush of the world's first Edge Coaster, which takes riders teetering over the edge of the building's 38th floor.
The Crown Regency Sky Adventures offers other fun activities with your significant others, including a rock climbing wall and a bungee trampoline.
They also have the Sky Ride, a zipline that takes you soaring over the city, and the Sky Walk, wherein you will be strapped into a harness and taken for a walk along the building's edge.
For a less gravity-defying adventure, you can visit the 6D movie theater and brace yourself for a wild ride with rain, wind, bubbles, and seats that will rock you to your core.
Finally, couples can access the rooftop lounge that provides a cityscape view and an opportunity to sip cocktails and relax with their partner. It's the perfect way to cap off a day of excitement and adventure.
2. Davao City
Davao City is known for its friendly people, beautiful scenery, and warm weather. You'll find everything from historic churches to malls and restaurants for a great romantic extravaganza.
Where to Stay: Seda Abreeza Tower
Located in J.P Laurel, Bajada, this hotel boasts breathtaking views of the Davao skyline. You can also unwind and take a romantic dip in the rooftop pool or relax at their rooftop terrace garden area.
The hotel is also within walking distance from Abreeza Ayala Mall, where you can go shopping or have dinner.
Day 1 of Romantic Davao City Experience
1. Eden Nature Park
Eden Nature Park is the perfect romantic escape for couples who want to reconnect with nature. This is a peaceful oasis with fresh mountain air and a wide array of outdoor activities.
One of the simple acts of romance you can do in the park is to stroll along its trails and just breathe in the natural surroundings. You can also go bird-watching, fishing, and horseback riding.
Finally, test your trust and love for each other by zip lining over the treetops or do a sky ride to appreciate the park from a bird's eye view!
2. Roxas Night Market
After the sun sets, the nightlife in Davao also starts to kick in. The Roxas Night Market is one of the go-to destinations for tourists and locals to enjoy turo-turo food and charcoal ice cream.
It is hard to miss Roxas Night Market since it is bustling and crowded with street food stalls that offer grilled seafood, chicken, pork, isaw, balut, and the fruit durian.
Roxas Night Market sometimes has local musicians to serenade you while munching on some delicious food under the twinkling lights of the market.
Day 2 of Romantic Davao City Experience
1. Kaputian Beach
Kaputian Beach is a white beach located in the Island Garden City of Samal is a perfect romantic getaway to enjoy the sun and play in the water.
The beach boasts in its clear waters great for snorkeling and other water activities. One of the great things about Kaputian Beach is the Coral Garden, where you can see the vast array of colorful and majestic coral reefs and some tropical fish.
The beach also has some small huts and cottages where you can relax in the shade and indulge in the breathtaking beauty of the beach.
You can also go on an island-hopping adventure to nearby islands like Talicud Island and Angel's Cove.
2. Giant Clam Sanctuary
The Giant Clam Sanctuary is home to 3.700 giant clams and is a great adventure for couples seeking some marine creature realness.
Through the guided tour, you can see the clams up close and personal and learn about them and how the endangered species are conserved. If you are lucky, you can see the breeding process of these giant clams.
Couples can also dive and snorkel around the clear waters surrounding the sanctuary.
3. Manila
Looking for a romantic weekend in Manila? The city has a lot of options to relax, take a breather, and unwind. Here are some of the options to consider!
Where to Stay: Citadines Bay City Manila
This spacious, well-equipped hotel is perfect for a short romantic relaxation. The hotel offers modern amenities like a fully equipped kitchenette, comfortable beds, and a flat-screen TV.
They also have a fitness center and an outdoor swimming pool which is great for easing all the build-up of tension and stress in your body.
Day 1 Romantic Fun Itinerary for Metro Manila
1. Roadside Coffee at Papakape
If you are looking for a romantic activity in Metro Manila that is simple yet sweet, the Papakape is a roadside coffee experience, with the coffee made in the glasshouse.
Located along Kamuning Road, this cafe offers a cozy, laid-back ambiance, perfect for a romantic coffee date. The charming outdoor atmosphere creates a warm and intimate atmosphere.
Papakape serves a wide array of coffee blends each made with locally sourced beans. One of their signature drinks is their ginger-infused beverage which will take your taste buds on an adventure.
Whether you want a classic brew or a fancy latte, Papakape has your back.
2. Candle Making at Craft MNL
Craft MNL offers a unique and romantic activity for couples: candle making!
In Craft MNL, you can enjoy, get your hands dirty, and create your own candle that you can take home as a memento of the experience. This activity will allow you to learn about the basics as well as the joy of candle making.
You will be introduced to choosing the right wax for your candle, adding colors and fragrances, and creating various designs. You and your partner can work together to create candles that reflect your personalities and style.
You can also book a private session for a more intimate experience. This is perfect for couples who want something fun and creative bonding experience while learning a new skill!
3. Dining Experience at Seoul Sky 100 Revolving Restaurant
This one-of-a-kind dining experience is located at Golden Phoenix Hotel on its 33rd floor. It offers authentic Koren cuisine and a panoramic view of the city. It rotates 360 degrees for a different view for every meal course.
The menu includes a wide variety of dishes, ranging from traditional Korean bibimbap to modum-jeon (savory Korean pancakes). The restaurant also offers a wine selection and cocktails to complement your meal.
The Seoul Sky 100 Revolving Restaurant oozes romantic ambiance from its dim lighting, elegant decor, and attentive service is a perfect atmosphere to celebrate a special night with your significant other.
BONUS: Romantic Places to Unwind Outside Metro Manila
Looking to escape the city and find a romantic spot to whisk away your loved one? Look no further than these romantic places near Manila!
Whether you're seeking a relaxing mountain retreat or a cozy countryside getaway, these destinations have got you covered.
1. Luljetta's Hanging Garden and Spa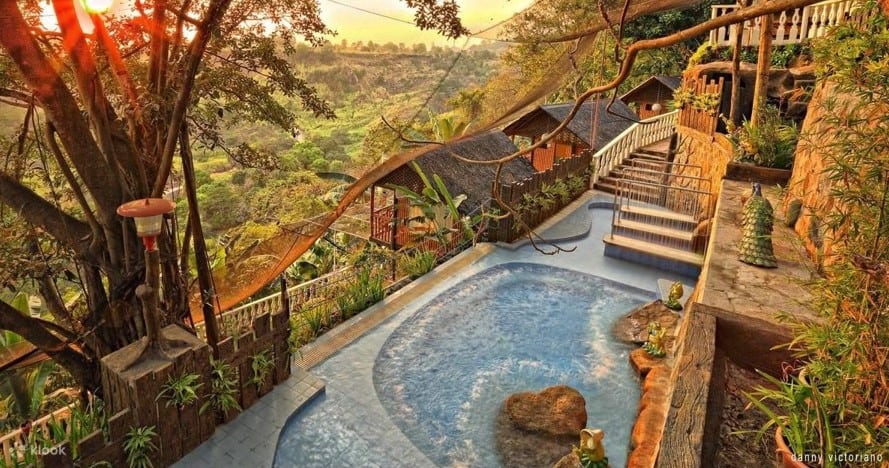 The Luljetta Hanging Garden and Spa at Antipolo City offers a relaxing spa day with your loved one with the backdrop of mountains and bountiful greenery. You both can have a soothing massage, facial, or body scrub.
You can also walk hand and hand along their serene walking paths or cuddle up in their cozy nook while watching the sunset over the mountains.
Luljetta Hanging Garden and Spa is a peaceful escape and an exciting adventure to a romantic paradise surrounded by the calm ambiance of nature.
2. San Rafael River Adventure's Treehouse of Love
Just a few hours' drive from the city, this hidden gem called San Rafael River Adventure and Treehouse of Love in Bulacan offers a one-of-a-kind romantic experience.
Their Tree House of Love is built above three mango trees with an indoor heated pool and the romantic feel of the curtain-draped bed.
There are tons of romantic activities you can do at San Rafael. You can either have a romantic boat ride along the river or go kayaking or just take a dip and relax at their infinity pool.
3. Villa Escudero
Villa Escudero offers an immersive romantic experience of being a haciendero and haciendera for a day. This getaway is located in San Pablo City and is a perfect blend of Filipino culture, history, and nature.
One of the great things to experience in Villa Escudero is dining in front of the waterfalls at Labasin Waterfall Restaurant. You'll be served delectable Filipino dishes at the foot of the cascading water.
You can also have the carabao riding extravaganza for a more romantic experience and visit the Escudero museum. For a more intimate scene, take it slow and take a bamboo raft ride at Labasin Lake.
---
So, which places are you most excited to visit for a romantic escapade extravaganza? Let us know in the comments below!