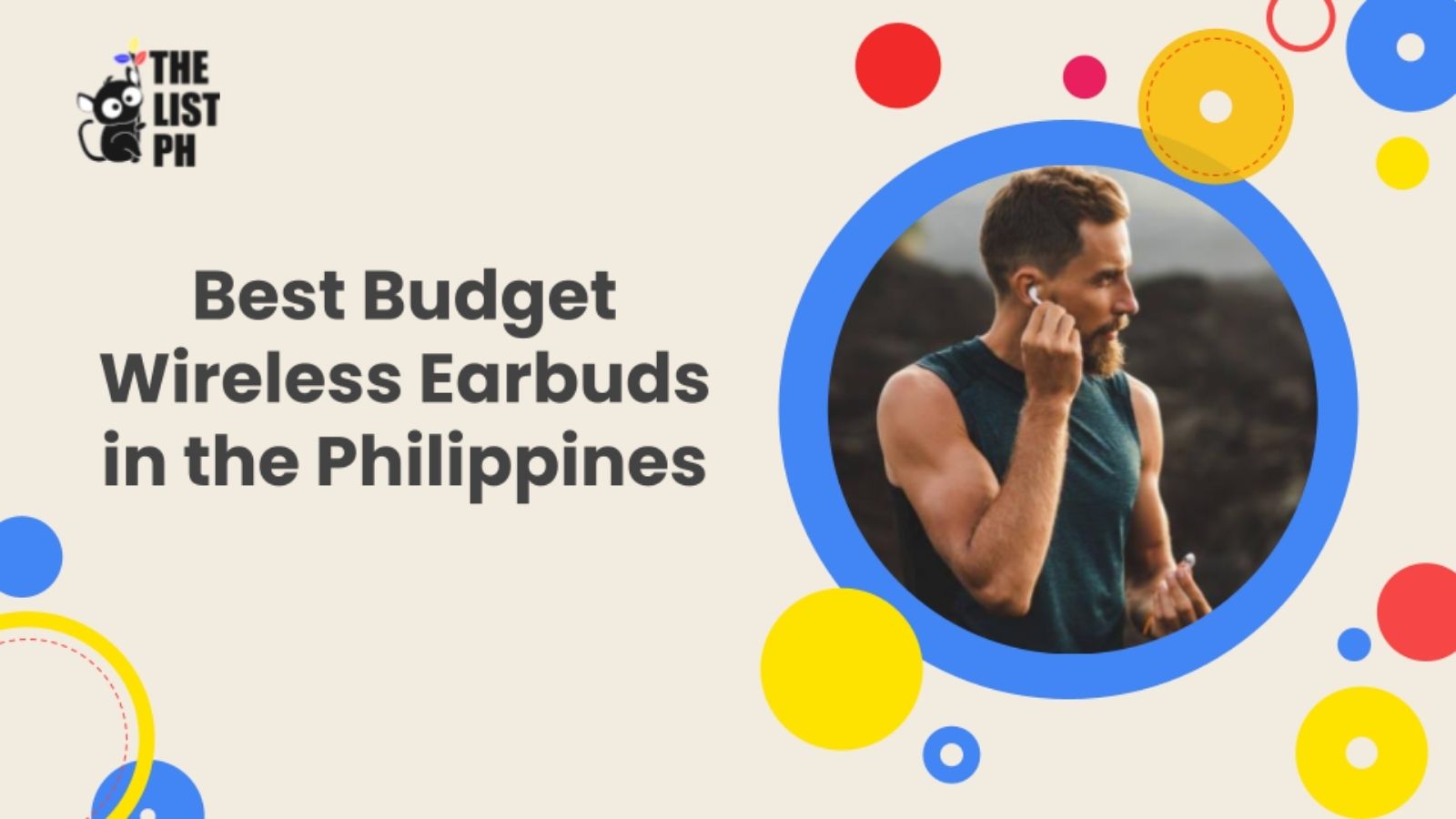 5 Best Budget Wireless Earbuds in the Philippines
We've entered an age when practically everything can be done with a series of clicks. Your fingertips can switch a gadget on and off, adjust the volume, take a call, connect itself to the Internet, and keep you entertained for hours.
What used to be peripherals for traditional classrooms and board rooms have now become primary communication tools, too. Along with laptops, wireless earphones are current must-haves for students and office workers.
Don't worry if it's your first time investing in a pair of earpieces. Today, we're featuring the best budget wireless earbuds in the Philippines primarily for use in online meetings and classes.
How Much are Budget Wireless Earbuds in the Philippines?
Earbuds are essential for conducting corporate meetings, catching up with loved ones, and sitting down for a class lecture. They've become ubiquitous items during a time when social distancing has become the norm.
These earpieces come with different functionalities, looks, and price tags. The good news is there are great brands out there that are definitely affordable and will suit any budget.
But first, let's talk about what makes a pair of earbuds worth the price.
On the top of the list would be the kind of connectivity it allows over certain distances.
You'd want to look for earbuds with Bluetooth functionality that allows you to connect and make calls with ease. It means that even if you're across the room, your call should still be clear and uninterrupted.
Noise-canceling earbuds are also great especially if you have to share your home office or study space with other people. It's a nifty feature should your neighborhood or building tend to be a bit noisy, too.
Other practical considerations include the design, customizability, and how long the battery lasts. If the earbuds come with touch or voice commands, then you've got yourself a winner.
Realistically, all of these functions and features add up to the final cost of a pair of earbuds. Let's compare the average prices of some of the best ones that offer at least a couple of the features we mentioned.
| | |
| --- | --- |
| EARBUDS BRAND | ESTIMATED PRICE |
| Knowledge Zenith KZ S1 Hybrid True Wireless Earbuds | ₱ 850 – ₱ 1200 |
| Xiaomi Mi True Wireless Earphones 2 | ₱ 1800 – ₱ 2500 |
| Mpow MDots Wireless Earbuds | ₱ 700 – ₱ 1200 |
| BlueWow A8 Macarons True Wireless Earbuds | ₱ 1000 – ₱ 1650 |
| Haylou GT1 Pro TWS True Wireless Earbuds | ₱ 750 – ₱ 1500 |
Not all of the brands indicated above will offer all or even some combination of what you'd ideally want in a pair of wireless earphones. But when it comes to cost, they do meet the criteria for being relatively affordable.
The Best Budget Wireless Earbuds in the Philippines
Before we dive into a proper review for each hand-picked brand, let's clarify our main criterion for this list. We selected the best budget wireless earbuds in the Philippines specifically for optimal use in online meetings and classes.
Of course, other features that enhance the music listening experience and ease of use for other activities are welcome. We'll consider those bonus features in our product reviews, as well.
1. Knowledge Zenith KZ S1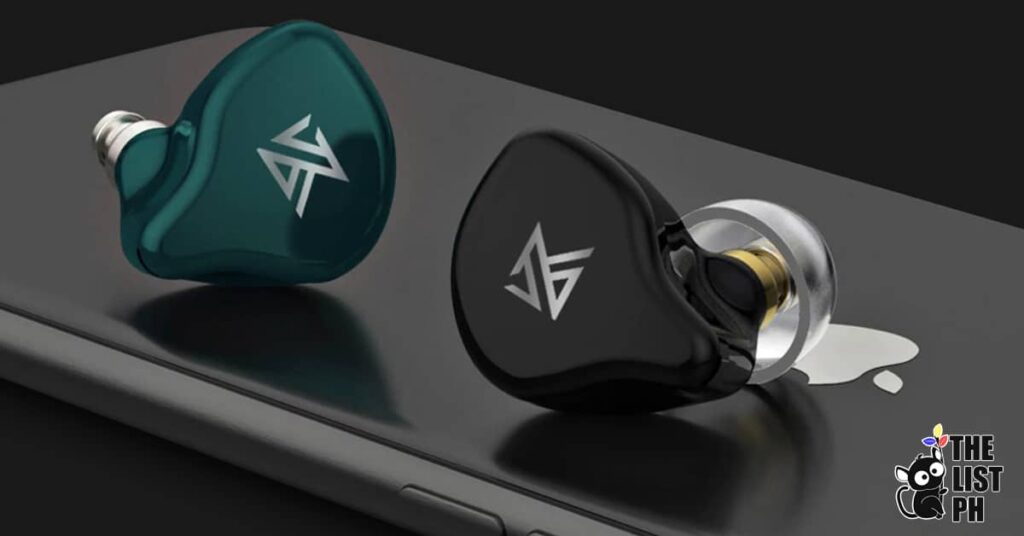 Price: ₱1,428.00
| | |
| --- | --- |
| BLUETOOTH RANGE | Bluetooth 5.0, distance: 20 meters (with no obstacles) |
| BATTERY LIFE | 1-hour to full charge, 12-hour battery life (with charging case), around 3 hours for music |
| SOUND QUALITY | Rich and deep vocals, true-timbre for various musical instruments, full bass frequency, supports gaming sound effects |
| CONTROL | One-touch control for voice assistant, answering, rejecting, and ending calls, playing/pausing/selecting previous or next tracks |
| FIT | Comes with three different-sized silicone ear tips, smooth outer cavities |
First on our list is what could already be considered a classic from the company Knowledge Zenith or KZ. The model KZ S1 Hybrid True Wireless earbuds is a great example of Chi-Fi earphone technology.
The KZ S1 embodies the best of what affordable Chi-Fi earbuds have to offer including a touch control to activate several functions for music and calls. It's Bluetooth 5.0-compatible with most current devices regardless of operating systems.
This model is great for taking calls and also has a gaming mode. You can hear all the sound effects of your favorite games without compromising the response times.
The downside is that its effective Bluetooth range of just 20 meters isn't as wide as you could hope for (even if it's wider than other models in this list). If you step out of range, the earbuds will instantly disconnect.
Ergonomically, this model offers both long-wearing comfort and sleek good looks in grey and green palettes. It's a great investment for those hours-long lectures and company meetings.
Tap commands control how you listen to music
Features a gaming mode to help synchronize audio and video
Comfortable design and fit allows hours of wear
Not supported by some older Android models
Effective Bluetooth range is just average
No tap command for volume adjustment
Customer Reviews
See how KZ S1 Hybrid customers found their wireless earbuds purchase:
"It's more beautiful in actuality, upon testing it sounds terrific! I just hope it would last, but as of the moment, I can say that it's worth my money." – Leon A.
"The item is well packed and with free replacement memory phone buds. The item arrived before the estimated delivery date, fast delivery even if it was from overseas. This unit sounds nice. easy to pair. Noise cancelling is awesome, you will only hear what you are playing. Very satisfied customer. Bang for buck item." – Glenhill G.
2. Xiaomi Mi True Wireless Earphones 2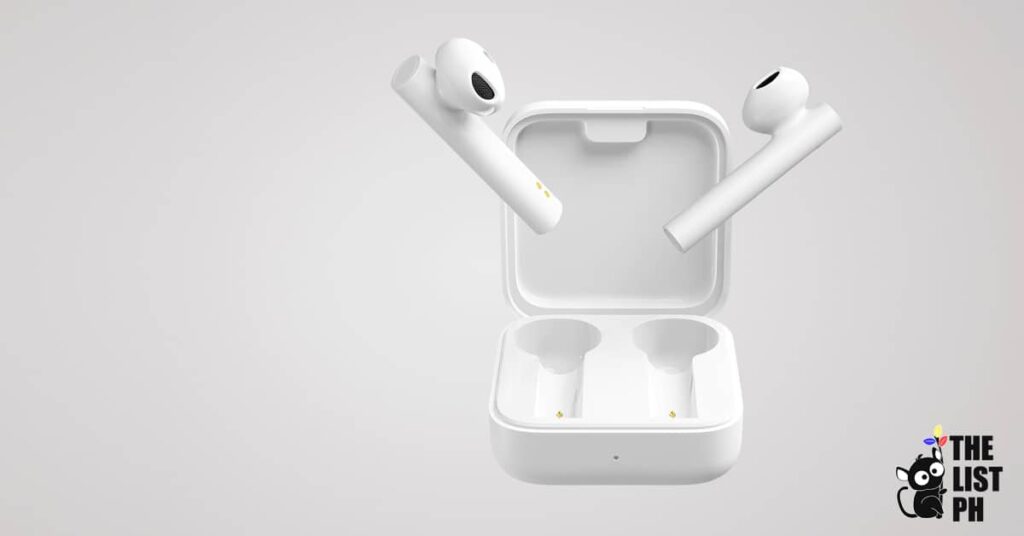 Price: ₱3,000.00
| | |
| --- | --- |
| BLUETOOTH RANGE | Bluetooth 5.0, distance: 10 meters (no obstacles) |
| BATTERY LIFE | 5-hour single battery life, 20-hour overall battery life with charging case, 1.5-hour charging time |
| SOUND QUALITY | Environmental noise cancelation, noise reduction, a good definition for high pitches and vocals, no sound distortion |
| CONTROL | Supports wearer detection, three different touch control zones for media, calls, and voice assistant |
| FIT | Features extended "stems", rounded buds |
These aren't Apple AirPods that somehow made it to the list. They do look similar, but the price tag alone should tell you that the Xiaomi Mi True Wireless Earphones 2 won't punch a giant hole in your budget.
The basic features that make earbuds convenient are here: tap commands to play or pause music and lightweight enough to wear for hours. But what makes these earbuds stand out is the sound quality being offered.
Even if you blast out your favorite music (though we do not recommend doing so in full volume!), there's no sound distortion evident. The Mi earbuds will allow you to hear most instruments in a song, which is great for audiophiles.
These are also practical tools if you have to share a space with someone when you're attending virtual classes or meetings. Its environment noise cancellation feature doesn't really turn off background noise completely, but sort of suppresses it so users can focus on the person speaking.
Speedier time for full charging
Great sound quality for music
Can suppress background noise
Looks like AirPod knock-offs
No tap command for volume adjustment
No dedicated app to customize preferences
Customer Reviews
These customers can tell you what makes the Xiaomi Mi True Wireless Earphones 2 different from AirPods:
"Quite good for this price (half of Apple)!" – Zak Z.
"Don't waste money on no-name cheap Airpod knock-offs. These Xiaomi headphones work great. Easy connection to my Samsung phone. Very premium build. Sound quality is just like my Apple Airpods." – JohnP2
3. Mpow MDots Wireless Earbuds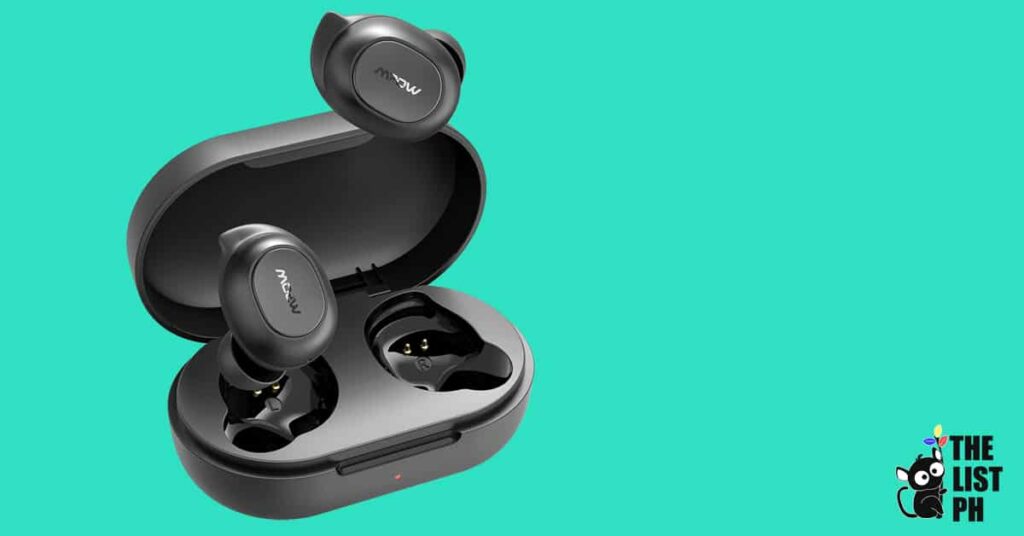 Price: ₱1,191.00
| | |
| --- | --- |
| BLUETOOTH RANGE | Bluetooth 5.0 compatible, distance: around 10 meters (with no obstacles) |
| BATTERY LIFE | Supports 4 full charges, 4 hours of playback, 12 hours total battery life |
| SOUND QUALITY | Passive noise cancelation, steady bass sounds, crisp vocals |
| CONTROL | Intuitive button control for volume, tracks, and to turn on & off, voice assistant |
| FIT | Comes with 3 different-sized ear wings to ensure best fit, sweat proof up to IPX6 |
The Mpow MDots wireless earbuds have characteristics that could prove to be polarizing for its users. While some might think they are design bugs, others could argue that they're desirable features.
Let's start with how to activate voice assistance, play music, and even adjust the volume on the buds. Instead of tap sensor technology, the Mpow MDots use buttons that you have to press with your fingers.
This matters to people who may have problems remembering swipe or tap gestures (or even those with larger fingertips). Thankfully, these earbuds have crisp buttons to control all of the abovementioned with relative ease.
A major plus about this particular model is how it delivers sound quality. Bass sounds are deep as they should be, and vocals don't get muted the way they do with other earphones.
Design-wise, the earpieces might prove to be uncomfortable for long wear with their ear wings that could dig into lobes. Those with smaller ears might not find the fit snug and secure, either.
Uses button controls instead of touch panels
Good audio-video synchronization
Easy volume adjustment with a few clicks
Could be too bulky for smaller ears
Short Bluetooth connectivity range
No noise-canceling control
Customer Reviews
Read some customer feedback on the Mpow MDots wireless earbuds and see if they're a good fit with your budget, needs, and ears:
"Great in-ear feel, especially with how you can switch the ear wings to a size that suits you best. Able to exercise without any problems with the earphones also amazing audio. Really good earphones and good value for money!" – Perrin
"I been using this product for two weeks now and I like it very much. MDots headsets fit and sit perfectly in the ears. Voice quality is clear for calls and to listen to music. Good charging and easy to carry as well. I tried many different headsets but none of them fits correctly and comfortably. And they are damn expensive as well. But MDots are a good buy for the price. This is my third product with MPOW and I like the devices." – Sriharsha
4. BlueWow A8 Macarons True Wireless Earbuds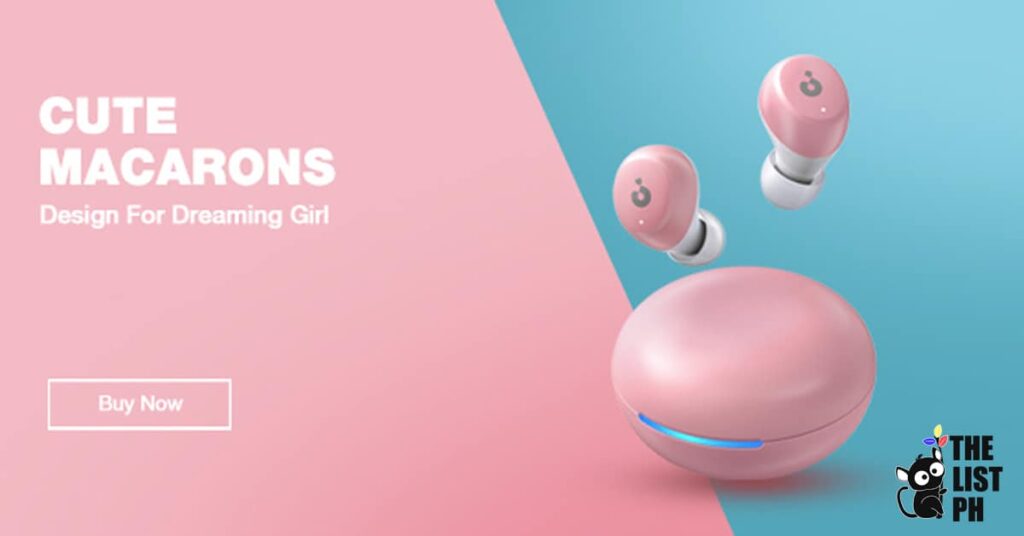 Price: ₱1,643.00
| | |
| --- | --- |
| BLUETOOTH RANGE | Bluetooth 5.0, distance:10 meters (with no obstacles) |
| BATTERY LIFE | 6 hours (up to18 hours with charging macaron case) |
| SOUND QUALITY | Noise-canceling, deep bass sounds, music clarity |
| CONTROL | Touch control for media and calls, functions: track forward/ backward, volume +/ – and answer/ reject phone calls |
| FIT | Rounded corners, comes with 2 pairs of ear caps, sweat and moisture resistant |
These earbuds don't have the word "macarons" in their name for nothing. The BlueWow A8 Macarons True Wireless Earbuds case does resemble the French confectionery with its shape and soft color palette.
Inside, the earbuds themselves take on a more conventional form, albeit in the same color the macaron case comes in. There's a decidedly cute detail with cat paw-shaped concaves to accommodate the earbuds.
The buds pair automatically with your last paired device as soon as you put them on. The entire surface of each earbud is touch-sensitive so it's easy enough to control different functions (yes, even the sound volume).
However, this could present a problem when you're not mindful about tap control gestures for each bud. There's a huge possibility of increasing the volume of a song instead of skipping ahead to the next song, for example.
There's nothing to sneeze at when it comes to audio quality, though. The BlueWow A8 Macarons offer clarity and punchy bass sounds that let you immerse yourself thoroughly in the music (or talk).
Compatible with all Bluetooth 5.0 devices
Automatically connects with the last paired device
Comes in cute pastel and pearl colors (teal green, pink, pearly white, and black)
Sensitive touch sensor could confuse user functions
BlueWow only has an official Lazada store and Facebook page
Customer Reviews
See if the BlueWow A8 Macarons clients found their purchase a yummy one:
"Appearance is nice, it was really pretty. Sounds good. I like it very much!" – Sarah R.
"This is actually as loud as a wired earphone. When I first paired it with my phone (I use two buds at the same time), the sound isn't really as loud as I would like which I accepted since that's common for a TWS. But when the left earbud ran out of battery and I just had the right bud on, I'm surprised that it was REALLY loud. So I unpaired the buds from my phone and paired it again, and it's noticeably louder! Please take note of that fellow buyers. Giving it a 9 because of that small inconsistency. Battery: 8/10 The buds battery is long. I give it an 8 since the left bud keeps running out of battery sooner than the right even if I turn them on and charge it fully at the same time. The charging case is tricky. They didn't mention this in the manual but DO NOT LEAVE YOUR BUDS INSIDE AFTER IT FULLY CHARGED. Because then, the case just charges the buds continuously until it the case loses battery. Overall this TWS is truly worth its price! Bluewow is very responsive as well." – Tina E.
5. Haylou GT1 Pro TWS True Wireless Earbuds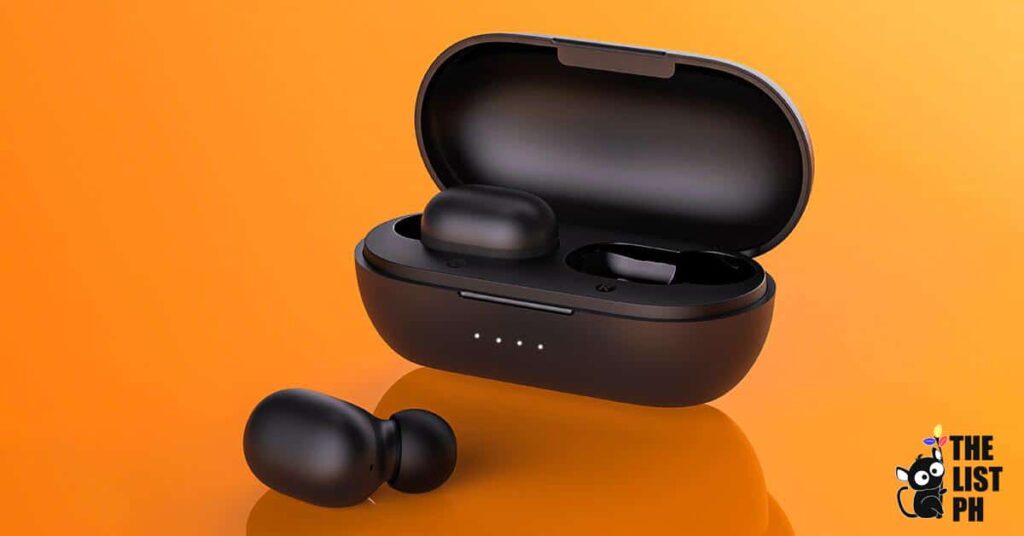 Price: ₱1,499.00
| | |
| --- | --- |
| BLUETOOTH RANGE | Bluetooth 5.0, distance:10 meters (with no obstacles) |
| BATTERY LIFE | 3.5 hours battery life, charging box 12 hours battery life, charging time about 1.5 hours, standby 120 hours |
| SOUND QUALITY | Dual Mic Noise Isolation, DSP noise-canceling, Tuning Technology, Hi-Fi Stereo |
| CONTROL | Zero pressure touch control, functions: double touch – answer/end call, touch – pause/resume, double touch right/left earbud – previous/next track, triple touch left earbud – wake up Siri/Google Assistant, long touch – ignore the incoming call |
| FIT | Rounded corners, comes with three different-sized pairs of ear caps, weighs 3.9g per bud |
Xiaomi is also the manufacturer of the Haylou brand, though there are few similarities with the Mi model we mentioned a few paragraphs up. The Haylou GT1 Pro TWS True Wireless Earbuds look more compact and have more practical features for students and professionals.
There's no problem pairing the buds with your favorite Bluetooth-enabled device, for one. There's also voice-prompted assistance in case your hands are full or occupied.
For its price, there's nothing to complain about the sound quality that this Haylou model delivers. Pair that with its noise-canceling technology, and you won't have problems hearing what you're supposed to be listening to.
The upgraded model (not to be confused with the older Haylou GT1) has a gaming mode, as well. It promises a true surround-sound experience and practically no gaming lag, so that's a bonus during your free time.
Very affordable price
Good sound quality
Quick, hassle-free pairing with Bluetooth-compatible devices
Sensitive touch panel could take some getting used to
The older GT1 version doesn't have a gaming mode
Customer Reviews
Do theHaylou GT1 Pro TWS True Wireless Earbuds hit all the right notes? Find out from this customer feedback:
"Great buy! Same-day delivery, superb logistics. The quality of sound is Awesome as well as the pairing and connection (Bluetooth connects automatically once the earbuds been set up).
Battery time is pretty decent to last the day. Prolong use does not hurt or irritate the ear which is also a plus point. It's lightweight too, overall I rate this 5 Thank you Haylou!" – Bing Cadlaon
"Bought the first time for this kind of brand and I kinda hesitated if the quality is good especially for Bluetooth earphones and I'm a very satisfied customer with the sound quality. Tho I only bought the GT1 but I'm looking forward to another transaction with them soon and try their latest brand. Thank you!" – Games Famoso
FAQs About Best Budget Wireless Earbuds in the Philippines