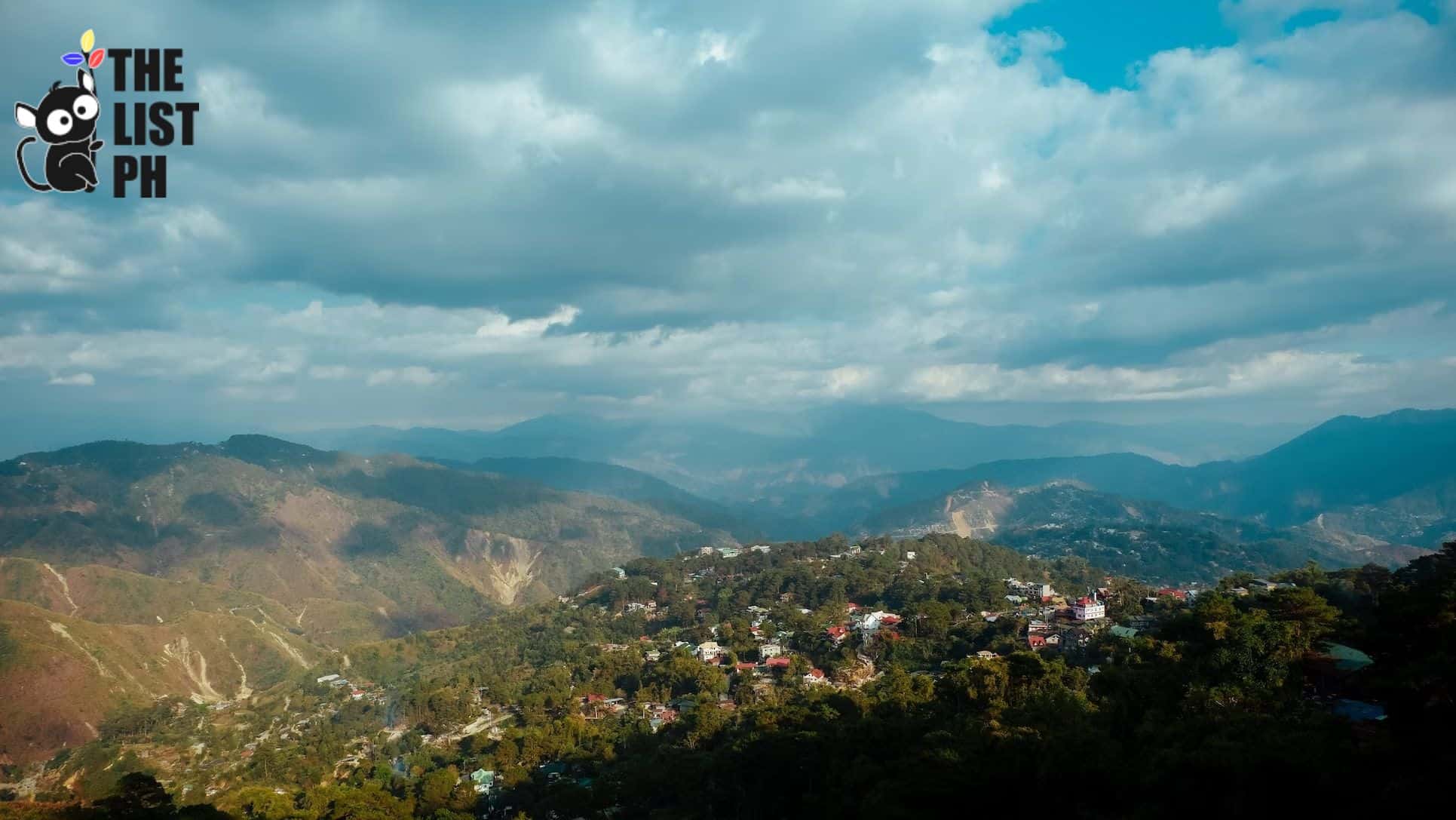 Top 10 Natural Attractions in Baguio City
Baguio's natural attractions remain popular amid the city's modern structures. The appeal of its pine forests, mountain climate, and stunning views are perfect if you want an escape from city life.
This is your sign to explore Baguio's natural attractions. We listed some of our favorites below!
1. Baguio Botanical Garden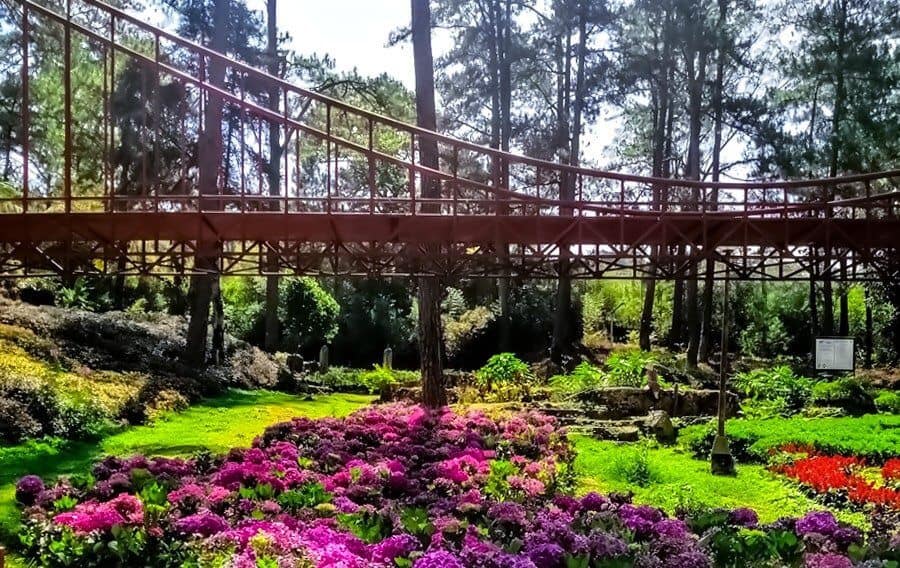 Address: 37 Leonard Wood Rd, Baguio, 2600 Benguet
Operating hours: Monday – Sunday, 6 am – 6 pm
Rates:
General admission – P10
Children – P5
The Baguio Botanical Garden underwent a revamping in 2021, making the place more beautiful due to the added flora and fauna. A trip to this garden is like seeing a green museum of Baguio's indigenous flowers and exotic ferns.
In addition, the park added PWD ramps. Places like the Cordillera Village, various friendship parks, and a mini-bamboo walkway reminiscent of Japan's bamboo grove are made more accessible for all.
Pro tip:
Visit the park on a weekday or at 7 a.m. to avoid crowds and to fully explore all the garden has to offer.
2. Camp John Hay Eco-trail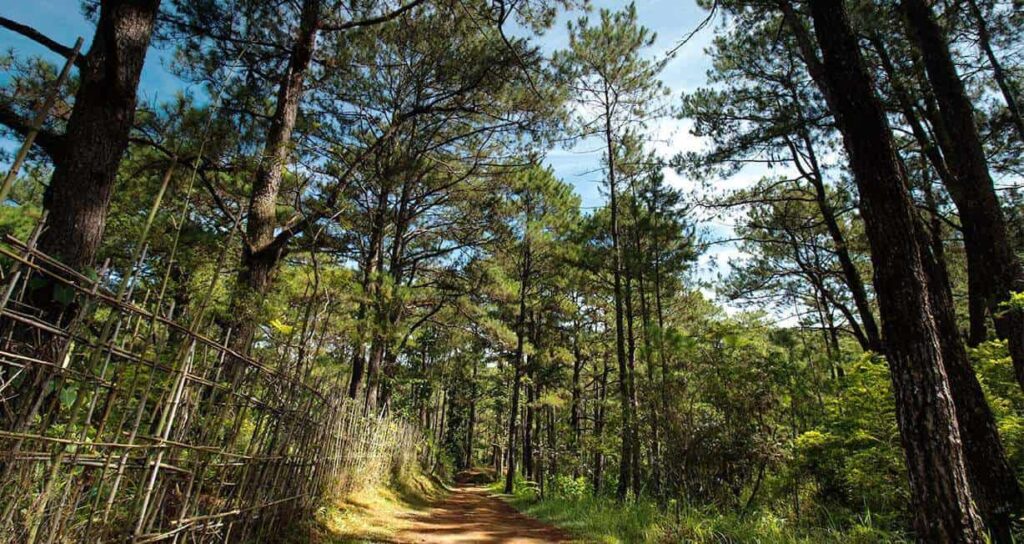 Address: CJ27+276, Ordonio Dr, Camp John Hay, Baguio, Benguet
Website: https://campjohnhay.com/explore.html#
Rates: Free admission
If you love long walks, ready your trekking shoes for a hike at Camp John Hay Eco-trail. The 1-hour yellow trail offers a scenic view of pine forests – it's the perfect spot for forest bathing!
Once you're done with your hike, you can enjoy the other establishments within Camp John Hay.
Pro tip:
Bringing your own food inside the trail is prohibited, but drinks are still allowed when kept in refillable containers.
3. Panagbenga Park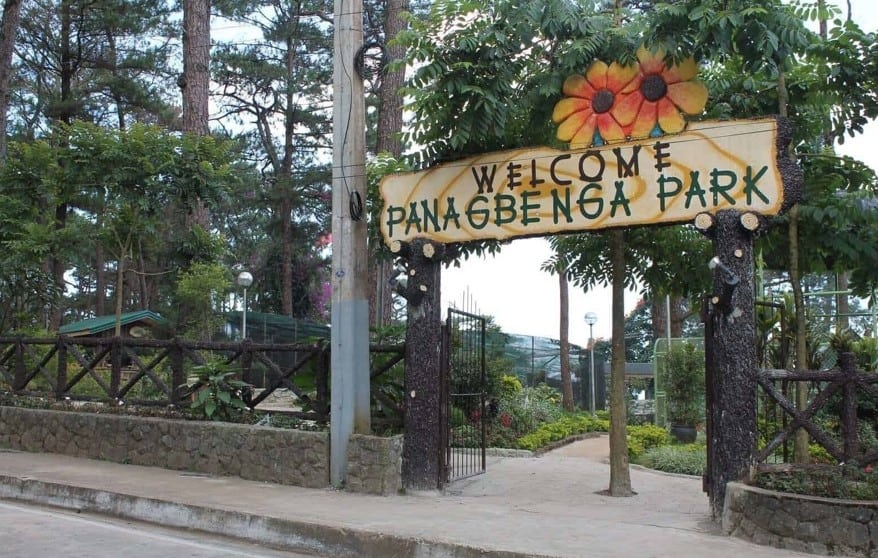 Address: Panagbenga Park, Baguio City
Rates: Free admission
Panagbenga Park is one of Baguio's floral havens. The quaint garden is the perfect spot if you want to be alone to stop and smell the flowers, literally.
It also has the Saleng Garden Cafe where you can get quick bites like cakes or kakanin with barako coffee or lemongrass tea.
Pro tip:
Make sure to visit the park during the Panagbenga Festival. This park serves as the festival's starting and endpoint, so you get to join or witness the whole flower procession.
4. Wright Park
Address: The Mansion, Romulo Dr, Baguio, Benguet
Operating hours: Monday – Sunday, 6 am – 10 pm
Rates: Free admission
Wright Park is informally known as Ride Park because of its main activity available: horseback riding. You can ride the horses as the caretakers guide them around the park's designated riding circle.
Another main attraction of the park is the pool of pines. You can relax on the available benches or set up picnic spots around the park.
Pro tip:
Don't feed the horses since the caretakers feed them.
5. Mines View Park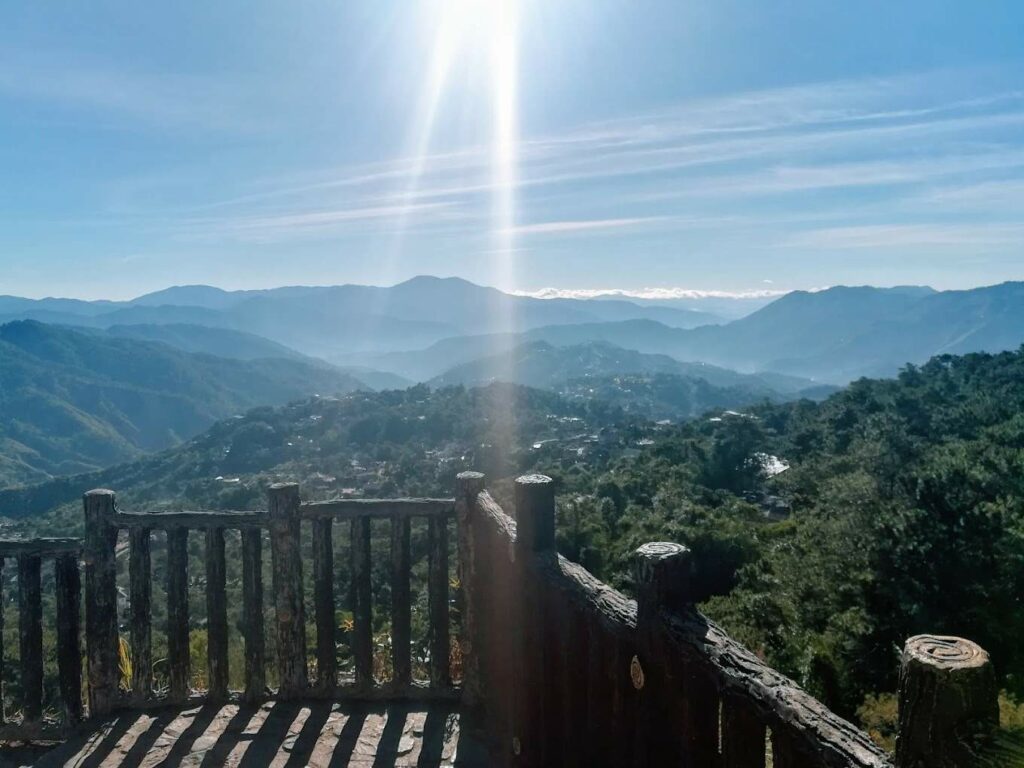 Address: Mines View Observation Deck, Mines View, Baguio, Benguet
Operating hours: Monday – Sunday, 5 am – 8 pm
Rates:
Mines View Park offers a panoramic view of Benguet's mining heritage and the Cordillera landscape, a perfect backdrop for your photos. You can also find local handicrafts and souvenirs here to bring home.
The park also offers photo ops with horses or donning the traditional Cordilleran attire for a fee.
Pro tip:
The park can get crowded throughout the day, so it's best to go as early as 7 a.m. to avoid the crowd.
6. Maryknoll Ecological Sanctuary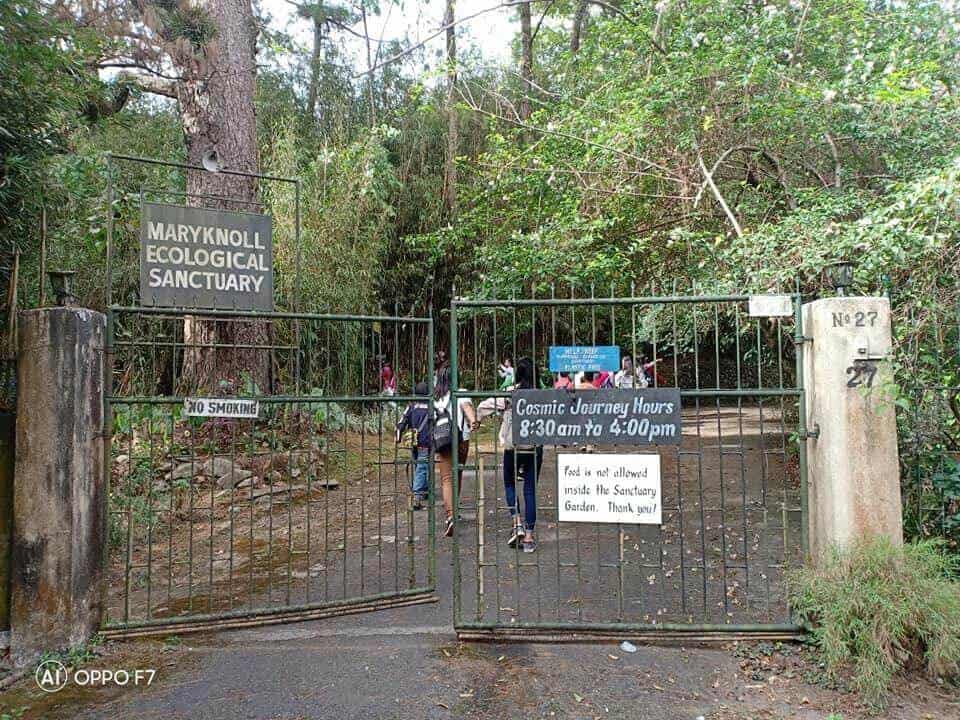 Address: 25 Sto. Tomas North Rd, Campo Sioco, Baguio City, Philippines, 2600
Contact No.: (074) 424 5745
Operating hours: Monday – Sunday, 8 am – 6 pm
Social media: Facebook
Rates:
Maryknoll Ecological Sanctuary is called a "green museum" due to its focus on the restoration and preservation of nature. You can learn more about the natural history of the world in 14 stations of the Map of the Cosmic Journey.
The sanctuary is also the perfect retreat location since it has a dormitory, function rooms, and a learning garden.
Pro tip:
Eat before heading to the sanctuary. Outside food and drinks are not allowed.
7. Shrine of the Brown Madonna Church Cave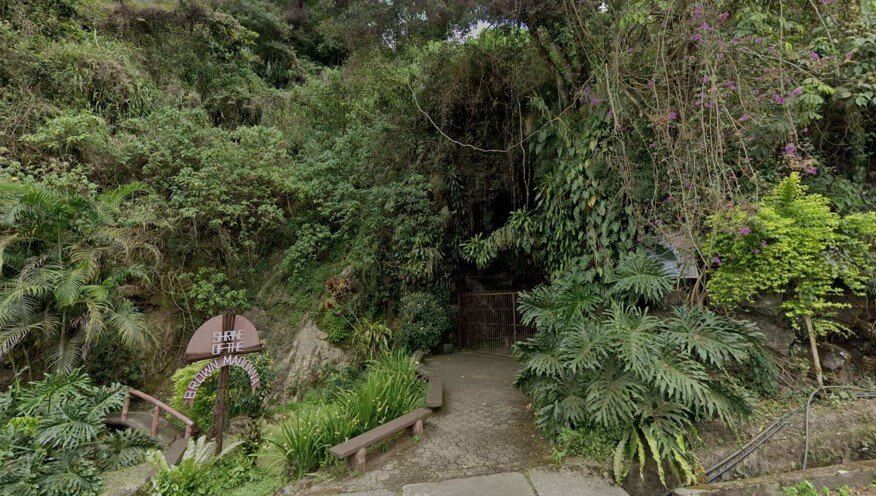 Address: Km. 7, Asin Road 2600 Baguio City, Philippines
Contact No.: 0917 673 1973
Social media: Facebook
Rates: Free
The Shrine of the Brown Madonna Church Cave is one of the perfect places to visit if you're on a religious or cultural trip. The grotto hosts an image of the Madonna or the Blessed Virgin Mary, surrounded by the cave's stalactite and stalagmite.
Concrete benches are available for you to rest on or to meditate and pray in front of the holy image.
Pro tip:
Mass is held every 4th Sunday of the month at 9 a.m. Schedule your visit accordingly if you want to attend the mass held in the cave.
8. Bridal Veil Falls
Address: Kennon Road, Camp 1, Tuba, Benguet
Rates: Free
Crossing the hanging bridge to reach the falls might be scary, but the view of the Bridal Veil Falls up close is worth the hike. You can take photos near the falls or take a dip in its cool waters.
While there is no entrance fee, visitors are encouraged to donate P5 in the donation box located at the bridge entrance.
Pro tip:
Parking is very limited in the vicinity. It is best to walk to the falls if you're able to.
9. Valleypoint Campsite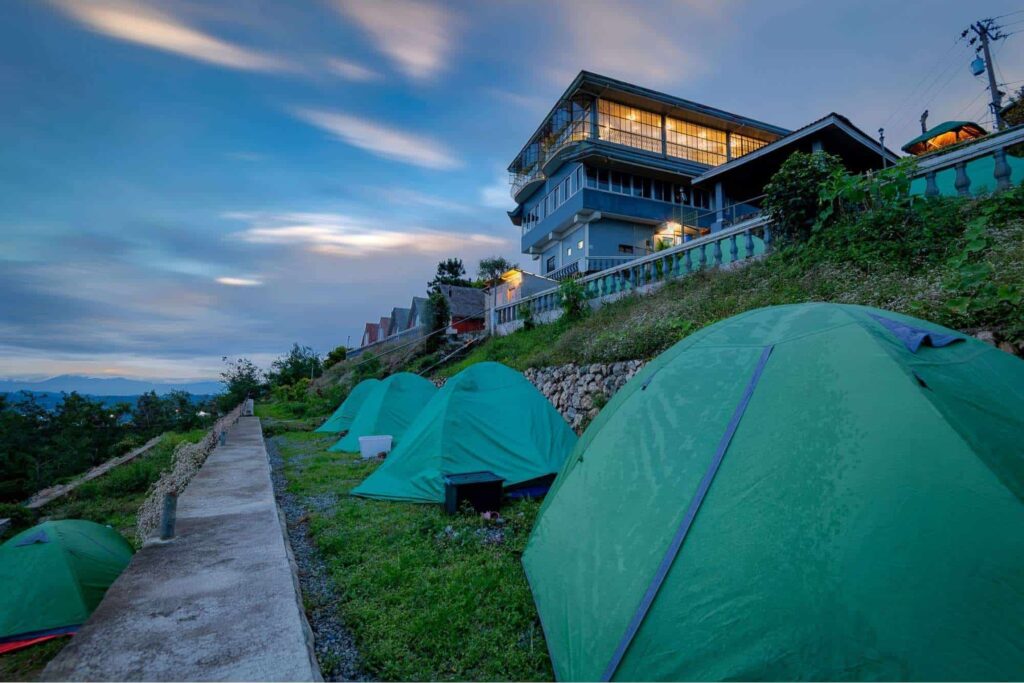 Address: Santo Tomas Rd, Tuba, 2603 Benguet
Contact No.: 0917 955 6204
Social media: Facebook, Instagram, TikTok
Valleypoint Campsite offers a beautiful view of the mountain range while offering activities such as hiking, camping, and stargazing. Whether you're seeking adventure or relaxation, this campsite is the perfect venue to do those.
The campsite offers the Glamping and Backpacker packages and the Kubo Glamping depending on your budget and preferences. You can check their Facebook page for the full inclusions and prices per package.
Pro tip:
Book the overnight stay to enjoy the free archery, airsoft, or airsoft maze activities.
10. Mirador Heritage and Eco-Park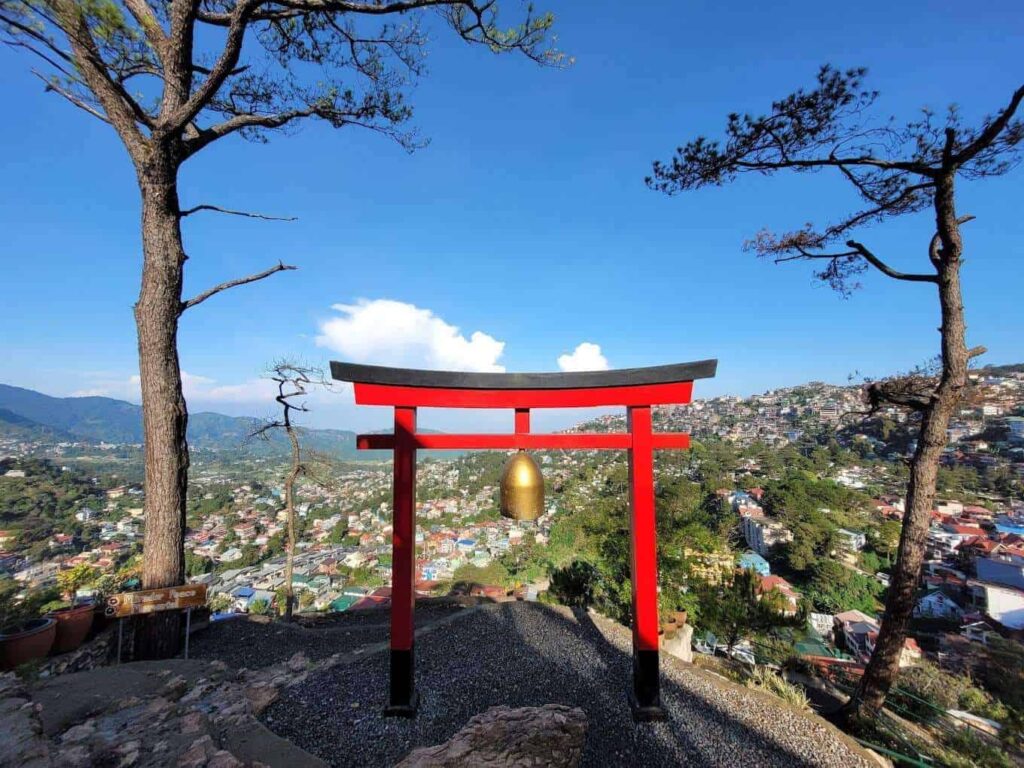 Address: 15 St Theresa Ext., Baguio, Benguet
Operating hours: Monday – Sunday, 6 am – 6 pm
Rates:
General admission – P100
Children – free
The Mirador Heritage and Eco-Park is quite a trek but the overlooking view of Baguio City is worth it. Don't worry – they have paved walkways if hiking isn't your thing.
Enjoy a Japan-like vibe when you walk down the Arashiyama Bamboo Grove and take photos at the Torii gate. There are other sights to see as well, so make full use of the map of the area.
Pro tip:
Keep the entrance fee receipt if you're planning to visit the bamboo forest below the main entrance – they ask for this.
---
Get the full scenic experience in Baguio when you visit these natural destinations and parks!