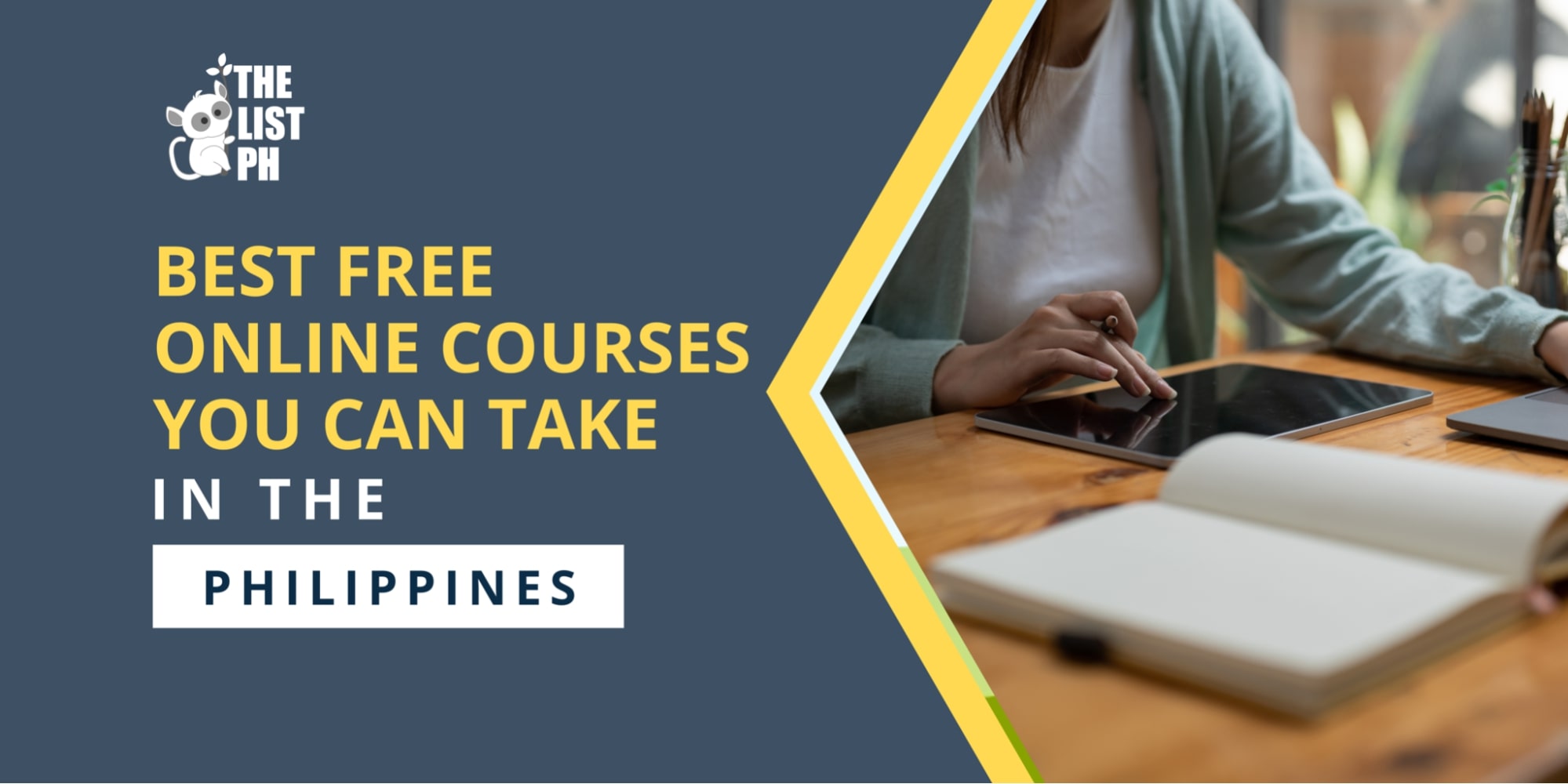 Where to Take the Best Free Online Courses in the Philippines
How We Picked
Range of Courses
We considered the variety of courses the platform offers, and the range of disciplines the site encompasses.
Reputation
We looked at the academic institutions, corporations, and instructors the site partners with to see its credibility and prominence.
Flexibility
We factored in how flexible the course is, if it has to be completed within a certain timeframe, and how easy it is to navigate through the site and how interactive the course content is.
Number of Enrolled Users
We looked at how many users are enrolled in or use the platform for online learning, which constitute its popularity.
1. edX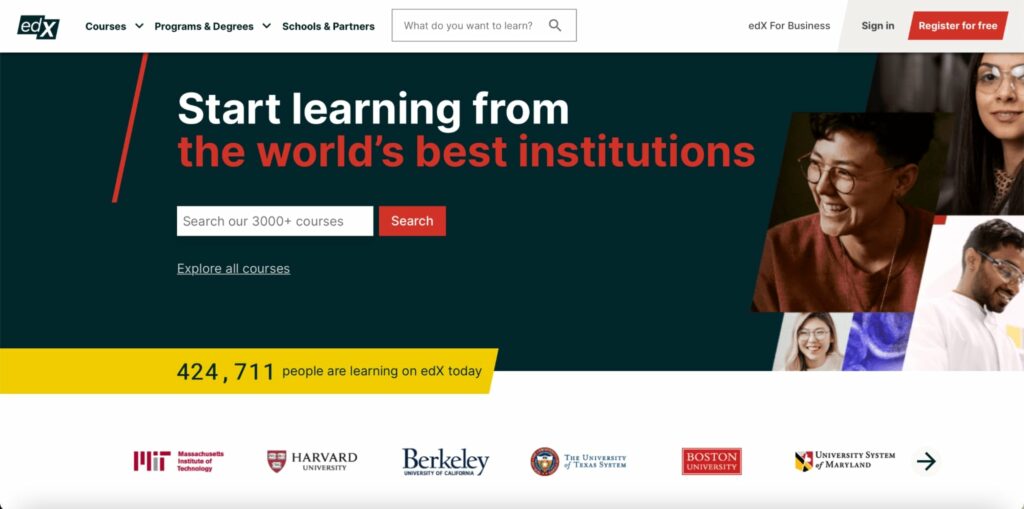 Website: https://www.edx.org
Popular Courses: Google Cloud Computing Foundations, Python Basics for Data Science, Introduction to Blockchain, Leading in a Remote Environment
| | |
| --- | --- |
| Range of Courses | 4/5 |
| Reputation | 5/5 |
| Flexibility | 5/5 |
| Number of Enrolled Users | 5/5 |
They have a wide range of university and corporate partners
They offer verified certificates upon course completion
The whole study setup is self-paced
Courses are for serious learners, limited to academic subjects
Verified certificates won't be given to those who take the audit track or free course program
Have you ever heard of MicroMasters? These are graduate level certifications that were made popular on edX.
Founded in 2012, edX is an educational and learning platform developed by professors from top U.S. universities, specifically Harvard and MIT. Like the other platforms in our review, edX is called an MOOC–a massive open online course website.
It's an open-source software platform run by a non-profit corporation that aspires to make higher education courses from the world's best universities accessible to all.
On edX, you can find a wide range of courses and programs in the fields of Data Science, Computer Science, Math, Business & Management, Engineering, Food & Nutrition, to name a few.
They offer a wide range of learning opportunities for online students, from boot camp programs to MicroMasters among other professional certifications (now, they even offer online bachelor's and master's degrees!)
That being said, we need to warn you that edX is for serious learners. The course material is academic in nature and may be demanding in terms of time and effort.
Taking their paid, verified courses provides you with a certificate of completion, but you can take these same courses for free through the audit track.
Through the audit track, you get to learn for free, getting access to all the modules and course materials, but you don't get a certificate upon completion of the course.
2. Ûdemy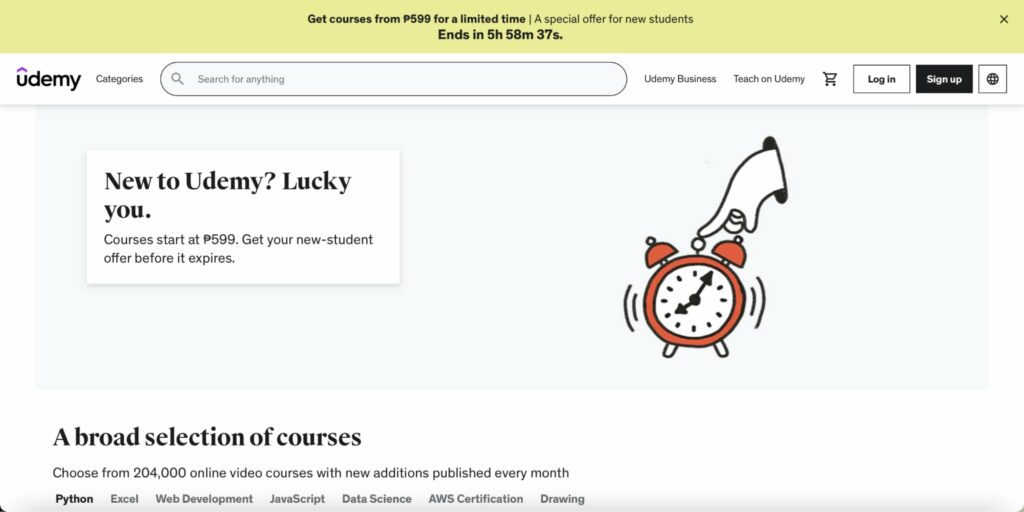 Website: https://www.udemy.com
Popular Courses: Web Development, SQL, Ethical Hacking, Cyber Security, Photoshop, WordPress, Unreal Engine, Digital Marketing, Life Coach Training
| | |
| --- | --- |
| Range of Courses | 5/5 |
| Reputation | 4/5 |
| Flexibility | 4/5 |
| Number of Enrolled Users | 5/5 |
They offer over 600 free courses on various topics
They have a very wide range of course offerings that can be academic, professional, or interest-based
Paid courses are generally affordable, and they give you lifetime access to them
Their completion certificates are non-accredited
Quality of course content and structure vary depending on instructor
Ûdemy is probably the largest among all the online learning platforms we've reviewed. It has over 54 million registered learners and thousands of courses to choose from.
If you're working an 8-5 corporate job and are looking for something that sparks some sort of passion or teach you something new, Ûdemy is a great site to explore. It has over 600 free courses on various topics you may not find anywhere else.
Possibilities are endless, and their wide range of course offerings can be academic, professional, or interest-based. You can learn about everything from programming languages to meditation at the click of your mouse!
Compared to the other platforms in our review, Ûdemy's paid courses are generally more affordable. When you purchase them, they'll provide you with lifetime access.
Another thing we loved about Ûdemy is that they give you an option to "gift" someone with a course, where you can purchase a course for a friend, which they'll receive via email.
Lifelong learning is a practice that you can build a community around, and Ûdemy does it quite well.
The downside here is that the quality of the course and its learning structure vary among different instructors. Some courses on Ûdemy may be taught better than others.
Apart from this, Ûdemy completion certificates are non-accredited. There's a chance that your present and future employers may not count the certificates since they only come from Ûdemy itself, and not an official institution.
3. Skillshare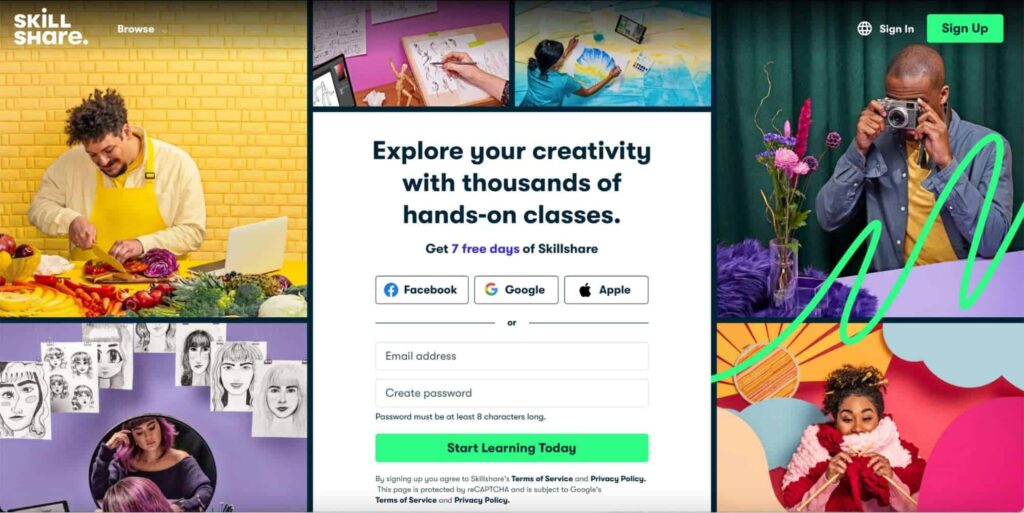 Website: https://www.skillshare.com
Popular Courses: Find Your Style: Five Exercises to Unlock Your Creative Identity, Holistic Interior Design: Transform Your Personal Space for Well-Being, How to Organize Your Workflow to Maximize Productivity, Fundamentals of DSLR Photography
| | |
| --- | --- |
| Range of Courses | 4/5 |
| Reputation | 3/5 |
| Flexibility | 5/5 |
| Number of Enrolled Users | 4/5 |
They offer a wide range of course topics 
This is the best platform for creatives
They give an opportunity for community interaction with other learners and instructors
They don't offer completion certificates or any form of accreditation
Each class varies in format
If you're a budding creative who wants to work on their craft or simply make the most of your free time, you'll thank us for introducing you to Skillshare.
Skillshare fosters a community of people who are passionate about what they do, and passionate about sharing that with others.
Most of the content caters to those interested in creative fields like animation, graphic and UI or UX design, filmmaking, photography, and writing.
This is a breath of fresh air acknowledging the fact that most MOOCs are saturated with subjects covering teaching business, math, and science.
The site also offers Learning Paths, which are curated, sequential classes––kind of like an electronic syllabus for a particular field or topic of interest.
For example, if your goal is to develop your individual brand, they have a pathway which integrates lectures on creating your personal branding, designing your own logo, and marketing yourself on social media.
Another thing we appreciate about Skillshare is how they work towards integrating community engagement on their platform. You can talk to fellow students and sometimes, with your instructor as well, in Skillshare Workshops.
Here you can give feedback, learn from each other, and process what you've learned from the course together. This is heaps more interactive than passively watching video lectures every week.
The downside of Skillshare is that they don't offer completion certificates or any form of accreditation upon completion of their courses.
It simply packages itself as a platform where you can learn any skill you want to have through watching a series of video lectures on your topic of interest.
The classes itself also vary in format. Some have long-form videos on their topics, while others are a dozen videos in 1-2 minute tidbits.
We recommend reading the reviews for courses so you know what to expect, and know what suits your learning style the most.
4. FutureLearn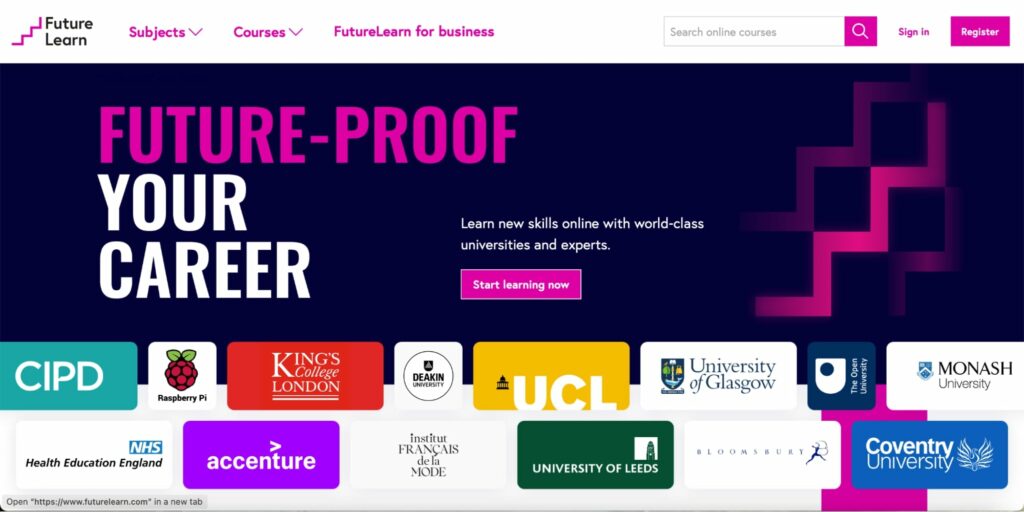 Website: https://www.futurelearn.com
Popular Courses: Data Analytics Using Python, People Management Skills, Digital Skills: Social Media, Teaching English Online, Best Practice for Education: Professional Development Showcase, Problem Solving in the Digital Age
| | |
| --- | --- |
| Range of Courses | 3.5/5 |
| Reputation | 5/5 |
| Flexibility | 4/5 |
| Number of Enrolled Users | 4/5 |
They offer high-quality courses from reputable universities
They have online classes and credits for high-ranking universities (note: this is a paid option)
They provide free courses for non-certificate students
Their course catalog is rather limited
They don't have an app
FutureLearn is a Britain-based online learning platform founded in London back in 2012. After a decade of operations, it has amassed a community of over 10 million learners.
It also has partnerships with high-ranking universities in the UK and around the globe, including King's College London, University of Oslo, Johns Hopkins University, University of Melbourne, and Nanyang Technological University Singapore.
FutureLearn offers micro-credential programs and certificates to boost and hone career-related skills. They also have short courses which are exactly how they describe them to be: bite-sized and flexible.
Its courses offer readings, practice quizzes, and video lectures you can work on weekly. This way, FutureLearn provides more multimodality in learning.
This MOOC provides hundreds of free courses for non-certificate students.
Still worth looking at, however, is their paid option called FutureLearn Unlimited. Here you can have access to pretty much all the classes in their catalog for $200 USD per year.
The upside to this is that the certificates and credits they provide you with upon finishing the course comes from the actual partner universities, carrying their name and seal.
While FutureLearn has many high-quality courses to choose from, it's a smaller pool of options compared to the other platforms in our review.
We also found that one of the drawbacks of the platform is that we had to conduct all the modules through a web browser.
FutureLearn does not have its own app, which makes it slightly inconvenient for those intending on taking classes on their mobile phone or tablet.
5. Coursera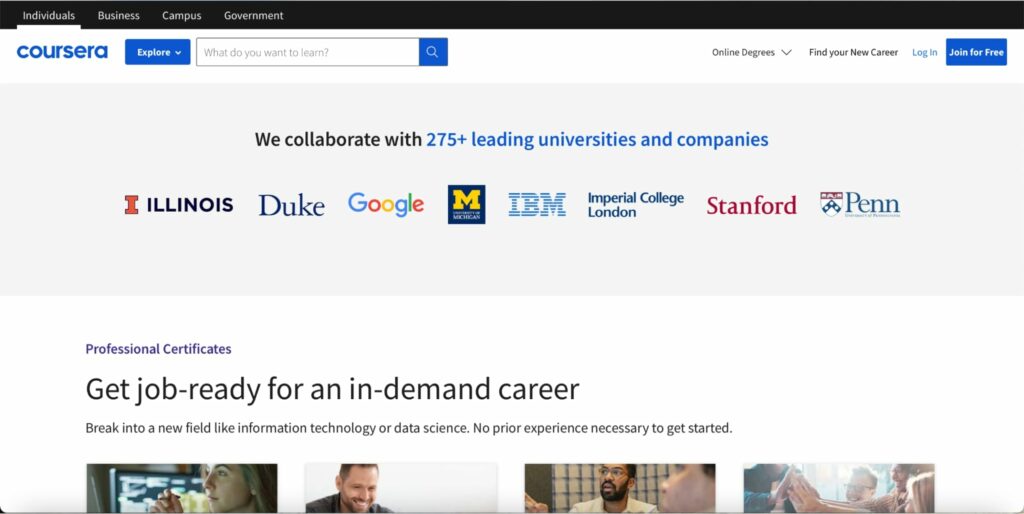 Website: https://www.coursera.org
Popular Courses: AI For Everyone, The Science of Well-Being, Deep Learning, Data Science, Social Psychology, Successful Negotiation: Essential Strategies and Skills
| | |
| --- | --- |
| Range of Courses | 4/5 |
| Reputation | 5/5 |
| Flexibility | 4/5 |
| Number of Enrolled Users | 5/5 |
They have multiple partnerships with academic institutions and organizations
They offer more than 2,500 free courses on their platform
Their instructors are experts in their field
Their app allows you to learn offline
Some of the course materials aren't necessarily beginner-friendly
Majority of course offerings are biased towards specific disciplines
The Coursera name is almost synonymous to "online learning platform" because of its sheer popularity among users around the globe and its range of course offerings.
It has multiple partnerships with acclaimed, high-ranking universities from Stanford, Yale, Princeton and the University of London, among many others. You can take comfort in knowing the instructors on the site are experts in their respective fields.
They likewise work with Fortune 500 companies from Google to Goldman Sachs to make learning career-building skills accessible to all. Its specialization courses are recognized by employers and would look great on any resumé.
These are all great for complementing your knowledge on a particular skillset, and you'll have over 2,500 free courses on their platform to choose from.
On average, each Coursera course runs for four to twelve weeks, consisting of 1-2 hours of pre-recorded video lectures per week.
Coursera is very flexible, providing its users with hundreds of "on-demand" courses, which you can take as much time as you need to complete.
Their app also allows you to learn offline, which is really handy if you're commuting or have to study in places that don't offer WiFi!
The thing we don't like about Coursera is that some of its approved course materials aren't the most beginner-friendly. Some courses would require prior knowledge for you to follow through the lectures.
Coursera also gives the illusion of having such a wide array of courses despite having it cater mostly to very specific disciplines, such as business, data science, computer science and I.T., and math and engineering.
In terms of distribution the platform doesn't provide users with as many programs on humanities, social sciences, and the arts.
FAQS about Free Online Courses