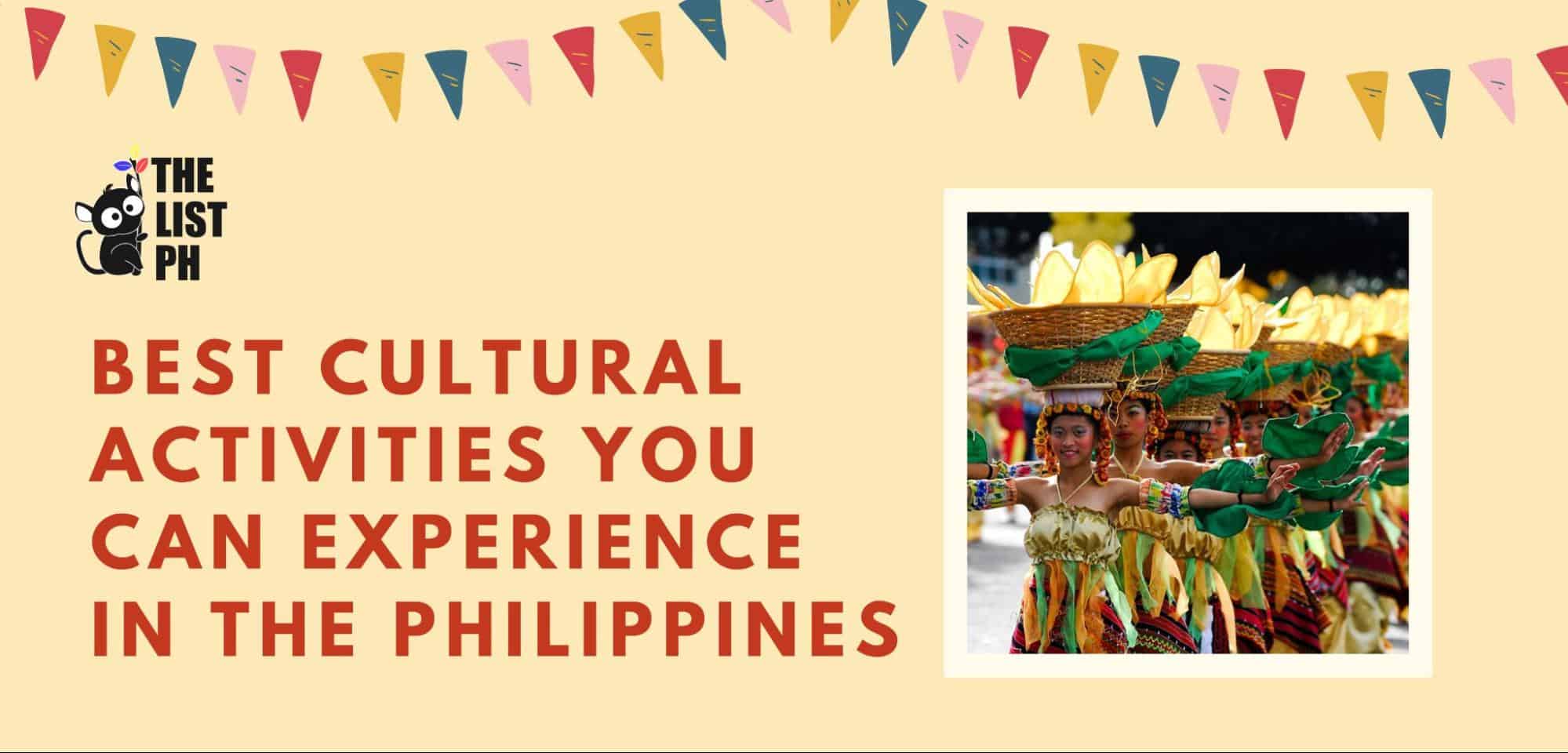 9 Best Cultural Activities You Can Experience in the Philippines
The Philippines has 134 ethnic groups and about 182 ethnolinguistic groups scattered around the country, making it a culturally-diverse nation.
Wherever you go in this country, there's always a unique cultural experience to be had. So without further ado, check out some of the best activities the Philippines has to offer.
1. Participate in Filipino festivals
Numerous festivals in the Philippines inspire enthusiasm every month with lively dances and colorful feasts as they symbolize bounty, love, and a sense of community in the country.
Parade floats, banderitas, and excellent cuisine also fill these festivities. The entire city is dancing or feasting at their homes, so it's no wonder fiestas are the best way to celebrate.
They are usually week-long celebrations, and the schedule varies yearly, depending on which festival you want to see. Thus, you should check out the calendar and search about the festival and place before you visit.
Here are some popular festivals you should check out first!
Sinulog Festival
Sinulog is a well-known cultural and religious festival held on the third Sunday of January each year in Cebu City, Philippines.
It pays homage to the city's patron saint, the Santo Niño, or Holy Child. People commemorate the figure of Jesus as an infant because they believe it has miraculous abilities.
Baladhay, Rajah Humabon's advisor, is also credited with inventing the Sinulog dance routines. He danced with the child, explaining that he was imitating the motions of the river after he was cured of his sickness.
Even today, Santo Niño devotees still employ the two-step forward, one-step backward routine. The Sinulog festival also includes a grand parade in which participants wear colorful costumes as they dance to the beat of drums and gongs.
Dinagyang Festival
Like the Sinulog festival, the Dinagyang festival also explores the history of devotion to the Holy Child Jesus, often known as Sto. Niño to Filipino devotees.
The term "dinagyang" is derived from the Hiligaynon word "dagyang," which means "merrymaking" in English. It's a word that perfectly describes the festival because food and souvenir booths will line the major streets.
Tourists also have a great time engaging in the cheering and dancing as they honor the villagers' devotion while commemorating the advent of Malay immigrants in the country. Particularly, the historic barter of Panay Island from Indians known as Ati.
Dinagyang season in Iloilo City begins in January and highlights an Ati Tribe Competition on the fourth Sunday of the month.
Pahiyas Festival
Every May 15, the town of Lucban celebrates one of the country's largest and most colorful harvest festivals, the Pahiyas festival.
Together with the towns of Tayabas, Sariaya, Gumaca, Tiaong, and Lucena City, people come together to celebrate their appreciation for a great harvest.
During the pre-Spanish colonial era, farmers put their offerings at the foot of Mount Banahaw, and this custom changed once the Spaniards came.
Aside from farmers delivering their offerings to the mountain, they also did so in Lucban's church to commemorate San Isidro Labrador.
The celebration also changed as people started decorating their houses, making the festival more vibrant.
Panagbenga Festival
Panagbenga means "season of flowering," in Kakanaey, and this celebration commemorates the natural beauty of Baguio.
It all started on July 16, 1990, when Luzon was devastated by a severe earthquake that killed over a thousand people and injured almost as many more.
Five years later, people decided to host a massive event to attract visitors and generate finances, so the Panagbenga Flower Festival started.
Ever since every February, people flock to Baguio to witness different festivities like a grand float parade, local dance and music performances, flower bazaars, and more.
MassKara Festival
MassKara Festival, akin to Brazil's Rio Carnival, literally translates to "many faces" and is held in Bacolod every October.
The festival began in 1980 when the local administration and villages decided to host a "celebration" to express and ease the pain they felt due to the economic crisis and city-wide disaster.
The administration of Bacolod regarded this as a means to demonstrate that the city was tough and could always endure even in the most terrible of circumstances.
Because of this situation, Bacolod City was also given the nickname "The City of Smiles," as the masks used during the festival show smiling expressions similar to Mardi Gras.
The event also features a wonderfully vibrant blend of dancing, color, and music, so many people go to Bacolod to celebrate this annual event.
2. Visit old churches and witness their religious history.
The Philippines is known as a highly religious country, with the majority of Filipinos identifying with Roman Catholicism.
Unique centuries-old churches exist as quiet testimonies to their towns' culture and history throughout the country.
Many of them have been designated as national treasures. So, even if it's not Holy Week, these places draw not just churchgoers but also tourists interested in distinctive architecture and relics on display.
Here are some of the most well-known churches in the Philippines:
Barásoain Church
Our Lady of Mount Carmel Parish, also known as the Barásoain Church, is located in Malolos, Bulacan, and was established in 1888.
According to some, the name Barasoain originates from the term "Baras ng Suwail," which means "dungeon of the defiant."
As it was where three historical events happened (the First Philippine Congress in 1898; the Malolos Constitution in 1899; and the First Philippine Republic in 1899), the church earned its title as the "Cradle of Democracy in the East."
It is also recognized as the most important religious edifice in the Philippines because of its historical significance.
Daraga Church
The Church of Nuestra Senora de la Porteria, or Our Lady of the Gate, most commonly known as Daraga Church, is an edifice built in 1773 by Franciscan missionaries while Daraga was still a part of Cagsawa.
The architecture of Daraga Church is Baroque, but many believe it is a hybrid of Mexican baroque and Renaissance Gothic. Its exterior is primarily made of volcanic stones, making it a significant architectural structure.
The Daraga Church is an intricately carved architecture containing Franciscan religious arts placed in a unique and high terrain with a view of the Mayon Volcano.
Because of this, on October 29, 2007, the National Historical Institute designated this property as a National Cultural Treasure.
San Agustin Church
The San Agustin Church was the oldest church in the Philippines, founded in 1571. It was initially composed of bamboo and nipa but was damaged by fire in 1574 when the armies of Chinese pirate Limahong stormed Manila.
After its destruction, it was reconstructed in wood, but it was damaged by fire again during the Spanish rule.
The church's third construction is the one we're seeing today. It was built between 1586 and 1607 with hewn adobe stones from the provinces of Bulacan and Rizal.
The interiors are embellished with moldings and decorations, which serve as the critical point of architecture in the church's structure.
The arched ceilings also highlight the magnificent trompe l'oeil paintings by two Italian painters, adding an artistic touch to them.
Overall, the cathedral exudes grandeur and beauty, making it a popular location for weddings, photoshoots, and tours.
UNESCO designated the San Agustin Church as a World Heritage Site in 1993 under the collective title, Baroque Churches of the Philippines.
Miagao Church
The Church of Saint Thomas of Villanova, also known as Miagao Church, is a baroque church located in the province of Iloilo.
Because the original town of Miagao was regularly raided by the Moros for about a decade in the mid-18th century, it had to be relocated to a safer location.
Because of this, a new fortified church was erected at the town's highest point to defend against possible attackers. The church's foundation is also six meters deep, and its one-and-a-half-meter thick walls are reinforced with four-meter-thick buttresses.
Aside from that, the Spaniards utilized egg whites in mortar for their cathedrals to ensure the structure was strong. And since they used coral and egg whites for the mixture, the exterior color of the church became distinctive yellow-ochre.
Because of its design, the Miagao Church is recognized by UNESCO as one of the Philippine Baroque Churches. It was also included in the list of World Heritage Sites in 1993.
All in all, Miagao Church is considered a living heritage and a witness to the Miagao's culture and way of life from centuries ago, grounded by the Christian faith.
Paoay Church
The Paoay Church of St. Augustine is located in Paoay, Ilocos. It took two decades to build and was finally finished in 1710.
It is noted for its massive buttresses on the sides and rear of the tower. Without a doubt, it is one of the best examples of "Earthquake Baroque" architecture in the world.
The church's architecture is a well-balanced combination of Gothic and Baroque styles with some Asian influences. The roofs are inspired by the Chinese, while the facade is gothic.
The walls' niches are also reminiscent of Indonesia's Borobudur Temple, which shows Javanese influences.
The church's three-story coral stone bell tower is also one of its outstanding features.
The belfry, which lies a few meters from the cathedral, functioned as one of the Katipuneros' observation positions in 1896, at the height of the Philippine Revolt against Spain.
The Filipino guerillas also used it as an observation point during World War II, which manifests its relevance in Philippine history.
3. Experience utmost relaxation as you dip in a kawa.
Filipinos used to cook their food with clay woks, but when technology and better methods evolved, these massive woks were replaced by better equipment.
Locals repurposed the clay woks and transformed them into large tubs for hot bathing.
It is called a 'kawa bath,' and many local and international tourists visit different locations to try this one-of-a-kind spa experience.
And no, you will not be cooked alive because the temperature will be regulated by removing or adding firewood under the pot. These warm baths are actually known for relieving tension and strain in your body.
Where to go for kawa baths in the Philippines
Tibiao, Antique
The first and most well-known location for kawa hot baths is the serene village of Tibiao in Antique.
As it is one of the attractions for tourists visiting Antique, several hotels and resorts in Tibiao provide this service. There are kawas available for individuals, couples, and even large parties.
Since they provide salt baths, milk baths, herbal baths, and more, the price varies depending on the sort of kawa hot bath you choose.
The cost of a kawa hot bath also varies depending on the spa or resort. Prices range from Php 250 and Php 599.
Tanay, Rizal
Tanay, Rizal became a go-to place for kawa hot baths because it is only a little more than an hour away from Manila and offers other exciting and fun activities.
The tranquil bath is available at El Patio Razon in Sitio Maysawa, Brgy. Cuyambay. Since the location is famous for overlooking campsites, the kawa hot baths they provide also feature a sea of clouds and a beautiful mountain range as a backdrop.
The entrance fee for the resort is Php 150, and the kawa hot bath costs Php 400 per pax per hour.
Tagaytay City, Cavite
Tagaytay is another popular location for people who want to try the kawa hot bath near the metro. With La Veryol's kawa hot bath bundles, you can enjoy a fantastic view of the mountains while you relax on a hot bath and body massage.
The kawa hot bath costs around Php 499, and extra charges apply for additional services you want. There are also bundle packages that cost Php 1,099 and above.
4. Go weaving and let your artistic side take over!
Weaving has been practiced in the Philippines since the 13th century, and fabrics symbolize power and belonging for different cultural groups.
As the country is also rich in raw materials like native cotton, fibers, abaca, and pineapple, even today, some groups focus on this livelihood to sustain their families.
So no matter where you go in the Philippines, you will find weaving groups as they are present in Luzon, Visayas, and Mindanao.
Popular weaving communities in the Philippines
Cordillera Region
There are several tribes in this region, most of which are in Mt. Province, Ifugao, and Benguet. A small group of women in Baguio City has carried on the custom of weaving native garments, combining vintage patterns with contemporary weaves.
Often, these small groups of women partner with different businesses to sell their products and make a livelihood from the art they produce. Aside from that, they also help promote local handicrafts and develop indigenous Igorot talents.
Panay Island
The focus on Panay's weaving communities is brighter than ever as native materials progressively grow in appeal in high fashion. The island boasts hablon weaving as it is particularly developing a name for itself in the global design sector.
In Panay Island, weaving communities unite as cooperatives to continuously support their small livelihoods.
Some cooperatives, like the Salngan Livelihood Multi-Purpose Cooperative, also allow tourists to go to their weaving areas to see how hand-woven textiles are made.
5. Immerse with the locals and join island tours.
Consisting of 7,640 islands, the Philippines is a must-see destination for tourists due to its world-class beaches and hospitable people.
If you desire a peaceful sun-soaked beach, an island vacation, a sunset surfing session, or an outstanding diving adventure, the Philippines has it all.
You can also join group tours that will allow you to make friends with your co-tourists and local guides.
Popular Island Destinations for Tourists in the Philippines
Coron, Palawan
Coron, Palawan is one of the most well-liked destinations in the Philippines because it's a perfect location for a getaway with stunning beaches, clean water, and an abundance of marine life.
Additionally, Coron Island has long been a well-liked destination in the Philippines for backpackers on a tight budget, domestically and internationally.
Aside from that, since Coron is also home to the descendants of the Tagbanuas, it's not impossible for immersed tourists to witness the religious beliefs and traditions of the people residing in the area.
Puerto Galera, Oriental Mindoro
Weekend visitors from Manila are often drawn to the bustling municipality of Puerto Galera, surrounded by jungle-covered land that plunges into lovely enclaves of beaches and bays.
The unique coral reefs of Puerto Galera are also perfect for snorkeling and diving since it is located on the western end of the Isla Verde Passage in Oriental Mindoro. Because of this, UNESCO designated the area as a Man and Biosphere Reserve in 1973.
Aside from the beaches, Puerto Galera also offers numerous waterfalls that entice more people to come and explore the island.
Siargao, Surigao
The smallest island in the Philippines, Siargao is popularly referred to as the "Surfing Capital of the Philippines." It is located close to Surigao del Norte's coast and is only 45 minutes by aircraft from Cebu.
The island offers stunning tropical foliage, surfboards on every street corner, and the ideal tranquil ambiance, all set off by an intensely blue sky. That said, it instantly gives off the impression of being one of those islands you want to remain on forever.
As a result, more travelers go to Siargao and fall in love with the exotic environment of the island. Additionally, it is slowly becoming a hub for digital nomads who want to immerse in island life in the Philippines.
6. Ride a jeepney or kalesa.
A kalesa or calesa (also known as a karitela) is a horse-drawn calash (carriage). The word, also spelled "calesa", predates the Spanish conquest and derives ultimately from an Old Church Slavonic word meaning "wheels."
This was one of the modes of transportation introduced in the Philippines by the Spaniards in the 18th century that only nobles and high-ranking officials could afford. The kalesa driver is generally referred to as a "Cochero" or a "Kutsero".
Currently, kalesas are used as tourist vehicles, you don't have to look for an additional person as a tour guide because sometimes the kusteros provide tour guiding services.
Aside from kalesas, you can ride a minibus-sized jeepney if you ever want to experience more about everyday transport in the Philippines.
It has two long parallel seats in the back and a driver's cabin in the front to accommodate many passengers. Jeepneys come with signboards on their front windshield where you can see the route it is taking.
In places like Manila, jeepneys can be full, especially during rush hours. Be careful if the jeepneys are full since you may experience an uncomfortable ride, especially if you're the last one to sit.
Overall, both rides are quite historical for Filipinos because it symbolizes history carried through transportation until today.
The kalesas were used during the Spanish colonial period, while ​​jeepneys originated after the American colonial period.
The jeepneys also began as Willys Jeeps that were left behind when Americans left the Philippines at the end of WWII, so it's no wonder they are still relevant today.
Where to Ride a Kalesa in the Philippines
Intramuros
To give a glimpse into the past of Intramuros, kutseros offer tours around the walled city.
For those who don't want to avail of informative tours, there are also rides that kutseros offer from one point to another for a cheaper cost of around Php 300.
Calle Crisologo
The kalesa is the only form of transportation allowed on Calle Crisologo, a street in Vigan with a lot of beautiful stone buildings, tungsten lights, and old cobblestone streets that date back hundreds of years.
The Calle Crisologo and the remainder of the Vigan Heritage Village, including the Vigan Cathedral and Plaza Burgos, may be explored during an hour-long kalesa ride that costs around Php 150.
Binondo
Kalesas are also available in Binondo, usually around Plaza Lacson. They typically charge less than other tourist sites because kalesas actually serve as public transportation, not as a tourist service.
A trip usually costs around Php 50 per person and more for special trips outside the vicinity. Because of this, the number of kalesas has decreased significantly as the neighborhood became more used to pedicabs, taxis, and other modes of transportation.
Despite this struggle, the kalesa community in Binondo still sticks to their tradition of transporting people with this thriving carrier.
7. Try out pottery.
Pottery is another well-known cultural activity in the Philippines that continues today even though it peaked during the Metal Age. It is a process where you make or form a vase, pot, or other kitchenware from earthenware or clay.
Popular vases and pots were discovered in different parts of the country, and today, it still carries the tradition of the Filipino people.
Since it represents the Philippines' social, economic, and environmental situation since time immemorial, you can consider it a significant part of Filipino history.
If you want hands-on experience in Metro Manila, there are pottery workshops or studios like Tahanan Pottery and Wabi Sabi Studio, where you can try this unique art.
In Kalinga, there are also local tribes that produce these traditional crafts, so you can consider going there as well!
Where to try pottery in the Philippines
Kibō Studio
Address: 2nd Floor, 4992 P. Guanzon, Makati, 1210 Metro Manila
Kibō Studio started as a pottery studio that offers pottery lessons beyond distance. Though currently, they already offer beginner to expert pottery sessions on-site.
For companies or social gatherings, they also offer tailor-fit pottery workshops based on your preferences.
The range of their services is also affordable and costs only Php 2,800 up to Php 3,400.
Tahanan Pottery
Address: 27b Sct. Tobias Street, cor Sct. Lozano St, Diliman, Quezon City, Metro Manila
Tahanan Pottery is one of Metro Manila's most well-known pottery studios. They hold a variety of workshops and classes, teaching students how to make mugs, bowls, vases, and more.
Their basic classes start at Php 10,000 for seven sessions, and they also have workshops that start at Php 2,900.
After taking a class, Tahanan also offers six-month free membership for their students.
In case you already have experience in pottery and want to try it on your own, they also offer an annual membership for Php 5,000.
Online classes are also an option for individuals who want to acquire a new skill while relaxing in the comfort of their own homes.
Wabi Sabi PH
Address: N Averilla, San Juan, 1500 Metro Manila
Wabi Sabi PH is a local company that creates hand-crafted ceramic dishes and trinkets.
Aside from selling pottery products, they also offer workshops for those who want to learn the art for as low as Php 2,600. They also have painting sessions for pottery novices who wish to learn how to design their crafts.
8. Have a traditional tattoo done by Apo Whang-Od.
During ancient times, tattoos were also part of the ceremonies, mainly because they were considered a rite of passage in some tribal groups.
In this era, traditional tattoos symbolize the rich history of the tribal groups. So if you want to get inked, you can get one by visiting Apo Whang-Od, the last and oldest 'mambabatok' in Kalinga.
Many locals and tourists visit her as she is a living symbol of Kalinga culture and she uses a one-of-a-kind traditional hand-tapped tattooing method. Additionally, she utilizes water and powdered charcoal as the ink and a thorn from a pomelo plant as the needle.
9. Celebrate a four-month-long Christmas!
Filipinos celebrate Christmas as early as September, which means that the festive spirit can be felt months in advance!
During these months, people put up Christmas decorations in their homes. Malls and establishments will also make you feel it is already Christmas because of the colorful designs and twinkling lights they display.
Since most Filipinos are Catholics, many people also observe the Christmas tradition of simbang gabi, in which individuals attend the mass before the crack of dawn (about 3 to 5 a.m.).
Masses are held every day from the second week of December until Christmas Eve. It's also a tradition for people to eat kakanin (rice cakes), bibingka, and puto bumbong after the mass, typically offered outside churches around this time.
Aside from the religious aspect, Filipinos also organize Christmas parties at home, in their workplaces, or even in school. Thus, everyone surely receives gifts even before Christmas.
That said, we consider it a grand cultural celebration for Filipinos and tourists.
---
Have you discovered a cultural activity that interests you? Or perhaps you have a suggestion for our list?
Post your thoughts and suggestions in the comment box below!