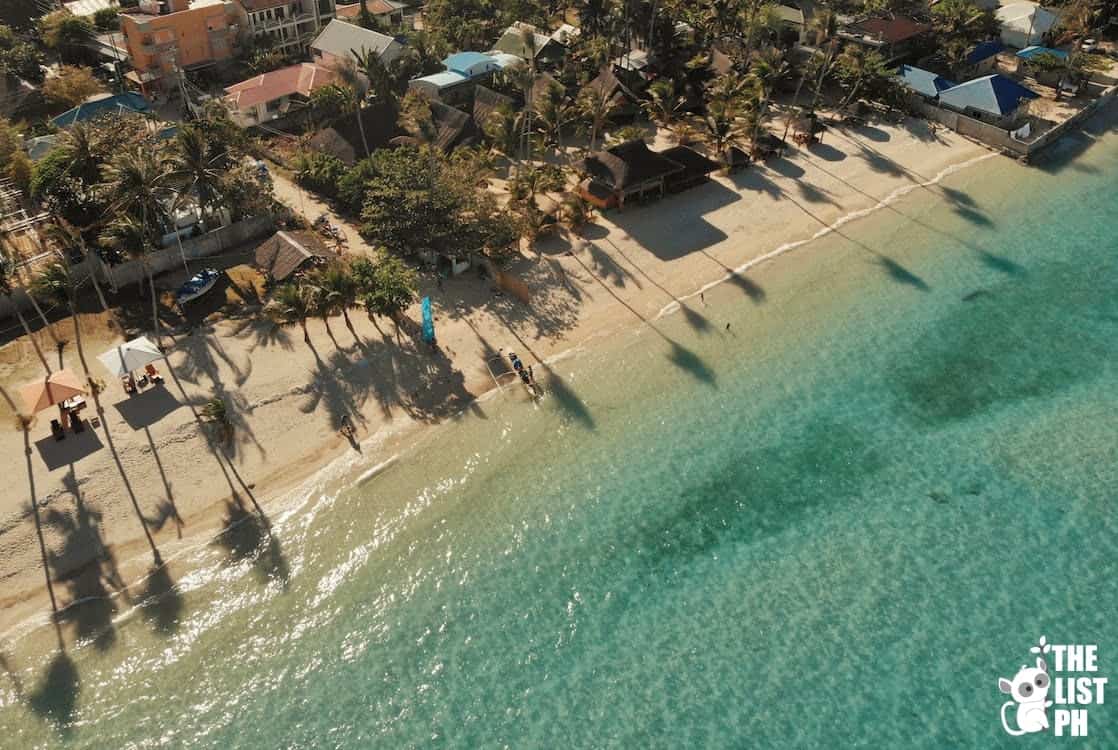 11 Must-Try Summer Activities in Quezon Province
If you reside near Metro Manila, you must have visited Rizal, Batangas, and other well-known tourist destinations.
In that case, your next on the list should be a trip to the stunning Quezon Province! Exploring Quezon, renowned for its imposing mountains, gorgeous beaches, and underappreciated natural wonders, can be an experience no one will ever forget.
Read this article as we share some top activities in Quezon!
What is the best thing to do in Quezon Province during summer?
1. Watch the Pahiyas Festival.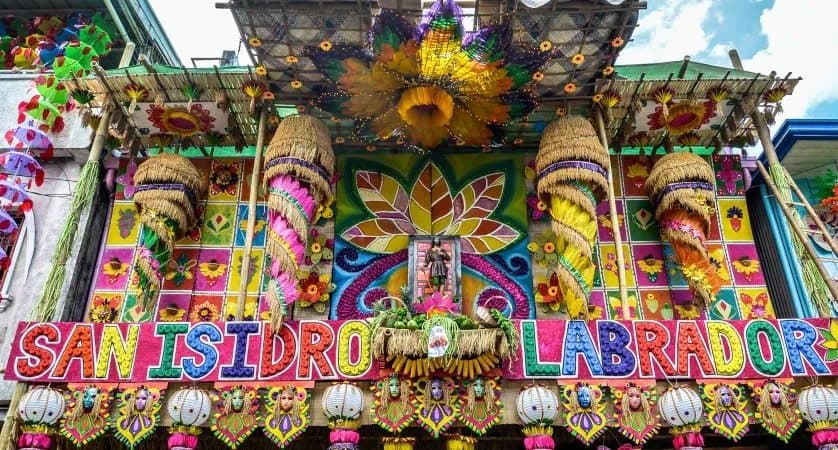 | Test | Info |
| --- | --- |
| Address | Lucban, Quezon |
| How to go there | Ride a bus or a private car from Metro Manila. |
| When to go | Every May 15th |
In the town of Lucban, the Pahiyas Festival is a yearly celebration. San Isidro Labrador, the patron saint of farmers, is honored during this time.
It is observed every May 15th, marking the beginning of the Philippines' rice planting season. The festival is distinguished by its vibrant and distinctive decorations, crafted from various materials, including rice straw, paper, and fabric.
The "kakanin" decorations decorate both homes and public spaces. The celebration also includes cultural performances, parades, and regional cuisine.
One of the most vibrant and distinctive events in the Philippines, Pahiyas Festival draws in thousands of tourists every year.
This festival honors the abundant crop, local neighborhood, and cultural heritage. They are happy to share their culture and traditions with visitors, and the locals are exceedingly kind and friendly!
Insider Tips
Take lots of photos to capture the colorful revelry! Selfies with the vibrant kiping and farm food displayed at the Pahiyas homes are fun. Watch the festival's grand parade of women in finery, including higantes, farmers, carabaos, marching bands, and floats, and join in on the fun.
Bring an umbrella, portable fan, and extra shirt. The Pahiyas Festival is annually held in the summer, so expect it to be hot.
Try some local cuisine. Eat pansit Lucban the "habhab" way if you can. To satisfy your cravings, taste the delights from Lucban, such as Lucban langgonisa, kaldareta, tikoy, and broas.
Remember to buy souvenirs. Shop at the tiyangge for native hats, bags, t-shirts, caps, plants, snacks, and pasalubong.
2. Explore Balagbag Falls.
| Test | Info |
| --- | --- |
| Address | Real, Quezon |
| How to go there | Ride a bus going to Real. |
| Entrance fee | Php 30 |
| Best time to visit | March - May |
Under the Balabag Falls' waterfalls is a sizable natural pool where guests — especially kids — can happily swim as much as they like.
Oh, and if you're curious about how Balagbag Falls got its name, it's related to the Tagalog word "Balagbag," which loosely translates as "reckless" or "uneven." The slope of the granite formations tumbling down the waterfalls identifies this.
Overall, visiting Balagbag Falls is an incredible opportunity to get up close and personal with nature. Oh, and for those who are up for the adventure, remember to try cliff diving!
Insider Tips
Wear comfortable clothes and study footwear. You'll be doing a bit of climbing, so make sure your gear can handle it.
Bring some snacks. This will help keep you fueled and energized.
3. Relax in Cagbalete Island.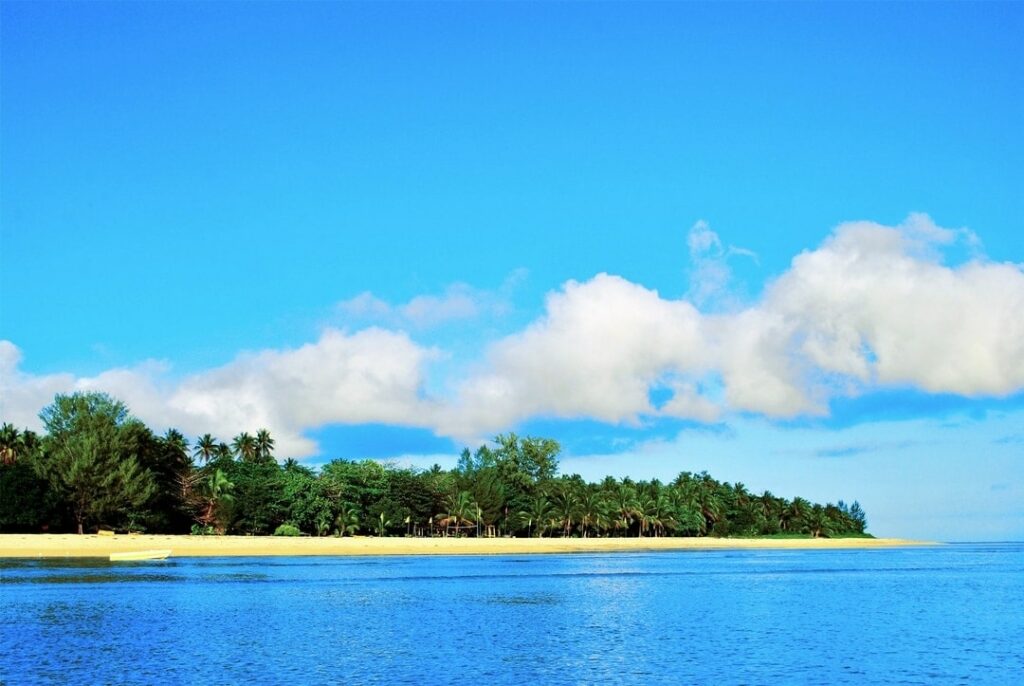 | Test | Info |
| --- | --- |
| Address | Lamon Bay, Quezon |
| How to go there | Ride a boat from Cagbalete Port. |
| Boat fare | Php 100/pax |
| Best time to visit | February - May |
The charming Cagbalete Island is another magnificent island getaway found in Mauban, Quezon. This spotless beach town rose to fame because of its white sands, clear waters, and gorgeous sandbars.
Due to the existence of top-notch hotels and resorts on the island, it has become a popular summer destination for domestic and foreign tourists.
Therefore, visitors can anticipate being welcomed with a wide range of enjoyable and exciting activities like island hopping, scuba diving, bird watching, and much more, in addition to first-rate lodging.
Insider Tips
Make the most out of the island activities! You may visit surrounding islands that feature sandbars if you go island hopping. The options for snorkeling are limited, too!
You can bring your own food. Some resorts offer food packages, or you can bring and cook your food outdoors. You won't go hungry on this island but anticipate higher prices.
Bring a power bank. The electricity on the island is between 6 pm to 6 am only, so it's better if you bring a power bank for your gadgets and a portable fan.
4. Visit Jomalig Island.
| Test | Info |
| --- | --- |
| Address | Jomalig Island, Quezon |
| How to go there | Ride a bus to Real and boat to Jomalig. |
| Boat fare | Php 150/pax |
| Best time to visit | March - May |
One of the most well-liked spots, not just in Quezon but throughout the entire Philippines, is the undiscovered paradise of Jomalig Island.
Jomalig Island, renowned for its pristine blue waters, majestic rock formations, and golden sand beaches, is a breathtaking summer vacation spot you shouldn't miss!
The Golden Sand Beach, Little Boracay, Kanaway Beach, Little Batanes, and the fascinating "Puno ng Walang Forever," a famous lonesome tree in the middle of a vast grassland, are among Jomalig Island's most stunning locations.
According to some, people who haven't yet found their "true love" or grieving frequently take photos here.
Insider Tips
Bring power banks and extra batteries. Power is only available from 6:00 pm until 2:00 am. Bring power banks and extra batteries if you can't charge your devices. Save your smartphone usage.
Expect delays in travel time. Be prepared for travel delays. The arrival and departure times of the boats are not strictly controlled. Before departing the port, they occasionally have to wait for other passengers.
Go to the port early. To guarantee that you can acquire a spot on the passenger boat, it helps to get to the port in Real early, at about 4 or 5 am.
5. Enjoy the food in Kamayan sa Palaisdaan.
Test
Info
Address
Tayabas, Quezon
How to go there
Ride a bus going to Tayabas.
Accommodation Fees
Standard Room - Php 4,100
Deluxe Room - Php 5,200
VIP Room - Php 6,500
Dormitory (good for 10-16pax) - Php 13,000
Resthouse (good for 40pax) - Php 23, 300
Bar and Restaurants
Kamayan sa Palaisdaan
Air Summit Gourmet
Fisherslake
Summit Blend Bar Cafe
Best time to visit
January - May
The best thing to do in the resort is to eat at Kamayan sa Palaisdaan. Sixty rustic houses that float on a man-made pond make up this wonderful floating restaurant!
Most of the food on the menu is native cuisine and the variety of seafood that Tayabas Quezon is famous for. Inihaw na hito and pla-pla, which come from the pond itself, are some of the more well-known delicacies.
The proprietors make an effort to keep their rates affordable for the residents. The resort provides self-parking and free WiFi.
For events and group gatherings, it has function rooms.
Insider Tips
Try their specialty dishes. Kamayan sa Palaisdaan is known for its seafood dishes, particularly its crispy pata, grilled tilapia, and sinigang na sugpo. 
Bring mosquito repellent. Since Kamayan sa Palaisdaan is surrounded by many trees and bodies of water, there are usually a lot of mosquitoes in the area. 
Bring extra cash. Kamayan sa Palaisdaan is a cash-only restaurant, so bring enough money for your meal.
6. Check out Borawan Island.
| Test | Info |
| --- | --- |
| Address | Ride a boat from Aplaya, Quezon |
| How to go there | Ride a taxi from the city. |
| Boat fare | Php 2000 (good for 10pax) |
| Best time to visit | January - May |
The breathtaking Borawan Island is another ideal summer vacation spot near Padre Burgos, Quezon.
This lovely island's name is thought to be a blend of "Boracay" and "Palawan". Yup! The reason, according to locals, is that the island also exemplifies the extraordinary beauty of those two well-known Philippine locations.
Fine white sand beaches, azure oceans, and magnificent limestone karst structures may be found in this secret paradise.
Insider Tips
Bring enough cash. No ATMs or banks are on the island, so bring enough money for all your expenses, including food, accommodation, and island activities.
Book in advance. Borawan Island is a popular destination, especially during peak season, so booking your accommodations and boat transfers in advance is best to avoid any hassle.
Bring your water. While stores on the island sell bottled water, prices can be pretty steep. It's best to bring your water container and refill it at the stores to save money.
7. Visit Kamay ni Hesus Shrine.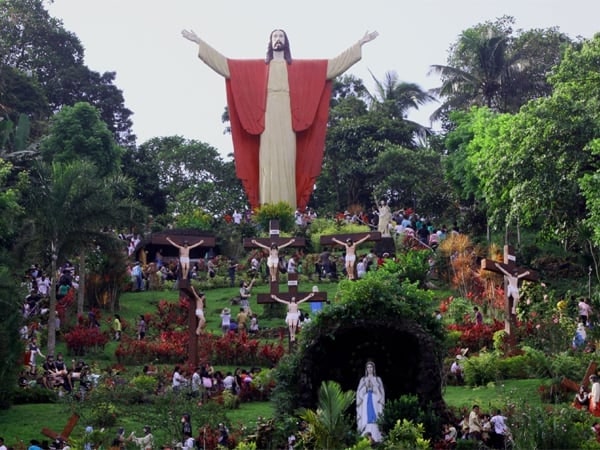 | Test | Info |
| --- | --- |
| Address | Lucban, Quezon Province |
| How to go there | Ride a taxi from the city. |
| Parking fare | Php 30 |
| Best time to visit | 8 am - 5 pm |
The well-known Kamay ni Hesus Shrine in Lucban, Quezon, is undoubtedly one of the first sights you'll see if you visit Quezon Province. The five-hectare monument is home to a massive, 50-foot-tall Jesus Christ statue perched atop the hill.
The difficult part of this situation is that there are about 300 steps to climb to the top. Locals claim you must pass this exam to experience spiritual and bodily recovery.
Many people genuinely believe in Kamay ni Hesus's ability to heal when you visit since an increasing number of tourists accept the challenge.
The shrine also has life-size statues and images of the stations of the cross on the way to the top of the hill. This is also why Kamay ni Hesus is regarded as one of the top places for Holy Week Visita Iglesia.
The shrine is surrounded by rich vegetation, and there has always been a fresh, clean, and cool mountain breeze, which is fantastic. It seems as though the heavens are directing you to the summit!
Insider Tips
Wear comfortable footwear. The shrine is quite large, and you'll be doing a lot of walking, so it's best to wear comfortable footwear, such as sneakers or hiking shoes.
Bring a hat or umbrella. The shrine is an open-air complex with a few shaded areas. It's best to bring a hat or umbrella to protect yourself from the sun.
Follow the dress code. Visitors must follow a dress code since the shrine is a religious site. Wear appropriate clothing, such as long pants or skirts and shirts with sleeves.
8. Take your best shot at the Sunshine Farm.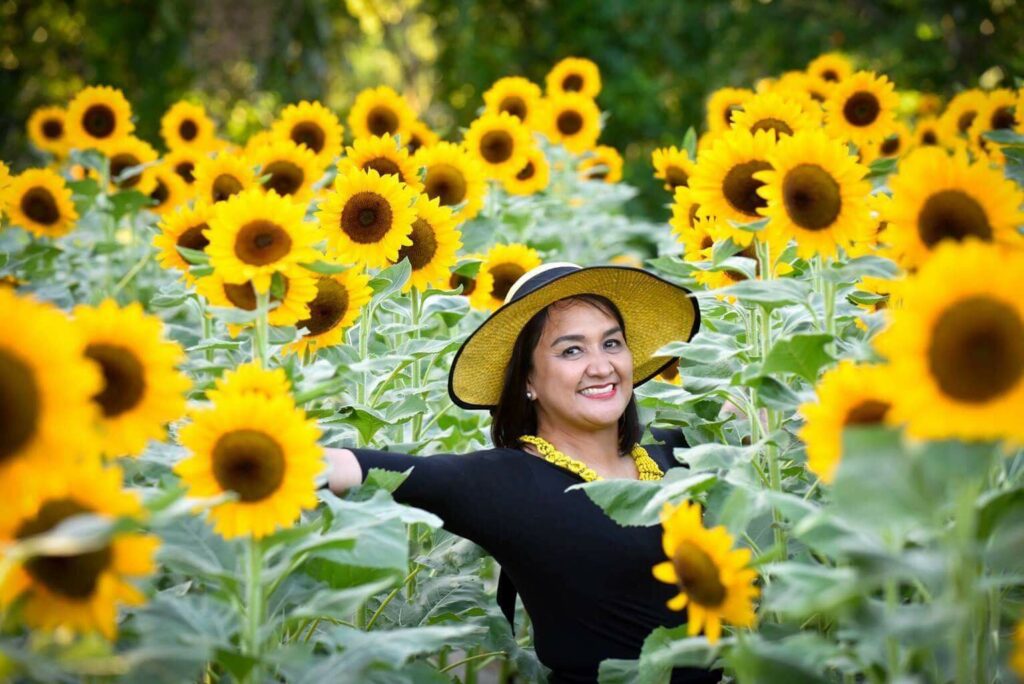 | Test | Info |
| --- | --- |
| Address | Tiaong, Quezon |
| How to go there | Ride a bus going to Tiaong |
| Entrance fee | Php 100 |
| Best time to visit | 8 am - 7 pm |
It's not simply a farm at Sunshine Farm. It is a farm that promotes higher causes.
The farm, which employs PWDs as laborers, strives to give PWDs (Persons with Disabilities) a sustainable existence, raise their motivation, and dispel the myth that they are incapable of doing anything.
Sunshine Farm provides individuals with exceptionalities with hope, motivation, and equal opportunities, making your visit more worthwhile and meaningful.
The primary draw of the farm is its sunflower mazes. Take this time to shoot some beautiful photos!
Insider Tips
You can buy souvenirs from them. On the farm, a gift shop sells goods made from sunflowers. You can get sunflower seeds, pins, refrigerator magnets, key chains, purses, soap, shampoo, and other items.
You can buy fresh sunflowers from the farm. At times, they sell sunflowers from P150-P200, depending on the variety.
Arrive early at the farm. Arrive early in the day to beat the crowds and get the first pick of the produce.
9. Relax at Villa Escudero Plantations and Resort.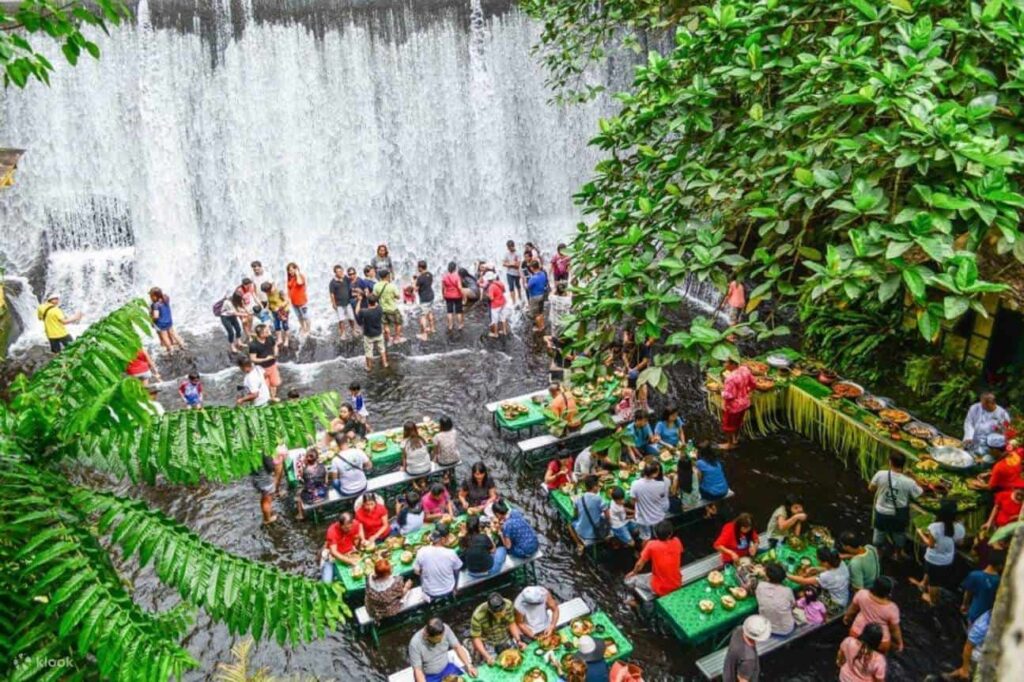 | Test | Info |
| --- | --- |
| Address | Tiaong, Quezon |
| How to go there | Ride a bus going to Tiaong |
| Best time to visit | 9 am - 6 pm |
You are in for an all-encompassing cultural experience at Villa Escudero! You'll get to participate in carabao rides, walking tours of museums, cultural performances, tours on bamboo rafts, and many more.
Of course, you shouldn't overlook lunching by the waterfalls, which is Villa Escudero Plantations and Resort's signature attraction!
The excellent cuisine options at the resort will make you fall in love, and you'll also get to savor the sensation of having man-made waterfalls in the background.
Insider Tips
Take advantage of their cultural show! Take part in the cultural show to learn about traditional Filipino dances and music. It's a great way to immerse yourself in the local culture.
Visit their plantation. Go on a plantation tour to learn about the growing and harvesting of coconut, coffee, and sugarcane. It's an informative and fascinating experience.
Wear comfortable clothes. Also, bring a change of clothes if you plan to go on the waterfalls tour, as you will get wet.
10. Watch the sunset at Alibijaban Island.
| Test | Info |
| --- | --- |
| Address | San Andres, Quezon |
| How to go there | Ride a boat from San Andres Port |
| Boat fare | Php 134 |
| Best time to visit | January - May |
The Alibijaban Island, located in San Andres, Quezon, is a little-known tropical haven.
The island is somewhat difficult to get there due to its secluded location, but once you see the creamy white sand beaches, the turquoise waters, and the lush mangrove plants around the island, everything will be worth it.
This island is the ideal place to escape the tension and commotion of the city. On the 400-hectare island, you can go swimming, beachcombing, or even shell hunting whenever you like!
The best thing about going to Alibijaban Island is watching and enjoying the stunning sunset. With, of course, endless photo opportunities!
To make the most of your stay even more, prepare for a camping expedition that will go all night.
Insider Tips
Go island hopping! Take a boat tour to explore the nearby islands and beaches. It's a great way to appreciate the beauty of the region.
Visit the island's mangrove forest. Visit the mangrove forest to experience the unique ecosystem of the island. You can also take a kayak tour through the mangroves.
Try the seafood on the island. Try the local seafood, which is fresh and delicious. There are small eateries and food stalls on the island that serve a variety of seafood dishes.
11. Camp at Dampalitan Island.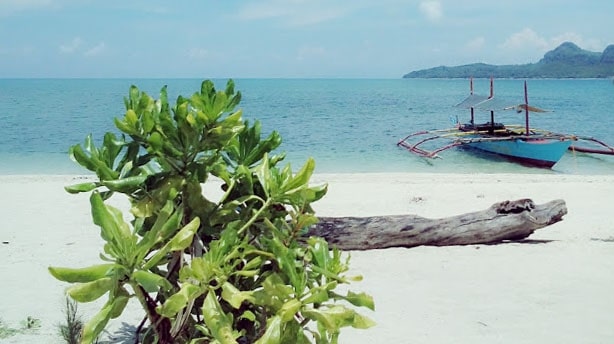 | Test | Info |
| --- | --- |
| Address | Gadi Road, Talomo, Davao City |
| How to go there | Ride a boat from Basaio |
| Boat fare | Php 1700 (good for 15 pax) |
| Best time to visit | February - May |
Dampalitan is renowned for its expansive stretches of white sand beaches, clean waters, and ideal camping settings, making it a sanctuary for anyone who loves the beach.
You'll have a great day on Dampalitan Island whether you want to go swimming, sunbathe, or unwind on the stunning beach.
Oh, and as a friendly reminder, the island is frequently crowded, especially during the high season. We advise you to make travel plans in advance!
Insider Tips
View the sandbar during low tide. During this time, you can walk on the sandbar, take photos, and enjoy the stunning sea views.
Take a walk during sunset. Walk along the beach during sunset to see the beautiful sky colors. It's a peaceful and romantic experience.
Bring enough cash. Bring enough cash with you, as no ATMs or stores are on the island. You'll need to pay for food, accommodation, and other expenses with cash.
---
Quezon frequently gets overshadowed by busier tourist destinations closer to Manila, like Laguna and Batangas. However, every nature lover will be impressed by the province's coasts, rainforests, plantations, and farms.
Don't just drive through Quezon en route to another location. Make it the next stop and enjoy everything the province has to offer!